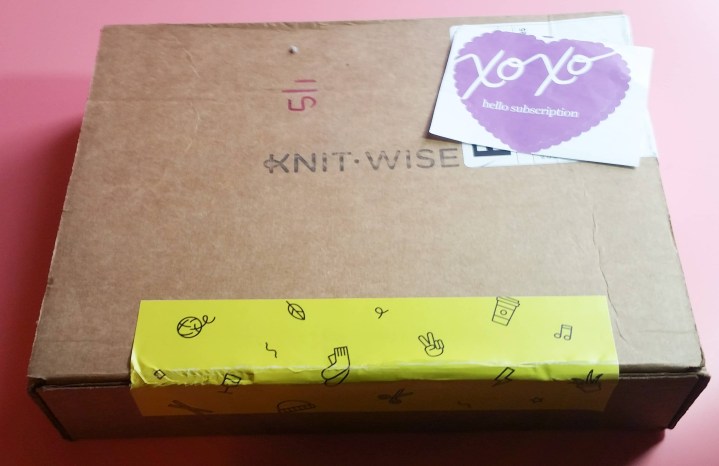 Knit-Wise is a monthly box that arrives with everything you need to create a hand knit project. According to the site, you will build new skills, save time and money, and learn at your leisure. You can choose your skill level – either beginner or intermediate/advanced. I'm a fairly proficient knitter, so I picked the "intermediate/advanced" level. Subscriptions start at $29/month.
Unfortunately, this project arrived while I was in the middle of another knitting project (an afghan I'm knitting as a gift), so I didn't have the time to devote to this project I usually do. When the March Knit-Wise box showed up in my mailbox a little while ago, I figured it was better to get a quick review of the February project posted and move on to the March box – so the "completed" project below isn't at all complete!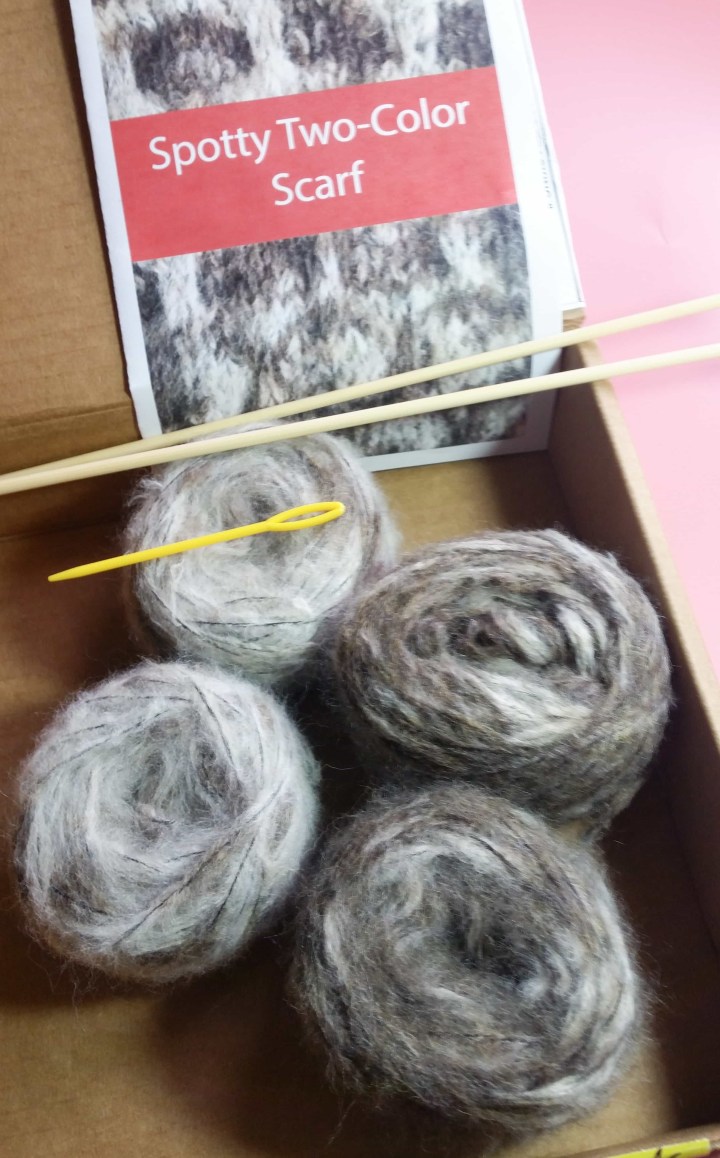 Knit-Wise provides nearly all the supplies you need for the project – basically everything but scissors. Super convenient! Here's a look at this month's supplies – directions, yarn, knitting needles, and a tapestry needle. This is a great way to get a knitting project because you can get started right away!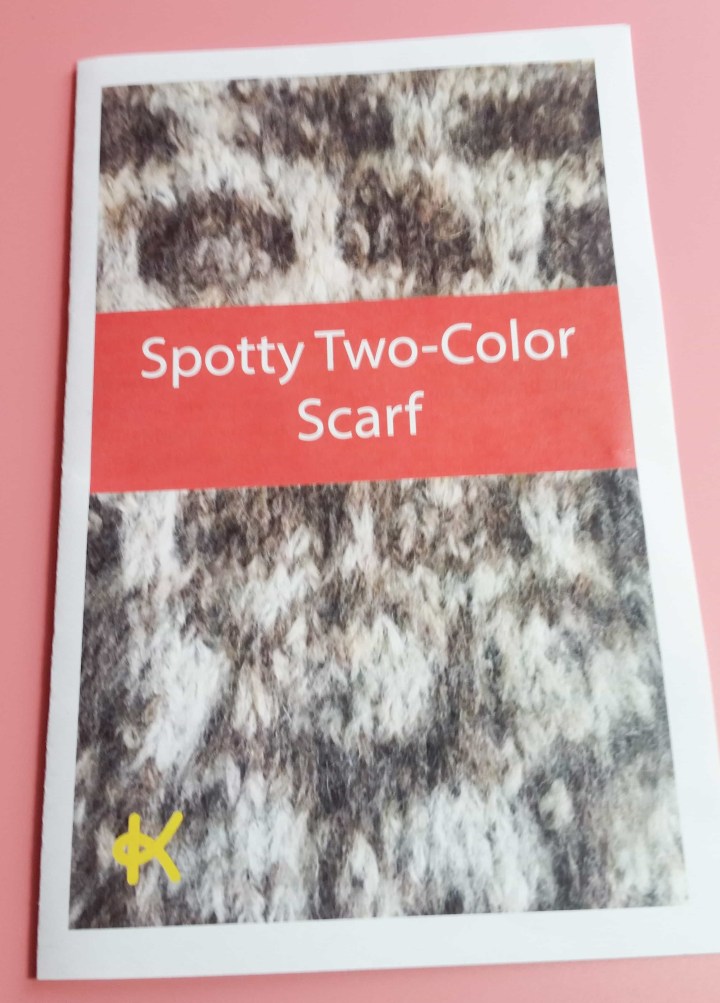 Instructions: Knit-Wise instructions generally come in a little booklet. The front of the booklet provides a full-color image of what the final project will look like. This month's project is a scarf. The variety of projects has been great – over the past months, Knit-Wise has sent home decor projects, hats, socks, mittens, and more. I like that I'm not only learning different knitting techniques, but I'm also getting exposed to all different types of knit items.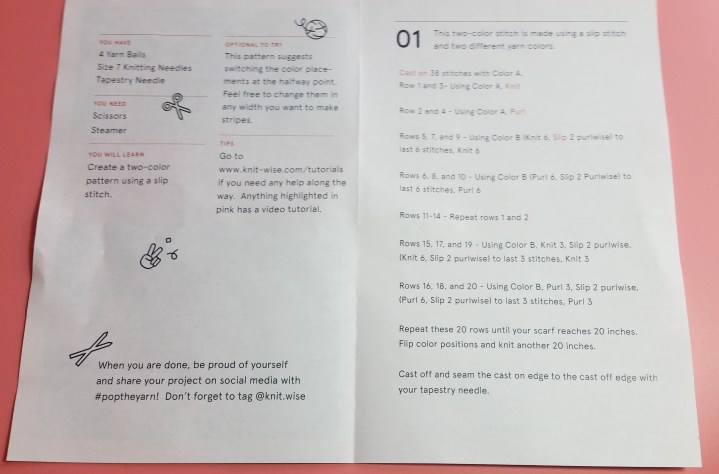 Here's a peek inside the instruction booklet. The step-by-step instructions are very clear and have some terms printed in pink ink, indicating there is a video explaining that stitch on the Knit-Wise website. Although I have not done much work with 2-color knitting (other than stripes), this technique was very simple so I did not use the videos for this project. However, I've used some of the videos before and they are helpful and easy to understand.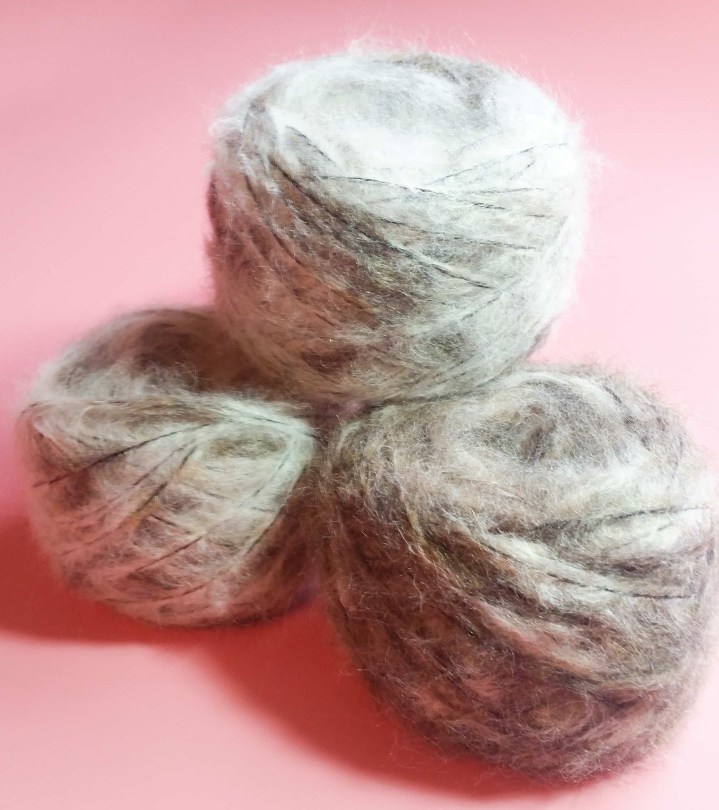 Yarn: This month's box included 4 balls (only 3 shown) of yarn – two lighter tan and two darker brown. One criticism I have with Knit-Wise is that it seems to prefer neutral colors. I'm not against browns, but I also like a little color in my life. Last month's project was blue mittens, which I loved. This brown-on-brown scarf… I did not love as much. Also, because the point of the project is two-color knitting, having yarns that are so close in color make the pattern less distinct and interesting than if more contrasting colors had been chosen.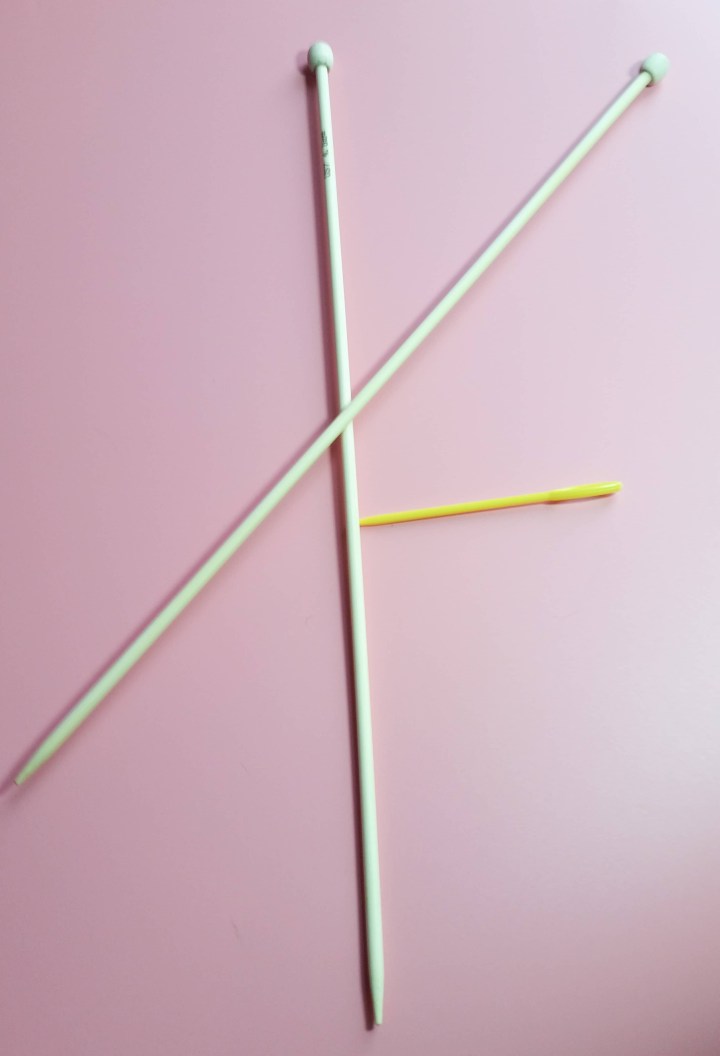 Needles & Notions: As I mentioned above, Knit-Wise sends everything needed except scissors. This month Knit-Wise sent knitting needles and a tapestry needle for completing the scarf.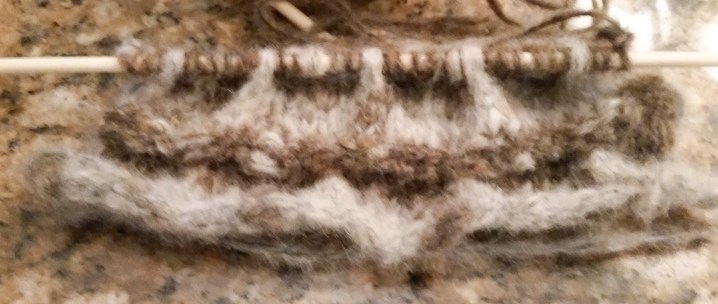 And here's a look at the not-even-close-to-finished project! As I mentioned above, I got busy knitting a personal project and didn't have a chance to get too far on this project before the next month's box came in. So I'm showing you what I have done so far – about 3-4 inches of the 40 inches suggested for the final project. Also as I mentioned above, I don't really love the brown-on-brown of this scarf generally. (It does match my kitchen table, though…but that's not a selling point.)
This project has been one of my least favorite Knit-Wise boxes. I don't like the colors or the pattern that results with the spots – I probably will never wear the scarf of the finished project. However, it's a good project for a beginner to medium-skilled knitters and it does teach a new technique with the two colors. Also, I'm sure the pattern and colors do appeal to many people – just not me. (I'm a colorful girl, but I know plenty of people who love their neutrals!) Now, on to next month's box that's already here!
What do you think about this month's Knit-Wise project?