Fit Snack is a monthly subscription box delivering healthy nutritious snacks directly to your door. Every month expect 7-10 full-size items plus samples of delicious and healthy snack foods.
Fit Snack curates its boxes according to the following criteria:
Each product always containing two or more of the following: GMO-free, high in protein, low in sugar, gluten free, organic, raw, vegan and all natural.
Plus, we add in bonus items such as energy boosters, nutritional supplements, or refreshing beverages.
Finally, we find a little space for exclusive workouts, workout gear or other active lifestyle inspiration.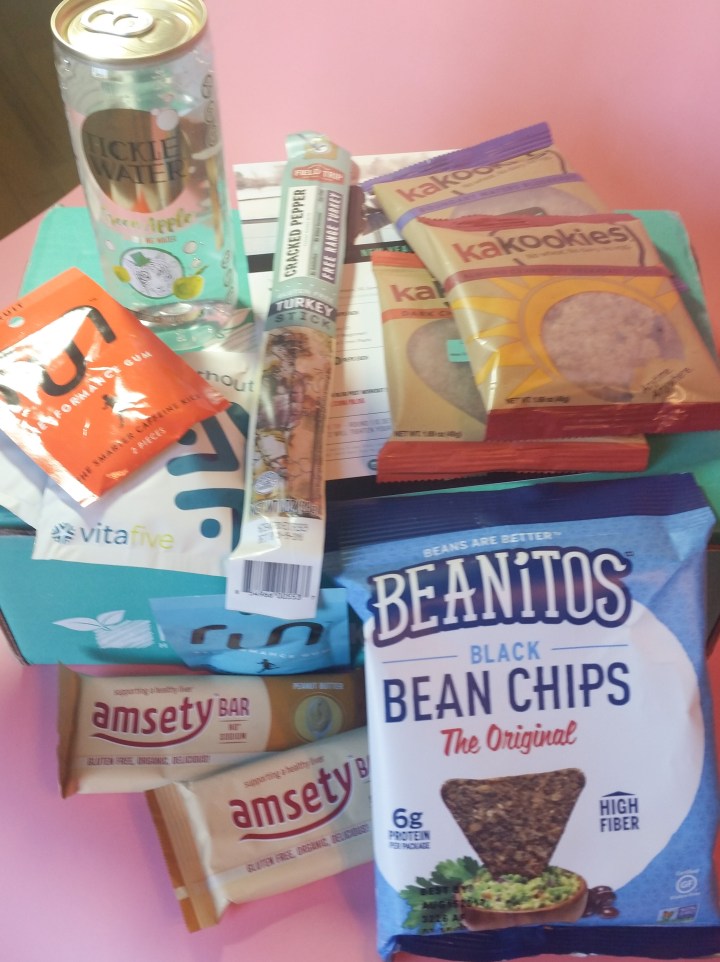 Here's a look at the yummy stuff in the February box! I'm excited to see some new snacks as well as some old favorites.
DEAL: Save $3 on your first box! Deal applies automatically, just visit and subscribe.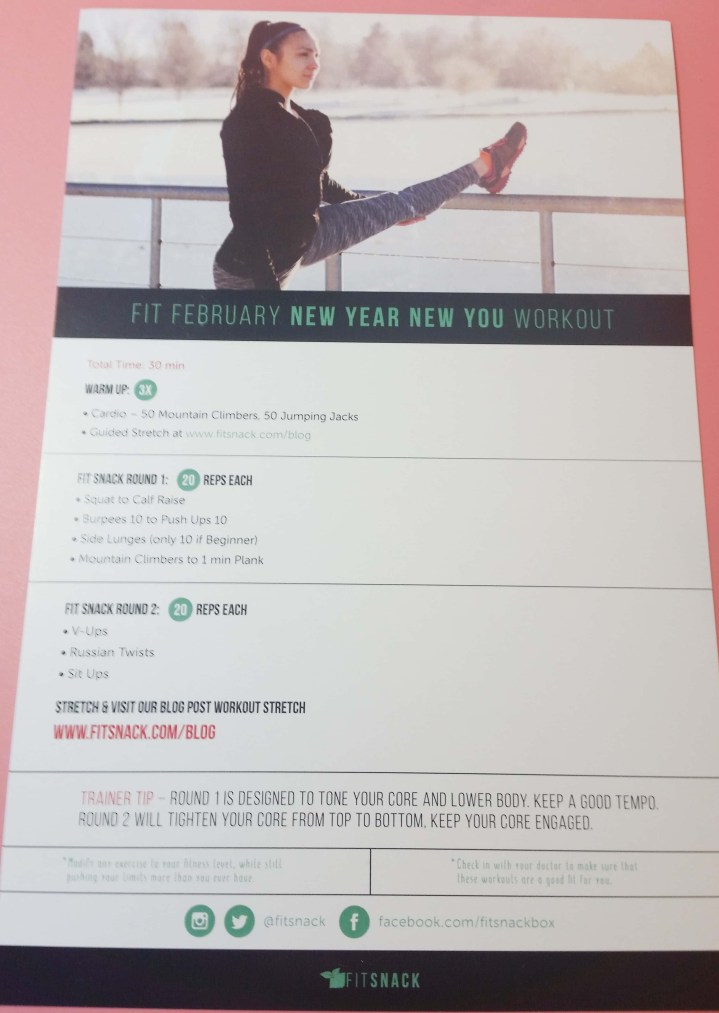 One side of the information card gives a workout (with more details available at the Fit Snack blog).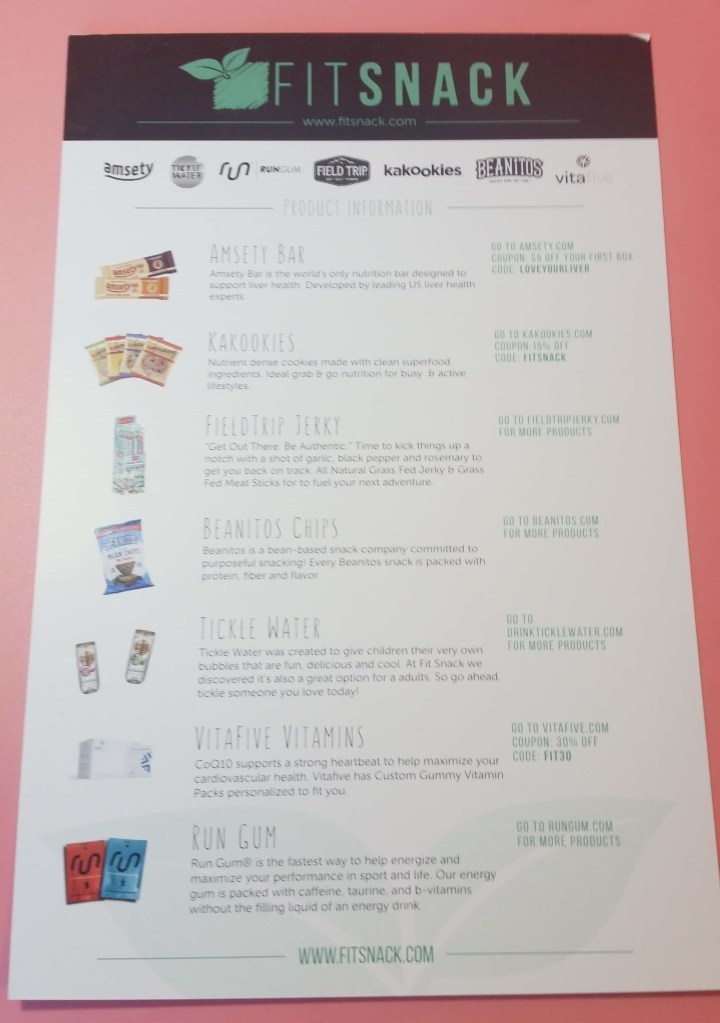 The other side of the information card tells you a little bit about each of the products in the box (and coupon codes for most… also, the box included a few paper coupons for some of the products). I was a little disappointed to see the VitaFive Vitamins included as one of the 7 items – in the past, these had been included as bonus extras. All in all, this box felt a little "less" than many of the other Fit Snack boxes I've received… but there were still a few things I really liked.
Amsety Bars: These bars are designed to support liver health and are super low-sodium, gluten-free, and organic. I don't know much about liver health nor do I have any medical conditions. As far as energy bars go, these bars are OK. They are not too sweet and are not too heavy. The peanut butter flavor was pretty good.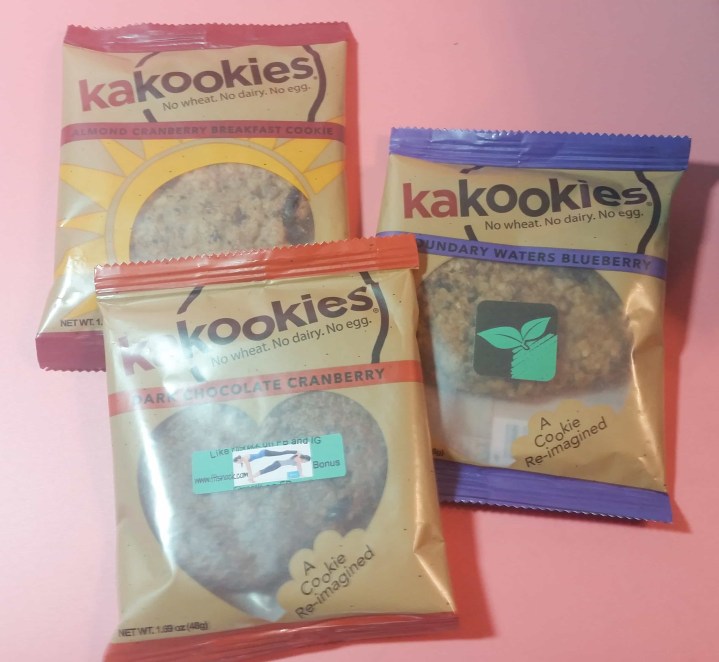 Kakookies: Holey cow! I have found my new grab-and-go breakfast or snack. These "cookies" are so good – and good for me, too! Kakookies are made with healthy, clean ingredients, but more importantly, they taste amazing. I can't even tell you which one I liked best, because I really enjoyed all of them! And I'm looking forward to buying more of these to fuel my adventures.
Field Trip Turkey Jerky: Yum! My only complaint about this item is that I had wished there was more. I am a jerky fiend, and I found this one to be very tasty. Sometimes turkey jerky is a little less tasty than beef jerky, but the cracked pepper flavor and the high quality of the product meant this product was delicious!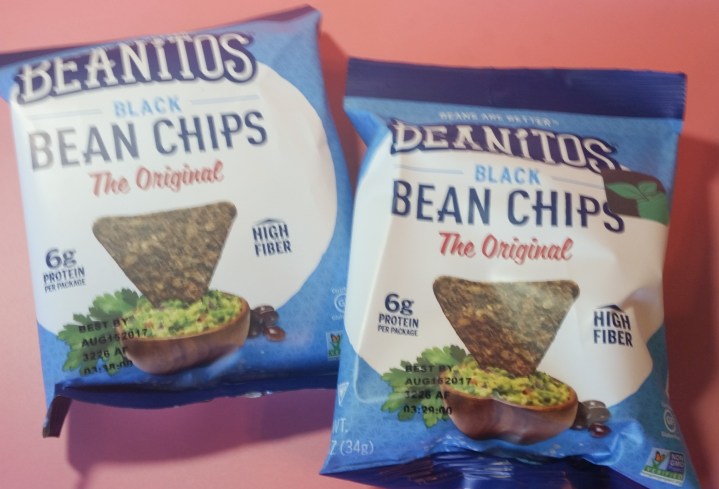 Beanitos Black Bean Chips: Fit Snack has included Beanitos chips in their boxes before and I like them. The chips are not as salty as typical tortilla chips, so they benefit from a sauce – I like mine with salsa or guacamole (or both!). Otherwise, I really like these chips for a quick and not-as-bad-for-me crunchy/savory snack.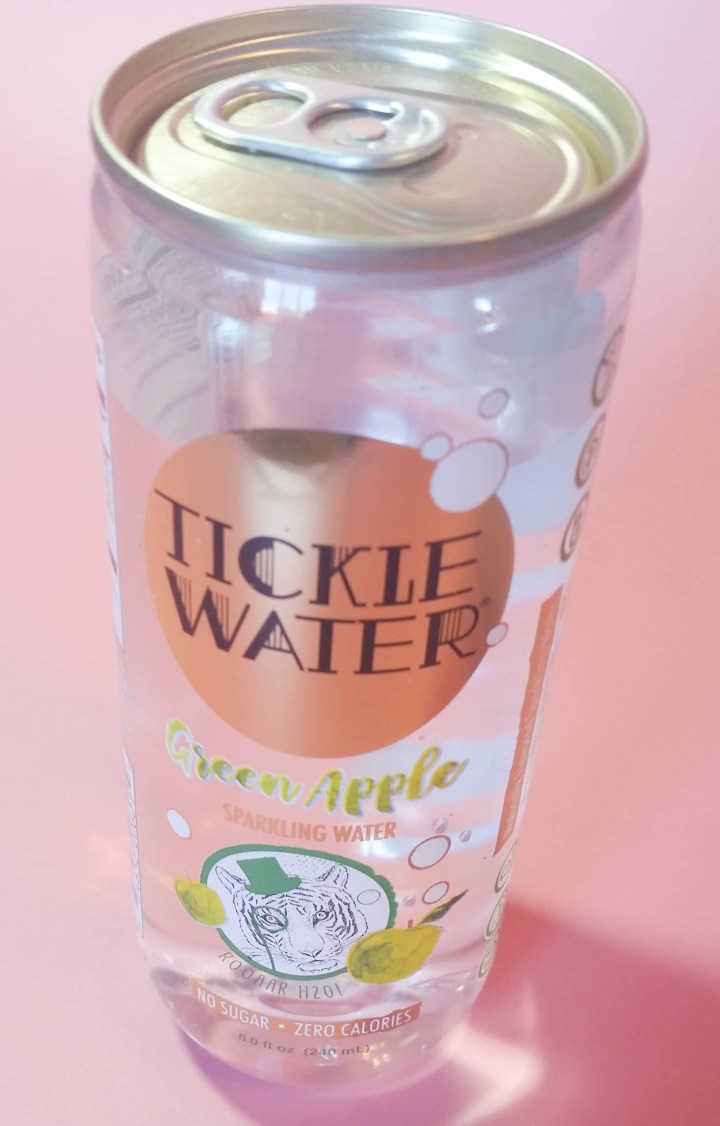 Tickle Water: Fit Snack has also included Tickle Water before. Tickle Water is supposed to be a healthier carbonated drink for kids – it's an unsweetened, flavored sparkling water. I'm not a kid, but I really enjoy Tickle Water. I've tried the watermelon and the green apple flavor – both are yummy. They have a nice fresh taste that is not chemically, as some other unsweetened flavored sparkling waters can taste.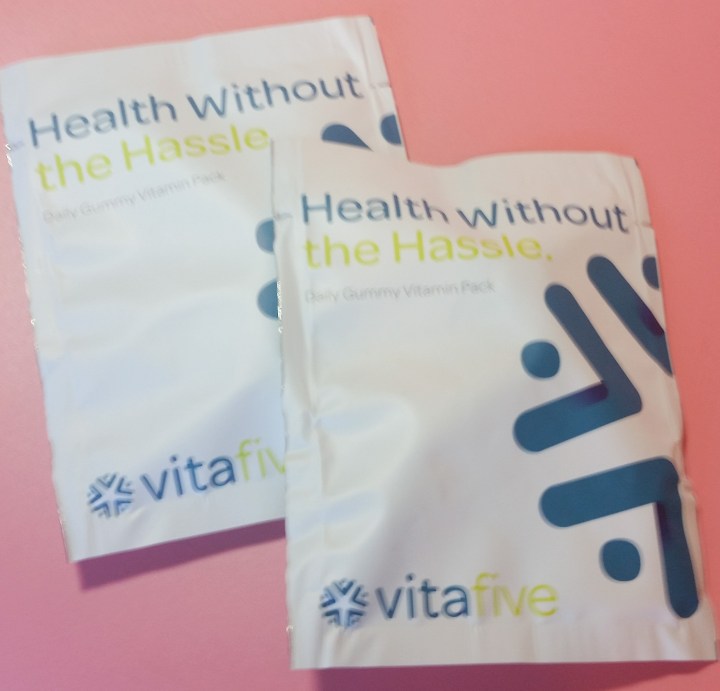 VitaFive Vitamins: VitaFive makes custom gummy vitamin packs for grownups and kids. I do not take vitamins, but if I did, these daily packs would make it easy and convenient.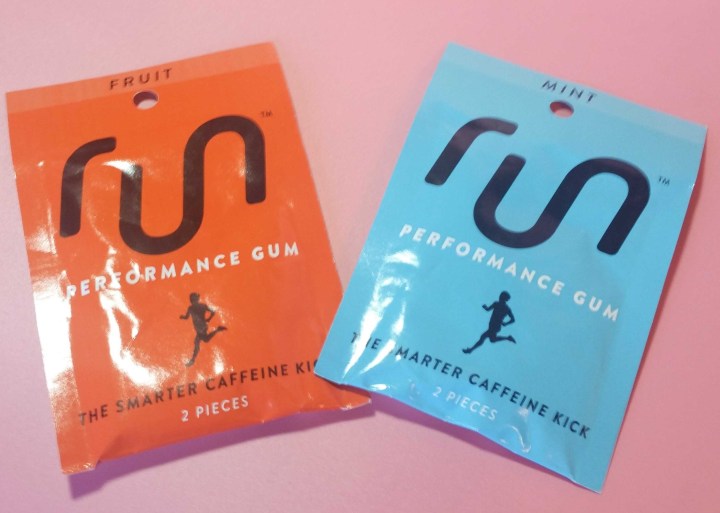 Run Gum: I've seen Run Gum advertised before at race expos and the like, but I had never tried it myself. I like the idea of caffeinated gum and the little pouches would make this gum easy to carry during races. I plan to test these out on my next long run.
I enjoyed most of the items in the February Fit Snack box, and I love that I found a new favorite breakfast-to-go in Kakookies! But I will say I am a little disappointed in the quantity of items. Fit Snack promises and has, in the past, included 7-10 full-size items plus bonuses and samples. I don't think vitamins or gum really counts as a snack – full-size or otherwise.  I prefer my snacks to actually be something I can eat while I'm training or traveling or even working at my desk… and gum and vitamins don't cut it. However, this is the first time I've felt this way about Fit Snack – the other boxes have been much for snack-tastic!