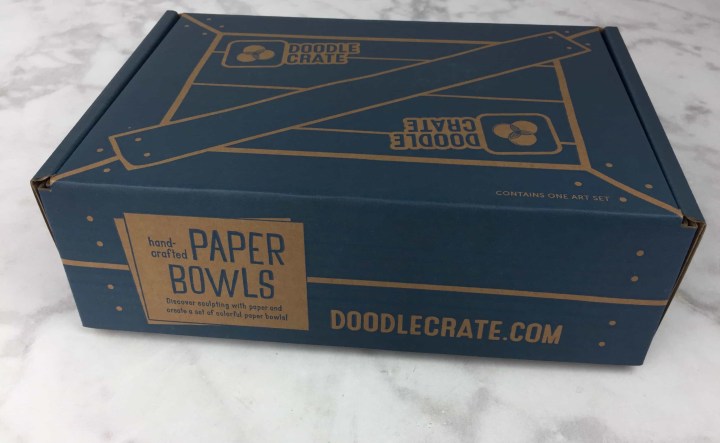 Doodle Crate is a member of the KiwiCo family geared toward kids 9+. It inspires young makers to learn new skills and gain creative confidence through craft and art projects by teaching them basic and intermediate techniques of a new artistic medium each month.
Though geared toward kids, Doodle Crate is gender neutral and also excellent for anyone (even adults) wanting a craft subscription. In our experience, this is the best "arts and crafts" box for older kids, tweens, teens, and adults – the end result is nearly always something you will want to save!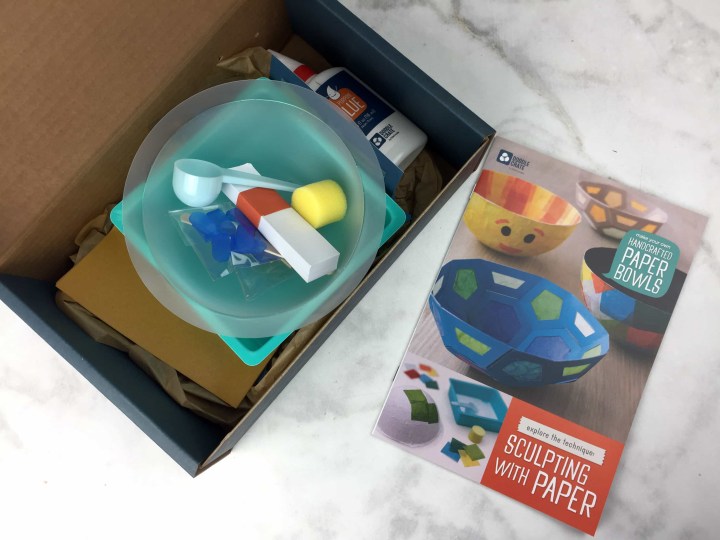 This month's project: Hand-crafted Paper Bowls!
DEAL: Use this link to save 30% on your first month of Doodle Crate!  (or Kiwi Crate and the KiwiCo family subscriptions Tinker Crate and Koala Crate).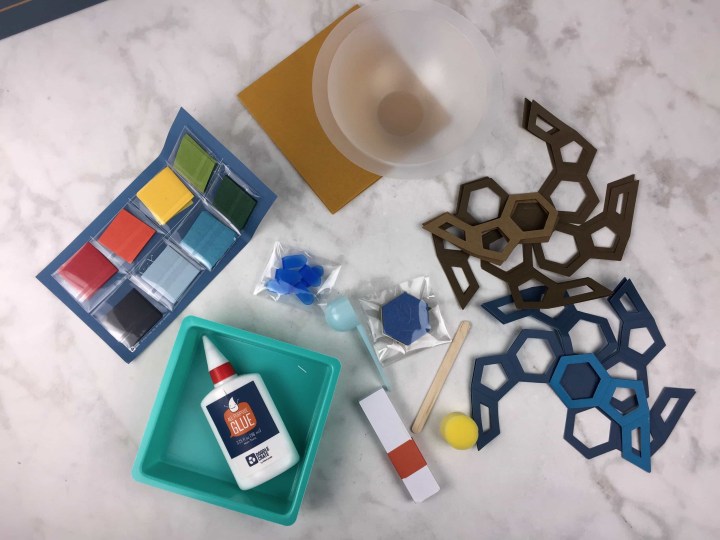 Every crate comes with everything you need to complete the project (except for a few basic items from your home), as well as a booklet. Doodle Crate tends to focus on a single craft and contains only what you'll need for the project.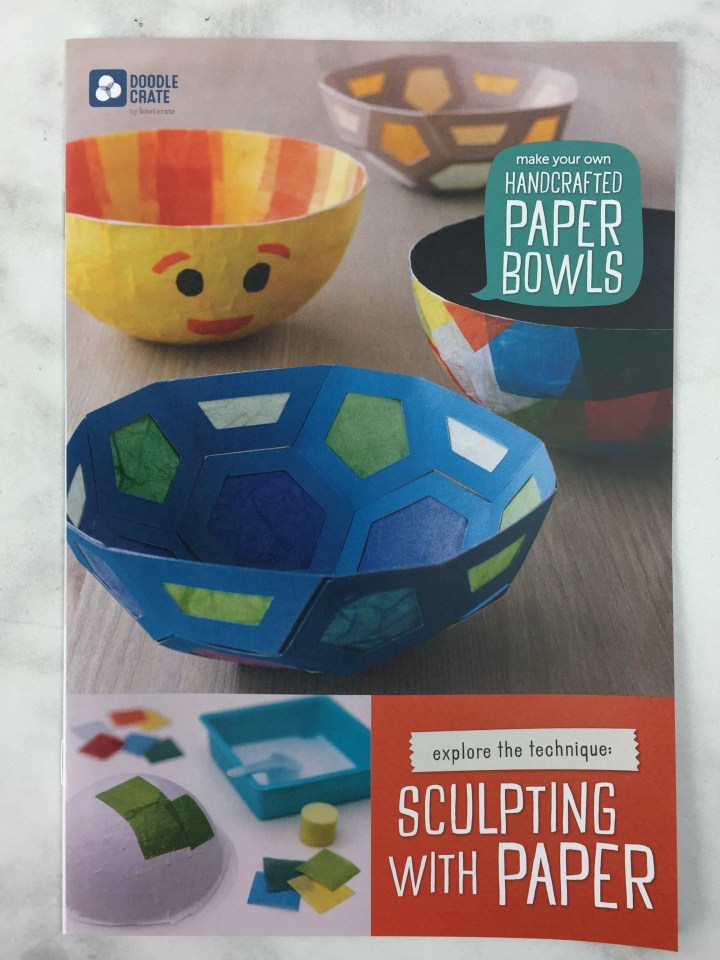 The booklet has excellent, textbook quality background on the subject matter of the project.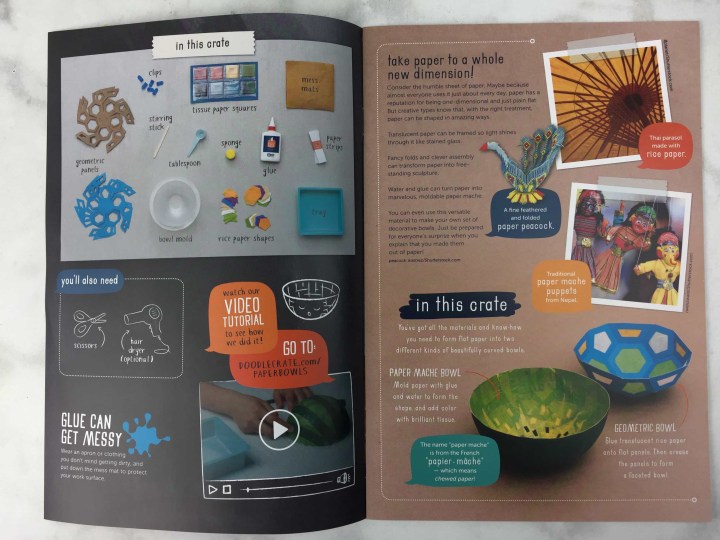 It's loaded with high-quality pictures and illustrations to both give you ideas and help you along, and they produce a video tutorial for each project, too. Doodle Crate is great at providing perspective and inspiration for their projects.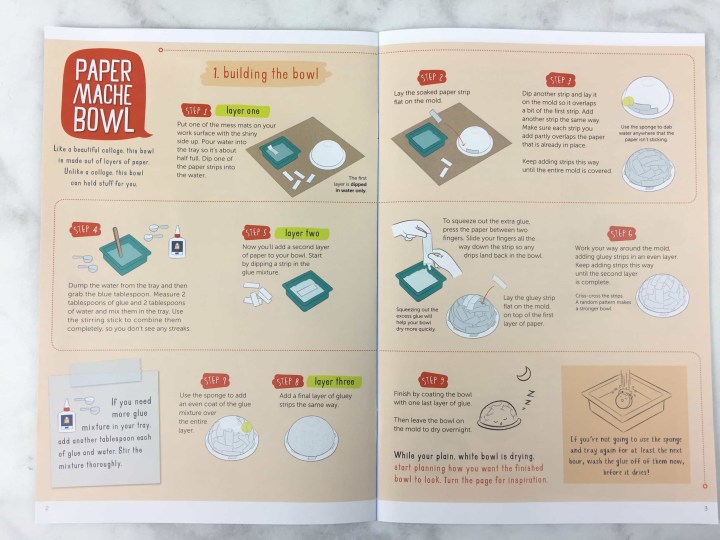 This box had supplies and instructions to make two different kinds of bowls. The first bowl was a colorful paper mache bowl.
The kit included a plastic dome upon which to build the casting, a sponge for dabbing on glue solution, the glue itself, and plenty of paper strips. We had enough materials to make a second paper mache bowl!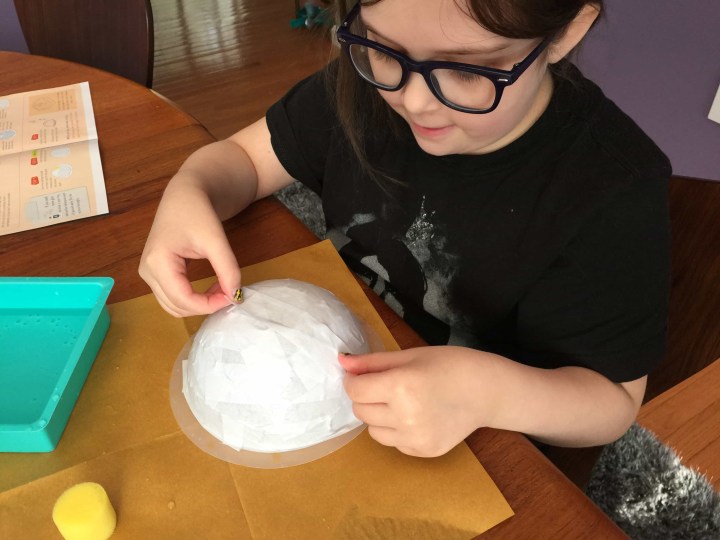 We started by laying on a layer of paper soaked with just water.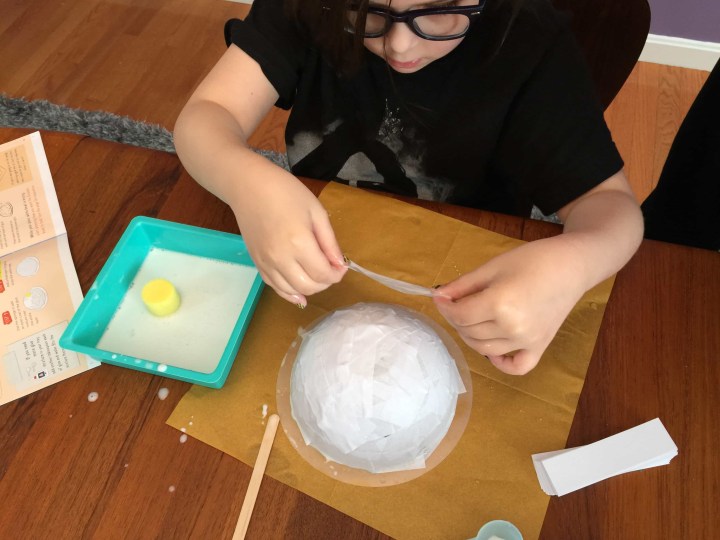 And then we added more paper dipped in a glue and water solution.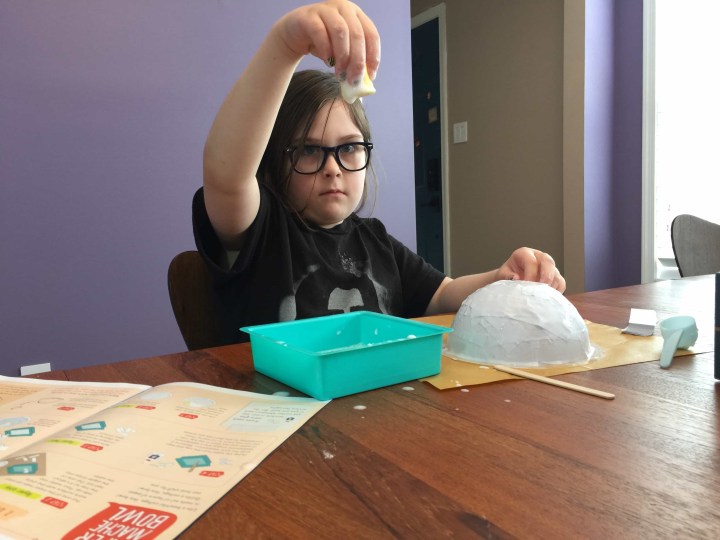 A final coating with glue before setting it out to dry overnight.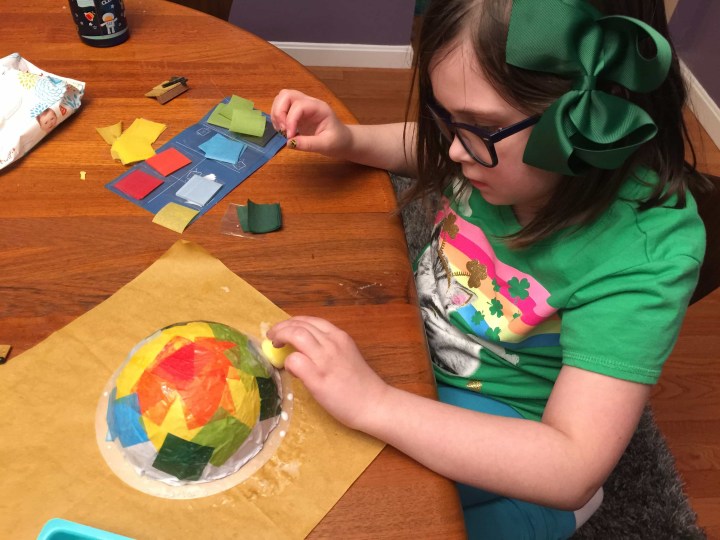 The next day we decorated the exterior of the bowl.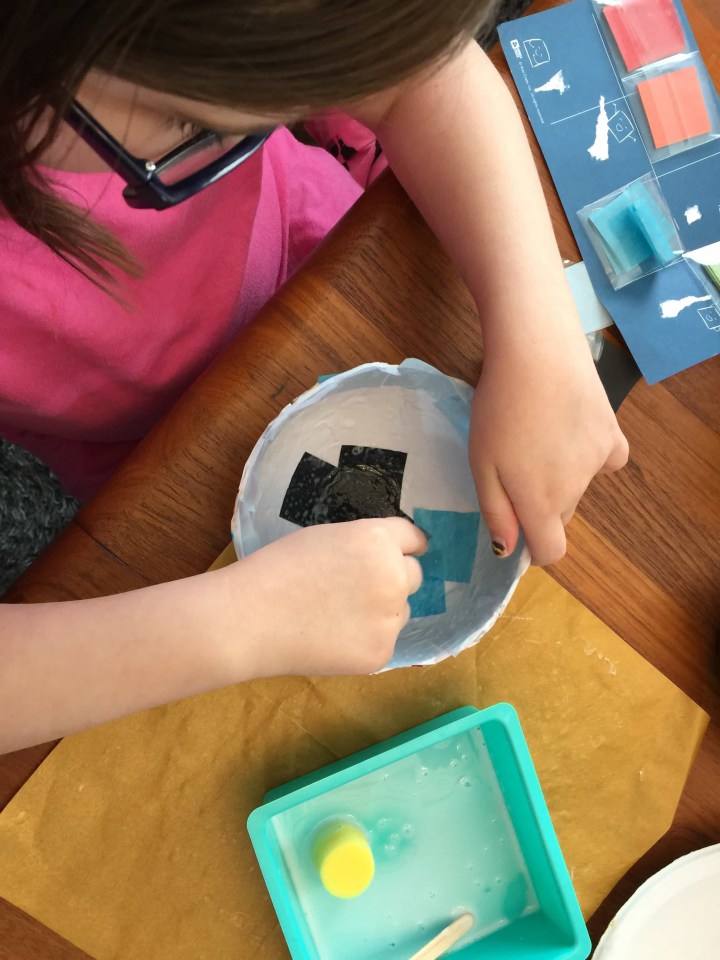 After another drying session, we decorated the inside.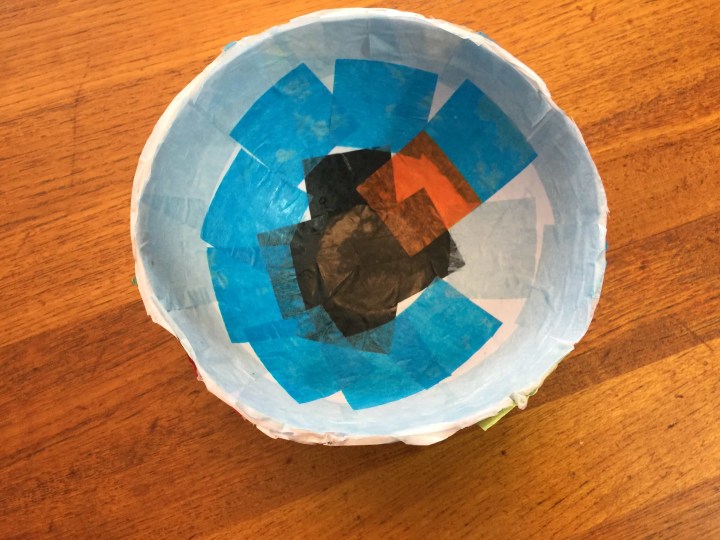 The inside of our bowl.
And the outside.
The Crate included materials and instructions for making a geometric bowl, too!  There were two sets of frames, so we could make a pair of these bowls as well.
We attached two sets of hexagons, pentagons, and trapezoids to the frame, on on top of the other,with little dabs of the provided glue. A second frame, spiraling in the opposite direction, was placed on top, sandwiching the colored rice paper.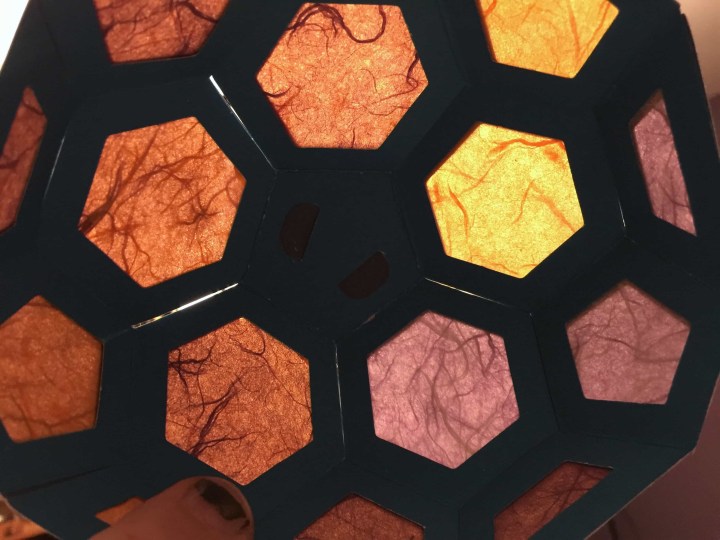 When corresponding shapes on the oppositely spiraling frames where paired and glued together, the complementary spirals created a sturdy frame. The two layers of rice paper allowed a different pattern to appear on the inside and outside of the bowl.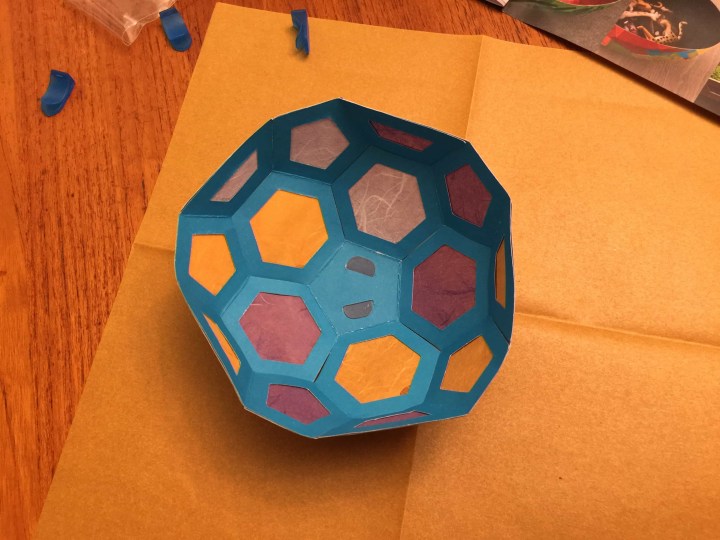 We did the same pattern on the inside and outside, but we shifted it on row when switching surfaces.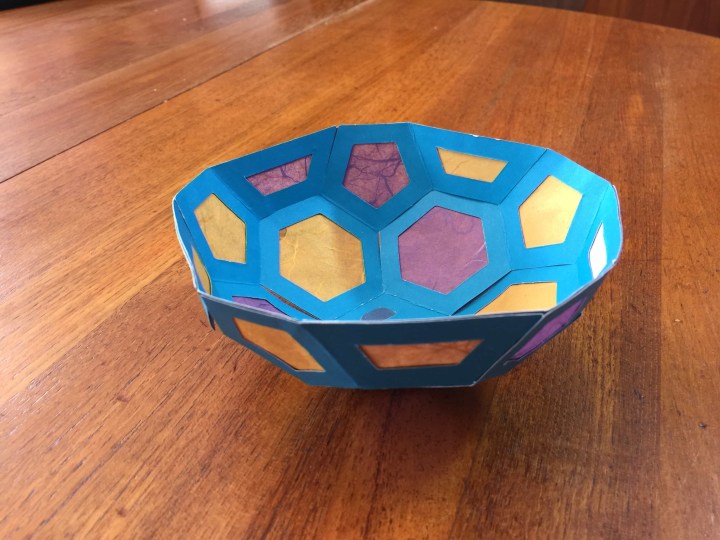 There were just enough rice paper shapes to make two bowls, but only if you weren't picky about the colors.
The geometric bowl dried quickly, so we worked on that project while the paper mache bowl dried. Once the latter was firm, all that was left to do was trim any excess paper from around the rim. Voila! Two different style bowls, perfect for decorating a shelf or table, or keeping your change or precious little items.
Doodle Crate is a really great project subscription for tweens, teens, and even adults. Some projects can get fairly complex, but the thorough instructions and guidance never leave us confused, and most projects can be done by pre-teens without adult assistance. This project stretched out over a few days because of the interstitial drying time.