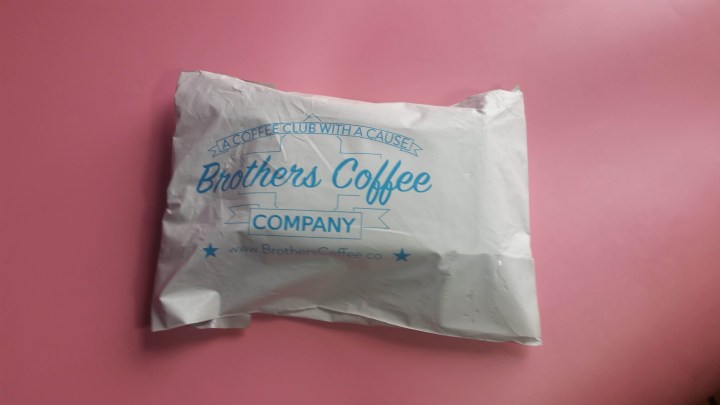 Brothers Coffee Company is a monthly coffee subscription box with a twist. Brothers Coffee Company is "a coffee club with a cause"! Well, I love coffee (no, seriously – I LOVE coffee) but I also love causes – so I'm a huge fan of Brothers Coffee Company. Subscriptions start at $18/month for one bag of beans. Multiple bag subscriptions are also offered.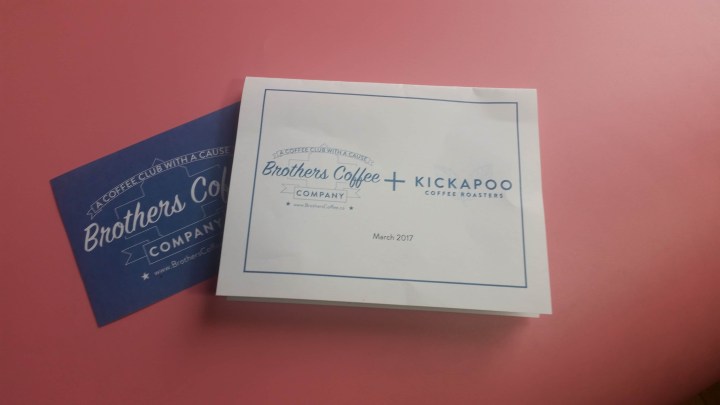 Here's the information card for March. Brothers Coffee Company promises "top tier ethically sourced coffee from a new roaster every month." This month, the selected roaster is Kickapoo Coffee Roasters.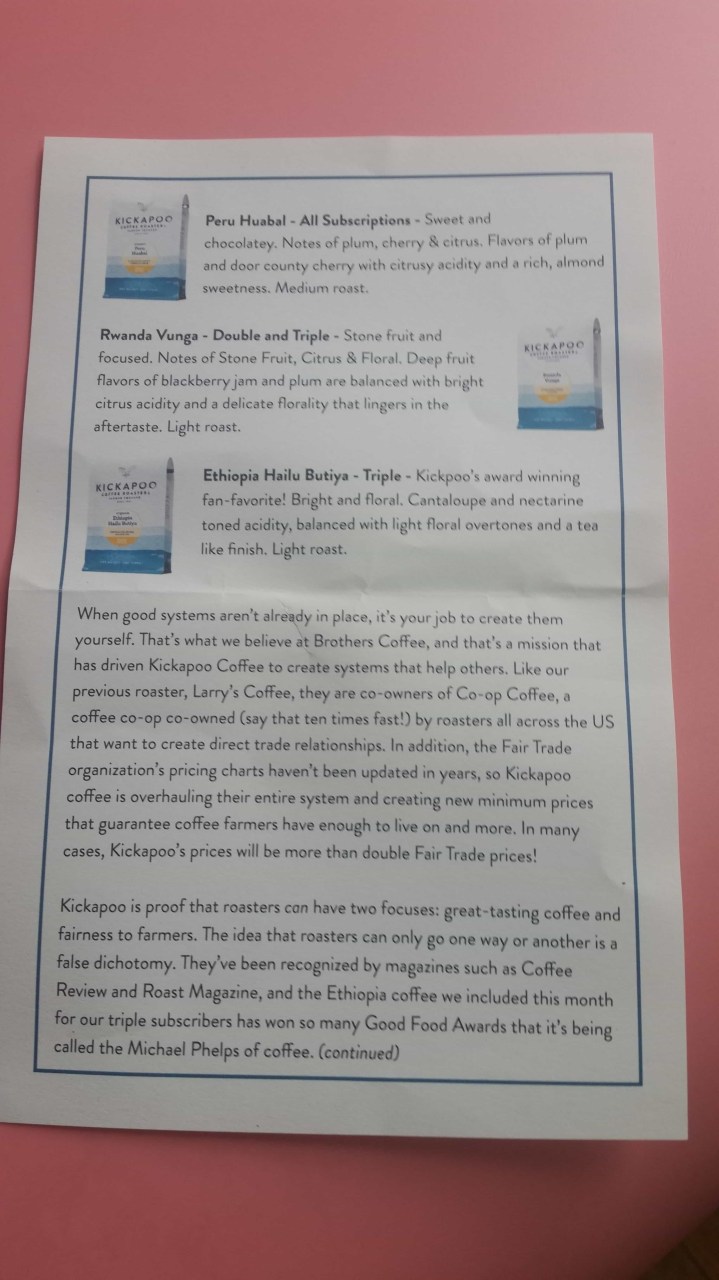 Here's a picture of the inside of the information card. There is just so much to love about this information card and Brothers Coffee Company. First, great tasting notes. Especially when I'm trying a coffee varietal or roast for the first time, I love learning more about it and the tasting notes are so helpful. Second, great information about the month's coffee maker – Kickapoo Coffee Roasters. I love the information about how Kickapoo is helping farmers by providing living wages. Third, I love Brothers Coffee Company's humor. Check out that last line on the photo – one of Kickapoo's coffee is the "Michael Phelps of coffee." LOVE!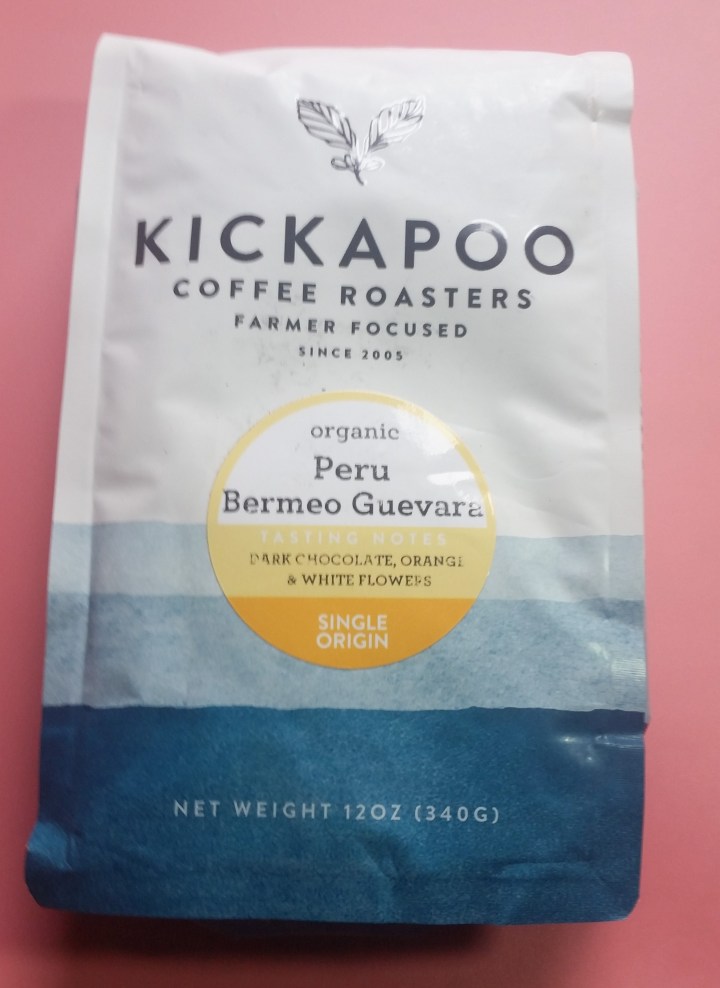 Here's a picture of the front of my bag of coffee. Organic Perus Bermeo Guevara coffee, single origin… plus some additional tasting notes.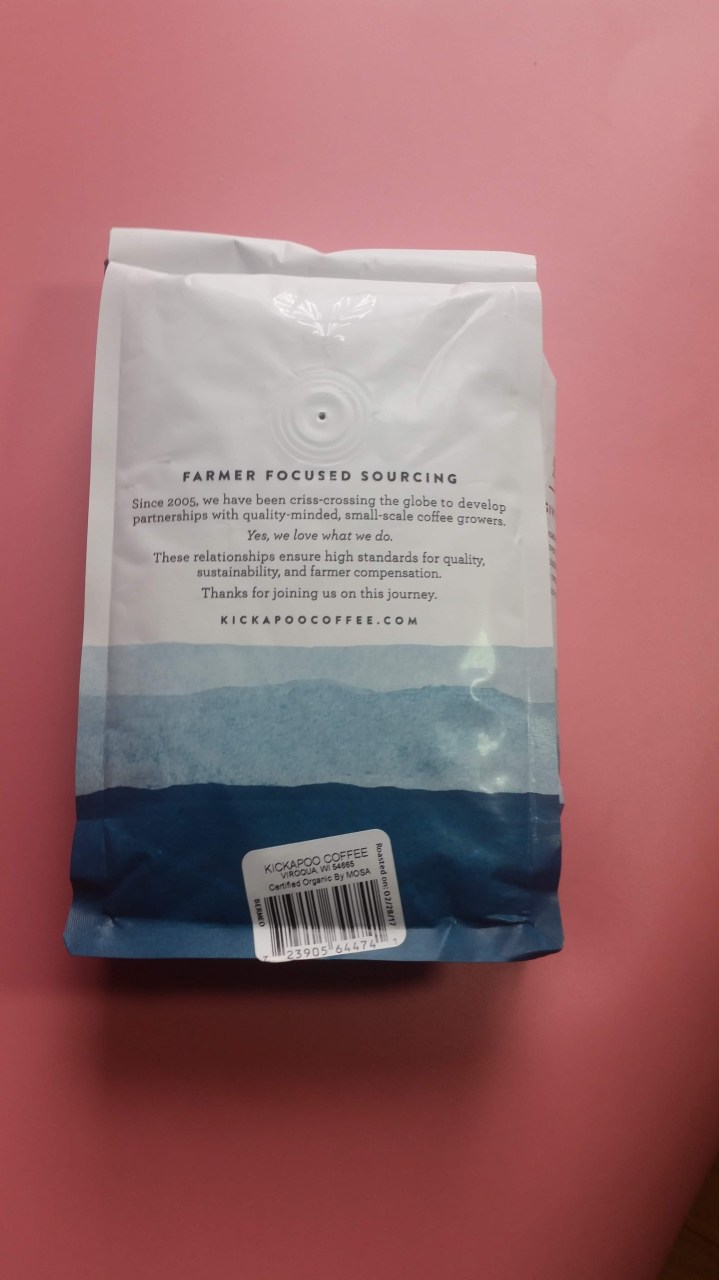 The back of the coffee bag provides some more information about Kickapoo's mission. The little sticker on the bottom indicates that the coffee is certified organic by MOSA, plus it displays the roasted date. Freshly roasted coffee… MMMMMM!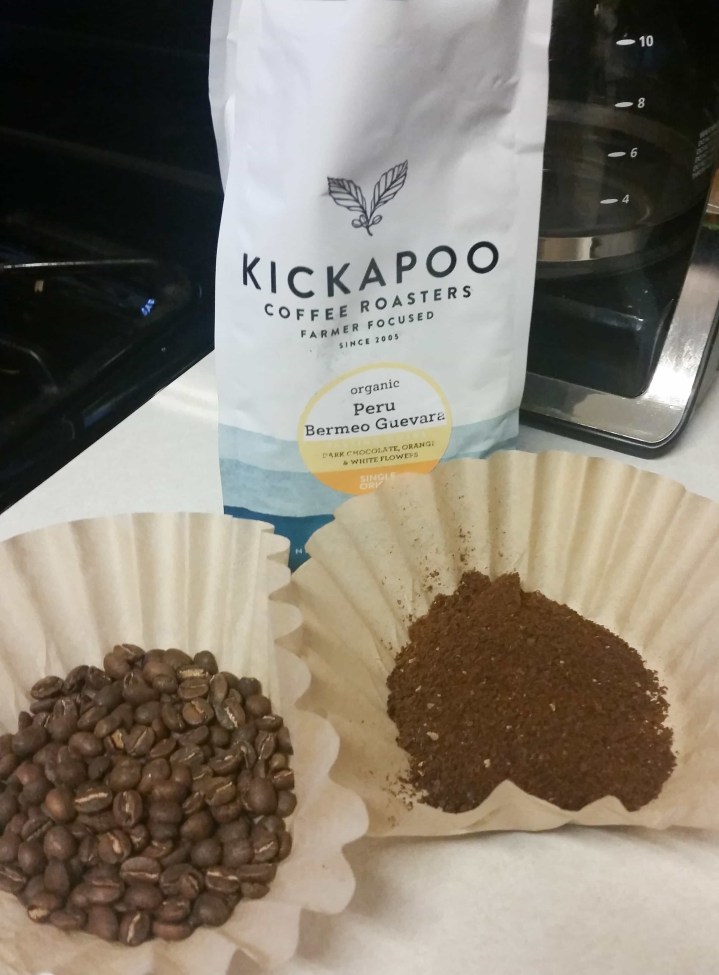 And finally, here's a picture of the coffee – pre- and post- grinding! I really enjoyed this coffee – had a few nice mugs-full this morning. The tasting notes are spot-on… orange flower and cocoa. This roast was a little more to my liking than last month's that was lighter than I generally like – this wasn't super dark, but the flavor was delish.
As I mentioned last month, I really really love Brothers Coffee Company. The coffee they've sent has been excellent and I know that the companies behind the coffee are chosen for doing good things for the environment, the people, and the world. It's not so easy for me to find these great companies to support, but I'm thrilled that Brothers Coffee Company does this work for me. If you love coffee and causes, and who doesn't, try Brothers Coffee Company!
Visit Brothers Coffee Company to subscribe or find out more!