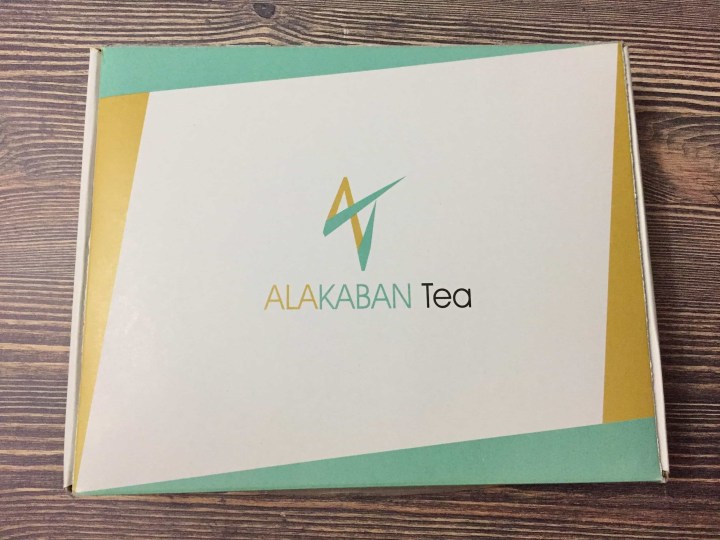 Alakaban Tea is a subscription that promises to deliver a delicious Sri Lankan tea experience to your door every month. Based in Canada, they source the tea, spices, and other goodies from Sri Lanka from small businesses. There are three sizes, depending on how much of a tea drinker you are! This is the Novel-Tea box.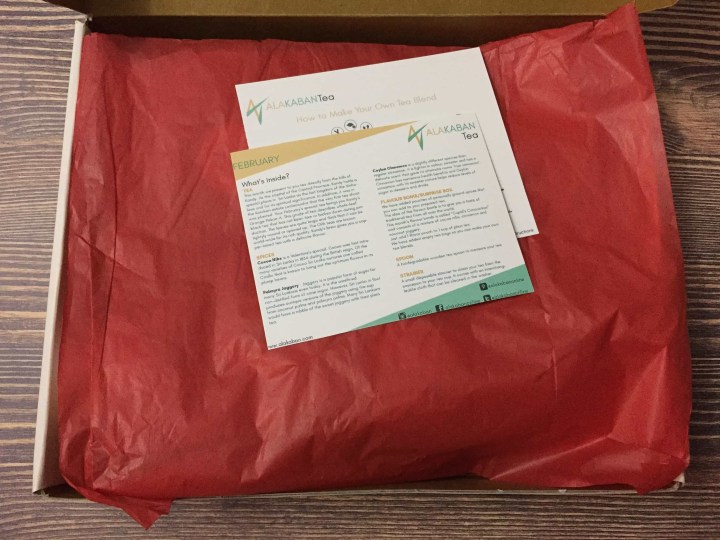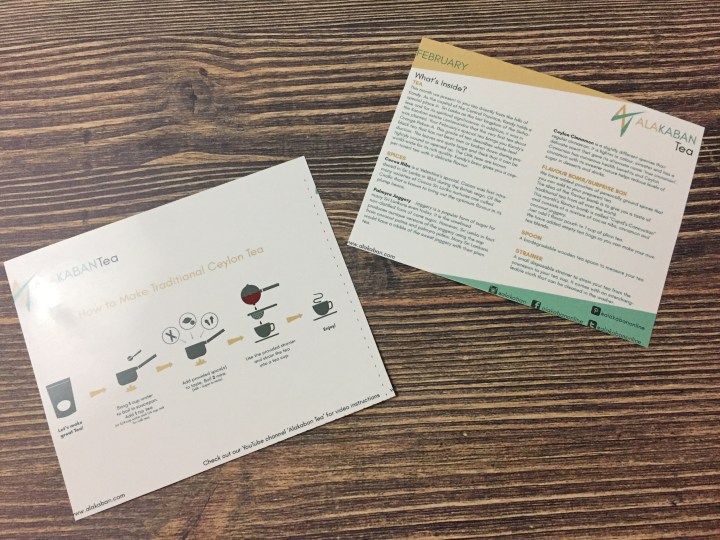 There are instructions for two methods on how to prepare traditional ceylon tea (with a strainer and with a bag) and a product information card with lots of details on the items included.
Everything is packaged securely in the box!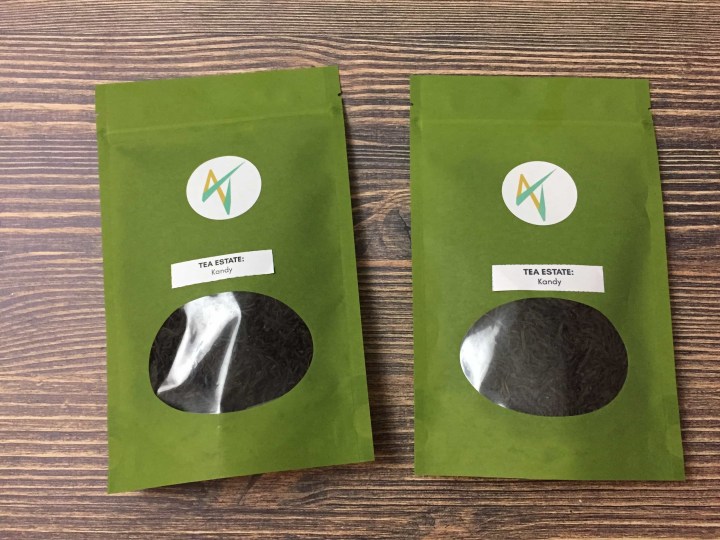 This month's box features an orange pekoe grade A from a place called Kandy. The whole leaf tea has large leaves. The Novel-Tea box includes two 150g bags of this tea – which will make a lot of tea!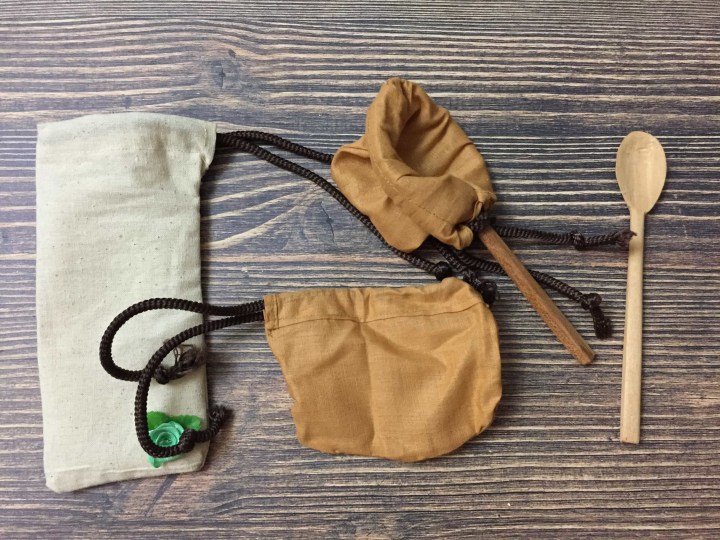 A handmade bag includes a cloth strainer with interchangeable bags as well as a wooden spoon for measuring out your tea.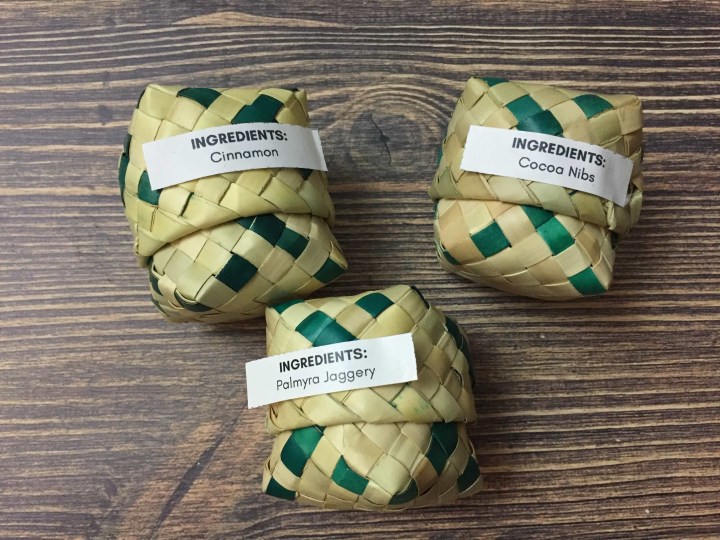 These small woven baskets include three different spices to go along with this Valentines Day theme. The spices were wrapped in parchment and I kind of made a mess because I'm clumsy.
Cinnamon – Ceylon cinnamon is a lighter and sweeter cinnamon. Because it is sweeter, it helps cut down on the amount of sugar added to the tea to sweeten it.
Cocoa Nibs – Introduced in Sri Lanka in the 1850s, cocoa nibs were brought over by the British.
Palmyra Jaggery – Jaggery is unrefined cane sugar. It comes as hard rocks of sugar which you break apart to add to your tea. Many people nibble on the rocks as a sweet treat, and I definitely did.
The small box contains five "flavour bombs." These are pre-portioned mixes of the above three spices to a bag you can add to your plain tea to flavour it, instead of adding the spices right to your tea as it boils.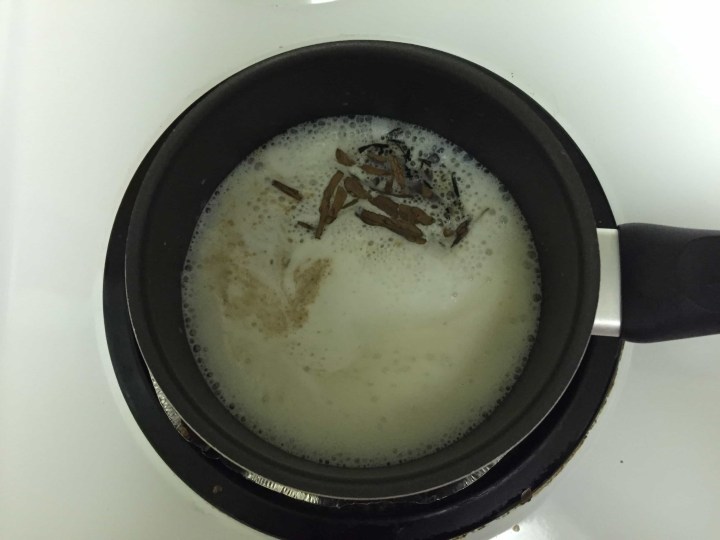 There are a few ways to make traditional Ceylon tea:
You can boil the leaves in a pot for two minutes along with the spices. To make milk tea, you add a bit of milk to it which is what I did. The second I added cinnamon, the most amazing smell filled my kitchen. Let it brew on boil for 2 minutes and then pour it through the cloth strainer into a cup. I found the cloth strainer a bit hard to use – I may have added too much tea and spices, but they clogged the cloth and the tea didn't drain very quickly.
Using the spare tea bag provided, you can add your tea and spices to it and steep normally in boiling water in your mug.
You can use the included flavour bomb sachets to steep them along with your tea simultaneously. I tried this method and found the flavour was not as pronounced as boiling the leaves and spices right in the water.
I really enjoyed my Alakaban Tea experience! It was very fun to learn about traditional tea and the handmade tools included were lovely additions to the experience as well. The largest box includes two large bags of tea which will definitely last me a month given how frequently I drink it. I love the themed spices included and really had fun making my own tea blends.