ReadDog Books is a personalized curated book subscription box where the book is chosen based on your preferences. When you subscribe, you fill out a quick little form where they ask you what kind of book you like, which one did you love, what's your ideal reading experience, etc. This subscription is $31.99 with free US shipping ($8 to Canada and $15 international), with discounts for longer subscriptions.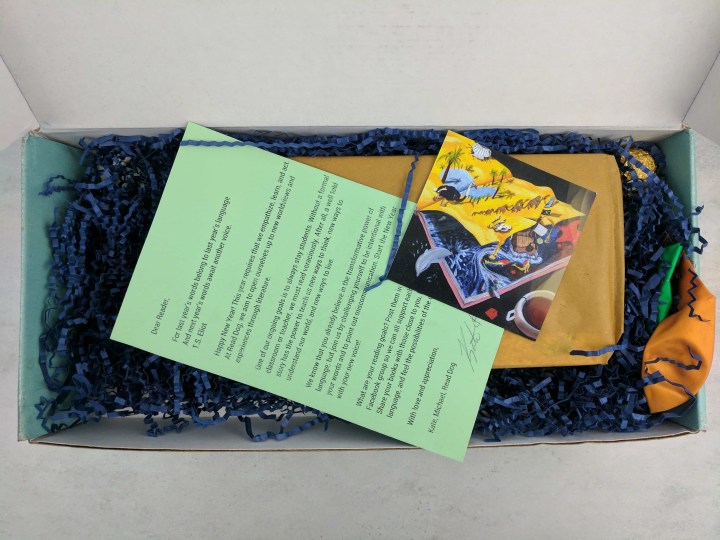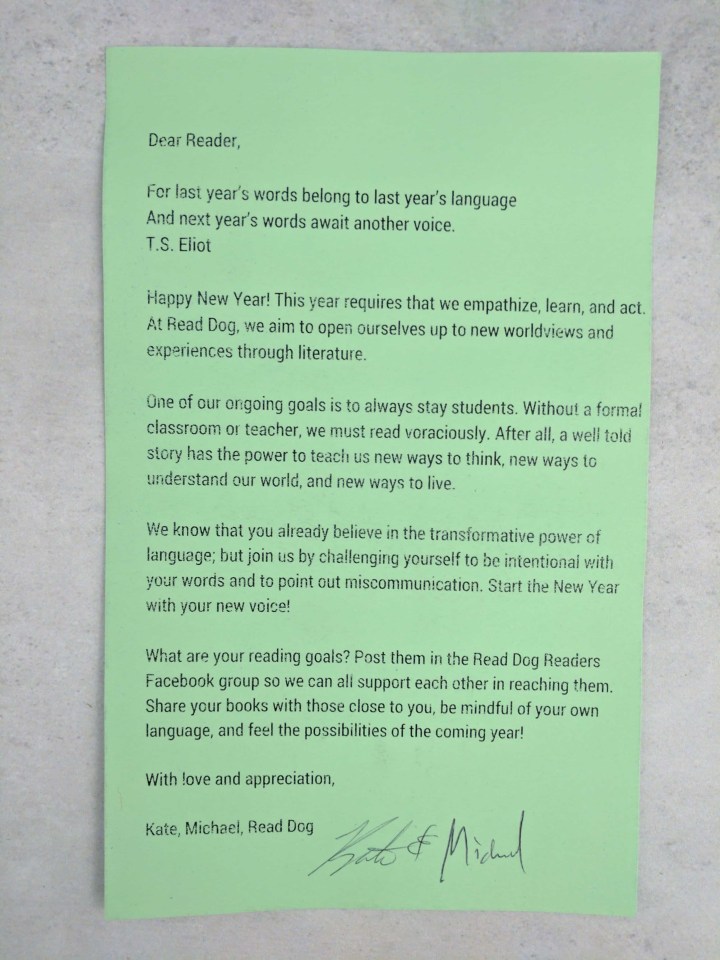 There's a note about the theme for the month, regardless of the personalised book chosen for each subscriber. For January, is all about the New Year and the transformative power of language. There's also a mention of their Facebook group where we can share our impressions on the box. I love these little details!
There are little goodies in the box. A chocolate, a herbal tea, and a balloon.
There was also this little pocket blank notebook and pencil, perfect to write down lists and everything we want to do to make this year, THE year!
"Turn the Page" print by Chronicler Studio. Look at this cute little print! I love love love that kind of pictures where books are real! Just love the imagery! I'll find someplace in my office to display it.
The book chosen for me was Annihilation by Jeff Vandermeer. This is a great book that I recommend to everyone who likes some atmospheric book, something disturbing where the environment is the antagonist. When I received this book, I was both excited and disappointed: I've read the book, it's one of my favourite and I already have a copy. Basically, it was the perfect book for me!
Not a problem! This subscription wants you to have the perfect book every month so if you already have read or own the book, you just have to send them an email and they'll ship you a brand new book in no time! If you are in the US, they will give you an envelope to ship them back the first book.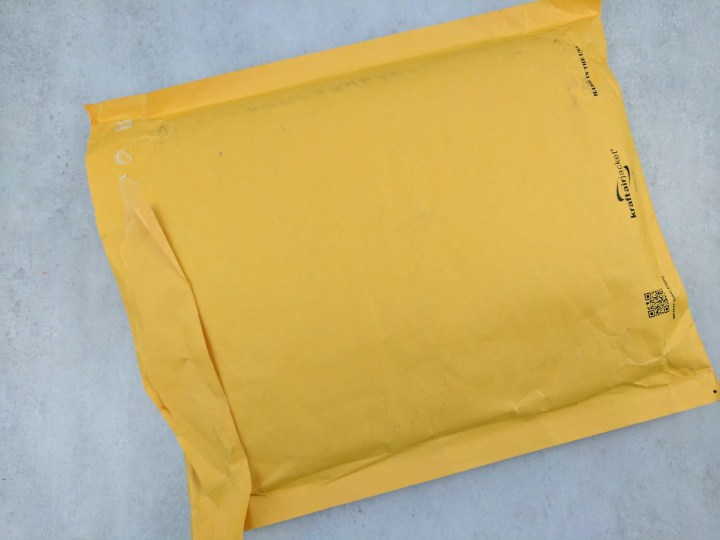 So my replacement book came in a plain envelope.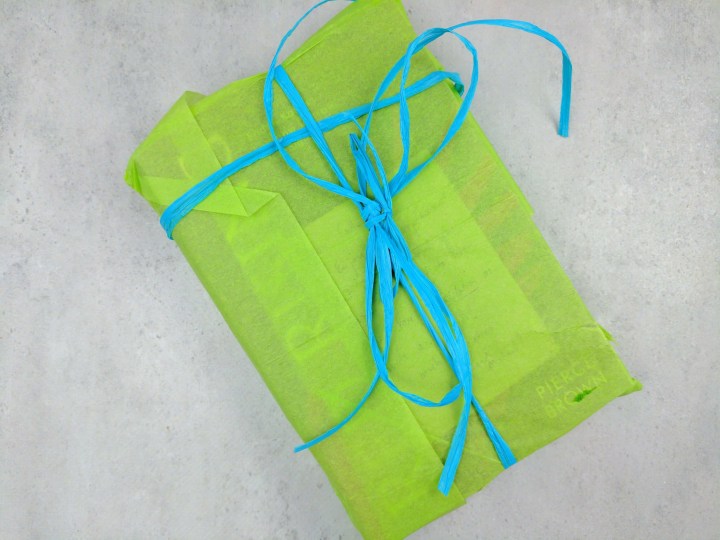 Even if it's a replacement book, they wrapped it up in a fun green paper tissue with a blue ribbon! So nice!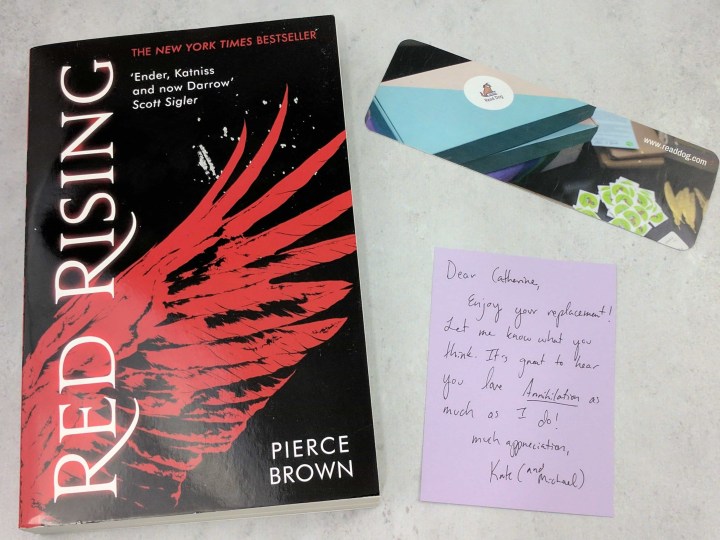 Darrow is a Red, a member of the lowest caste in the color-coded society of the future. Like his fellow Reds, he works all day, believing that he and his people are making the surface of Mars livable for future generations. Yet he spends his life willingly, knowing that his blood and sweat will one day result in a better world for his children.

But Darrow and his kind have been betrayed. Soon he discovers that humanity reached the surface generations ago. Vast cities and lush wilds spread across the planet. Darrow—and Reds like him—are nothing more than slaves to a decadent ruling class.

Inspired by a longing for justice, and driven by the memory of lost love, Darrow sacrifices everything to infiltrate the legendary Institute, a proving ground for the dominant Gold caste, where the next generation of humanity's overlords struggle for power.  He will be forced to compete for his life and the very future of civilization against the best and most brutal of Society's ruling class. There, he will stop at nothing to bring down his enemies . . . even if it means he has to become one of them to do so.
Honestly, I wasn't sure about this book. It has a strong YA vibe to it, and I'm not a fan of YA (I've even wrote down in my first questionnaire that I didn't want any YA) BUT, I'm willing to give it a try as it is a Sci-Fi book (love my Sci-Fi!!!).
And it didn't work for me, sadly. For different reasons (I couldn't stand the main character, and I'm not into Hunger Games type of books, or YA), I didn't like it. It was interesting and I'm happy to have given it a try, but I wished they would have given me something more in line with Annihilation (very atmospheric, mysterious, strange land, and weird), or a full on Sci-Fi book!
I really enjoyed my box from ReadDog. This is not a box heavy on the goodies, but it's all about your personal taste and making sure that every month you'll get a brand new-to-you book that you'll enjoy! I like the curation and even if my replacement book wasn't to my taste, I did receive one of my favourite books at first! The customer service is awesome as it was very easy to get in contact with them and they quickly got my second book on the way! Also, once you have received and enjoy your box, you can fill out a survey about your experience so they can send you an even better box next time! This is a great gift box for that reader in your life who seemed to have read everything!