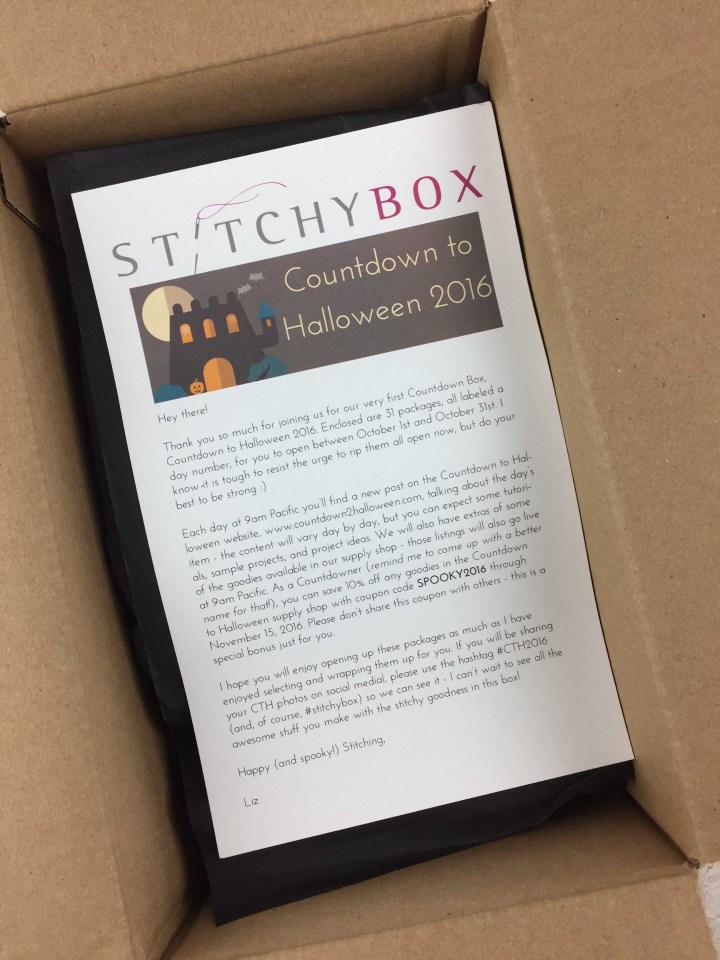 StitchyBox is a bi-monthly subscription box for counted thread embroiderers and cross-stitchers! There are two subscription options – the Big Picture Box and the Detail-Oriented Box. They also offer one-off Countdown Boxes for special occasions, like birthdays, Valentine's Day, Halloween, Christmas, and a lot more.
This is the review of the Countdown to Halloween 2016 box!
Our Countdown to Halloween box includes 31 hand-selected stitching goodies, individually wrapped so you can open one each day from October 1st through Halloween. Threads, fabrics, embellishments and charts – you'll find lots to inspire your spooky stitching in this box! We are planning several products that are exclusive to this shipment, so this is one you don't want to miss.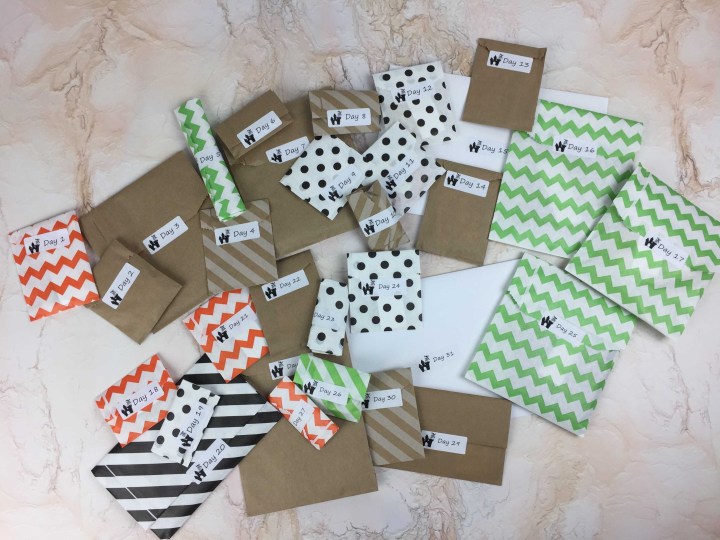 All the stitching goodies in this 31-day box!
StitchyBox actually posted all the items  in the box on the Countdown to Halloween website.  However, I thought it would be great to have an unboxing up to show you the experience of opening this fun countdown box. Our photos show the packaging for the item plus the little daily slip that was included. This isn't a full review – just an unboxing so you can see the types of items included in the box. Everything in the countdown box was the same great StitchyBox quality. My verdict after all the goodies, but I do have a few notes interspersed!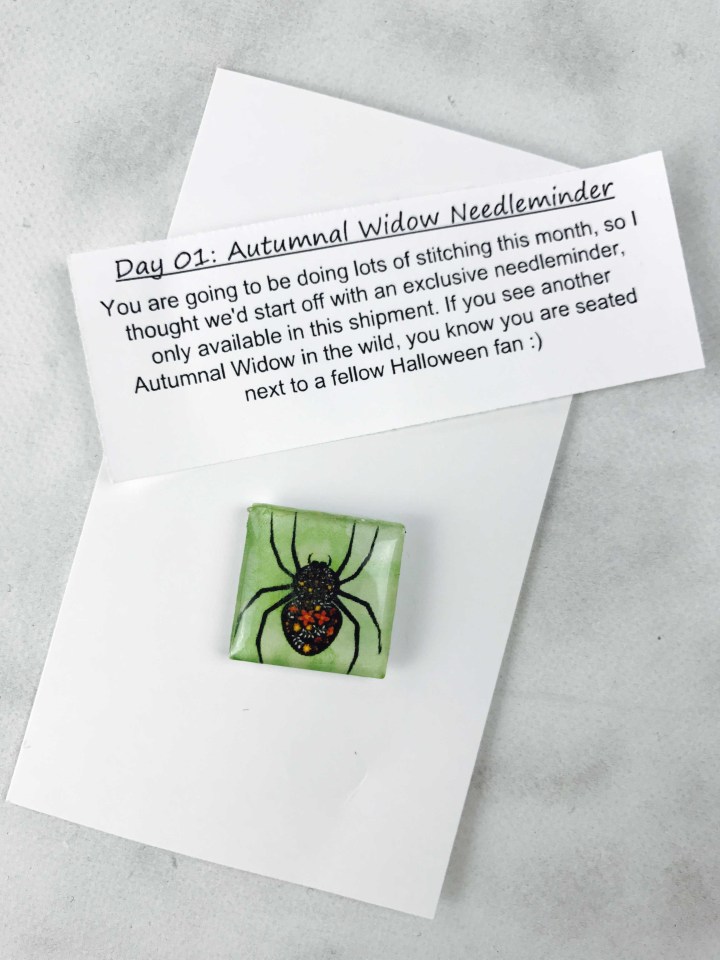 Day 1: Autumnal Widow Needleminder
Day 2: Pale Harvest Floss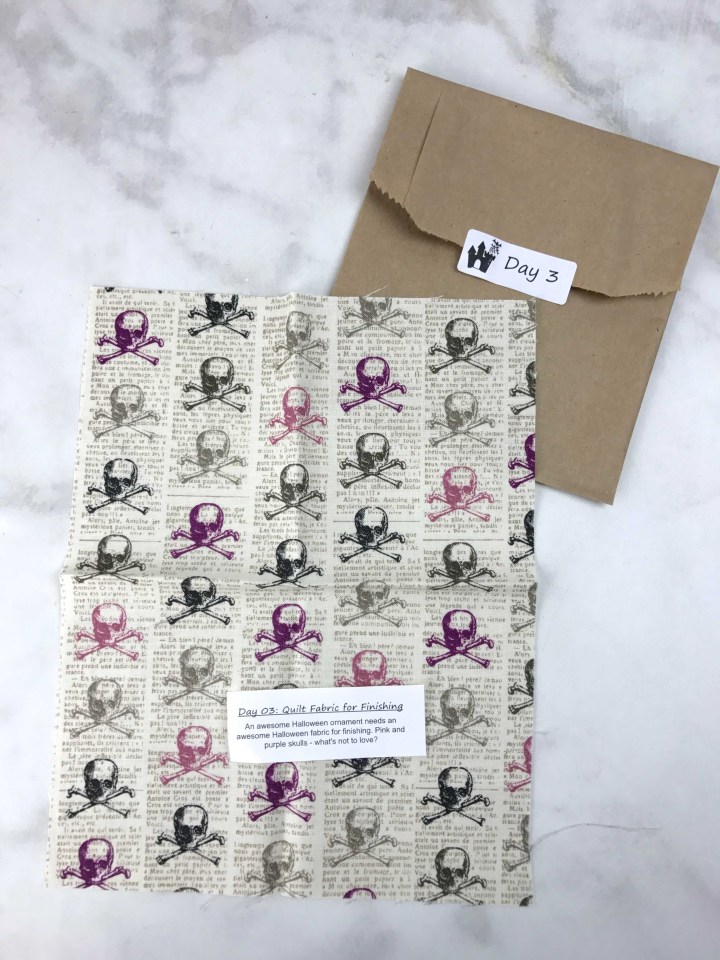 Day 3: Quilt Fabric for Finishing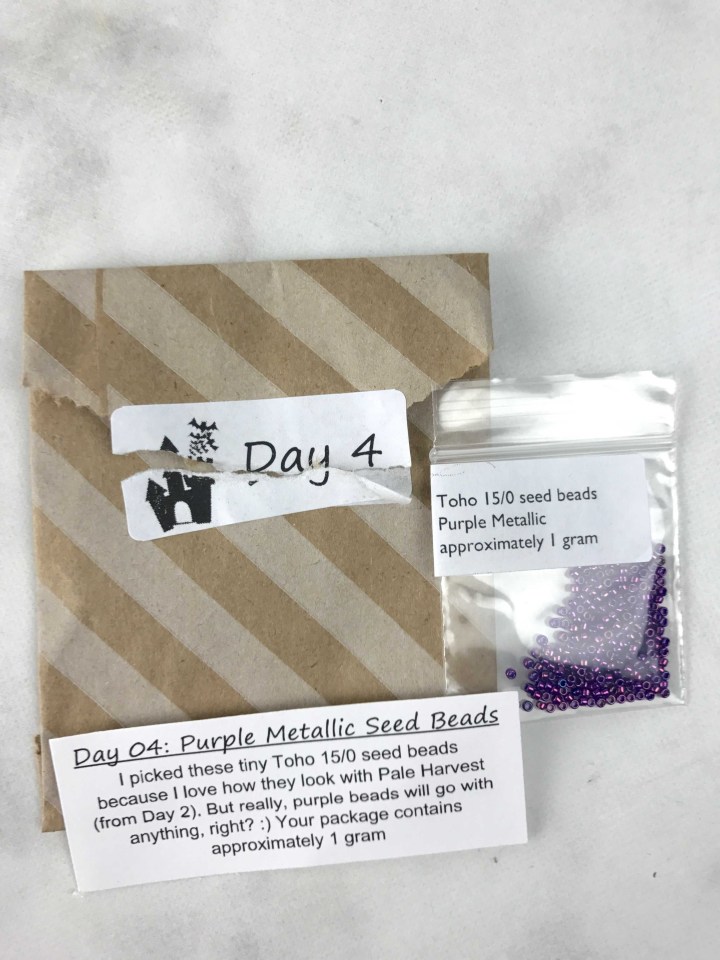 Day 4: Purple Metallic Seed Beads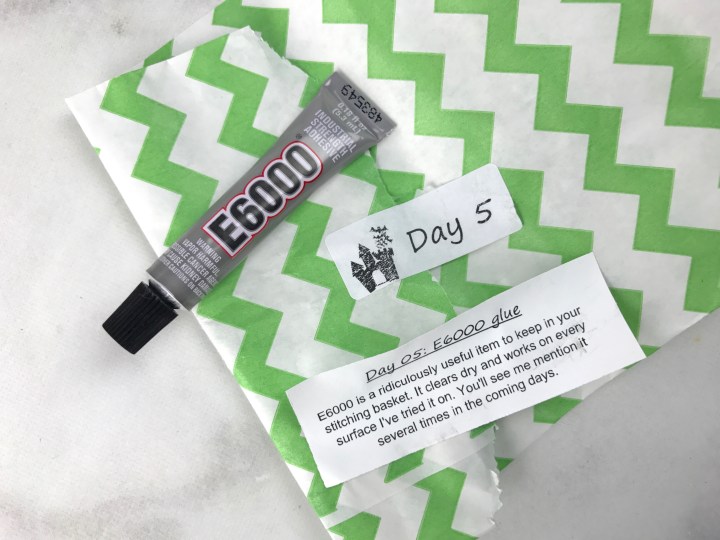 Day 5: E6000 Glue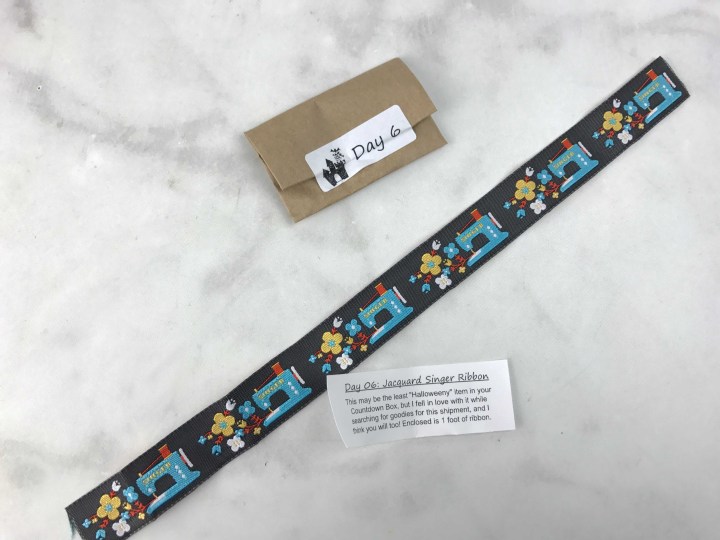 Day 6: Jacquard Singer Ribbon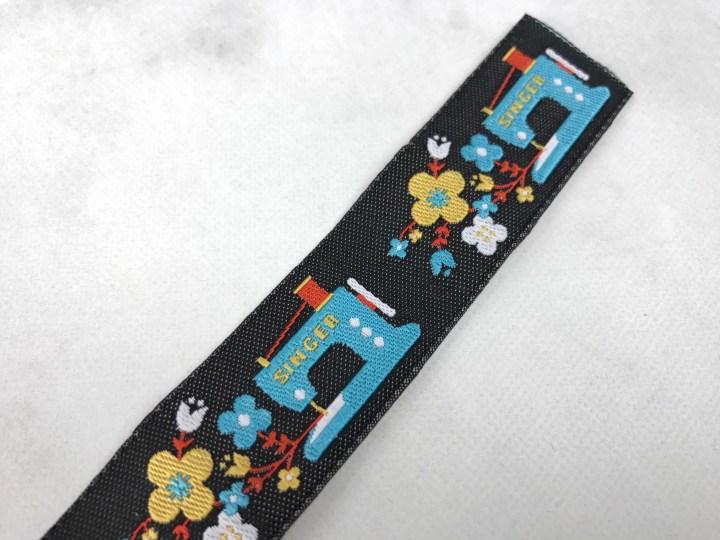 I heard there may more custom ribbons included in future boxes. Can't wait.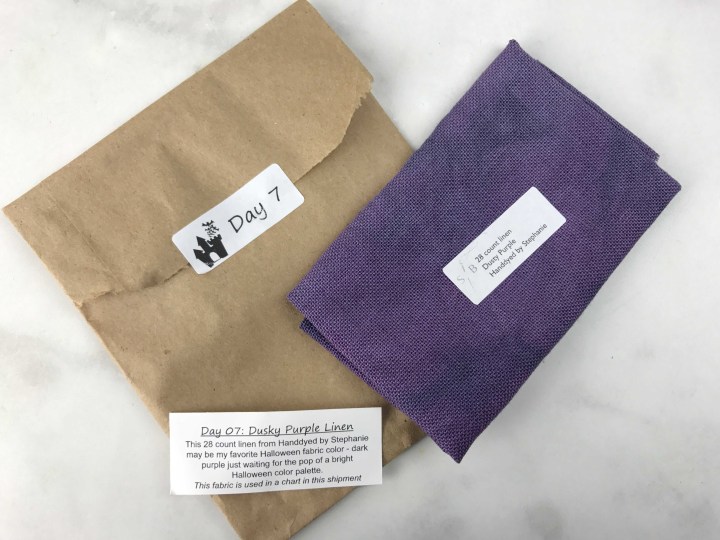 Day 7: Dusky Purple Linen
Gorgeous! Not sure why I didn't unfold this one!
Day 8: Nymo Thread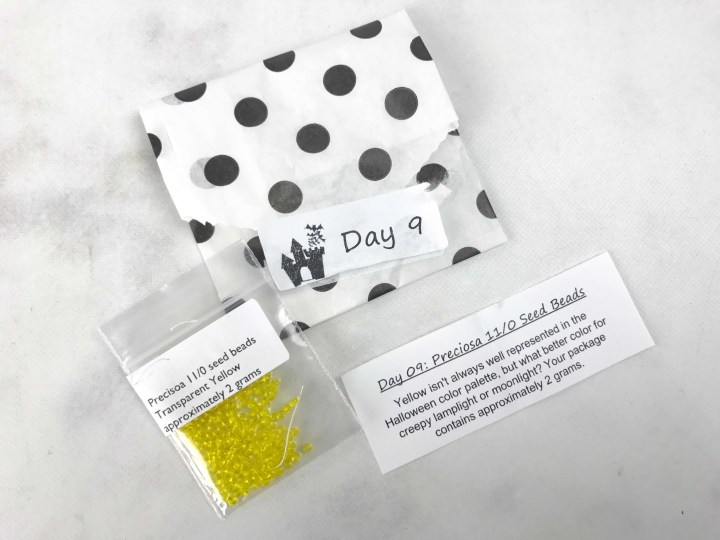 Day 9: Preciosa 11/0 Seed Beads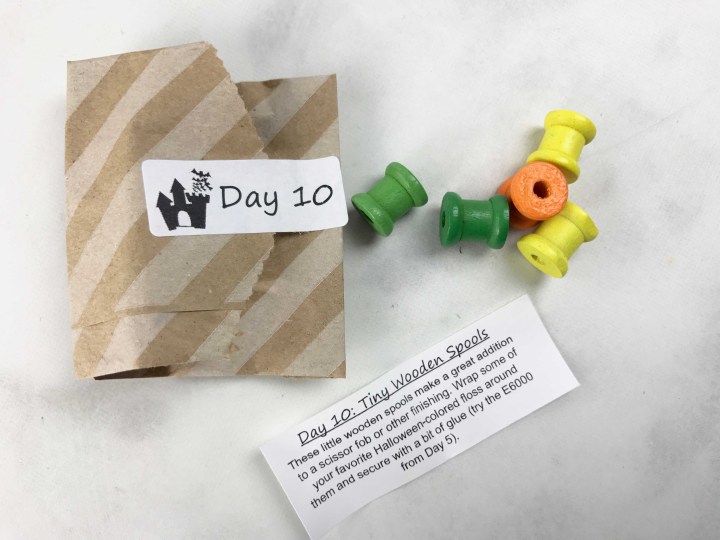 Day 10: Tiny Wooden Spools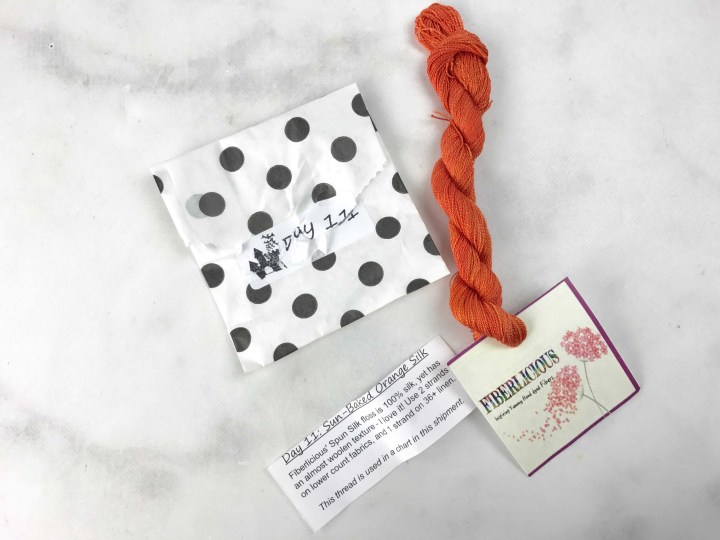 Day 11: Sun-Baked Orange Silk
Reminds me of the similar Dinky Dyes I received in a previous box and am currently stitching with.
Day 12: Batty McBatface Waxer
SO cute! I actually use Thread Heaven but this is too adorable not to include. I would love to see Thread Heaven in one of these boxes!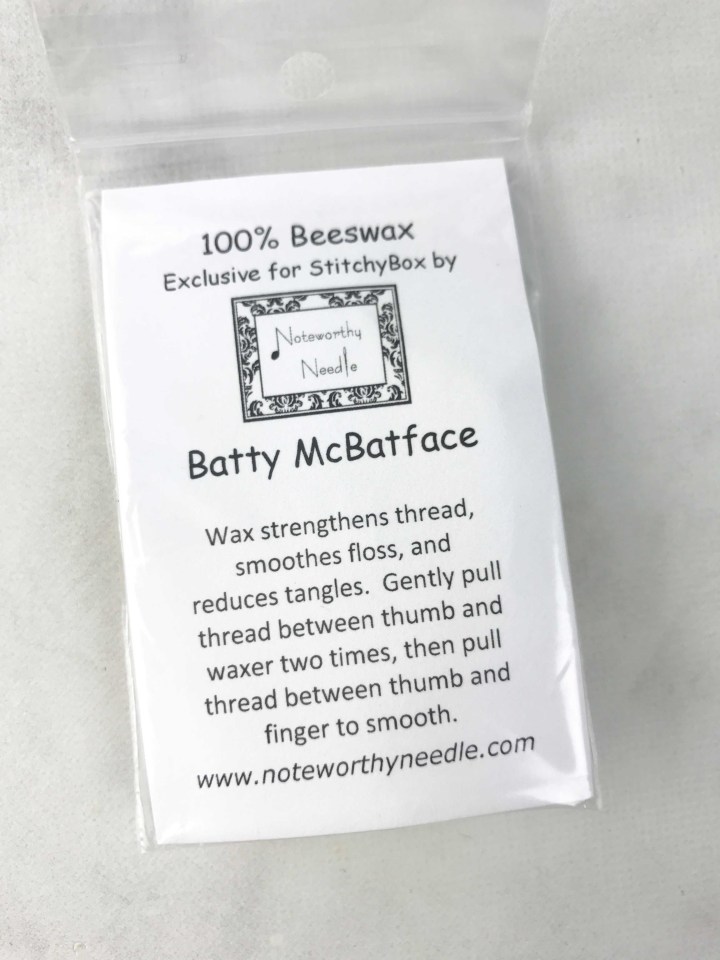 Day 13: Vintage French Picot Trim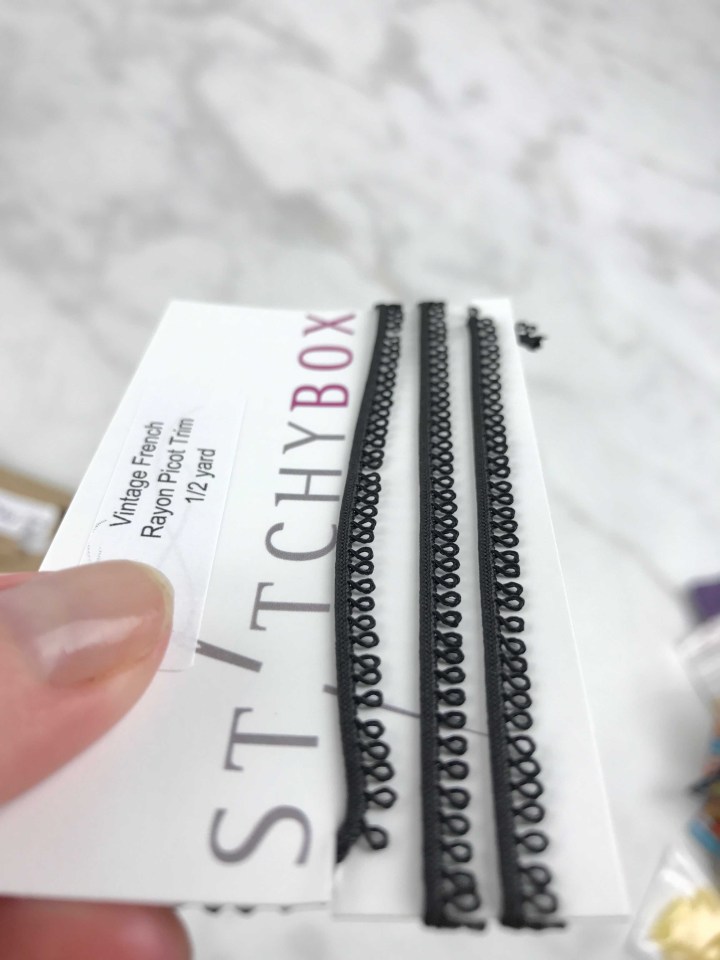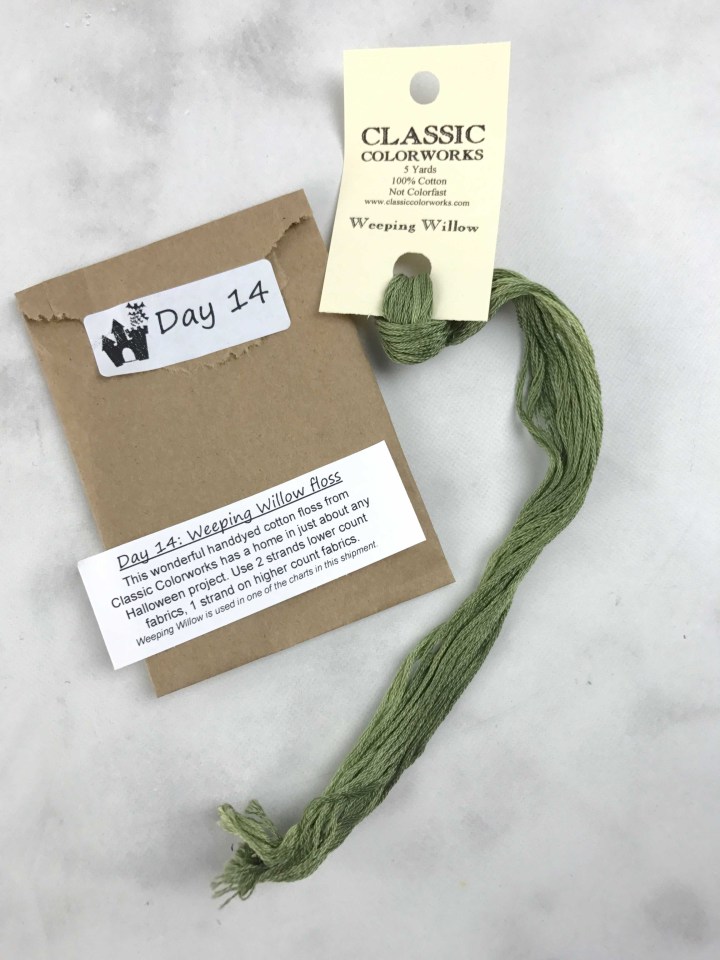 Day 14: Weeping Willow Floss
Day 15: Quaker Pumpkin Chart
What do you think about the chart being in the middle? Do you prefer it near the beginning, or do you think it spoils the rest of the things?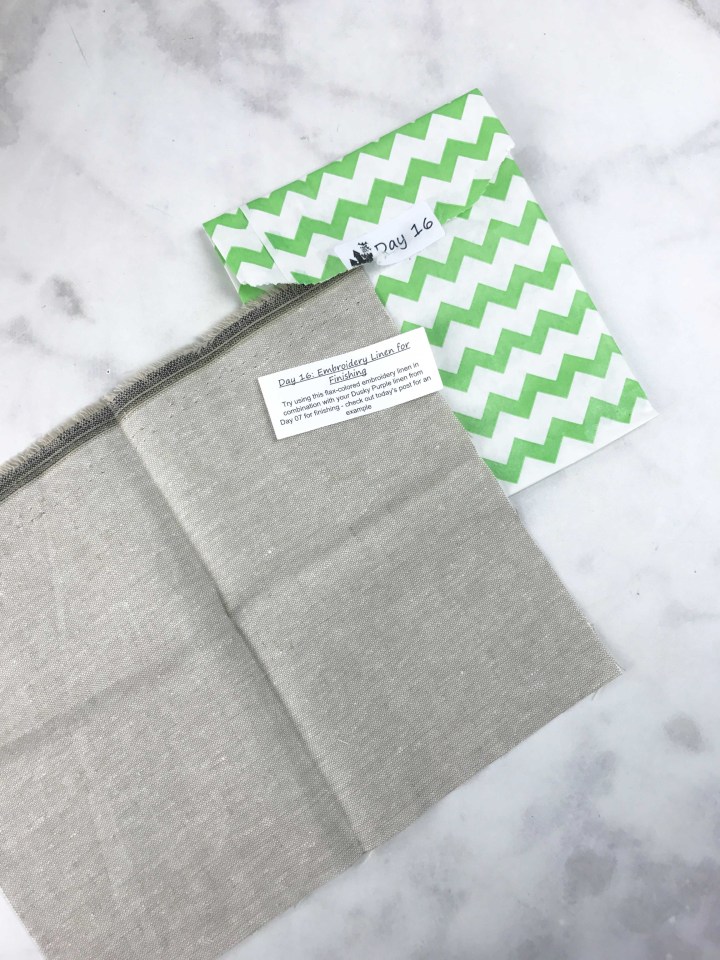 Day 16: Embroidery Linen for Finishing
Day 17: Wool Stuffing
If you're not a stitcher you're probably thinking wool stuffing?! All stitchers let out a silent hooray when they saw this odd item, I promise!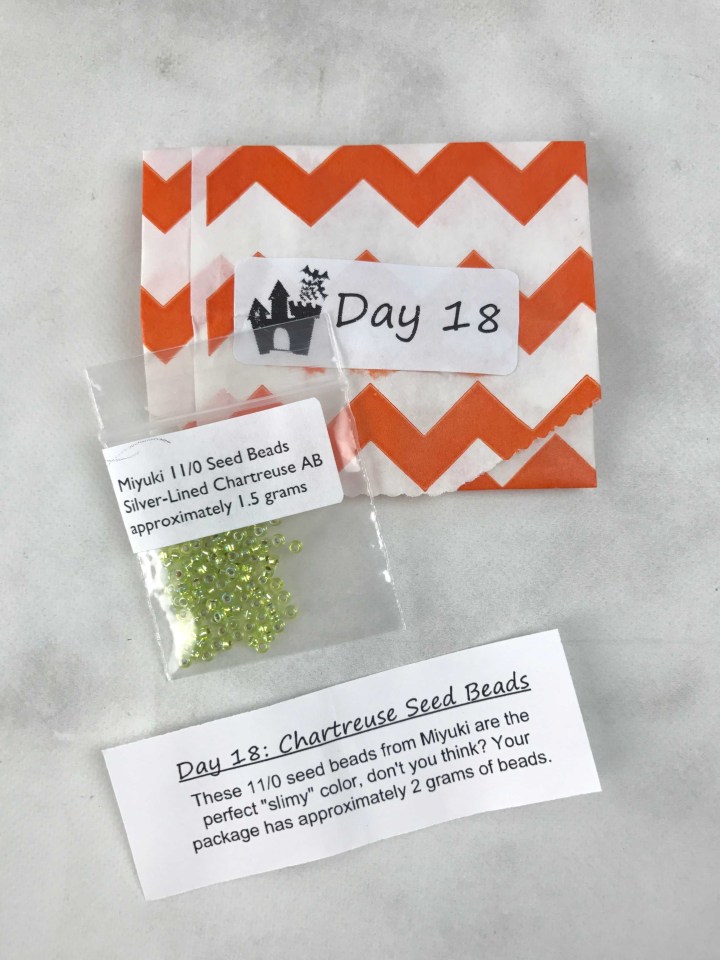 Day 18: Chartreuse Seed Beads
Day 19: Jack O'Lantern Charm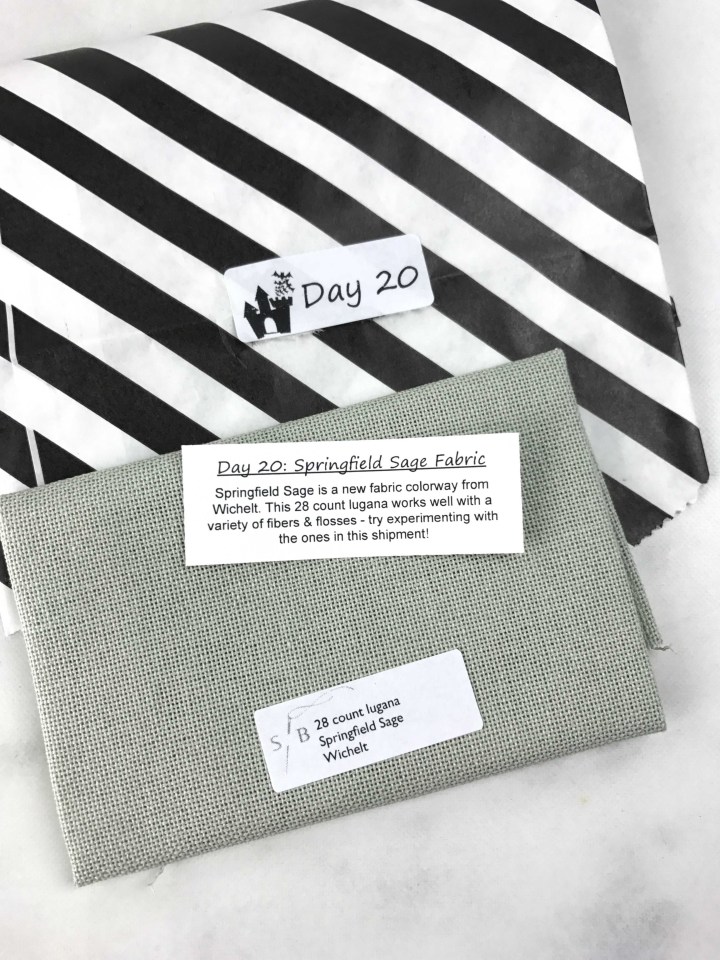 Day 20: Springfield Sage Fabric
The color on this was quite difficult to capture. This is nearly right, it perhaps has the slightest touch more green.
Day 21: Vintage Czech Glass Beads
Does anyone else besides me wonder where all these vintage beads come from, where they've been stored, and how we still have so many left?!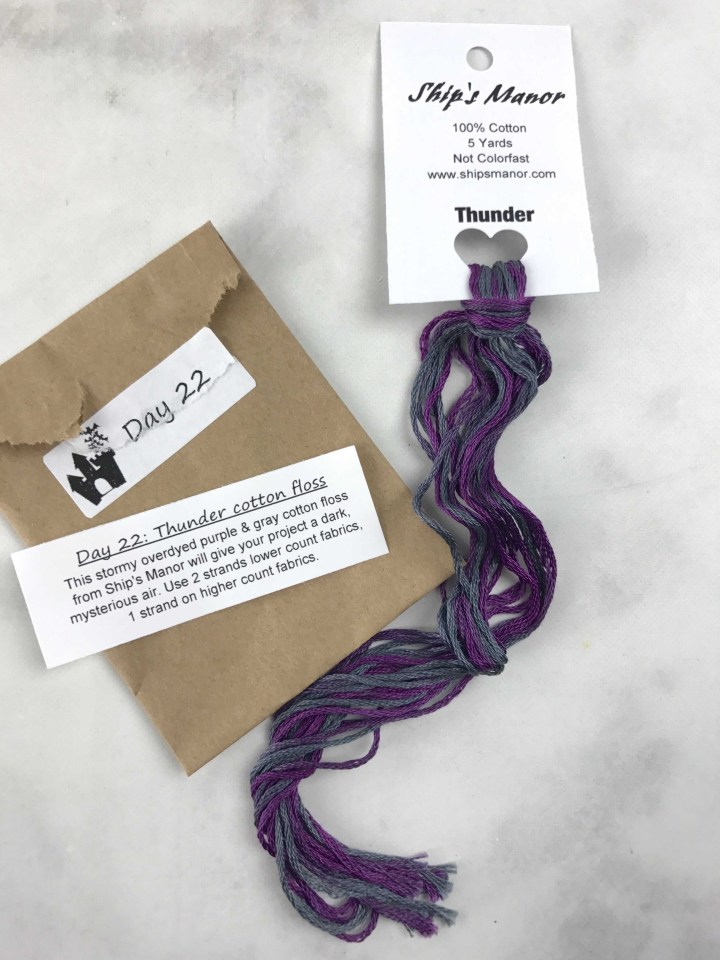 Day 22: Thunder Cotton Floss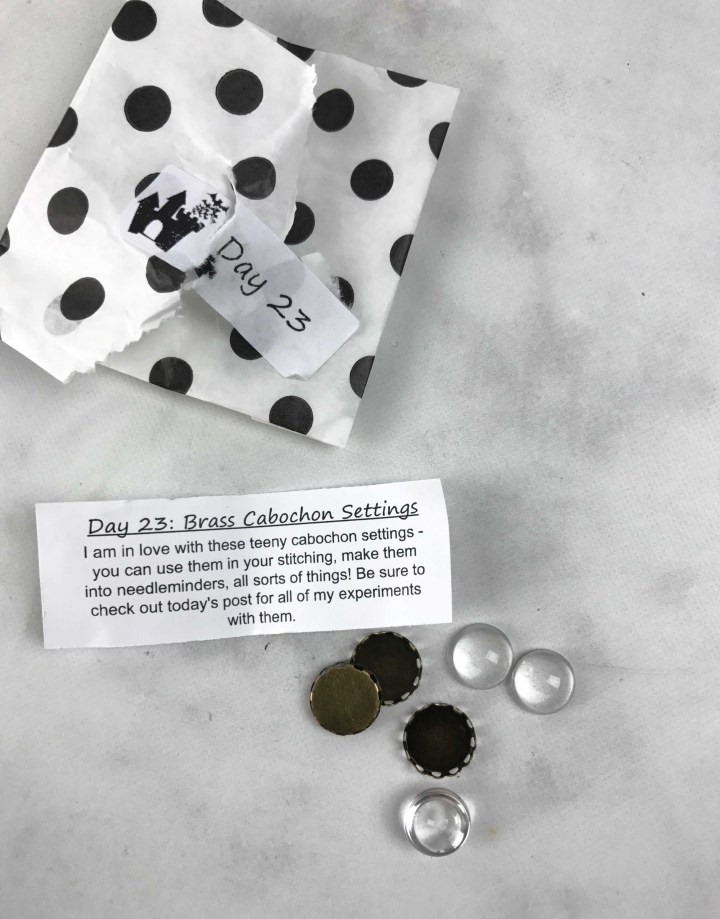 Day 23: Brass Cabochon Settings
Here's the whole project idea post!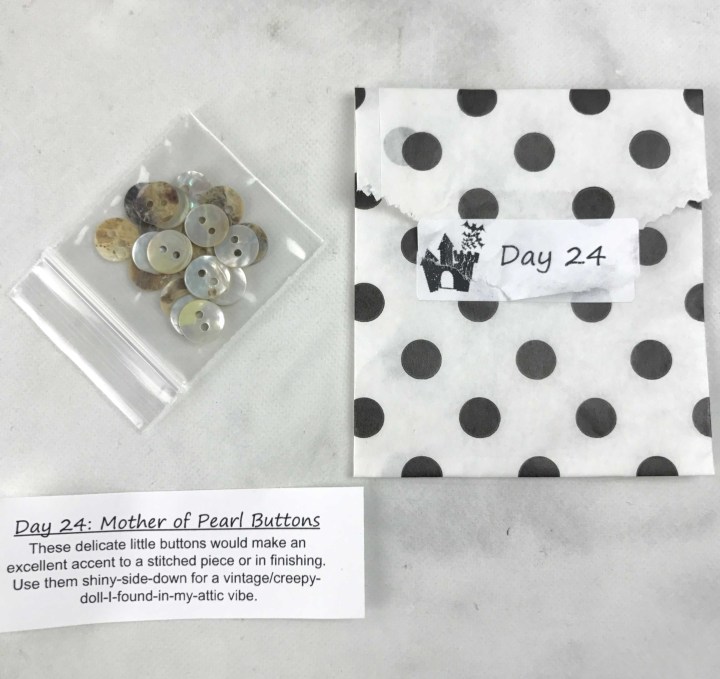 Day 24: Mother of Pearl Buttons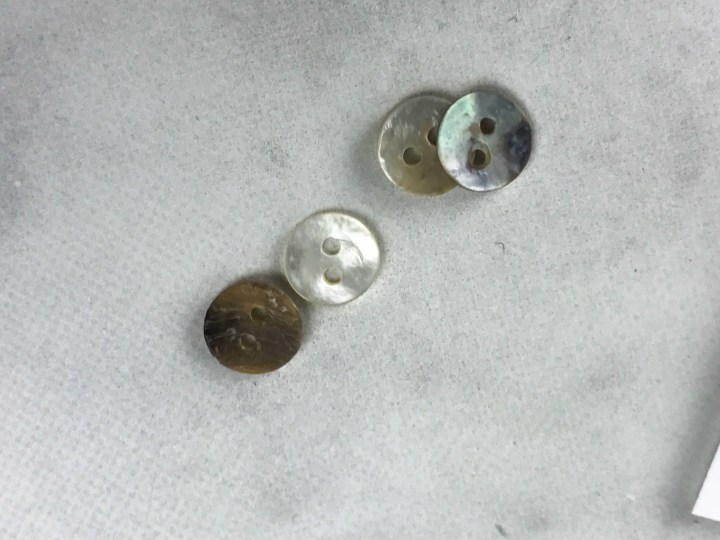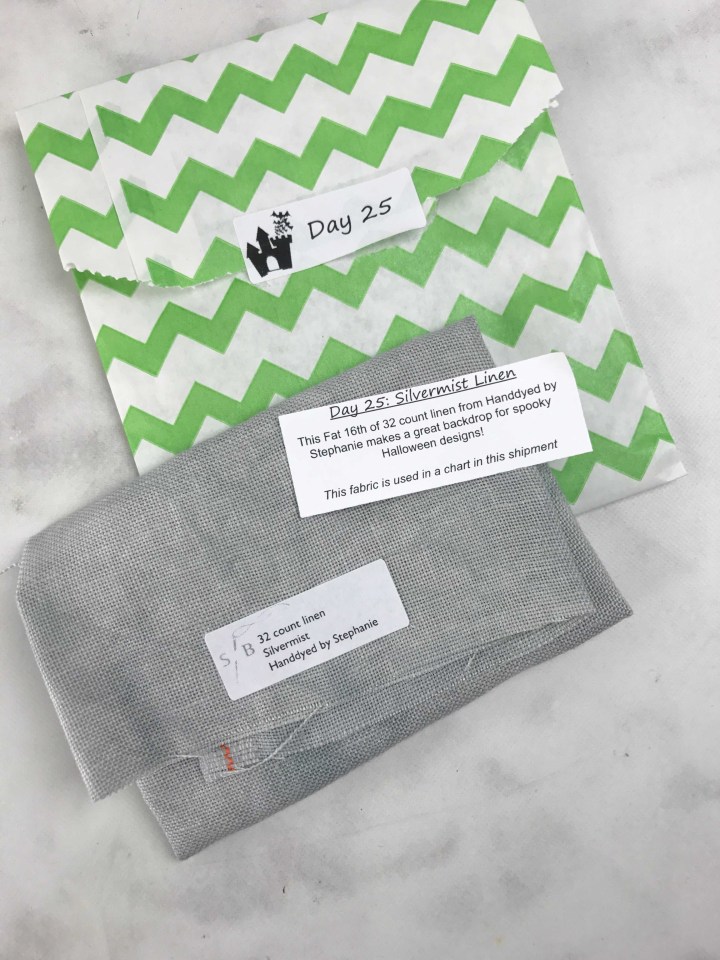 Day 25: Silvermist Linen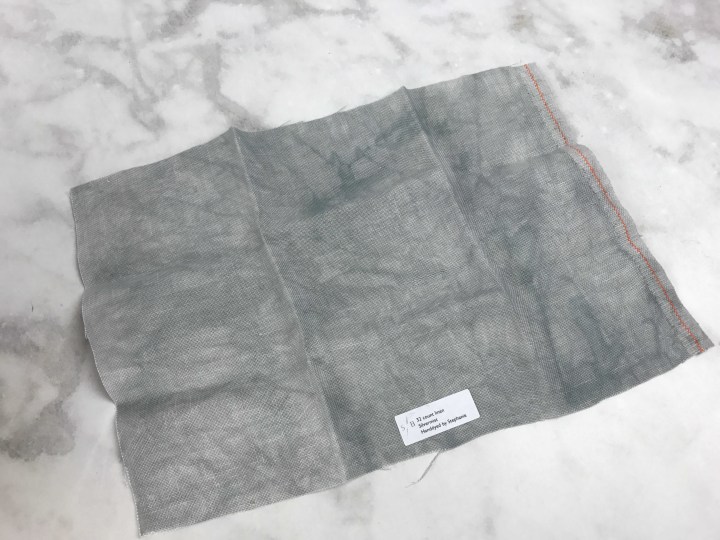 Day 26: Hand-Carved Wood Bead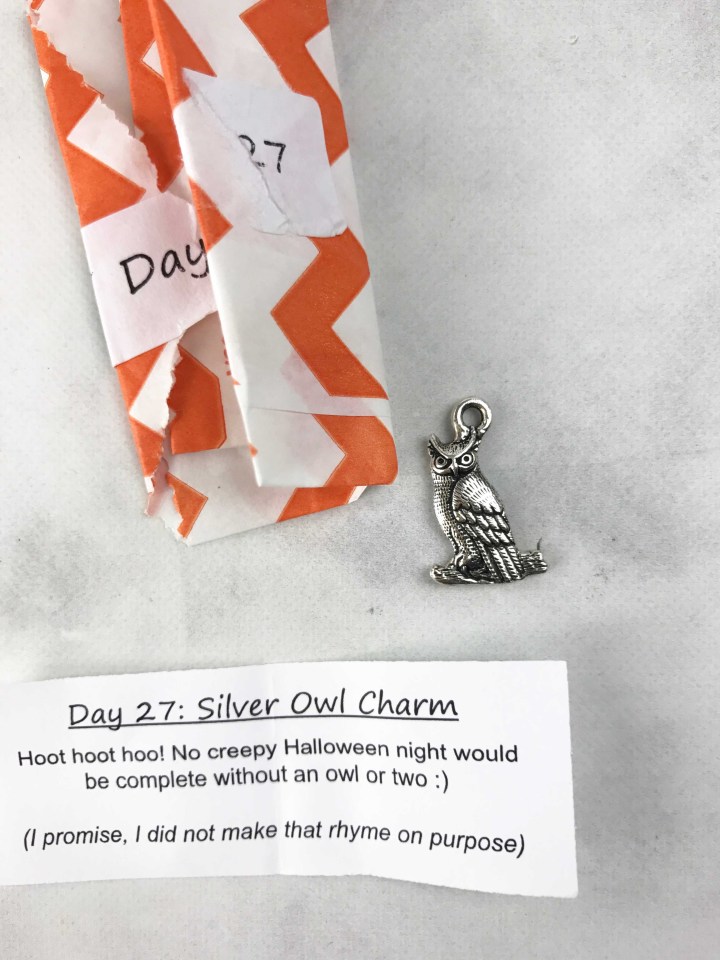 Day 27: Silver Owl Charm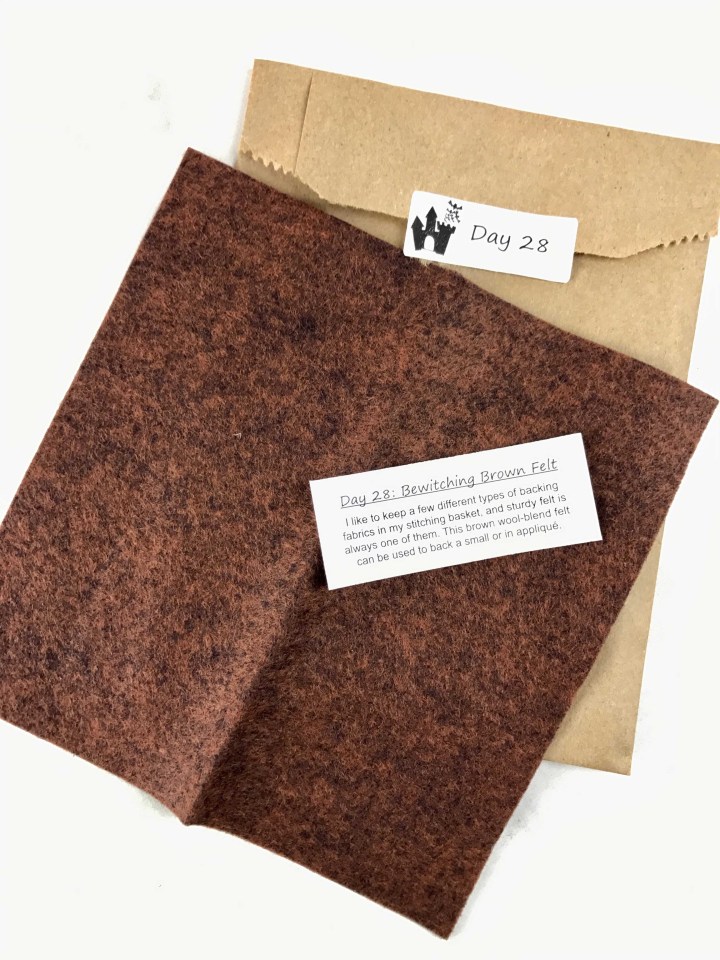 Day 28: Bewitching Brown Felt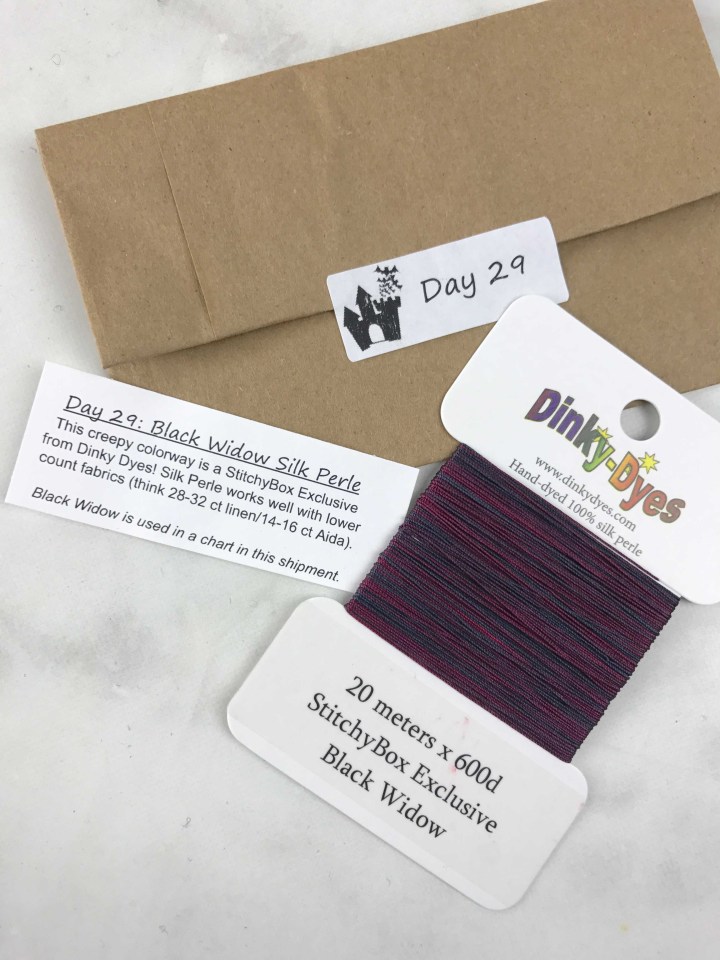 Day 29: Black Widow Silk Perle
This had the most delicious texture!!
Day 30: Black 15/0 Seed Beads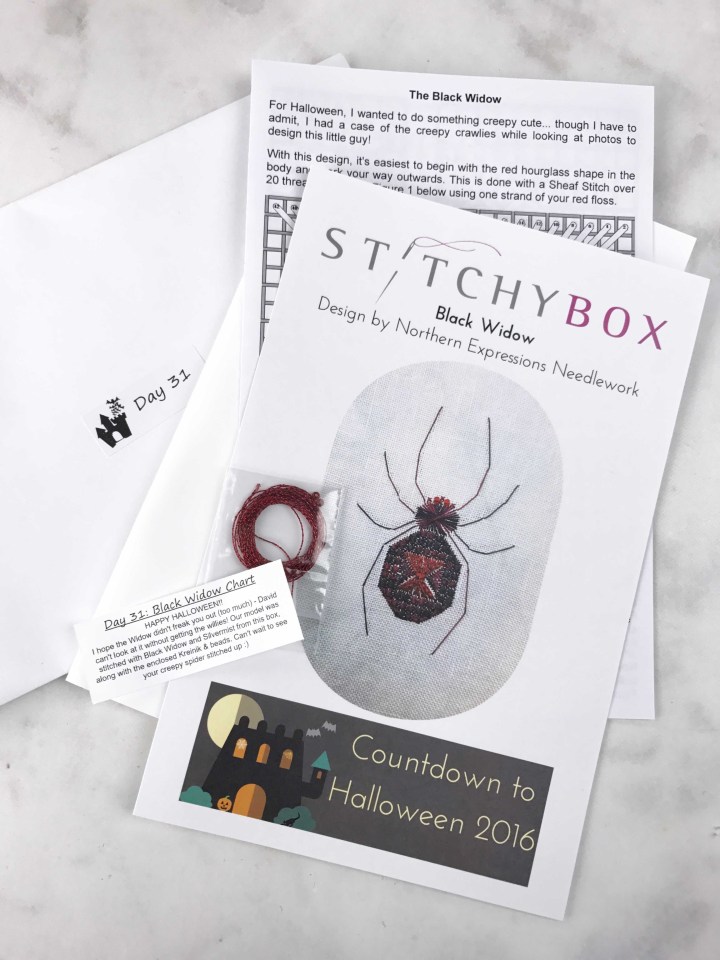 Day 31: Black Widow Chart
I loved this box! One of the things I really liked about it is that it's project oriented while still providing enough materials to experiment with. If you're feeling lost with what you'd do with the regular StitchyBox shipments, you should absolutely pick up the Countdown boxes when they're available. All the boxes except for the Patriotic/Summer box are sold out… but there's always going to be a few people that don't pay their deposits, so there may be a few available if you're patient.
And as fun as unboxing a regular subscription is, this amped it by an order of magnitude! The anticipation of what was in each individual package, the excitement when it was fabric, it was very cool. hat's off to StitchyBox for a great experience!