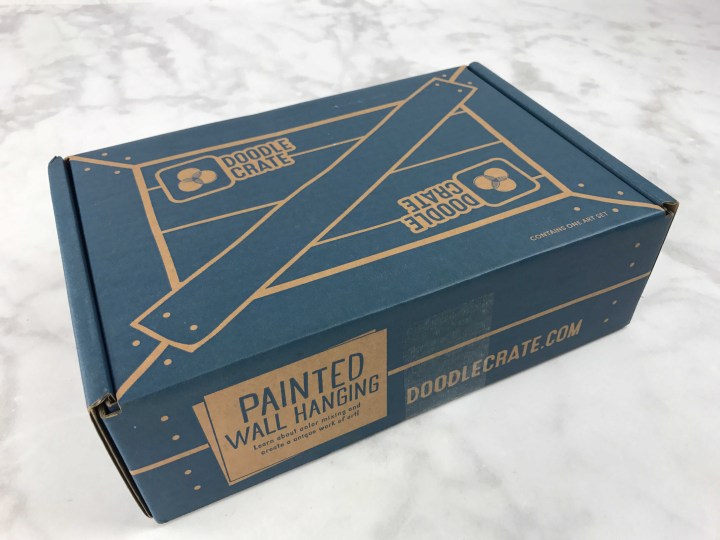 Doodle Crate is a member of the KiwiCo family geared toward kids 9+. It inspires young makers to learn new skills and gain creative confidence through craft and art projects by teaching them basic and intermediate techniques of a new artistic medium each month.
Though geared toward kids, Doodle Crate is gender neutral and also excellent for anyone (even adults) wanting a craft subscription. In our experience, this is the best "arts and crafts" box for older kids, tweens, teens, and adults – the end result is nearly always something you will want to save!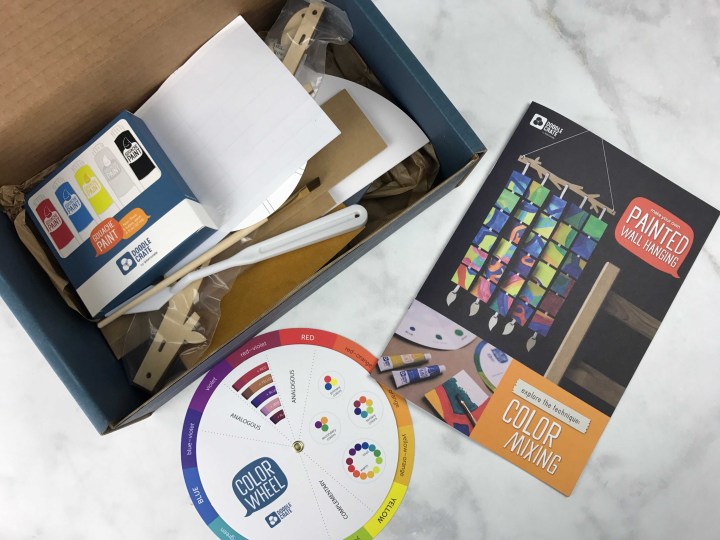 This month's project: Painted Wall Hanging!
DEAL: Use this link to save 30% on your first month of Doodle Crate!  (or Kiwi Crate and the KiwiCo family subscriptions Tinker Crate and Koala Crate).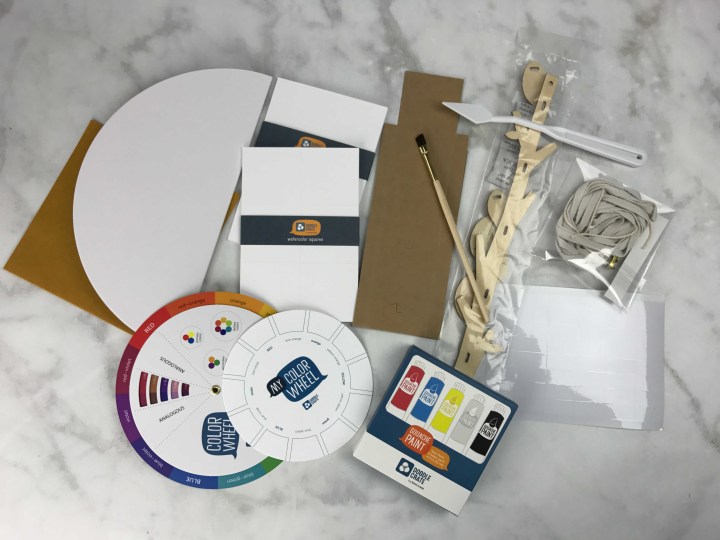 Every crate comes with everything you need to complete the project (except for a few basic items from your home), as well as a booklet. Doodle Crate tends to focus on a single craft and contains only what you'll need for the project.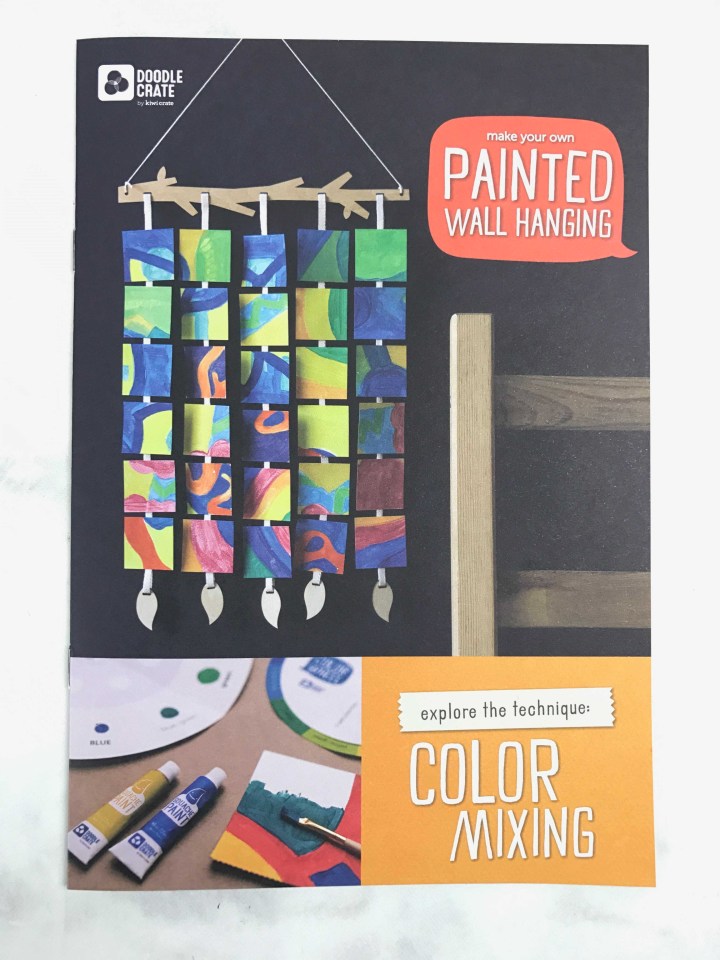 The booklet has excellent, textbook quality background on the subject matter of the project.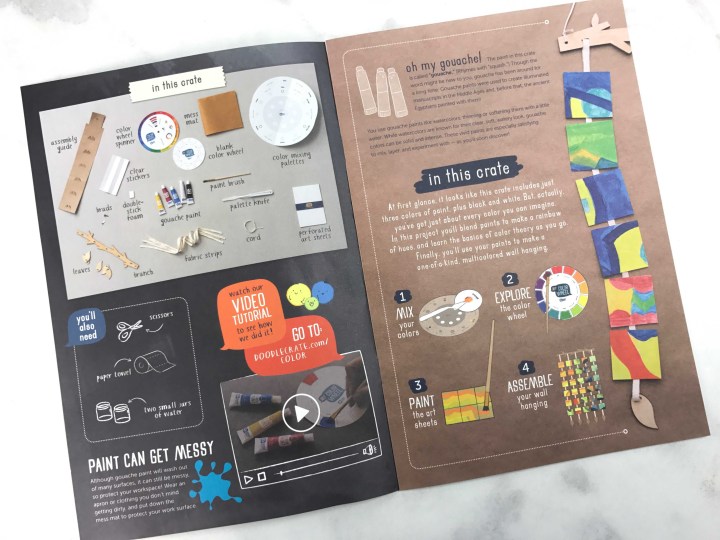 It's loaded with high-quality pictures and illustrations to both give you ideas and help you along. Doodle Crate is great at providing perspective and inspiration for their projects. This project included some preliminary activities designed to encourage mastery of color mixing.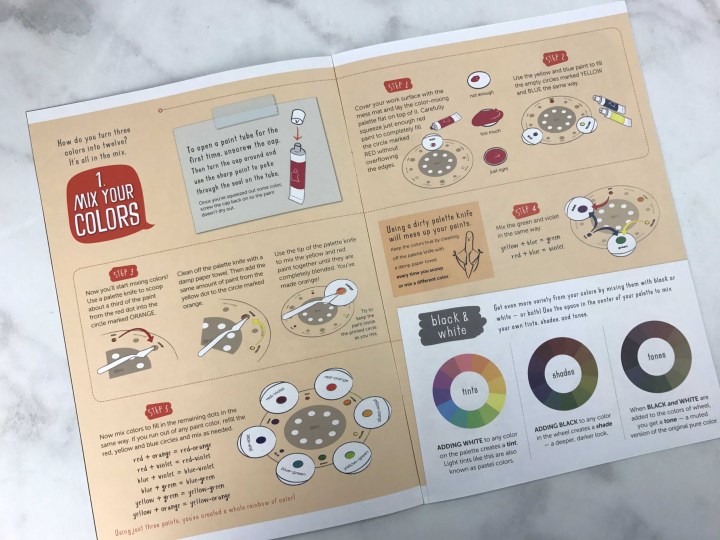 The lessons on color composition were very detailed.  I even learned something new about the nomenclature for the colors created by adding white (tint), versus black (shade), or both white and black (tone) to a color.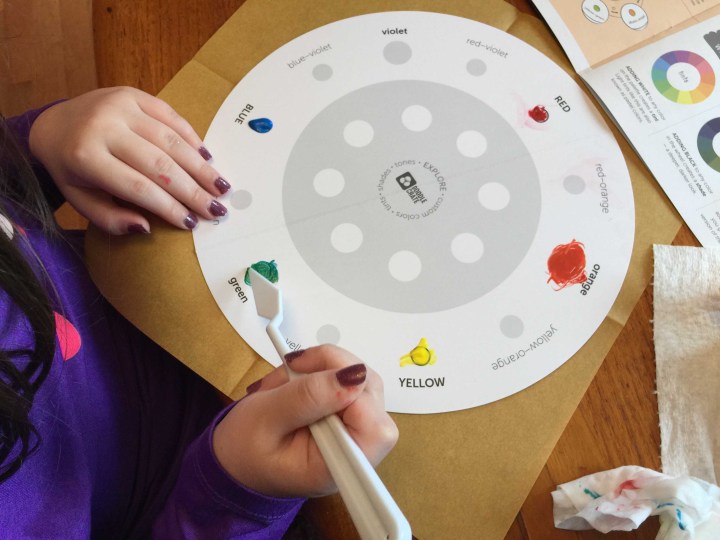 The first activity was a primer on mixing colors.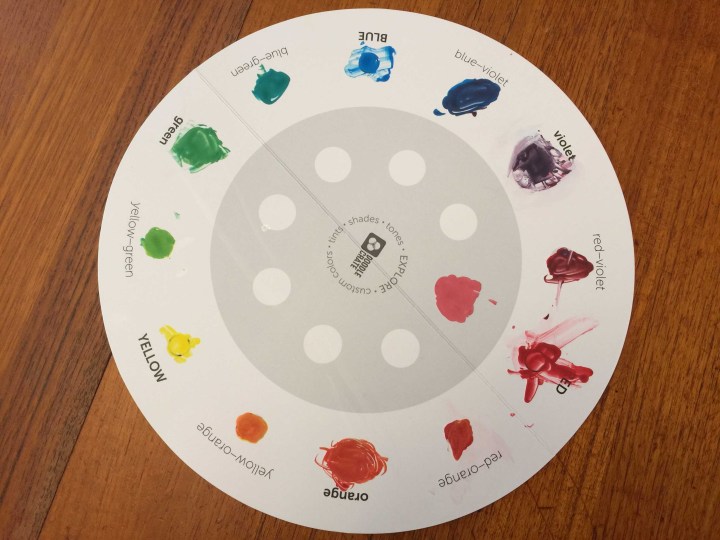 Then we moved on to explore some tints and shades.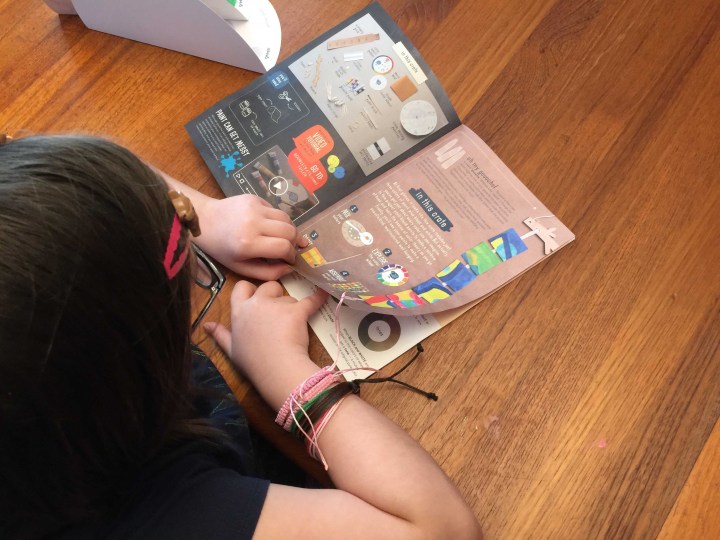 Our Doodler loves to read through all the materials before starting.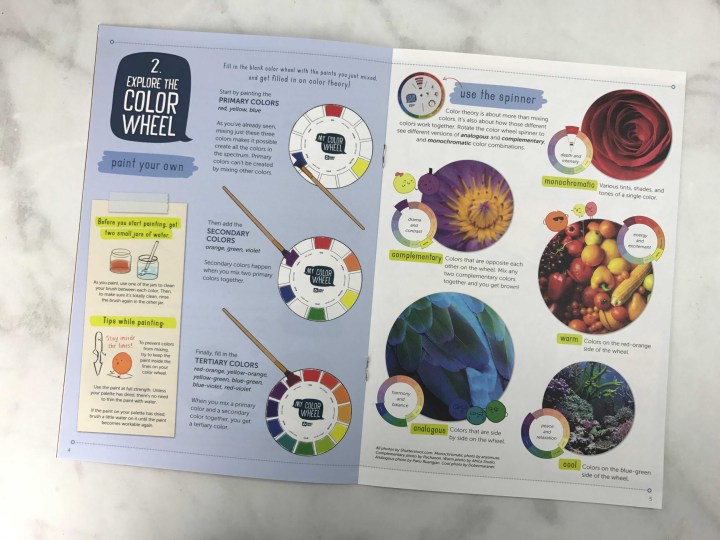 The second part of the project was exploring the color wheel.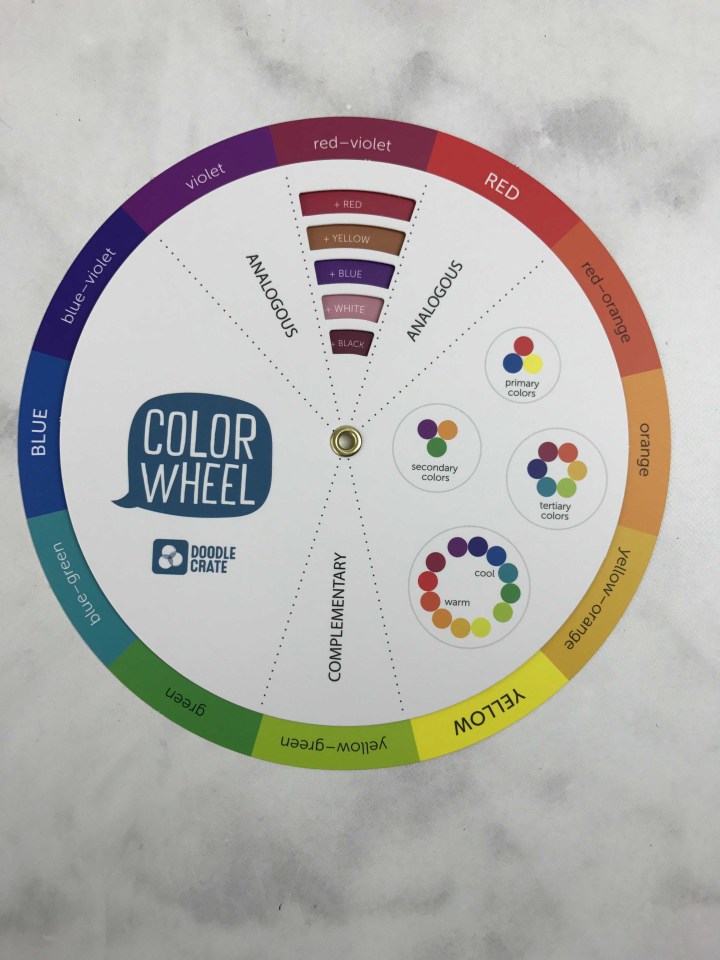 A fairly complex wheel was included. It allowed us to preview the result of mixing on of the primary colors, white, or black, with any color on the wheel.
The text explained the relation of the various colors to each other and how to describe the relationships and groupings.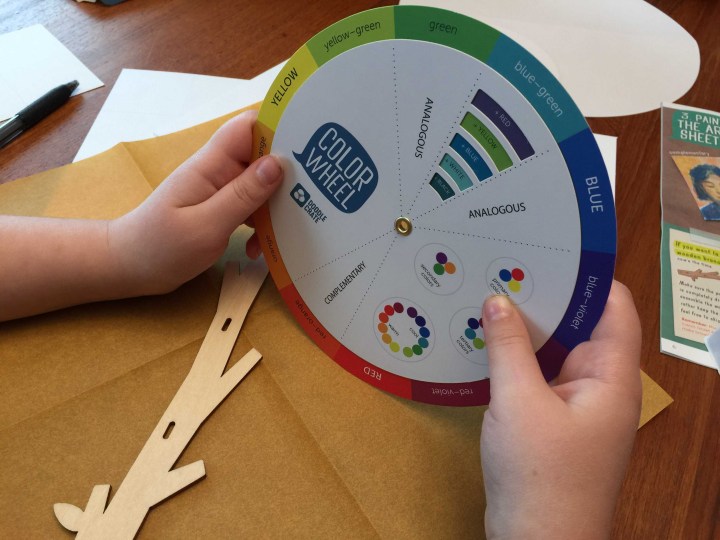 The color wheel was also a handy reference for choosing colors for the main project's paintings.
Next comes painting and assembling. The booklet walks through the project step-by-step in great detail, with suggestions for arranging the component pictures into a unique, combined tableau. There are lots of pointers and helpful tips located throughout, and the designers are good at anticipating areas of potential confusion or difficulty, providing suggestions and workarounds.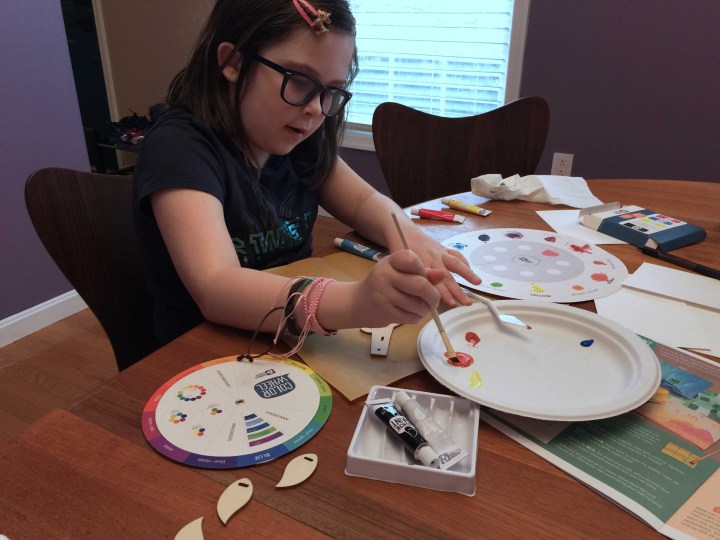 For this project, our Doodler agonized a bit over how to compose her pictures for the mural.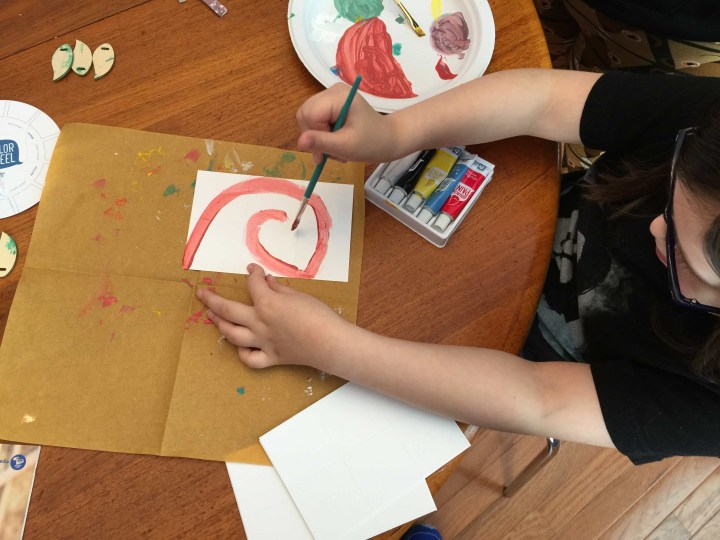 The mural required 30 painted squares. Each of the paper canvases is perforated and breaks into 6 squares that could be arranged in any orientation within the mural.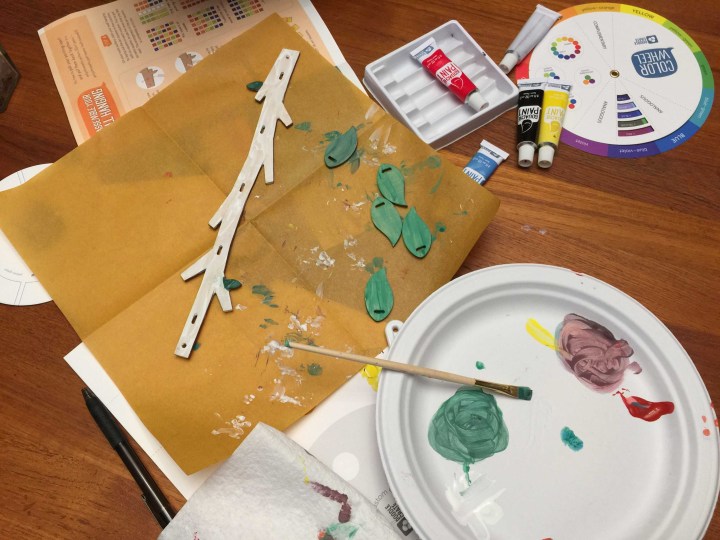 She also painted the branch-shaped hanger and leaves.
We chose to keep our smaller paintings together when placing them within the mural. A template was provided to ensure even spacing of the tiles, along with laces and adhesive tape. The result is definitely hang-able. Doodle Crate always does a great job of providing the tools and knowledge needed to do make the project properly — the template was a lifesaver!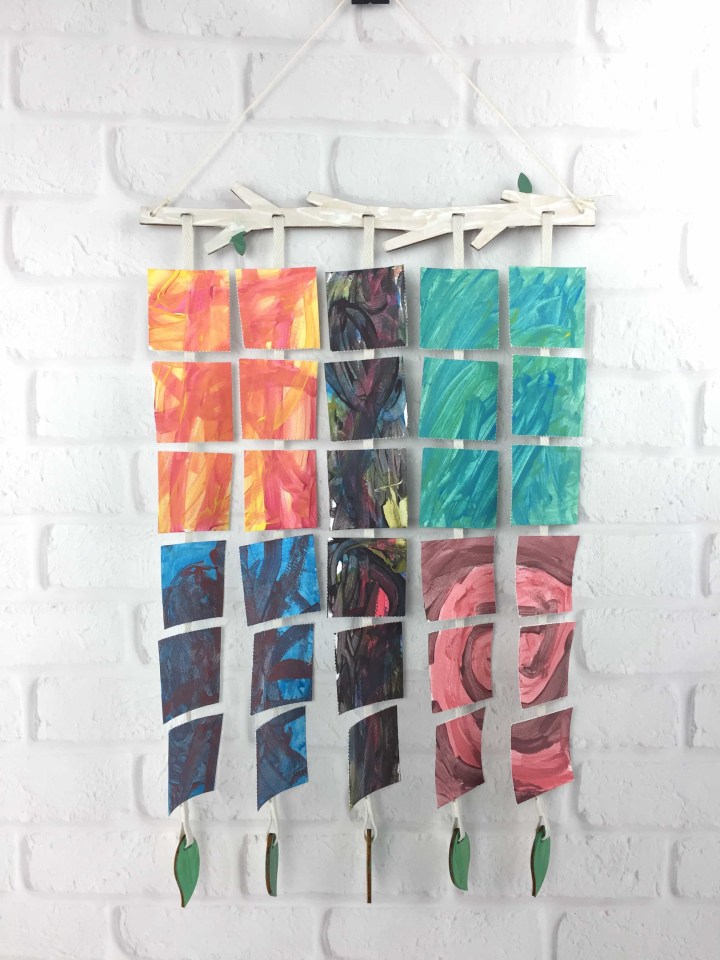 Doodle Crate is a really great project subscription for tweens, teens, and even adults. The thorough instructions and guidance never leave us confused, and most projects can be done by pre-teens without adult assistance.