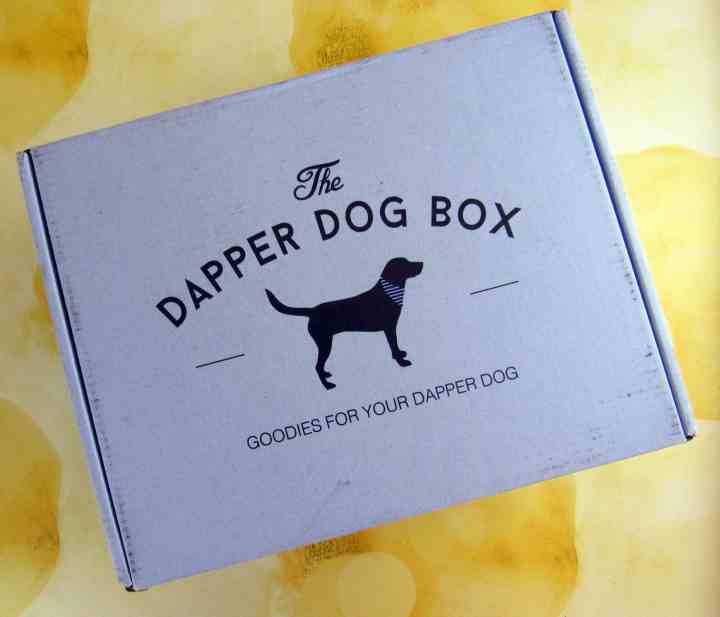 The Dapper Dog Box is the box for your best friend in the world. Organic and natural items are hand-picked for your dog based on a personalized survey. The Dapper Dog Box sources from passionate small companies that love dogs. $1.00 from each purchased box is donated to rescues. The regular sized box has 4-6 items with an average $50.00 value. The mini box has 3 items. Both versions offer free shipping. The personalized survey offers five different dog sizes, grain or no grain, and a section to discuss more about your dog such as allergies, heavy chewer etc.
DEAL: Take $10 off your first purchase with coupon code HELLODAPPER.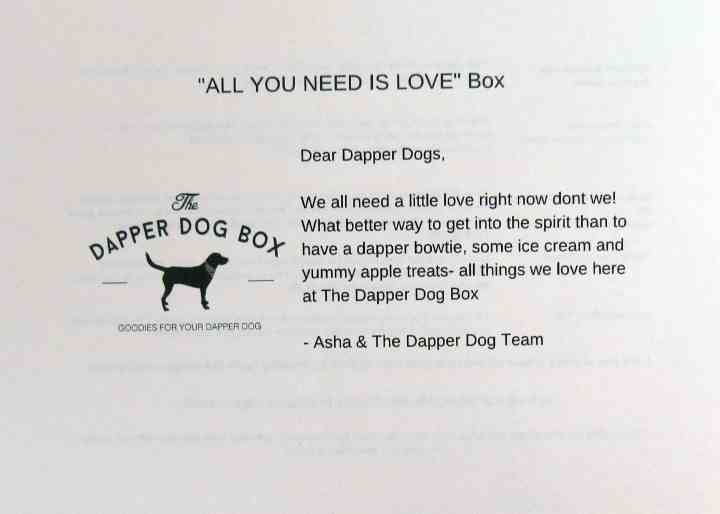 The February theme is 'All You Need Is Love.'  The doggies can't wait to see what is in the box.
The information card contains the items, descriptions, and prices. $1.00 from every box this month goes to support dogs in need. You can also email The Dapper Dog Box if you want to order additional items and it will be sent in your next dog box.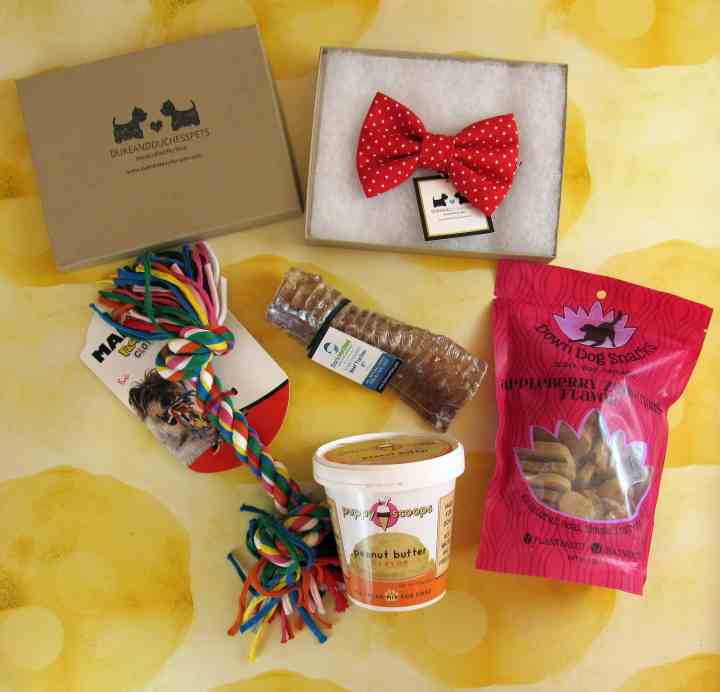 Here are the items in The Dapper Dog  February Box. Our big dogs are going to be excited to celebrate love.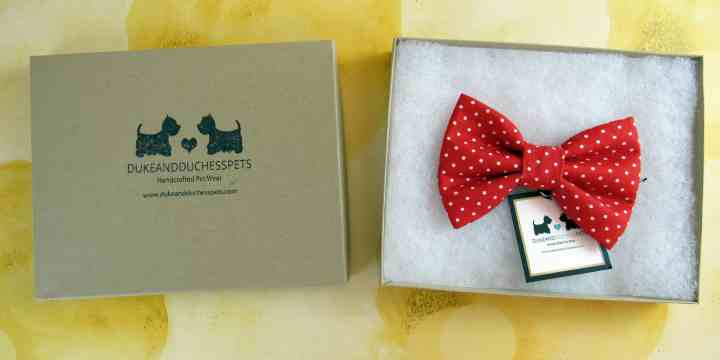 Odie is going to be one fashionable pup wearing his Duke and Duchess Pet Boutique Bow Tie ($16.00). The handcrafted in the USA bowtie came packaged in the box.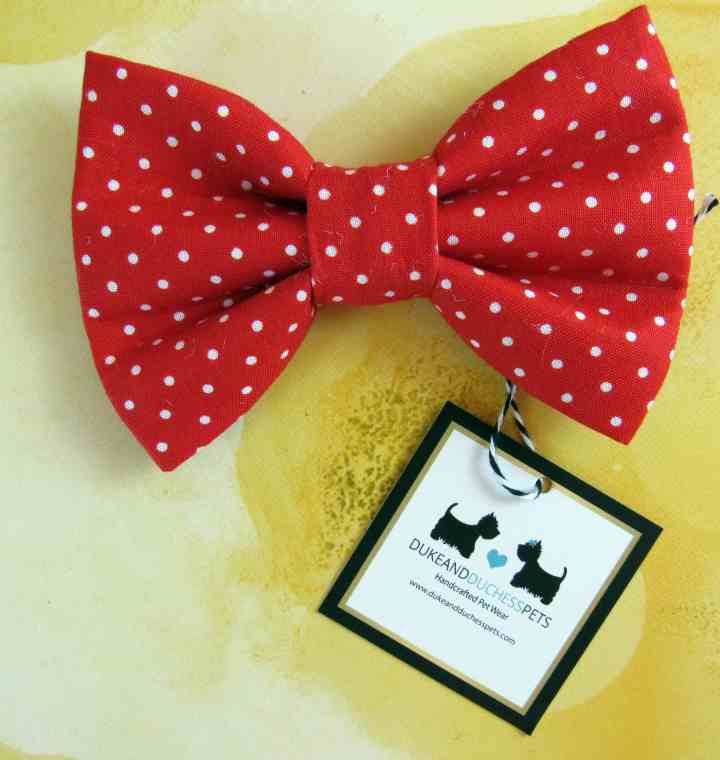 It's going to look handsome against his black and white fur.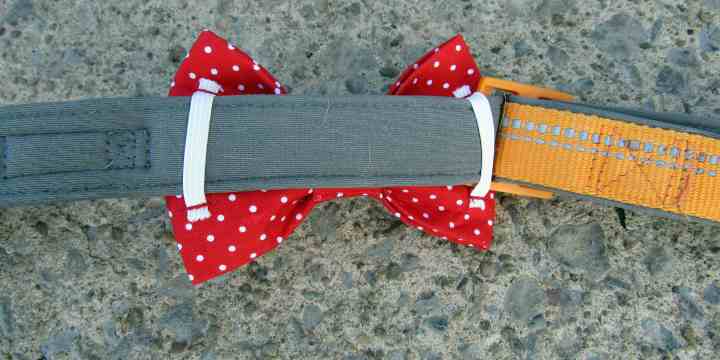 It was easy to slip on his wide collar.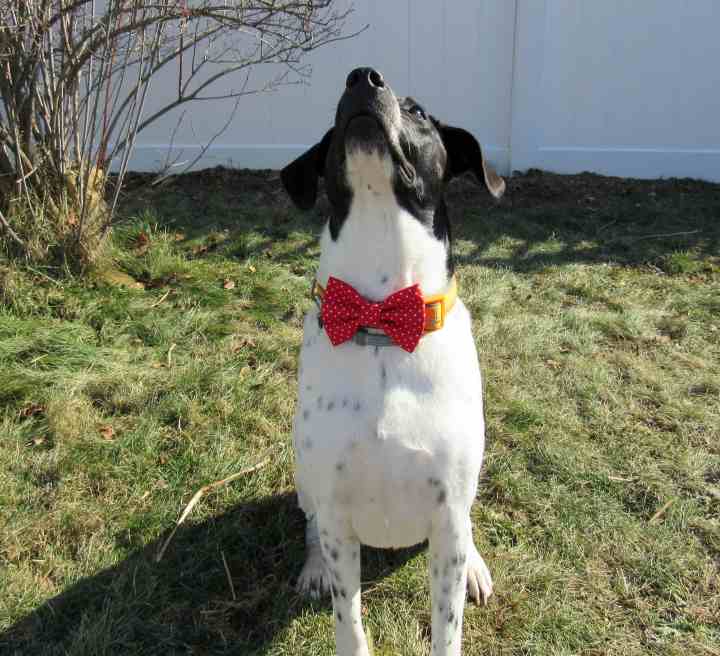 Doesn't he look dapper? He's one handsome dog.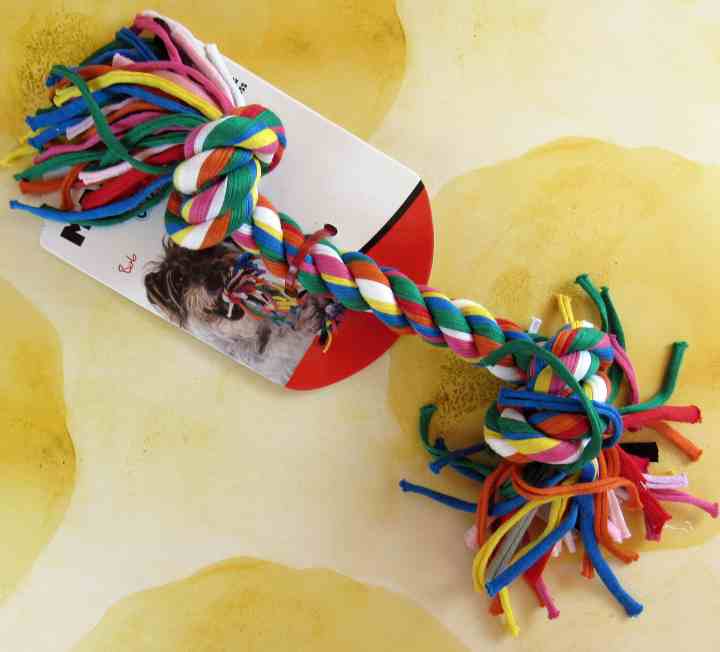 Odie is full of happiness over receiving the Mammoth Flossy Chew Rope Toy ($6.99). The cloth material cleans his teeth while he plays his favorite game which is tug-of-war. The rope toy can be used for chewing, tugging, and fetching.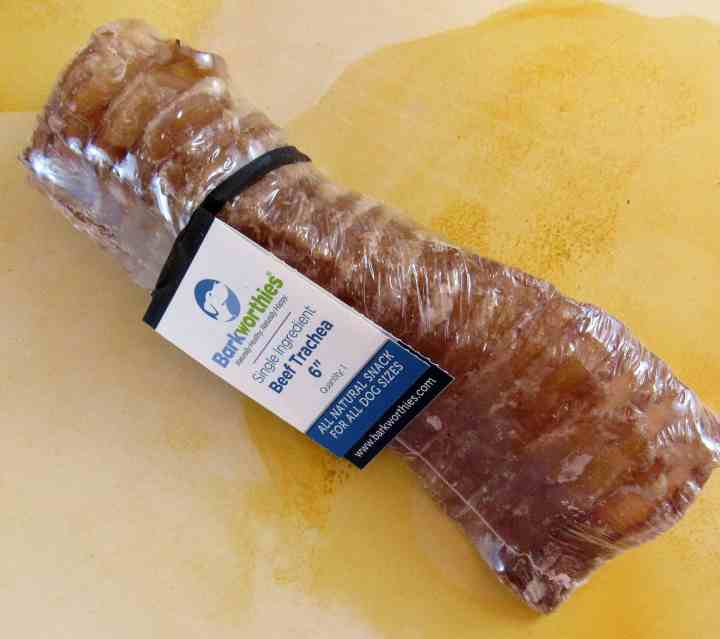 Daisy was one happy girl when she saw the Barkworthies 6″ Beef Trachea ($5.85). It is made from grass-fed, free-range cattle. Tracheas are a prized treat in this household.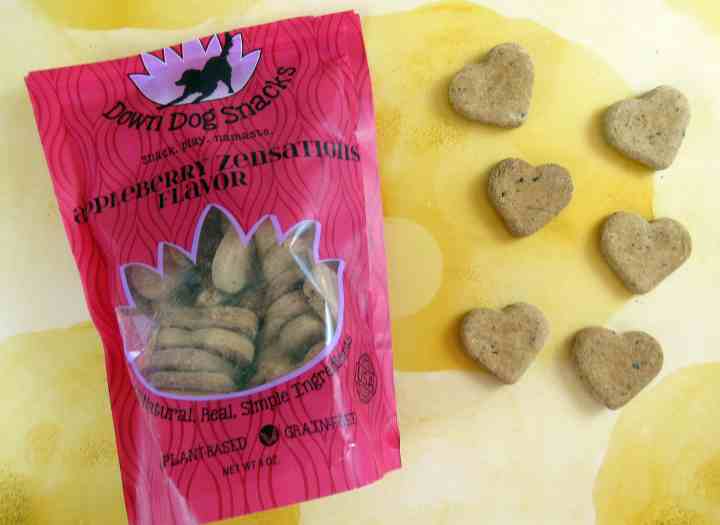 The Down Dog Snacks Appleberry Zensation Treats (.5 oz, $9.99) are free of grain and gluten. The doggies loved the heart shaped treats. Applesauce and blueberries give it the appleberry flavor.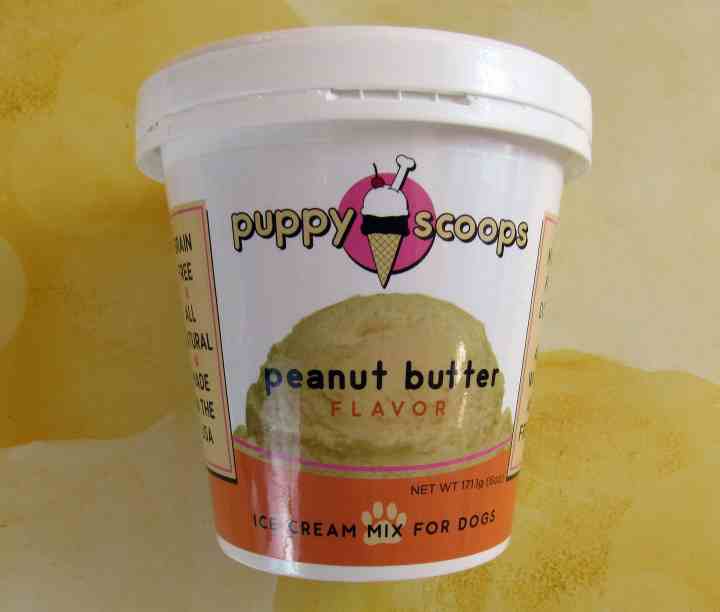 I've been hoping that Puppy Scoops Ice Cream ($6.99) will be in the box! The dogs loved their peanut butter ice cream.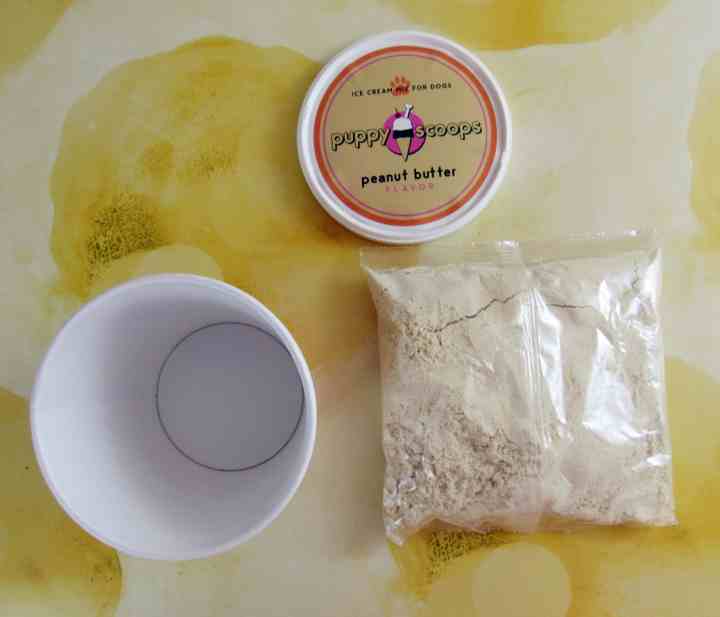 It's super easy to make. Pour the mix into the carton, add 2/3 cup of water, and stir. Place in freezer for 5 hours and let thaw for about ten minutes before serving.
The dogs were eager to taste their ice cream.
Time to see what the collies think. Daisy is an English Shepherd aka Farm Collie; Odie is half Border Collie and half Labrador Retriever. There are not many pictures of Daisy and Odie together because Odie wants to destroy Daisy's toys. Daisy has no interest in rope toys because they are not babies. Bella, our Mini Rat Terrier, is busy snuggling with my sister at the farm.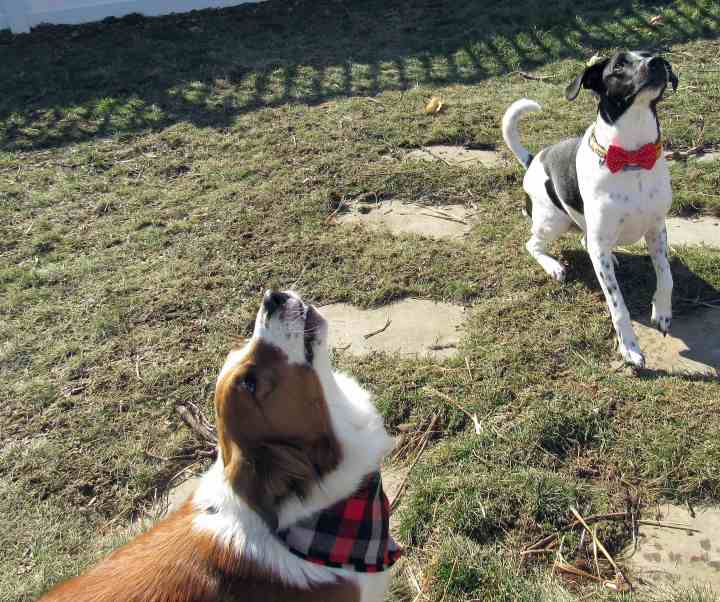 Daisy is wearing her bandana from the November Dapper Dog Box. Odie looks quite dapper in his new bowtie.
Daisy thought about running after the toy until she saw it was a rope toy. She is the Alpha dog of the pack which is why Odie waited before claiming the toy. He does destroy her toys through play if he finds them in the house which is why they live under the bed.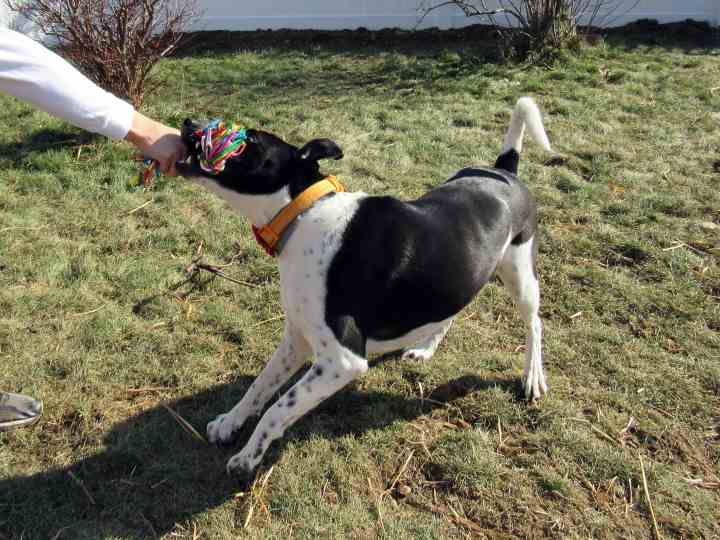 Odie only had one thing on his mind. Tug-of-War!
Put down the camera and play with me!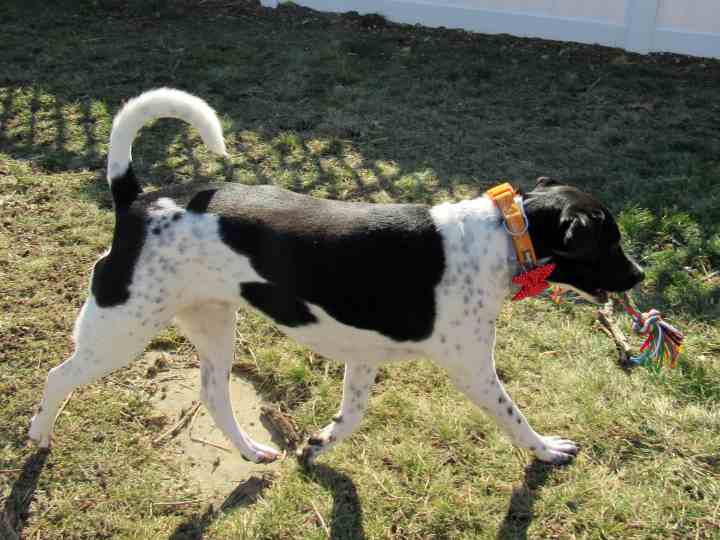 Look at his curly tail. He is a happy boy!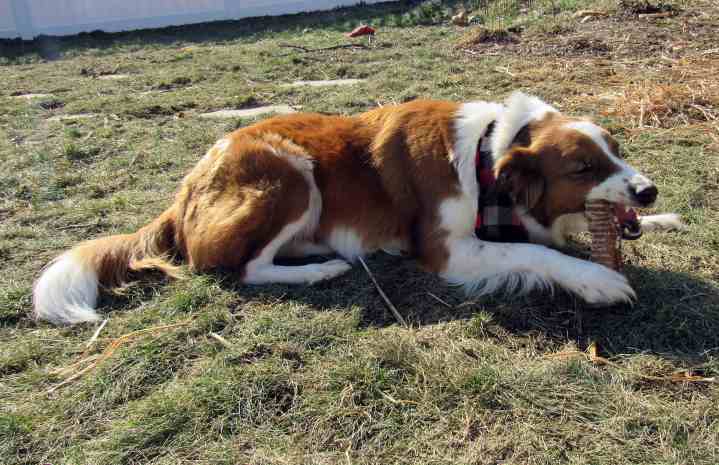 Daisy enjoyed gnawing on her trachea. She ate the whole thing in less than ten minutes.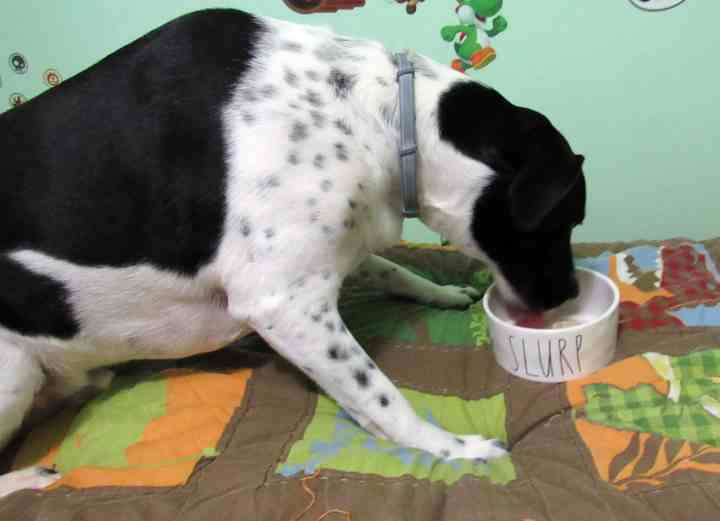 Guess who got first dibs on the ice cream? Odie can be a smart dog at times. He smelled the Puppy Cake Ice Cream as soon as I started to plate it. He ran into the bedroom to check out the comforter and realized it was picture time.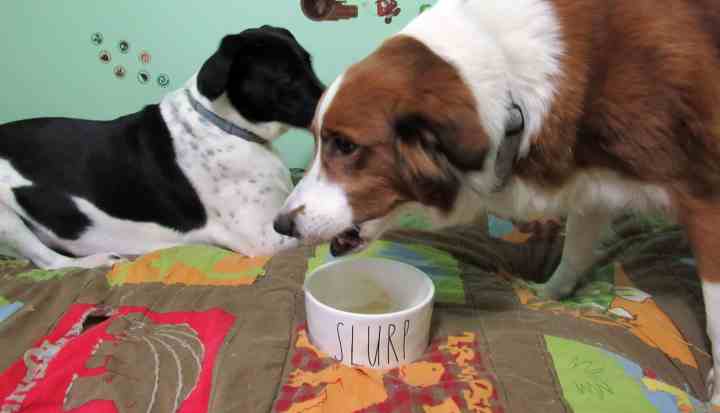 He would not leave the bed. He quietly waited in the background while Daisy ate her portion.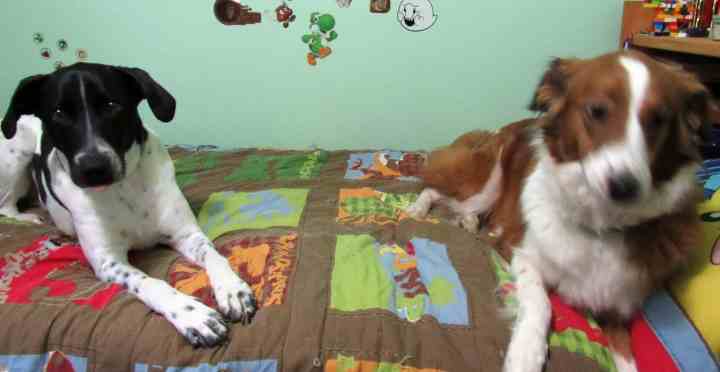 I caught them staring at me while I was walking by the bedroom. They are begging for more ice cream. Daisy moved as I snapped the picture. I will give them more ice cream in a few days. I'm also saving some ice cream for Bella.
The Dapper Dog February Box cause the dogs' hearts to swell with love as they played and ate treats. Daisy was delighted with the treats. Odie was over the moon to have a new rope toy and looked dapper while wearing his bow tie. The treats have been consistently outstanding. The product value of the box came to almost $46.00 using discounted prices which is excellent for the type of items that are in the box. The overall value is over $53 when including the $8.00 shipping costs. It's an excellent box for dog owners that want a customized box with a focus on organic and all natural toys and treats.