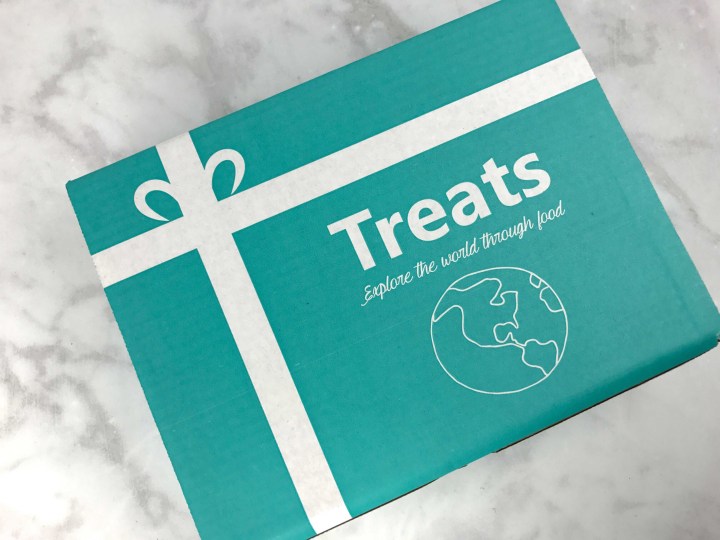 Treats is a monthly snack subscription full of snacks from around the world. You can expect to receive eclectic and interesting snacks that you've never sampled before (unless, of course, you've lived in the featured country recently)! The Standard Pack offers 4-5 snacks, while the Premium box offers 8-10.  This, of course, is the Premium Box. It's quick to enroll, and you'll get your first box within a few days of when you subscribe.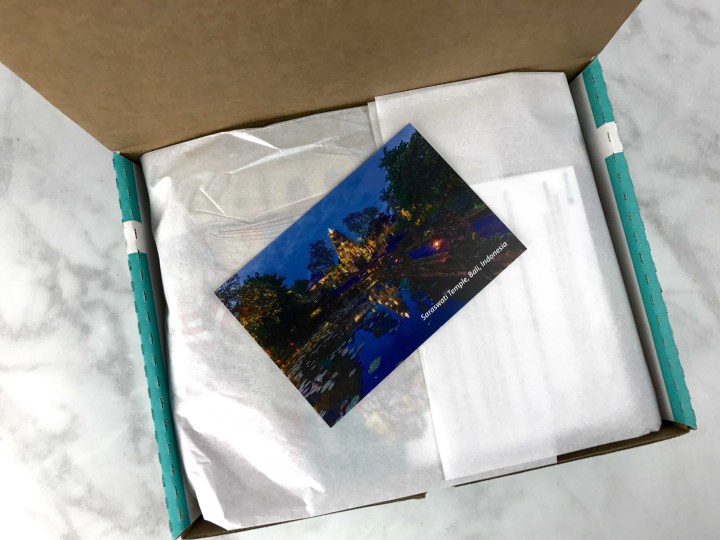 The box is crowned with a beautiful postcard welcoming us to this month's Treats destination.
DEAL: You can save 15% on your first month with coupon code HELLO15.
The packaging is simple and elegant. Tissue paper keeps the contents a surprise until you are ready to immerse yourself in the destination country's food culture.
The box is filled to the top with goodies! This box had mostly sweets.
This month, we welcome a box from Indonesia! The back of the card has a welcoming message that points out some of the items with distinctly local and traditional character.
There is also a handy info card that gives the name and maker of each treat, as well as a short description of each.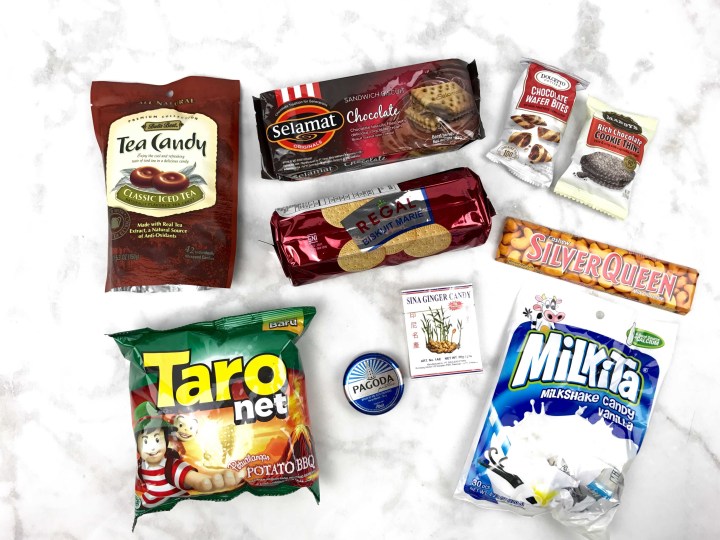 Everything in the box. The composition of each Treats collection depends on the local snacking culture, but there is usually a good mix of sweet and savory and individual and family packs. This box had several larger items, including the hard and chewy candies that came individually wrapped in multi-serving packs, plus the two larger packages of cookies!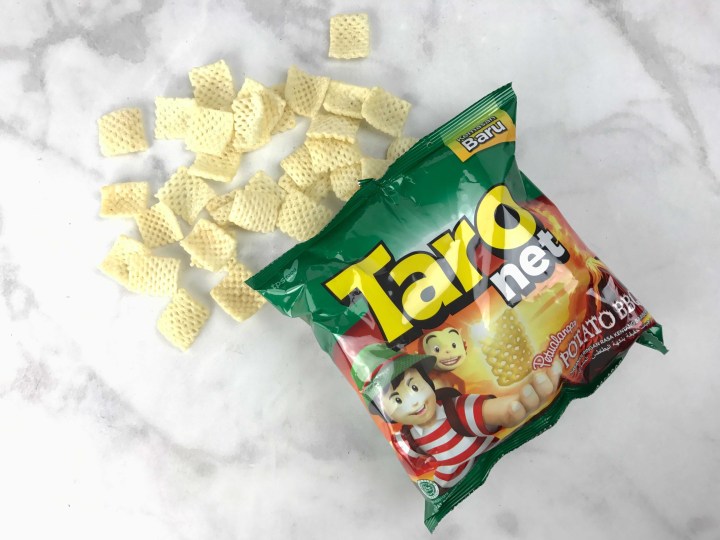 Taro Net Potato Chips: These have A very umami seasoning (amped up with some msg), but the spice is pretty light. They are nominally BBQ flavored, but they are more just genetically salty/savory, with a touch of sweetness. They look like Chex or Crospix cereal, but the taro flavor comes through well.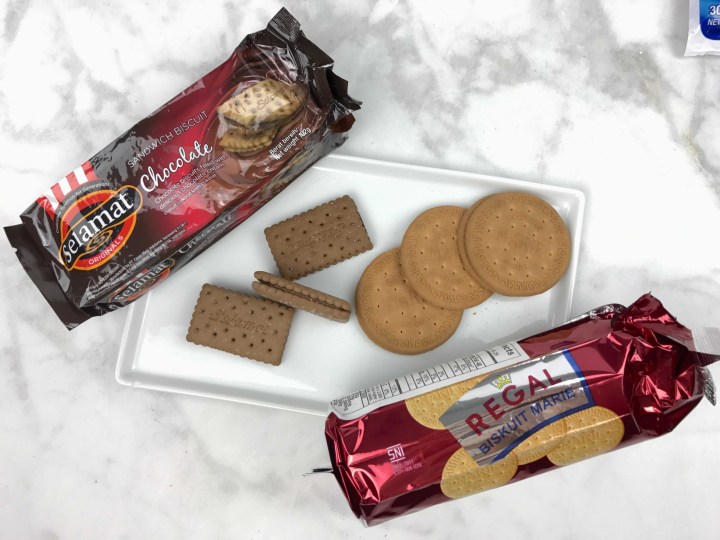 Selamat Chocolate Biscuit: The chocolate flavoring is pretty dark, particularly in the cream's filling. It has a nice cocoa flavor. They also look a bit fancy with the crystals of sugar speckled about.
Regal Marie Biscuits: These cite rounds have a pleasant tea biscuit flavor, sweet and mild. Gently snappy, they are great for dunking!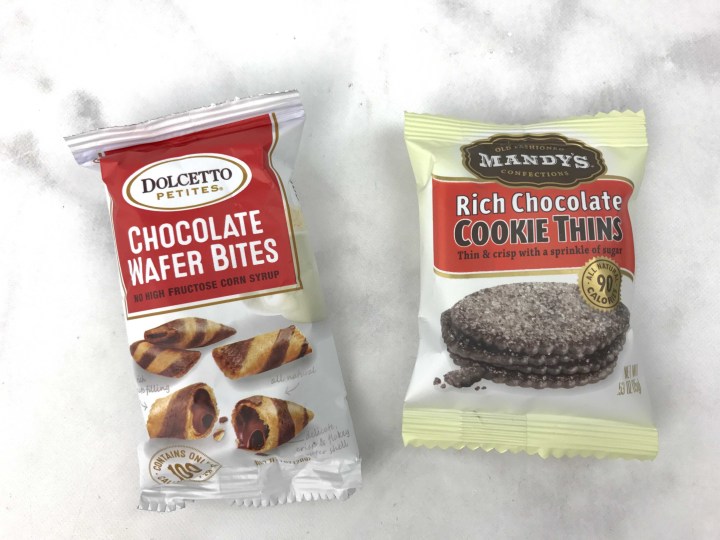 Dolcetto Wafer Bites: Little crispy wafers twirled around a gooey chocolate center. They are much like little versions of Pepperidge Farm Pirouettes.
Mandy's Chocolate Cookie Thins: Cocoa-laden crisp cookies. Like a gingers so, but with cocoa instead of spice.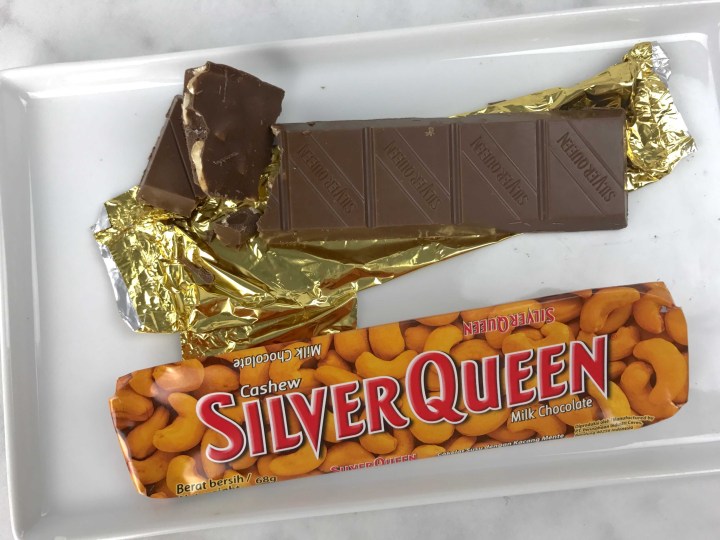 Silver Queen Cashew Milk Chocolate: Creamy milk chocolate with a healthy piling of cashews. The chocolate was pretty standard, but it's great to see cashews in a chocolate bar – they are usually passed over due to expense.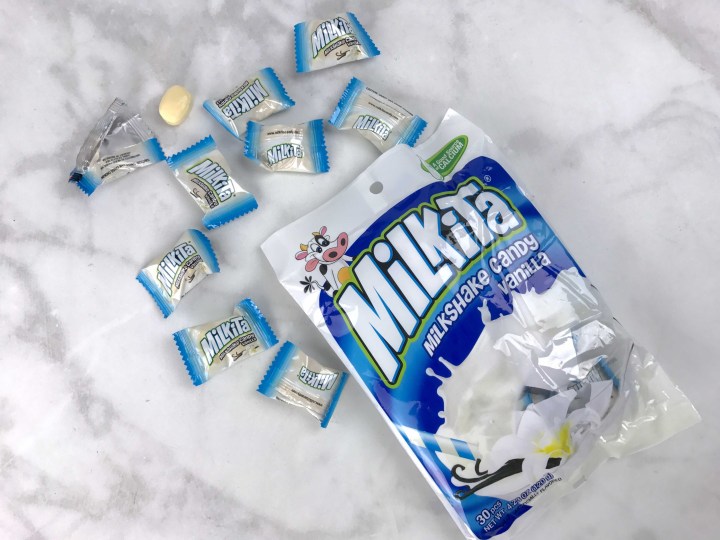 Milkita Milkshake Candy: Chewy milk flavored candy. They are soft and dissolve fairly quickly, more like a caramel than a taffy in density.
Bali's Best Ice Tea Candy: The tea flavor is superb in these little hard candies. Really sweet, no bitterness, and a lovely translucent smoky brown color, too.
Pagoda Licorice Pastilles: These are one of those acquired tastes!  They are flavored like licorice, but with a bit of an herbal and menthol flavor. The tin is really cool.
Sina Ginger Candy: These are great – they are made simply from ginger and sugar, dried until they form a chew, sweet, and fiery candy. They are a bit like a MaryJane, but with ginger instead of peanut.
We love it when Treats takes us to snack destinations that surprise us! It's fun to see what people around the world like to snack on – some snacks are fairly universal, others are quite peculiar. Treats do a good job of including only good stuff – nothing is strange is included in the box solely for shock value.
Have you tried Treats yet? What did you think of the box?