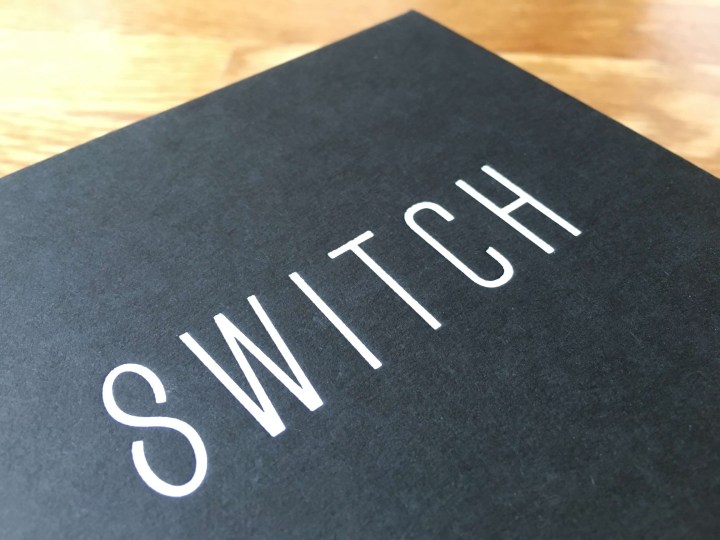 Switch is a jewelry subscription that lets you rent designer jewelry starting at $29 a month. You can wear the pieces for as long as you like, or switch them out for new piece(s) whenever you want. Shipping is always free. The jewelry, which includes pieces by Hermes, Alexander McQueen, and Celine, among others, averages $500 and includes necklaces, bracelets, and earrings. Jewelry is cleaned between wearers.
I have always admired fun statement jewelry on other women, but I can never bring myself to commit to a piece.  Who wants to spend $500 on a piece of jewelry that you may wear only a few times before it goes out of fashion? But who wouldn't like having an amazing new piece whenever you go out? Not being an heiress or a tech entrepreneur, and having a firm frugality-is-golden Midwestern upbringing, I figured this kind of jewelry was out of reach for me.  Enter Switch, which lets you have fun without the commitment. It's like internet dating for jewelry!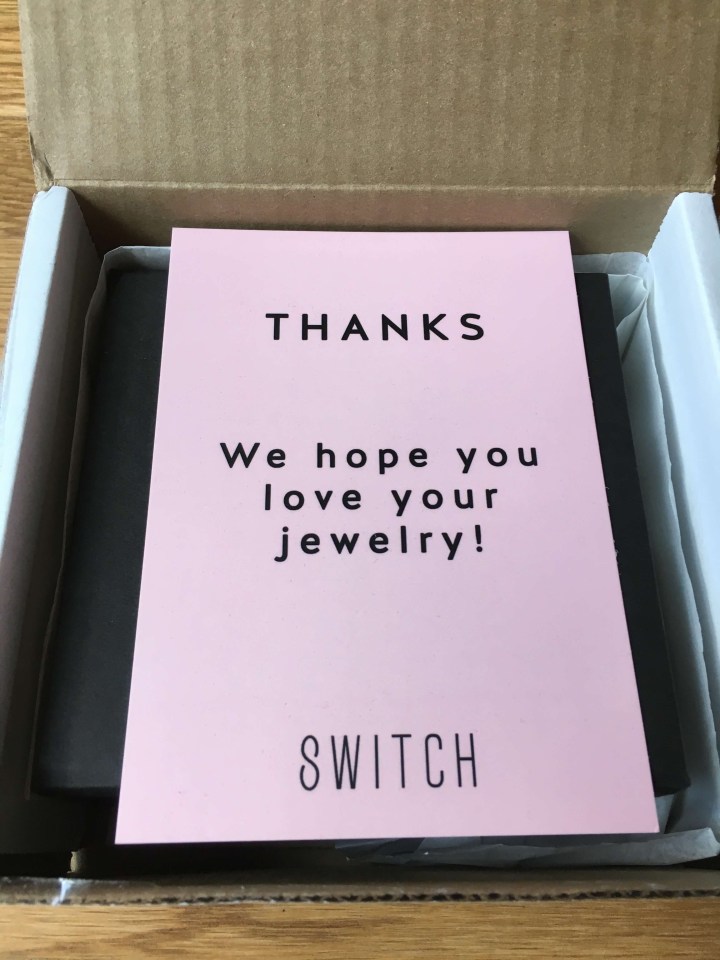 DEAL: Get half off your first month on any plan. Use coupon code HELLOHALF.
Sign-up is simple. You look through the collection and pick the pieces you like, ranking them in preferred order.  Switch sends you your top-ranked piece that's available. Wear it as long as you like, and send it back when you're ready for something new. I have the platinum plan, which allows me to have two pieces at any one time for $39 a month. My jewelry came in the mail in just a couple of days.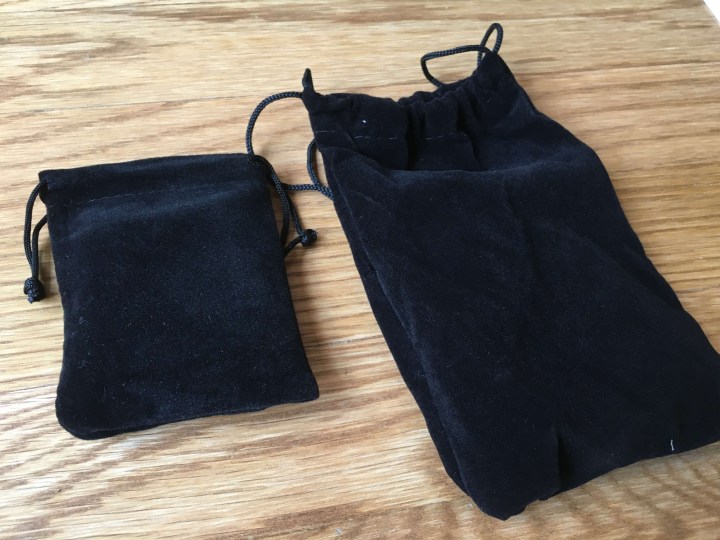 Everything was all snuggled up in secure packaging. Can I just tell you how exciting it is to open tiny velvet pouches containing gorgeous jewelry that costs less than my monthly Starbucks habit?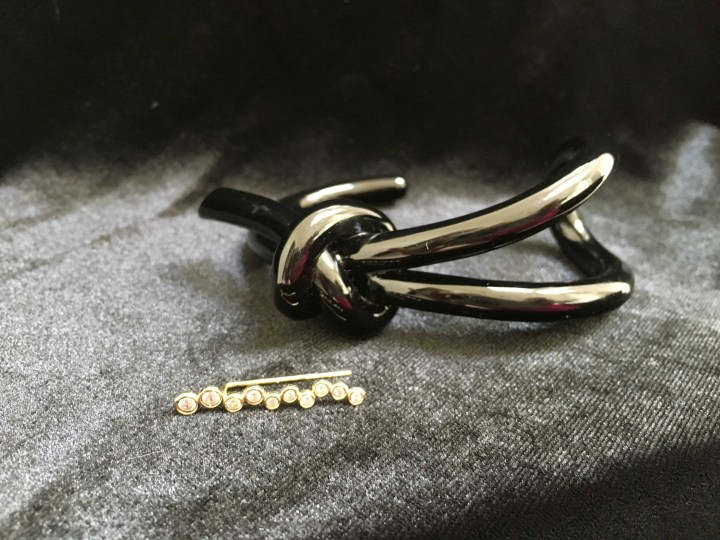 Fun stuff from my wish list this month! I got the Balenciaga Asymmetrical Bow Cuff in Noir ($465 retail value) and the Jacquie Aiche CZ Ear Climber ($250 retail value; we found prices at $109 online).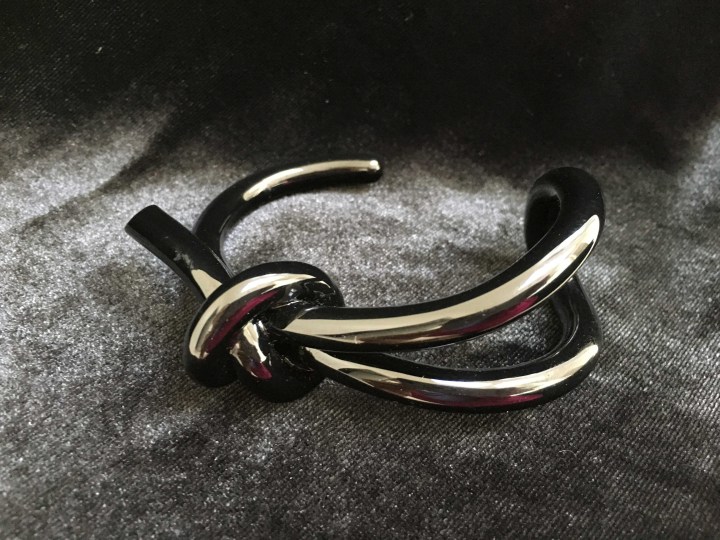 This bracelet is quite striking in person – the material is shiny and very black; it's dark enough to show up against any skin tone.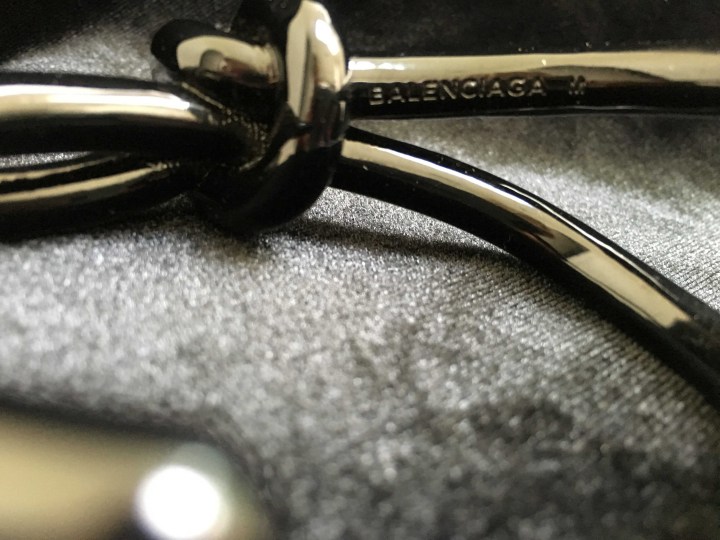 The slip-on bracelet is noir-tone brass, 6mm at the narrowest spot and 30mm at the widest. You can see the Balenciaga logo on the underside.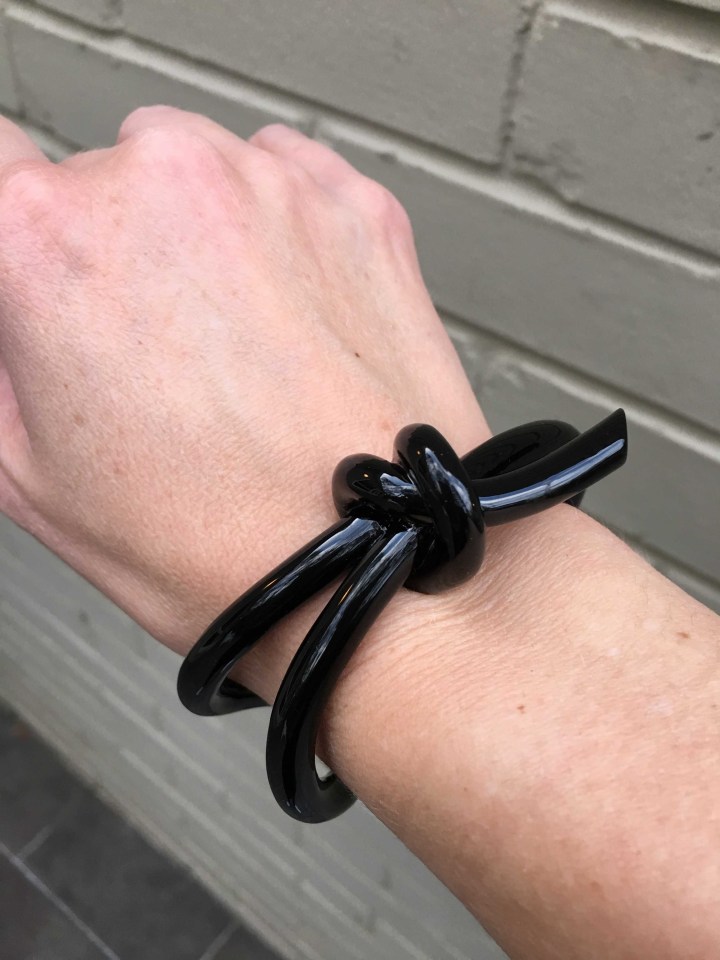 This bracelet looks super cool and could work as a statement piece with jeans or even under a suit coat. For me, though, I found it a bit too heavy and unbalanced – it felt like it was in danger of falling off constantly. I won't be sorry to send this one back, but the nice thing about the Switch system is that I can get a new piece right away if I don't like what I received.
The next piece I received was the Jacquie Aiche CZ Ear Climber.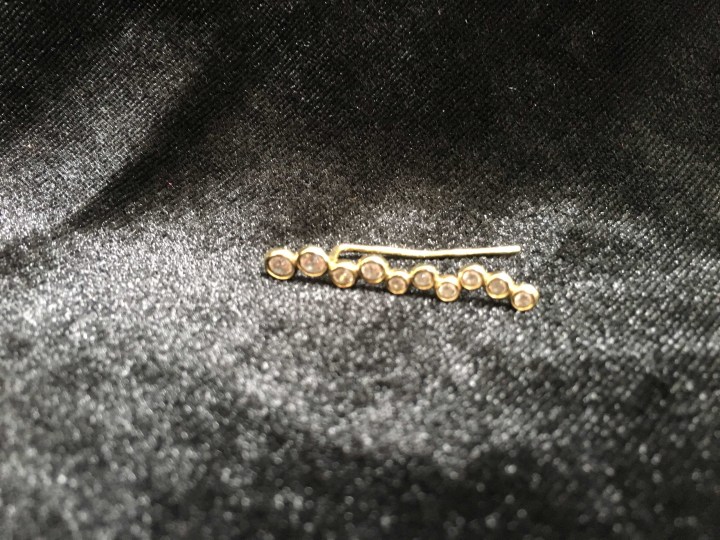 In spite of their climbiness, these earrings are understated and very pretty. The gold tone brass and the cubic zirconia are small enough to look real and it has a nice, elegant sparkle. It is 1.1″ long and .21″ wide. The back post goes through a pierced ear hole and then flexes slightly to hold the earring in place.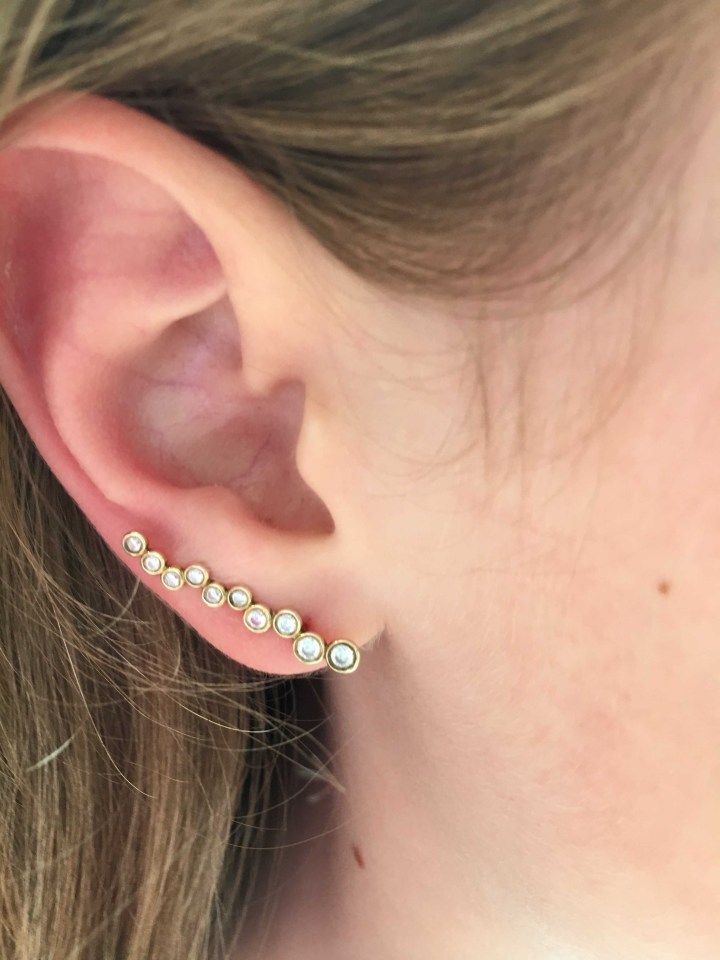 Look how pretty this is! Okay, now the embarrassing part – I guess I assumed there would be two of these in the package, but there is just one.  Ear climbers are incredibly on-trend right now, and a single climber is often worn with just a stud on the other side, but usually they are quite dramatic and go all the way up the earlobe.  For a smaller, more understated version like this, I think it's odd to have just the one.  Live and learn, I suppose.  Still, it was fun to test out this trend without dropping a bunch of cash on something that isn't likely to stay current very long.
Overall, Switch is a really fun experience. I really like the variety of pieces available. I love the idea that I can go "shopping" for new jewelry anytime I want. Given the retail prices of the pieces (stated to be over $600 total in this shipment), the $39/month is very reasonable value. With that money, I can either buy a new piece of jewelry every 1-2 years, or I can have a new piece whenever I want. For this kind of statement jewelry that may have a shelf life of your interest or that of the fashion world's, the economics really do weigh in favor of renting. I can't wait to get my next Switch!
Have you tried Switch? Which piece is next in your queue? Let us know in the comments below!