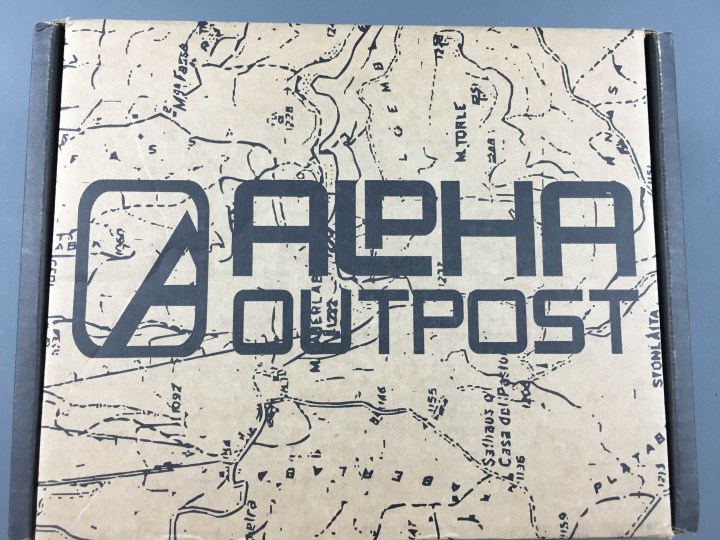 At the end of last year, Prepper Gear shut its doors and almost immediately got bought out by Alpha Outpost. This box was my last Prepper Gear Box. It contained Prepper Gear Box gear and a magazine from Alpha Outpost! Going forward, it's worth noting that the price points of the two subscriptions are different; whereas Prepper Gear Box cost $25 each month, Alpha Outpost costs $39.95 plus $6.95 shipping and handling each month, although you can save a little over $60 each year by prepaying for the entire year up front (which also entitles you to some extra gear!).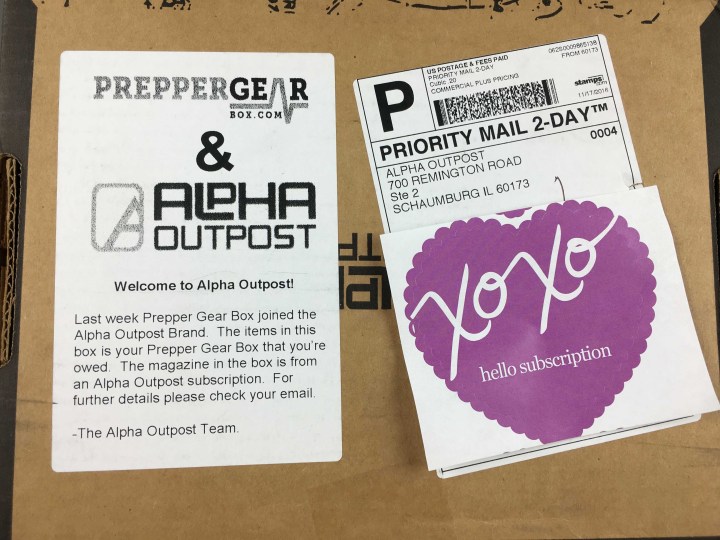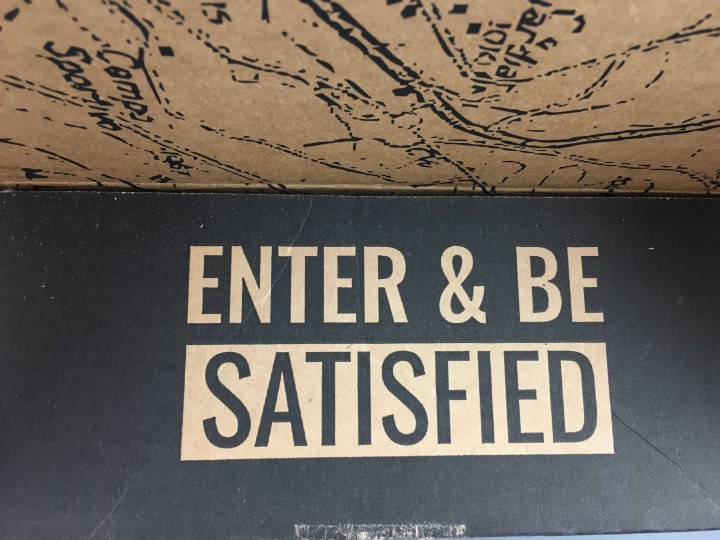 Whereas the products contained in this box were from Prepper Gear Box, the box itself is all Alpha Outpost. I love this phrase under the outer flap of the box: "Enter & Be Satisfied."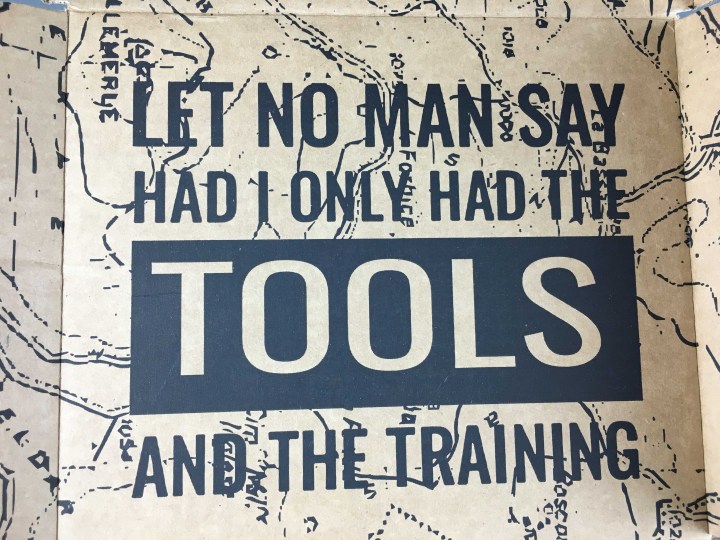 Alpha Outpost is a monthly subscription dedicated to providing its subscribers with the tools and training to "take any situation by the jugular." Each month's gear is curated around a central theme by an expert or experts in the field. Some months, the curator is a specific person, whereas other months, the box is curated by a team of veterans and expert survivalists. Whoever the curator is, Alpha Outpost is designed so that its subscribers learn how to tackle any obstacle they may encounter. It's worth noting that Alpha Outpost doesn't limit itself to survivalist themes; past themes have included dopp kits and BYOB picnics! Whatever the theme, Alpha Outpost promises that its boxes will be worth at least twice the cost of their boxes.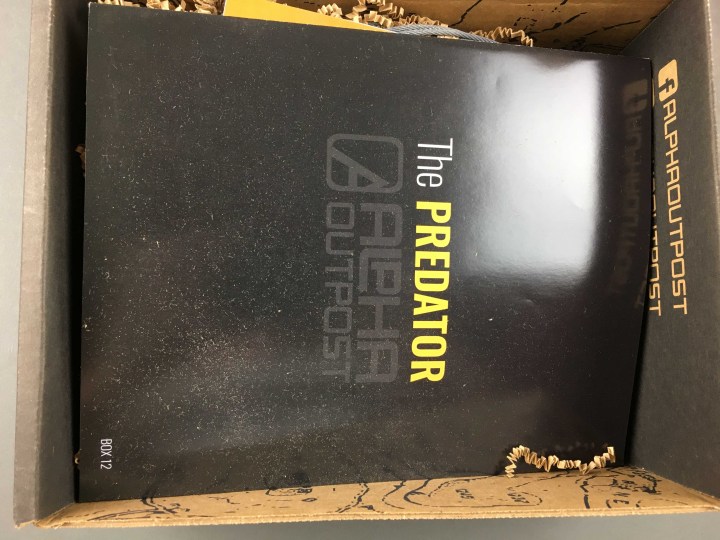 New subscribers' first three boxes are set; after those introductory packages, they'll receive the regular monthly boxes. The first three boxes are: 1) Everyday Carry 2) Upgraded Gentlemen 3) Upgraded Medic. Shipping is available within the United States as well as to APO/FPO/DPO addresses.
The theme for November 2016's Prepper Gear Box/Alpha Outpost Box was The Predator! This box was curated by Mark Steck, a professional trapper with over 43 years of experience. It included a knife, a trap, and a snare. Regular Alpha Outpost subscribers also received SOG's Spirit Spear ($51.75).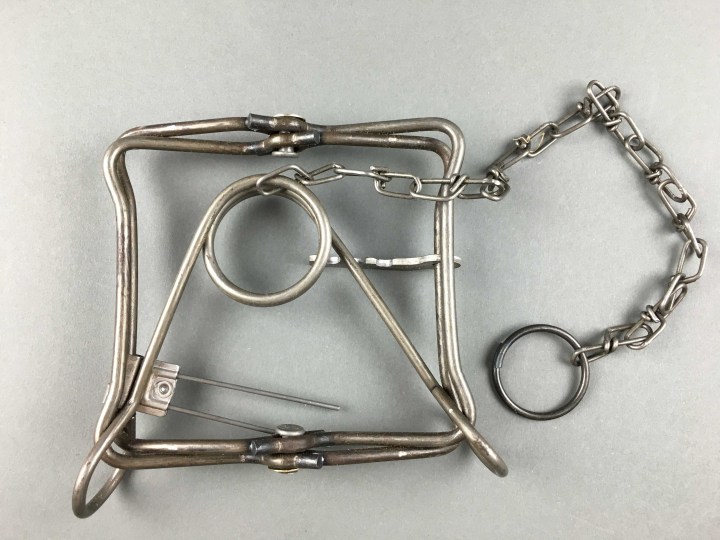 The enclosed Body Grip Trap ($14) is ideal for catching a small animal, such as a mink, muskrat or weasel. You'll want a larger body trap with another set of springs if you're trying to catch a larger animal. FYI: there are a number of regulations in place if you want to use one of these. Among the many such regulations in Texas is that body grip traps and snares have to be examined at least once every 36 hours, and any trapped animal has to be removed from them as soon as it's found.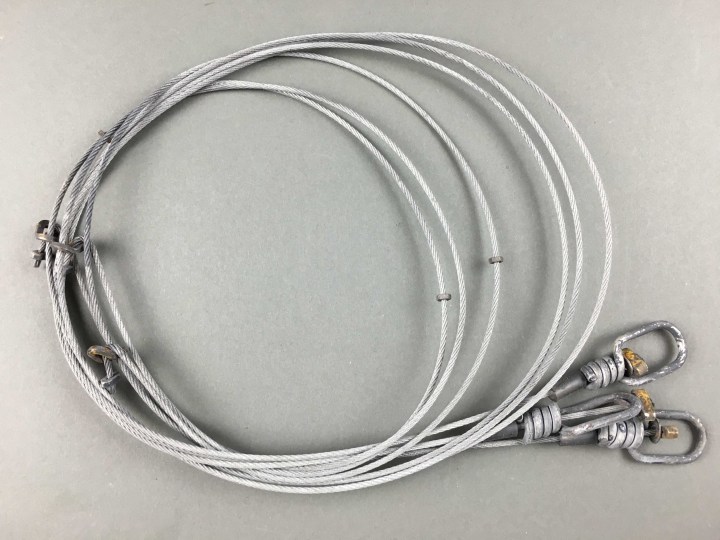 This set of three snares ($9) can likewise be used to catch animals.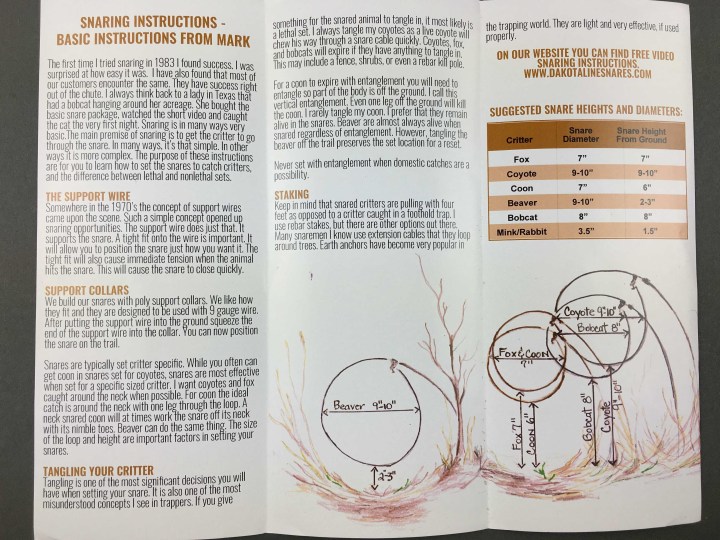 I found Dakota Line's Snaring Instructions very interesting and useful.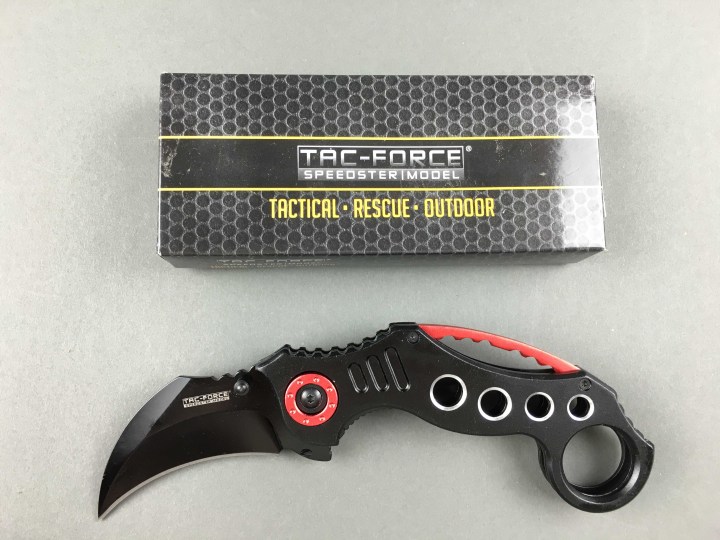 Once you've secured your animal, Alpha Outpost has included Tac Force's Speedster Model bit Knife ($20 according to Alpha Outpost; on sale for $6.95) so that you can skin and gut it. This spring assisted model includes a pocket clip and a lanyard hole for easy
Each month, Alpha Outpost includes a glossy book that lists the products in the box along with their retail values.
It also contains a comic strip-type story that utilizes the tools found in that month's box.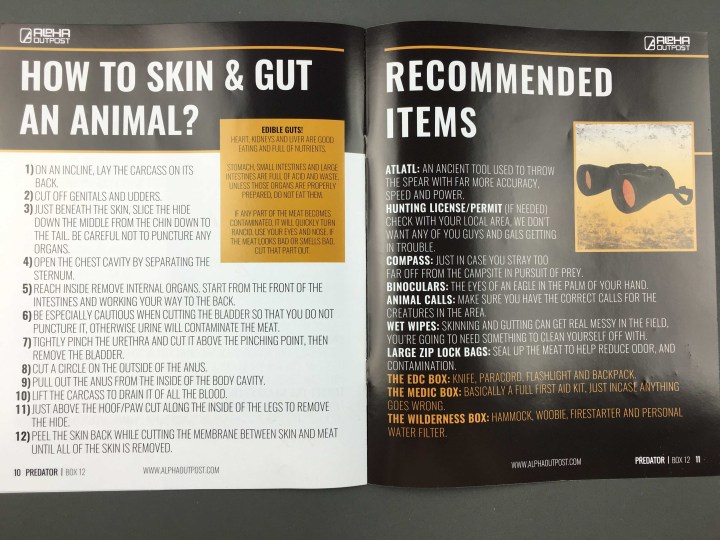 It also provides guidance and information that would be useful to anyone facing a life or death situation. The Predator box featured information on how to skin and gut animals. It also provided a list of recommended products to add to your hunting and everyday carry packs.
Every Alpha Outpost Box includes a patch that you can add to your pack or clothing.
I enjoyed my first box from Alpha Outpost! It taught me a lot about trapping and hunting, and although you probably won't catch me outdoors hunting anytime soon, I've developed a new found appreciation for all of the skill and effort that goes into the craft. I plan to keep all of the gear and information handy so that I can present it to my son when he gets older. I only wish that their trap and snare descriptions had been more thorough. As a newbie to this sort of thing, I had a bit of difficulty narrowing down the exact model of the traps and snares and the animals they were intended to catch. I'm assuming the body trap was either a 110 or a 110 MAG, but I had more trouble narrowing down the animals that the snares were intended to catch.
Have you tried Alpha Outpost? Are you most excited about their gear or information (or both)?
Visit Prepper Gear Box to subscribe or find out more!