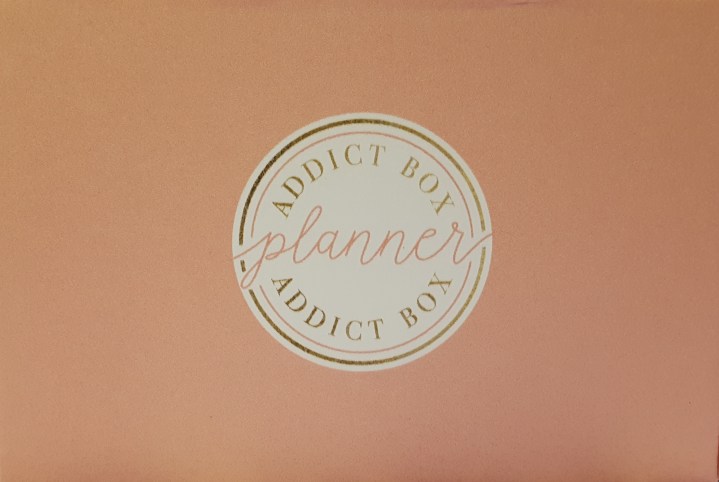 The Planner Addict Box is a monthly subscription box for planner nerds. The box is filled with planner products you can use for any type of planner. You can expect products from well-known designers, Etsy shops, and Planner Addict Box exclusives. Planner addict has had a lot of exclusives recently and then things created just for them from Etsy shops. I love that it is so unique and are not the same things I see in the stores all the time. The Planner Addict Box got new boxes this month and they are nice and pretty a lot larger than their last boxes. They even have a little note for the planner on the side.
The new boxes are full of squiggles to hold all the goodies inside without too much moving around.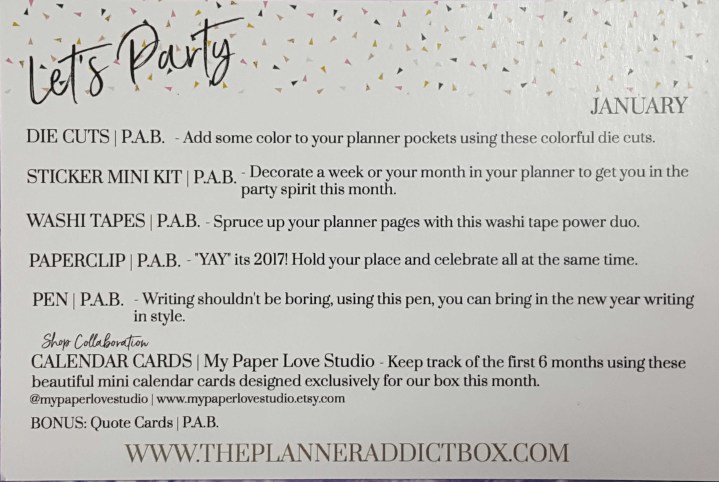 The theme for my January box is "Let's Party." The new information card tells you the companies that are included in the box and their links so you can shop their sites for more goodies from them. We had a lot of Planner Addict Box exclusives this month.
Everything included in my January box.
Die Cuts ( Planner Addict exclusive) – The info sheet says to decorate your planner pockets with these but I plan to use them in my scrapbooking. They have a nice weight to them and would be really cute on a birthday page. I love the saying "Throw Glitter in Today's Face." I'm a total glitter girl.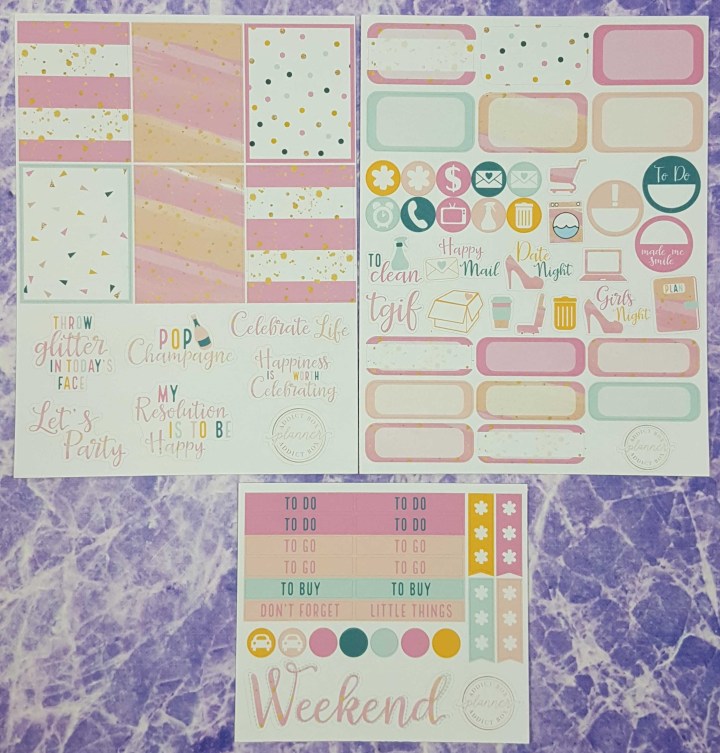 Sticker Mini Kit (Planner Addict exclusive) – The colors this month are great and actually coordinate with the new box which makes me smile. This is a nice small set of stickers that will be great for a month or a week here in January. I'm loving the sayings and then I see a Girls Night sticker and I'm in desperate need for one of those so I love it.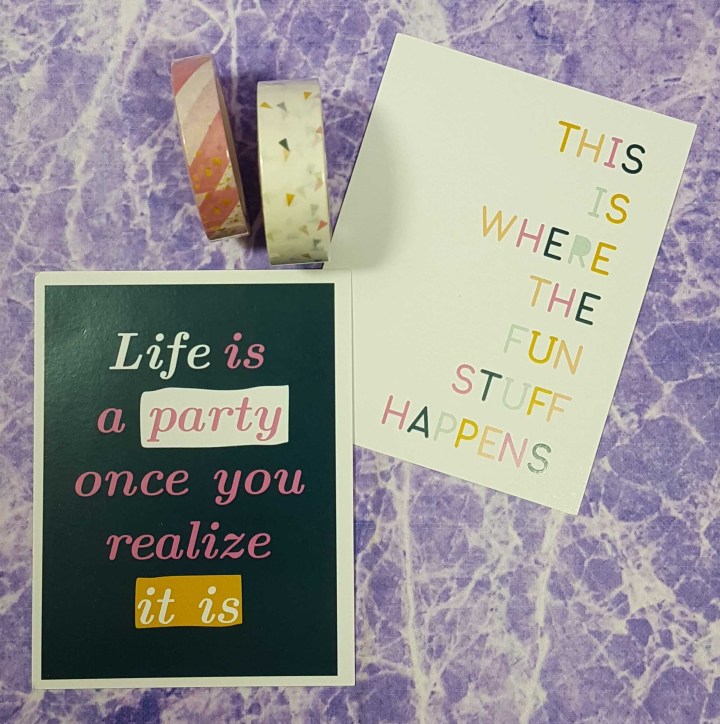 Washi Tape and Quote Cards (Planner Addict exclusives) – Washi tape is perfect for the planner and pretty much everything. I'm always pulling from my stash for all different crafts and projects. The quote cards are bonuses this month and they make me smile. I can't wait to use them to decorate my craft room. They will be perfect in there.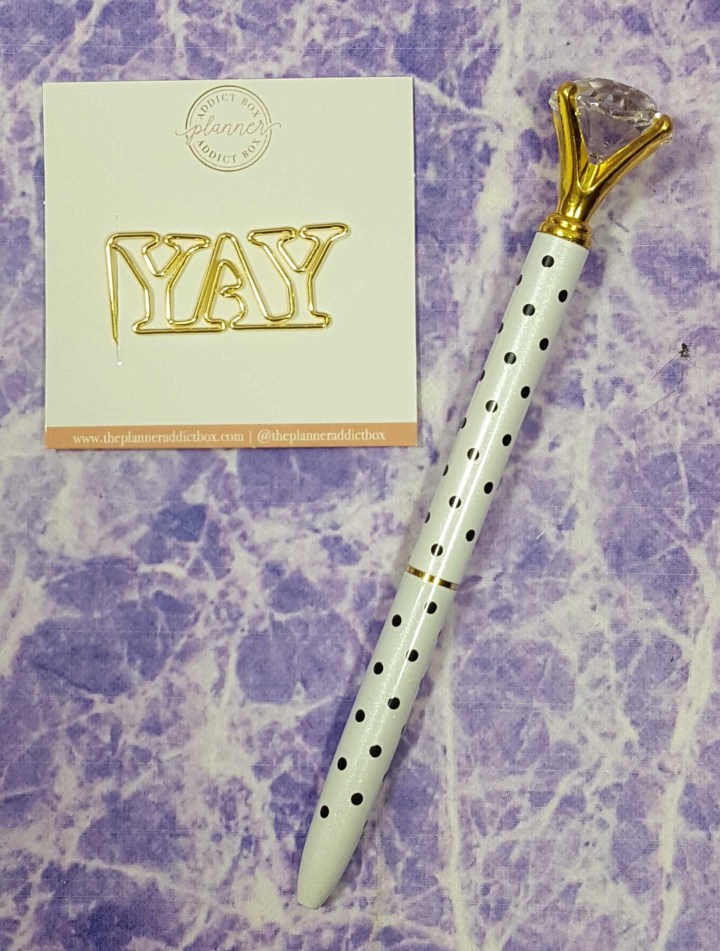 Yay Paperclip and pen (Planner Addict exclusive) – I have a stash of paperclips and I'm always attaching things to my planner and other papers so this will go with my collection. I love that they send a pen each month since we are doing so much writing. This pen is heavy and I love the diamond on the top. It is so celebratory!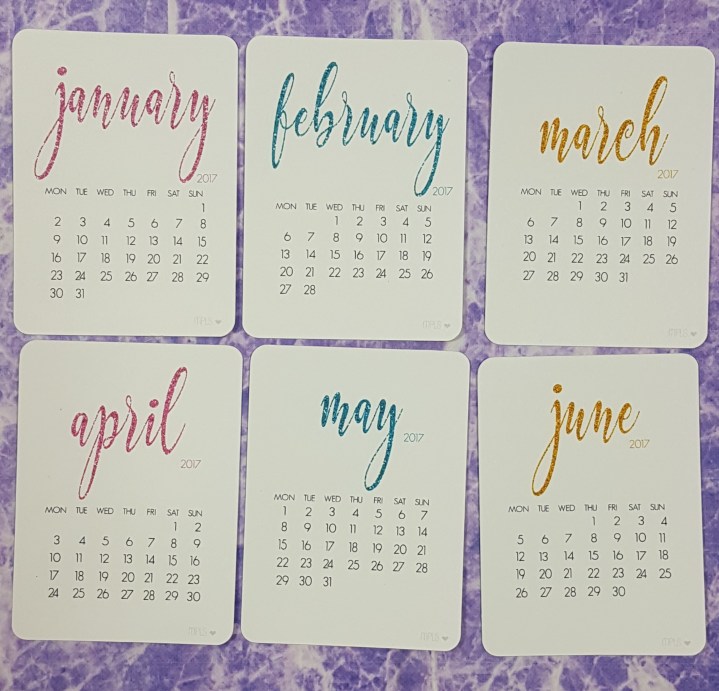 Calendar Cards (This design is a Planner Addict exclusive but a full 12 months goes for $5.40) – These are cute and fun but I'm not sure how to use them in my planner. I can see them being great in a pocket scrapbooking page with a certain date highlighted to show what event you are scrapping. They will go with my stash of pocket cards and be ready for a weekend crop.
Another nice box from Planner Addict Box. I was surprised by the new box and the inside was so nice. The colors work well together and I like the party theme but it's a little late for New Years and my resolutions so I'm going to have to hold onto them for a party page. I was really expecting more of a snow theme or a valentines theme since they tend to send out the holidays a month in advance so you can get your planner ready. The items this month are great and I love the inclusion of some die cuts for bigger accents and dimension to my pages. My favorite items I won't be putting in my planner but will be using in my new craft space. I love the quote cards and I would be glad to get some new ones each month. They are perfect and like little mantras to get you through the days.
Have you tried Planner Addict Box? Do you like the new boxes?