Beauteque offers two subscriptions featuring Asian beauty products delivered to your door monthly. Products include makeup, skin care, body care, and more. For $22 per month, your BB Bag comes with 6-8 full-size products. If you like masks, the Mask Maven subscription brings you 9-11 various masks monthly starting at $14. The following is a review of the November 2016 BB Bag. **NOTE: One of my items did not ship with the box. Beauteque emailed me about the discrepancy and sent the item separately.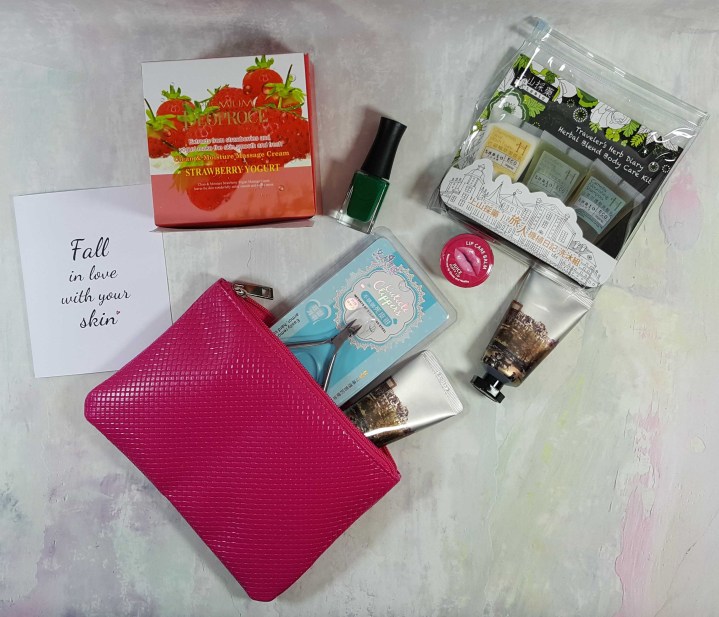 Fall In Love with Your Skin. Beauteque is making sure that you love your skin during the colder and drier winter months.
DEALS:  You can save 10% on the BB bag or Mask Maven with coupon code CRATEJOY10.
The fold out card has information on each of the products and basic how-to-use directions. Pricing for products varied across sites. The prices listed below are those of Beauteque, unless otherwise noted.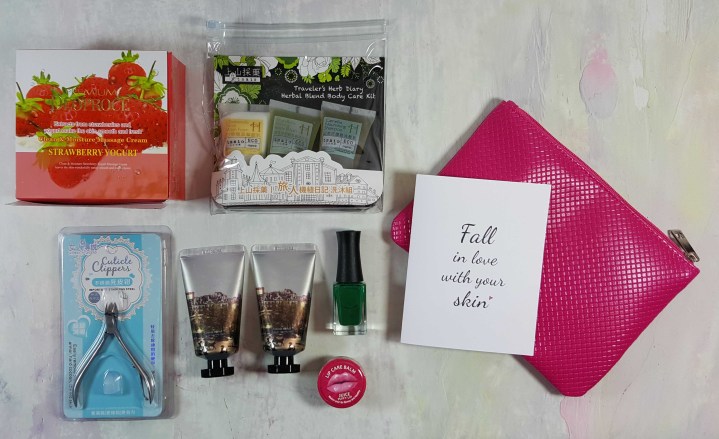 The November Beauteque BB bag!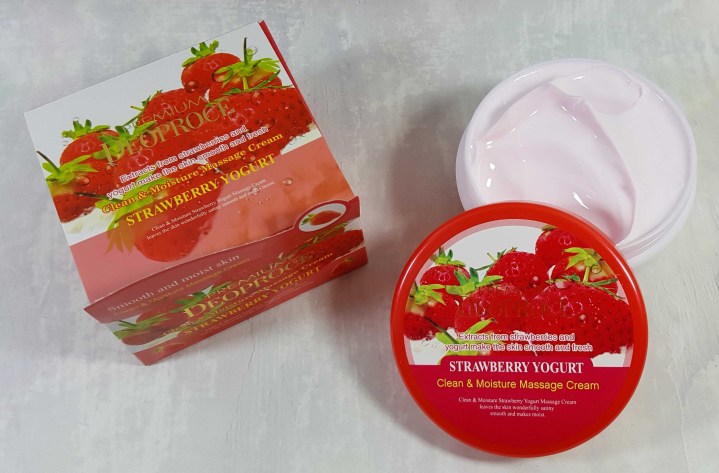 Premium Deoproce Strawberry Yogurt Massage Cream ($22.00): I love that Beauteque included a full-sized tub of body cream. Massaging the skin improves circulation and helps with skin elasticity. This formula contains strawberry extracts which have anti-inflammatory and anti-microbial properties. It is also very rich and took a little while to absorb (but my skin felt amazing after it did). The scent is a little strong and reminded me of strawberry Lip Smackers.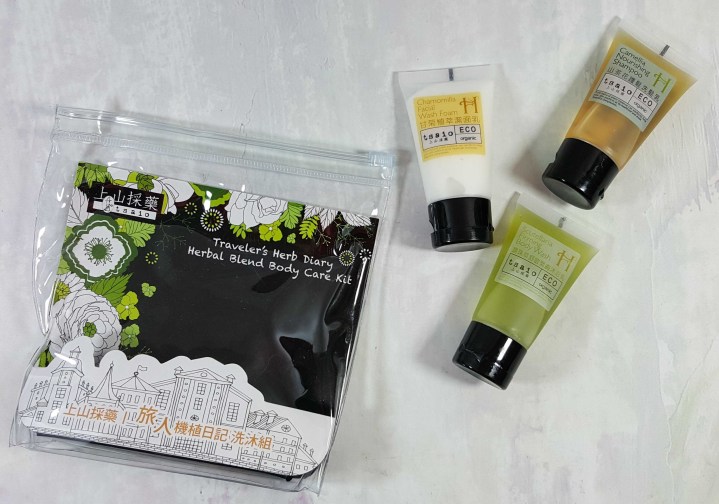 Tsaio Traveler's Herb Diary Herbal Blend Body Care Kit ($14.00): I love travel kits. They save me so much time (and space) when I'm planning a trip. This kit contains a facial wash, body wash, and shampoo loaded with herbal extracts. I only wish that a hair conditioner and body cream had been included.
VOV Lip Care Balm – Juicy Puffy Lip ($6.00): I'm not a big fan of lip balm pots; I get skivved out by sticking my finger in there (yes, even if it is mine and I know it's clean). This formula went on really smoothly and didn't need to be reapplied until after lunch. I'll admit that I'm not suffering from seriously chapped lips at the moment. The fruit basket wrapping on the pot was cute too.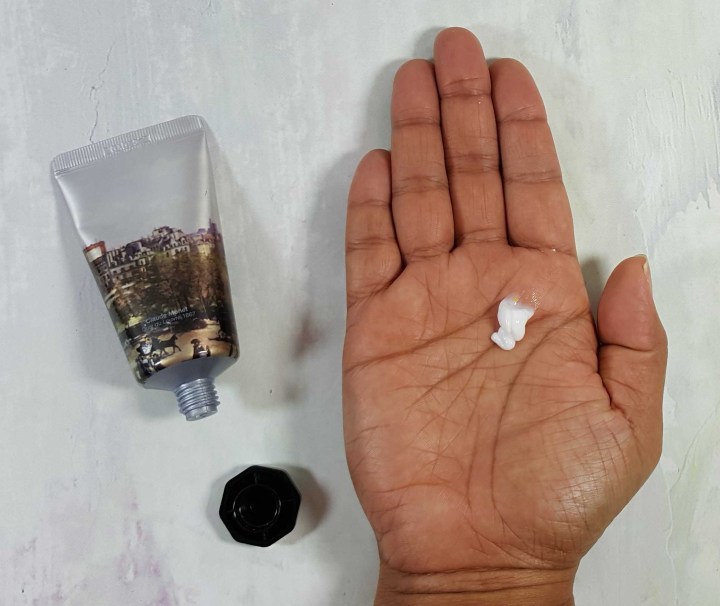 Yadah Claude Monet Hand Cream – Quai du Louvre (2 x $4.00 each): I always have hand cream on me, regardless of the weather/season, so this was a welcome treat. The rich formula contains shea butter and aloe. It is thick and really left my hands soft. Plus, the tube had a pretty Monet on it. Other painting designs included Lady in Green and The Promenade Woman.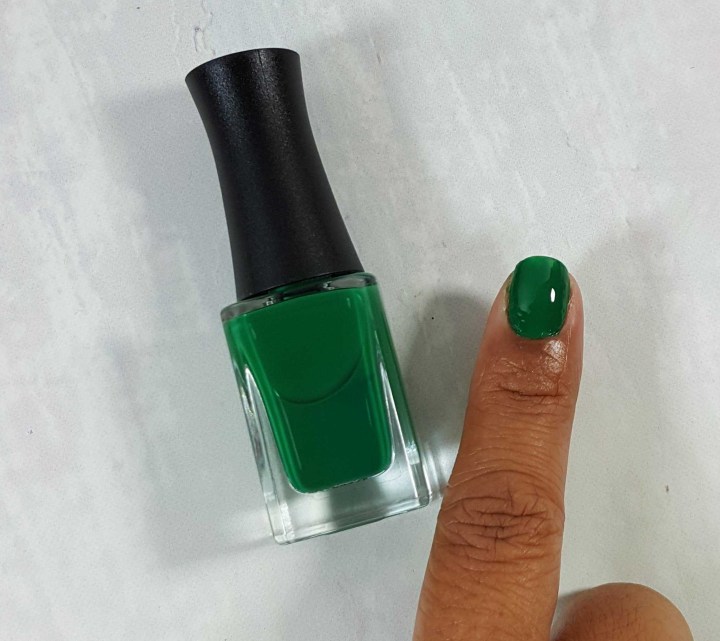 VOV Paint Shot Nail Polish – Green ($7.50): Talk about green! This shade is a slightly muted Kelly green and perfect for the upcoming holiday season. This isn't very opaque, and I had to use 3 coats for full coverage. The information card says to let the polish dry 5-10 minutes between coats… That may be where I messed up.
Cuticle Cutter ($7.50): Keep dry/cracked cuticles at bay and stay manicure ready with these clippers. Beauteque currently has these on sale for $3.99.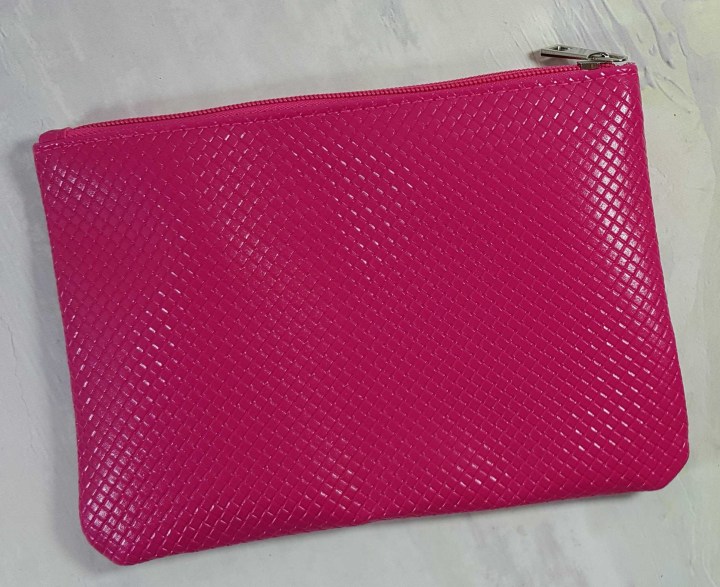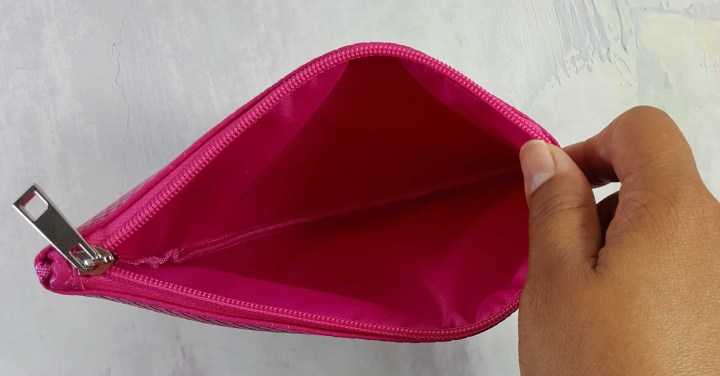 This month's BB Bag is a bright fuchsia and features a basketweave pattern. It measures 8″x 6″ and is fully lined inside.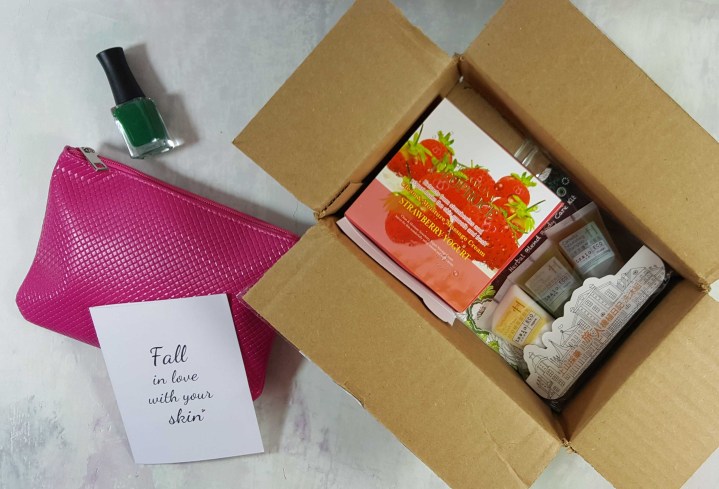 This month's Beauteque BB Bag is valued at $65. Talk about value! I feel that Beauteque is definitely trying to align products more with their monthly themes, and this month's load of skin care is every welcome now that the weather is changing. The Yadah hand creams are my favorite, but the strawberry massage cream is growing on me. What did you think of this edition of the Beauteque BB Bag? Leave a comment below and let me know.
On a side note: Before trying any Asian cosmetic subscription, expect that most information on the package will be in the native language. That said, more and more brands are including directions/ingredients in English, and information can also be found in English on the majority of brands' websites (you may have to choose a brand's global or US site). Secondly, a large number of products focus on brightening or whitening the skin. As a person of color, I have not seen my skin color change. Instead, I've experienced that my skin tone gets evened out after prolonged use. However, your results may be different. And lastly, many products contain ingredients which are animal-derived, so these may not be an option if you are vegan. You can also check out cosDNA.com to see if the ingredients for the product are listed there.