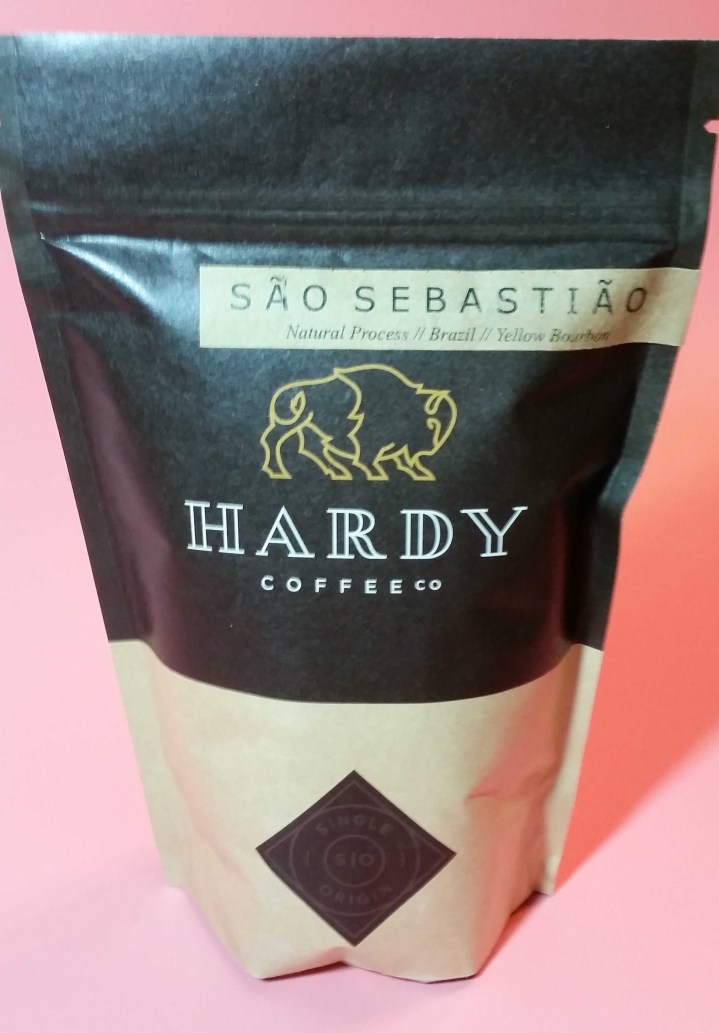 Hardy Coffee Co. promises "excellent, approachable coffee roasted in Omaha, Nebraska." They offer a number of subscription options, including one or two 12-oz bags of either their Benchmark blend, a decaf version of their Benchmark blend, or a Single Origin selection. Prices start at $16/month for one bag of the Benchmark blends or $18/month for one bag Single Origin; they also offer discounted prices for prepaying for multiple months.
I am reviewing the Single Origin subscription. This month brings another new-to-me bean to my house – Sao Sebastio Yellow Bourbon variety from Brazil.  This is one of my favorite aspects of Hardy Coffee Co.'s subscription – I have been exposed to so many new coffees!
Here's the back of the bag – in addition to tasting notes (wine, coffee flower, cacao, and cedar), the bag indicates when this particular batch was roasted. Freshly roasted coffee is the best!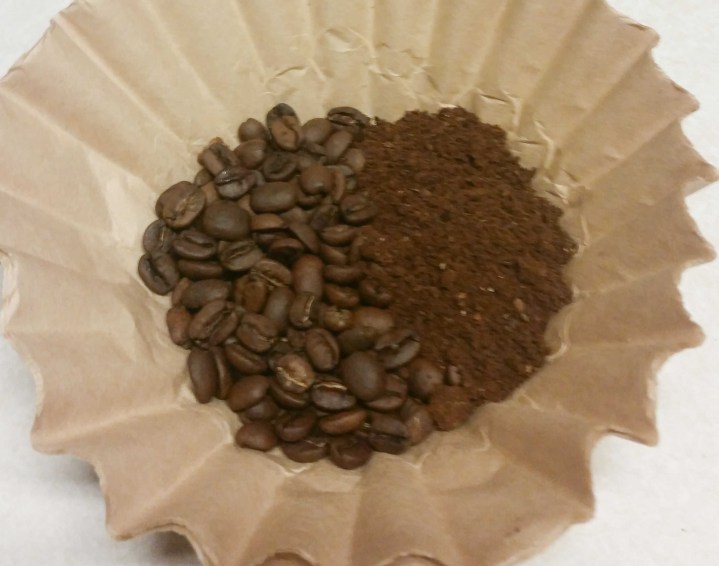 Here's a shot of the gorgeous beans – whole and ground. I'm not a fancy girl – I have a simple Black & Decker burr grinder and a mid-level Mr. Coffee maker, but I love my coffee… especially brewed strong and drunk black.
The key, of course, is how the coffee tastes. I am enjoying this coffee. It has a nice cacao, kind of earthy flavor and a slight acidity that makes it very drinkable. A very good cup of coffee to start your day with.
Hardy Coffee Co. roasts some really nice beans and I'm a big fan of the single origin subscription. I've received some great coffee and have been exposed to quite a few new-to-me beans. I wish Hardy Coffee Co. would tell me a little more about the bean or the roast or anything, but hey, that's what the Internet is for, right? For delicious coffee, delivered monthly, you can't go wrong with Hardy Coffee Co.
Have you tried Hardy Coffee Co.?
Visit Hardy Coffee Co. to subscribe or find out more!