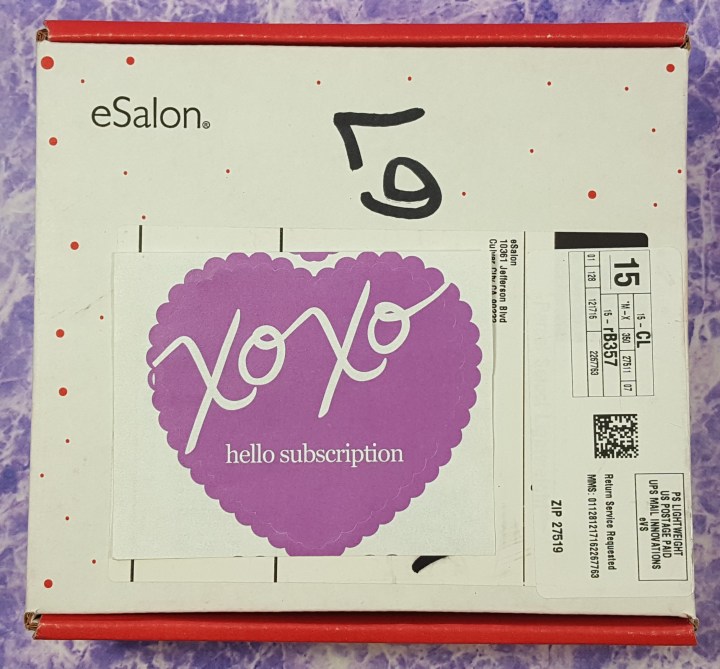 eSalon Custom Hair Color is an at home custom color subscription. When you first log in and sign up you fill out a survey and answer questions about what you are looking for in a color and what color you currently are etc. eSalon then has a chart showing where you are and what would work for you. From this, they will send a custom blended color right to your door. I've been using this for awhile now and I've changed my color a couple times and I've always had great results and I'm in love with it.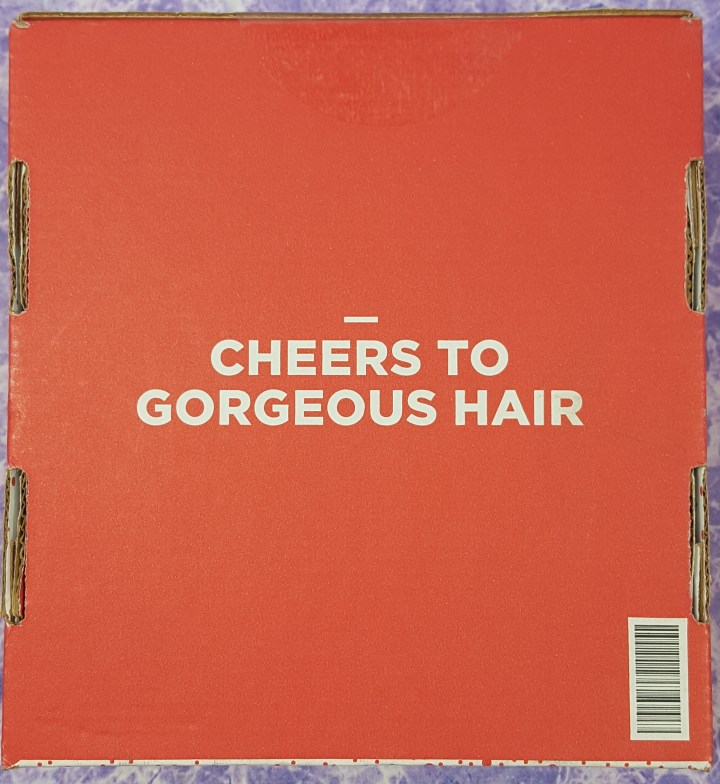 DEAL: eSalon's color is $24.95 per box, $19.99 on subscription – try your first month for $10 with this link!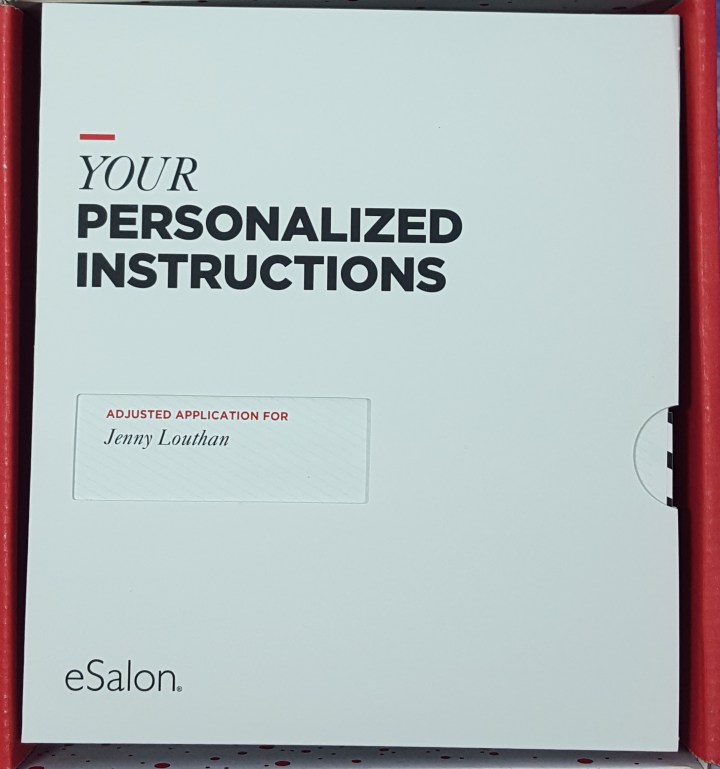 First look in the box and you will see your customized information and instruction card on top of your coloring supplies.  The lid of the box is really cute with a to you from you note. Its like a little present just to you.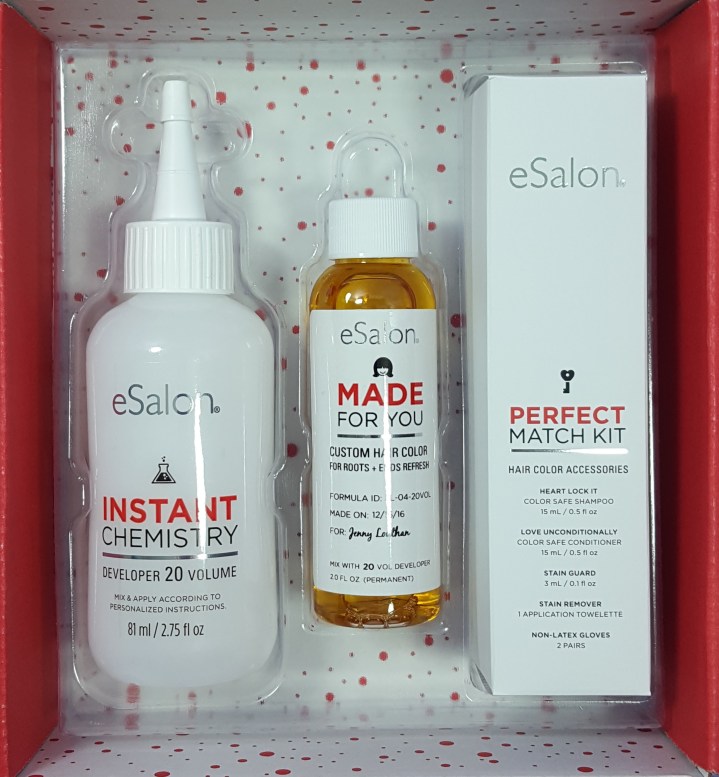 Everything included in my box this month. I love that everything comes in its own little slot in the box. Nothing will float around or fall out or get messed up and its all nice and neat.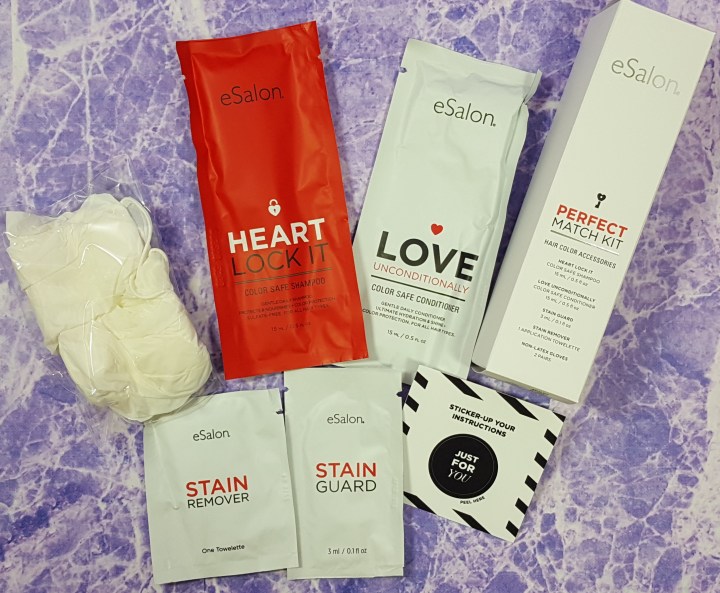 This is the perfect match kit and is all included in the little box. It is all the extras you will need to color your hair: shampoo, conditioner, stain guard, stain remover, sticker, and gloves.
The subscription comes with easy to follow instructions. I did not change my color this month but I might for next time. I normally try and modify my notes right after I do my hair so I don't forget but they will also send an email before your box is scheduled to come to let you know and remind you. Making changes is easy and you can do it in your online account and they will send you a message saying they received it and are going to make the adjustments.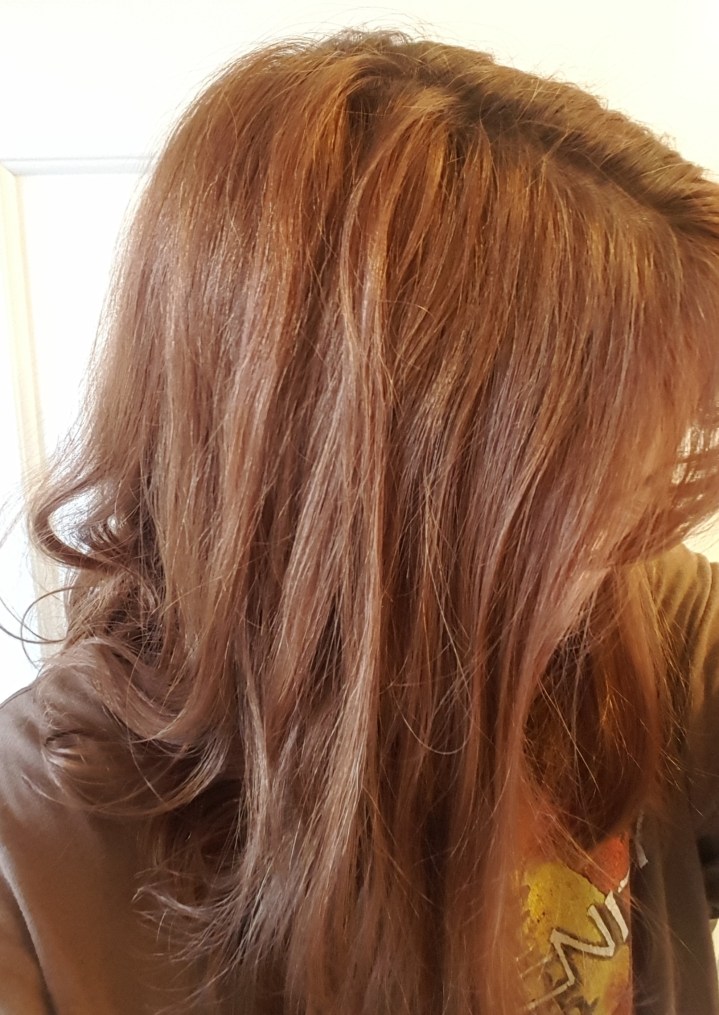 Here is my hair before I started. I didn't brush or anything so my hair is a bit much early in the morning.
I'm always surprised when I do this picture before I color my hair and being able to see my roots and the glitter strands showing through.  I've got my box set at coming every 8 weeks and I think that is perfect timing for me. I start to notice the roots and the glitter right about when I'm expecting my box.  It also means I need to color my hair right when the box comes which is perfect timing.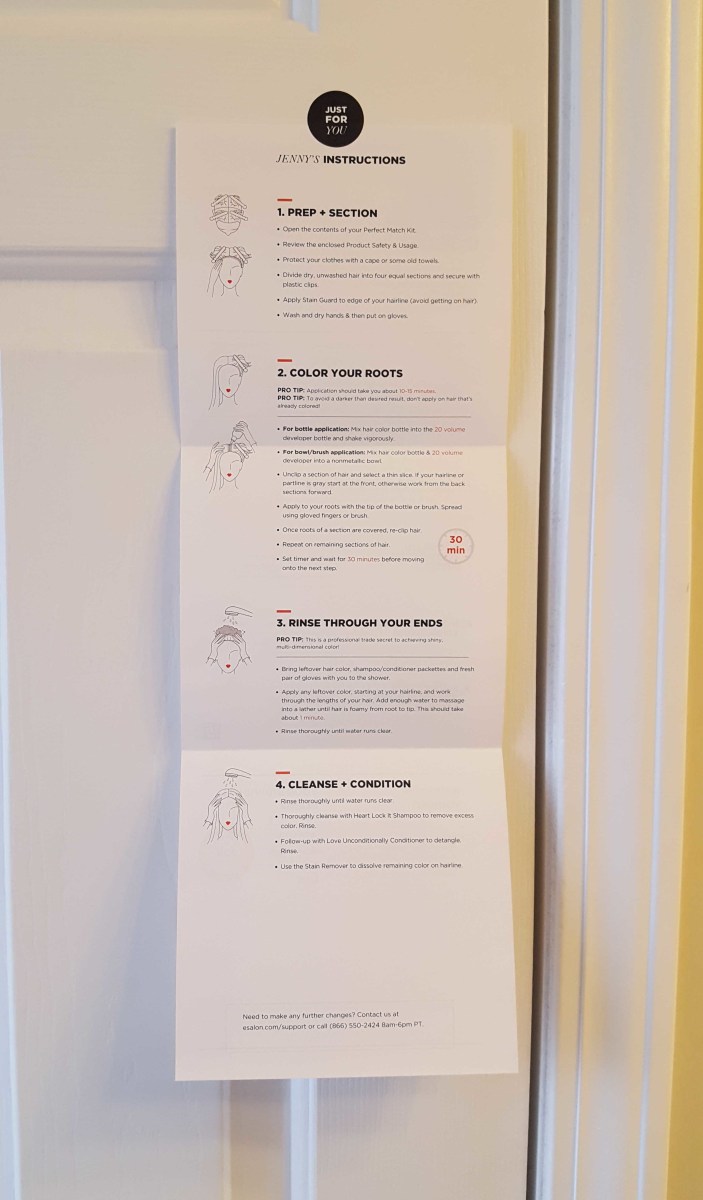 eSalon thinks of everything and in my perfect match they even include a sticker so you can put up your instructions.  I used to put them on the mirror but since I stand right next to my door to work this is much closer and easier for me to read.
In my last eSalon The Matchup I got the professional coloring kit to help with my coloring needs.  I was having issues getting clips that would work with my hair and these are great. They really held my hair while I colored the other sections.  The bowl also worked out great since I was really able to use all of my color this way. Before when I was just squirting from the bottle I always thought I had too much solution left when I was done. With my new bowl I used all of the coloring.
Here is my hair with the coloring all in right before I was going to jump in the shower to wash it out.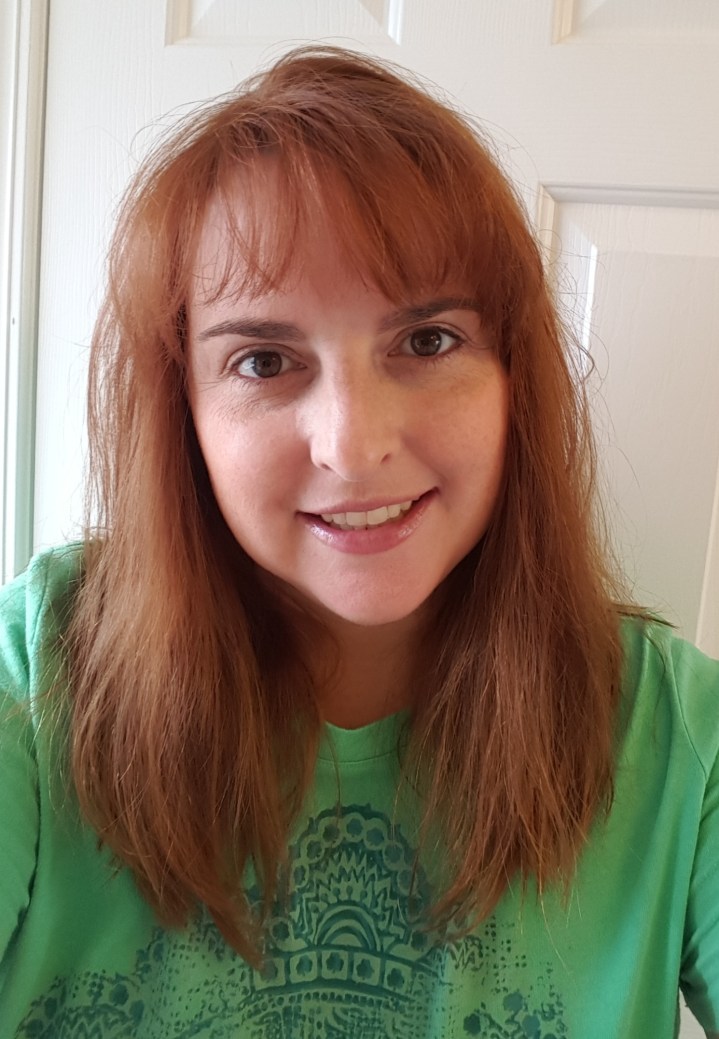 Here I am all ready to go out for the day.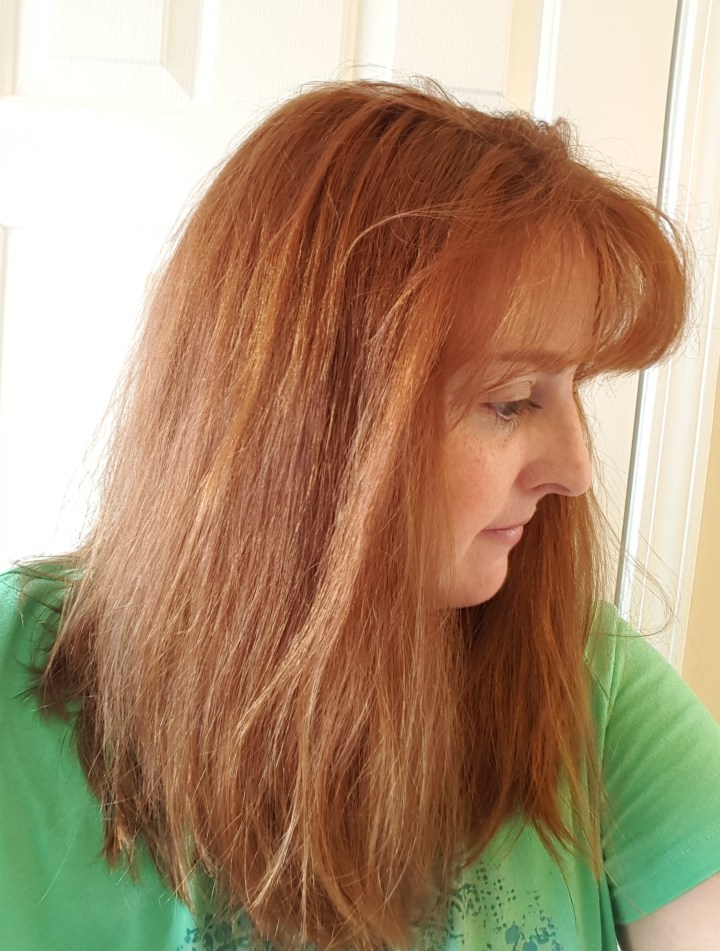 I always say my hair looks shiny and vibrant after I do the color.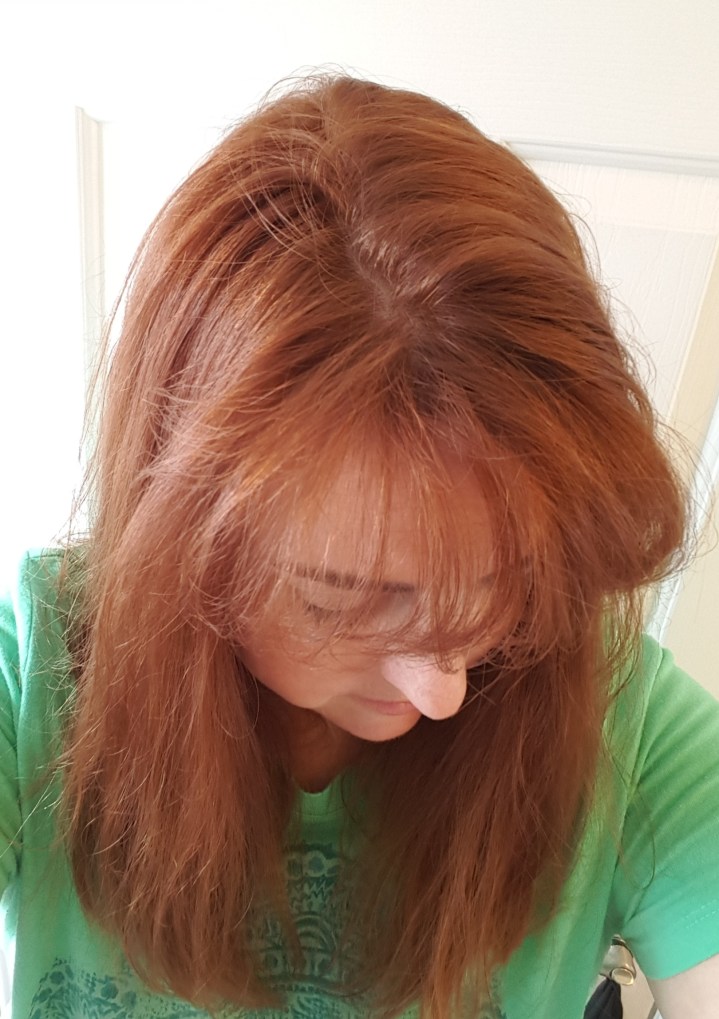 Take a look at the top now! It makes me so happy when I don't see the roots just jump out at me or that there are so many glitter strands poking around.
I love eSalon and the ease in which they make coloring my hair. From the start with selecting my color, to the easy to following instructions and then finishing up with the wash out it is not daunting at all and everything is included in my box.  My hair is always so soft and colorful when I'm done and people notice that it looks so natural and great after I'm done.  Most of all I love that it makes me happy when I do it and I smile when I see my great color with less roots and greys everyday as I'm getting ready.
Do you color your own hair? Have you tried eSalon? You can try your first at-home color for $10 with this link – no coupon code required!