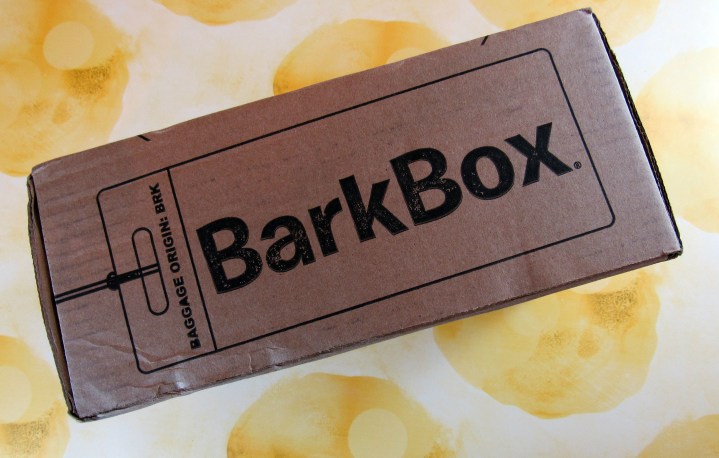 Barkbox is a monthly subscription box just for dogs. Each box has 4-6 dog products and is customized to the size of your pup, plus it has a cute theme. We selected the large box for our three dogs. Bella is a Rat Terrier, Odie is a Borador (half Border Collie and half Labrador Retriever), and Daisy is an English Shepherd.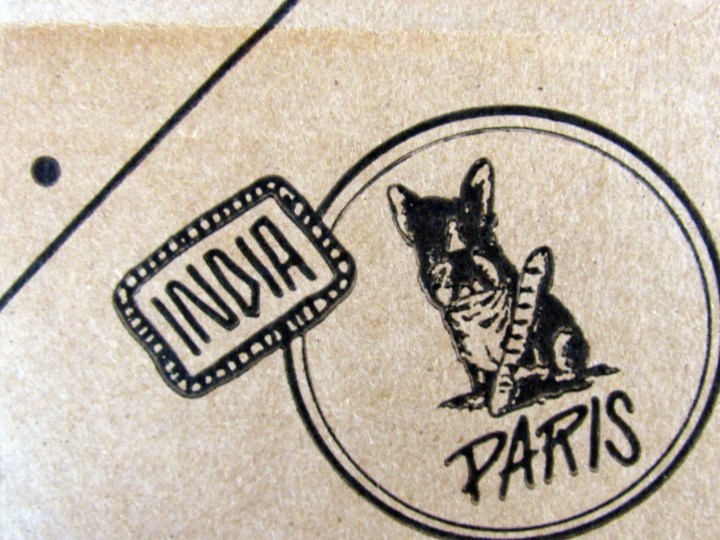 DEAL: You can save $10 on your Barkbox subscription with promo code MS10X1213.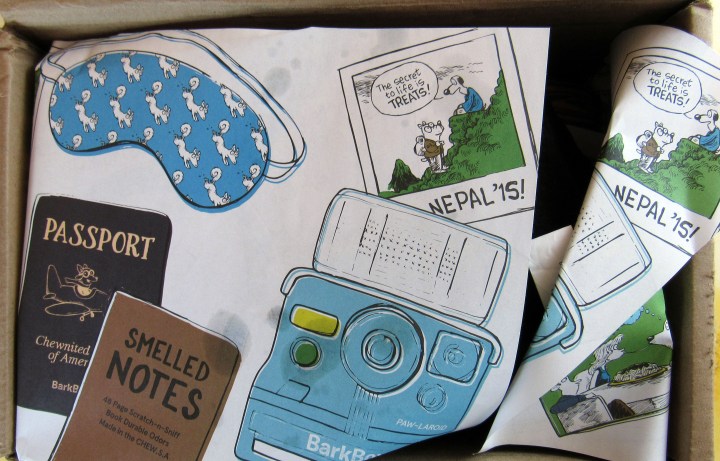 Barkbox has a great theme this month although she is a little worried about being a "Pup in the Air!" The box reminds me of a steamer trunk covered in stickers from around the world. The themed paper has pictures from the Nepal '15 trip. Daisy did not want anyone peeking inside her steamer trunk because she is a horrible packer.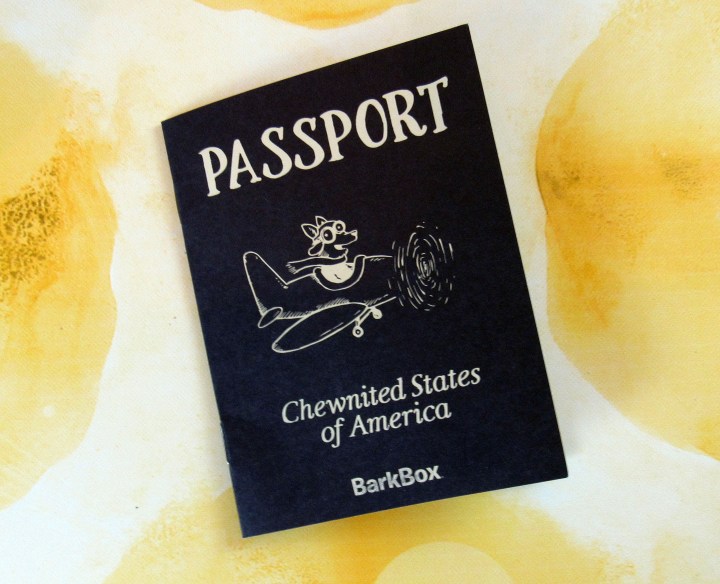 How clever! The information card is a passport this month.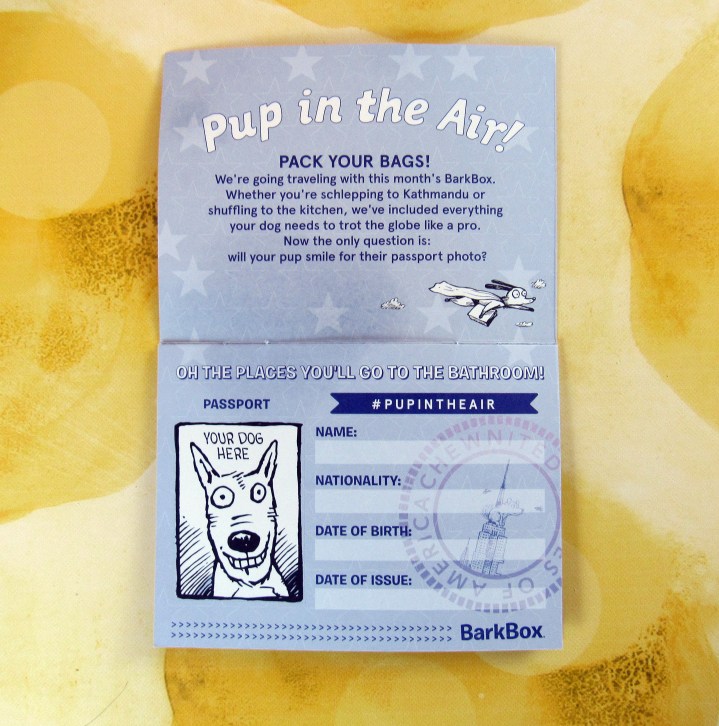 Daisy is embarrassed that she forgot to fill out her passport. Check out Brandy's Review to see Lindy's passport picture!
Daisy is relieved that Barkbox packed her steamer trunk for her. She approves of all the tasty and fun selections in the January BarkBox Large Dog Box.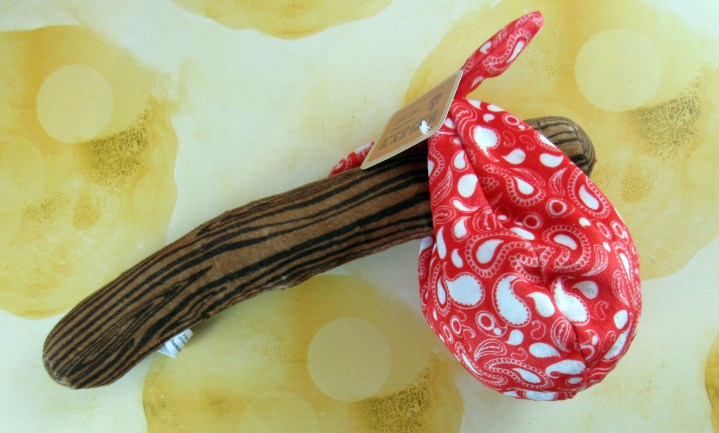 What did Daisy pack in the Ripley's Rucksack ($10.00)?  Odie barked that Daisy brought back a large squeaky ball for him. He loved carrying it by the sack.
Daisy took a lot of pictures on her trip including one of her buddy. The Pawlaroid Camera Toy ($12.00)  has a rope handle and a squeaky center that makes it a fun tug-of-war toy. Both toys were an excellent size for my large doggies.
Pup in the Air Airline served her a delicious Butcher's Beef Knuckle Slice Bone ($4.00) meal. There was enough leftover that she brought home a doggy bag to Odie. She barked that it was a wooflicious treat made in the USA from USA inspected beef.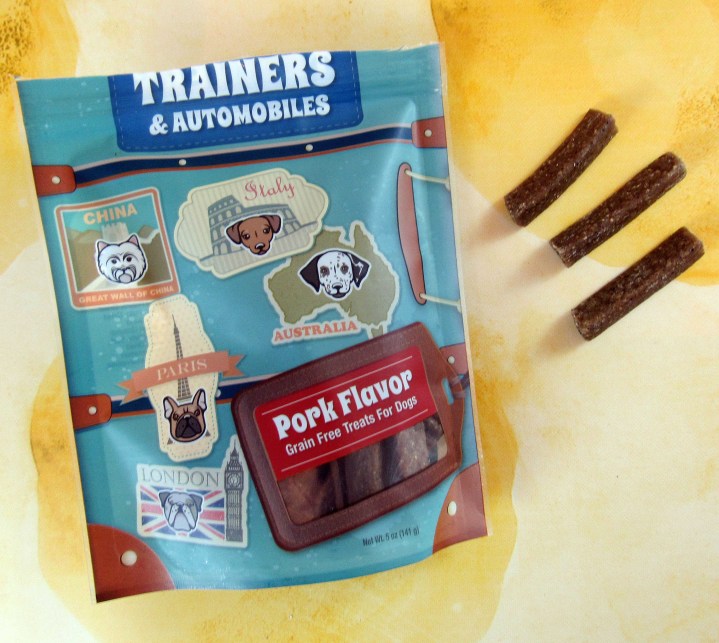 The made in the USA Planes, Trainers & Automobiles Treats (5 oz, $7.00) kept her tummy full of pork goodness while she tried to figure out the transportation system. She prefers running around in open fields over anything that has wheels. Now I have the urge to watch the movie Plane, Trains, & Automobiles with doggies by my side!
Poor Daisy. She had a difficult layover and was glad that she packed the Made in the USA Wafflers with Real Bacon and Molasses Treats (5.5 oz, $6.00) in her carry-on. All the other dogs watched with envy as she enjoyed her waffles made with real bacon and molasses. She shared with me that she shared a couple treats with a handsome Border Collie.
Daisy will be reviewing the Barkbox with a little assistance from Odie while Bella is busy being a snugglebug at the farm.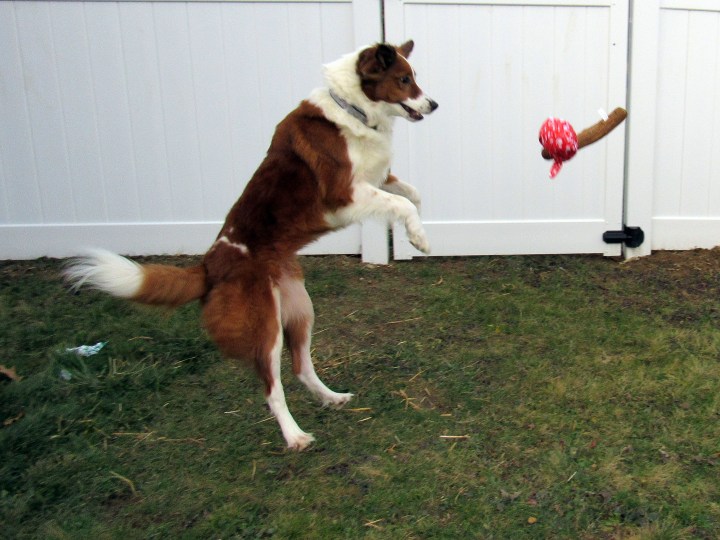 Daisy is stretching her legs after her long travels. She loves working on catching her toys.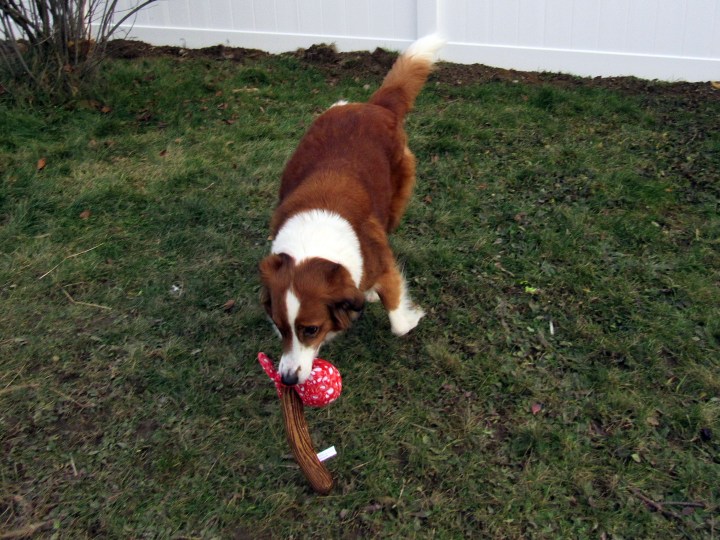 She had a difficult time deciding how to carry the Ripley's Ruckpsack. She did not want to carry it by the sack which held the large squeaker ball because she does not squeak her toys or babies.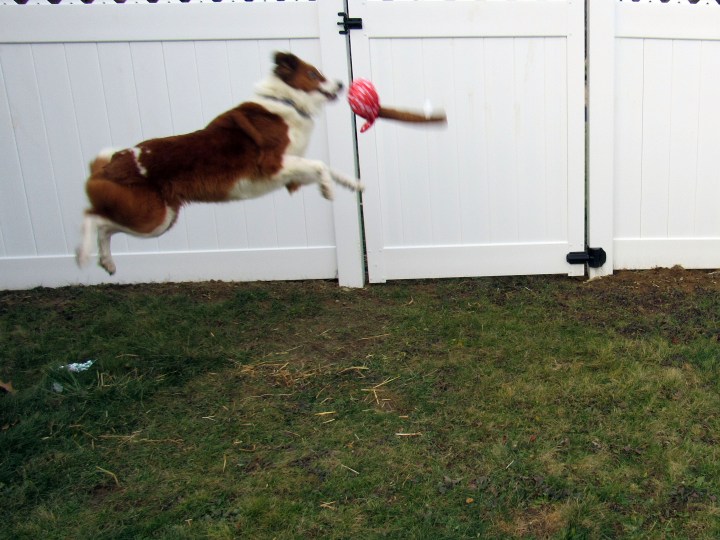 She's reenacting how it felt when she flew on the Pups in the Air Airline for the first time.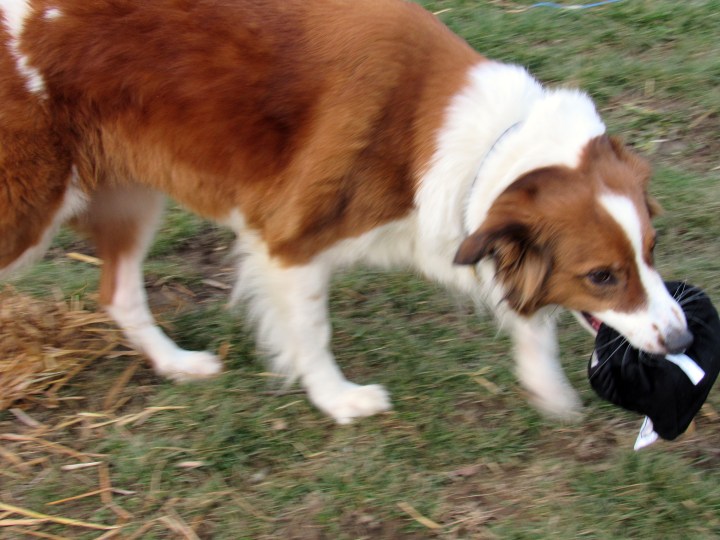 She carried her camera over to show me all the photos she took on her trip.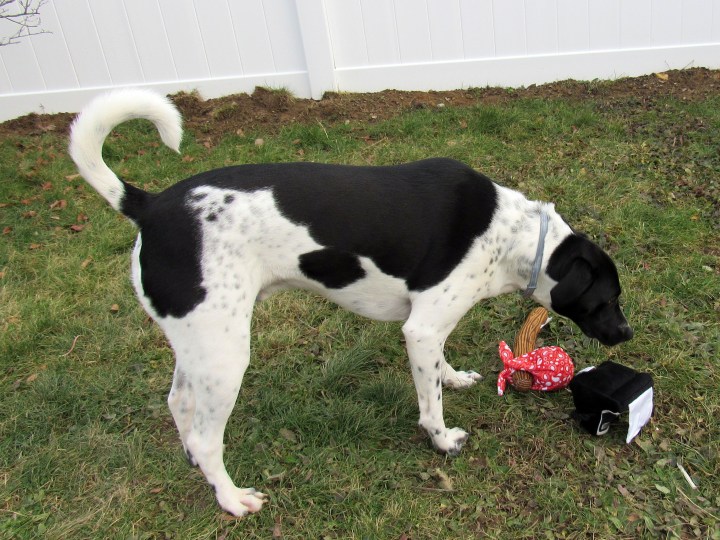 Odie wants to go on an adventure!
He's not sure where he is going yet. He will let you know where when he reviews the January SuperChewer Barkbox.
She is such a pretty girl as she waits for her butcher's block.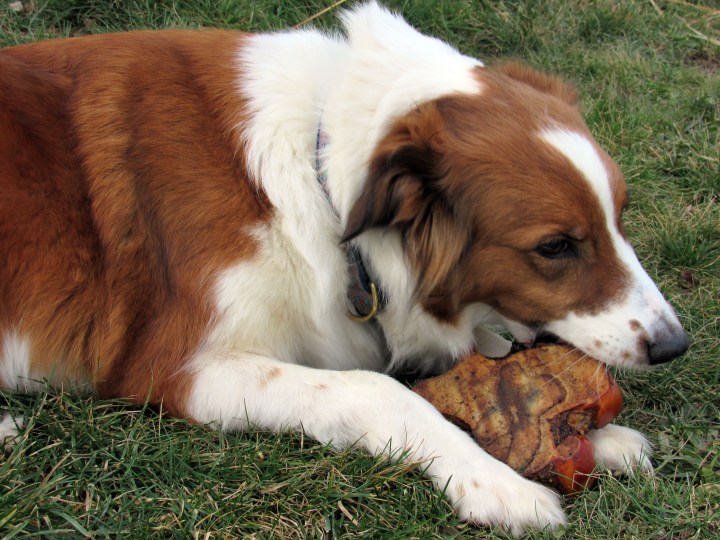 She loved her special treat! Odie gnawed on it later in the day.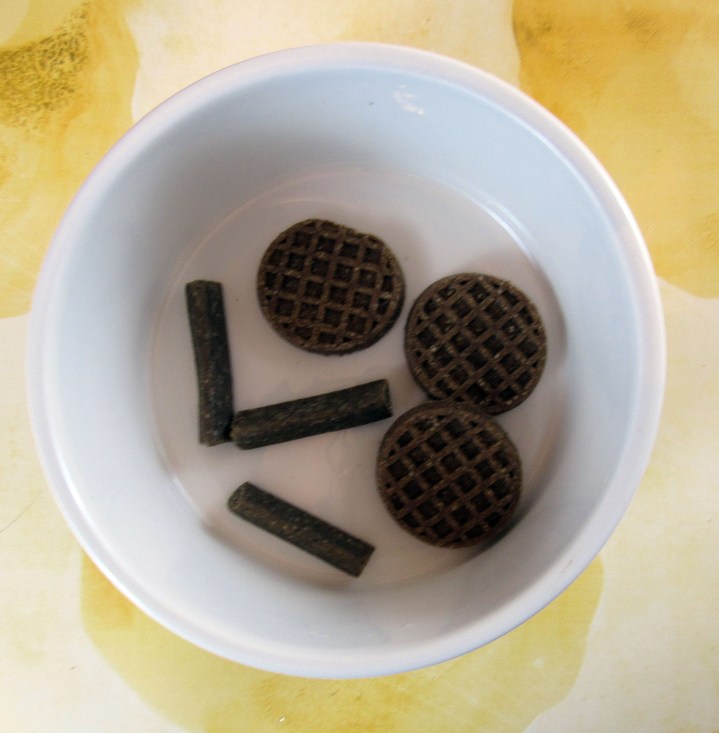 Daisy decided to eat more of her snacks that she packed in her carry-on.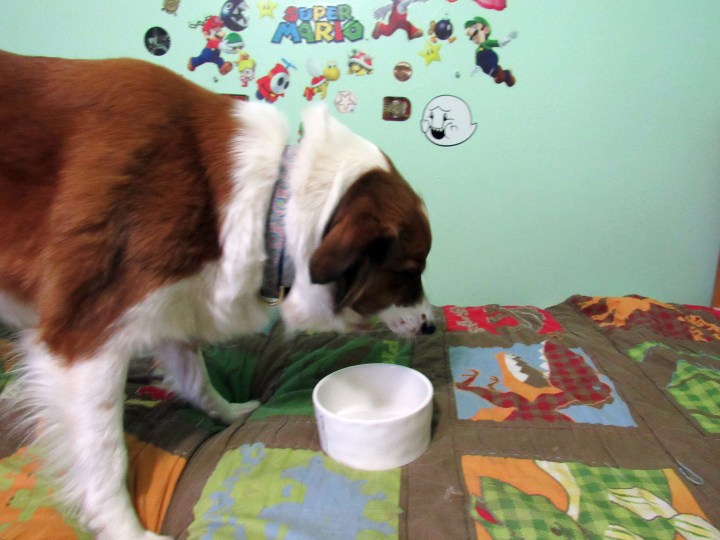 She surprised me by eating the waffles first. I was positive that she was going to eat the pork sticks first.
Daisy had a delightful time as she took her imaginary trip using her items from the January Large Dog Barkbox. She was a happy doggy as she ate her treats and played with her toys. She did give them a good sniff over and decided that they were not babies which mean Odie can play with them too.  The adorably themed box has an almost $40.00 retail value. Check out Brandy's Small Dog Box to see Lindy's passport picture and adventures. Barkbox is an excellent choice for doggies and their humans that want fun boxes full of wonderful themed toys and treats.
What do you think of the January Barkbox? Share below!