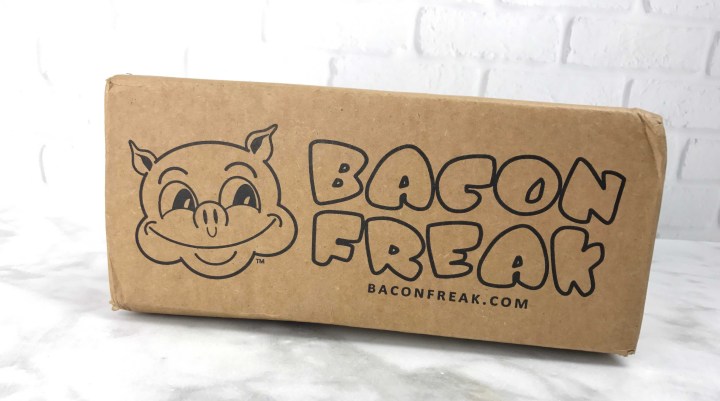 Bacon Freak offers different varieties of gourmet bacon delivered straight to your door every month. The subscription costs $145.95 per quarter – but it's also available in a month-to-month, 6 month, and 12 month option with discounts for the longer subscriptions. You can choose to receive only bacon that is Nitrate-free, gluten-free, or pepper-free if you like! Bacon Freak ships in the U.S. only, but they have a Canadian version of the subscription (available through the same link) for our friends to the North.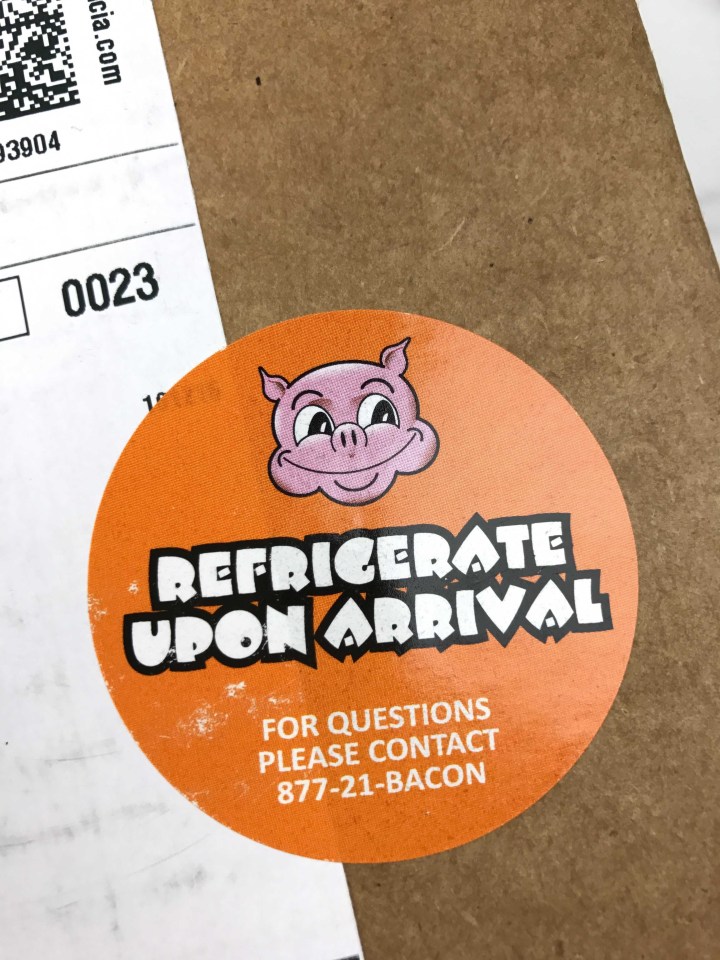 The outer box suggested refrigerating upon arrival, but the bacon itself says it needs refrigeration only after it is opened – now that's real bacon!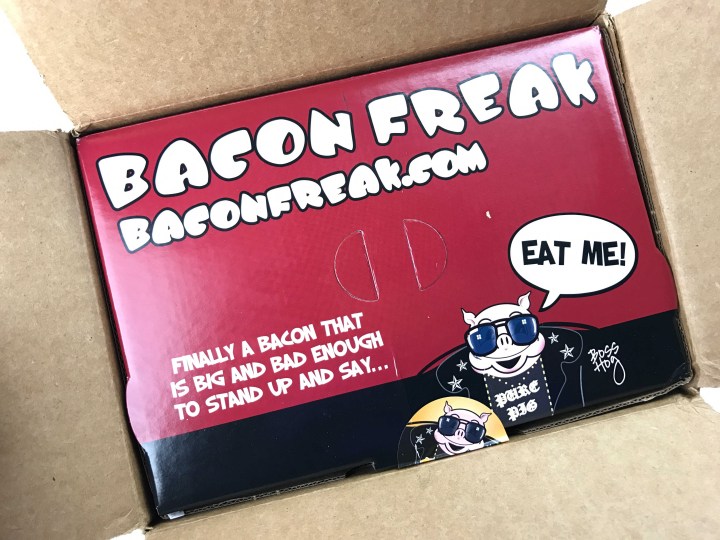 The shipping box protects a decorative interior box, which you can add on for $8.95, which we did so you could check it out.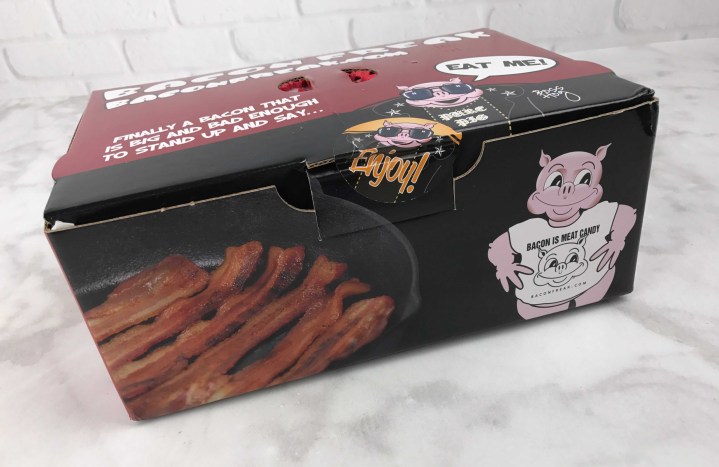 It is decorated with pictures of bacon, pigs, and impolite sayings.
The box can also be given as a gift.
Bacon is Meat Candy indeed!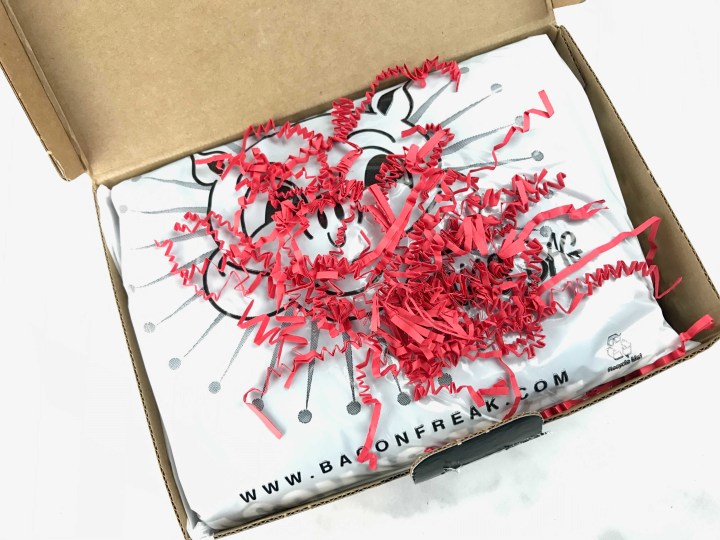 They even threw in some squiggles for us subscription box fiends!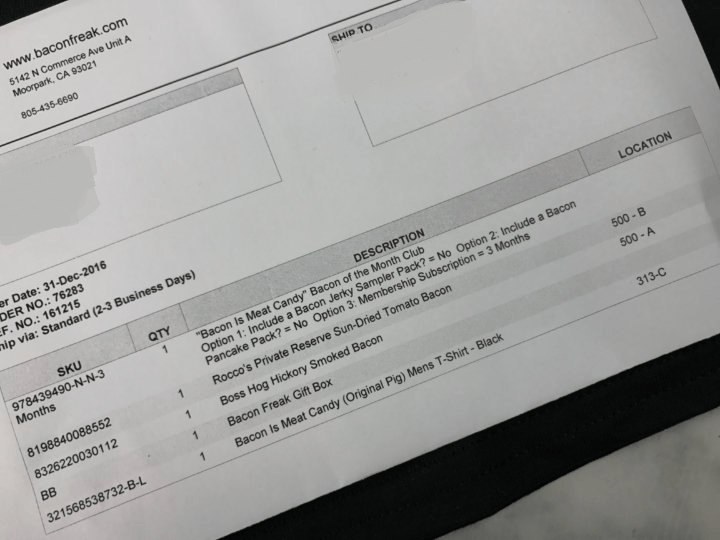 The information card gives you a list of all the bacon-y goodness this quarter. There are options to add on a Bacon Jerky Sampler or Bacon Pancake Pack for a price, but we went for just the bacon and the tee!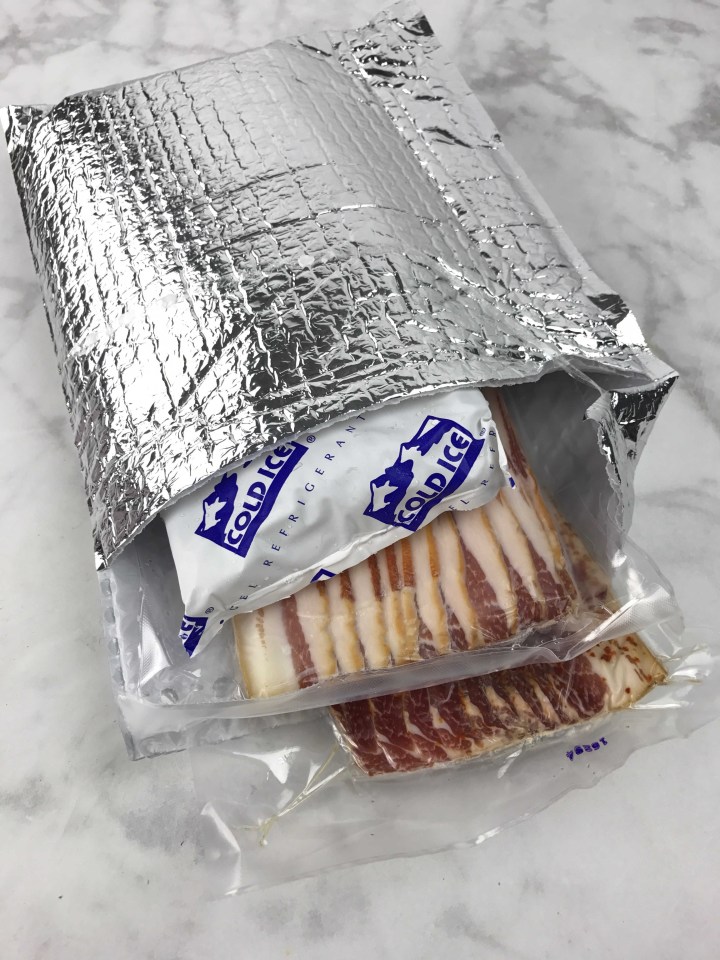 The bacon packs are placed in an insulated bag complete with ice packs (though they would probably be just fine even without the ice)! The bacon ships every month during the subscription, and you can choose to have your membership auto-renew on a monthly-billed basis when your term expires.
Our non-food item was protected in this Bacon Freak Swag Bag.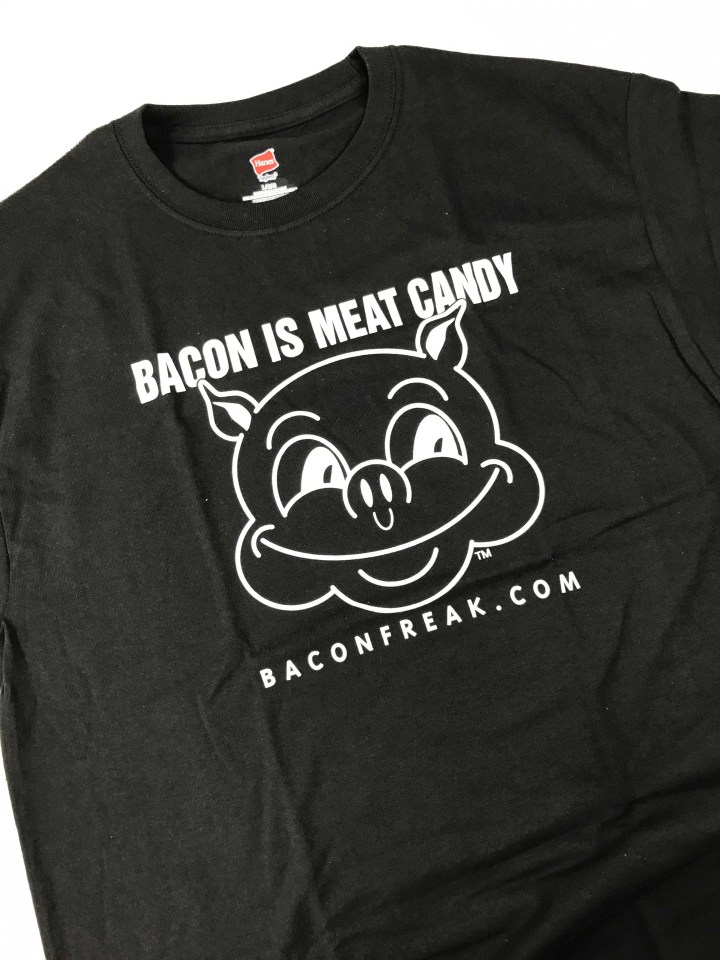 Bacon is Meat Candy Original Pig Men's T-Shirt: Who can deny this simple truth? Bacon is meat candy, and this tee proclaims it loudly. It is a standard Hanes men's cotton tee in fashionable black. The shirt is included in the first shipment of your membership.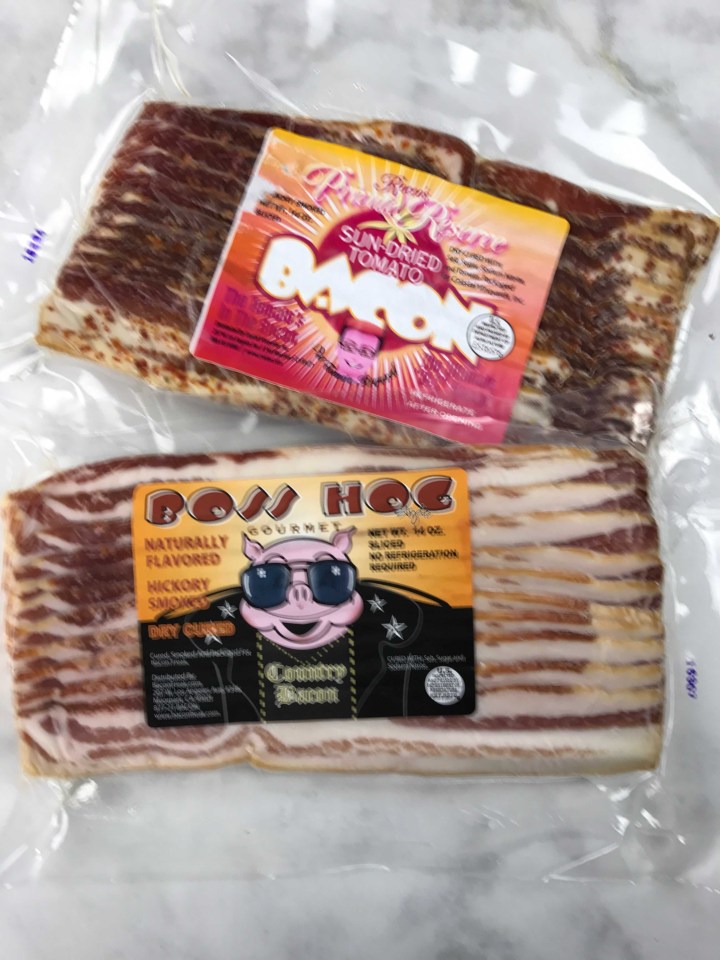 The bacon portion of our box. We were so excited that we couldn't even focus the camera! Don't worry, better shots below.
Boss Hog Hickory Smoked Bacon: These thick slices are loaded with lots of real smoke flavor. Dry cured and naturally flavored with hickory smoke, this is classic, thick cut bacon at its finest.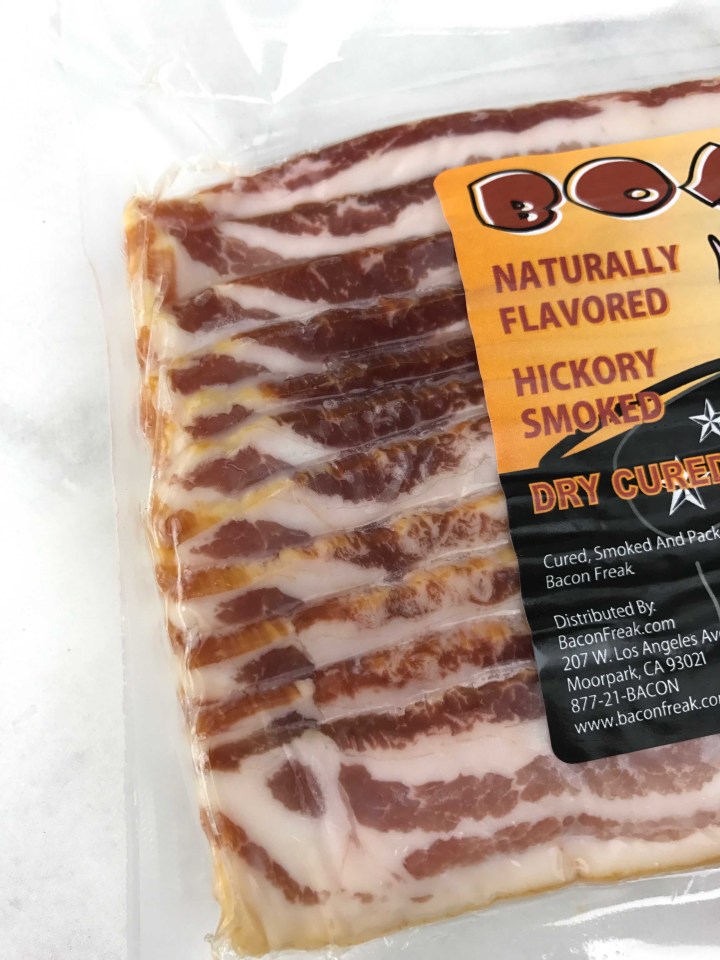 The slabs have a decent amount of meat and lots of fat! Our pack contained eleven thick slices.
They recommend either pan frying or microwaving the bacon. I really like the way it turns out in the oven, so I baked ours.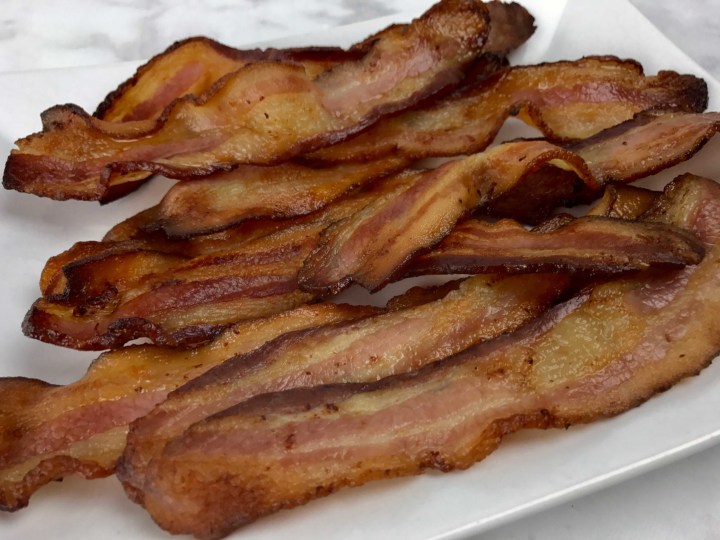 What was really impressive about this bacon was the way the fat remained intact through cooking. The slices rendered off quite a bit of fat, but the cooked slices remained thick and firm. Seeing the amount of fat in the uncooked slices, I had feared that they would shrivel to nothing when cook. Instead, the thickness of the slices allowed them to finish cooking at a perfect size.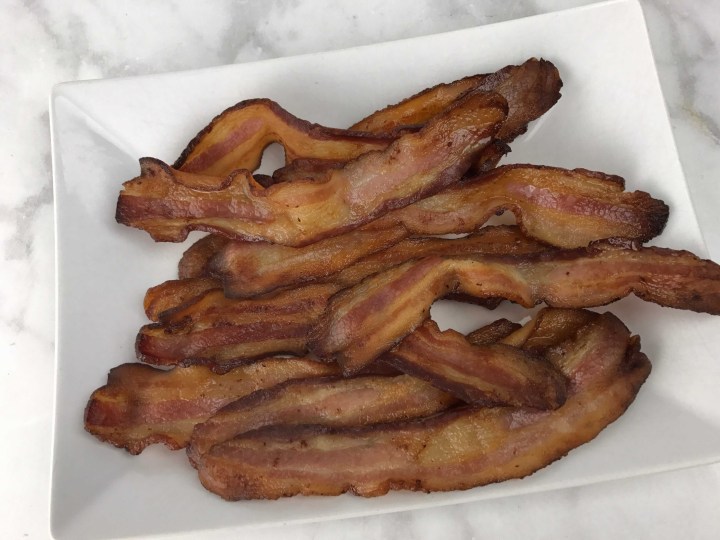 The flavor on these was super smoky but in an exceedingly pleasant way. A touch of sweetness and not too much salt made this the perfect bacon!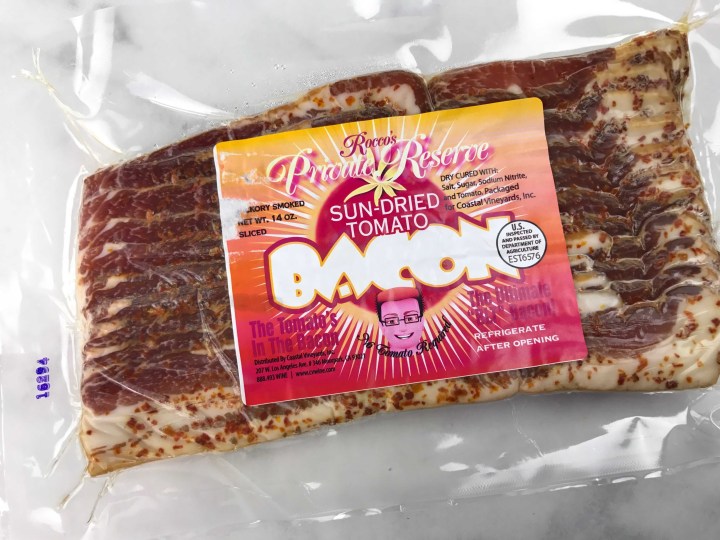 Rocco's Private Reserve Sun-Dried Tomato Bacon: This bacon was cut similarly to the Hickory Smoked version. It also had a bit of hickory smoke flavor, but it wasn't quite as intense.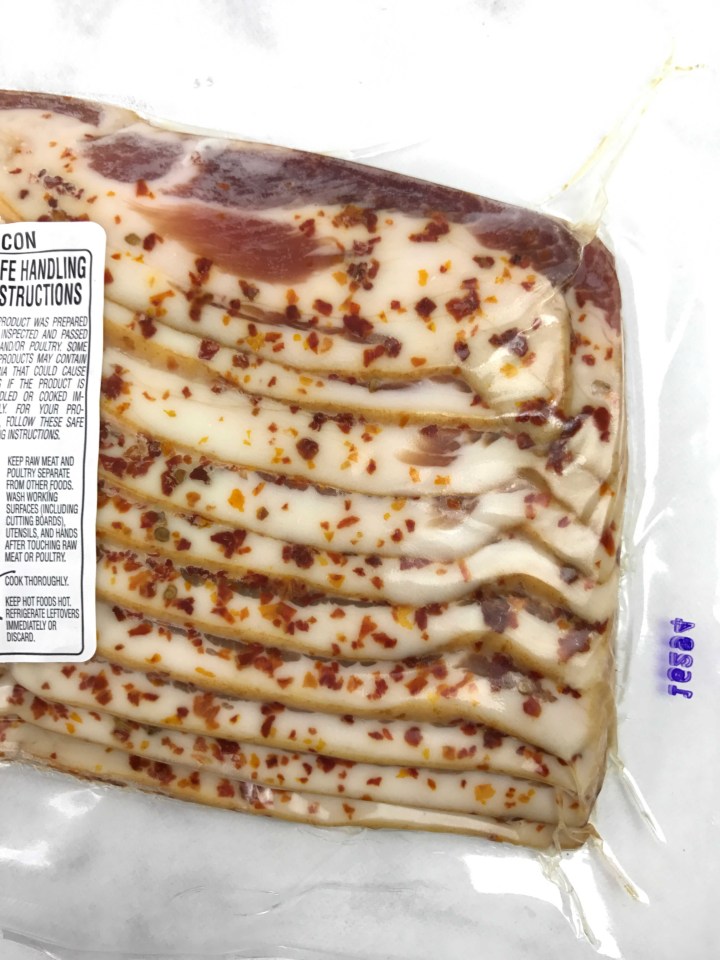 Each slice was smothered with sun-dried tomato bits, imparting a nice flavor. I was a bit surprised at how fresh the flavor was – I'm not crazy about sun-dried tomato in most applications because the flavor is often intense in a way similar to tomato paste. This bacon had a very fresh tomato flavor that was quite nice.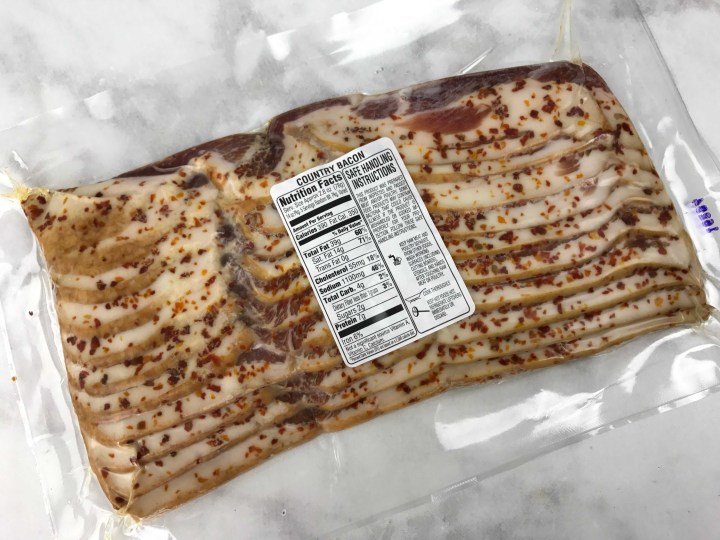 This pack had ten and a half slices (yes, there was a half slice tucked in there for whatever reason)!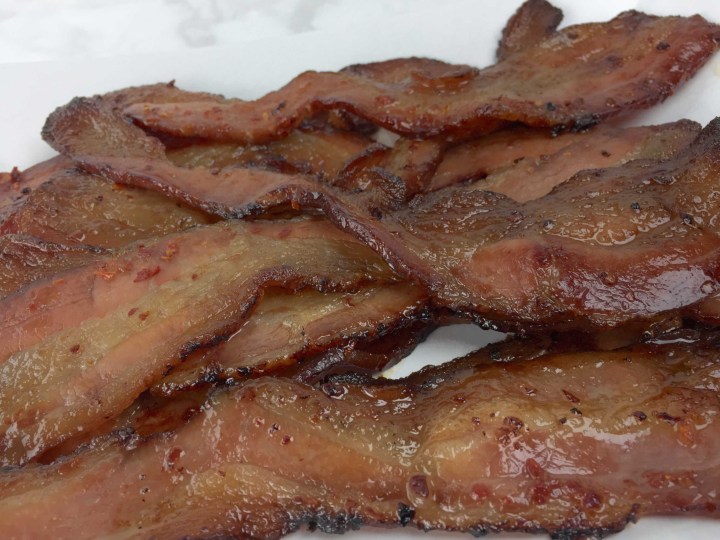 I baked this batch, too. The tomato bits clung to the bacon, but they weren't detectable texture-wise, just by flavor.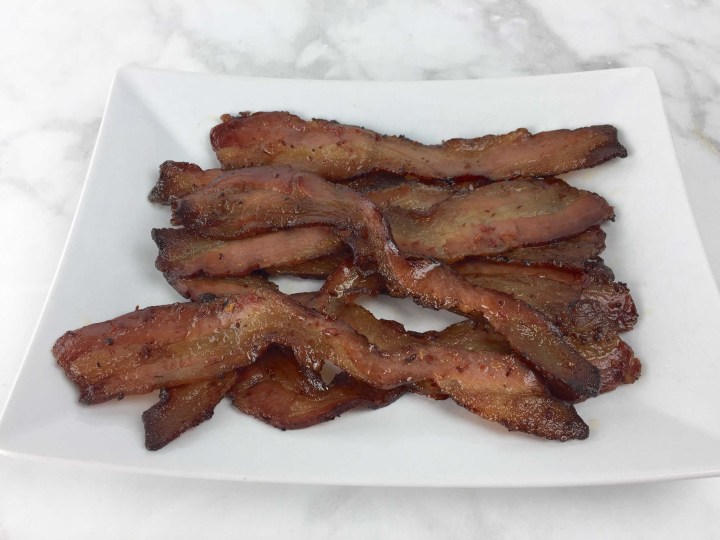 The bacon experience minimal shrinkage, so a package actually made a full plate of bacon.
The flavor of both varieties was excellent. The smoke was bold, but not overdone, and the saltiness was kept in check. The texture was exquisite – we kept ours on the more rare side, so it had a tender chew to it. The more well-done portions crisped nicely, but the thickness of the bacon prevents it from becoming wholly snap-able.  The T-shirt and packaging make this a fun gift idea for a bacon-lover. Run-of-the-mill bacon at my local supermarket was nearly $10 a package – after allocating some of the price to the T-shirt, each package of Bacon Freak is about twice that, but the quality is unquestionably great.