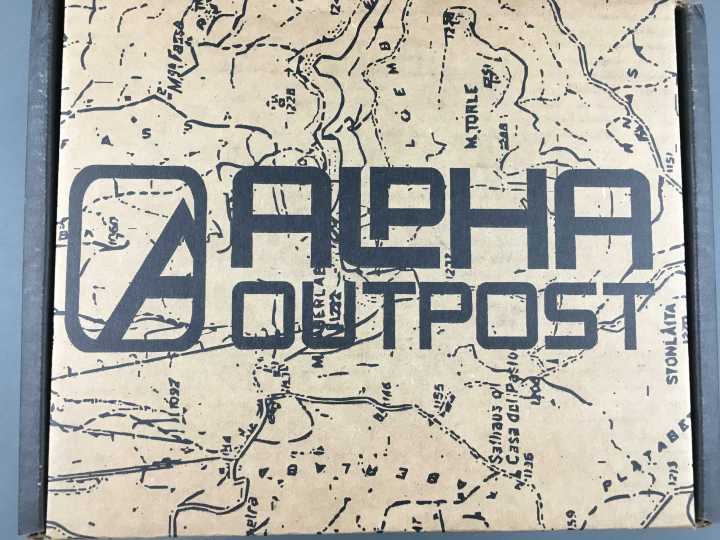 Alpha Outpost is a monthly subscription dedicated to providing its subscribers with the tools and training to "take any situation by the jugular." Each month's gear is curated around a central theme by an expert or experts in the field. Some months, the curator is a specific person, whereas other months, the box is curated by a team of veterans and expert survivalists. Whoever the curator is, Alpha Outpost is designed so that its subscribers learn how to tackle any obstacle they may encounter. It's worth noting that Alpha Outpost doesn't limit itself to survivalist themes; past themes have included dopp kits and BYOB picnics! Whatever the theme, Alpha Outpost promises that its boxes will be worth at least twice the cost of their boxes.
Alpha Outpost costs $39.95 plus $6.95 shipping and handling each month, although you can save a little over $60 each year by prepaying for the entire year up front (which also entitles you to some extra gear!).
New subscribers' first three boxes are set; after those introductory packages, they'll receive the regular monthly boxes. The first three boxes are: 1) Everyday Carry 2) Upgraded Gentlemen 3) Upgraded Medic. Shipping is available within the United States as well as to APO/FPO/DPO addresses.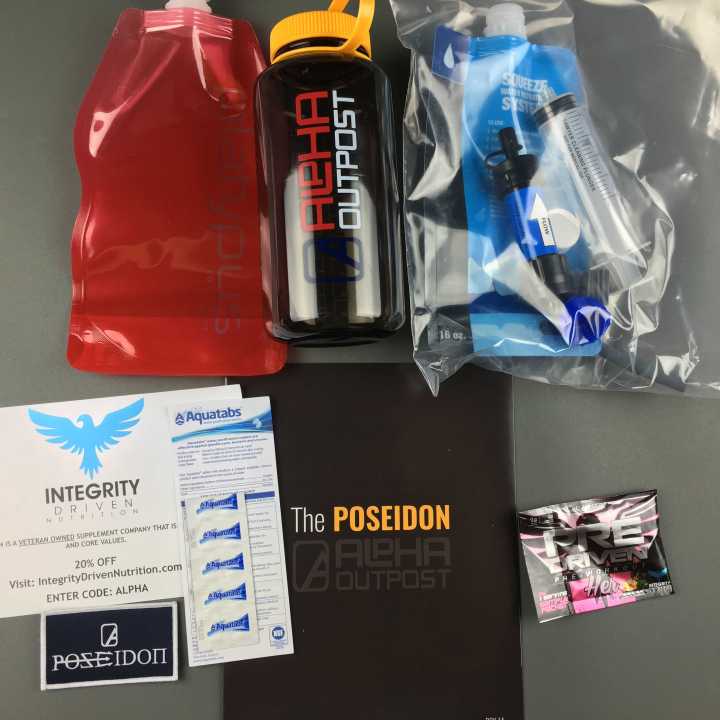 The theme for Alpha Outpost's January 2017 box was Poseidon. It contained a water filtration system, bladder, water bottle and water purification tablets.
I was thrilled to receive Sawyer's Mini Water Filtration System ($19.97; $59 according to Alpha Outpost)! This compact system weighs only 2 ounces and can filter up to 100,000 gallons of water. This system is very versatile too – you can attach the filter either to the enclosed 16 oz drinking pouch or to a soda bottle; you can even use the straw to drink directly from the source! This system removes 99.9999% of all bacteria and protozoa from water.
I'm always thrilled to receive new bladders, and this 1.0L SoftBottle from Platypus ($8.95; $11 according to Alpha Outpost) fits that bill perfectly!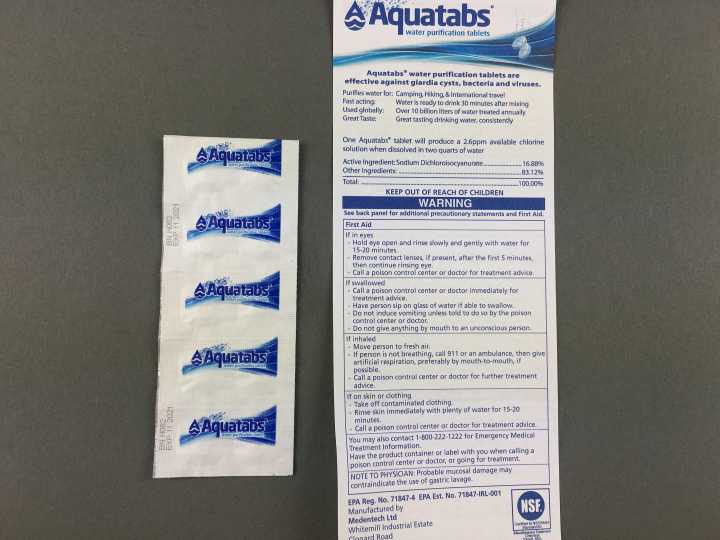 I can always use more Aquatabs ($0.72 based on the cost of 100; $3 according to Alpha Outpost)! Once you've filtered your water out on the trails, to be extra safe, you'll want to purify it as well. That's where Aquatabs come in handy. Just drop one tablet into a liter of water, wait 30 minutes, and you're good to go. Aquatabs effectively kill microorganisms in water, shielding users from diseases such as Cholera, Typhoid, and Dysentery.
I'm excited to receive an Alpha Outpost 1000 ml water bottle ($10)! We can never have too many water bottles at my house. In thinking about last month's box, though, I wish this bottle were stainless steel. Then it could double as a pot in case of an emergency.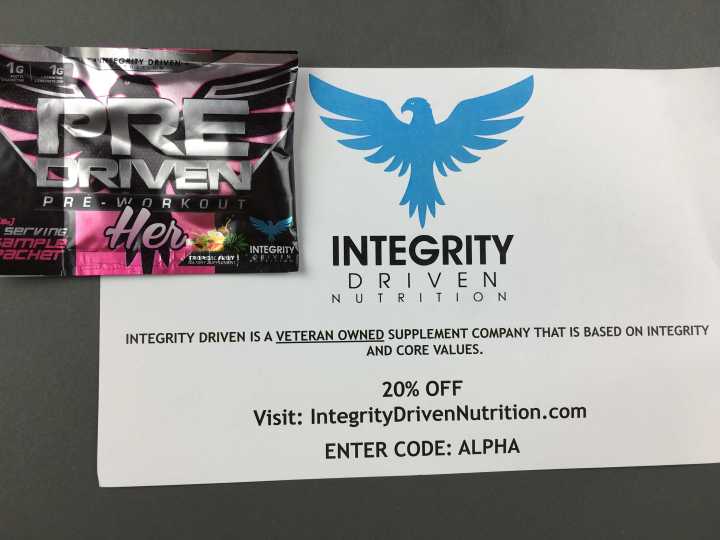 Integrity Driven Nutrition's Pre Driven Pre Workout Supplement for Women is intended to increase women's energy, endurance and focus without the jitters. I was pleased that Alpha Outpost sent me the women's version of this supplement.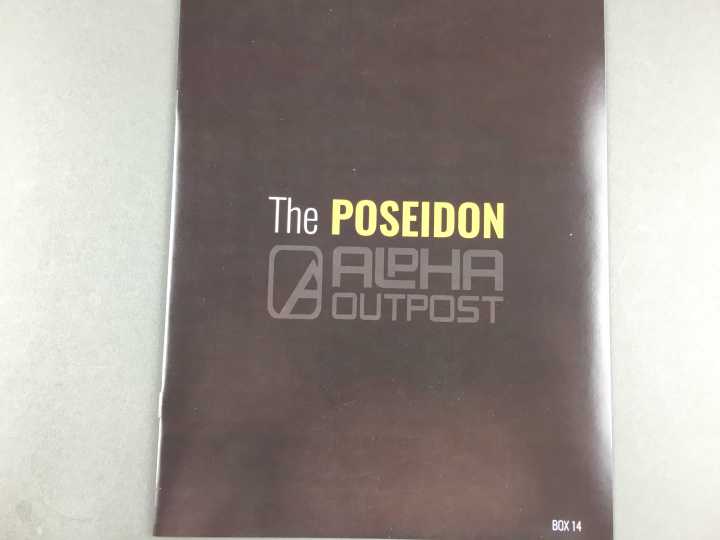 Each month, Alpha Outpost includes a glossy brochure that lists the contents of the box.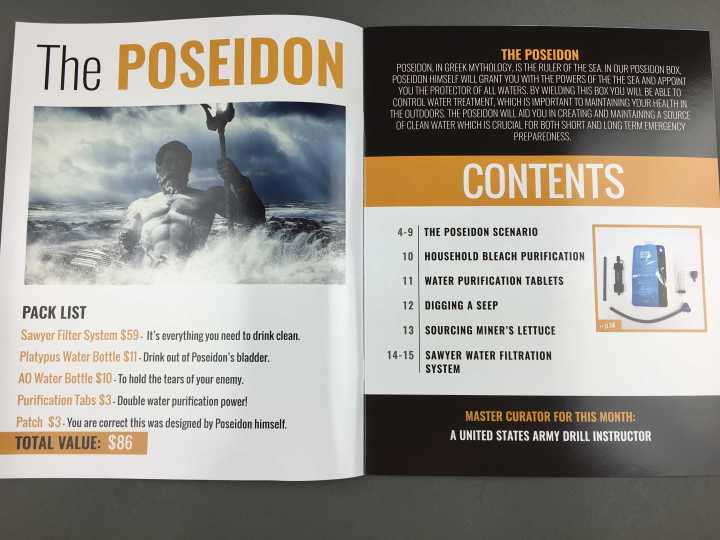 Truth be told, I loved the theme of this month's box. As soon as I saw Poseidon, all I could think about was Percy Jackson and how cool it would be to be able to manipulate water to help me out in a pinch. Armed with my water filter, purifier, and bottles, I think now that I can (albeit not in quite as cool a way as Percy Jackson, alas).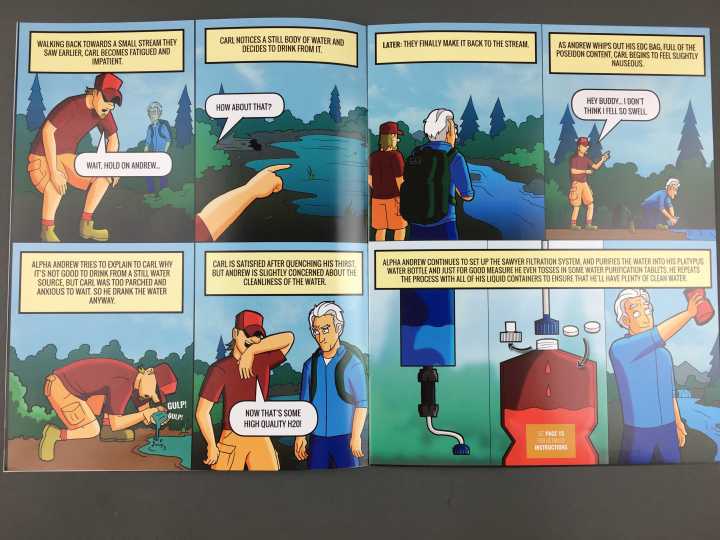 Each month's brochure contains a story about Alpha Andrew and how he finds success in the outdoors using the gear provided by Alpha Outpost.
This month's brochure describes ways to filter and purify water both using the items provided in this month's box as well as other items you might have on you. For instance, if you have unscented household bleach and a dropper, you could use it to purify your water.
You could also dig a seep and use a cloth to help filter the water from the seep.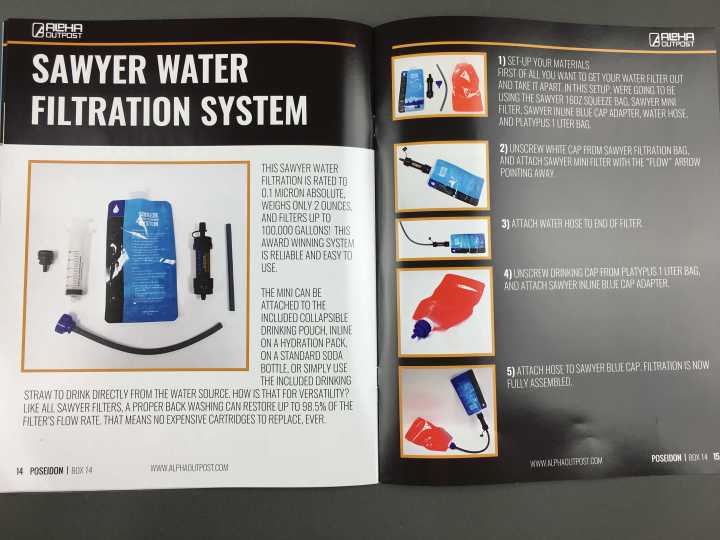 In an ideal world, though, neither of these steps would be necessary, because you could use your new Sawyer system to filter your water and your Aquatabs to purify it.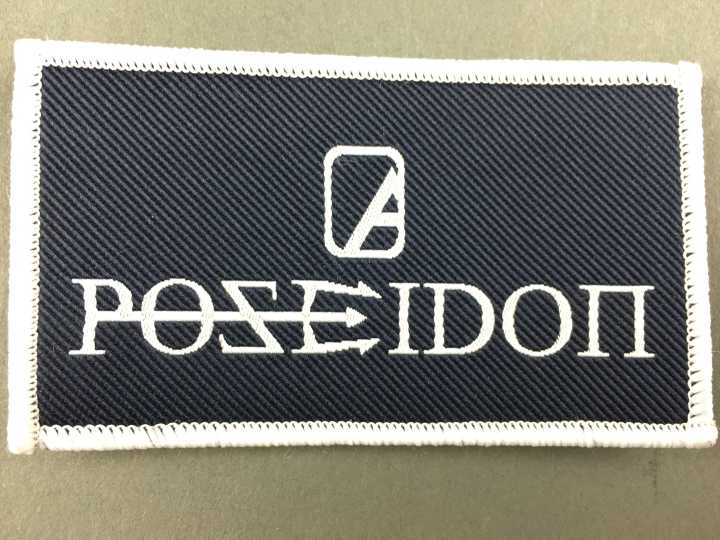 Each month, Alpha Outpost rewards you with a patch for learning all about that month's theme. Patches can be affixed to clothing or to your everyday carry pack.
Although I loved everything in this month's box, the published values continue to concern me. This was, more or less, a box whose value was about $40, yet Alpha Outpost touts its value as $86. If this is a continuation of Prepper Gear Box, a $25 box, this box's value was fabulous. If it's actually a regular Alpha Outpost Box, the value doesn't exceed the cost of the box plus shipping.
Still, as someone who enjoys hiking, I found this month's box to be incredibly useful. I'm definitely adding all of this month's gear to my pack. What about you? Did you enjoy this month's Poseidon box from Alpha Outpost as much as I did?