Zen Knit Box is a subscription box perfect for – you guessed it – knitters! They offer two different types of bi-monthly boxes – "It's a Wrap" that includes yarn and instructions for knitting a shawl or "Blanket Club" that includes yarn and instructions for knitting a blanket. Zen Knit Box subscriptions start at $52.50/bi-monthly plus $7.50 shipping.
I am reviewing the "It's a Wrap" box that shipped in late September/early October. Wait until you see the pretty shawl that I made!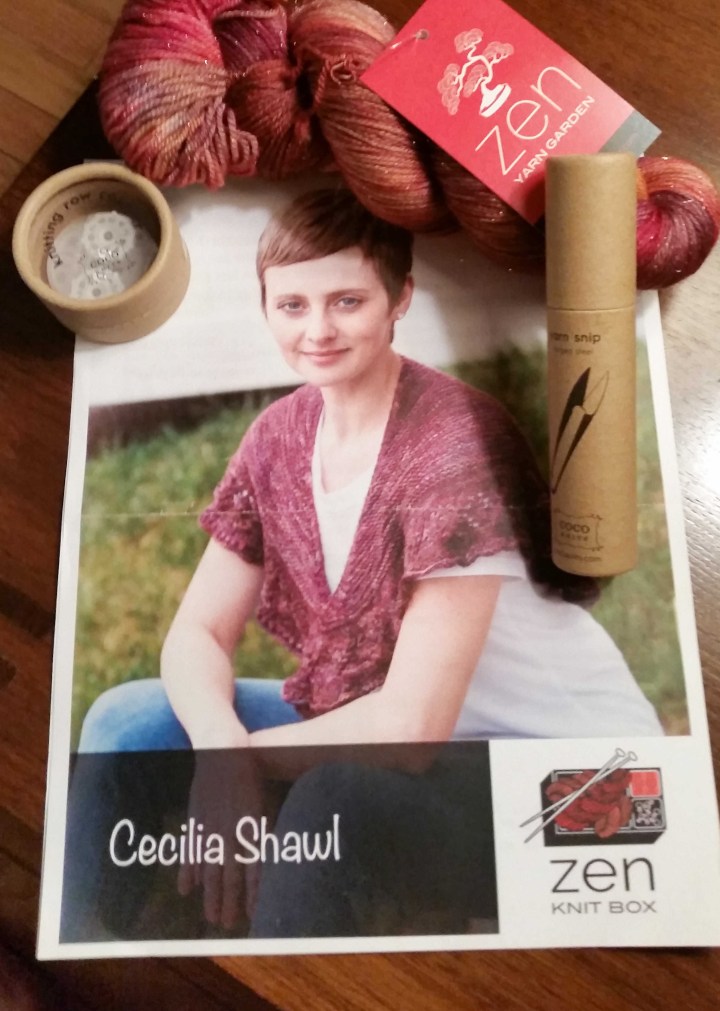 Here is a look at everything in this month's box – instructions, yarn, and some fun add-ons!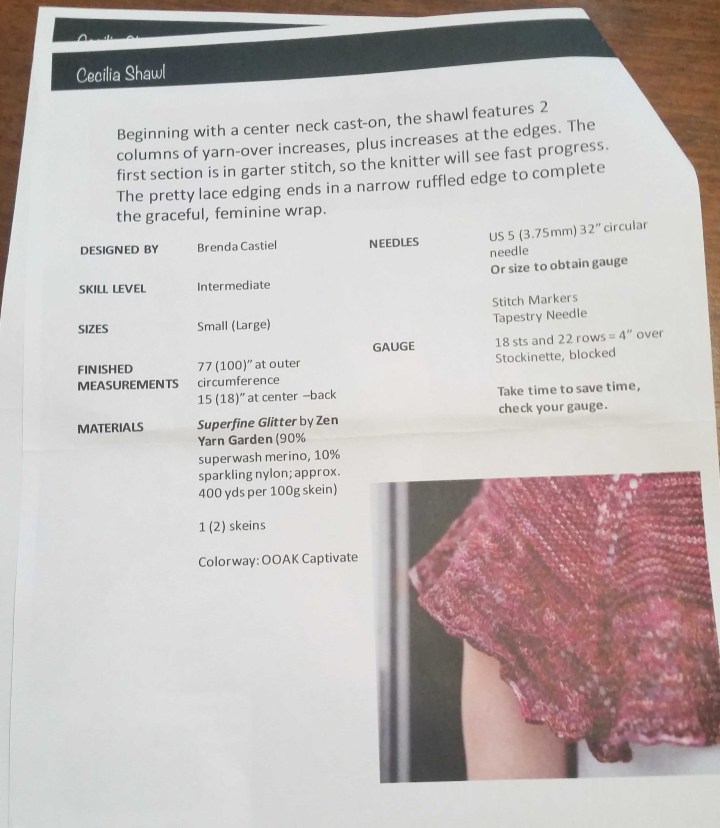 The instructions were sent to me in the box. However, the Zen Knit Box website indicates that instructions are usually sent via PDF to the subscriber's email. The front of the instructions (shown in the picture with box contents) provides a gorgeous full-color picture of the finished product on a model. Inside, the instructions helpfully explain the skill level, the size of the finished piece, and materials information for the project. There was also a detailed picture (showing the lace and ruffle) and a little blurb about the project –and I did appreciate the fast progress that the garter section allowed!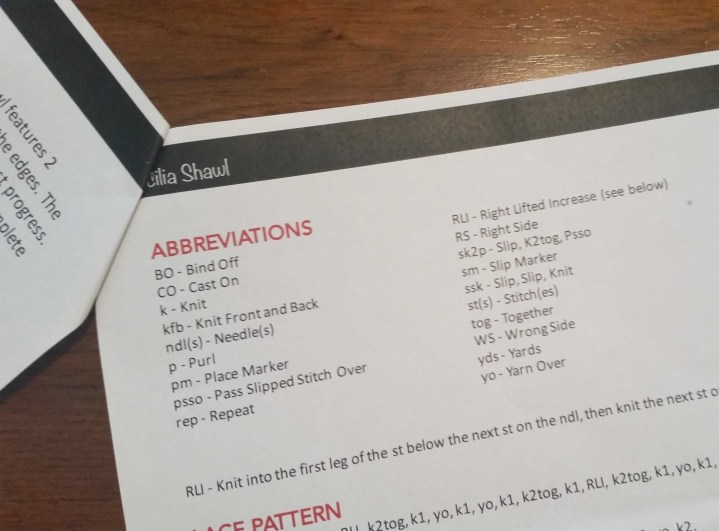 The instructions also included a list of abbreviations in addition to the actual pattern. The pattern was in clear, large type – it was super easy to read and follow.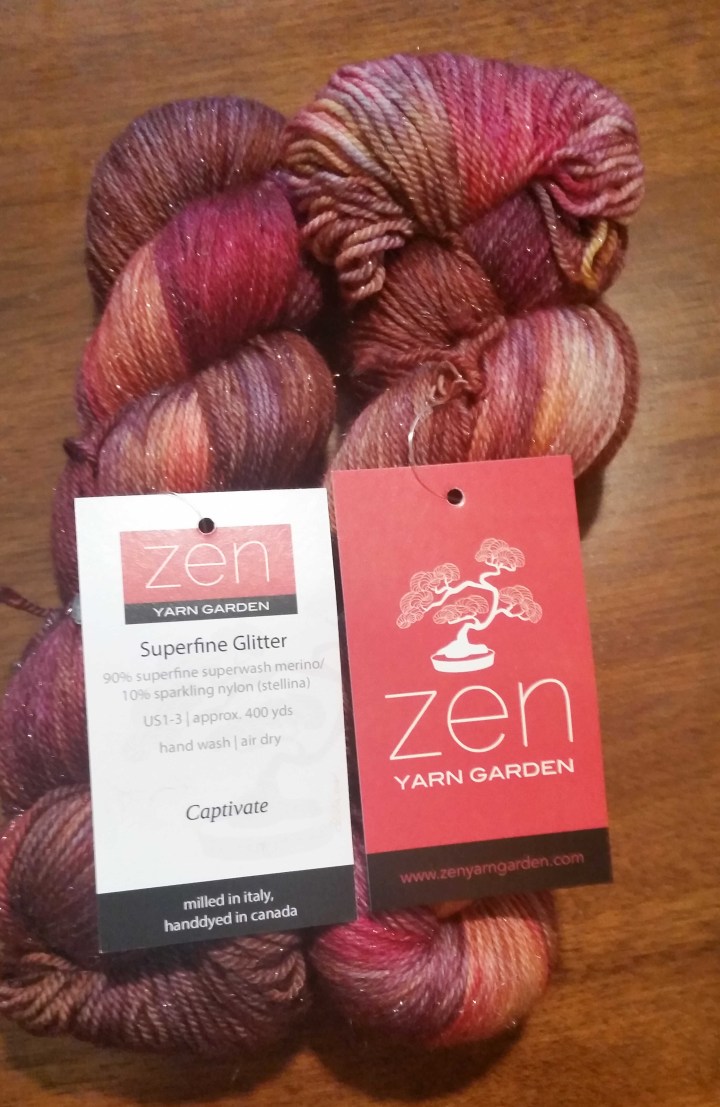 Here is the beautiful yarn for this month's project. So pretty – I just love the colors! The "It's a Wrap" box has two variations – a "petite" pattern for a shawlette that includes one skein of yarn and a "voluptuous" pattern for a larger shawl that includes two skeins of yarn. Zen Knit Box promises a wide variety of yarn for this subscription, from "semi-solid to multi solid to speckle."
Last, but not least, each box will include one or more add-ons valued at $15 or more. This month's box has two. First up, steel yarn snips! OK, these may look like some medieval torture device, but they actually come in handy for snipping (of course). They allow for precise cutting – and I also like that they come in a nice carrier. I often travel with my knitting projects and generally have scissors flying around my knitting bag. This is a lot safer – for both my project and for me. That all said, however, I probably wouldn't try to get on a plane with these snips! Ha!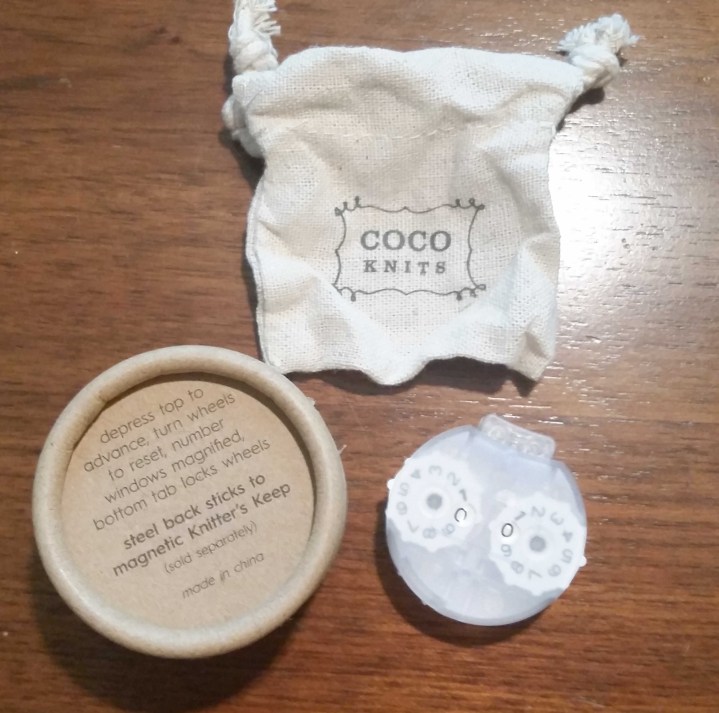 Second, the box included this great row counter. It is so easy to use and so perfectly practical – especially since the large size of this shawl was 99 rows, with many of the rows being repeated. I made extensive use of this little gadget!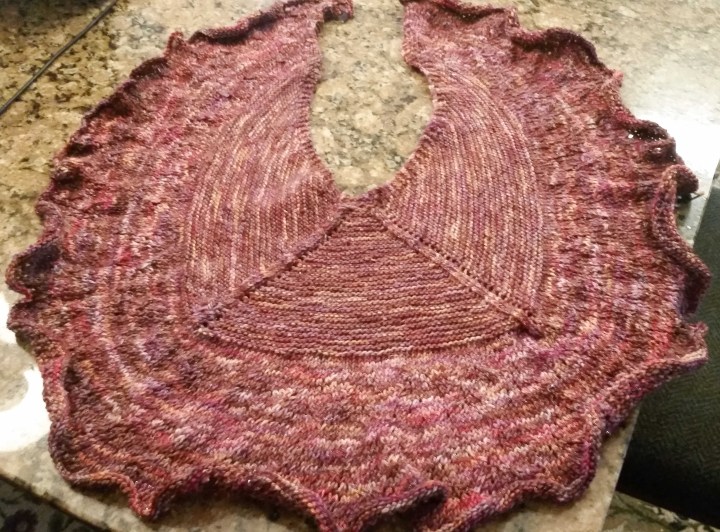 And here's a look at the finished project! It's large! It's taking up half of my kitchen table here. I also haven't had a chance to block it yet. It took me a while to knit it, so I wanted to get my review out there as soon as I could. Zen Knit Box projects do take some time – which is fantastic. It's probably good that they are sent out bi-monthly! Anyway, once I block it, the ruffled edge will be a little less wild… but it's beautiful even with the squirrelly ruffle.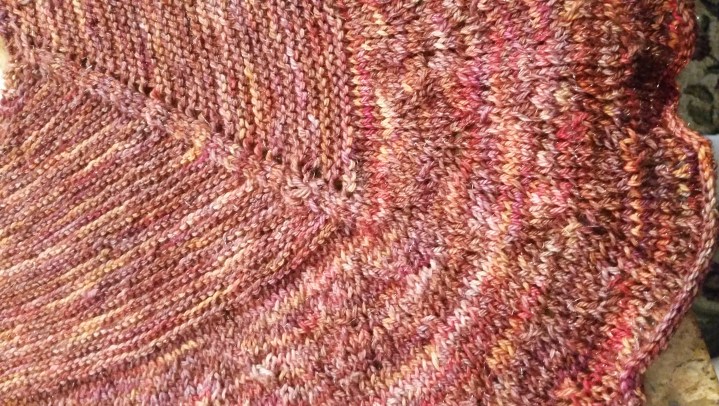 Here's a closer look at the detailing – hopefully you can see some of the lace work (beneath the garter section) as well as the ruffle. Also, this view gives you a better look at the fantastic fall colors of the yarn.  I just love it!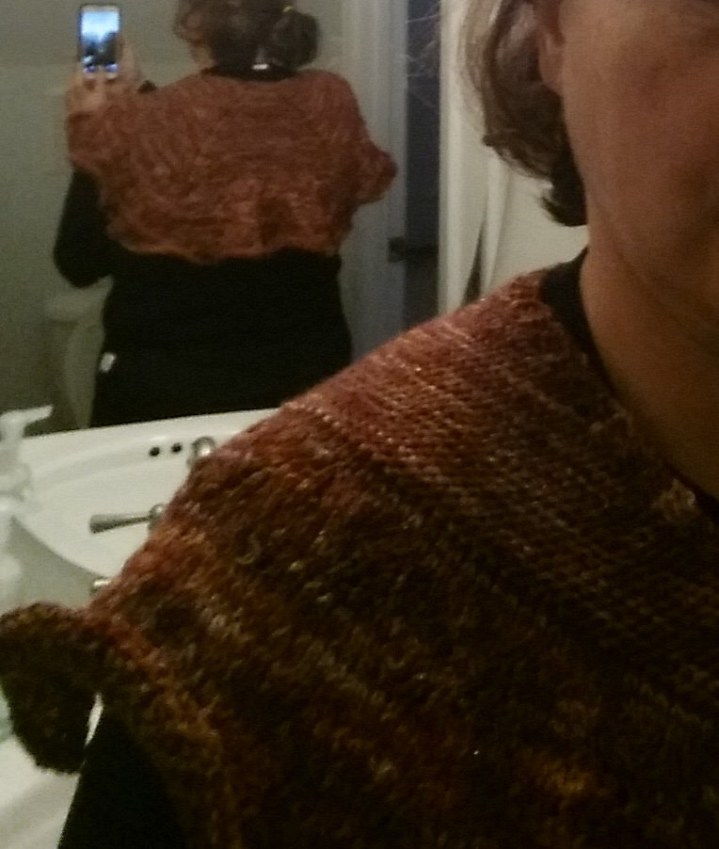 Last (and probably least), here's a quick shot of the shawl as worn. I have broad shoulders, but it fits perfectly. It goes to about mid back and is super cute on, even if you can't tell from this picture.
I totally enjoyed my first experience with Zen Knit Box.  The yarn was fantastic, the add-ons were fun and useful, the instructions were clear, and the finished project is something lovely that I am proud of.  I am happy to see it is a bi-monthly box because it was a longer project than some of the other knitting subscription boxes I've tried… but the shawl was definitely worth the time and effort to knit!
Visit Zen Knit Box to subscribe or find out more!