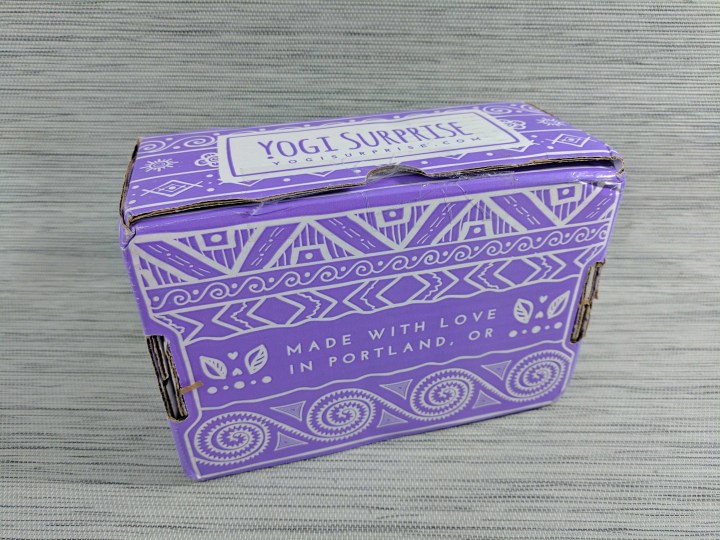 Yogi Surprise is a yoga-inspired monthly subscription box designed to complement your way of living. Each monthly box contains 6-8 products picked by experienced yogis to complement your yoga practice and your life!
DEAL: Take 15% off your membership for life! Use coupon code HELLOYOGI.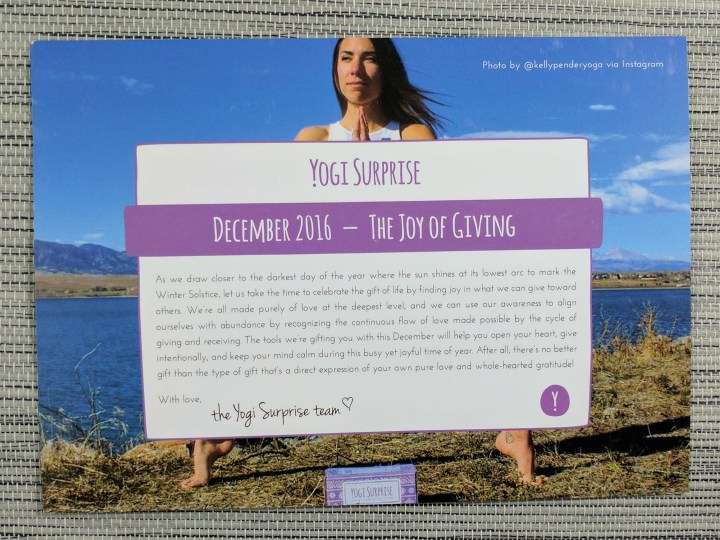 December's theme is "The Joy of Giving." The tools we are gifted with this month will help open our heart, give intentionally, and keep our mind calm. Sounds perfect to me!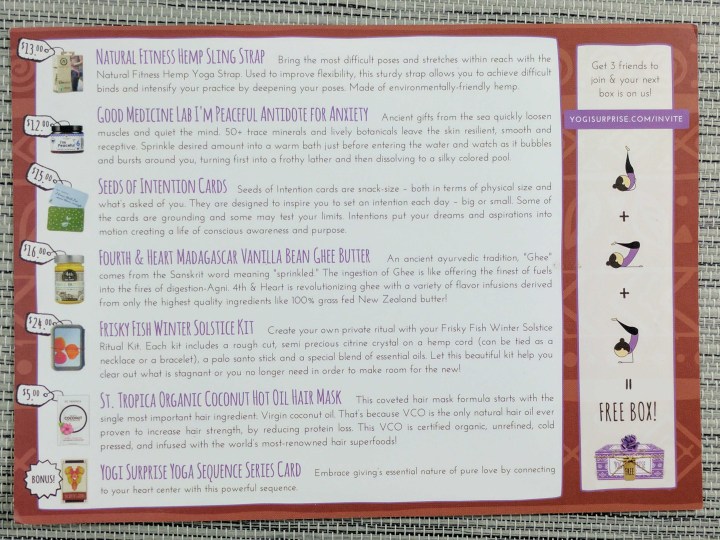 All the items are well labeled with some hints on how to use them.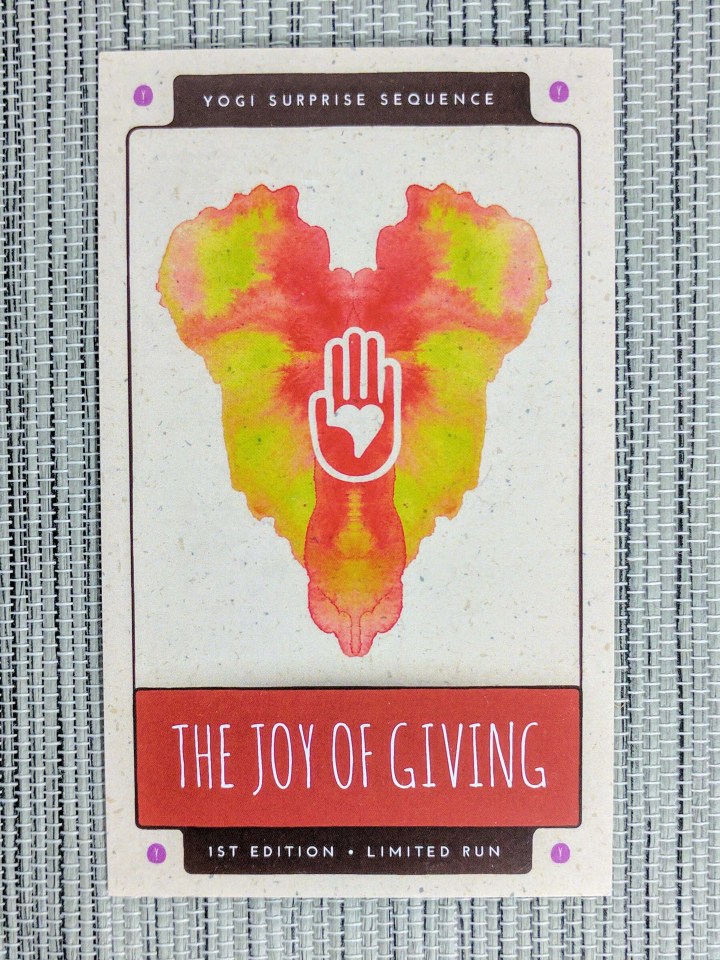 Yogi Surprise Yoga Sequence Series Card. Every month, you receive a little card with a sequence of poses to celebrate the month's theme.
I really enjoy this sequence card. I actually try to do them all before going any further into the box, but that "Wild Thing" pose is quite challenging!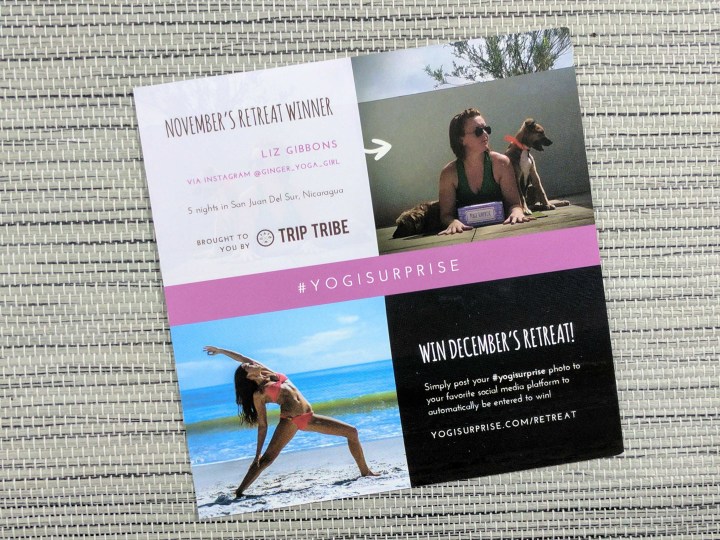 If you share your yogi surprise photo on social media, you are automatically entered to win a Yoga Retreat, in collaboration with Trip Tribe.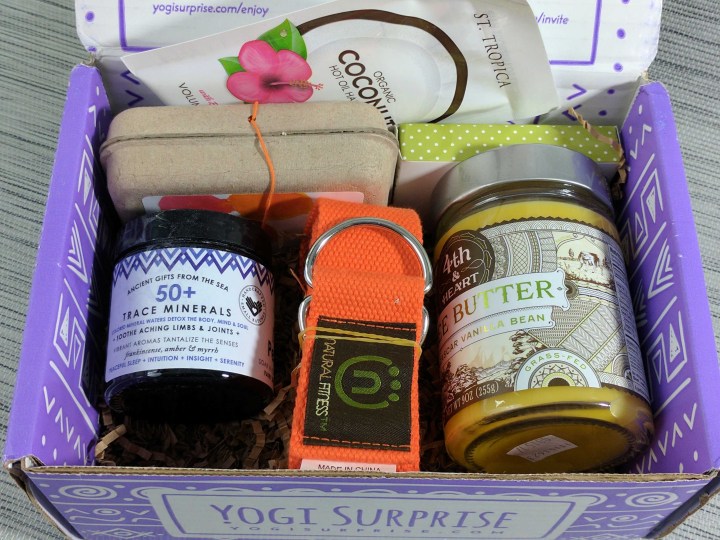 This box is packed to the brim! The glass jar was nicely wrapped in bubble wrap and nothing could move!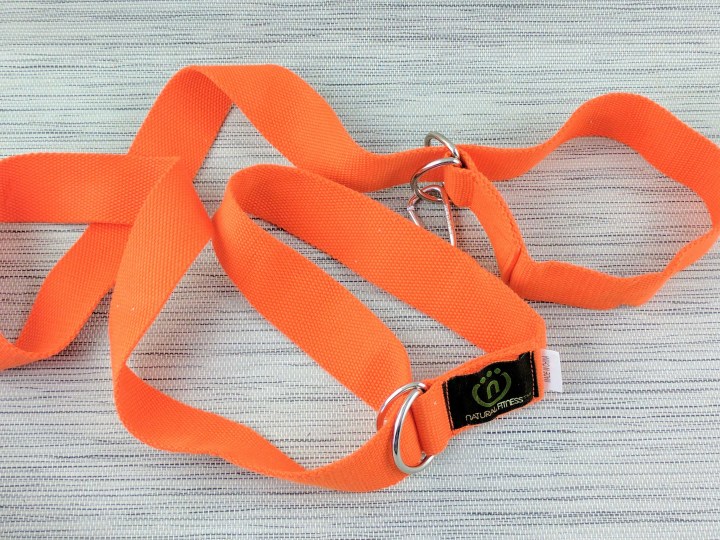 Natural Fitness Hemp Sling Strap ($13). I was really surprised to see a strap in this month's box as I received one slightly different back in October. But this one can be used both to help us ease into our pose, or to carry our yoga mat around, thanks to the second set of buckles. There's even a carabiner to carry a water bottle! How convenient!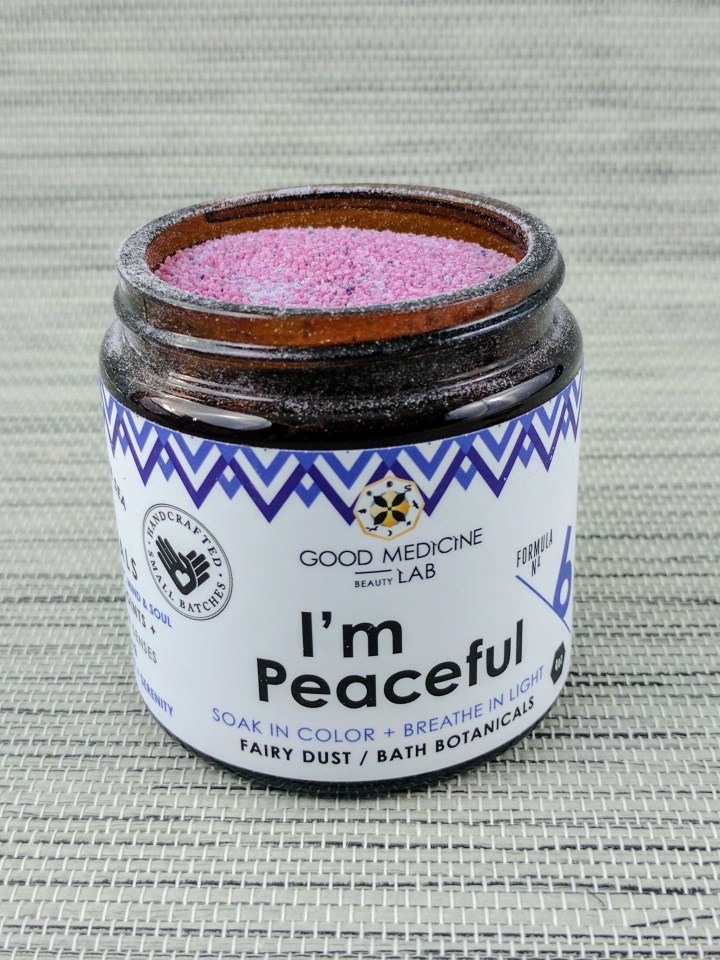 Good Medicine Lab I'm Peaceful Antidote for Anxiety ($12). Sprinkled into a warm bath, this bath botanicals is packed with 50+ trace minerals and lively botanicals that will leave the skin resilient, smooth and receptive. And it smells great! It's a mix of frankincense, myrrh, amber and cinnamon, perfect to relax with the scents of Christmas. This formula is also good to soothe aching limbs and joints. I take a lot of bath to relax my back, so this will be the perfect complement!
Seed of Intention Cards ($15). These cards are designed to inspire you to set an intention each day, in a bite size format. I love these kind of cards, I'm always looking for a quote or a sentence, or something to get me motivated throughout the day and the cards will be a perfect addition to my morning routine. They can also be used for journaling or just to remind yourself to live now and appreciate everything we have.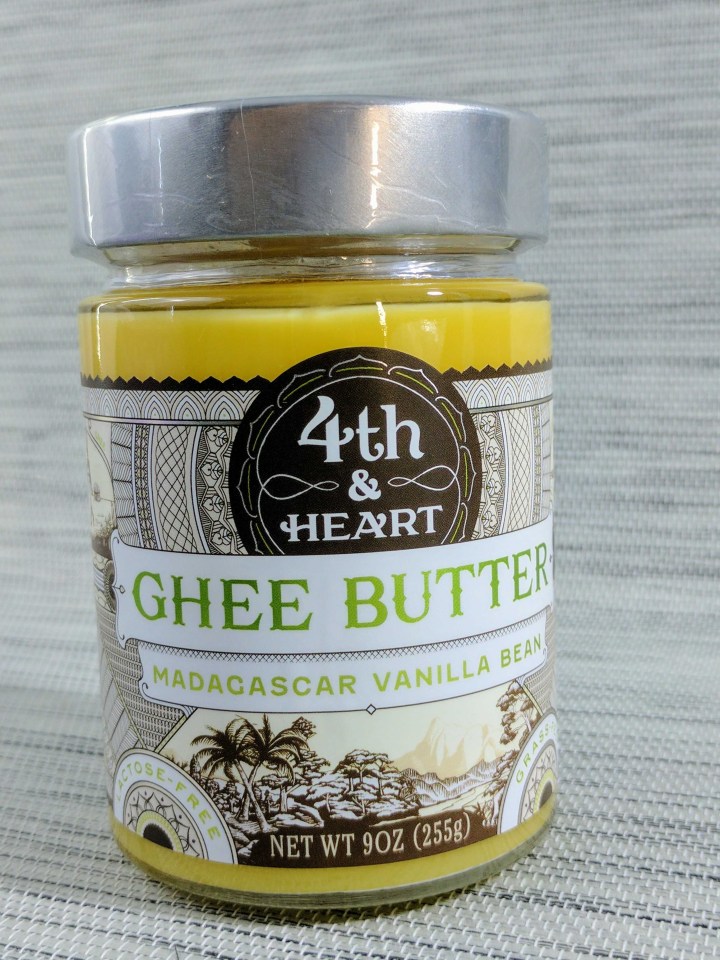 Fourth and Heart Madagascar Vanilla Bean Ghee Butter ($16). This smells so good! I just want to butter up a toast and eat the whole jar in one sitting! Ghee is clarified butter, so it's lactose-free. It can be used in a lot of different recipes. (Yes, spread on a toast is a recipe.) The vanilla bean flavored one that we received is a bit trickier as it smells very sweet, so I would not use it in savory dishes. But pancakes, smoothies, oatmeal, chai tea, and all type of baking can be turned into something unique with this tasty treat! Check out the company website for more ideas!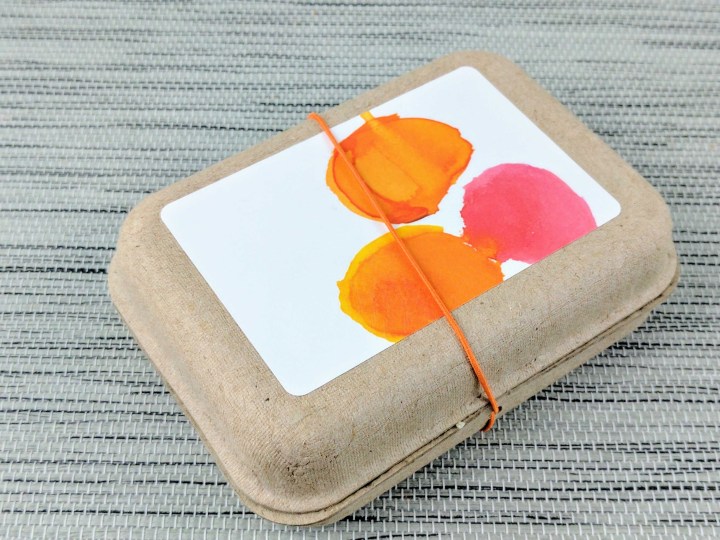 Frisky Fish Winter Solstice Kit ($24). This was the spoiled item and I wasn't quite sure how it would work out in this box.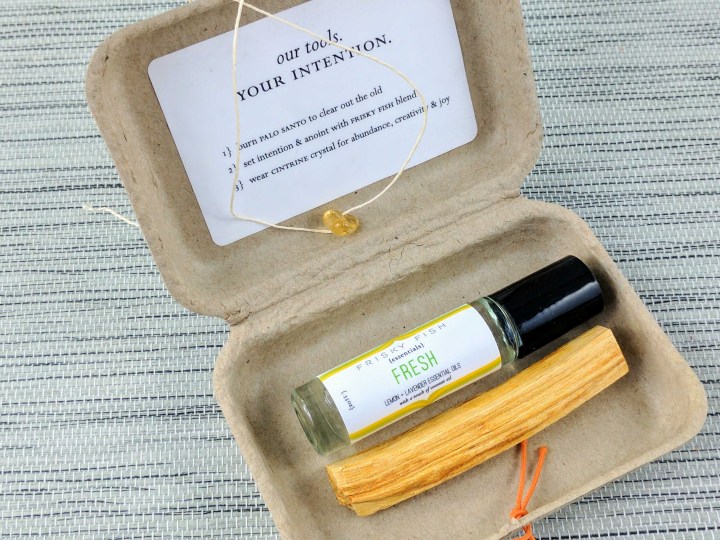 We are getting close to the New Year, and setting up our intention right now is a good way to start the New Year with a new mindset. Related to frankincense and myrrh, Palo Santo is used for his healing and cleansing properties, a bit like sage and cedar. In South America, where it's originating, Palo Santo is used against bad energy. So this is a great tool to have around to clean our environment and let the good comes in. The kit also comes with essential oils of lemon and lavender (I don't care for lavender, but luckily, it smells more like lemon to me) that you roll on you can apply on your skin so everytime you smell the essential oils, you are reminded of your intention. The last piece of this kit is a citrine on a hemp cord so you can tie it around your neck or your wrist for the same reminder of your intentions. Citrine is a stone of personal will, clears the mind, awakens creativity, dissipates bad energy, and brings good fortune to the wearer.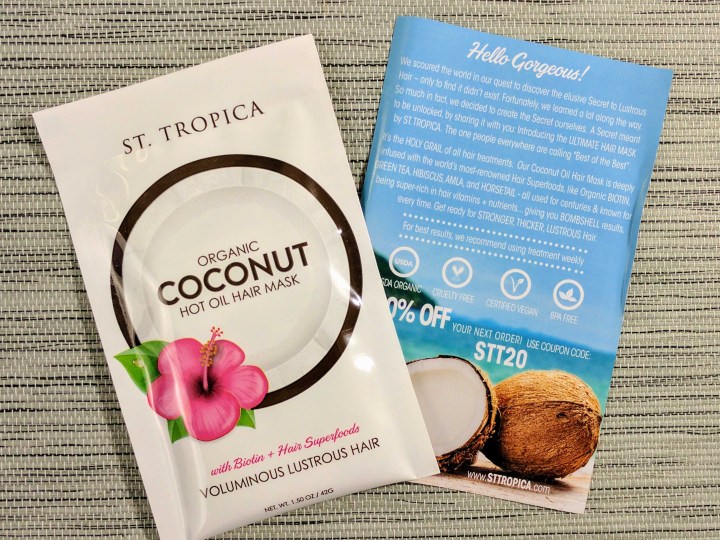 St. Tropica Organic Coconut Hot Oil Hair Mask ($5). This hair mask is made with Virgin Coconut Oil, an oil proven to increase hair strength. The VCO in this hair mask is certified organic, unrefined, cold pressed. I have received a sample in another box, but I haven't tried it yet. I will probably keep it for after the New Year when the winter weather is starting to affect my hair.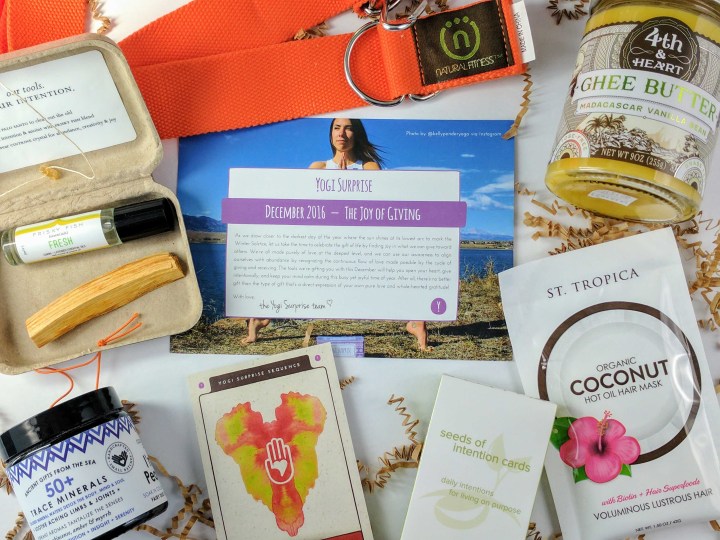 This was such a great box! Yogi Surprise's box are a retreat in a box. You have something for the mind, the body, and the soul, and everything is of great quality and good for you.  I really liked that everything was about renewal, setting up intentions and relaxing. It's not because Christmas is right around the corner that you have to forget about yourself if you want to be able to give freely. Once again, this was a great box!
Are you a Yogi Surprise subscriber? What did you think of the box?