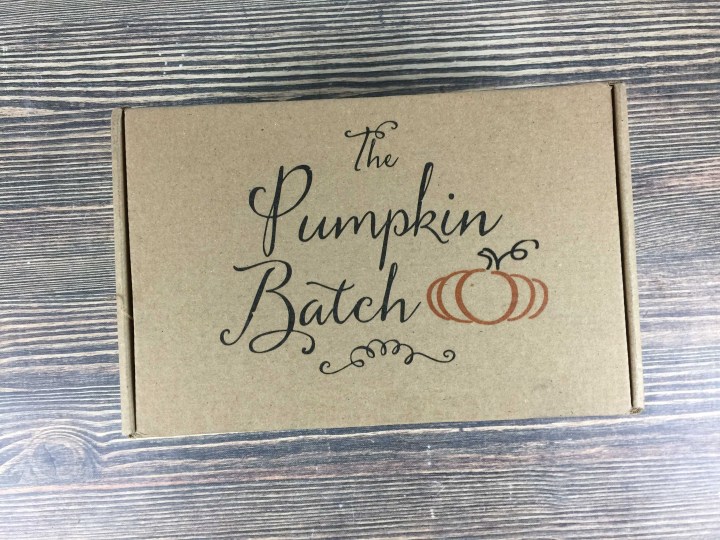 The Pumpkin Batch is a monthly subscription box for pumpkin lovers – every month you'll receive 4-6 products for pumpkin and pumpkin spice lovers – all year round! Products are sourced from small businesses all across the US!
The theme for November is Pumpkin O'Plenty!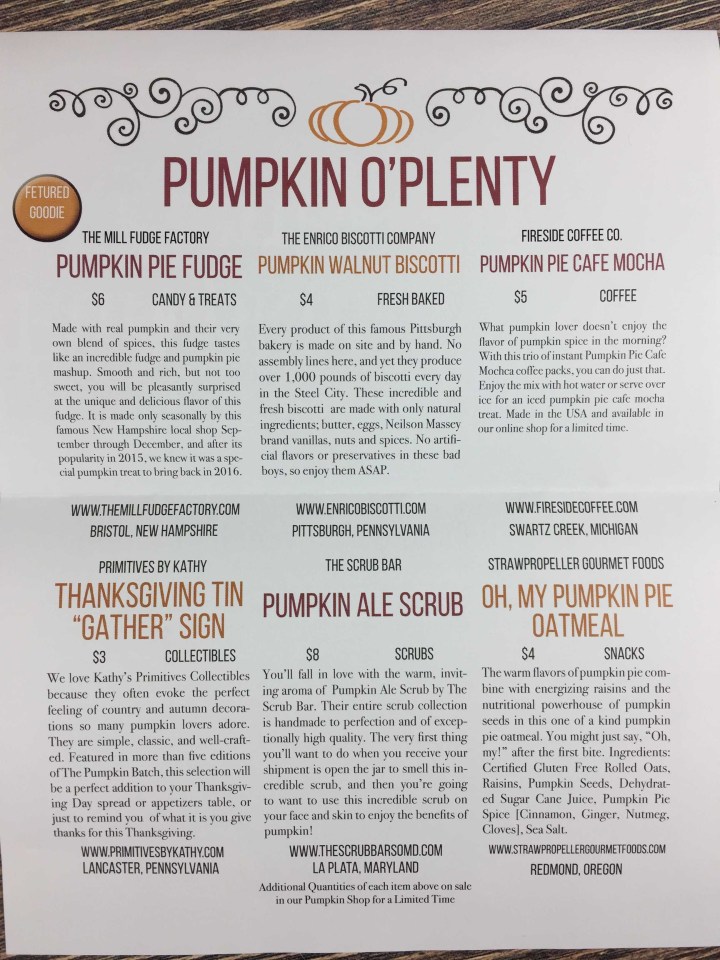 The information card has complete details on each item, including the value, the maker, and the ingredients or other necessary information.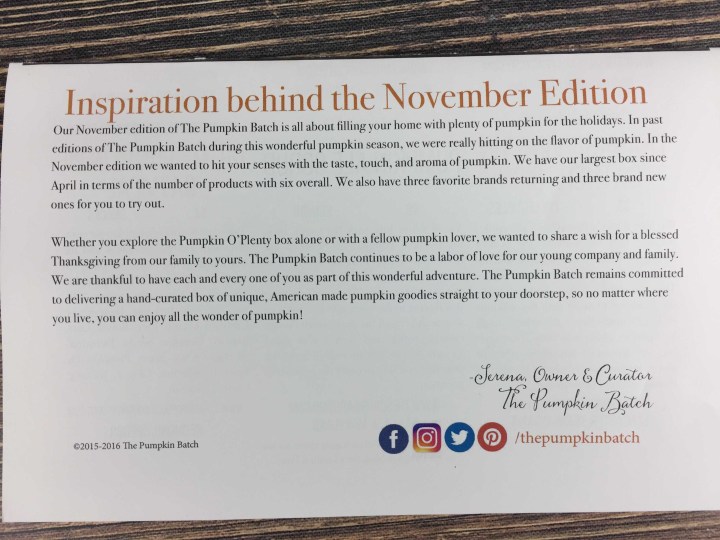 The back of the information card had a short letter from The Pumpkin Batch.
Everything is wrapped up nicely.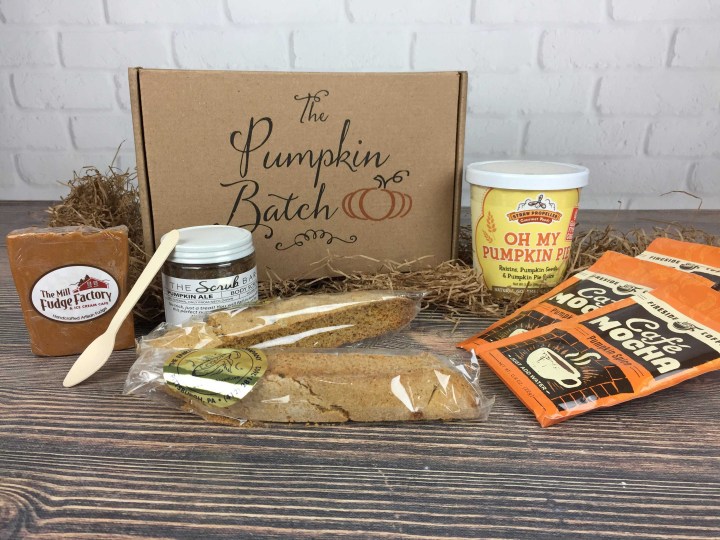 All the goodies this November! Note that my box was missing the sign!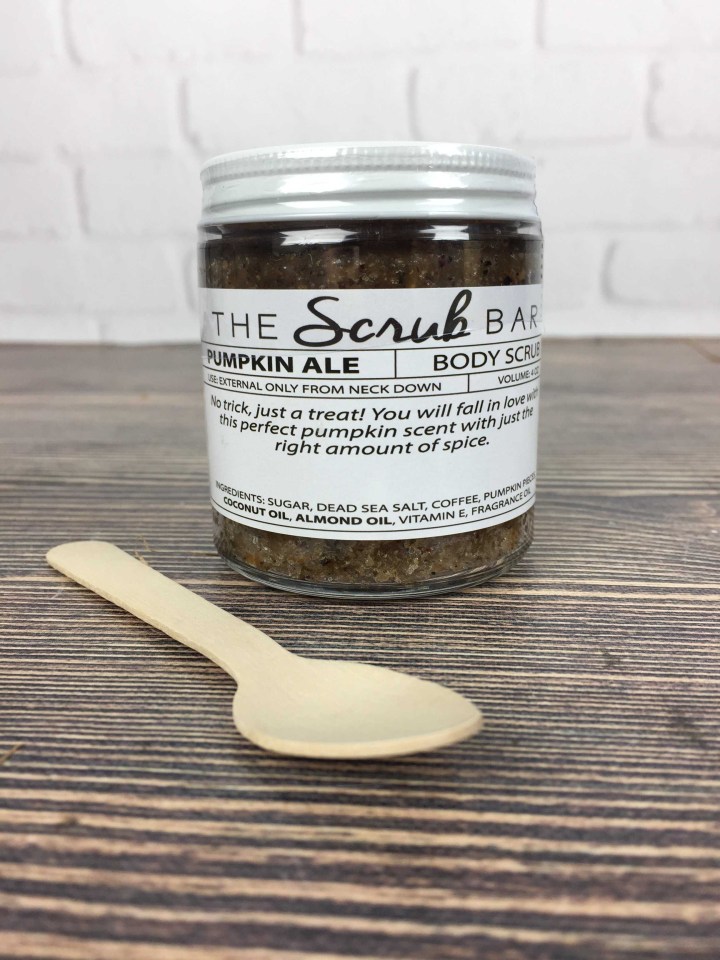 The Scrub Bar Pumpkin Ale Scrub ($8) – Perfect pumpkin scent + just the right amount of spice = a win! Its ingredients include sugar, dead sea salt, coffee, pumpkin pieces, coconut oil, almond oil, vitamin E, and fragrance oil.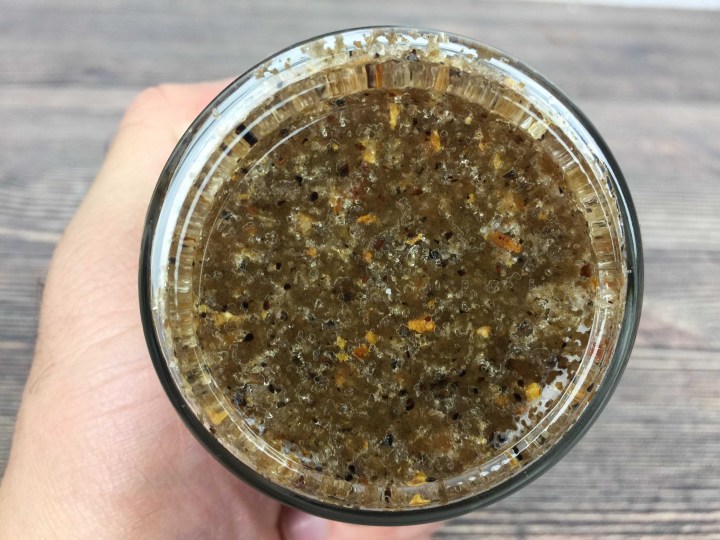 Use the scrub from the neck down – it will leave your skin feeling smooth and fresh afterward!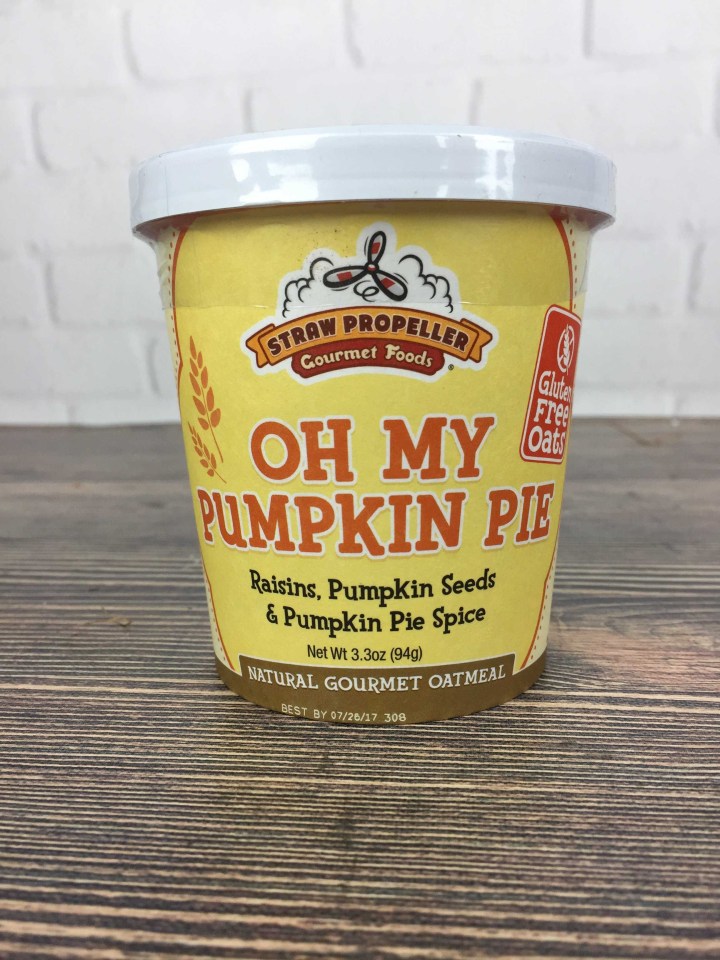 Strawpropeller Gourmet Foods Oh, My Pumpkin Pie Oatmeal ($4) – Pumpkin pie combined with raisins and pumpkin seeds? You might keep asking for more after you finish one serving!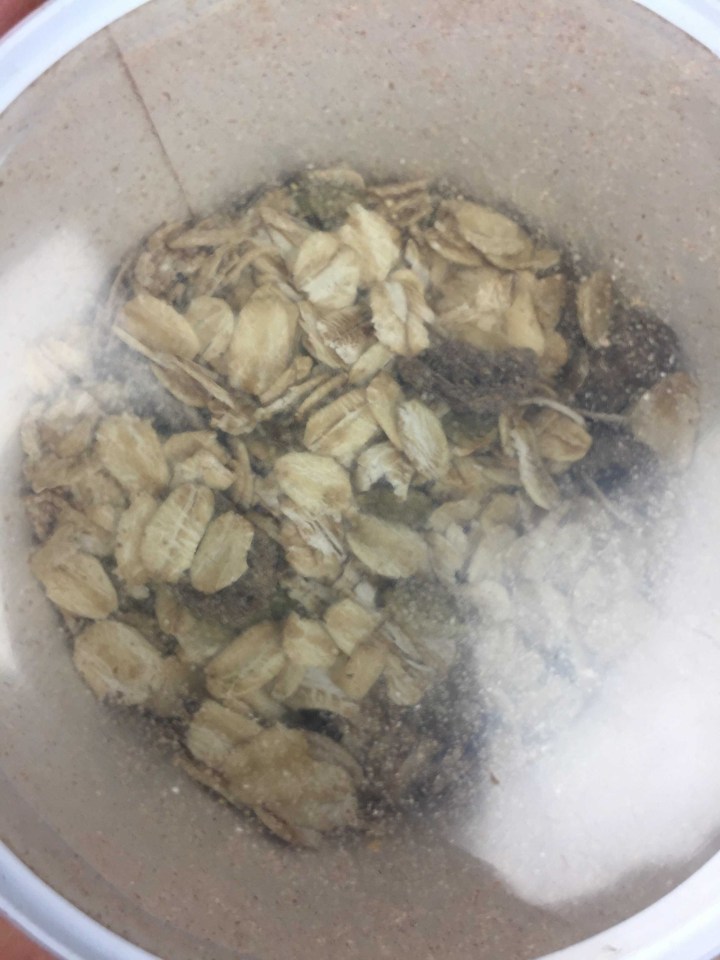 Here's a peek inside the container! Yummy oats!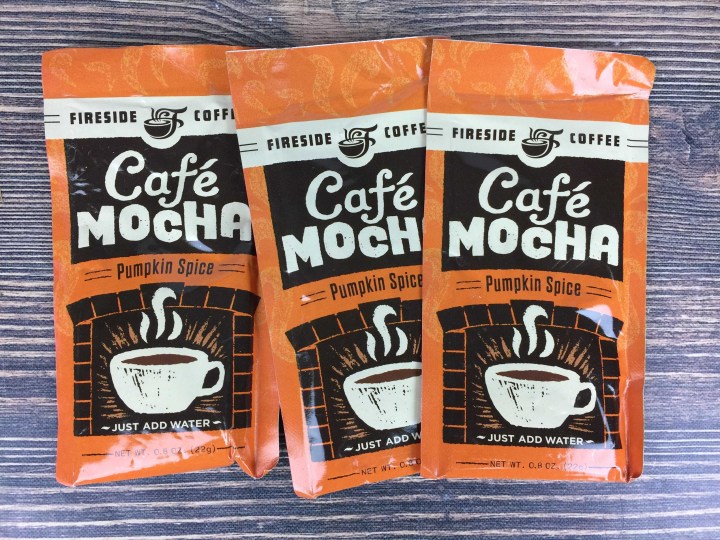 Fireside Coffee Co. Pumpkin Pie Cafe Mocha ($5) – This is a perfect pick-me-up. Just add water – hot or cold, whichever you prefer – and voila, a creamy drink to comfort you in the middle of a long day!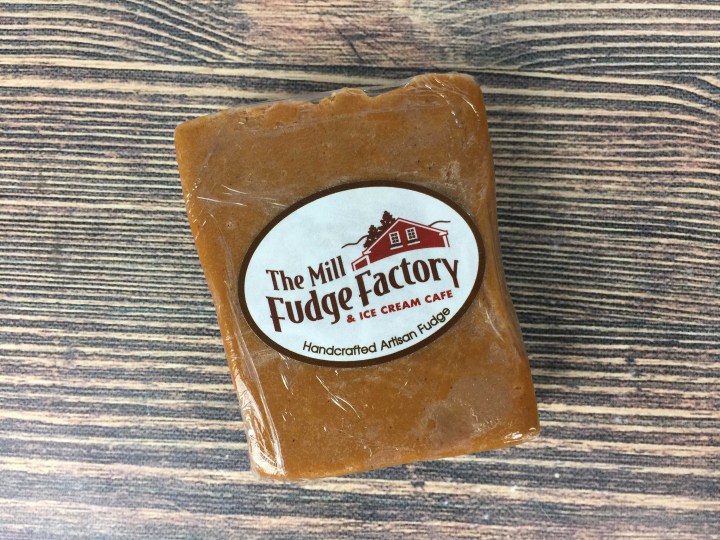 The Mill Fudge Factory Pumpkin Pie Fudge ($6) – Pumpkin, spice, and everything nice! If you don't like too much sweetness in your fudge, this one's for you.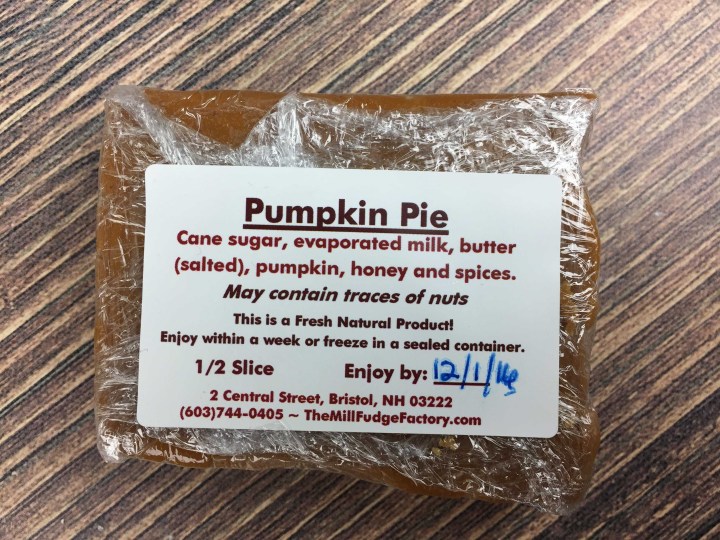 There's a label on the back of the fudge where you will find its ingredients and other important info. If you loved it that much, they provide a contact number so you can order more fudge! My husband said this one was a winner!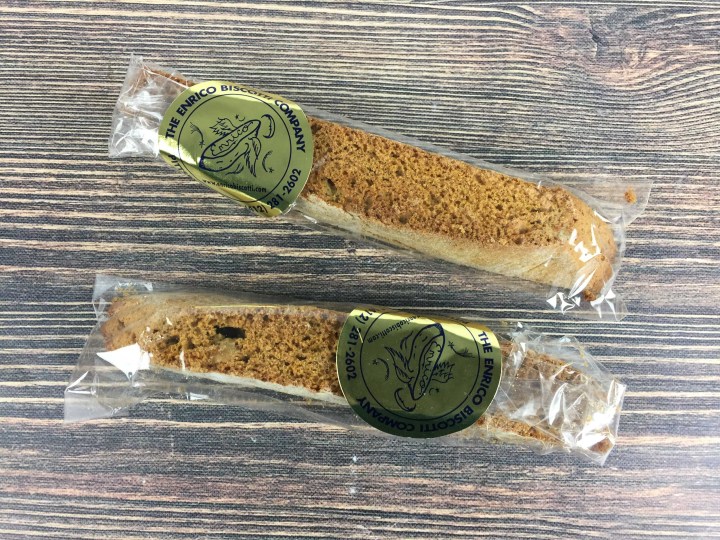 The Enrico Biscotti Family Pumpkin Walnut Biscotti ($4) – This biscotti is made of all-natural ingredients including butter, eggs, Neilson Massey brand vanillas, nuts, and spices. Did you know that Italians dip biscotti in coffee or wine to soften it and make it easier to chew. But if you like it crunchy, you can eat biscotti as is!
Including the value of the sign (missing from my box) the total was about $30, which was pretty nice! I just love the monthly pumpkin blast, it's such a treat!
What did you think of this month's Pumpkin Batch?