LitRx is a subscription box for book lovers, fangirls, and people who are in need of something new to read but "don't really want to put on pants" to go to a bookstore. Similarly, LitRx notes that its monthly boxes deliver the remedy for book hangover (and even its box states!). What is book hangover, you ask? I'll use LitRx's definition: "It's 4 am and you've just finished reading the last page of your book. You've got to go to work or school in just a few hours, but the remnants of the story have overtaken your thoughts. You can't believe it's over! And that's when the book hangover kicks in."
Sadly, this month's LitRx box came with a note…LitRx is ceasing operations. This box is the last LitRx shipment. I'm totally bummed because I really enjoyed this subscription box – from the books to the candles to the fun items that are so perfectly tied to the story. I will definitely miss this subscription box. 🙁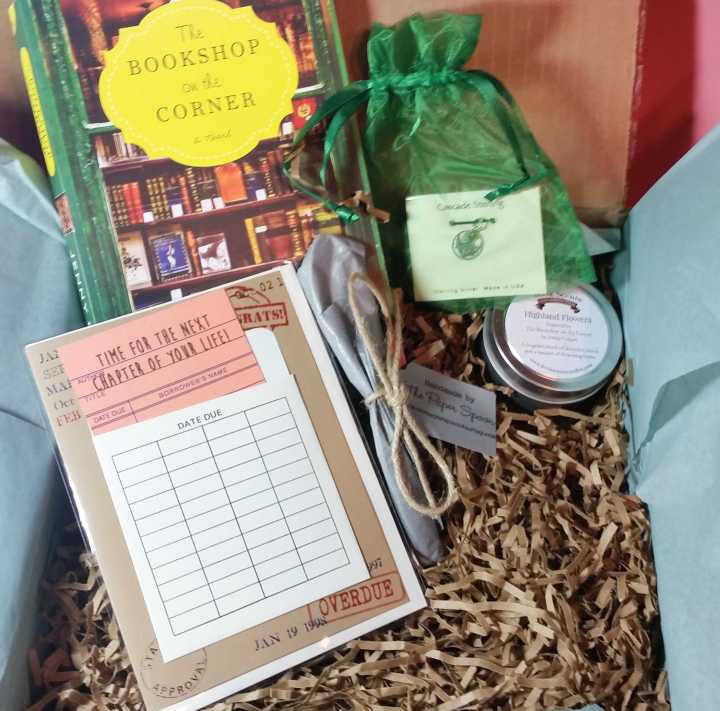 Previous months have included a gorgeous full-color card, describing the items included in the box and their significance with respect to the book. This month, instead, the box's curator Nalana Lillie included a personal letter explaining the end of the LitRx subscription service. At the end of the letter, there was the usual listing of items.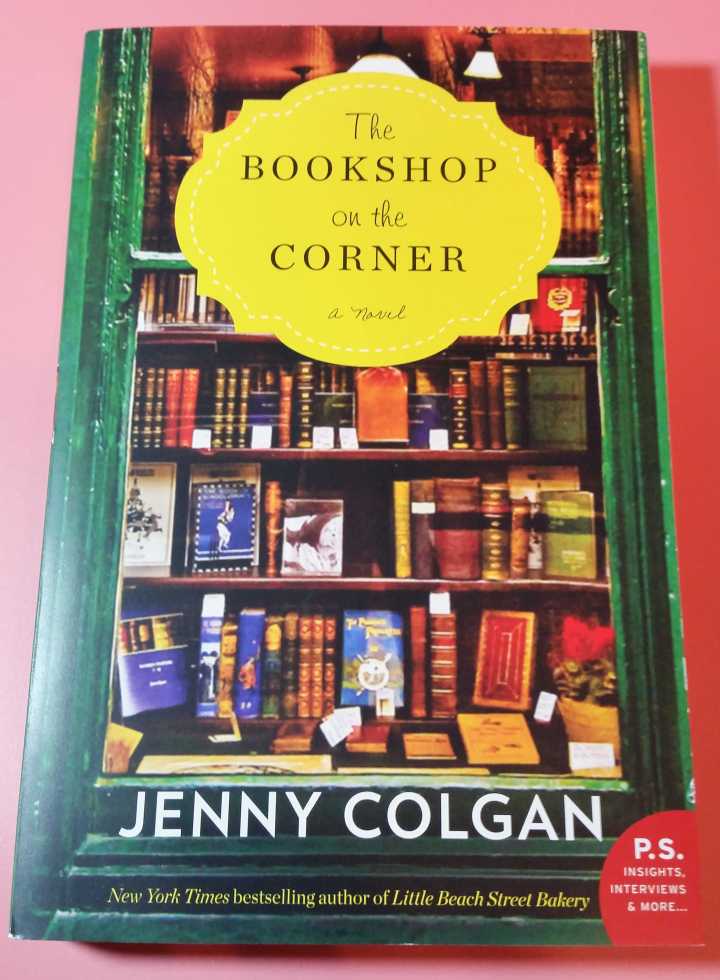 The Bookshop on the Corner by Jenny Colgan ($8.92): I have just started reading this book, but I appreciate the thought that LitRx put into choosing the last book. As the farewell letter noted, "the book is about book lovers – something we both have in common." I'm definitely enjoying it so far, and I look forward to finishing it. In the meantime, here's a short synopsis of the story:
Nina Redmond is a literary matchmaker. Pairing a reader with that perfect book is her passion… and also her job. Or at least it was. Until yesterday, she was a librarian in the hectic city. But now the job she loved is no more.  Determined to make a new life for herself, Nina moves to a sleepy village many miles away. There she buys a van and transforms it into a bookmobile—a mobile bookshop that she drives from neighborhood to neighborhood, changing one life after another with the power of storytelling.   From helping her grumpy landlord deliver a lamb, to sharing picnics with a charming train conductor who serenades her with poetry, Nina discovers there's plenty of adventure, magic, and soul in a place that's beginning to feel like home… a place where she just might be able to write her own happy ending.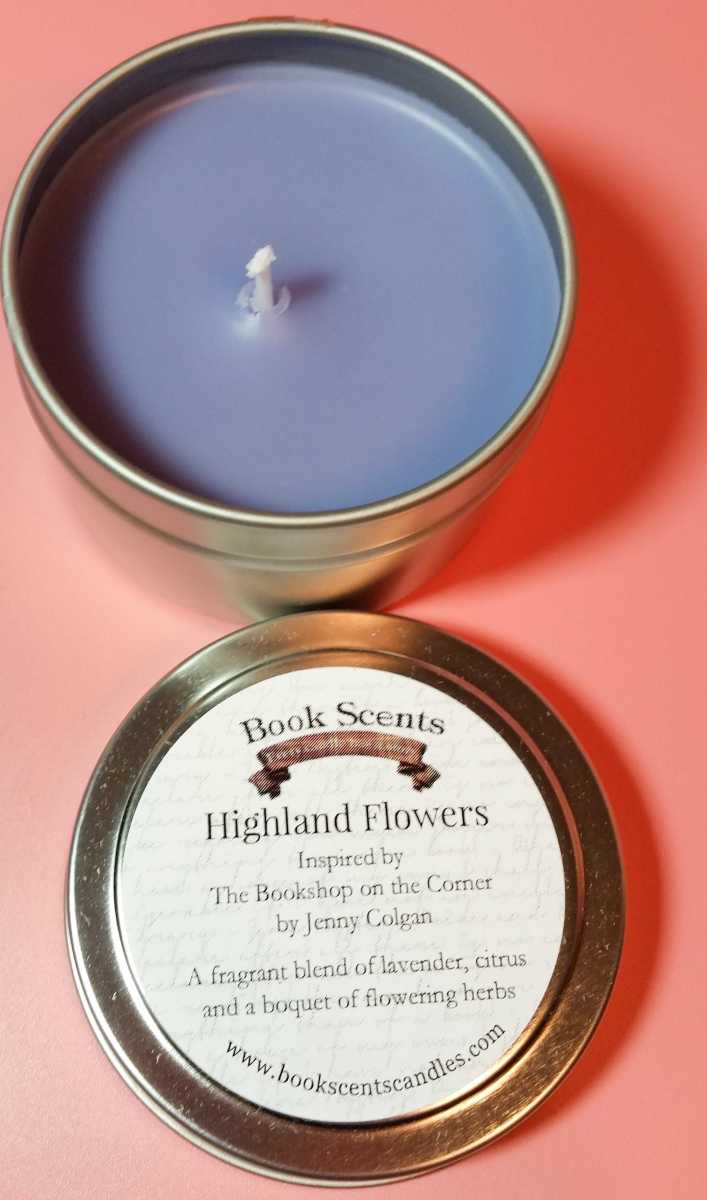 BookScentsCandle Highland Flowers tin candle ($12.50): This candle smells gorgeous – a perfect blend of lavender, citrus, and herbs. These candles are so much fun and I love how they are tied to various themes or elements from the stories.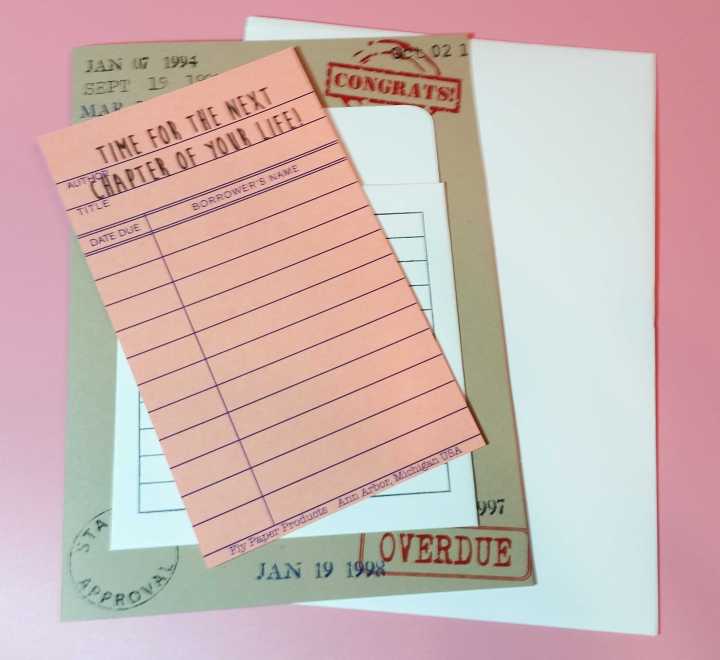 Library Encouragement Card ($3.25): This is seriously the cutest card – it has an old-fashioned library card envelope and removable card on the front of a greeting card.  So fun!  And this one is sadly perfect for the end of LitRx – it's an encouragement card to give to someone moving on to their next chapter! (OK, it's also pretty perfect for the theme of the book, too.)

ThePaperSpoon4U Engraved Tea Spoon ($20): This is super cute – it's an engraved tea spoon! (The photo does NOT do it justice.) It's a handcrafted spoon that is stamped in the bowl part of the utensil with "Drink Tea. Read Books. Be Happy." OMG – so fantastic for this box!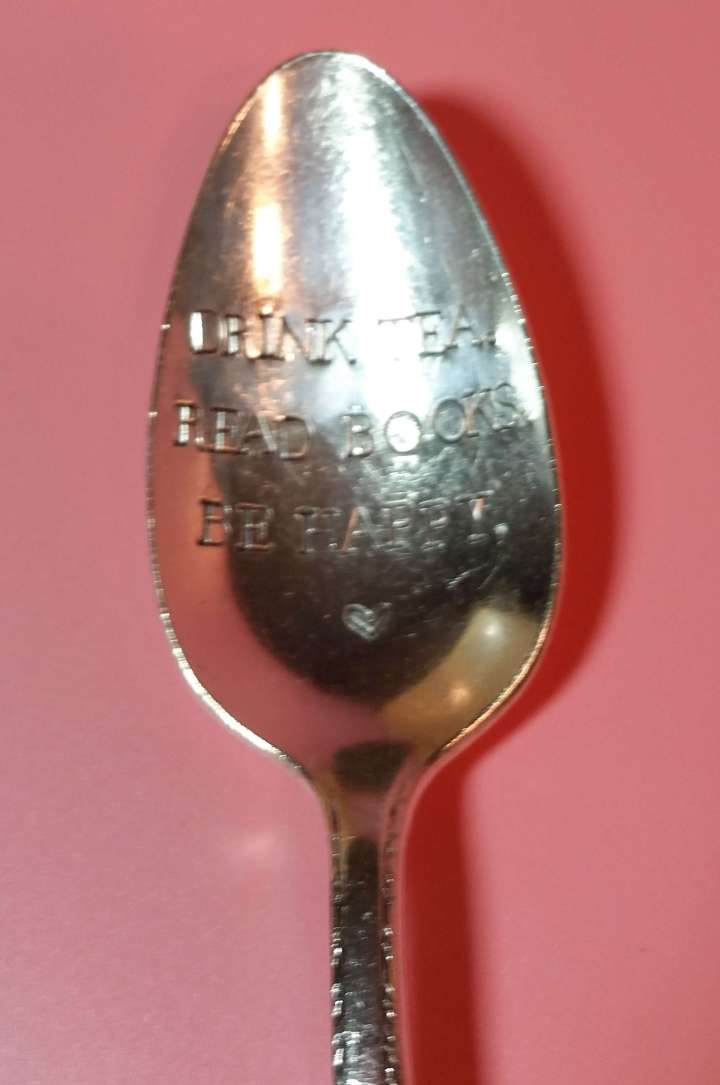 Here is a closer view of the stamped part. Isn't is adorable?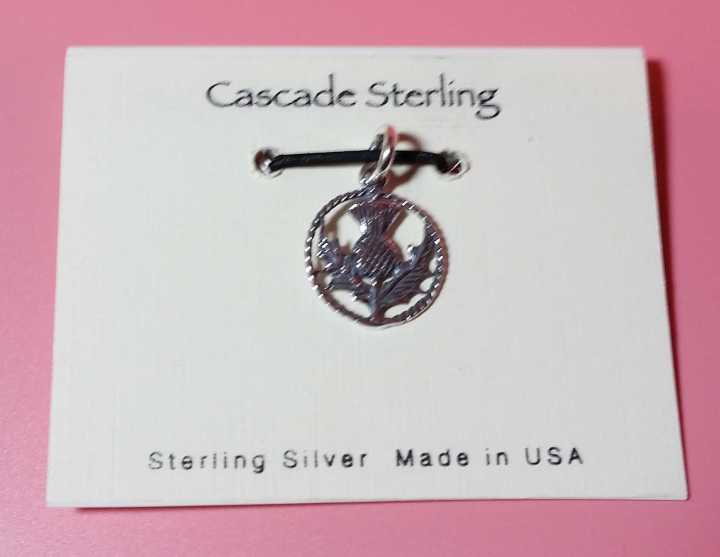 LittleDevilDesigns Scottish Thistle Charm ($12.00): This silver charm is inspired by the Scottish Highlands, the setting for the book. It is a pretty little charm & would make a great necklace or bracelet.
This box is just perfect… which makes it all the more sad that LitRx won't be around any longer. I'll definitely miss my monthly cure for the book hangover!
What did you think of the selections in this month's LitRx?
Be sure to check out similar subscriptions below!