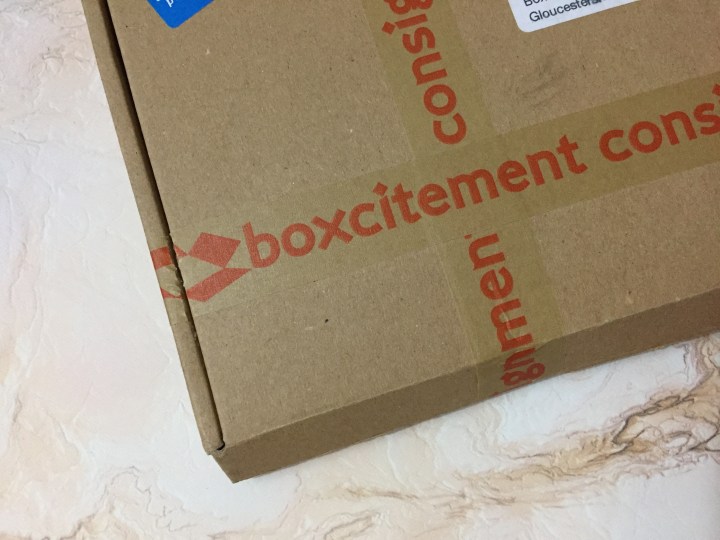 Boxcitement is a monthly subscription box from the UK packed full of stationery products, greeting cards, jewelry, and other accessories and gifts delivered to your door each month. It's a subscription box for people who love wrapping, giving, and receiving gifts. As with many other British subscription boxes, each box is sized to fit in your letterbox, so you never have to worry about receiving your package.
DEAL: Get 10% off your first months subscription. Use coupon code FIRSTBOX.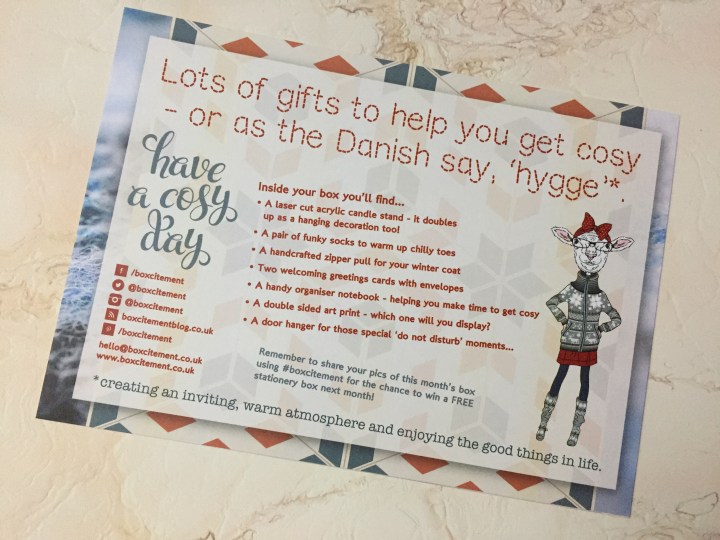 The product card is attached to the underside of the lid. This month's theme is Get Cosy! The Danish call it "hygge."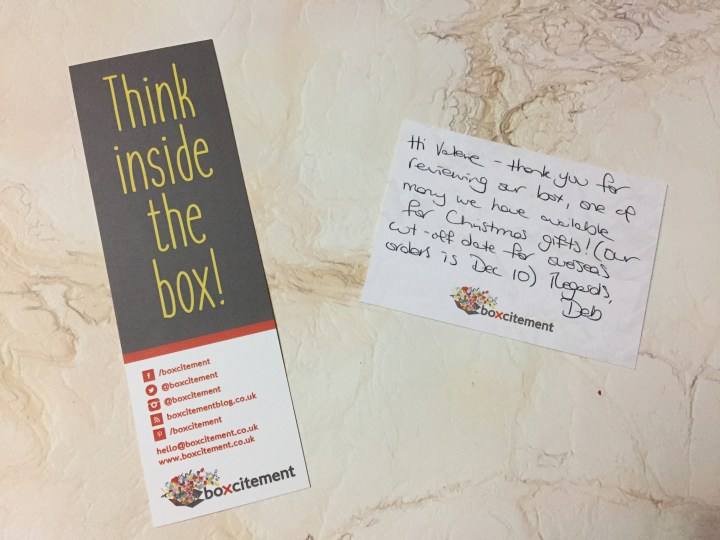 Along with a bookmark was a note from the creator, Deb. Boxcitement ships worldwide, but make sure you order by December 10 if you want it by Christmas!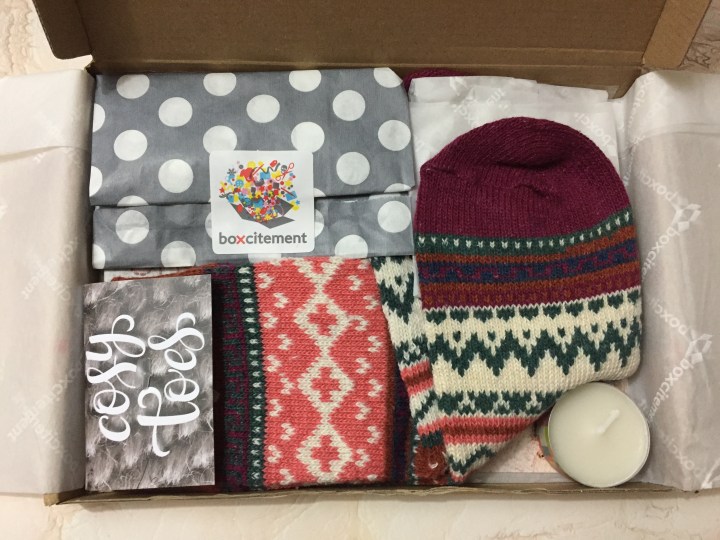 The box is just under an inch deep, but it's packed full of goodies!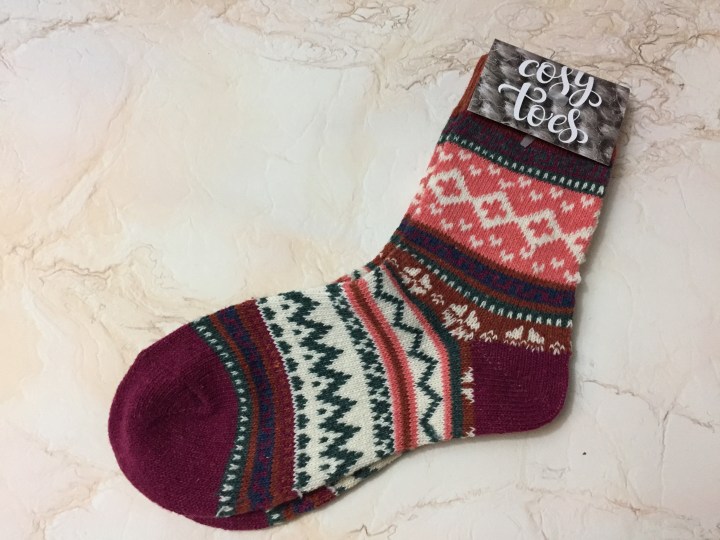 These socks scream winter – I love the variety of patterns and the color scheme – that dark raspberry purple is gorgeous! These have a nice stretch to them, but they are a bit more snug around the calf. They're soft and warm and perfect for the chilly weather we're having here.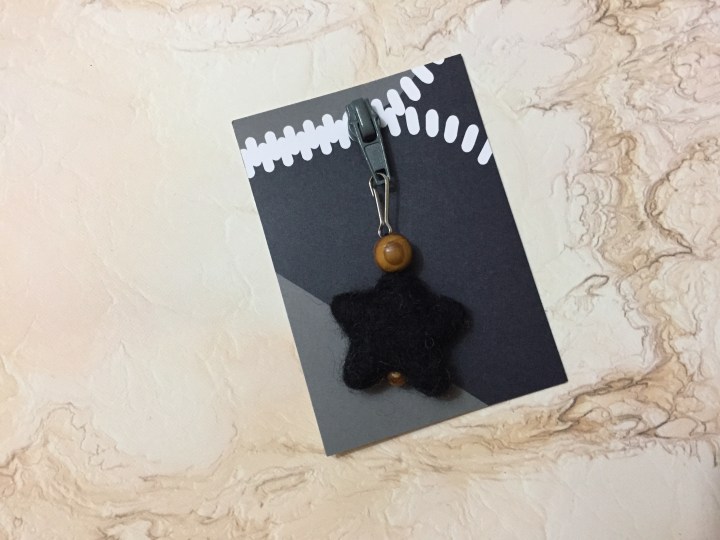 This felted zipper pull is adorable! I love how the packaging has an actual zipper on it, in case you weren't sure what it was! This would also be a cute addition to a keychain or a purse if you didn't want to attach it to a coat.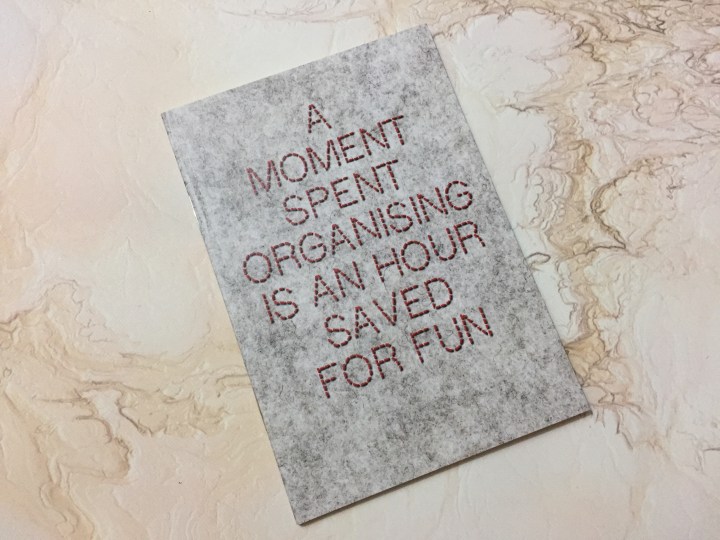 I love the cover of this notebook – it looks like the letters are stitched on a piece of felt. The notebook is thin but has lined pages and a list of suggestions.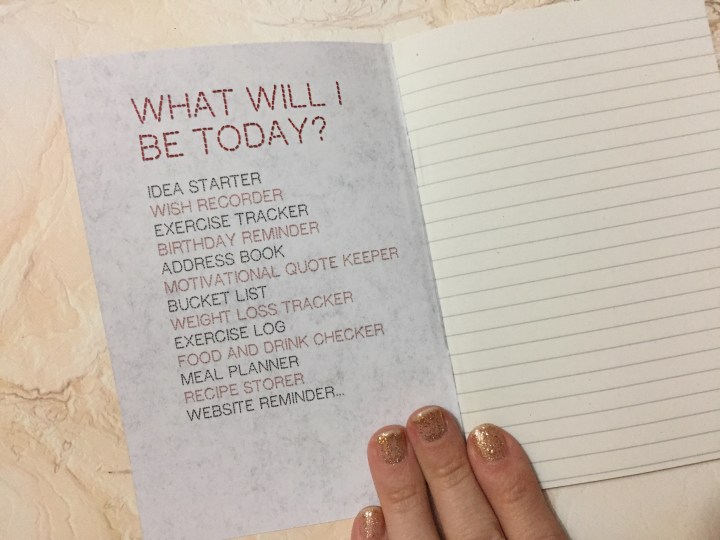 Love this handy list!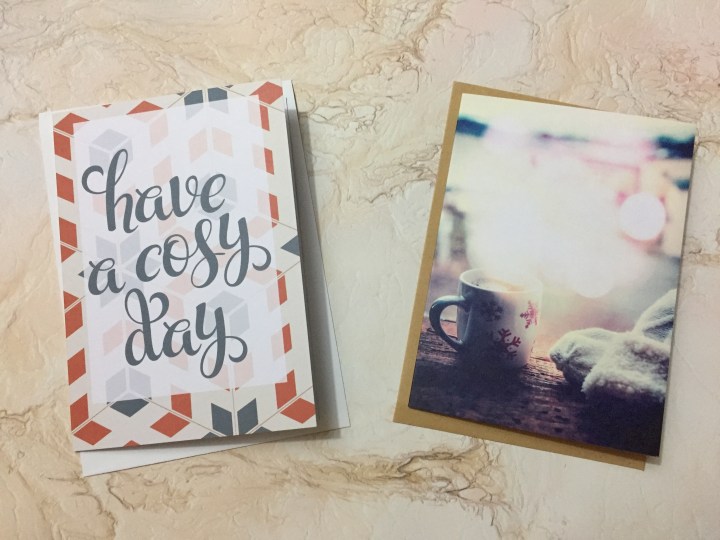 A pair of holiday cards fitting along with the cosy theme showed up just as I was penning my Christmas cards – these were promptly sent off to two of my friends on the East Coast!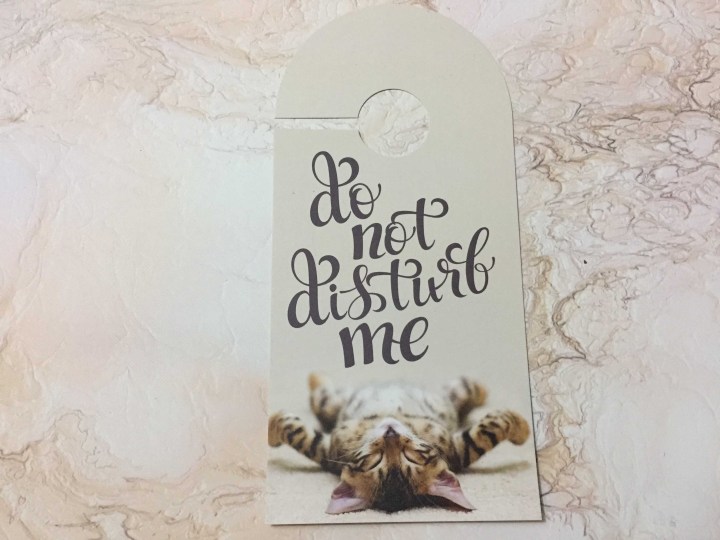 This door hanger is perfect for throwing up when you're trying to catch some extra sleep – winter always leaves me feeling sleepy.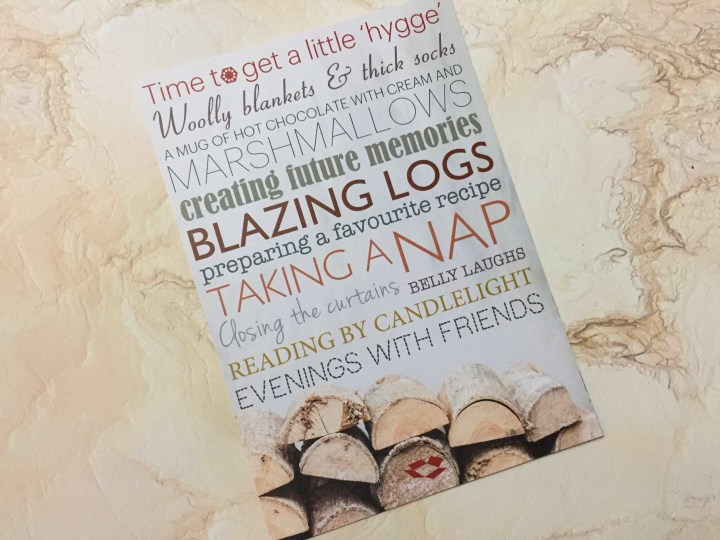 This poster is a good size and would look super cute when framed!
The opposite has a funny goat wearing a sweater. I think I prefer the art on the opposite side, but I like that there are two clever pictures to display!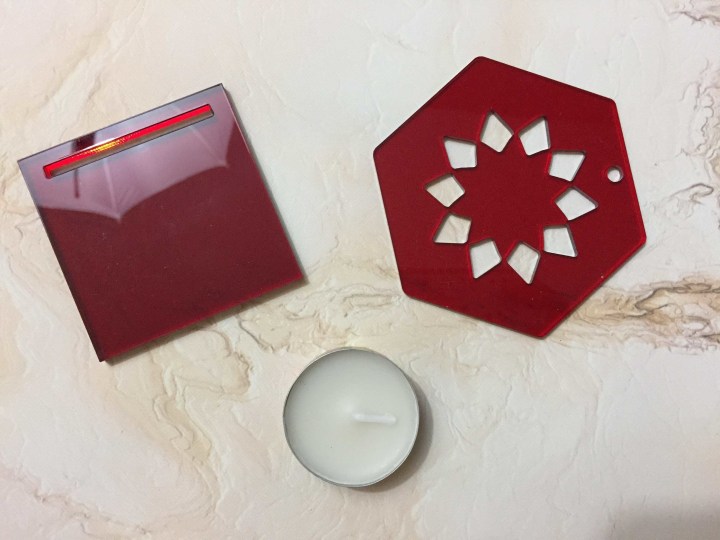 The last thing I pulled out was this acrylic tealight stand! The front actually has a hole you can string ribbon through and use as an ornament, or you can slot it into the base like so~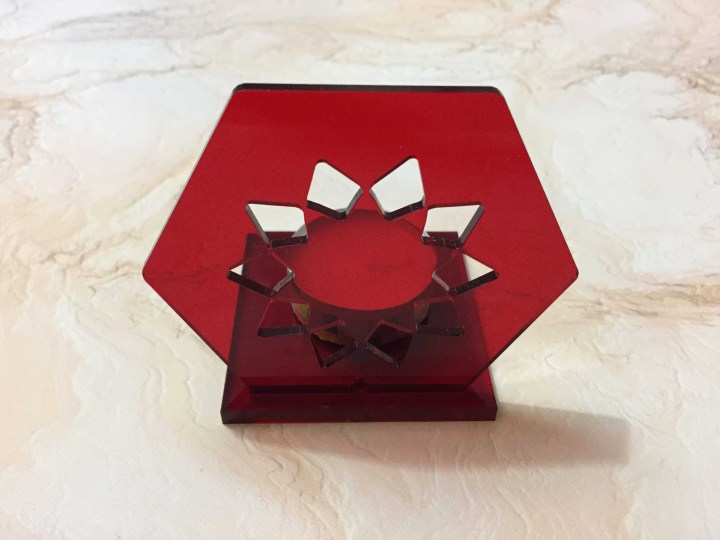 Perfect!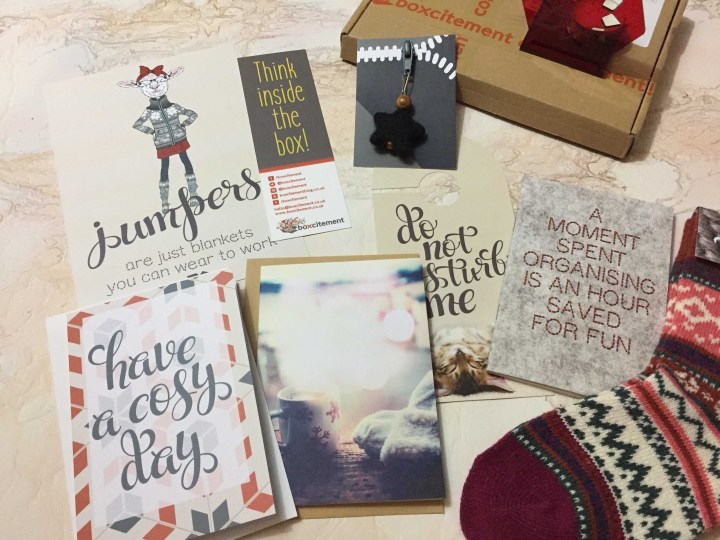 I'm seriously amazed how much they were able to fit into such a small box! The cosy theme was perfect for the season, and I love how all of the items were specially made just for Boxcitement – that exclusive aspect makes everything even more fun to pore through. My favorite items would have to be the socks, the zipper pull, and the notebook as well as the tealight holder, but honestly, everything was so well made and curated. I loved being able to review a very cool box from the UK this month!
Visit Boxcitement to subscribe or find out more!