BuddhiBox is a monthly box meant to enhance yoga practice and encourage healthy living. BuddhiBox is $34.95/month for a curated mix of 4-6 samples and full size products. This is a great box for anyone that is new to yoga or even those who are dedicated yogis. Each month, a portion of their sales goes to supporting an amazing cause. November's charity is The Circuelle Foundation, a non-profit organization that has a unique focus centered on reaching young women to help provide breast health education with healthy rituals.
The Box is sooo pretty! I'm happy to say that both DHL and Canada Post were nice enough to put the shipping stickers on the side of the box, so no hiding the beautiful mandala!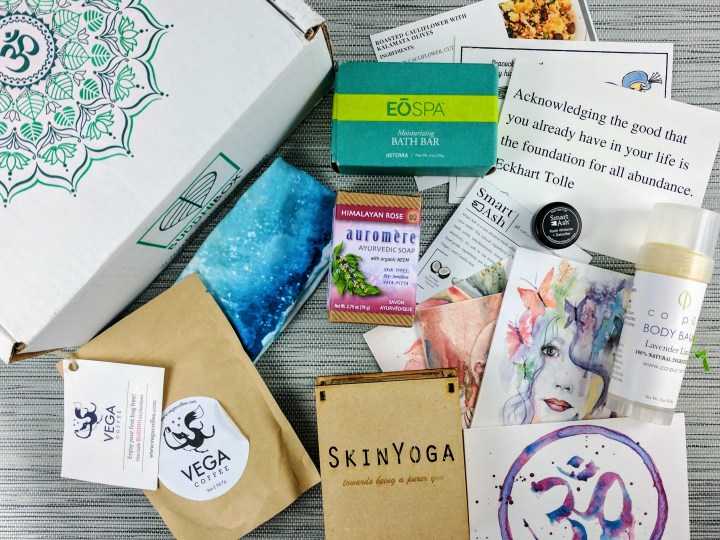 DEAL: Get $5 off your first box Use coupon code hellosub.
Everything in the box.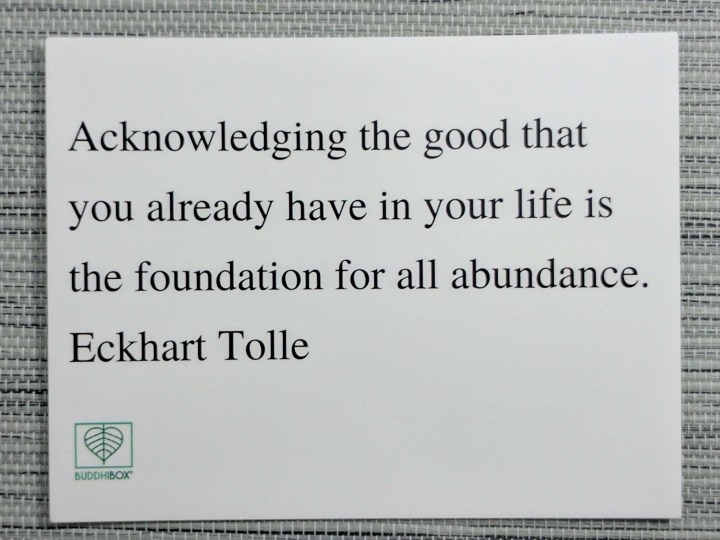 Every box starts with a quote. I love meaningful quote. They make me stop a moment and think. This box was sent around the American Thanksgiving, so this quote is pretty spot on. The back of the cards describes everything in the box and their value.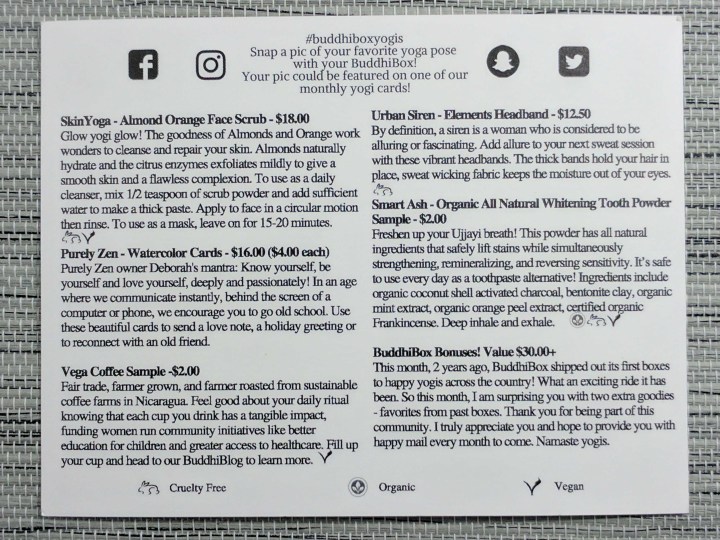 Looks like we will be pampered!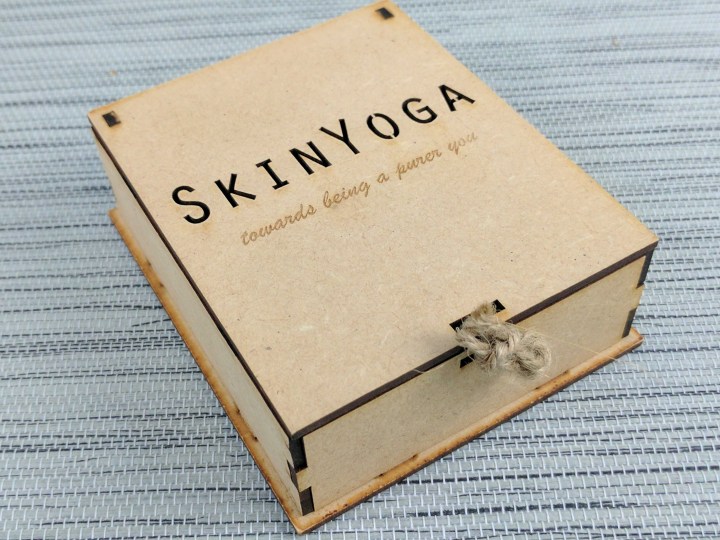 SkinYoga – Coffee Body Scrub ($5.48, based on the price for 100g). When I first opened the box, the Almond Orange Face Scrub mentioned on the info card was missing. We contacted the owner and she quickly sent this item, as well as a moisturizing bath bar (seen in the bonus section). I don't know the reason for the mix-up, but I'm totally fine with the Coffee Body Scrub! And the package is lovely!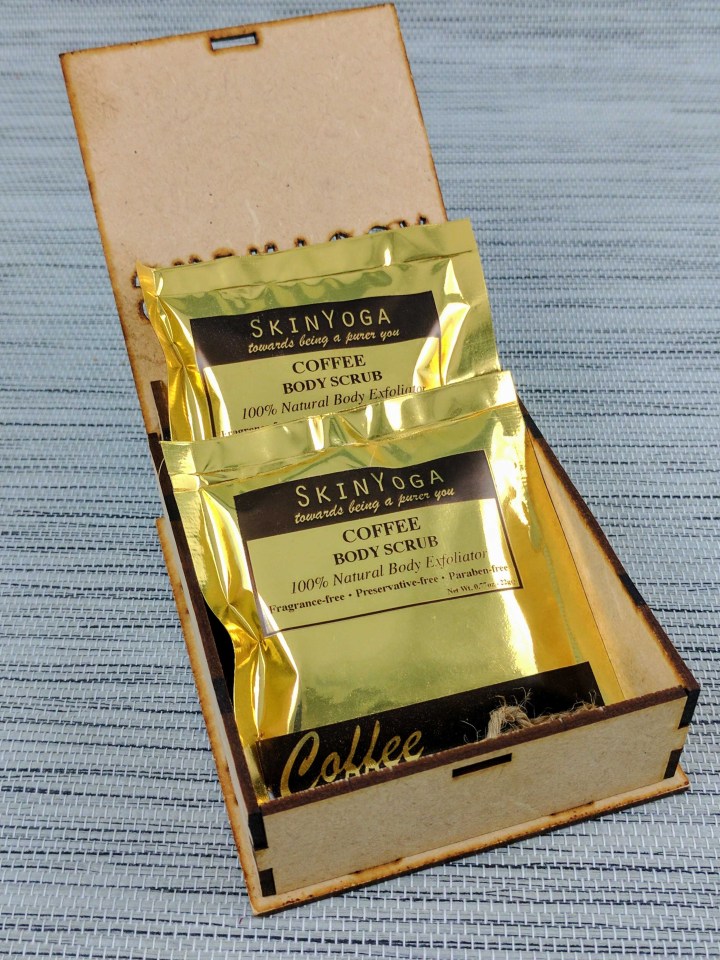 From their website
The caffeine enhances fat metabolism and removes liquid and fat from your skin, ultimately reducing the appearance of cellulite and stretch marks. The natural oil moisturizes and nourishes your skin. This scrub also treats inflammation and protects your skin from sun damage.
Sounds lovely and I'm looking forward to see the results! The smell is like pure coffee, perfect for a morning routine!
Vega Coffee Sample ($2) – Fair trade, farmer grown, and farmer roasted from sustainable coffee farms in Nicaragua. Feel good about your daily ritual knowing that each cup you drink has tangible impact, funding women run community initiatives like better education or children and greater access to healthcare. This is a ground coffee sample, so it's not my personal favorite (I prefer to ground the coffee beans myself), but it's COFFEE. I'm addicted to coffee, so I'm happy! Also, Vega Coffee offers their own coffee subscription.

Smart Ash – Organic All Natural Whitening Tooth Powder Sample ($2) : This powder has all natural ingredients that safely lift stains while simultaneously strengthening, remineralizing, and reversing sensitivity. Can be use every day as a toothpaste alternative. Ingredients include organic coconut shell activated charcoal, bentonite clay, organic mint extract, organic peel extract, certified organic frankincense. I wasn't sure at first if was going to try it, because of my very sensitive teeth, but it says it's good for reversing sensitivity. I finally gave it a try and it's not as bad as I thought! It's not grainy, you don't feel like you just put ashes in your mouth, and quick rinse remove all the blackish tint on your teeth. I didn't taste the mint that much, or the other extract, but that's ok with me. I hate when my toothpaste is so minty that I feels like my teeth are frozen. A little goes a long way, I was able to try it for a couple of days and it was nice.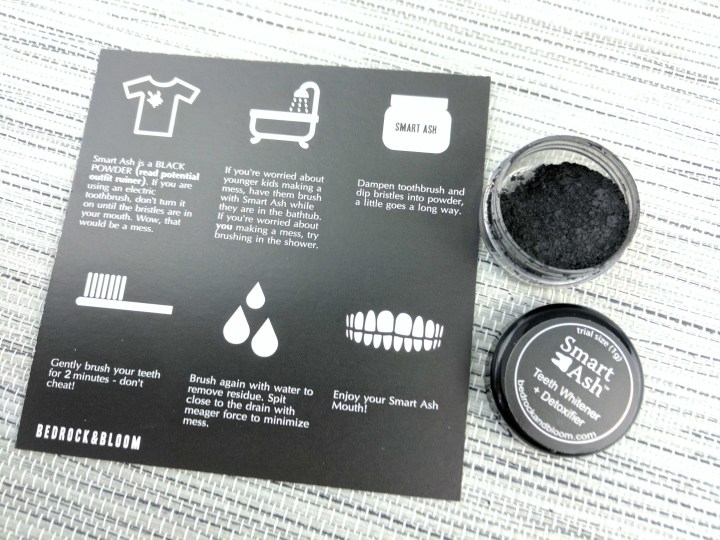 On the back of the card, there's instruction of how not to make a mess while using the ash. Of course, me being clumsy, and me not reading instruction on anything, I managed to put black ashes all over my grey mat. And on my pants. And on the white bathroom counter. At least, it's easy to clean of the last two. I still need to work on the mat problem!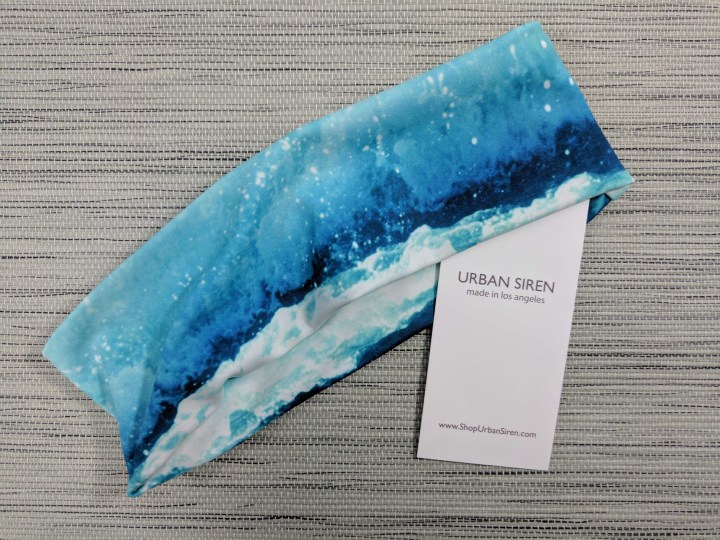 Urban Siren – Elements Headband ($12.50). Even if there was a website on the card for this company, it seems that I can't find anything about the company or this headband. The fabric is very soft and silky. I don't use headbands, but my niece claimed it already. She'll put it to good use!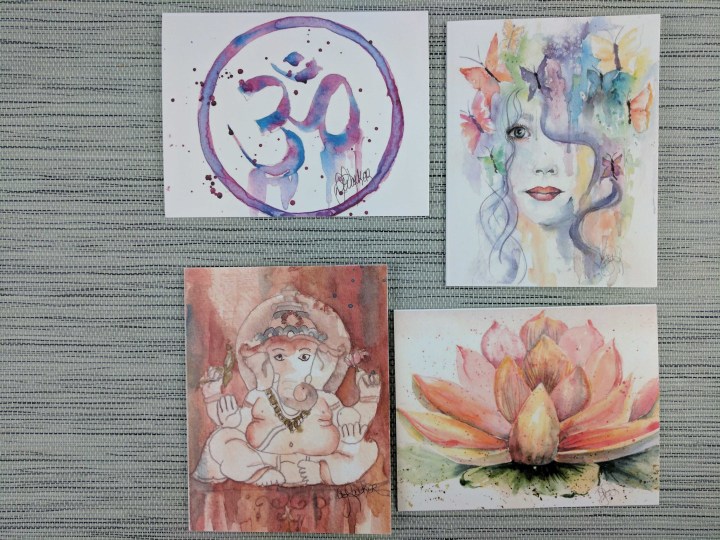 Purely Zen – Watercolor Cards ($16, 4$ each). Purely Zen owner Deborah's mantra: Know yourself, be yourself and love yourself, deeply and passionately! In an age where we communicate instantly, behind the screen of a computer or phone, we encourage you to go old school. Each comes with it's own white envelop and they would be perfect in any kind of situation, like for birthdays or for a "Get Well" message. I'm a big fan of anything paper, but I'm not sure if I want to send them away or if I want to frame them just yet! My favorite is the lotus, but they are all lovely.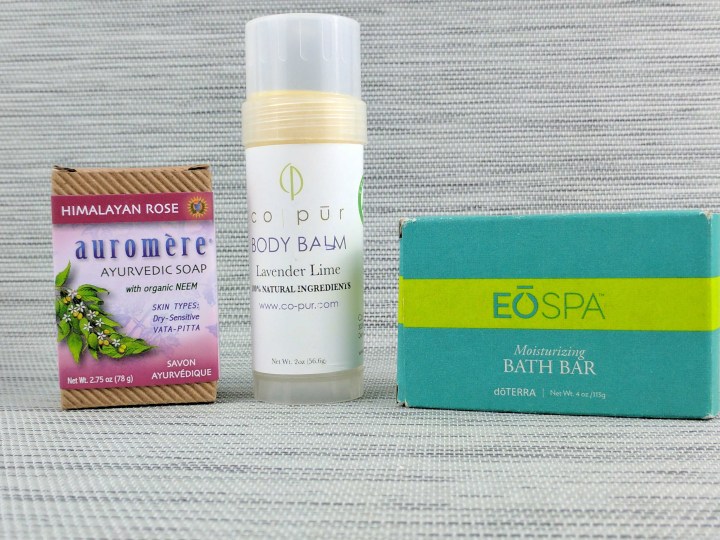 BuddhiBox Bonuses! November is BuddhiBox two years anniversary. To celebrate, they are surprising their subscriber with two exra goodies. They are favorites from past boxes.
Co Pu Lavender Lime Body Balm ($15). I don't like lavender, but this blend smells nice. The lime brings some oomph to it, and the texture of the body balm is divine! Made of coconut oil, beeswax, cocao butter, shea butter, lavender oil and lime oil, it is great for dry cracked feet, hands, elbows, as well as any part of the body craving moisture. I didn't wait to try it on my feet! It feels goooooood! Winter is harsh over here, so that will probably save my skin a couple of times. Although I learned the hard way to use it right before going to bed or putting on socks. This body balm can turn your wooden floor into freshly waxed ones. 
Auromère Ayuverdic Soap, Himalayan Pink ($2.95). The smell is divine! The rose petals scent is pretty strong, but it's well balanced and I just want to keep on smelling it all the time. The soap was wrapped in a waxy white paper and just look at the little sun there! I want everything to smell like that. This specific soap will help balance both Vata and Pitta Dorshas, bringing back Grounding, Warming, Routine and Cooling, Calming, Moderation into our life. And it smells good.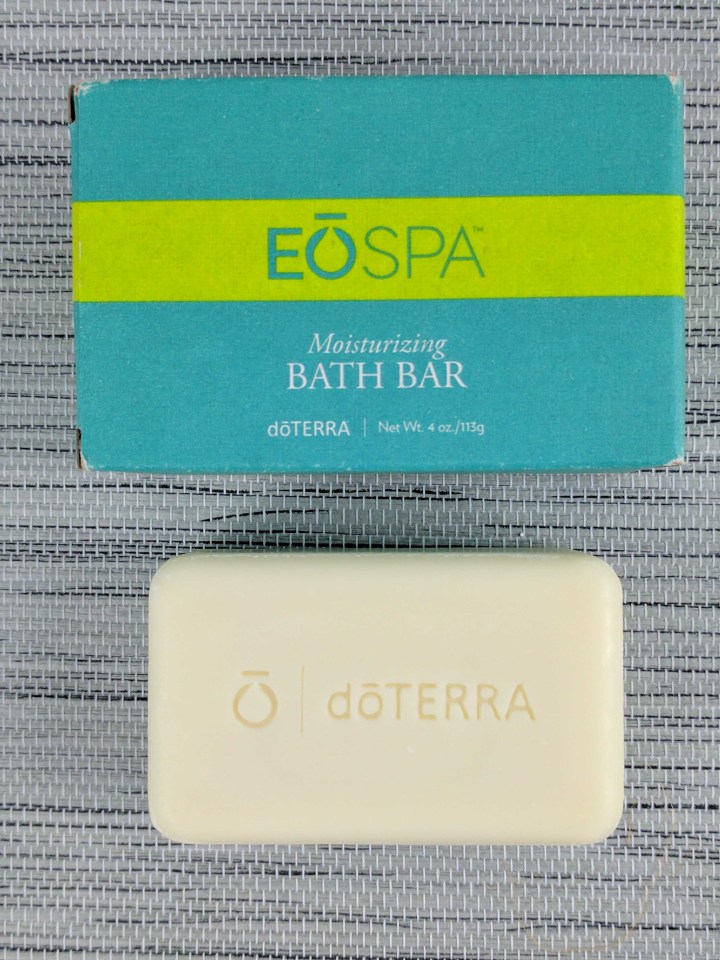 doTerra Spa Moisturizing Bath Bar ($9). Made with Jojoba seed oil, Grapefruit Peel Oil and Bergamot Peel Oil, this bar is so silky and smells freshly cut grapefruit. Right out of the package, you can feel the moisturizing power of this bath bar. I really love this product, is so luxurious!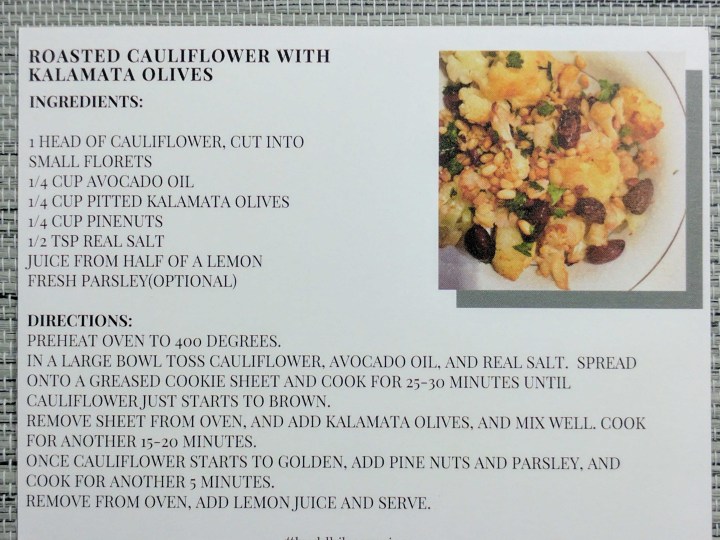 The box also includes a recipe by Lindsay LaPaugh, the Wellness Gypsy. I've only recently discovered the tastiness (awesomeness) of roasted cauliflower. It is seriously good. And easy to prep and cook. But I've been doing the same thing over and over again : oil, spices, roast in the oven. This was a welcoming addition to my lunch's recipes.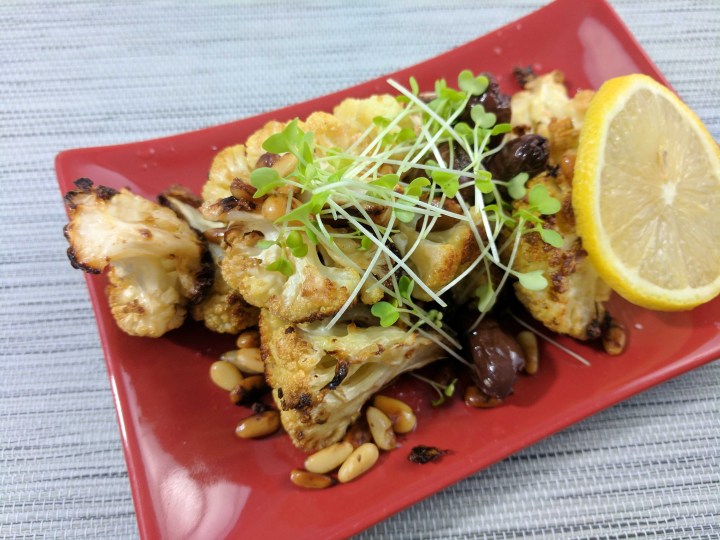 It was really, really good and easy to make! (I don't care for parsley, so I replaced it for radish micro-greens). I made it more than once already and served it as tapas with other dishes. I loved it!
Mayurasana Peacock Pose Card : Be a peacock and let your dreams float you above the clouds.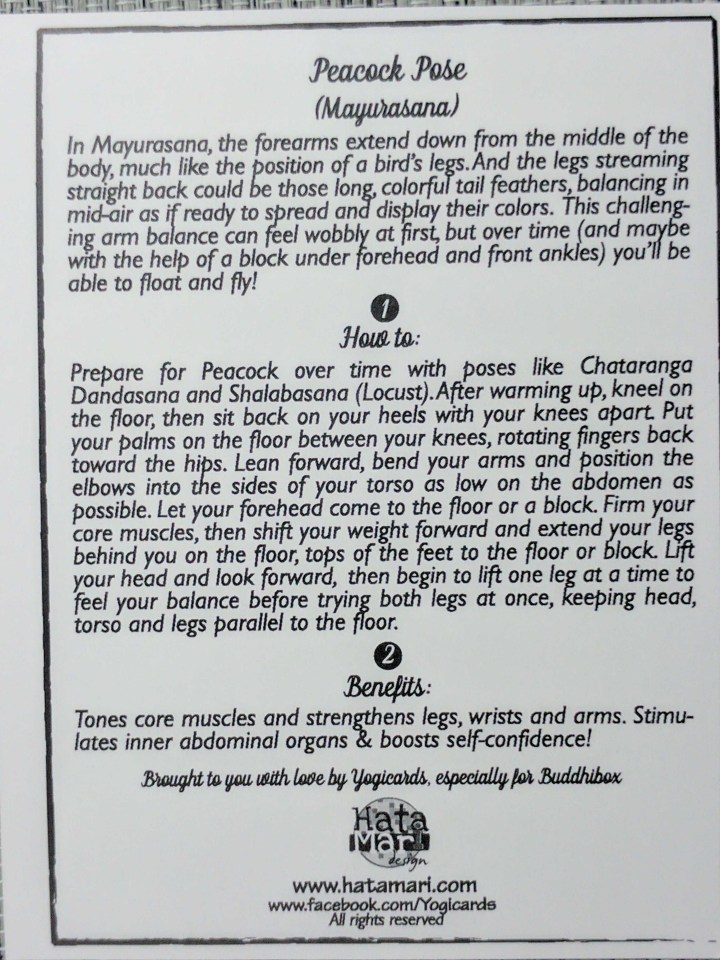 The back of the card explain how to get into that position, and the benefits of the position. I love getting these yogicards in the box. It gives a focus for the month, something to work on. I will admit that my arms are not my strength, but I'm confident that someday I'll be able to do it!
November's BuddhiBox has an approximate value of over $60 (including all the bonuses). Such a bounty! It was a pleasure to go through this box and try all the different items, I felt I was spoiled! This box was a nice mix of useful and fun items, and also acts as a discovery box for products helpful to your health and happiness. You really get something for the body, mind and soul. I also like that the box takes you a bit further with a recipe (that you can make over and over again) and with giving back to a charity (The Circuelle Foundation for November).
Namasté!
Visit BuddhiBox to subscribe or find out more!
[hsi_box_categories