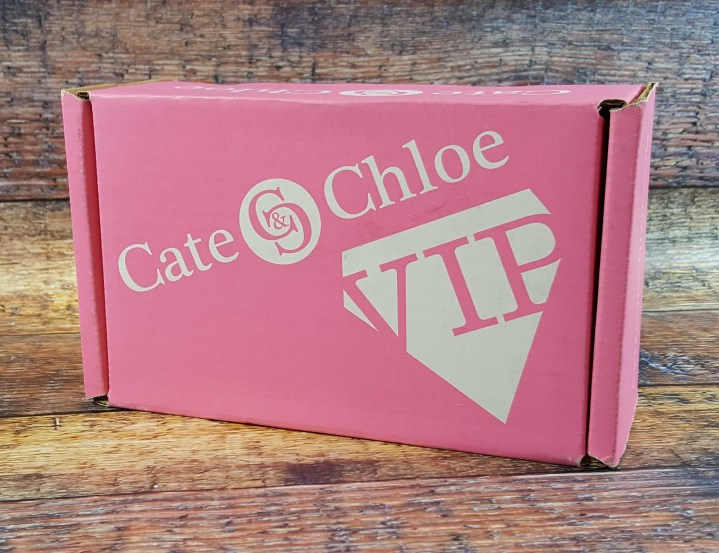 The Cate & Chloe VIP program is a jewelry subscription box delivered to your front door once a month. Each box contains on point and on trend Cate & Chloe pieces! Boxes are customizable and always come with extra goodies to keep our VIPs extra happy. To ensure that you get pieces tailored to your style, Cate & Chloe have a VIP Style Quiz to gauge your tastes. Choose between 3 subscription options starting at $19.99 – The Starter Package (1 item), Double the Fun (2 items), and Full VIP Status (3 items). The cost per box drops with extended subscription terms, so the longer the subscription, the more you can save!
Quick look at the VIP Style Quiz. You choose your favorite metals, colors, and looks to help stylists choose pieces that suit your personal style.
A peek into the December box.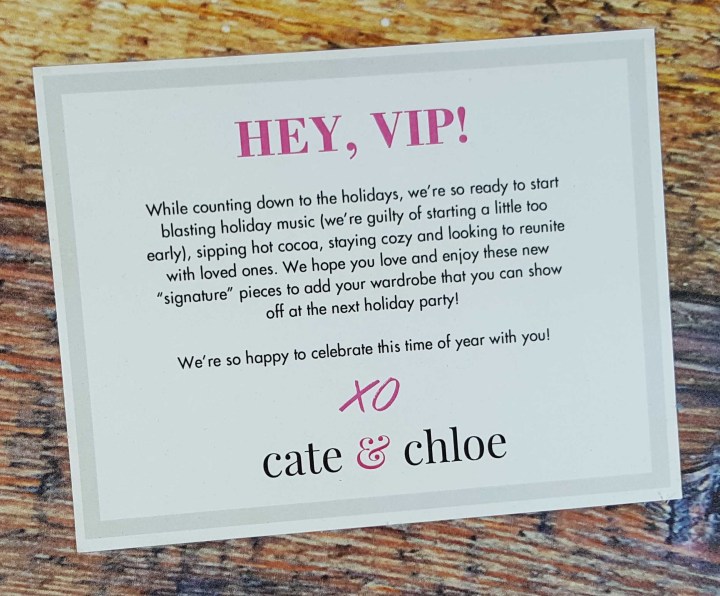 For December, Cate & Chloe is providing some signature looks to be worn for the holidays. Must mean that there's some sparkle in the box.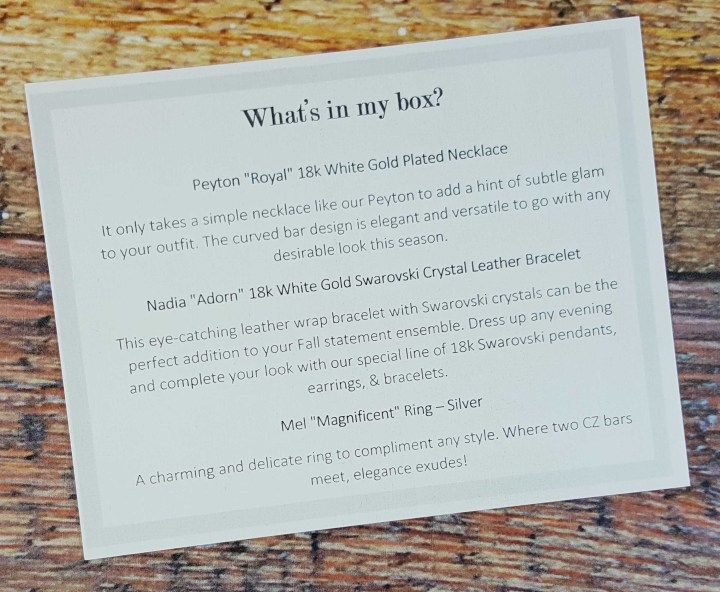 The information card lists each item and provides a brief description or styling tip for the piece.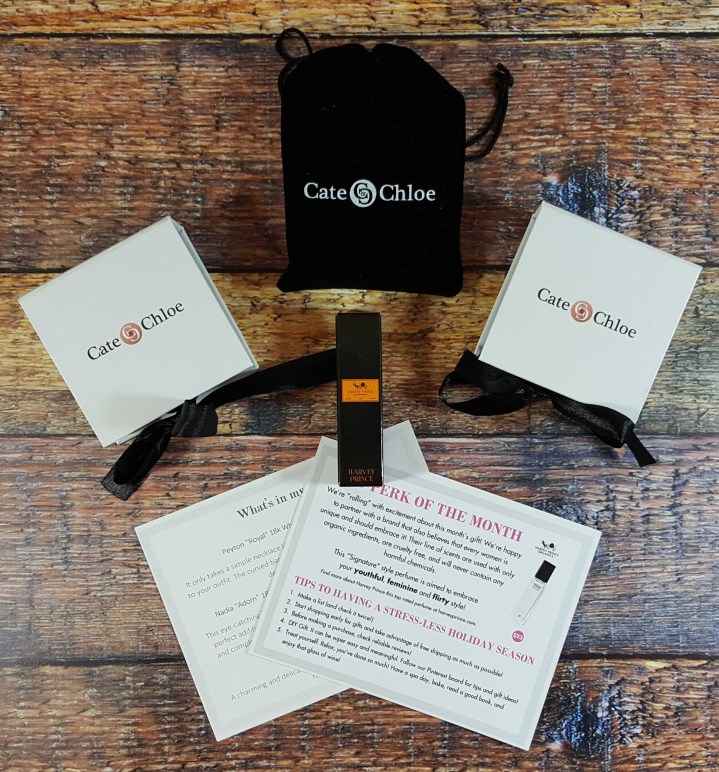 Here's my December Cate & Chloe boxes… I know, I shouldn't tease.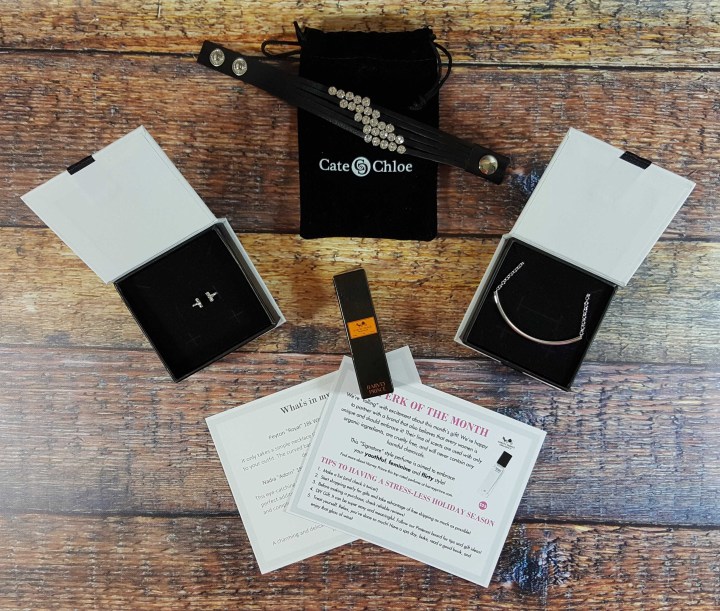 Everything revealed. I'm totally vibing on that leather bracelet!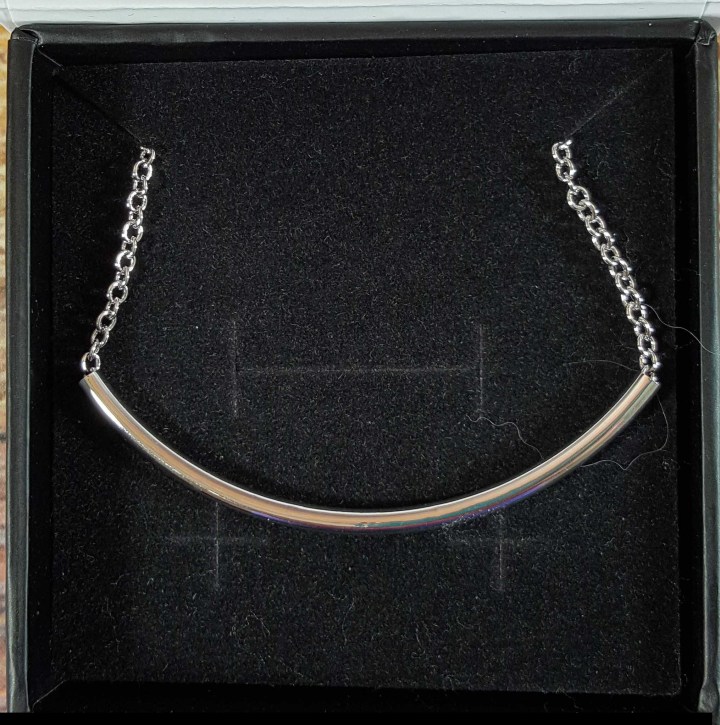 Peyton "Royal" 18k White Gold Plated Necklace ($59.00): It only takes a simple necklace like our Peyton to add a hint of subtle glam to your outfit. The curved bar design is elegant and versatile to go with any desirable look this season.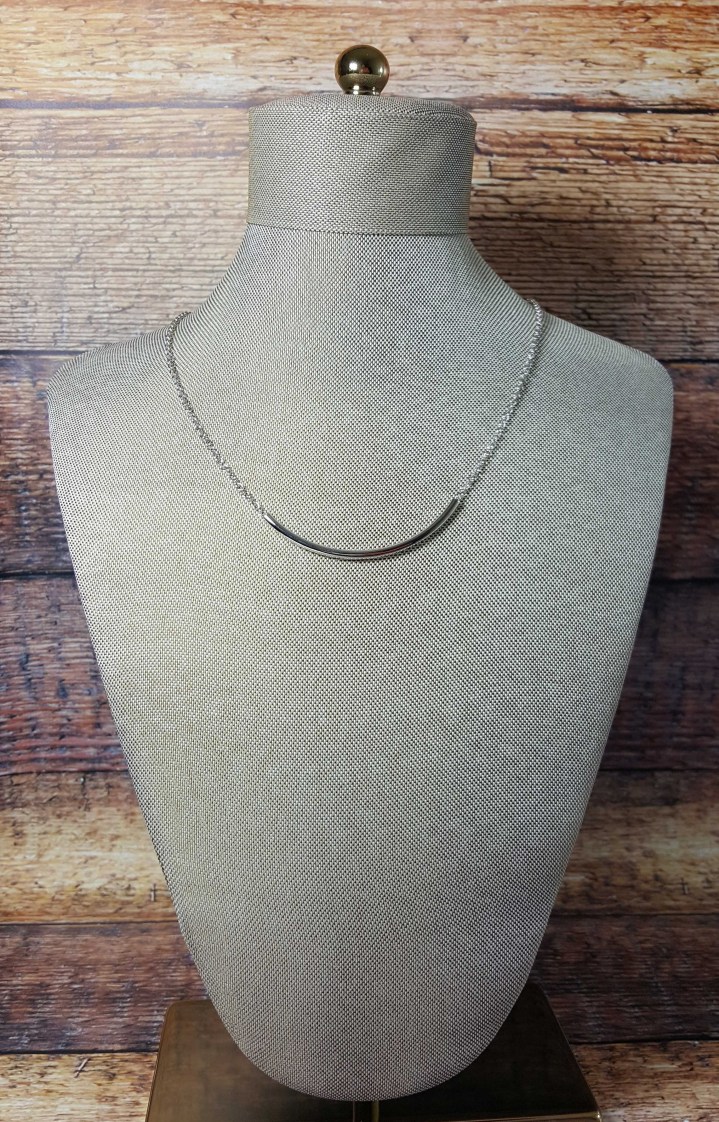 This necklace has a 7.5″ drop and features a simple, yet modern curved bar design. I feel that this is a good "everyday" necklace. It is easy to pair with a variety of looks and won't compete for attention if you're wearing another statement piece.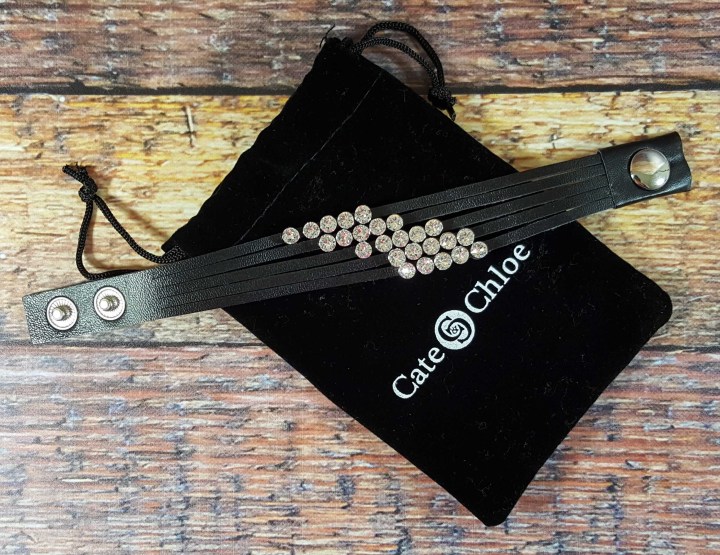 Nadia "Adorn" 18k White Gold Swarovski Crystal Leather Bracelet ($155.00): This eye-catching leather wrap bracelet with Swarovski crystals can be the perfect addition to your Fall statement ensemble. Dress up any evening and complete your look with our special line of 18k Swarovski pendants, earrings, & bracelets.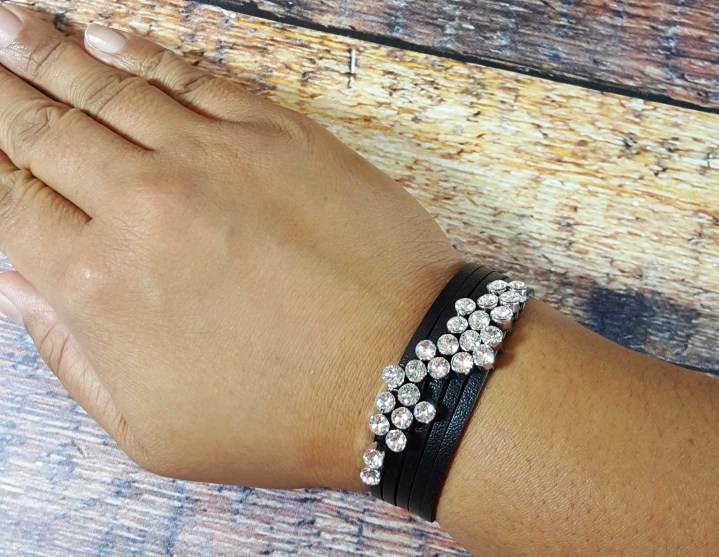 This bracelet is a beautiful combination of girly and edgy. It features 25 Swarovski crystals set in a white gold base. I realized after I took the pictures that the stones are meant to be spaced out across the bands. Oh well. I say wear it however you feel. While I love this bracelet, I do think it is a tad over-priced when compared to similar bracelets at Swarovski.com, Macy's.com, and SaksOff5th.com.
Mel "Magnificent" Ring – Silver ($49.00): A charming and delicate ring to compliment any style. Where two CZ bars meet, elegance exudes!
This ring has rows of CZ stones along the bars and part of the band, giving lots of sparkle. I have really fat fingers and this only fit correctly on my pinkie. I could have stretched the opening, but I think the ring would have lost some of its charm. The nice thing is that it is delicate enough to be worn as midi/knuckle ring. This is also available in a yellow gold tone.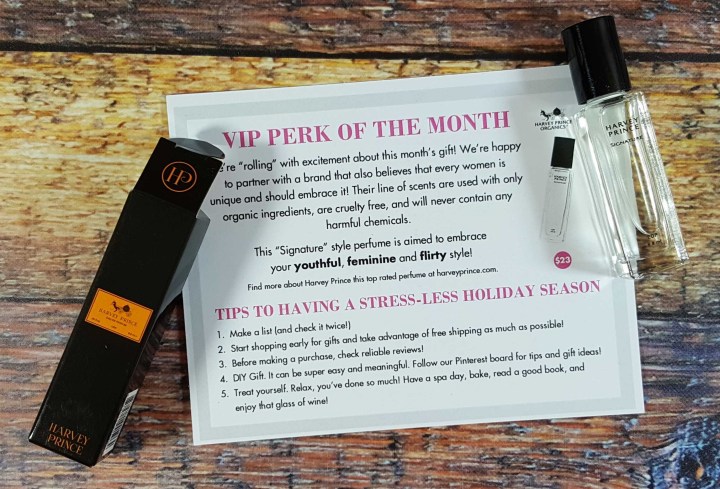 Perk of the Month – Harvey Prince Signature Mini Roller ($23.00): Harvey Prince always has the best descriptions of their fragrances, so I'll let them describe it for you. The scent is a little heavy at first but mellows as you wear it.
Your Signature Scent.
Your personality says a lot about who you are and so should your fragrance. Harvey Prince Signature perfume is designed to get you noticed. Designed to be your "signature" fragrance.
You wear perfume because it makes you feel beautiful and brings people close to you. As you confidently ride the elevator to your next appointment, a gorgeous, classy woman quietly asks, "What is that incredible scent you're wearing? I must have it!" Coming from her, it is the ultimate compliment.
You step into a meeting at work and notice the men noticing you. That's the power of Signature. It draws people in. It starts a conversation. It brings you compliments. It uplifts and energizes you. Signature does the flirting for you.
Youthful pink grapefruit, feminine tuberose and jasmine, alluring amber, flirty patchouli, and energizing citrus combine to create one exhilarating fragrance that is sure to become your favorite.
Notes: Fresh Citrus, Japanese Mikan, Pink Grapefruit, Hawaiian Jasmine, Sacred Lotus, Rajnigandha (Tuberose), Japanese Honeysuckle, Exotic Amber, Madagascar Vanilla, & Sexy Patchouli.
Style: Youthful. Feminine. Flirty.
The December Cate & Chloe VIP box had a value of $263 in jewelry. If you add in the Harvey Prince rollerball, the total increases to $286! Talk about a steal. I think I made it clear that the Nadia bracelet was my favorite piece. It makes me feel a bit like a motorcycle mama and a bit Jackie O. all in one.  LOL.
I can't wait to see what new pieces will come my way in 2017!!! Have you tried out Cate & Chloe VIP box? Let me know your thoughts!