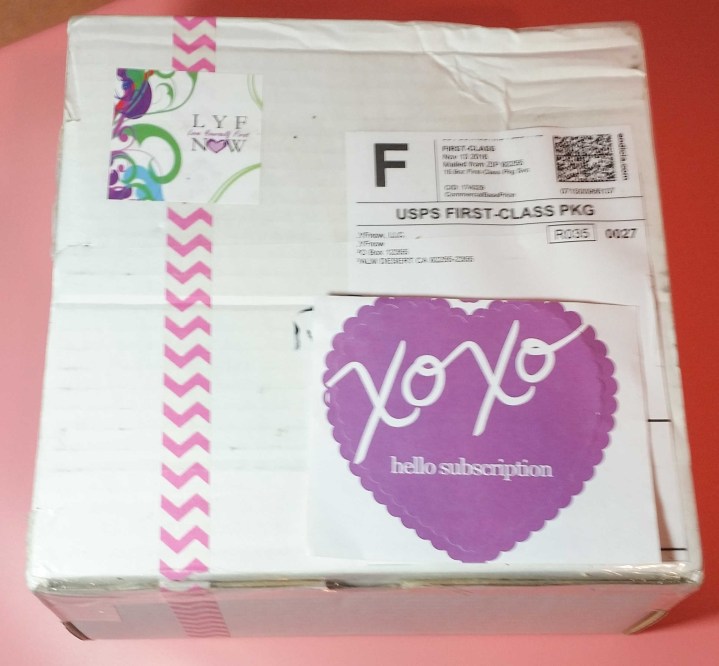 LYFnow (Love Yourself First now) is a monthly subscription box aimed at young women (14+), providing a "fun and inspiring monthly reminder to love yourself first." Each box will contain 4-6 fun, exciting, and functional items that will "inspire and guide young women to be the best they can" by loving themselves first. The subscription cost is $29/month, with discounts for prepaying for multiple months.
As always, I reviewed this box with the help of my teen and tween daughters (aged 11 and 14).  Let's see what is in the November box!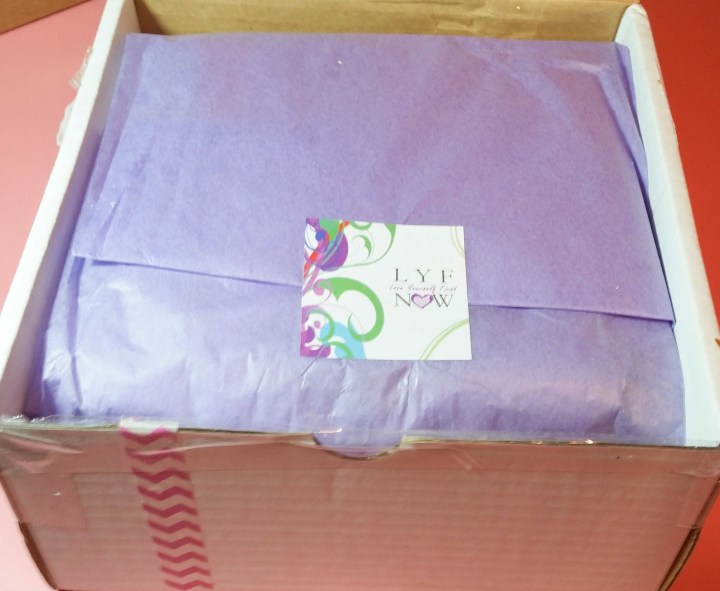 DEAL: Save 20% on your first box! Use coupon code HELLOLYF.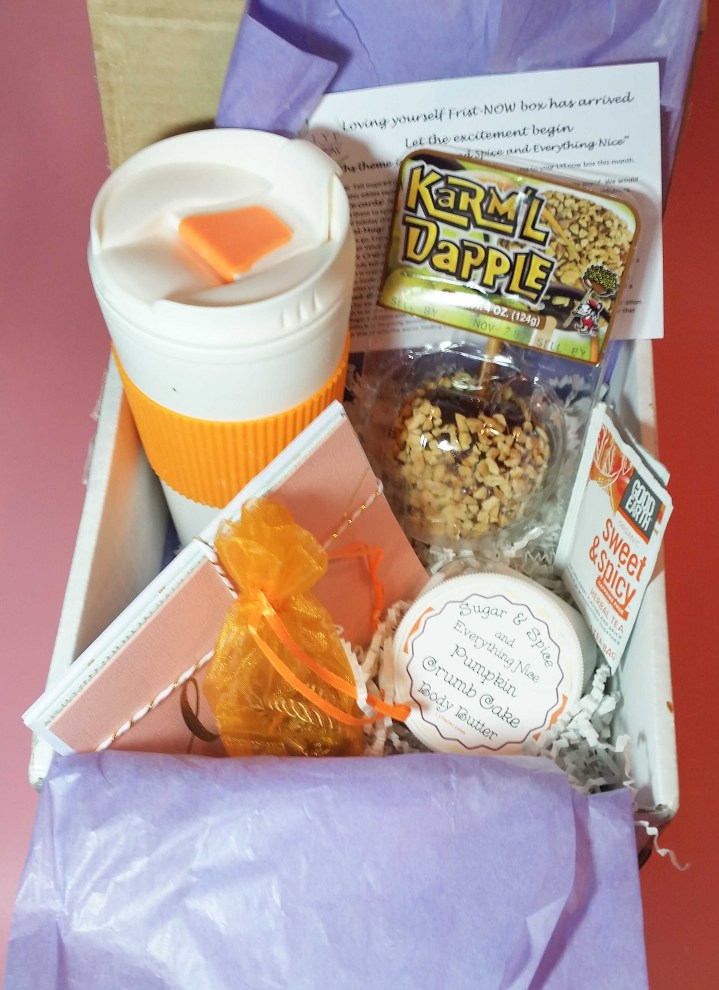 Here's a look at everything in the November box. The orange colors, coupled with the caramel apple/sweet and spicy/pumpkin items, just scream FALL! What an awesome mood for a November box!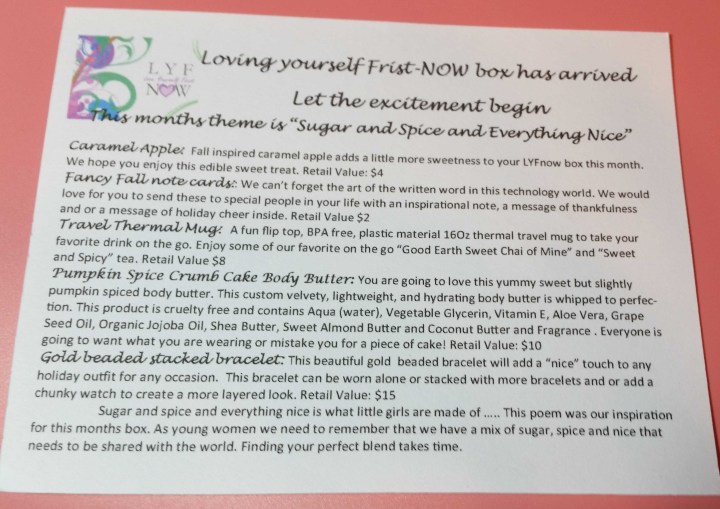 This month, the theme is "Sugar and Spice and Everything Nice" – a perfect theme for fall.  Each month, the information card lists the items from the box, their retail values, and some suggestions for using the items.  Additionally, throughout the card, there are positive messages – an important part of the LYFnow.
Caramel Apple ($4):  So this box is where we learned that I have been depriving my daughters their whole life. They have apparently never eaten a caramel apple. Ever. Which is really strange because I love caramel apples myself – I guess I just generally don't buy them. My older daughter is skeptical, but my younger daughter can't wait to try it out. I hope she ends up loving them as much as I do. Such a fun fall treat!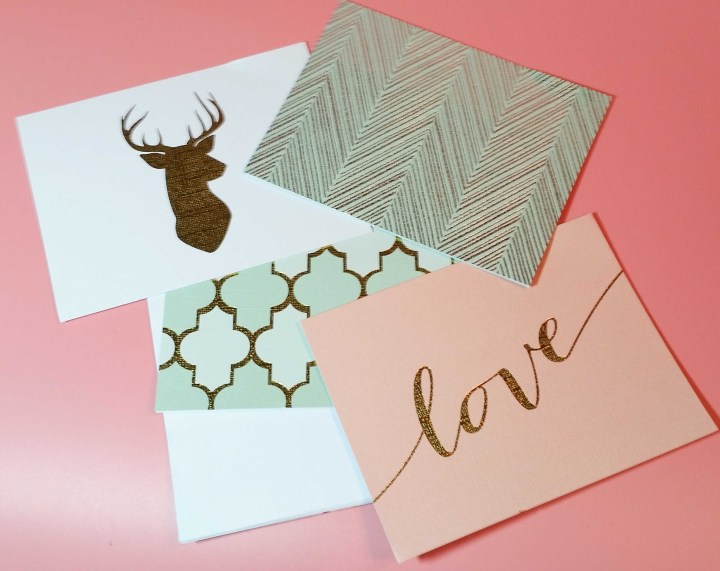 Fall Notecards ($2): I love when teen/tween subscription boxes include note cards. As the LYFnow information card notes – we shouldn't forget the art of the written word. Although both of my girls are permanently attached to their phones/iPods, they also understand the value of a handwritten card. And they just loved these – their favorites were the love card and the deer. Keeping card writing alive helps make sweet girls…so this was a perfect item for this box.
Thermal Travel Mug and tea! ($8): This is a nice travel mug – good sized at 16oz, plastic, BPA free, and with a fun flip top. Although my older daughter wished the color wasn't orange, she really was excited about the mug. (The orange is so perfect for fall, but she prefers blue and green.) Also, the tea bags add to the fun – I'm especially amused by "Sweet Chai of Mine"… which caused my daughters to bust out with a little Guns N' Roses this morning. Yep – raising them right. They can sing at least the choruses of 80s rock songs. Most excellent children, if I may say so!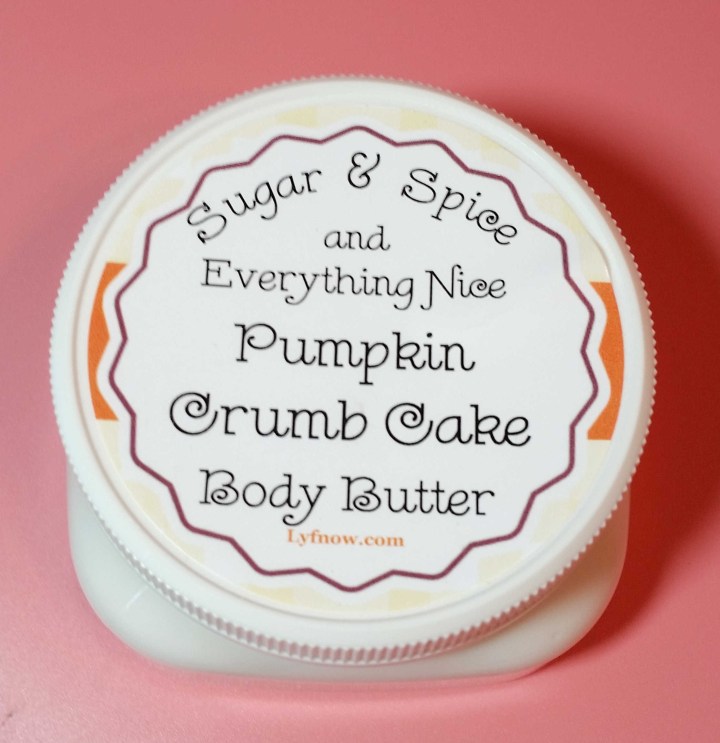 Pumpkin Crumb Cake Body Butter ($10): This product smells A-MAAAAA-ZING. Although the information card says that "everyone is going to want to know what you're wearing or mistake you for a piece of cake," we joked that someone may go so far as to lick my daughters' hands when they are wearing this. It smells so good. I do have one small gripe, as I did last month as well – I'm not a huge fan of beauty products without labels, as this one is. LYFnow does list the ingredients on the information card, which is helpful (and it's all good stuff that I don't mind my daughters putting on their skin), but I wish that the ingredients also appeared somewhere on the packaging, as the information card will inevitably be thrown away before the body butter gets used up.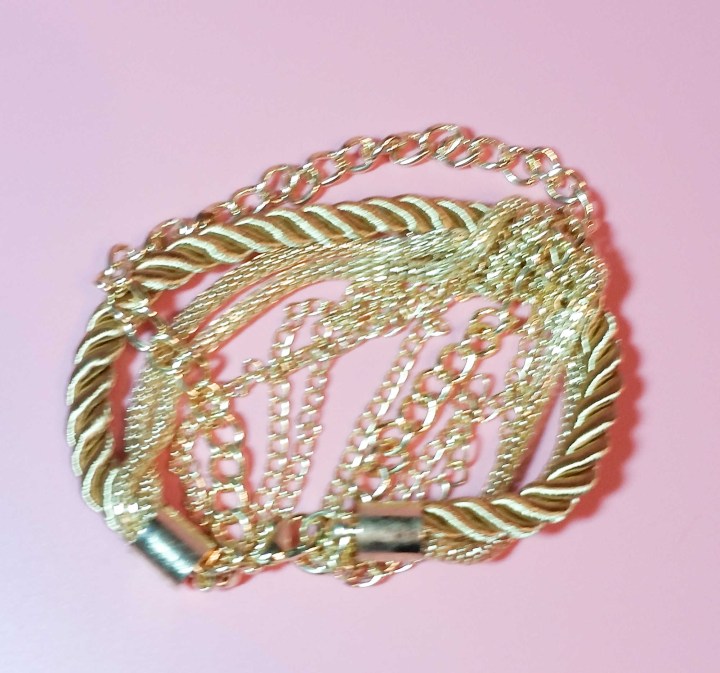 Gold Beaded Stacked Bracelet ($15): Hmmm, I wouldn't really consider this a "gold beaded stacked bracelet" as advertised on the information card. I mean, it's really pretty and it's gold, but it's a bunch of different types of linked bracelets put together – some thin, some medium, and then a thick rope link – all together on one clasp. (This photo really doesn't do it justice, but see it in action on my daughter below.)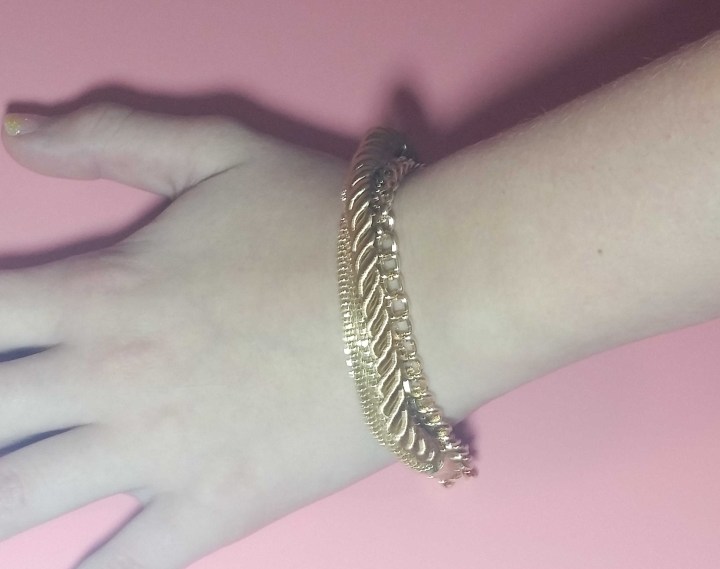 And here is my younger daughter modeling the bracelet. The girls thought it was probably too fancy ("too much" in their words) for everyday use, but with the holidays and the accompanying "dress-up" events, I imagine it will get some use this fall and winter.
Another month, another great box from LYFnow. The girls liked (and will use) all the items in the box, and all the items were perfectly tied to the theme… not only that, but all of the items are also perfect for the season! LYFnow provides fun, useful, and age appropriate items, along with a sweet, positive message that the girls can really buy into. Young teen girls (and their moms) will probably really like this box!