CampusCube College Care Package is a subscription box that delivers treats to your babies who have left home to start a new chapter in their lives at college. As a slacker busy working mom, I don't have time to run around gathering care package items for my daughter (who I see every other week anyways since she's only 90 minutes away) but now I have someone to do the picking and packing for me, at least until I get a day off so I can do it myself. CampusCube offers a version for boys or girls and I, or rather, my freshman daughter, will be reviewing the items from the Girl's October Fall Cube.
CampusCube is $44.99 for a one-time box and includes FedEx Ground Shipping. They ship six times a year: September, October, November, February, March, and April. If you want the next 3 boxes the price drops to $34.99 per box, or get the next 5 boxes and pay $31.99 each.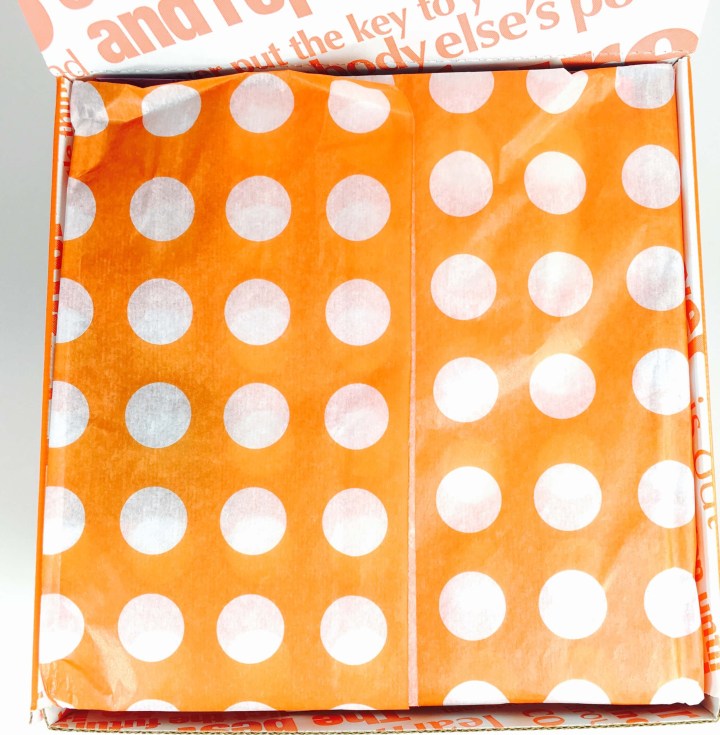 DEAL: Take $5 off your box! Use coupon code  Hello5.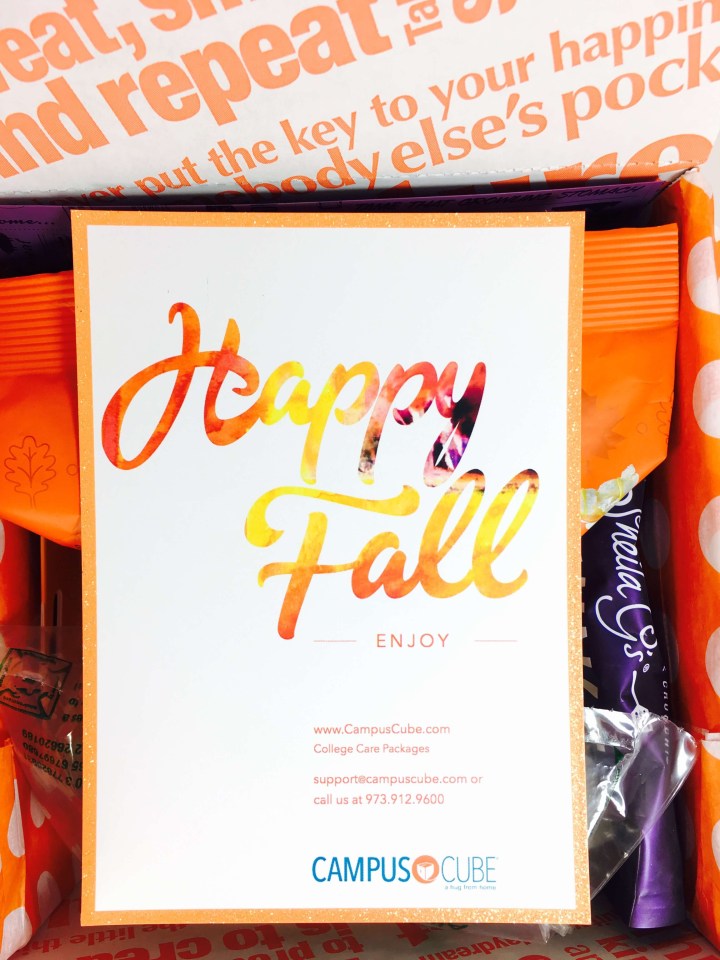 There was a card on top that gave a support number that your student can call if there is a problem with their box. You can opt for a gluten-free box for your student and there's a Birthday Box option as well.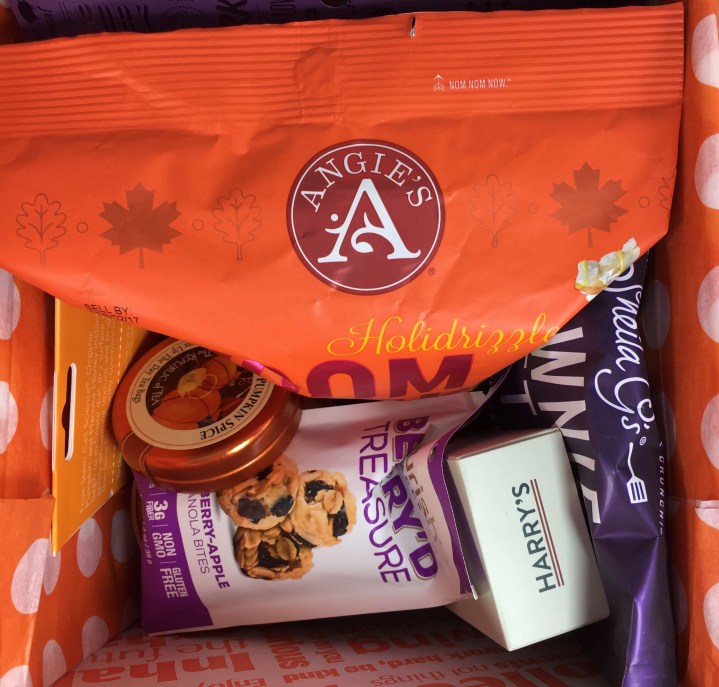 I thought the presentation was very nice! Everything coordinated well and the box itself can be up-cycled into storage for the dorm room!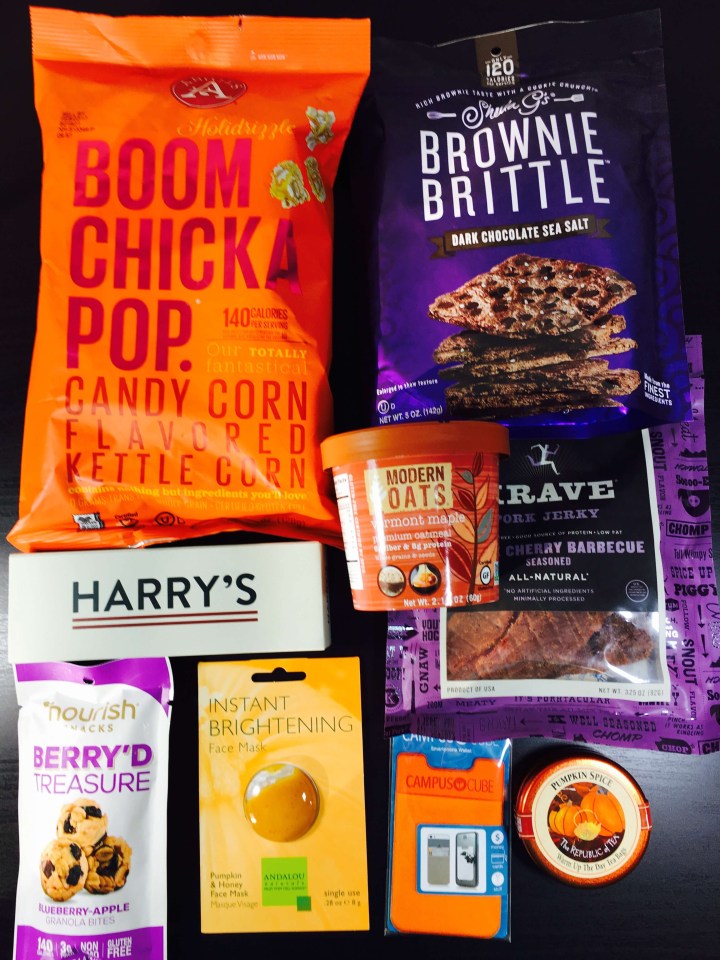 Everything in the box! The first box includes a razor and smartphone wallet. CampusCube does a great job of telling you exactly what will be included in the current shipment and only shows you the boxes that are available for the rest of the current school year. In fact, you can look at their website to see what will be in the boxes in the coming months!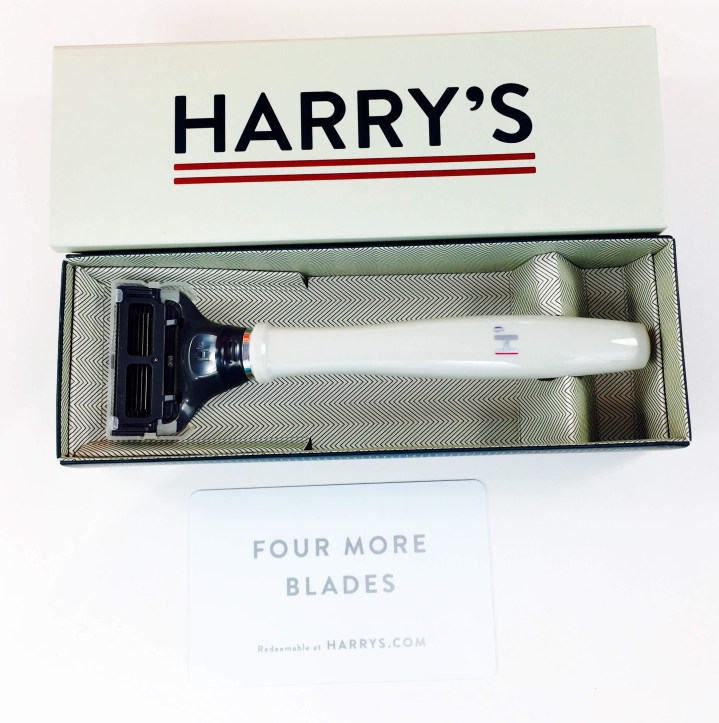 Harry's Truman Razor Handle with 5-Blade Cartridge ($9) was in this first shipment and there was a card with a code redeemable for four more Harry's Blades ($8) included. My daughter has already ordered them!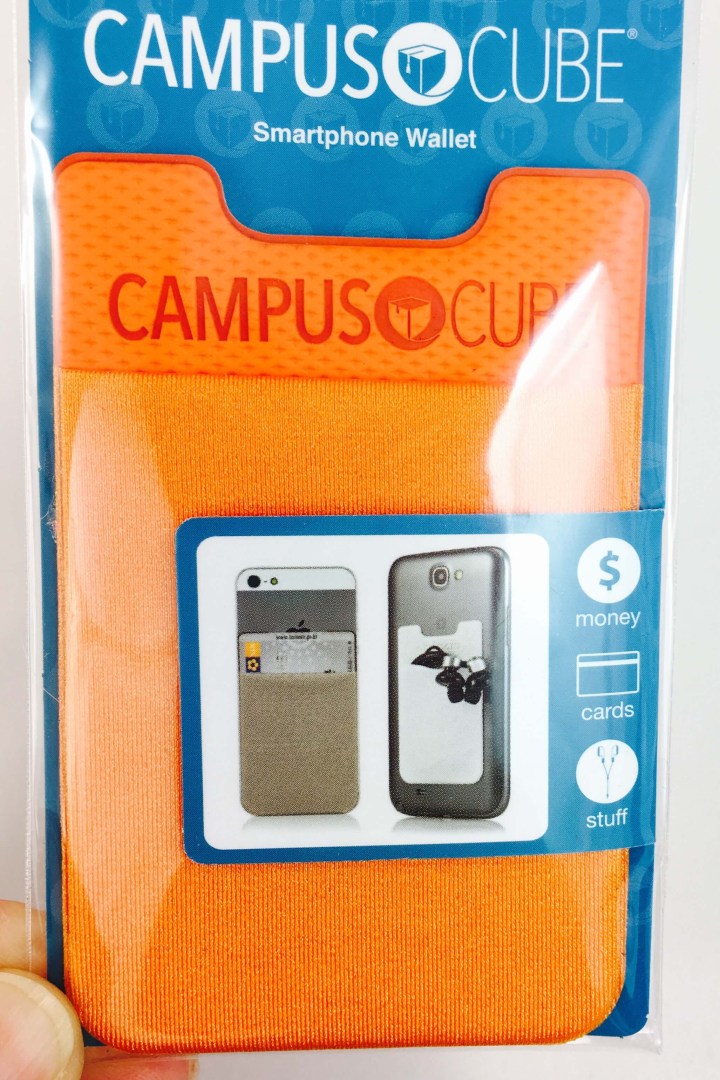 Also in each initial box is a Sinji Pouch Smart Phone Card Holder ($9.99), an adhesive-baked wallet that attaches to your cell phone and lets you take your cards or money along without having to carry a wallet.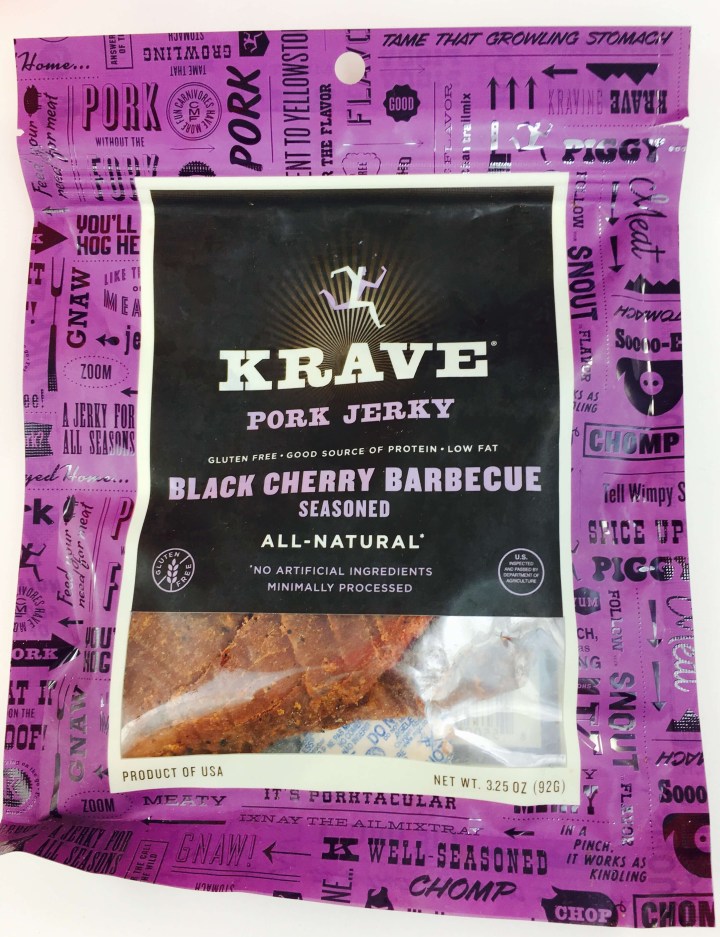 Gemma is borderline vegetarian so she left the Krave Black Cherry Barbecue Pork Jerky ($7) behind for the rest of us to enjoy. It is sweeter than any jerky I have ever tasted before and it is all-natural and free of preservatives and MSG.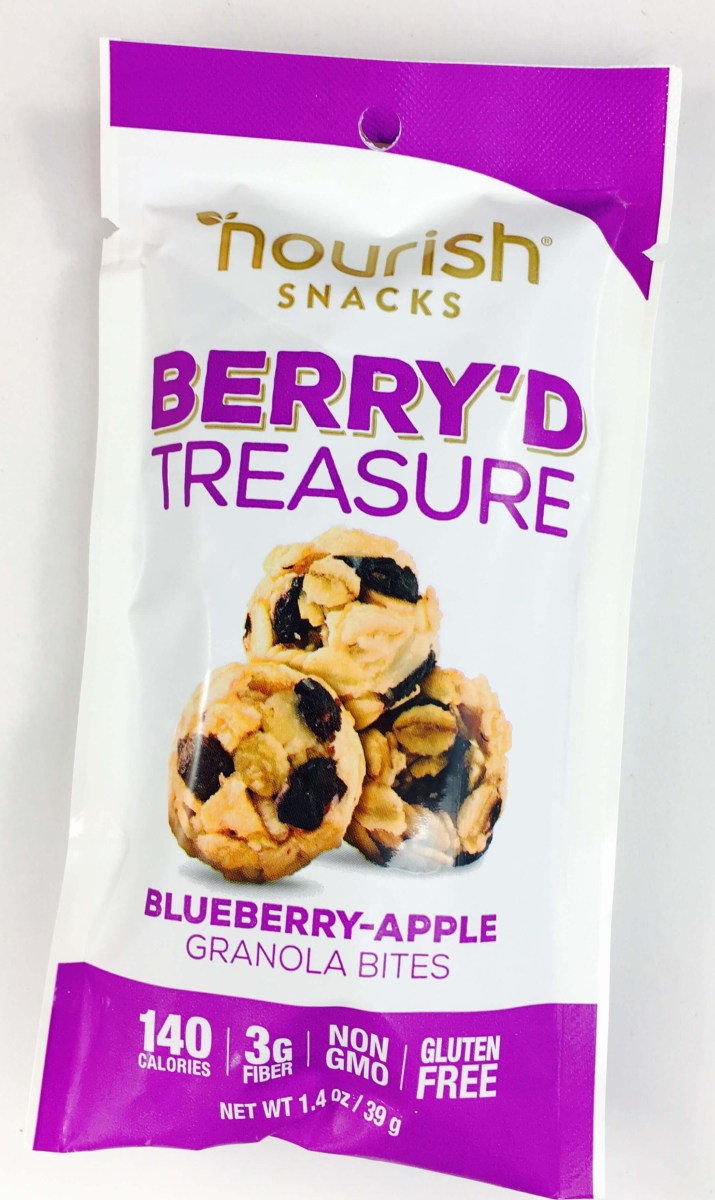 Gemma's first update was about Nourish Snacks Berry'd Treasure Blueberry-Apple Granola Bites ($2). At first, she simply said she liked them. I said I needed more info, so she said there wasn't enough clusters and that most of them were broken so it was like eating straight granola. They weren't too sweet or bitter and she liked the apple flavor plus she was happy that they were free of GMO's.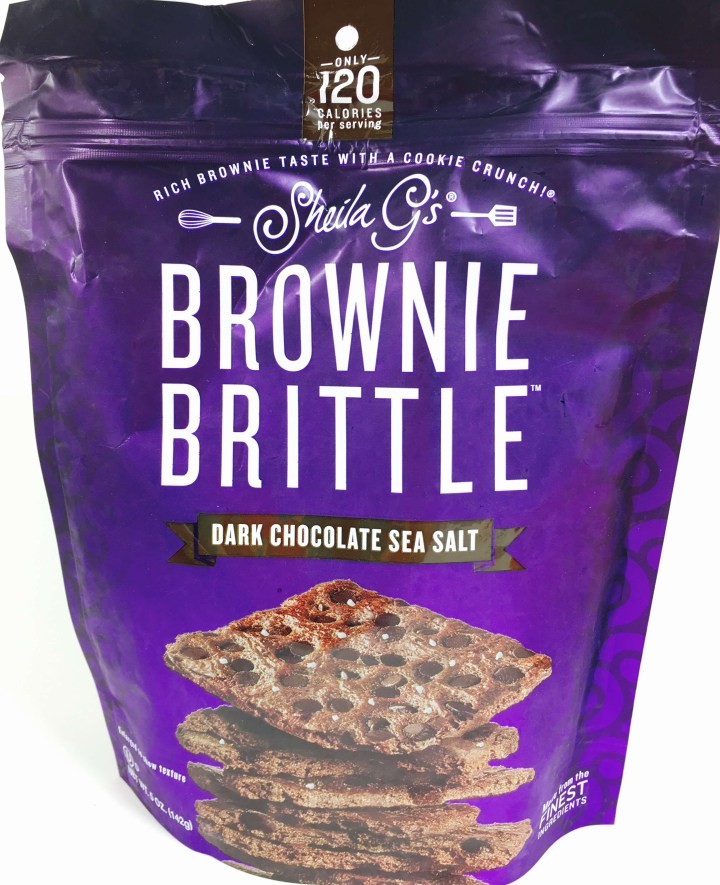 Every once in a while, Gemma will send a text to let me know about her treats. She said she ate Sheila G's Dark Chocolate Sea Salt Brownie Brittle ($3.99) for dinner and that she could taste the crystals of sea salt within them and they had a rich chocolate taste.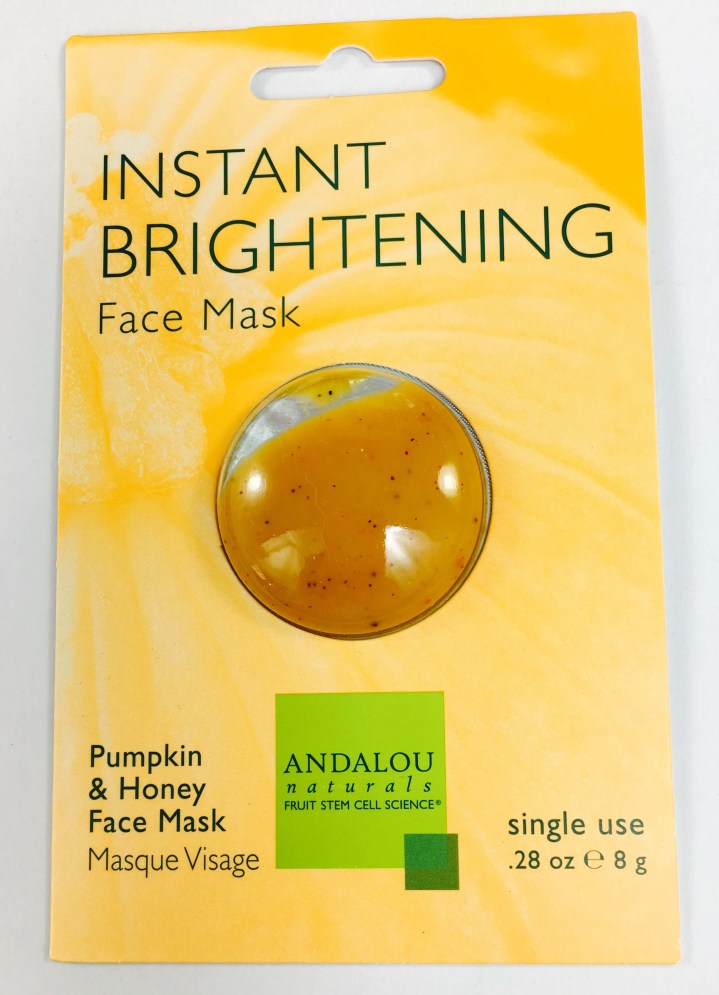 I received the Andalou Naturals Instant Brightening Face Mask ($3.69) in a different subscription box last month and while it burned when I put it on, it smelled good and left my skin looking vibrant. Pumpkin purée and manuka honey provide the exfoliation power here. Gemma said it was a big no-no. She said it burned but smelled good and it was evil in disguise. She only managed to keep it on for about 15 seconds and then washed it off.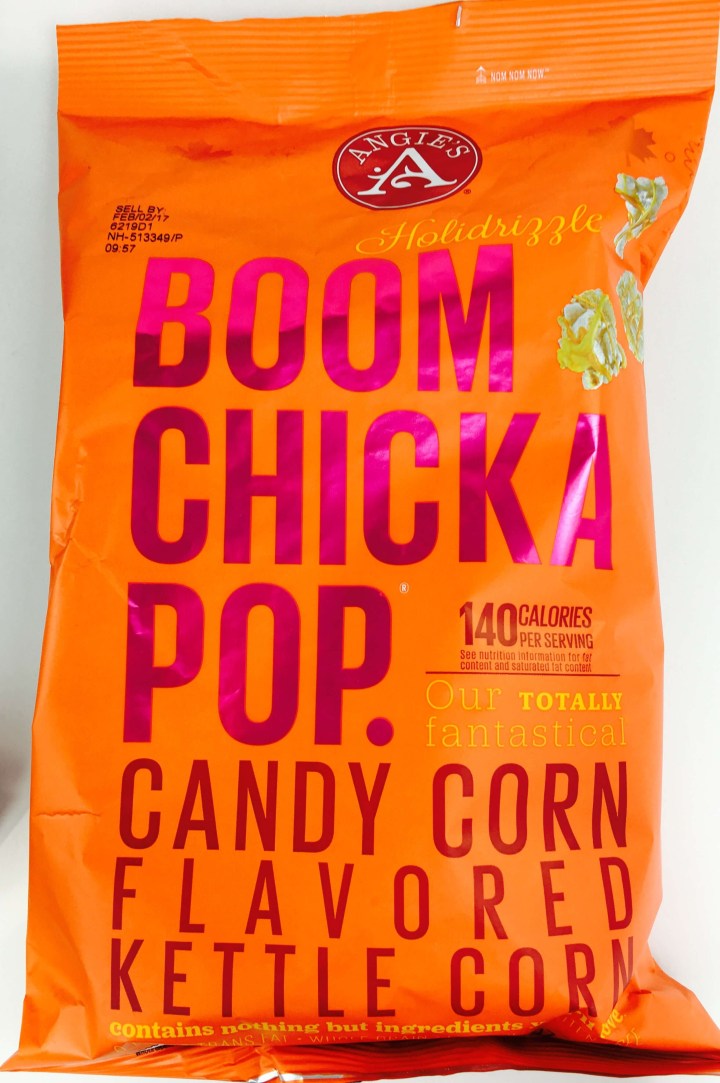 Boom Chicka Pop Holidrizzle Candy Corn Flavored Kettle Corn ($4.99) smelled really good and tasted like kettle corn. I'm going to have a look around at my local stores and see if I can find some too!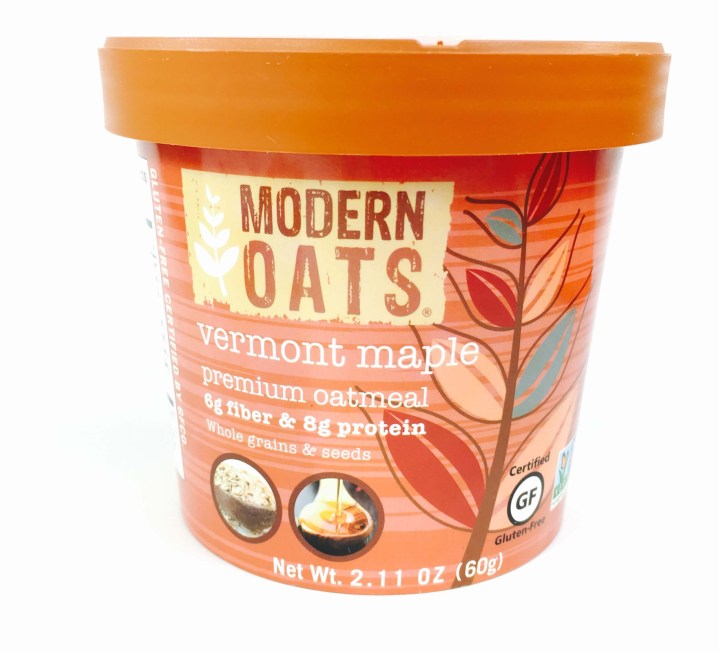 My daughter didn't have a way to heat the milk for Modern Oats Vermont Maple Premium Oatmeal ($3.50) so she ate it cold. She said it was GOOD and that we have to buy more, plus she liked the fact that it's non-GMO, gluten-free, and vegan. It had yummy pumpkin seeds and a nice, syrupy taste and wasn't dry at all.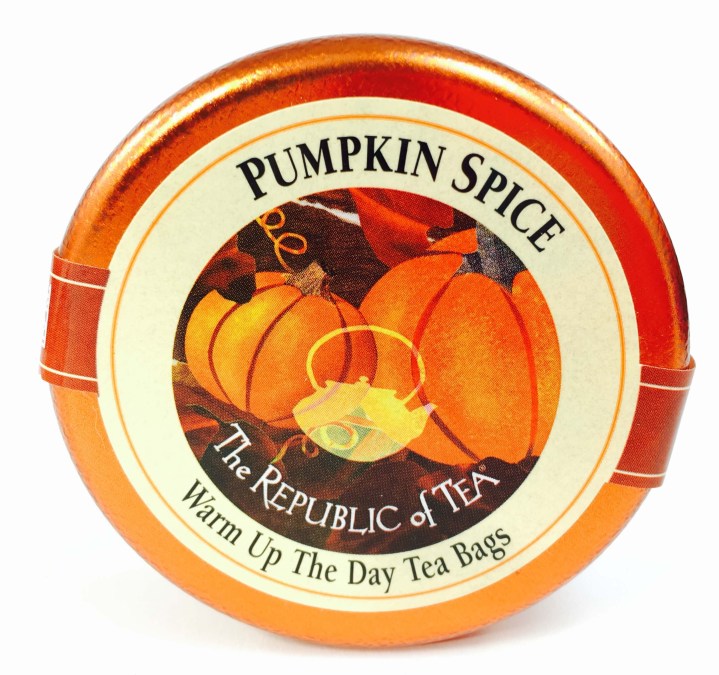 The Republic of Tea Pumpkin Spice Black Tea Bags Travel Tin ($4.50) tasted like tea and was good with warm milk. Gemma told me to feel free to add in adjectives such as "pungent aroma" and "smells like autumn."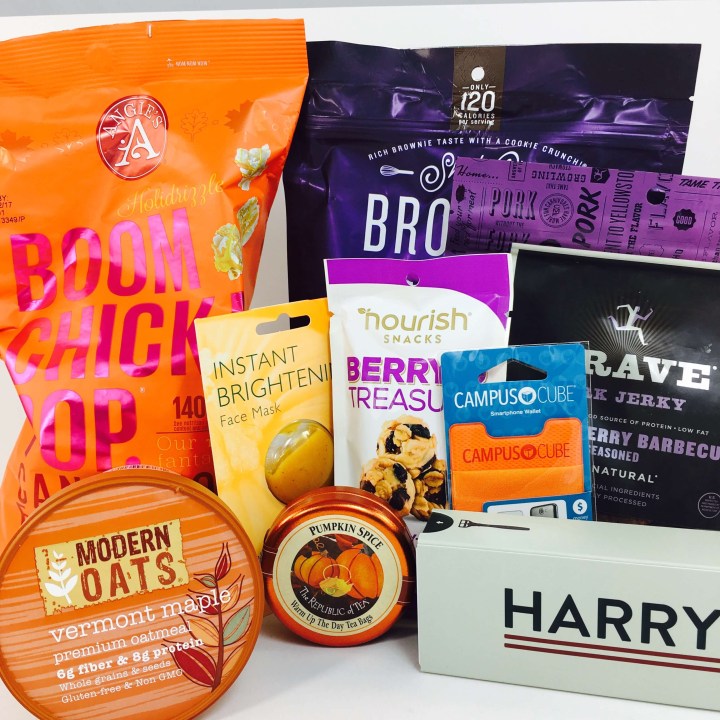 I think it's safe to say that this mom (and especially her college student daughter) loved CampusCube! What a wonderful care package of helpful items, delicious snacks, and pampering self-care treats! Gemma was so happy to take this to her dorm and told me she and her roommate were excited to test everything out. Everything was perfect for this time of year, too. This box had a value of $57 so I feel it's worth the price, plus I didn't have to knock myself out trying to run around curating a seasonal box on my own.
What do you think of CampusCube? Let me know what types of items your student likes to receive in the comments!
Visit CampusCube College Care Package to subscribe or find out more!