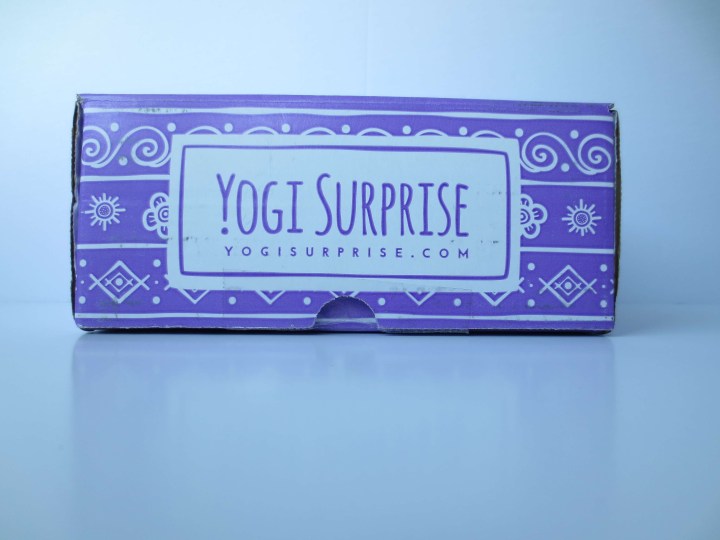 Yogi Surprise is a yoga-inspired monthly subscription box designed to complement your way of living. Each monthly box contains 6-8 products picked by experienced yogis to complement your yoga practice and your life!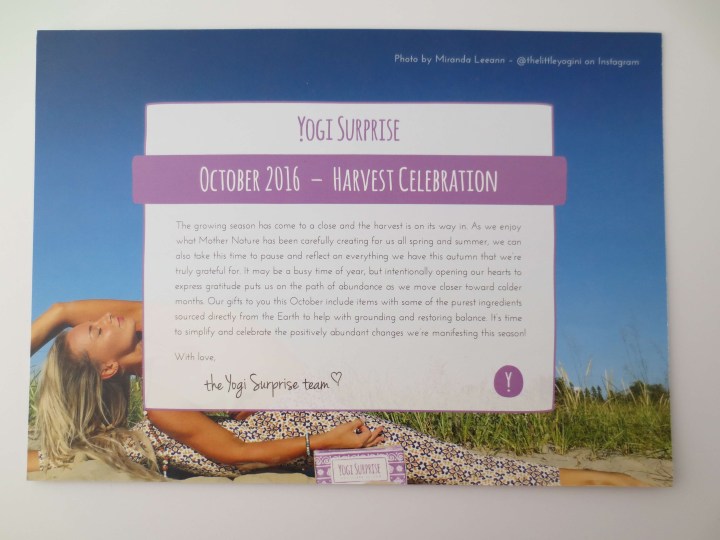 October's theme is Harvest Celebration. It is time to pause and reflect on everything we have that we are truly grateful for. The items were chosen to help with grounding and restoring balace. We all need it before being hit by the Holiday Season!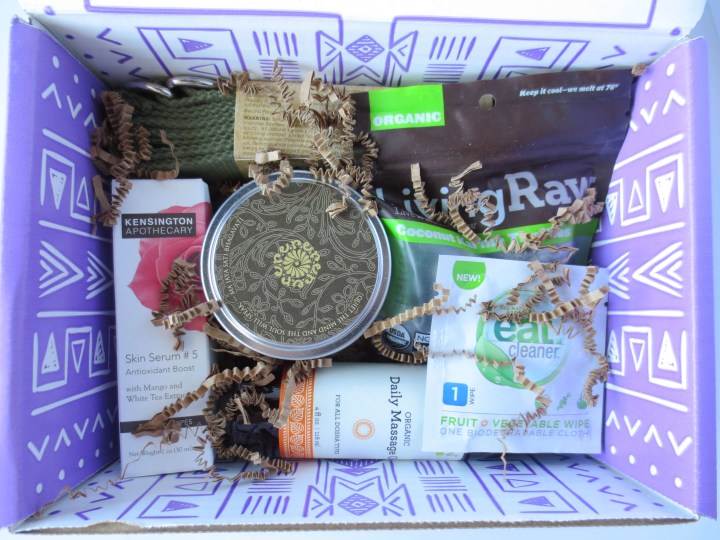 Under the card and a lot of packaging wiggles, the smell is so nice and bright! There's even a book underneath!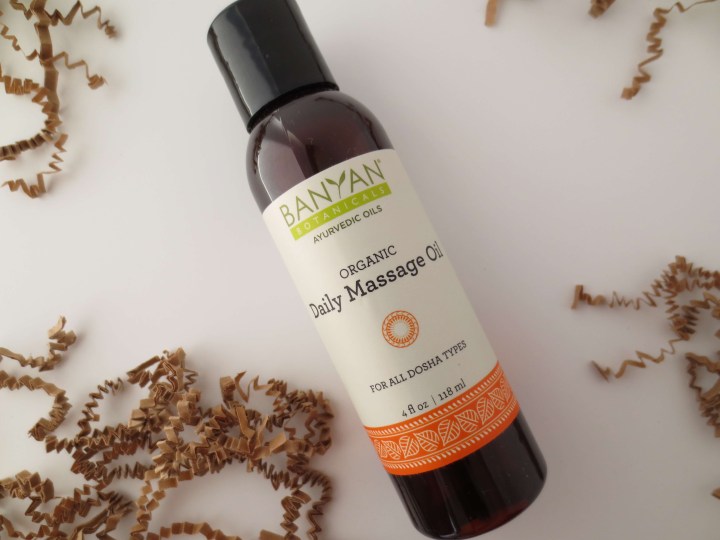 Banyan Botanicals Daily Massage Oil ($13). This oil is to be used in a full body self-massage. This is a "go-to" massage oil to balance all three of the doshas in Ayurveda. It is a blend of sesame, coconut, and sunflower oil, as well as herbs (Gotu Kola, Guduchi, Balar, Lavender flower, etc.) All the ingredients are certified organic. The scent is very subtle, almost woodsy and sweet. I don't like lavender scents, so I was afraid of it being overwhelming, but it's well blended with everything else and I had no problem trying it. The oil is very smooth on the skin, the smells is very faint once on the skin, and doing the whole self-massage ritual really helps to keep us grounded. I really love it!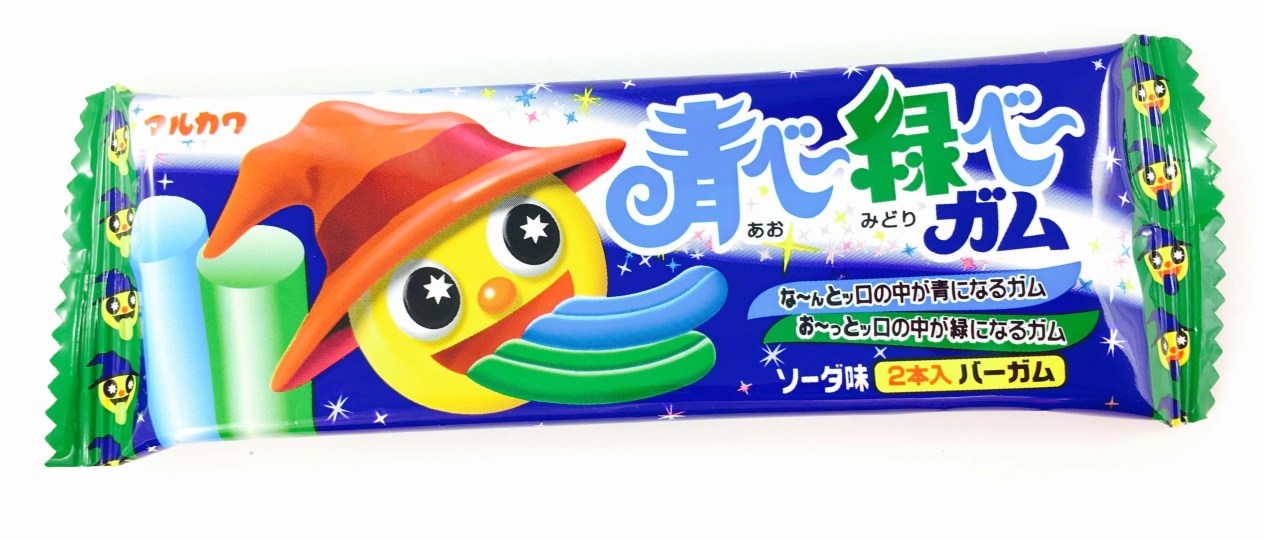 Natural Fitness Hemp Yoga Strap (Olive, $15, but $13 on Natural Fitness website). I am soooooooo happy to finally get one of these! Made out of hemp fibre, this strap will help you ease into stretches and hold poses longer. I recently got back into Yoga, and I can't yet reach my toes. Talk about being stiff! I tried it last night and the strap is so soft and long enough to get a lot of use out of it. It was so fun to use, I'm keeping it on my desk so I can stretch my back every so often during the day. I'm trying to do that instead of reaching for the bag of chips… Fun thing : for every purchase, one tree is planted. Yes!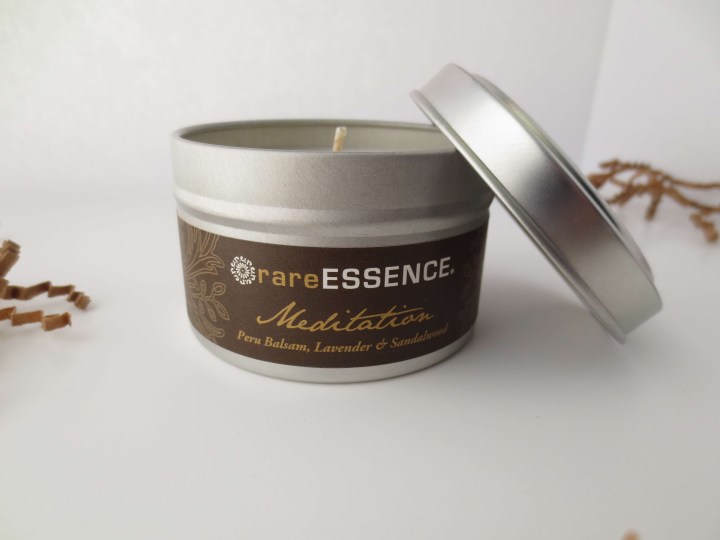 Rare Earth Naturals Meditation Travel Tin Spa Candle ($12). A blend of Frankincense, Myrrh, Calry Sage, Peru Balsam, Lavender, and Sandalwood, this candle is made with pure Non-GMO soy and bees wax. The tin is so cute and classy!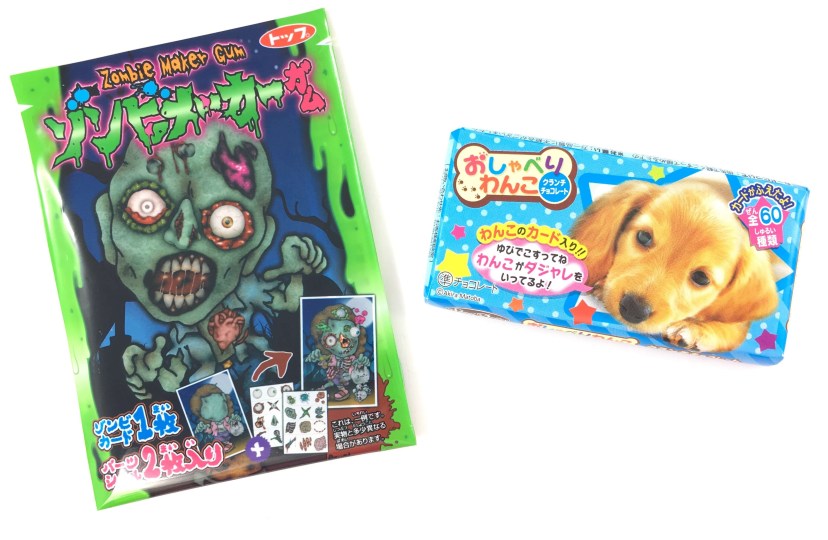 Once again, I was afraid with the mention of Lavender, but I can't even smell it. There's a woodsy scent that makes it calming, but it's fresh as if a bit of menthol had been added to it. This blend was created to breath easy and open your mind. My husband finds it very refreshing and soothing, and he really likes it.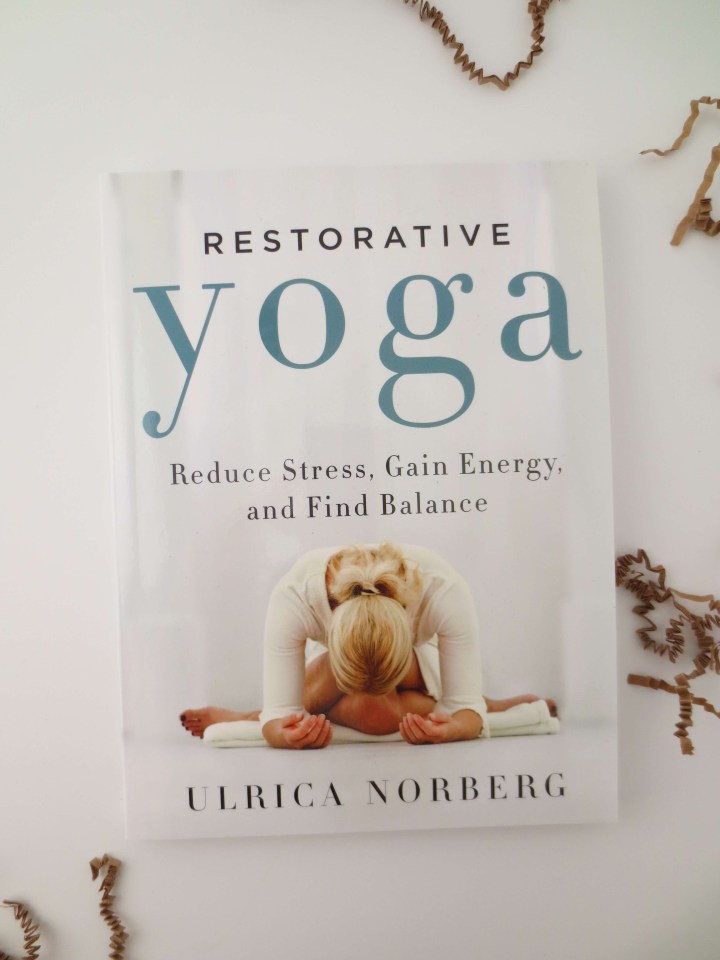 Restorative Yoga : Reduce Stress, Gain Energy, and Fin Balance ($15). This is a great book to find balance in life. I like that the pose are quite simple and gentle to help release anxiety, promote digestion, relieve headaches (YESSSS) and recover from injuries (DOUBLE YESSSS). There's a section in the book with lists of sequences to do for different problems, although there's only one chapter dedicated to techniques and poses. This will be a great read!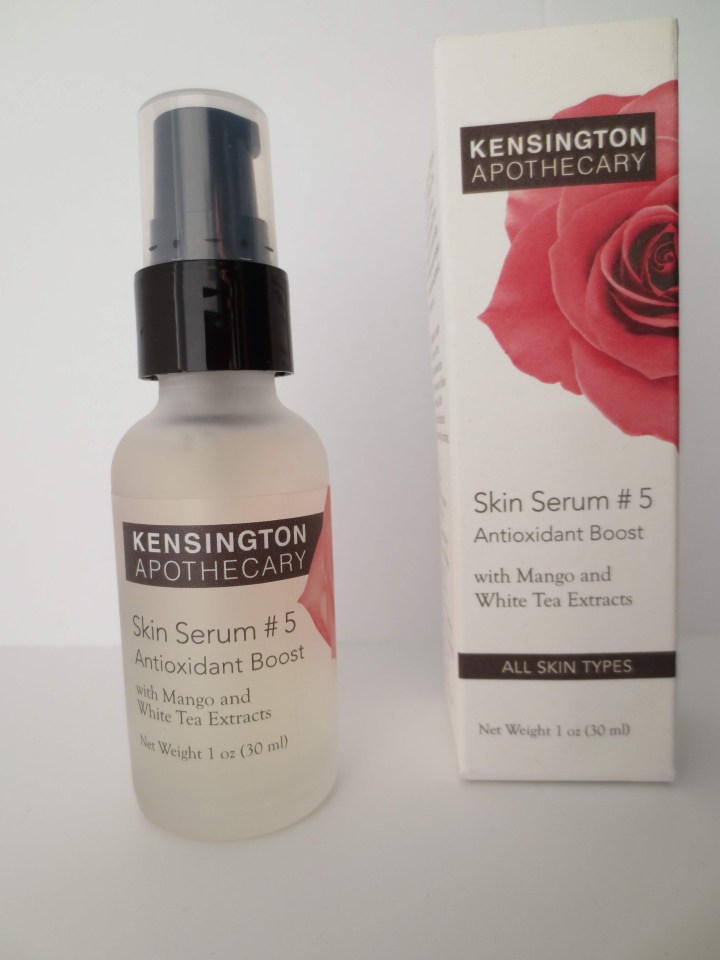 Kensington Apothecary Skin Serum #5 Antioxidant Boost ($36).  Combining mango, maca and white tea extracts in this serum, this is a supercharged antioxidant supplement for the skin. Anti-aging, moisturizing and hydrating, improces skin color, and stimulates collagen production. Surprisingly, it has no scent! I love the texture, not to runny, not oily or sticky. It's very refreshing!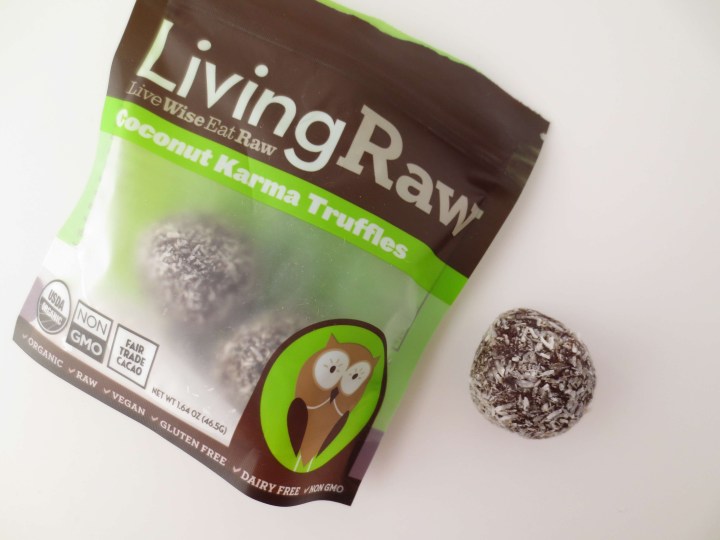 Living Raw Organic Coconut Karma Truffles ($5). Unrefined, creamy cacao rolled with a hint of vanilla and topped with fine coconut flakes. They are prepared under low temperatures to maintain enzymes, minerals and other vital nutrients. Sadly, I don't really like chocolate and coconut flakes are the bane of my existence, so I'll pass.

Bonus Trial Item : Eat Cleaner Wipe. This wipe is designed to remove up to 99.9% more bacteria, wax and pesticide residue than water alone. I'm keeping it for next time I need orange or lemon zest!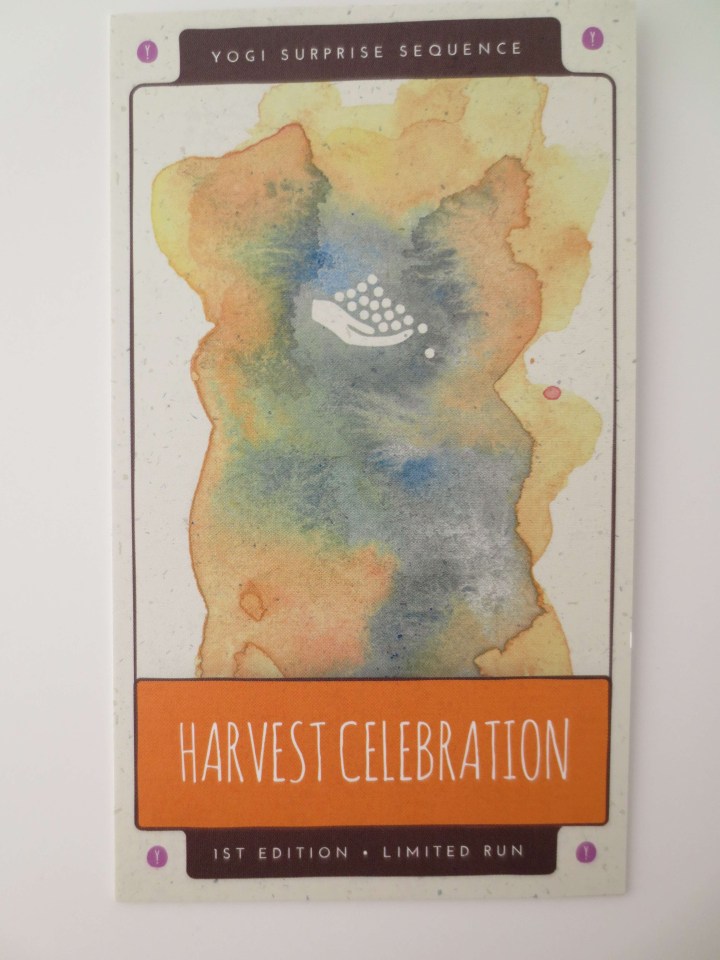 Yogi Surprise Yoga Sequence Series Card. Every month, you receive a little card with a sequence of poses to celebrate the month's theme.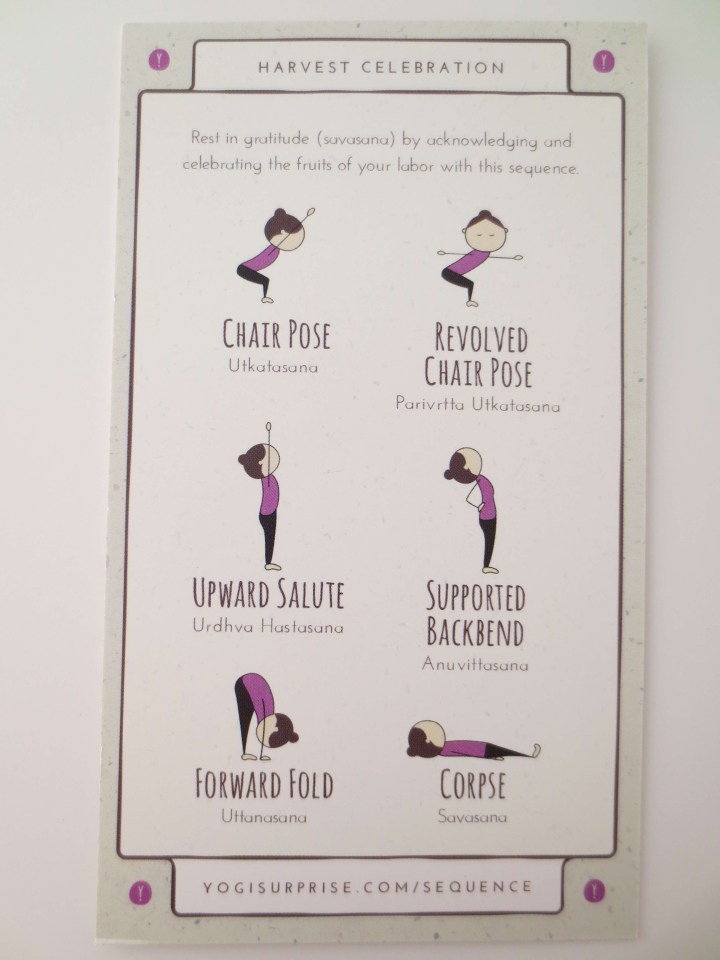 The sequence is the same as in their Jewelry Box, so I did the same thing : I did them before digging any further in the box! Great way to open up your mind and body to the great items you get in the mail!
This was my first Yogi Surprise box – lifestyle and I love it! Everything (minus the truffles) were a hit, despite my initial doubts (lavender scent). The items are high quality and fun to use. I love the inclusion of the Yogi Surprise Sequence card. I'll keep it next to my computer to remind me that Yoga doesn't need to be complicated and can be done any time, as a quick pick-me up in the afternoon (but then, skip the last pose!)
Are you a Yogi Surprise subscriber? What did you think of the box?
Visit Yogi Surprise to subscribe or find out more! Take 15% off your membership for life! Use coupon code  HELLOYOGI.
The Subscription
:
Yogi Surprise
The Description
: Receive a box full of Yoga inspired goodies. Yogi Surprise is the perfect complement to your healthy lifestyle. Each box is packed with love and positive intention, e, ranging from handcrafted yoga accessories to decadent superfood treats.
The Price
: $44.95 per month