Sisley Paris Beauty Subscription is a monthly beauty subscription service starring 5 luxurious, expensive samples of products that would normally be found at upscale department stores such as Saks, Bergdorf Goodman, Neiman Marcus, Bloomingdales, or Nordstrom. It is $10 a month, however, you must sign up for either a 6 or 12 month term. The 6 month term is $60 while the 12 month term is $100 ($20 savings). When the term expires it will not automatically renew. Members of the My Sisley Club with either Gold or Platinum status should automatically receive the box as long as they maintain their status.
My products arrived in an unmarked black box with no return address. My items were wrapped in tissue paper and sealed with a sticker.

Sisley Paris claims to harness the power of plants to create the best cosmetics for your skin.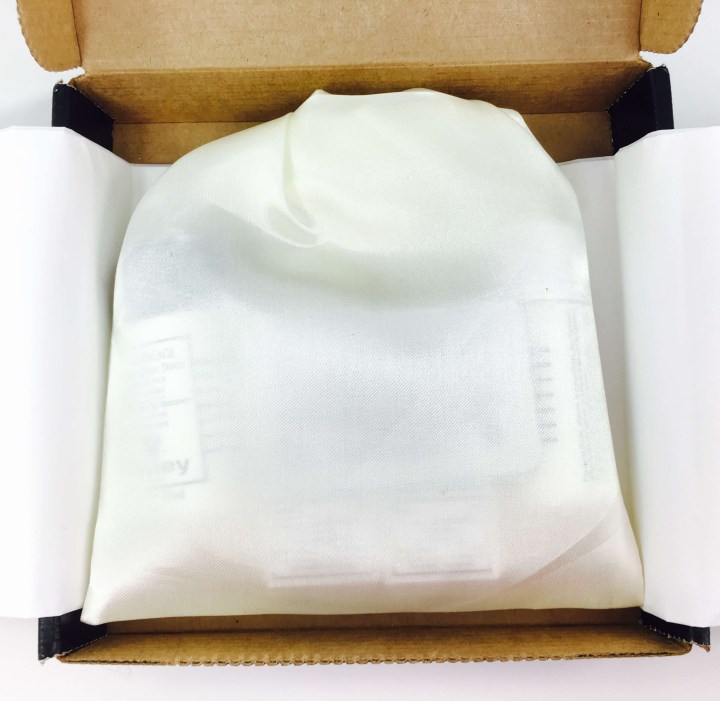 My products were inside of a silky drawstring bag.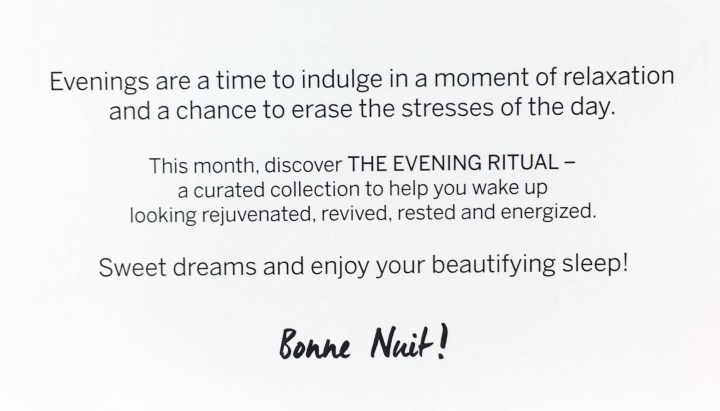 There was a welcome card that introduced the theme for October's box, which was "The Evening Ritual."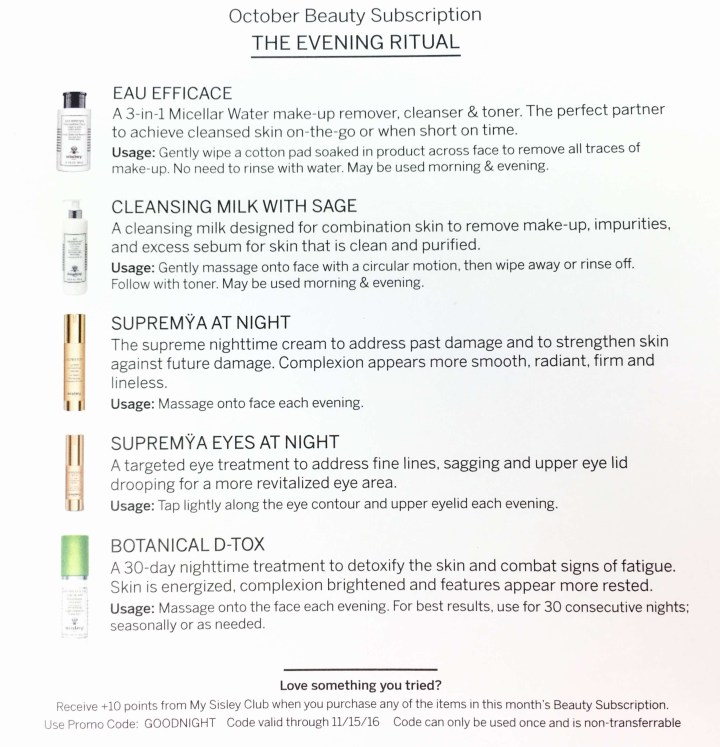 I love it when companies give instructions for using their products! Sisley Paris has it laid out nicely on their website too.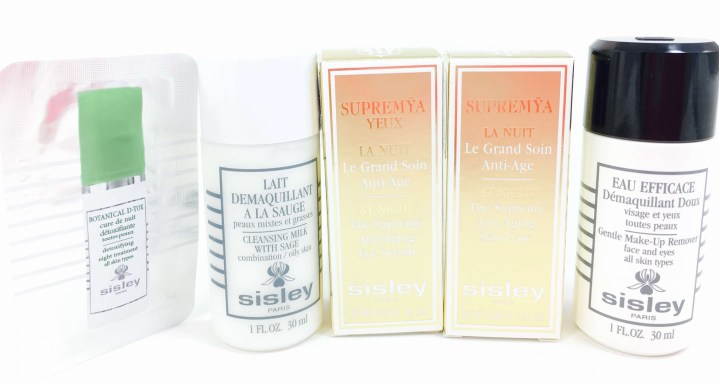 Everything in the box! They usually include 2 one-time use foil packs plus 3 deluxe sample sized products.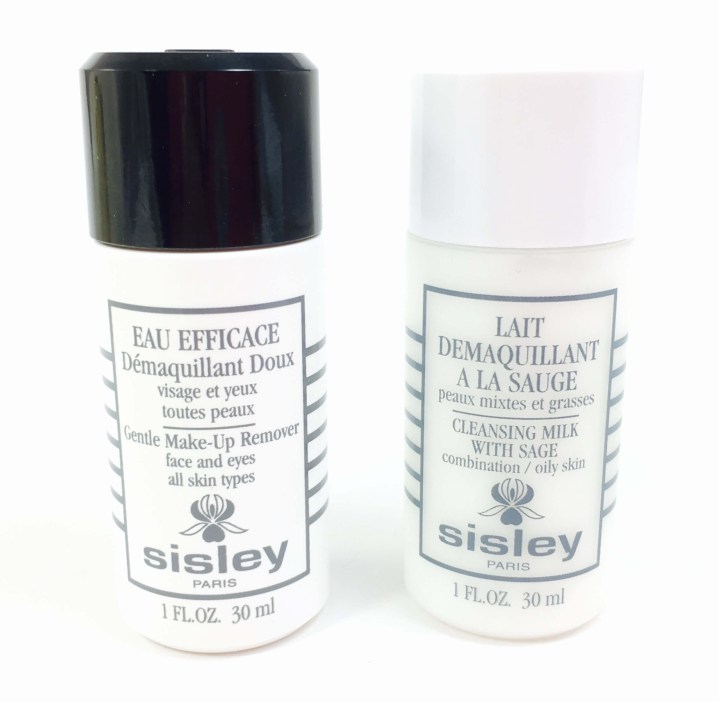 Eau Efficace ($12.50) is a gentle makeup remover that can be used on your eyes or face. I used it to remove my eye makeup and it did so quickly and with no irritation.
Cleansing Milk with Sage ($13.20) was one of my least favorite products that I have ever received. It is used to remove makeup from combination or oily skin but it was highly perfumed, so much so that when I rinsed my face I could TASTE the fragrance. I don't want to wash my face with my Grandma's perfume.
Supremÿa at Night ($28.06) is supposed to repair past skin damage while preparing skin for the following day's assaults. I have to say, I did have a good skin day the next morning. Good enough to spend $795? Um, no. Tomato and witch hazel join shea butter and sunflower seed oil in this product.
Supremÿa Eyes at Night ($18.17) is an anti-aging serum that is supposed to reduce dark circles and puffiness and fight sagging. I didn't see any results but then I rarely do with under eye products.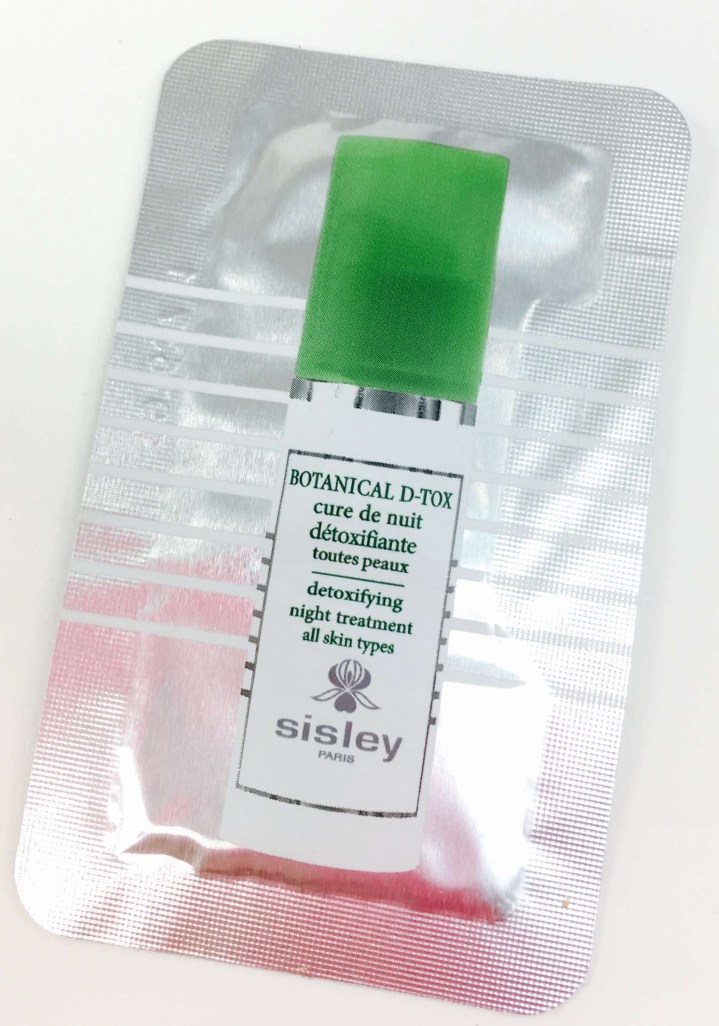 Botanical D-Tox ($11.67, yes, for a foil pack!) is meant to be used for 30 nights in a row to detox the skin and help it fight off environmental invaders. It had a nice, herbal scent due to the lavender and marjoram essential oils but it didn't glide over my face very well. I didn't use any additional moisturizer but should have since my skin felt dry in the morning.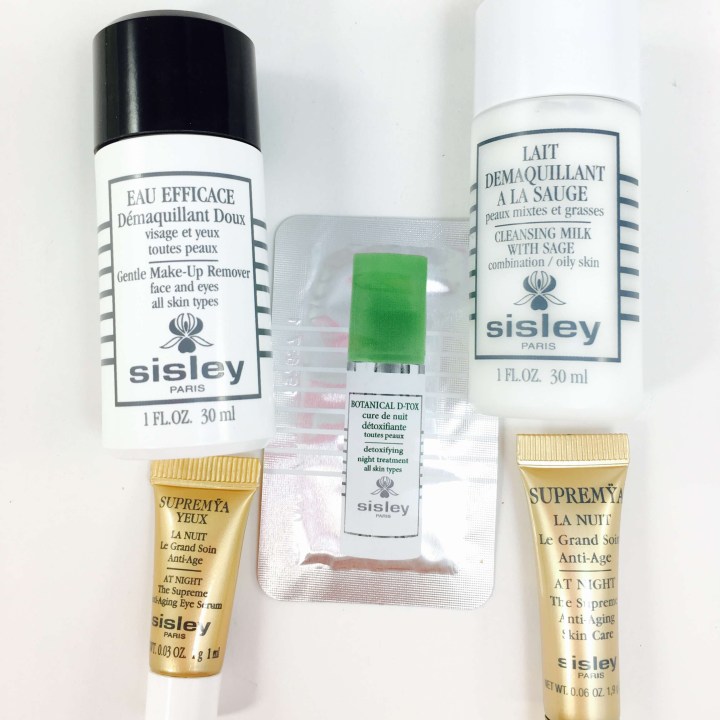 I always get a kick out of trying these products each month! I won't be purchasing them due to the price but for $10 a month I can splurge and not feel guilty about it. My October box had a value of $83.60! These samples won't last long but for a few days, I can enjoy a luxurious beauty experience. My favorite product was the micellar makeup remover and my least favorite product of ALL TIME was the cleansing milk. I enjoy trying anti-aging products and moisturizers so I would say this subscription is great for women with mature skin.
November's box theme is "The Party" and will include "a curated collection to get you ready for the glamor of the holiday season. From perfect skin to dramatic eyes to a toned body or sensual scent, get ready to party the night away with Sisley." Might we finally receive a makeup item or perfume? Stay tuned!
What do you think of the Sisley Paris subscription? Have you tried any products from this company before?
Visit Sisley Paris Beauty Box to subscribe or find out more!
The Subscription
:
Sisley Paris Beauty Box
The Description
: Receive 5 beauty samples every month from Sisley Paris. Each box follows a specific theme, and products are carefully curated by beauty experts!
The Price
: $60.00 per half-year