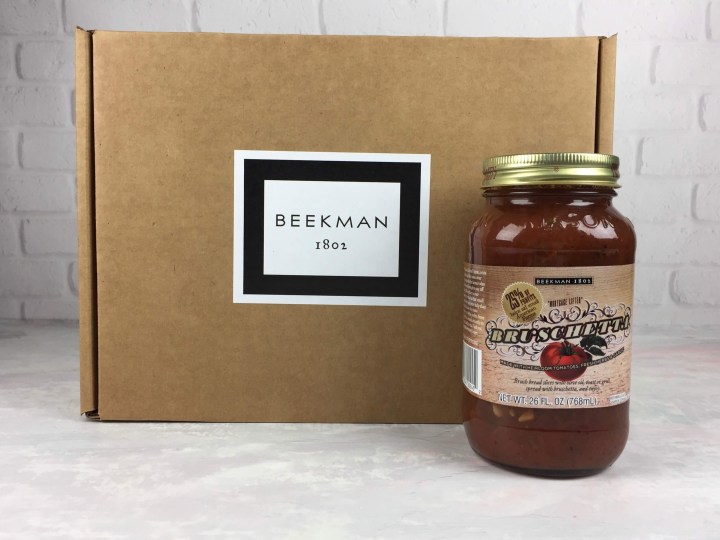 Beekman 1802 Specialty Food Club is a monthly food subscription for small-batch artisan food lovers from Beekman 1802.  You'll get a box of delicious artisan food items – often exclusive to this box –  for $50 each month.  Not only will you receive superb gourmet ingredients, but also recipes from the artisans themselves.
 The elegant inner box is well-protected, padded inside an outer shipping box.  This month, there was too much for the inside box, so the jar of bruschetta was carefully packed separately in the larger exterior box.  Inside the smaller, decorative box, the items are properly wrapped and secured to avoid damage while in transit. This subscription is almost over-packaged (but it's easily recyclable), but really, none of these items have a chance of breaking!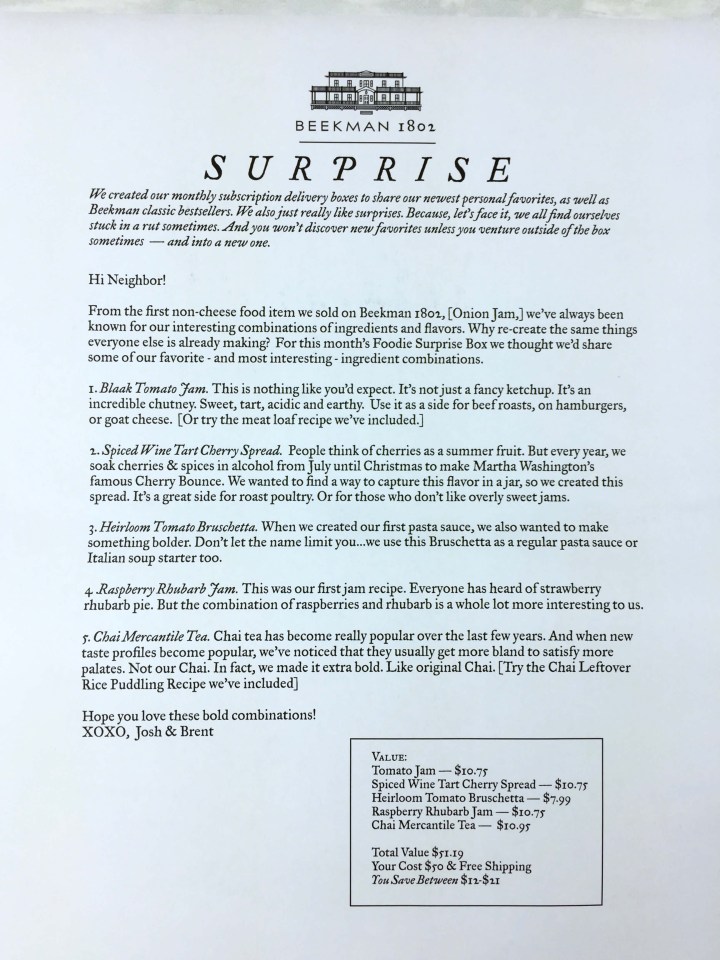 The theme for this month's box is "the most interesting ingredient combinations."  Despite the claim that the combinations may seem odd or surprising, it was very easy to come up with uses for these items!  The card has a description of each, plus a handy value breakdown.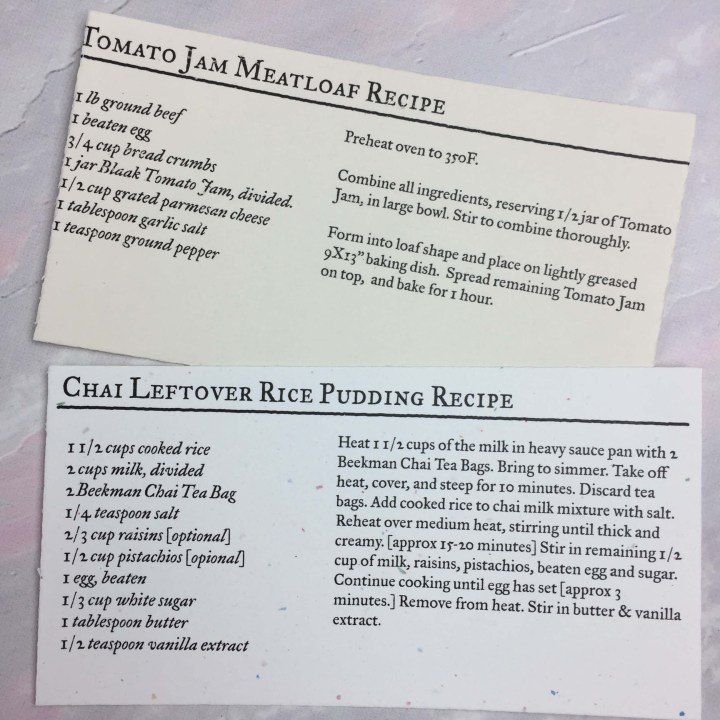 The Beekman Boys often include a recipe or two to help you get the most out of the items.  They are simple and clearly written, showcasing an item in the current month's box, and they are pre-tested to ensure success.
Everything in my October box!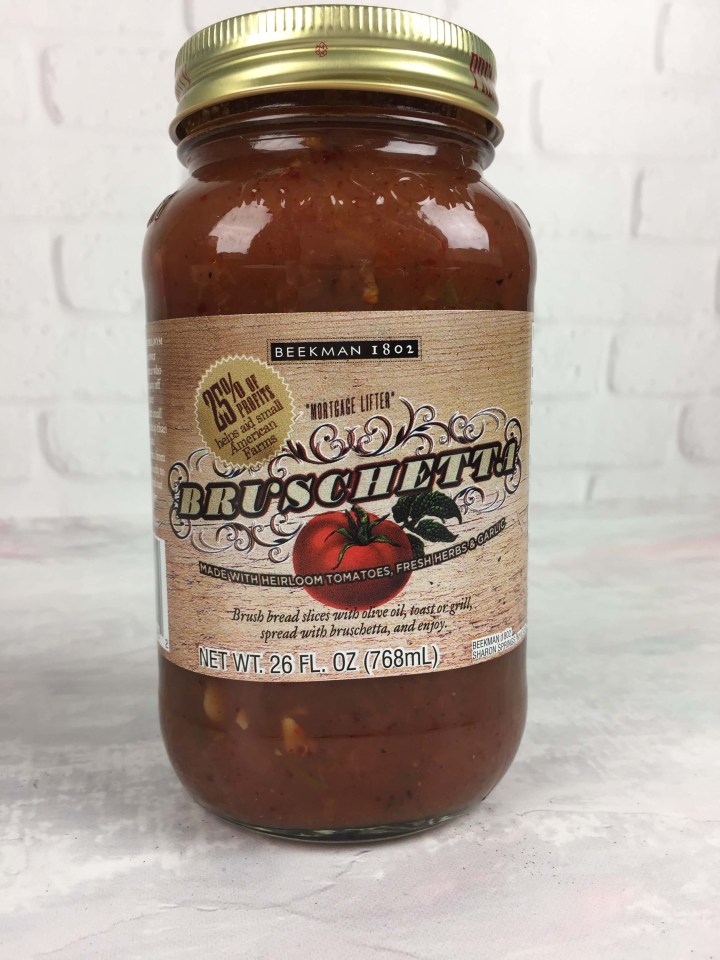 Beekman 1802 Heirloom Tomato Bruschetta ($7.99):  It's not often you see a jar of bruschetta the size of a jar of pasta sauce!  Made with fresh, simple ingredients, this chunky bruschetta makes an elegant topper for toast points or grilled Italian bread.  It incorporates a healthy amount of heirloom "mortgage lifter" tomatoes, a West Virginian variety that proved so tasty that the cultivator paid off his mortgage selling seedlings to other farmers!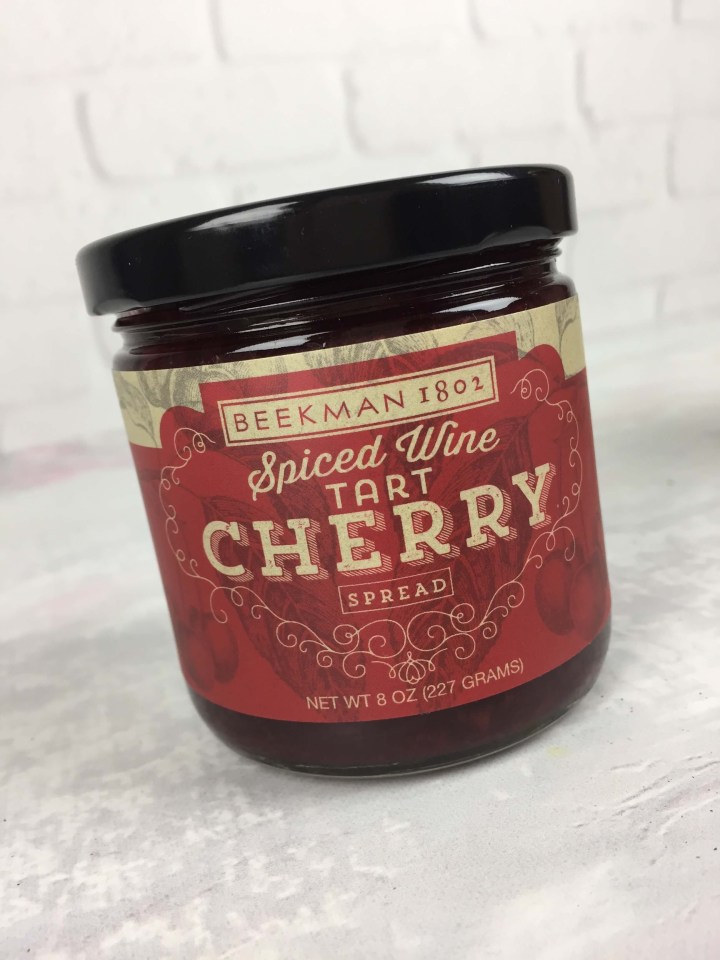 Beekman 1802 Spiced Wine Tart Cherry Spread ($10.75):  We served this on a cheese plate when we had company, and it was a big hit!  The tart cherries keep the sweetness in check, allowing the fullness of the wine to come through.  I liked it better with soft cheese than I do sweeter jams.  It is very chunky, adding great texture as a topper.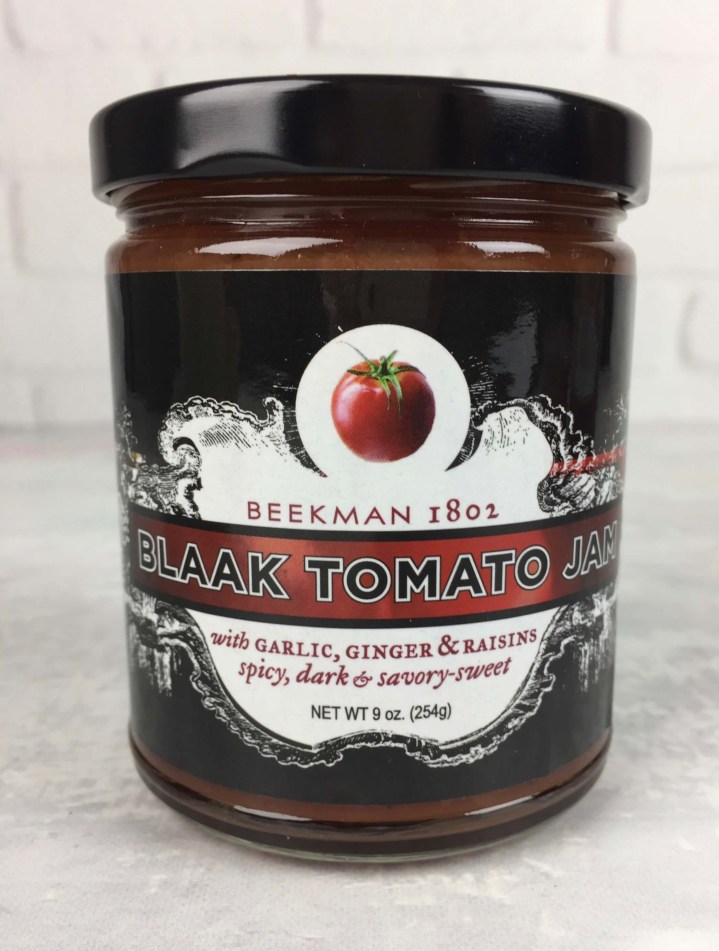 Beekman 1802 Blaak Tomato Jam ($10.75):  This is one of our favorites from Beekman!  The Blaak tomatoes have a very deep flavor and nice acidity, and the combination of garlic, ginger, and raisins gives the jam a enough zing and sweetness to make it very versatile.  It is chunky and has a lot of flavor.
We made the meatloaf recipe that came in the box.  The recipe made a very good loaf — and the flavor of the sauce was amazing!  When baked, it caramelized a bit, making a sticky, delightful coating.  The flavor was great — a bit like a cocktail or barbecue sauce — tomato-based but with spice and sweet fruit notes, plus a bit of tang.  Our company loved it!
Beekman 1802 Raspberry Rhubarb Jam ($10.75):  I am a big fan of rhubarb, with strawberry-rhubarb pie being my favorite summer treat.  Raspberries are another perfect complement for the tart stalks.  This sweet-tart jam is a great way to liven your morning toast or add some elegance to jam-filled cookies!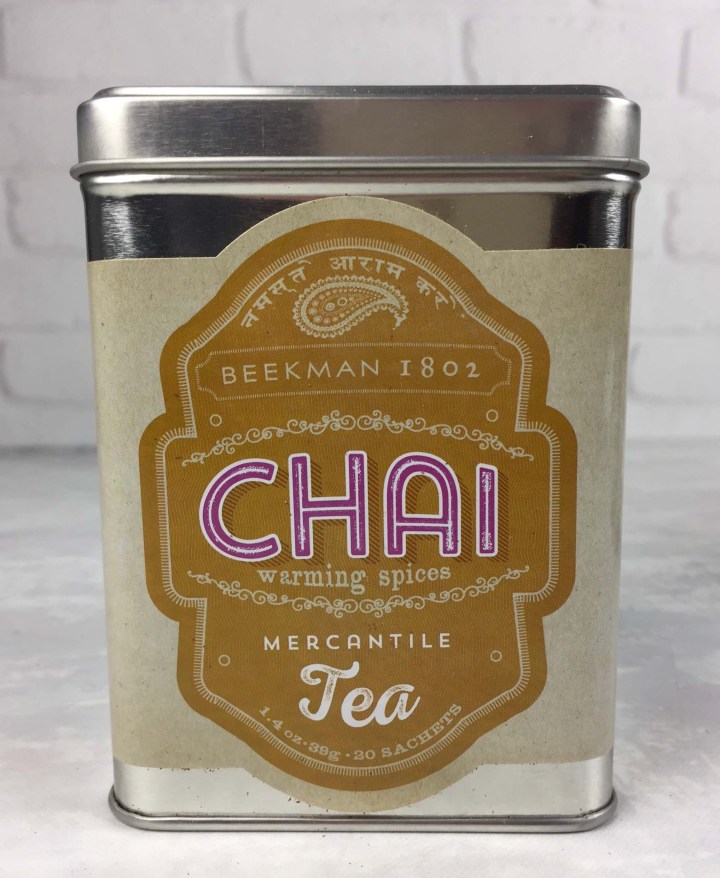 Beekman 1802 Chai Mercantile Tea ($10.95):  This tea has a classic cardamom-laden chai blend that is both warm and comforting.
The handsome tin contains 20 individual brewing sachets — no messing with measuring or steeping devices!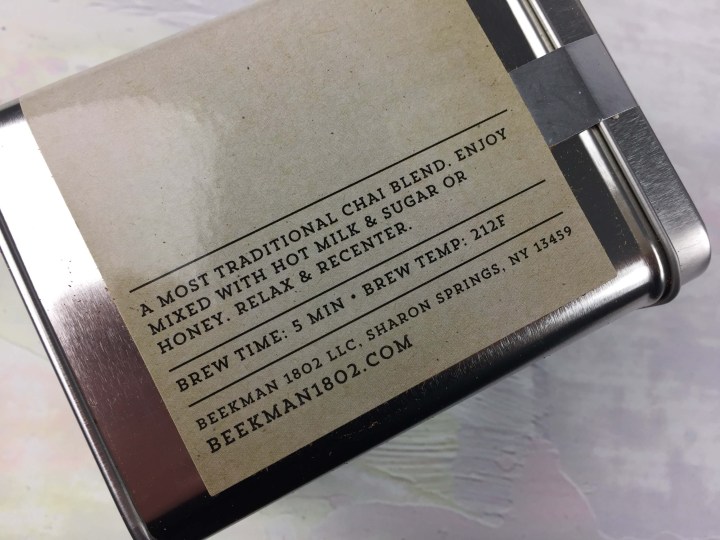 It is easy to brew and enjoy.  We went a step further and made the rice pudding recipe included in the box.  It was quite good, and a great way to use up extra rice.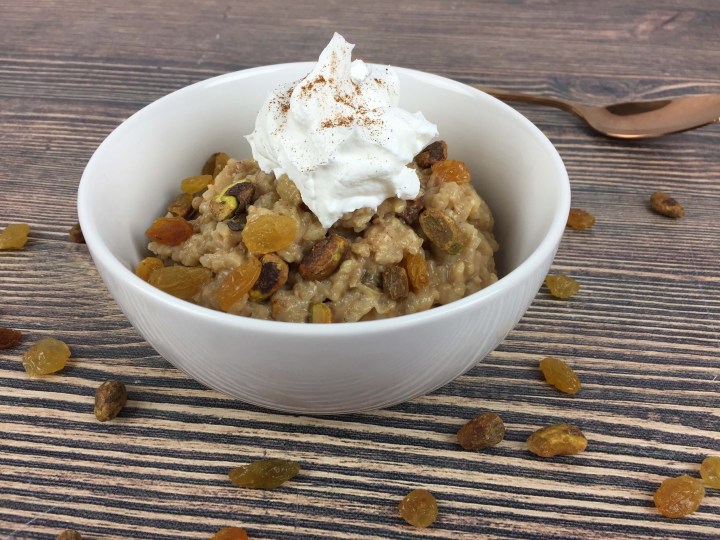 I normally enjoy cold rice pudding more, but this version was great hot, with crunchy pistachios and warm, squidgy raisins!  The cloying warmth of the spices were great in it, and they'd also make an interesting accent for a pumpkin smoothy or similar treat.
This month the total value of this box was around $51.19!  We are really enjoying the Beekman 1802 boxes — the products are really high, artisan quality, and they incorporate as many small farm and neighbor-grown ingredients as is seasonally practical.  Sometimes they even throw in an extra, unlabeled item or two that the boys just dreamed up and haven't put to market yet!
We love the way the box is curated — though technically not a curation, since all the products are Beekman 1802, the Beekman boys have selected complementary items from their large catalogue of products, giving each month a theme.  It seems obvious, but it actually runs contrary to the scattershot approach of many artisan food subscriptions. We continue to be thoroughly impressed with the sheer number of well-conceived and high quality products the Beekman 1802 Farm brings to market — every box has had all new items we hadn't seen before, and they have been absolutely delicious!
Visit Beekman 1802 Specialty Food Club to subscribe or find out more!
The Subscription
:
Beekman 1802 Specialty Food Club
The Description
: We discover new artisanal, small batch gourmet food items nearly every day. Join the Beekman Specialty Food Club and you'll receive a surprise box of delicious and totally exclusive new gourmet food items every month. Plus recipes straight from the artisans themselves!
The Price
: $50.00 per month