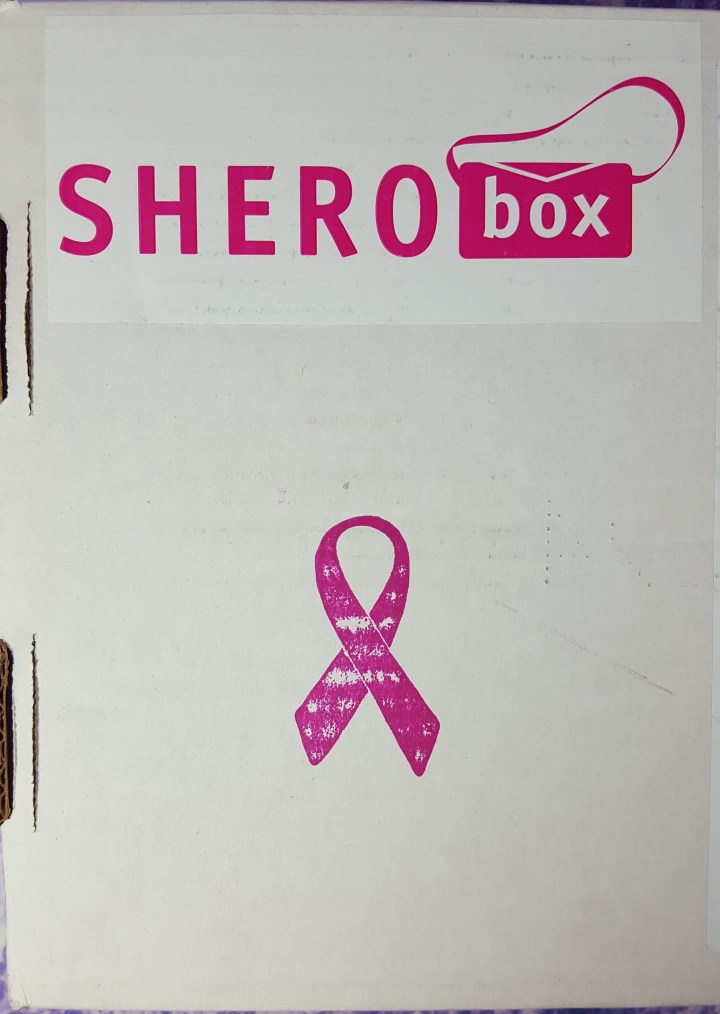 SheroBox is a monthly box for women made up of products from all women entrepreneurs and/or women owned or operated businesses. The theme for the October box is Yum in a Cup!  The box this month had a nice pink ribbon on the front to support breast cancer awareness month.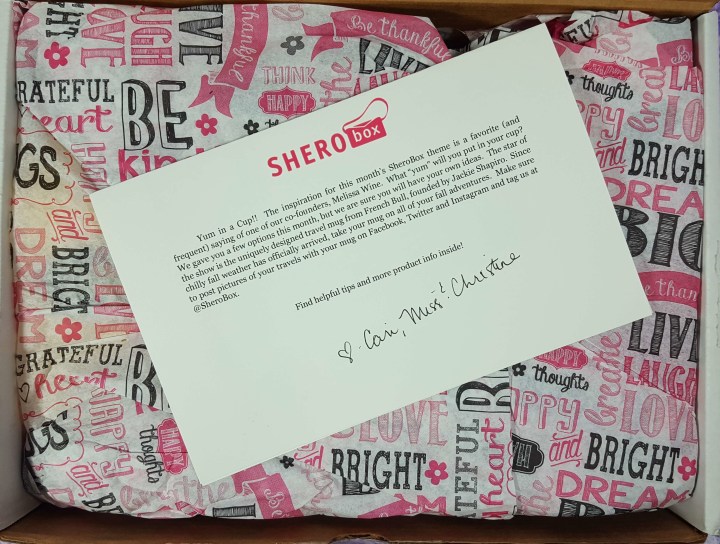 The information card was on top of the tissue with a nice note talking about the theme but can we talk about this tissue?  It is so pretty and so perfect for the month of October and breast cancer awareness month.  While Sherobox normally has pink tissue inside I love the themed paper.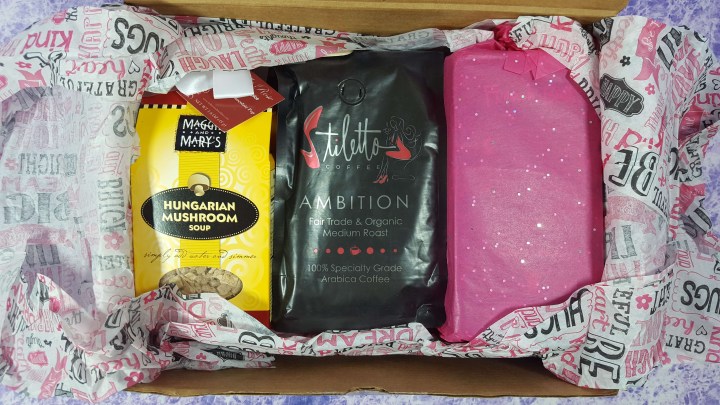 When I took away the themed paper I could see the items and the normal glittery pink tissue. I couldn't wait to see what was wrapped up in there.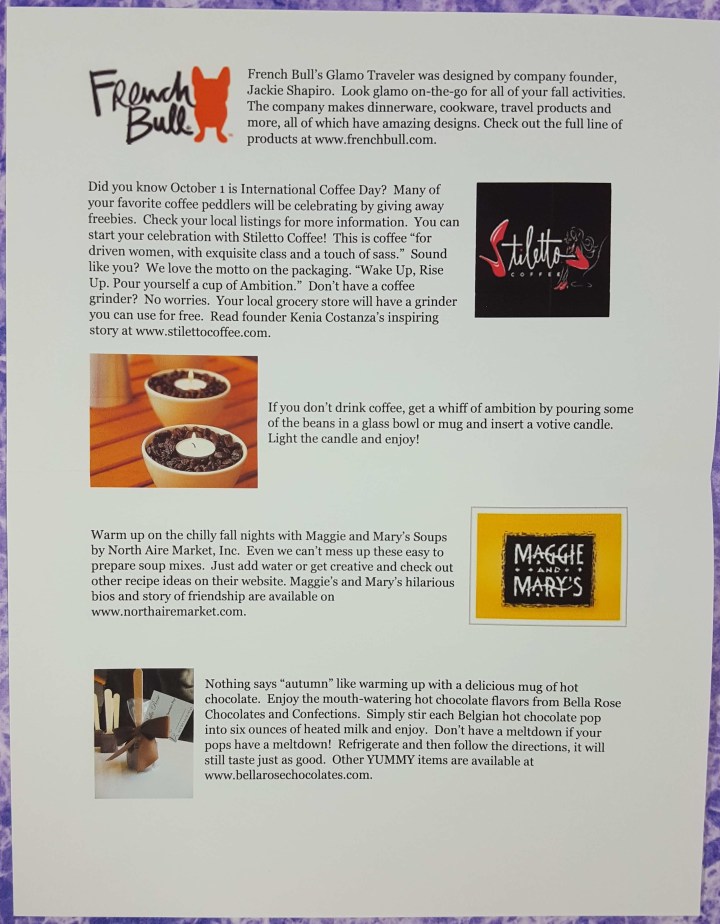 The information sheet for the box talks about the items in the box and what you can use them for along with any contact information and notes on them.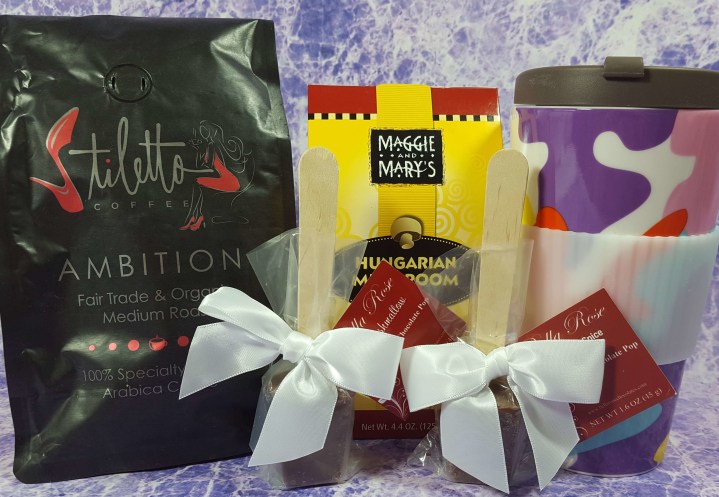 Everything in the October Yum in a Box Sherobox!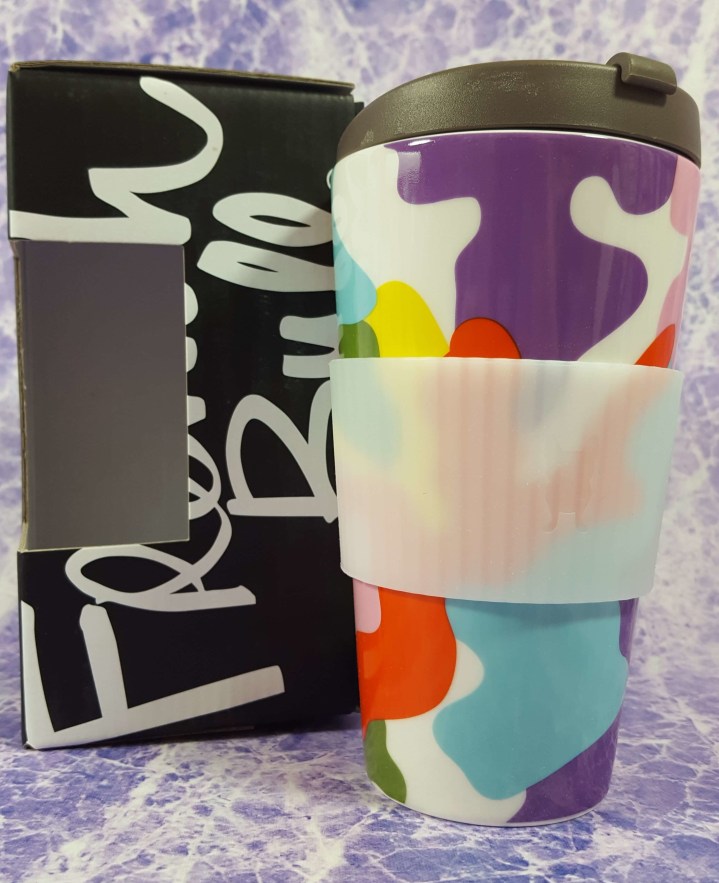 French Bull Glamo Traveler ($ 19.99) – I am in LOVE with this mug.  It was designed by the company founder Jackie Shapire and will be great for all your on the go fall activities. I'm a boy mom so we have lots of camo here and this is the perfect blend of girly and came hence the Glamo name.  This is the great item that was wrapped in the pink tissue in the box.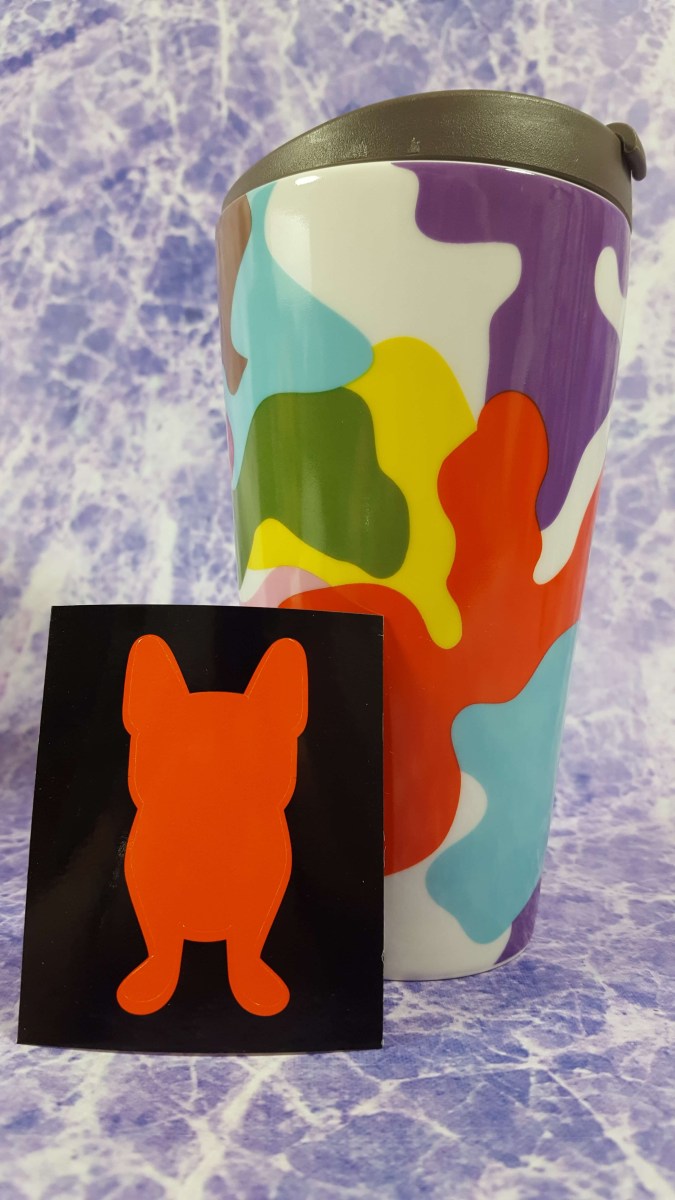 Look at the detail on the mug. It is so pretty.  Inside was this adorable sticker which on the back says it is your Lucky Sticker and that whatever you stick it to will bring you good luck and make you smile. It must really be working since I haven't stuck it to anything else but I'm already smiling at it. It is so stinkin' cute.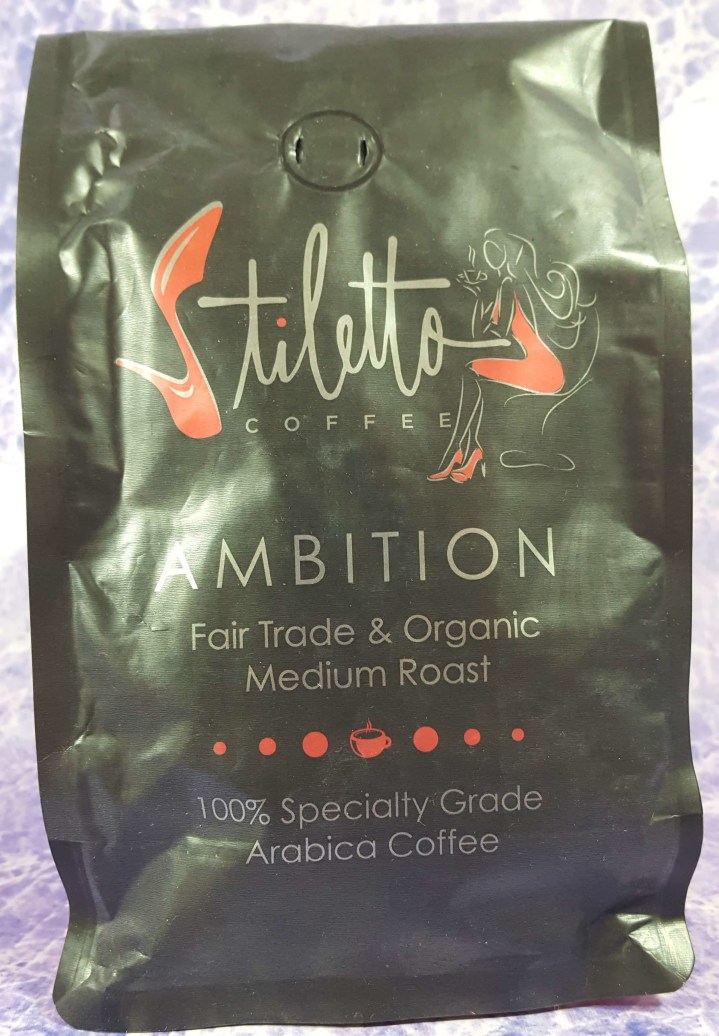 Stiletto Coffee in Ambition ($17.95 ) – Did you know that October 1st was International Coffee Day?  I had no clue but since I'm not a huge coffee drinker that really isn't a surprise.  When I do have coffee I'm more of a Keurig girl so I won't be using the beans for that however on the info card Sherobox suggests putting the beans in a glass bowl and adding a votive candle. That sounds perfect to me and this smells great so I'm going to decorate with them this fall and make my house smell wonderful.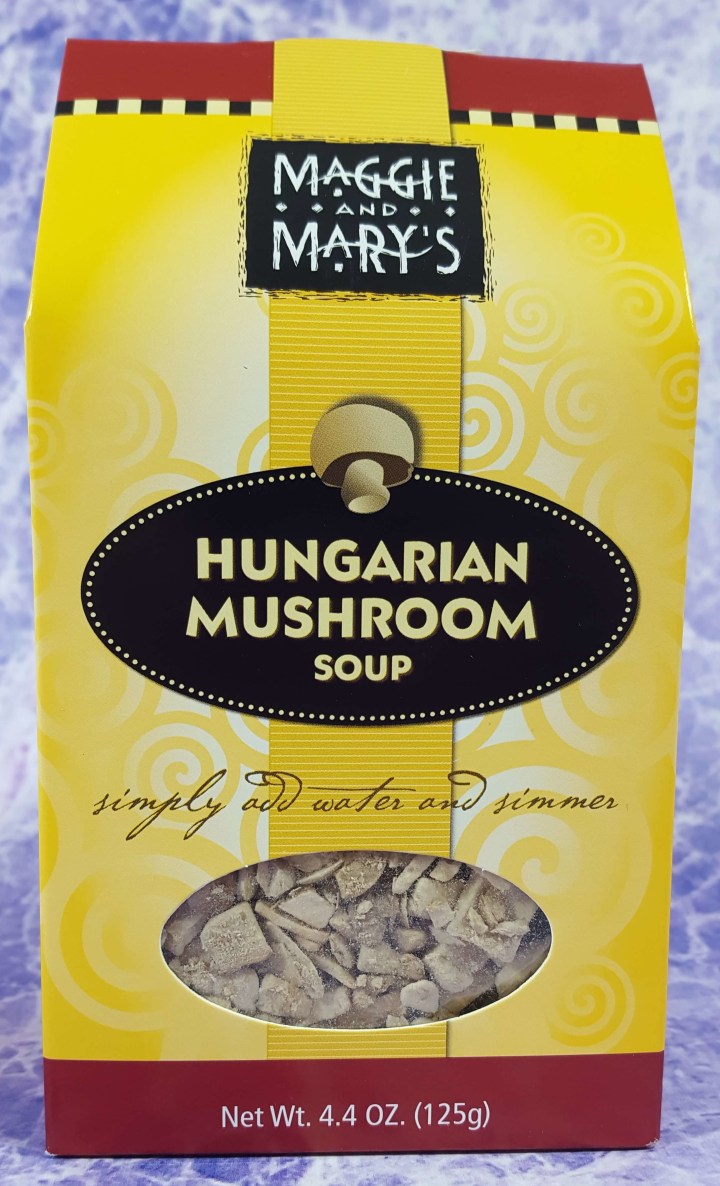 Maggie and Mary's Hungarian Mushroom Soup ($7.50) – Oh my goodness this is so me. I love mushrooms and this sounds delicious. I can't decide if I wan to use it as a starter with some beef roast or if I want to use it to start some Hot and Sour Soup. I think it could be delicious either way and now I need to look at the recipes on the website and make some fun.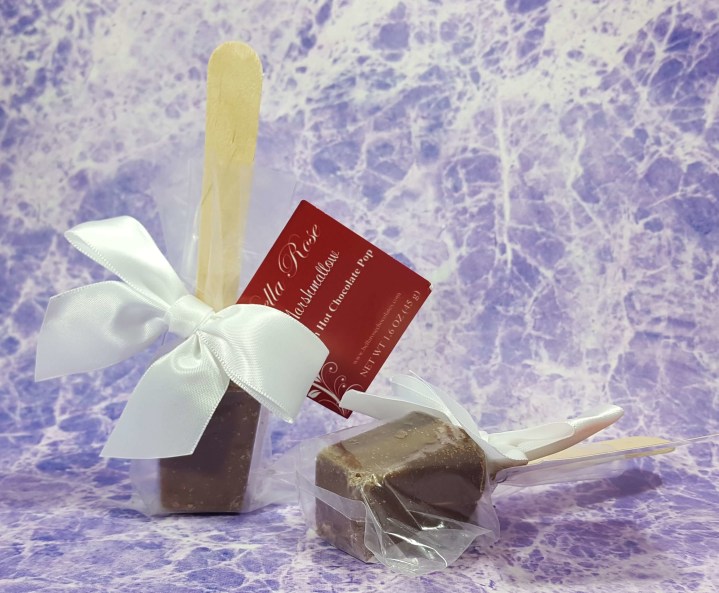 Bella Rose Chocolates Hot Chocolate on a Stick in Belgium and Pumpkin Spice ($2.50 each) – These are yummy in my tummy and I can't wait to try them on a cooler night. These hot chocolate pops are so easy to use with all you having to do is stir them into a heaping mug of heated milk and then drink up the rich creamy drink.  So delicious.
The Yum in a Cup SheroBox is a huge win for me.  The items were well selected and such a variety. I love finding new female owned companies to shop from and new items for me to try.  I love the travel mug and the Glamo name. I've never used Glamo before but you better believe that I'm going to be using it from now on. It is so perfect and randomly I got a new stampset that is actually a Glamper so I'm pretty sure I need to use the items together.
Visit SheroBox to subscribe or find out more!
The Subscription
:
SheroBox
The Description
: In SheroBox, every month you will receive a box filled with different goodies for home, beauty, family and life in general. All of our products are from women entrepreneurs and woman-owned or operated businesses.
The Price
: $34.99 per month