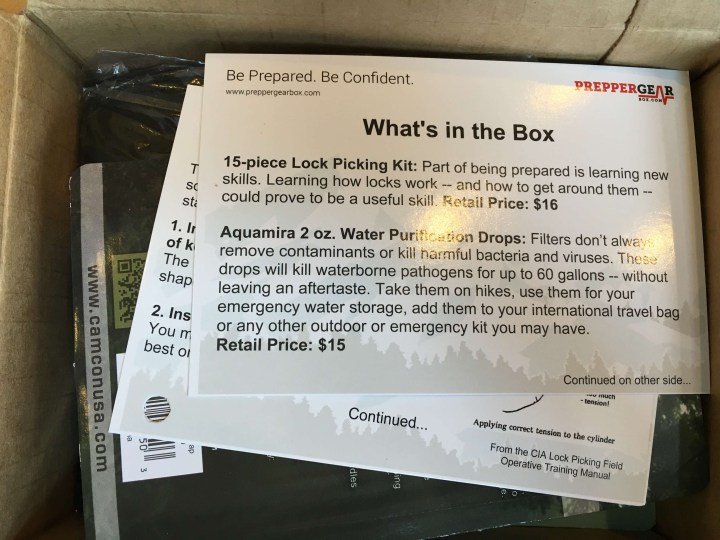 Prepper Gear Box is a subscription box that delivers, on average, 2-3 items of practical survival gear plus an information card to help you learn and practice new survival-related skills each month. Prepper Gear Box wants its subscribers to be prepared for any situation or emergency that may arise. As such, it's an ideal subscription for outdoor enthusiasts, hunters, hikers, campers, backpackers and survivalists. As a company, they try not to waste money on fancy packaging so that your money goes as far as it can into what matters most: gear and information.
FYI – due to family circumstances this subscription box is shutting down. You can find similar boxes here and in the subscription box directory under Prepper, Survival, and Tactical Gear Subscription Boxes.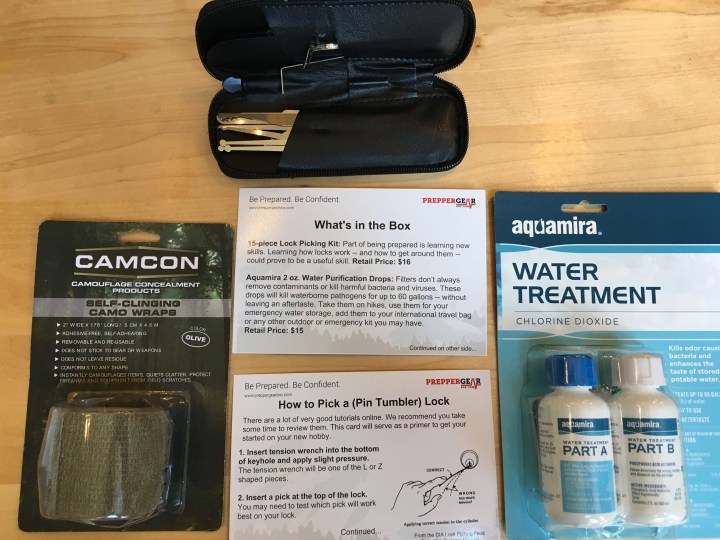 This month's box contained a lockpicking kit, water purifying treatment, camo wrap and information on how to pick a lock.
I love how the curators include notes as to the importance of each item in the box and why the item was included in this month's shipment.
I was so excited to receive this 15-Piece Lockpicking Kit ($16)! My college dorm would regularly hold lock picking contests, and I always felt left out. Now, with practice, I'll be able to imagine how my life would have changed if only I had won one of those contests! On a more serious note, I plan to keep this in the car so I can break into my house if I ever get locked out!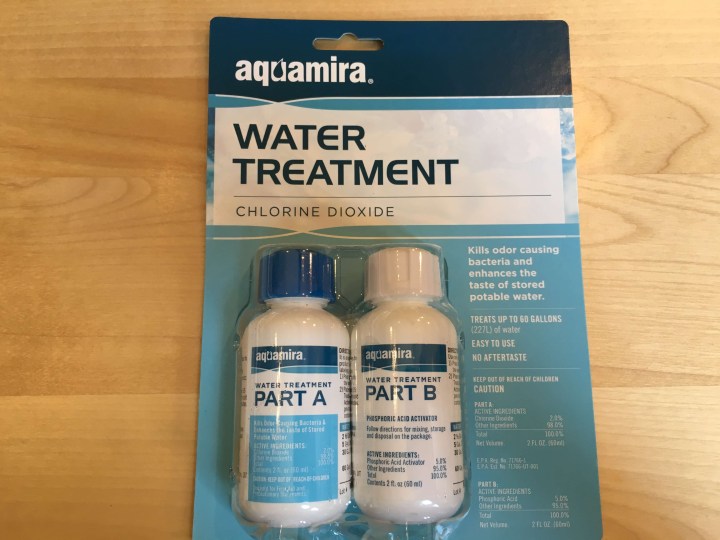 Aquamira's Chlorine Dioxide Water Treatment, 2 oz ($16.99), can purify up to 60 gallons of water with no aftertaste! It kills bacteria, controls the buildup of slime and improves the taste of stored water. This pack is designed to treat relatively large amounts of water at one time (up to 55 gallons at a time). For smaller batches of water, Aquamira produces a 1 oz treatment size.
Camcon's Self-Clinging Camo Wrap ($6) is great to have on hand for injuries, but also doubles as a concealing gear wrap. If used as a firearm wrap, it'll help prevent scratches.
I really appreciated this month's lockpicking tips! As I said earlier, I've wanted to learn how to pick locks since college, and I'm thrilled to finally get my chance! Thanks, Prepper Gear Box!
Like always, this month's Prepper Gear Box included helpful tips and a number of pieces of cool gear at a value that's significantly higher than the cost of the box. I look forward to receiving this box each month, and I can't wait to see what they send out next month!
What do you think of this month's Prepper Gear Box? Save 10% on your first box with coupon code CRATE10
Visit Prepper Gear Box to subscribe or find out more!
The Subscription
:
Prepper Gear Box
The Description
: A new monthly subscription box service for those who like survival gear and
education.Every
Prepper Gear Box contains 2-3 (or one very cool) carefully selected, high quality survival gear and preparedness items. Plus each box will have helpful tips, instructions and challenges to grow your survival skills and confidence in any situation.
The Price
: $25.00 per month