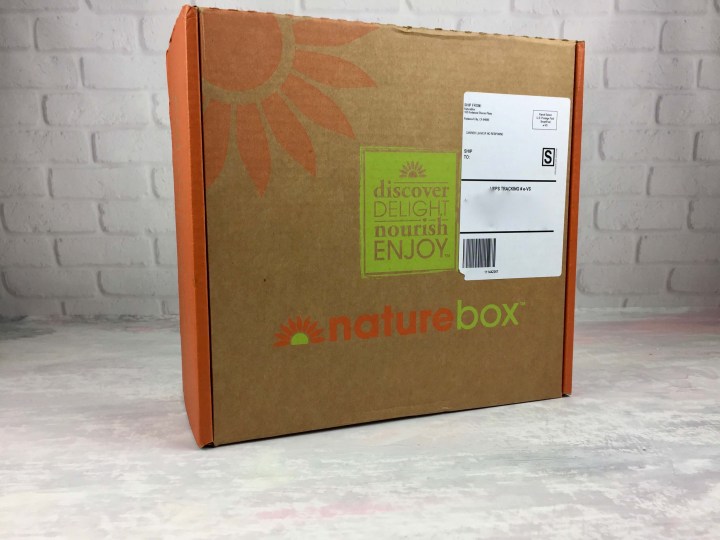 NatureBox is one of the oldest monthly snack subscription boxes out there, and we are still subscribing! Every month you'll receive 5 snacks and can add on additional premium and sale snacks  from your "pantry" queue of snacks.
All NatureBox snack meet these criteria:
Simple ingredients
No artificial junk (colors, flavors or sweeteners)
No high fructose corn syrup
No hydrogenated oils
No MSG
Less than 200 calories per serving
Every so often Nature Box switches up its subscription management – FYI – you can double your box to 10 snacks and get it monthly or bi-monthly.
The information sheet provides a list of all the goodies this month, plus the add-ons I ordered, which are fairly cheap (usually $3).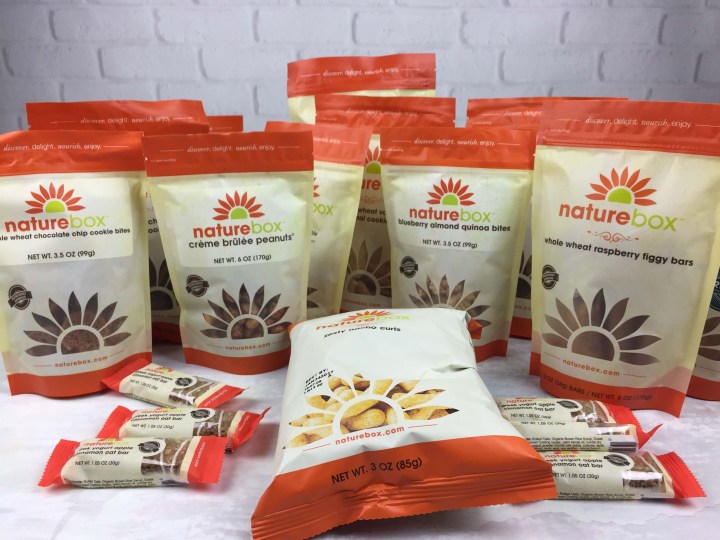 Everything in our October box! We ordered *a lot*!
DEAL: You can get a good deal on this box – your first box is free when you sign up with our referral link (pay $4.95 shipping). You won't get as many snacks as you see here, but free is great! However, they also have the new NatureBox Club, which we haven't checked out yet.
NATUREBOX CLUB DEAL: Join NatureBox Club today and get your first month free, plus 50% off your first order and free shipping on $25! No code required, just use this link.
Note that we order the same items over and over again – everything is so good! So we'll talk a little about how we use everything!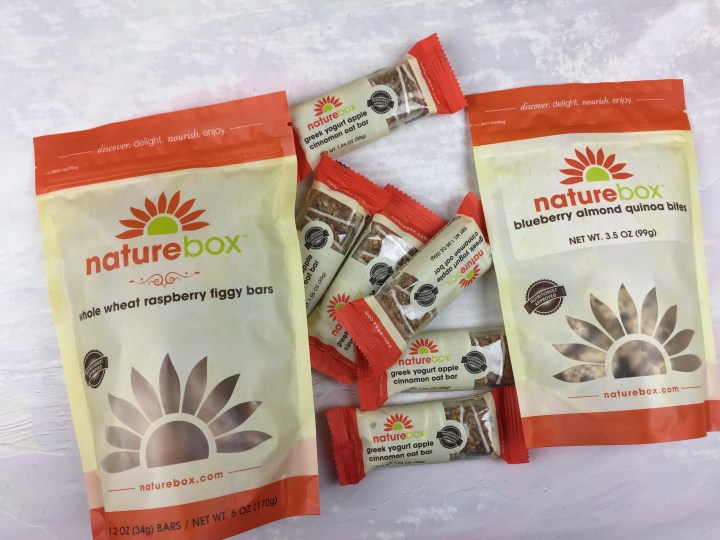 Whole Wheat Raspberry Figgy Bars: These are hearty and tasty, and the whole wheat flour adds a really satisfying wholesomeness to the texture and taste. The fig and raspberry combination makes a jam that is rich in flavor and appropriately sweet for the cake exterior. Within the bag, these are individually wrapped and make superb travel treats.
Greek Yogurt Apple Cinnamon Oat Bars: These are nice small bars, perfect for breakfast, but I find them pretty sweet. They totally hit the spot as a desk treat though!
Blueberry Almond Quinoa Bites: These are light, crispy, and sweet, and a hit for the whole family.
We use the single-serves for on-the go, either eating while walking or in a lunchbox. Items like Blueberry bites tend to get eaten as a family snack.
Big Island Pineapple: Naturebox is great for slipping in a freebie – we scored a free bag of pineapple rings!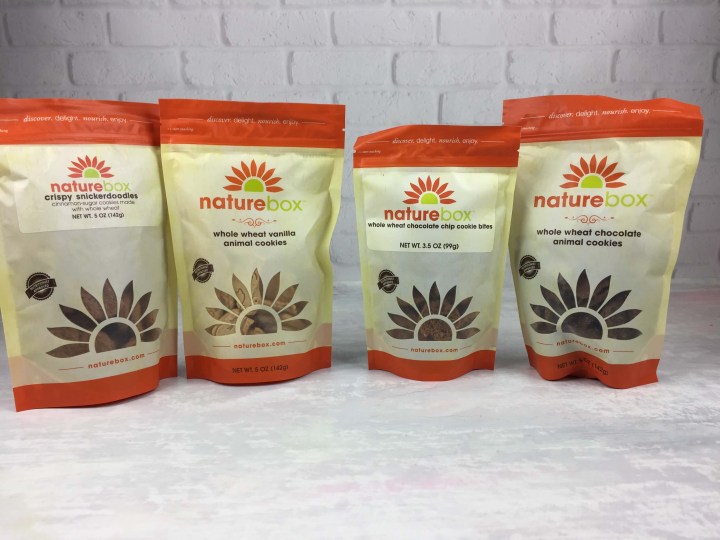 We're entering the cookie zone… If we have NatureBox cookies at home, we avoid the cheap cookies with bad ingredients at the grocery store! We'll add a few cookies to a kid lunchbox or as a sweet after-dinner dessert.
Crispy Snickerdoodles: These little cinnamon sugar bites are made with whole wheat, and perfect for a crunchy crispy sweet treat!
Whole Wheat Vanilla Animal Cookies: I like the effect the whole wheat has on the consistency of the cookie, making it crunchier without giving it the dry taste you get in most animal cookies.  The nice crunch and deep flavor make these standout from your typical animal cracker.
Whole Wheat Chocolate Chip Cookie Bites: The whole wheat adds a comforting twist to the flavor profile.  Tasty, with a nice dose of chocolate.
Whole Wheat Chocolate Animal Cookies: And full-on chocolate! These are just like the vanilla, except packed with cocoa!
Creme Brulee Peanuts: These are now my all-time favorite! The core of each morsel is a mild roasted peanut. The shell, however, is pure magic — it is buttery and sweet, and it actually crackles like a creme brulee topping. The overall appeal of the snack is similar to that of Boston Baked Beans, but the coating is infinitely more elegant. They taste like a very lightly salted and very sweet honey roasted peanut, but with a magnificent candy shell.
Cashew Crumble: This is some kind of crack and it's hard not to eat the entire bag. They're cookie-coated cashews. They're sort of a ridiculous snack and we order it again and again!
Coconut Cashews: This is actually the least ridiculous of these three nutty treats – sweetened cashews crusted with coconut – rich and delicious, but not too terrible for you!
We admit… these are post kid-bedtime snacks! They're too good. Besides, the kids will plow through the Cashew Crumble in a hot minute if we leave it out.
Zesty Nacho Curls: A new-to-us product! These are spicier than we imagined, and no way they are really made out of lentils and chickpeas! (Spoiler, they are!)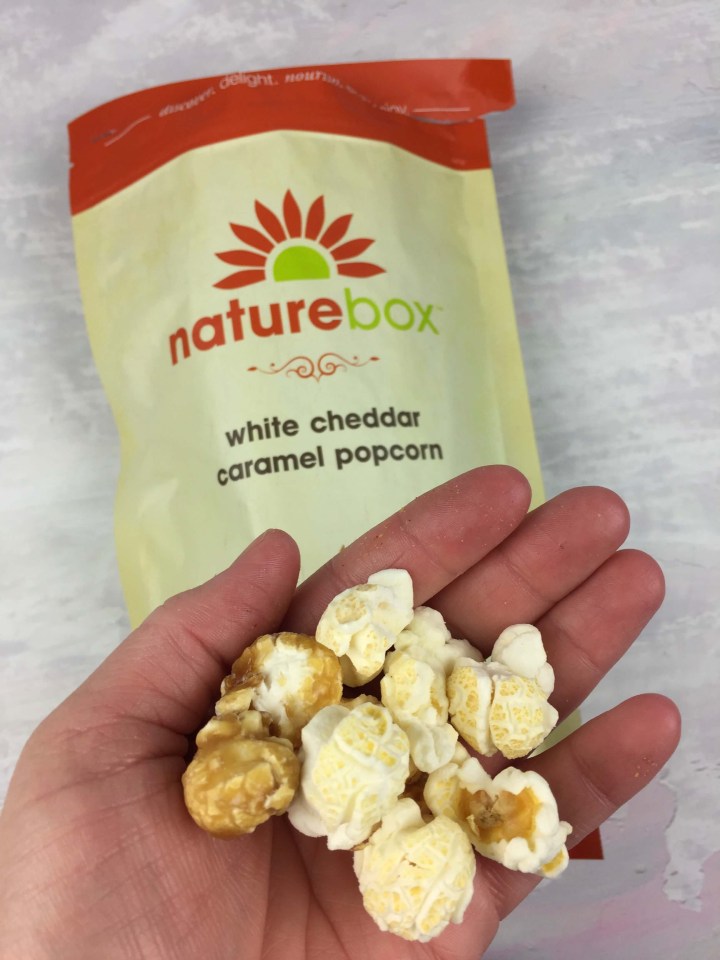 White Cheddar Caramel Popcorn: Oh man, I blew through this Chicago mix during an unboxing session and my husband only got a few bites in edgewise. So delicious – and it was heavy on the cheddar pieces, so a real winner for me.

We love NatureBox! It's perfect for singles, couples, and families, because there are so many delicious options. I always make sure to check out the new snacks – I love trying new flavors! – make my way to the sale section to add on a few extra bags, and adjust my NatureBox pantry to accommodate seasonal needs (hello, chocolate's back in stock and pumpkin spice has been added to many of my favorite goodies!).
Visit NatureBox to subscribe or find out more! You'll get your first month free with this link – no code required.
The Subscription
:
NatureBox
The Description
: In each Naturebox Discovery Box, you get 15-20 servings total from 5 different seasonally themed natural snacks. No HFCS, no artificial sweeteners, colors, or flavors! No partially hydrogenated crap.
The Price
: $20.00 per month