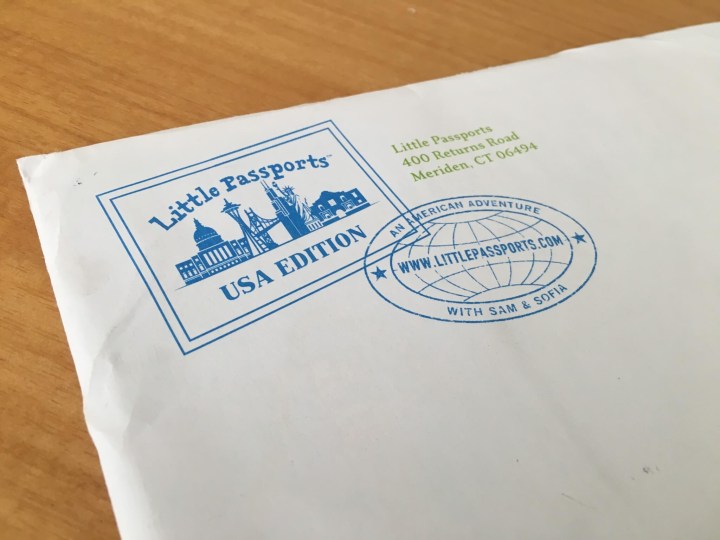 Little Passports (USA Edition) is a kids' educational subscription with crafts and fun activities about the fifty states.  This box is designed for children 7-10, but any bright kid 5+ would like it. Your kids will learn about the geography and culture of the United States with the USA Edition.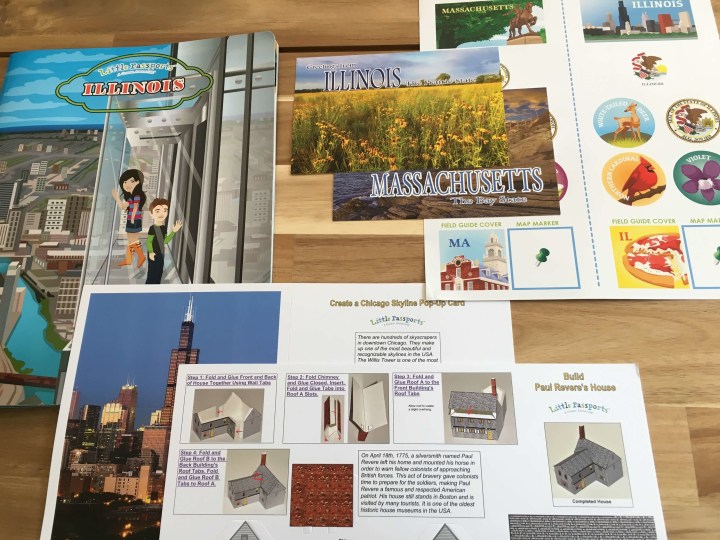 This month, Sofia and Sam visit Illinois and Massachusetts.  The box contains a cute double-sided activity book, postcards from each state, stickers for your field guide, and two stand-up models.
The postcards, stickers, and models are brightly colored and fun. Back in the day, we mailed in college applications, and they sent you a "received application" postcard. So if MIT ran out of beaver-themed postcards, and they still used postcards at all, I suppose they could send you one of these. Probably not the Illinois one.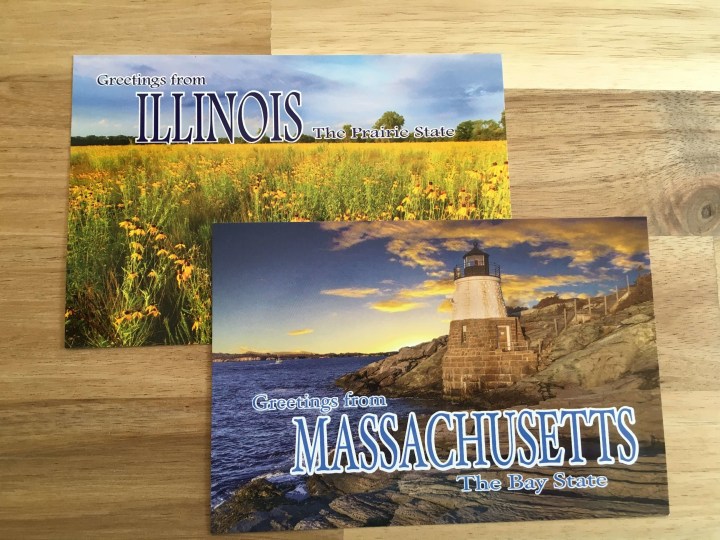 The stickers are for the Field Guide (you DID save the Field Guide, right?) and cover the state bird and flower and so on. There are even "pushpin" stickers to mark the map poster (which you also saved?). Nice, quality stickers. Eagle-eyed review-readers will notice a printing error in Massachusetts' stickers this month. Little Passports is sending replacements. Maybe these will be like the Inverted Jenny and make me a millionaire.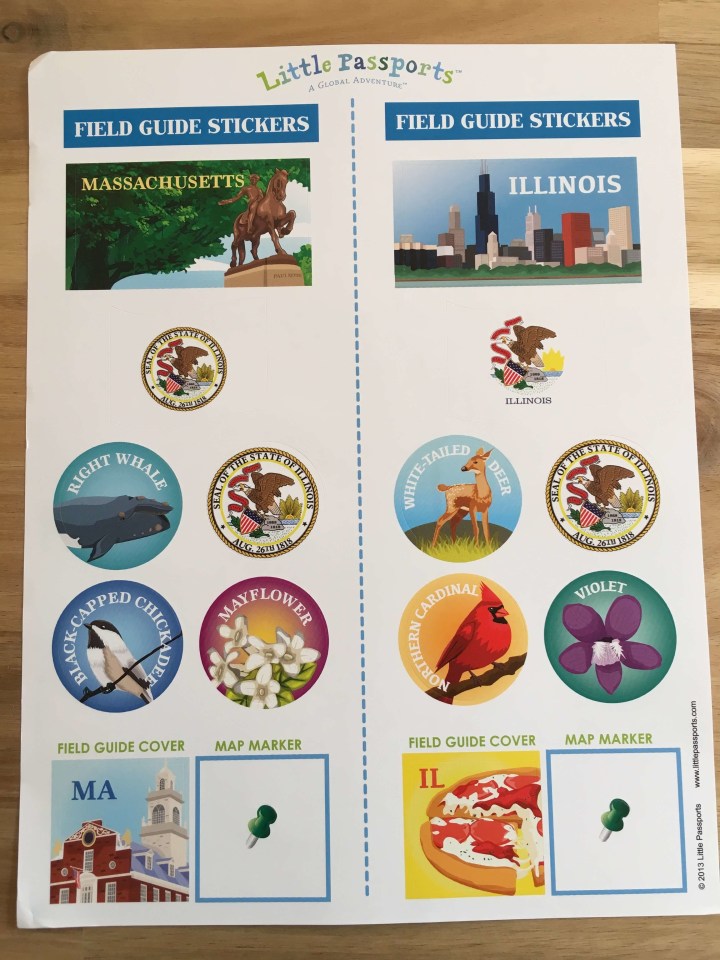 The models are punch-out coated paper and this month featured the Chicago skyline and Paul Revere's (surprisingly large; I guess silversmithing was a good trade) house. The kids thought the skyline was meh but enjoyed the house with its wee chimney.
Up first, Illinois, with the still-unsupervised Sam and Sofia being photographed by window-washers.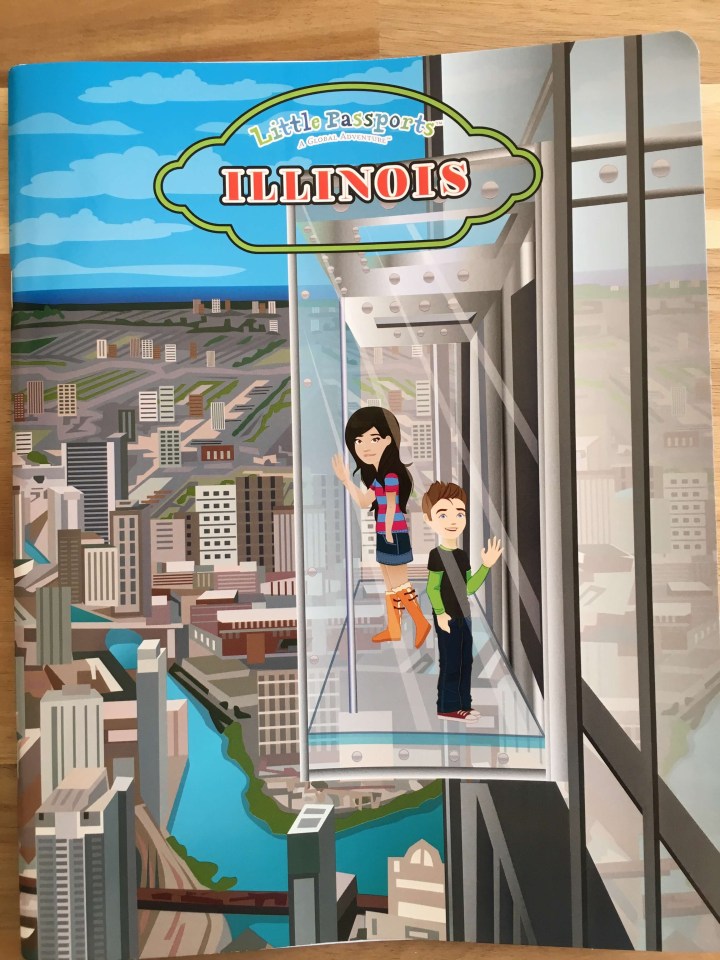 The activity book flips over and upside down to cover both Illinois and Massachusetts. It's a glossy, colorful, 32-page activity book with fun facts and games about the states.
Some of the highlights of Illinois include Sam and Sofia's note and map, baseball origami, a medium-kid-difficulty Sudoku, a "make your own fossil" craft that I'm sure I'll be subjected to this weekend, and the totally-differently-styled comic strip version of Sofia and Sam.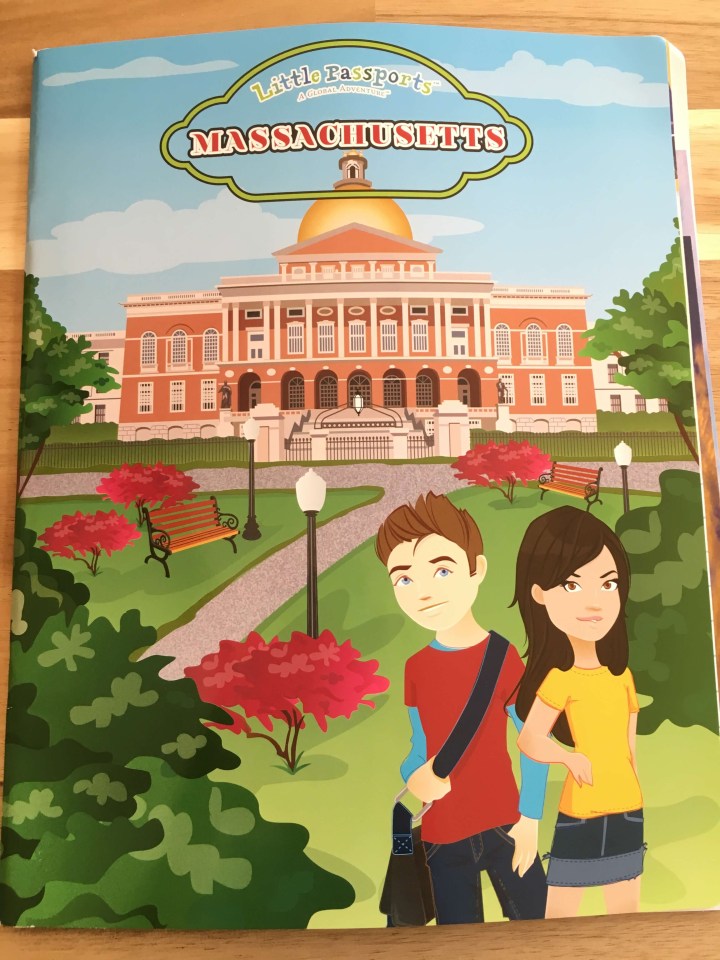 On to Massachusetts in what I guess is the summer. Highlights of Massachusetts include the letter and map, Native American fun, a few of my favorite Bay State authors, and the obligatory discussion of the American Revolution.
Another quality box! The activities are fun and age-appropriate, and they do a good job highlighting some interesting aspects of the states. Nonreaders will need help, but older kids can do everything on their own. We can't wait to see where they go next month!
This would be a great grandparent or aunt/uncle gift, or a supplement to a homeschool curriculum, especially ahead of a road trip or visit to another part of the country.
Save $15 on annual subscriptions! Use coupon code WELCOME15.