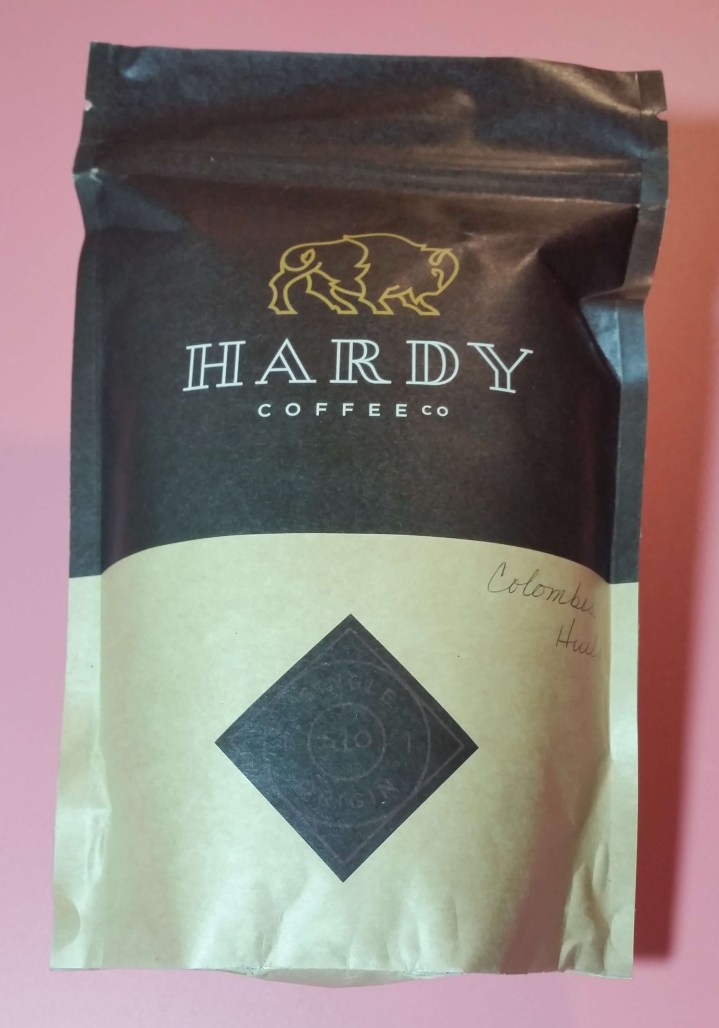 Hardy Coffee Co. promises "excellent, approachable coffee roasted in Omaha, Nebraska." They offer a number of subscription options, including one or two 12-oz bags of either their Benchmark blend, a decaf version of their Benchmark blend, or a Single Origin selection. Prices start at $16/month for one bag of the Benchmark blends or $18/month for one bag Single Origin; they also offer discounted prices for prepaying for multiple months.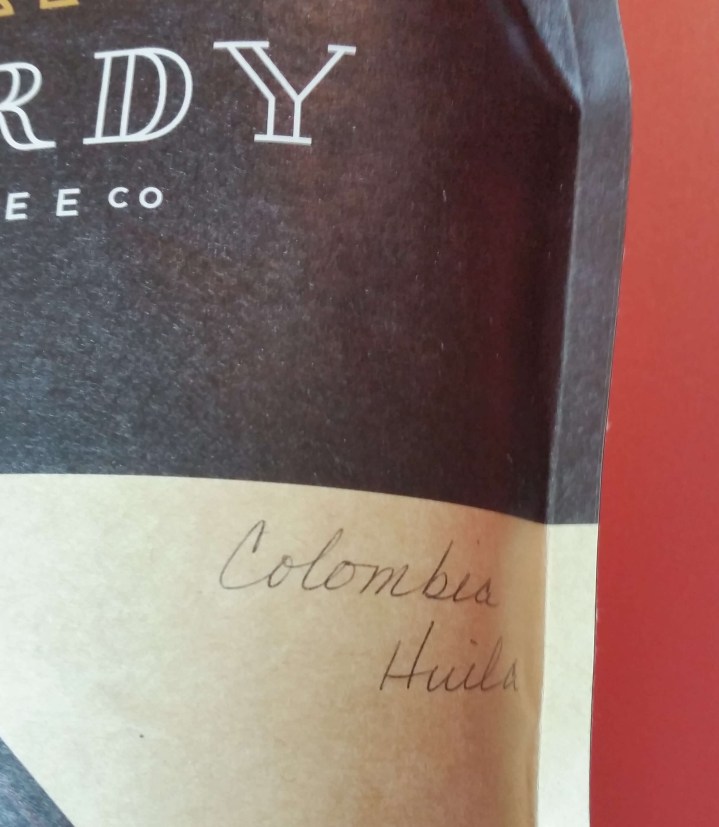 I am reviewing the Single Origin subscription. This month's offering is Columbia Huila. Although I've had Columbian coffee before, I'm not sure I've ever had coffee from the Huila region…so this should be fun!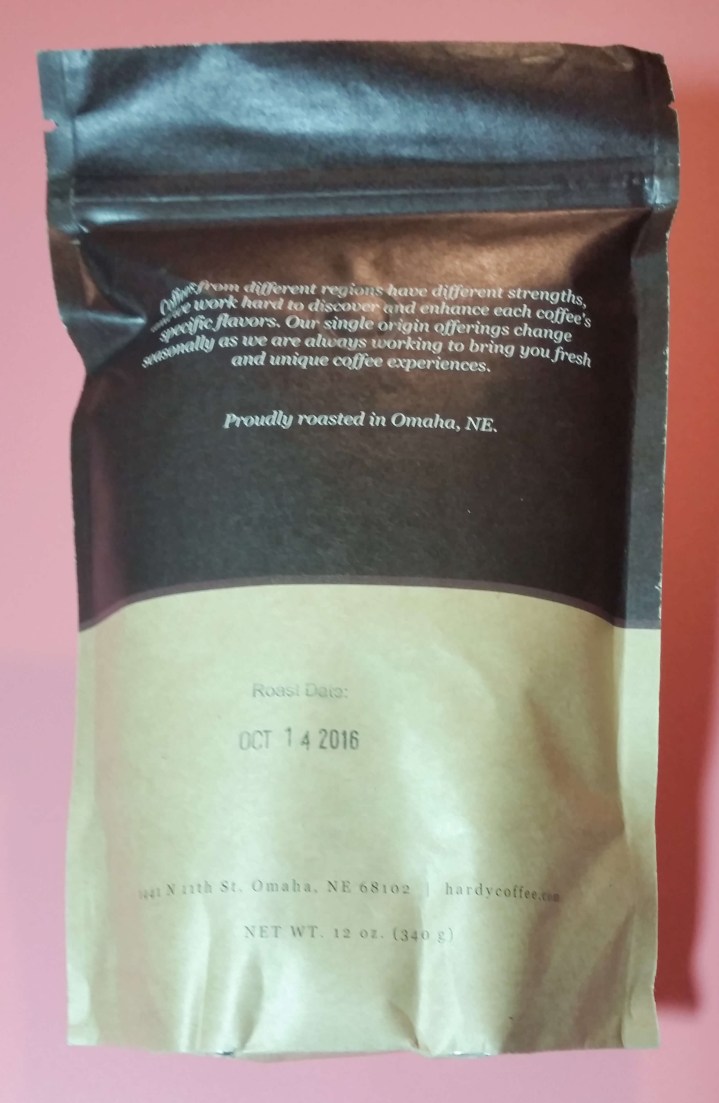 Here's the back of the bag. When I've reviewed other month's coffees, Hardy Coffee Co. has included a little tasting note on the bag of the bag. This month, however, there's no tasting note. This kind of bums me out a little bit, because part of the reason I love coffee subscriptions is to learn about new beans, new roasts, etc. But I need a little help sometimes – like a tasting note or information about the region or whatever. I think Hardy Coffee Co. could improve their subscription box experience by simply providing some more details with each month's box.
I do like that Hardy Coffee Co. lets you know when the coffee is roasted – here it was roasted on October 14, and I was brewing it up less than a week later. Fresh!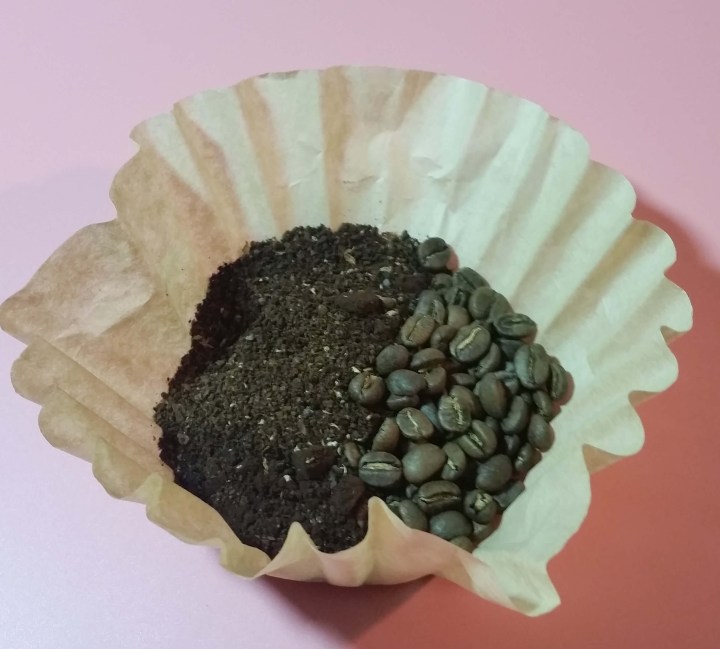 And here's the beautiful bean picture! The whole beans smelled nice and roasty when I opened the bag, and the aroma only got better when I ground the beans. As always, I used my Black & Decker burr grinder and my mid-level Mr. Coffee maker to prepare my coffee. I may not be fancy, but I am addicted to coffee, good coffee. Yum!
The taste: Like most Columbian coffees, I noticed a healthy cocoa and cherry/berry flavor with this coffee. It wasn't a terribly complex coffee, but it was a very pleasant and I've enjoyed the cups I've had so far.
Bottom line: I've reviewed Hardy Coffee Co.'s Single Origin subscription for a few months now. The company does a number of things right: the variety is fantastic (I've never had a bean repeated) and the coffee has been generally very good. The one thing I wish Hardy Coffee Co. would do better is to provide tasting notes (always) and more information about the coffee region, the bean, the roast, or even Hardy Coffee Co. I want to learn more!!! If what matters most to you is getting a good cup of coffee (and why wouldn't that be what matters most here) – Hardy Coffee Co. is a great option.
Have you tried Hardy Coffee Co.?
Visit Hardy Coffee Co. to subscribe or find out more!
The Subscription
:
Hardy Coffee Co.
The Description
: Learn all about the different brew methods for creating wonderful coffee. Get brilliant coffee delivered directly to your doorstep every month. It's the simplest way to assure you never run out of great coffee.
The Price
: $16.00 per month