Fandom Adventures Book Club Box is a monthly shipment of a must-have book plus 3-5 specially designed and handcrafted items that tie into the theme of the book! It costs $38 plus shipping, but that's not all. There's also an online book club plus an author Q&A session. The books chosen are from a variety of genres such as classics with a twist, historical romance (MY FAVE!), fantasy, paranormal, mystery, sci-fi, romance, YA, or thrillers and are suitable for women 18 years or older.
I loved the sticker holding the tissue paper together and totally said "BAW-DA-BAW!" aloud when I saw it!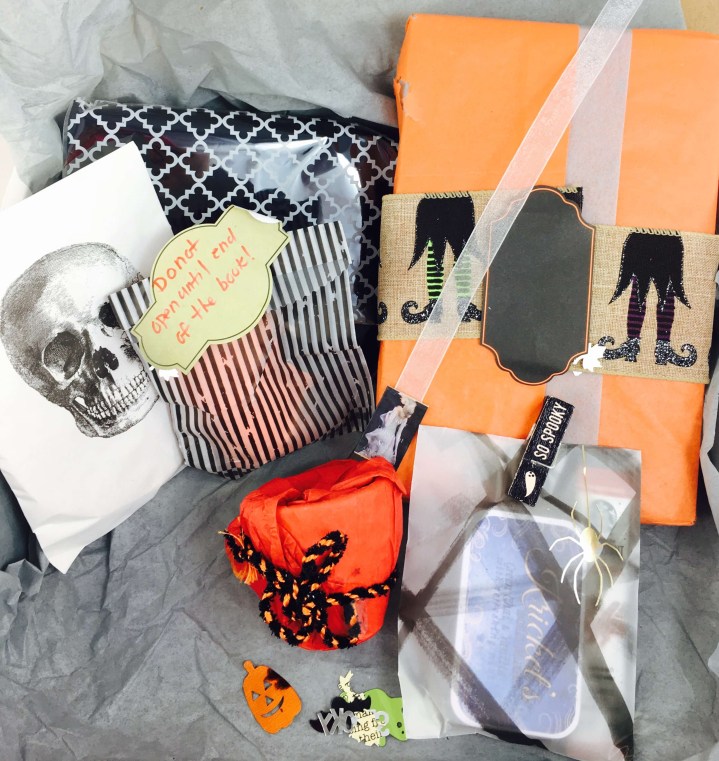 Inside my box, I found 6 individually wrapped presents plus seasonal die-cut confetti. Wow, it's like a birthday party every month!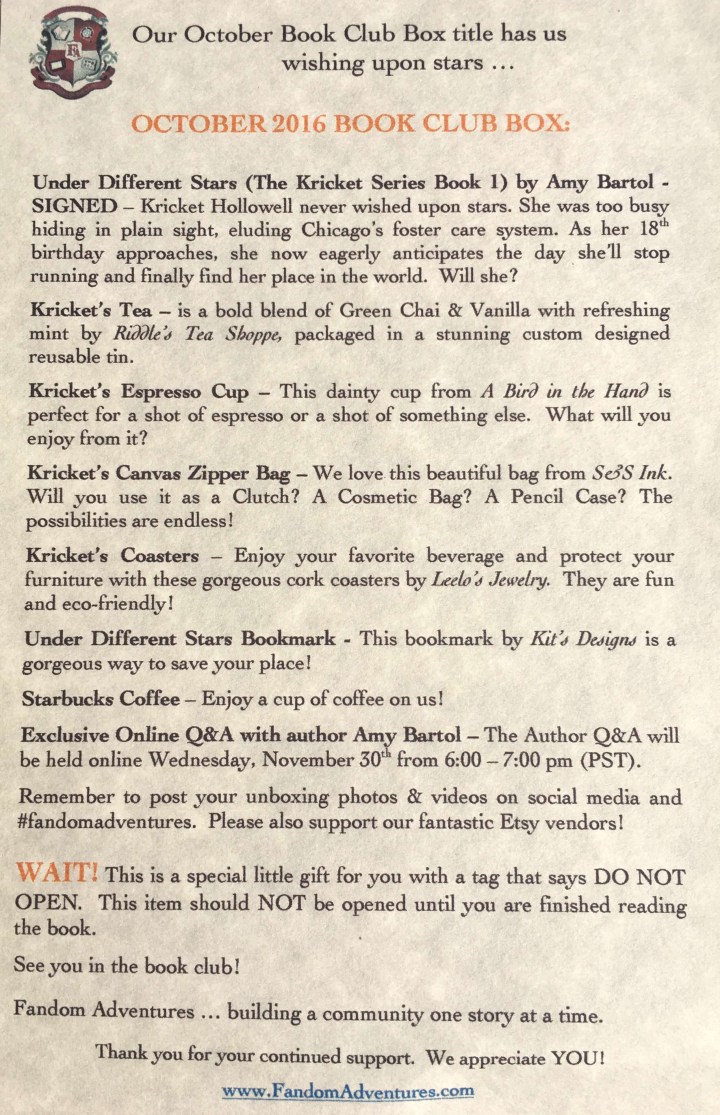 Yay, I love product info cards, it makes it easy to find out how to order extras of my favorite items! Most of the items in this box will be from Etsy vendors. It also mentions that there will be an exclusive online Q&A with the author on Wednesday, November 30th from 6-7pm.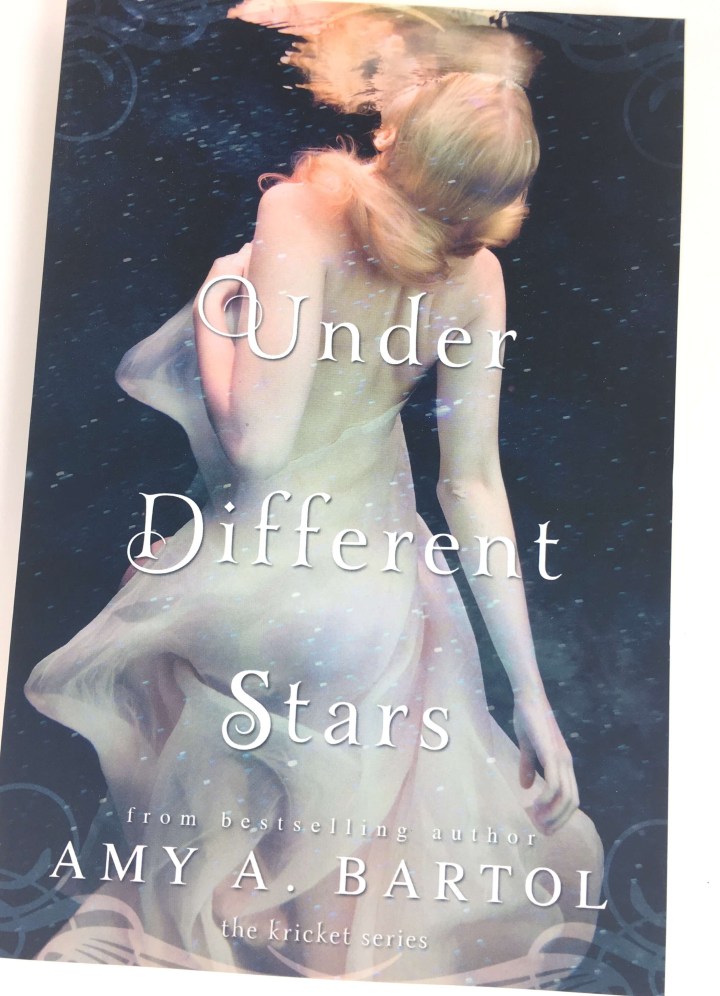 Under Different Stars (The Kricket Series) by Amy A. Bartol ($14.95 $8.89) is the star of this month's box. It's book 1 of 3 in a series and falls under the sci-fi and romance genres. It has 4.6 stars on Amazon and was published in 2015. This book was signed by the author!
Kricket Hollowell never wished upon stars. She was too busy hiding in plain sight, eluding Chicago's foster care system. As her eighteenth birthday approaches, she now eagerly anticipates the day she'll stop running and finally find her place in the world.

That day comes when she meets a young Etharian soldier named Trey Allairis, who has been charged with coming to Earth to find Kricket and transport her to her true home. As danger draws close, he must protect her until she can wield the powers she cannot use on Earth…and he soon realizes that counting a galaxy of stars would be easier than losing this extraordinary girl.

Kyon knows the powerful depths of Kricket's gifts—gifts he'll control when he takes her for his tribe and leads the forces that will claim Ethar and destroy his enemies, starting with Trey Allairis. Now, Kricket faces the most difficult choice of her life: whether to wage a battle for survival or a fight for love.

Winner of four 2014 utopYA Awards, including Best Book of the Year and Best Sci-Fi Book of the Year.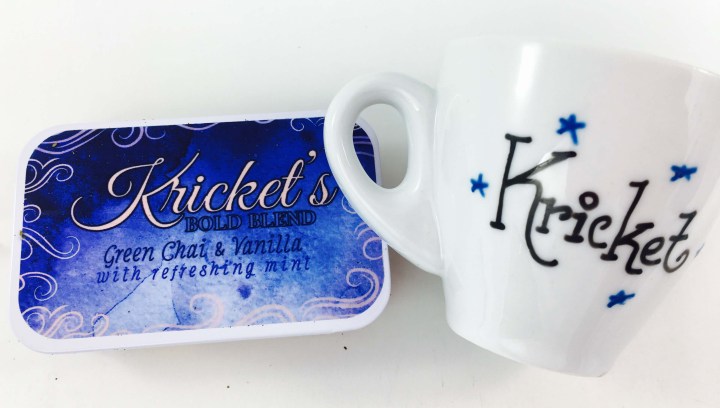 I love tea and Kricket's Bold Blend Green Chai & Vanilla with Refreshing Mint ($5) sounds delicious. "A tea to match the fiery, impulsive personality of Kricket, with a smooth mint finish to cleanse the palette" is how it is described. This blend of green and black tea, peppermint, and orange peel is light in both taste and color. From Adagio Teas.
Kricket's Espresso Cup from A Bird in the Hand ($5?) reads "Kricket" on one side, "Trey" on the other, and has a question mark on the inside.
I don't drink coffee so I will pass along the Starbucks Via Instant Columbia Coffee (83¢) to my husband and see what he thinks. The Under Different Stars Bookmark by Kit's Designs ($2) is from a vendor who can make a bookmark out of any title you like. This has a miniature copy of the book on a light lilac organza ribbon.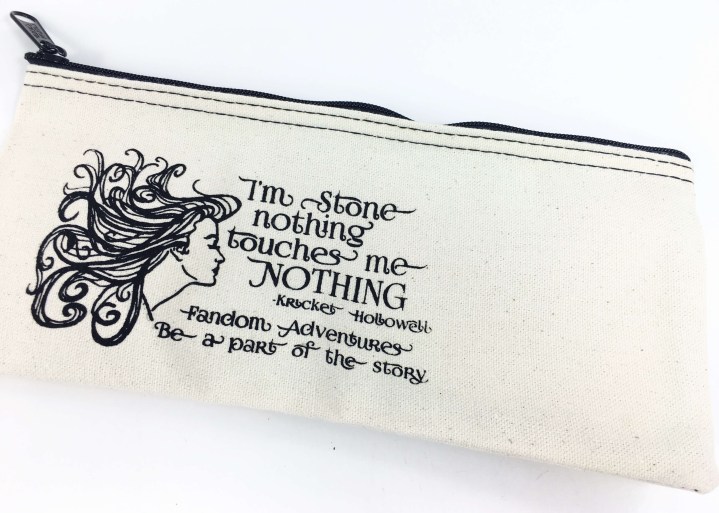 Kricket's Canvas Zipper Bag from S&S Ink ($10) can be used as a clutch, cosmetics bag, or pencil-case. It is a generous 10″ x 5″ size.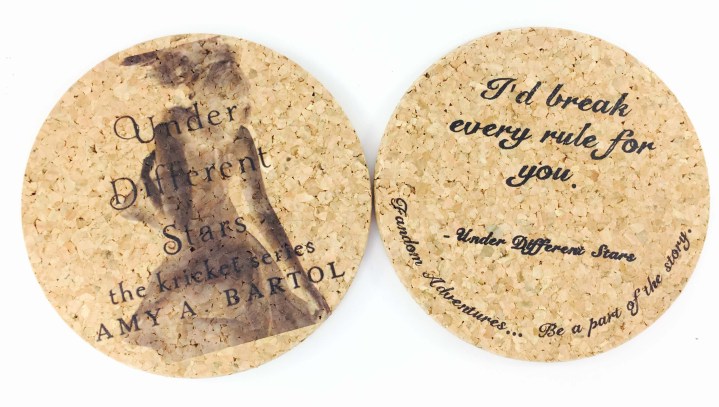 I recently bought some fancy stone coasters that are useless so I am happy to put Kricket's Coasters by Leelo Jewelry & Supplies ($4.38) to use. These are made of absorbent cork and are printed with eco-friendly ink.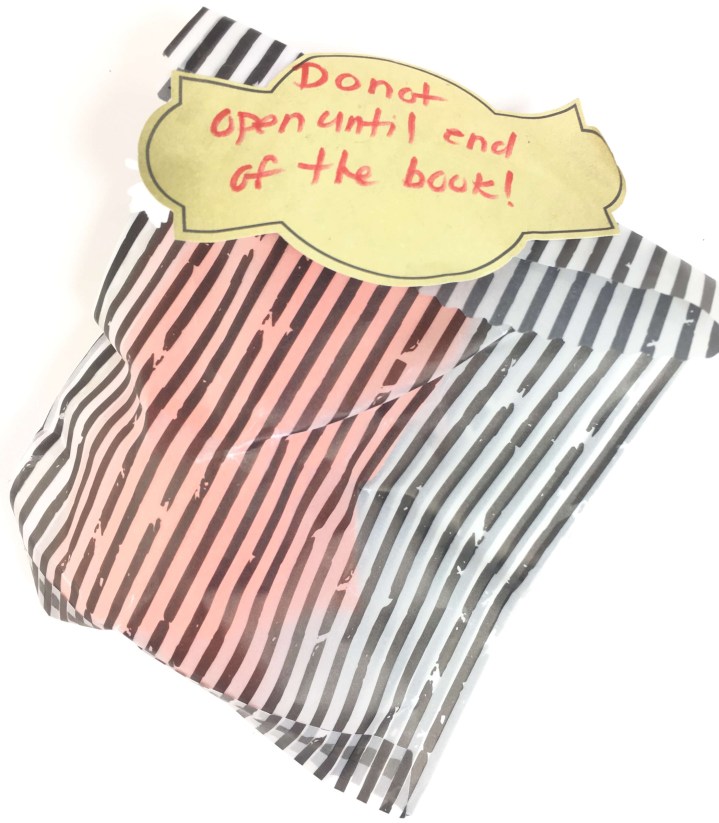 Spoiler Alert: The following item specifically said "Do not open until end of the book!", but I can't wait that long!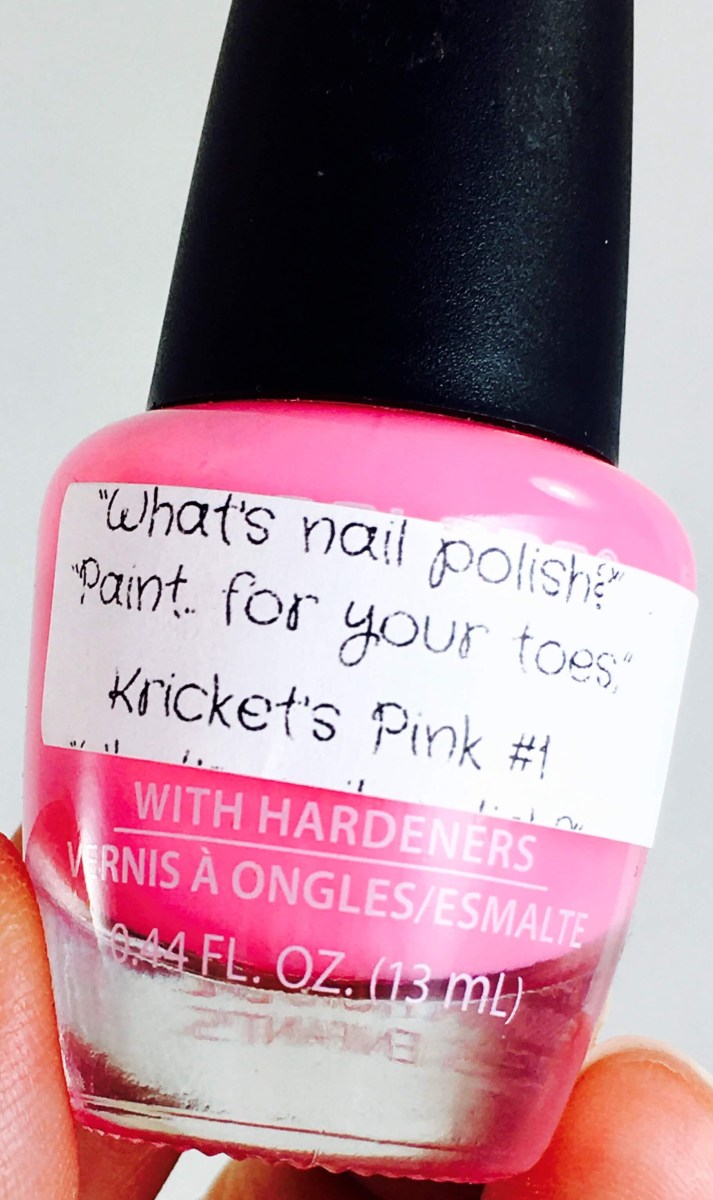 L.A. Colors Nail Polish in "Kricket's Pink #1" ($1.50) is bubblegum pink and cute. I was bothered by the fact that the bottle was hard to open and had dried polish under the rim. That makes me think it has possibly been used and I will be throwing it away.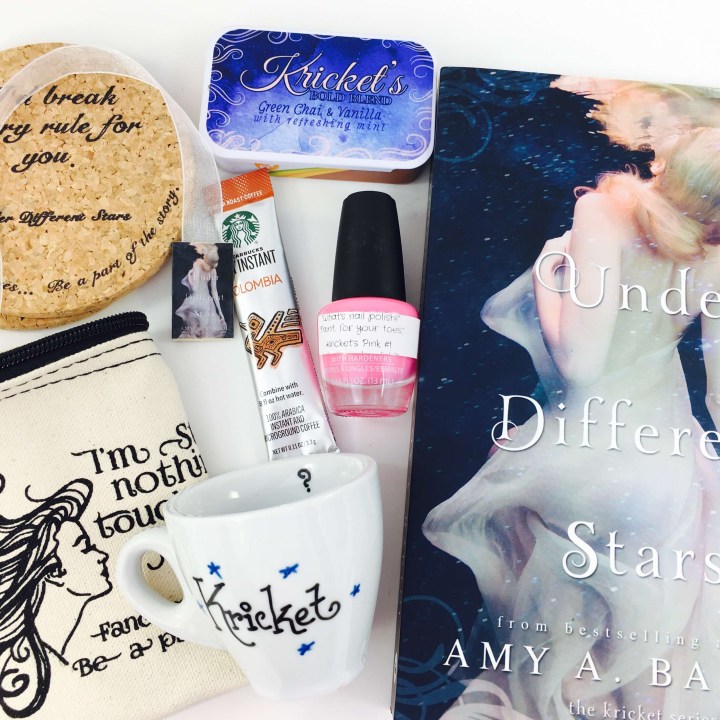 This was my very first Fandom Adventures box and I think they are on the right track! The items chosen for this box were cute and certainly unique to this book, although since I haven't read it yet I am not sure of their significance. I think that is part of the adventure, reading the book and then having an "a-ha" moment and knowing just why a particular product suddenly makes sense. This box had a value of about $37.60, which is less than the price of the box plus shipping. The presentation was nice and I enjoyed opening each of my "presents". I can't wait to see what comes in the next few boxes and I hope the value can come up a bit, too.
What did you think of Fandom Adventures Book Club Box? Which fandom would you like to see? I would love to see something along the lines of Tudor historical fiction!
Visit Fandom Adventures Book Club Box to subscribe or find out more! Take $3 off your first month's subscription! Use coupon code  HELLOSUB3.
The Subscription
:
Fandom Adventures Book Club Box
The Description
: Is it a book club? Is it a monthly subscription box? IT'S BOTH! We are a super cool book club where each month subscribers receive an awesome book box. Each month subscribers can sign on to the Fandom Adventures Book Club for guided chapter reads & discussions.  Included will be three to five (3-5) individually wrapped items that were specially designed and crafted just for Fandom Adventures to match the theme of each month's book. You will be amazed at how everything, down to the last detail, ties in to the book! The discovery is so fun … you'll love each "Aha" moment! A portion of each month's proceeds are donated to a charity/organization of the author's choice.
The Price
: $38.00 per month