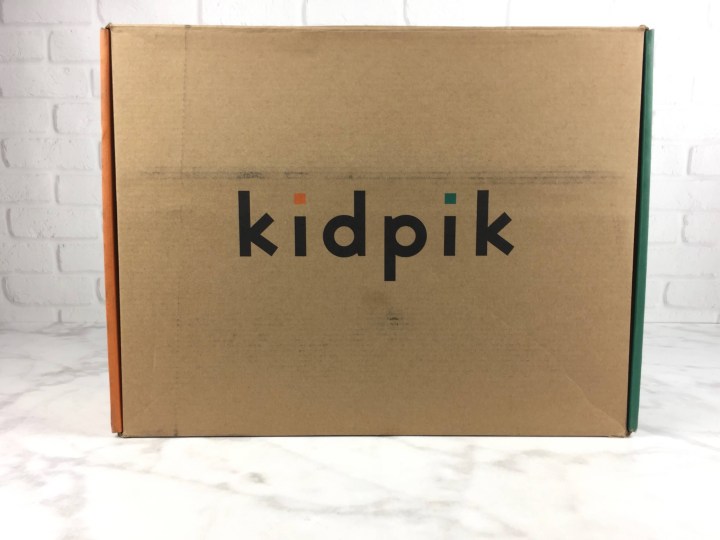 Kidpik is a styling subscription box for girls sizes 4-14 that is offered with no subscription, styling, or and shipping fees. (It's like Stitch Fix for girls, but with no styling fee!) You will be sent a box up to 8 times per year at no cost, and you'll only be charged once you pick the items you want to keep. There's also no return fee to send items back, so your daughter can ultimately decide which items are hers to keep.
Kidpik promises to always bring pretty things inside their boxes. If you don't like what they've sent your daughter, they give you 7 days to pick the items you want to keep or return. You'll need to login to your account online to complete the checkout process within a week, if not, your credit card will be charged for the complete box. A 30% discount will automatically apply upon checkout.
My daughter chose the colors and styles she wanted for her box in an extensive style profile that covered styles, colors, types of clothing, length of outfits, and complete sizing information.
The survey is simple and my 7 year old was able to fill out the entire thing by herself (and she was so excited about it!). I updated it with her current sizes for her Fall box!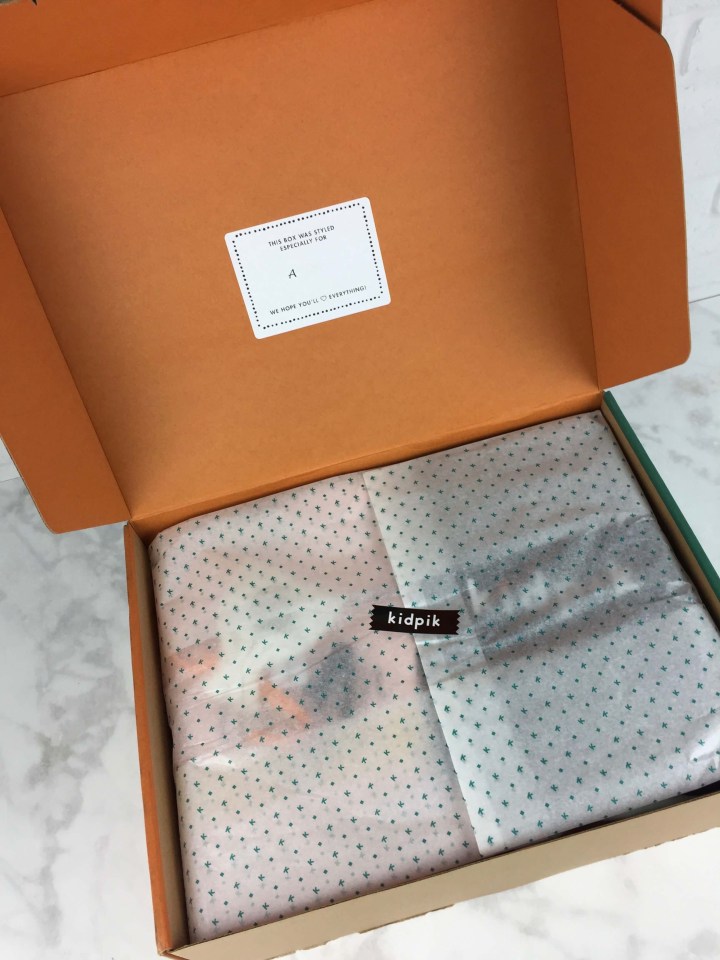 The entire box, with the keep-it-all discount, is on average $85, with 5-7 high quality items included. If you decide to keep everything, each item will cost approximately $12.50.
The box includes a list of the items, their prices, and the broken out price for each item if you keep the entire box. These prices are super reasonable and the shopping is devastatingly easy.
Note about this review – for some reason we received two boxes for Fall. We thought that it was interesting to be able to show 2 variations of the same box – see the first review here. This review is written with the other one in mind – be sure to take a spin through that one too!
The box includes a return envelope and a coloring sheet.
When you checkout you can get a a 30% discount by keeping the entire box. If there are items you kept because it was cheaper but don't want, you can return them in the envelope. So if it makes sense to keep the entire box, just return anything you don't want, and Kidpik will donate it for you!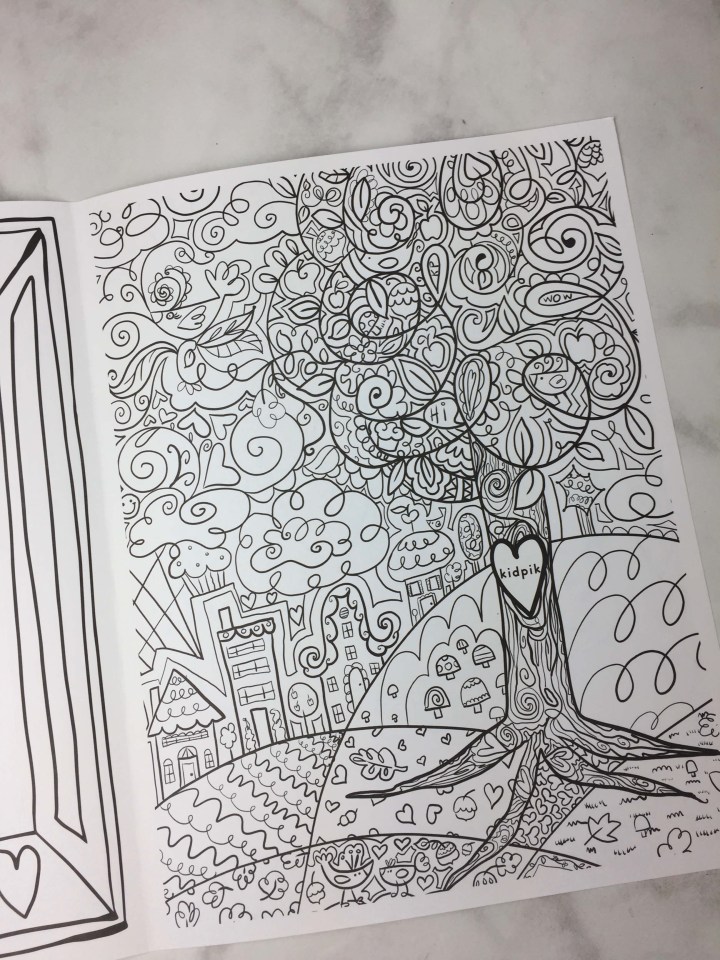 There's also a small booklet that your daughter can color inside.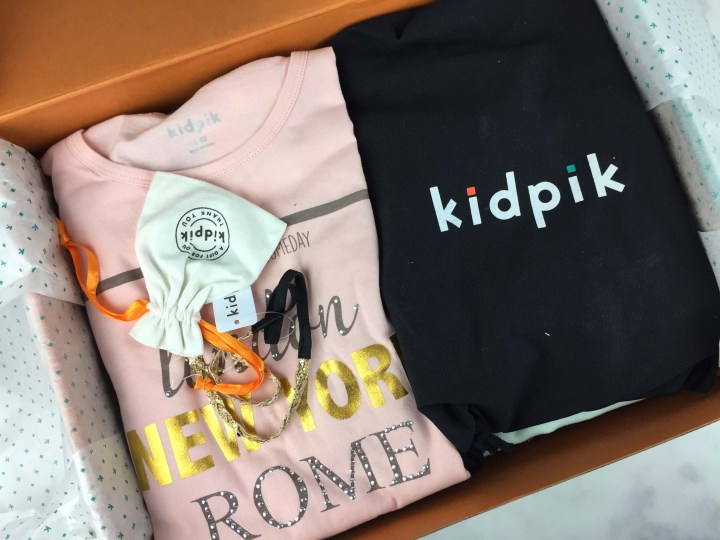 Everything was packed really neatly and anything that could possibly snag clothing was packed in sturdy reusable bags!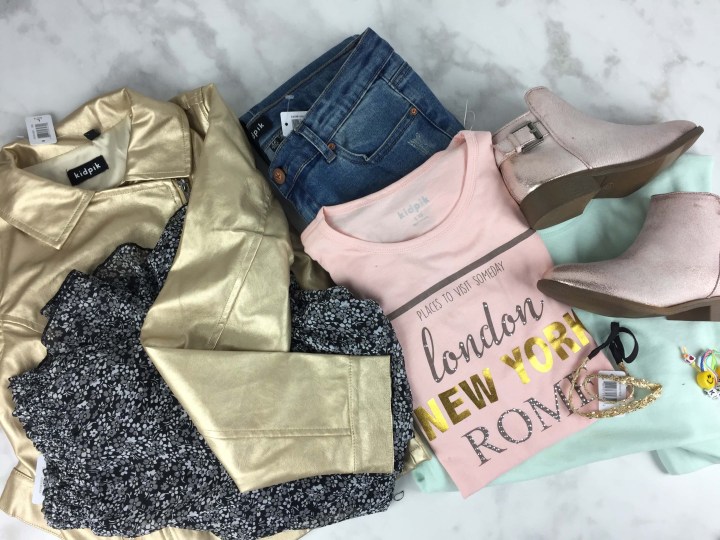 All the items in the box! I adjusted my daughter's style profile ever so slightly for more girly items this quarter – she's getting into those tween years and has been selecting items from her closet with a little more flair.

Kidpik also added other bonus items inside the box. This is a fun bracelet and we loved the colors!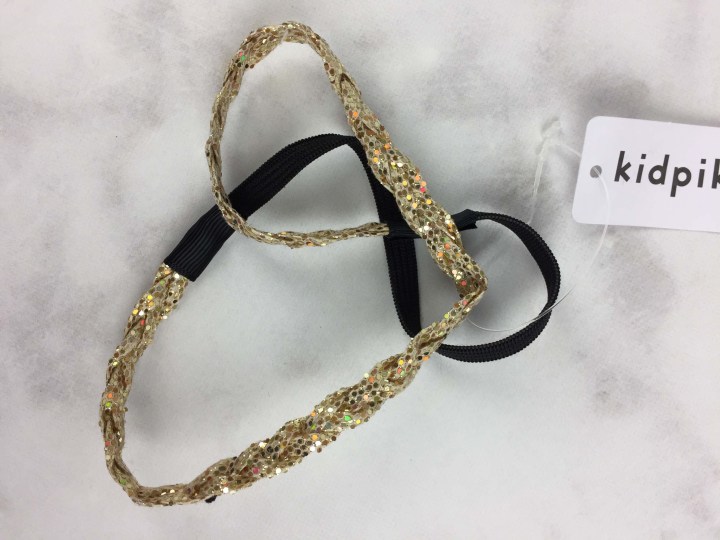 Glitter Braided Headwrap ($1.50)
Romela Kids Bootie ($29.50) My daughter was SO excited to see more booties – and who wouldn't be with this pink/gold metallic ones? It turns out that she is quite the little shoe horse.
They're so cute and girly!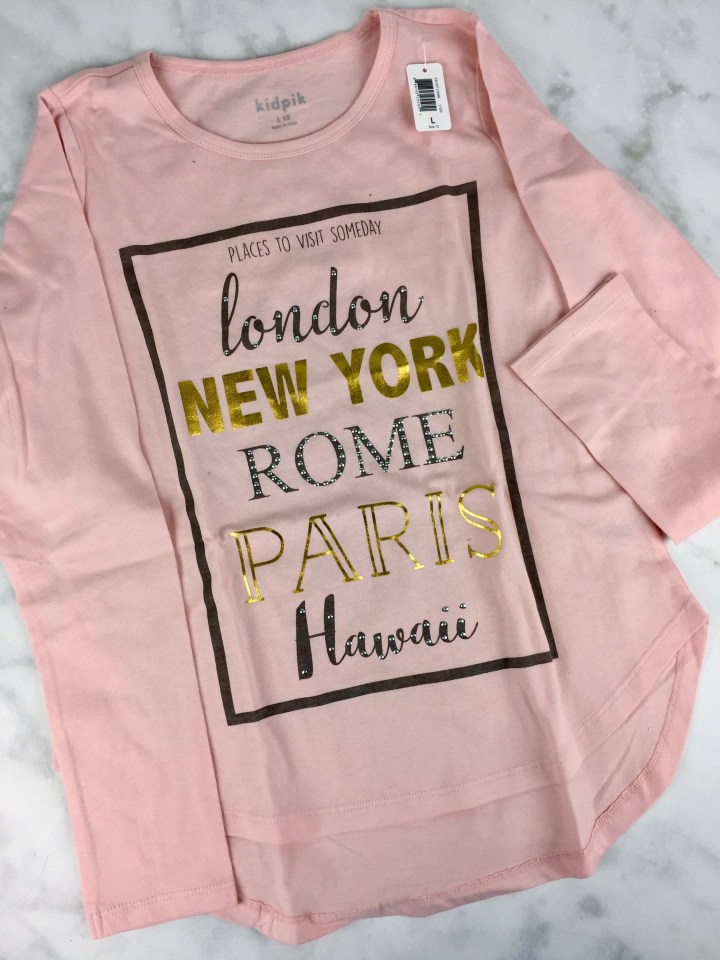 Travel Tee ($16.50) My daughter LOVED this shirt. It was a hit – glam and girly but with a graphic tee look!
Chiffon Layered Top ($15.50) She liked the shirt in the other box better – same colorway, this one was a layered shirt (that one was a graphic shirt – which she destroyed the first day she wore it with chocolate ice cream, oh well!).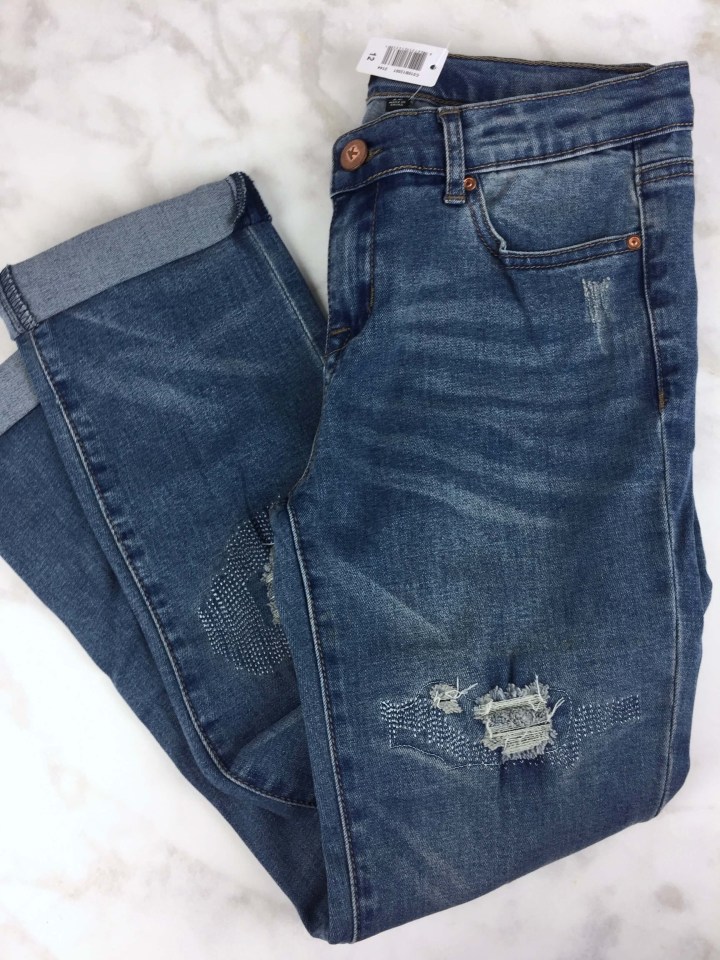 Boyfriend Jean ($27.50) My daughter had serious questions about these jeans. Why are there holes? She's not there yet, but she ended up liking them. She especially liked the cuffs on the bottom. They're nice and stretchy for comfort and fit.
Ditsy Floral Tier Skirt ($22.50) We received the shorter, flouncier version of this skirt in the other box. Ruffles and flowers are a win for her.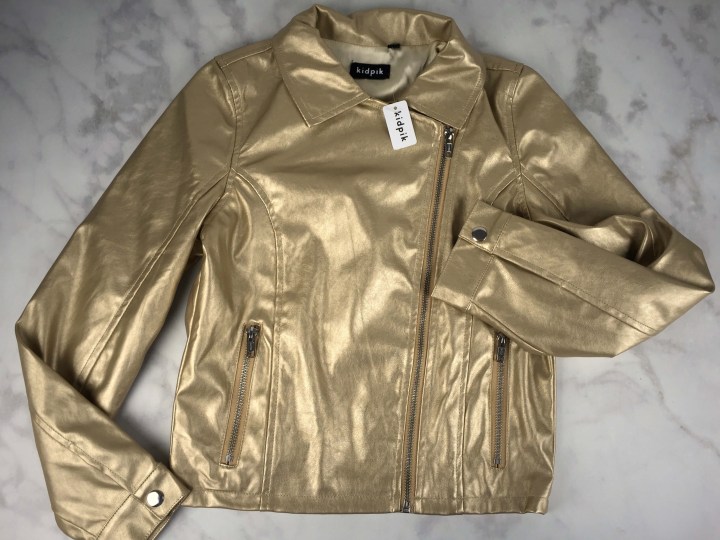 Pearlized Pleather Moto ($29.50) But this was just everything for my 7 year old. The other box had a metallic trim dress perfect for holiday – this one was a golden metallic bomber jacket that just made her eyes go big and induced squealing.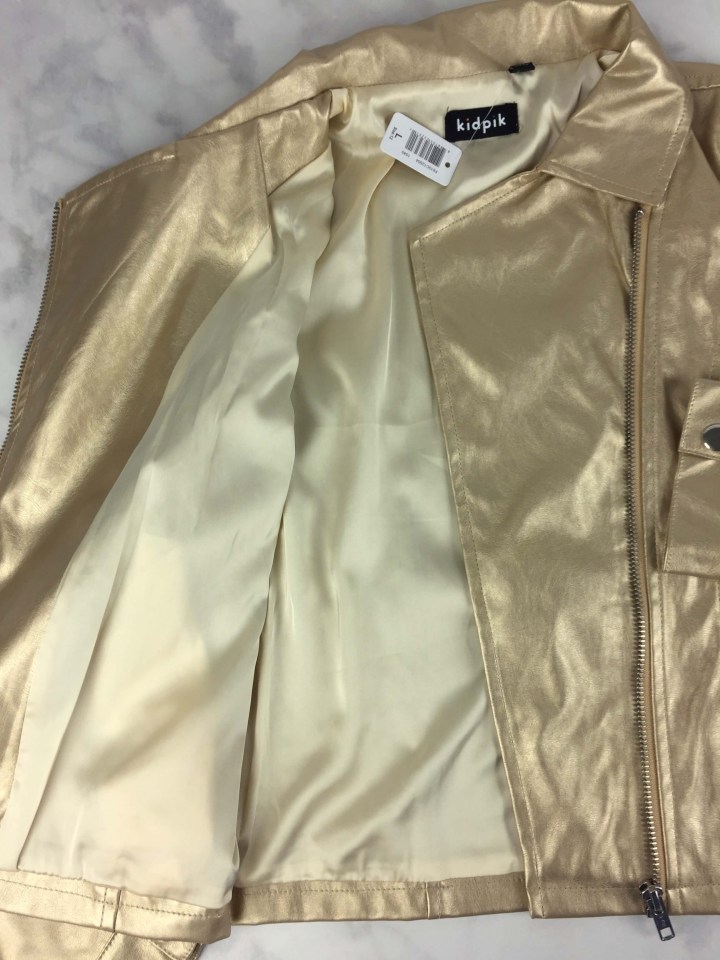 It's lined, too!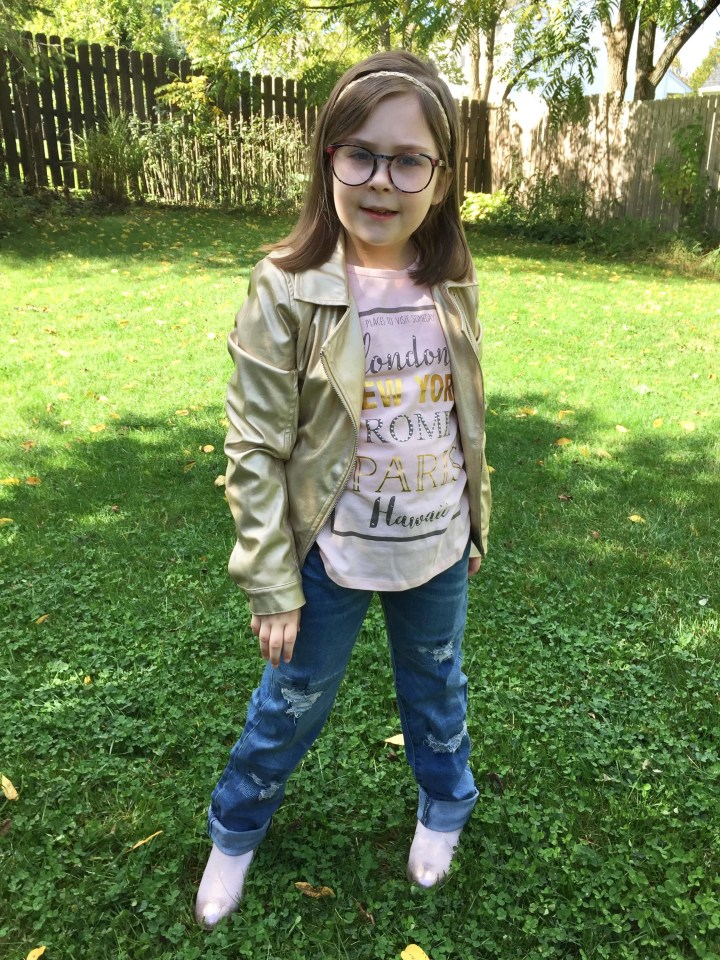 She managed to put 5 of the items together in one outfit and won't stop wearing the shoes. This shipment was just really well received, and I was personally fascinated by the formula they seemed to follow (pink shirt, green shirt, [one of these 2 being a graphic tee] jeans, booties, headband, big sparkly item, skirt). I'm glad I intervened in her style profile to give her more options that are wearable for her – both these boxes worked out really well and I think I have her profile right for her burgeoning personal style.
What do you think about Kidpik? We love it! The fact that everything in the box was at a checkout price of a hair under $100 makes it a giant win!
Visit Kidpik to subscribe or find out more!
The Subscription
:
Kidpik
The Description
: Kidpik delivers personalized outfits designed exclusively for the girl in your life and tailored to your budget. Girls' Size 4-14.
The Price
: Free! per quarter