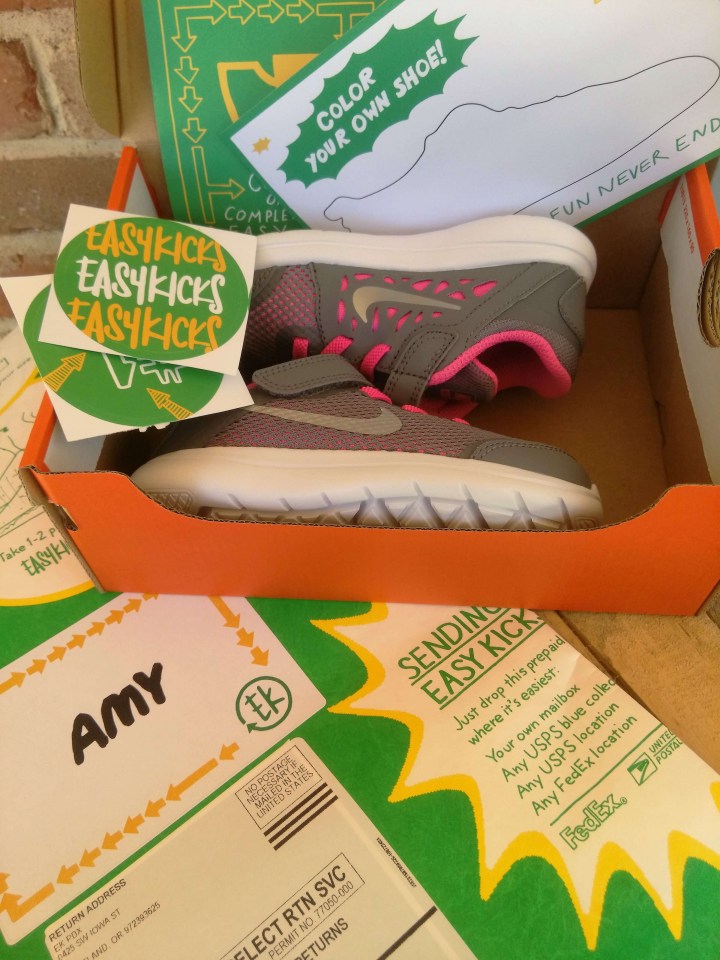 EasyKicks Subscription Box is a whole new way to handle buying shoes for children. They have compared themselves to Netflix for kids' shoes. For $20 a month they will keep your children shod in clean, new shoes with no hassle involved.
Note: For a VERY limited time you can use the coupon code EZ50 to get your Kicks for just $10 a month for the first 3 months!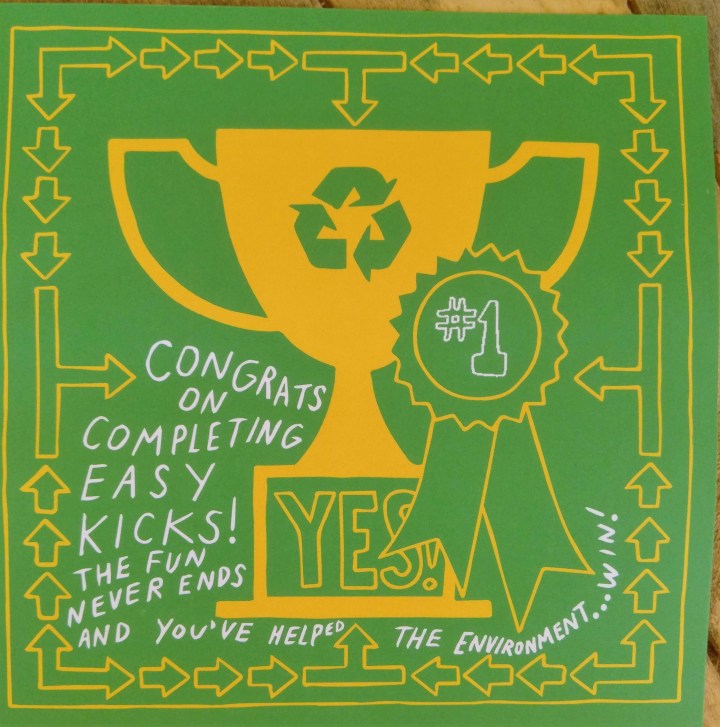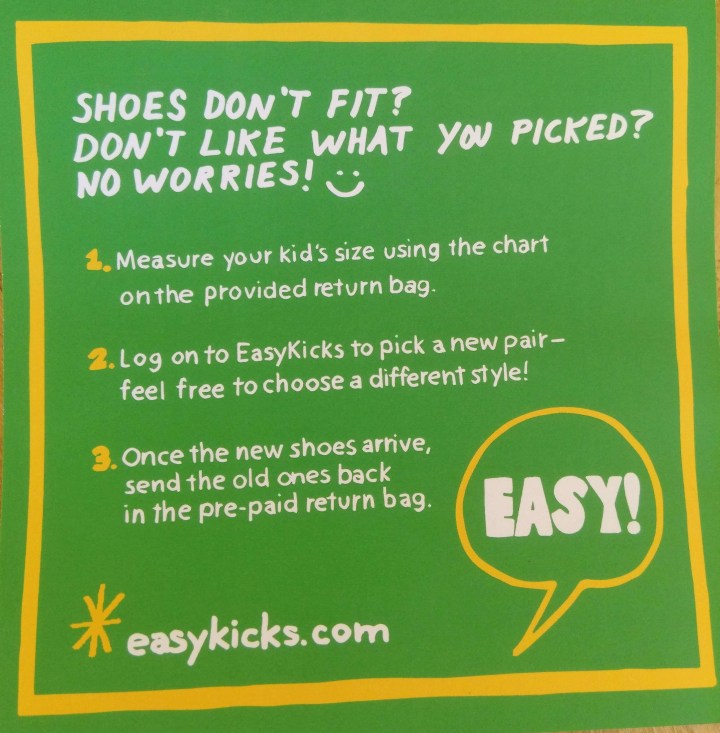 This card was in our EasyKicks box and let us know that we had options! If you don't like the shoes that you picked (yes, you read that right, you get to pick out the shoes), or if they don't fit then you can return them (at no charge) and get a different pair.
They have provided a handy chart to help you determine your child's correct shoe size on the outside of the return bag, or if you are a new customer who hasn't ordered yet, you can download a chart here. Once you have the size, you log on to EasyKicks and pick a new pair. They have shoes from Nike and Converse in several styles and multiple colors. They also offer velcro styles if tying is still a challenge. Once the new pair arrives you simply return the old ones. They have provided a handy return postage bag (prepaid) that you throw the ones that you don't want into.  (More on that later.)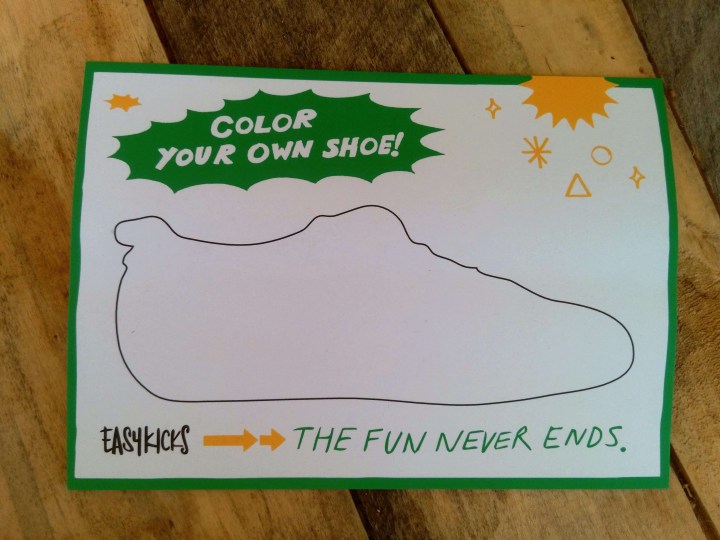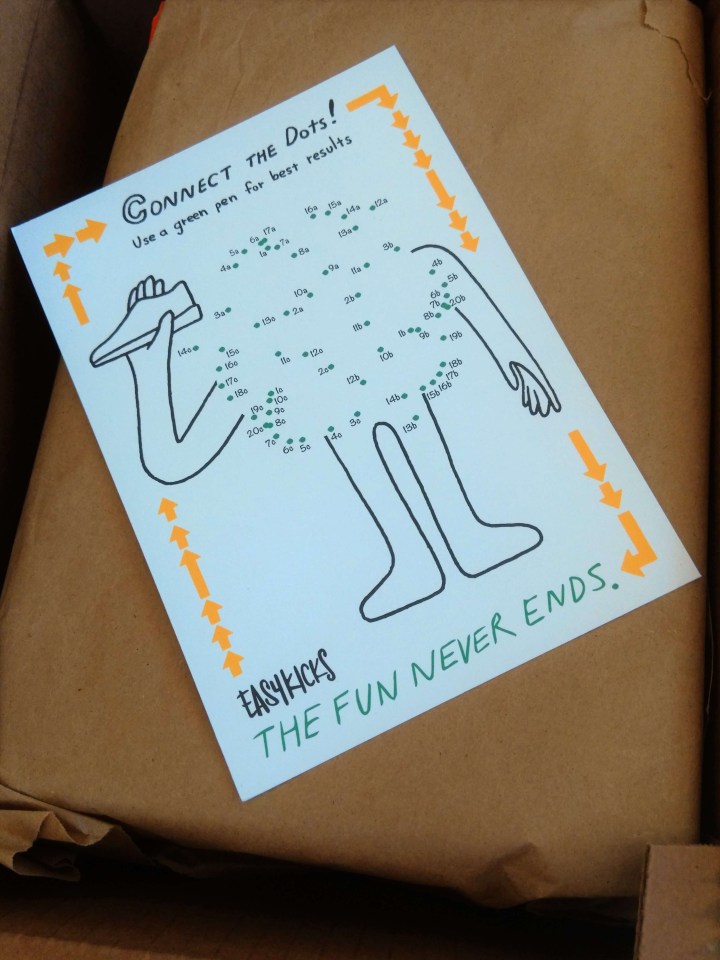 There were several of these fun postcards with activities for the kiddos on them.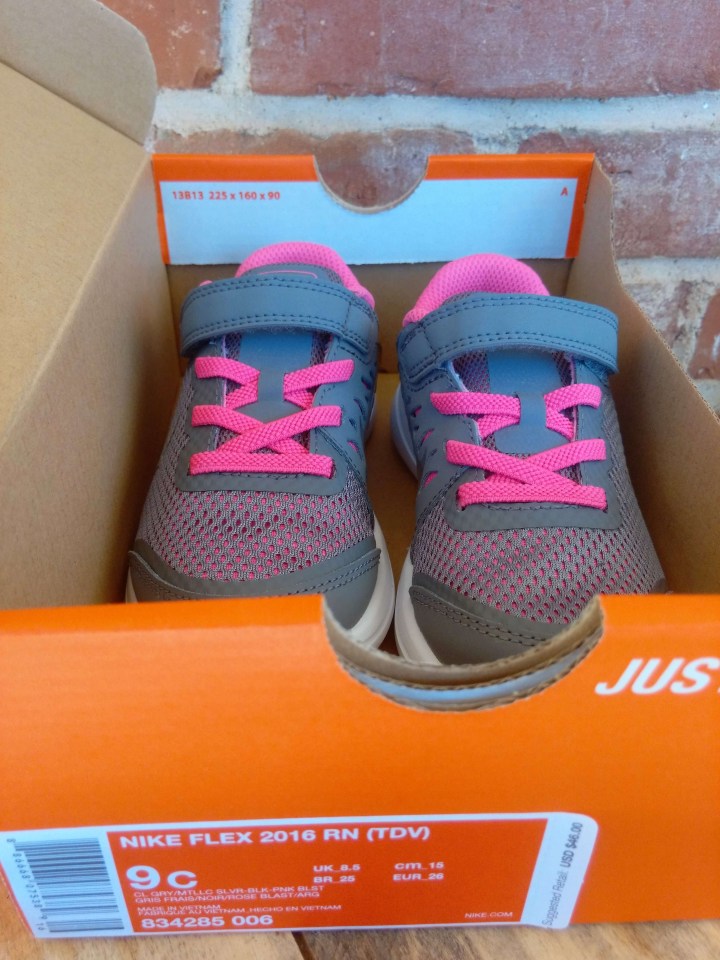 The shoes that we received were Nike athletic shoes for my youngest. They came still packed in their original box with tissue stuffed in the toes. If you look close you can see that the suggested retail for this pair is $46.00.
The soles are white and firm enough to support well, but flexible enough to be comfortable. I would normally worry that the white soles would become dingy and probably go with another color sole, but with EasyKicks I can just get a new pair and recycle these when they get dingy.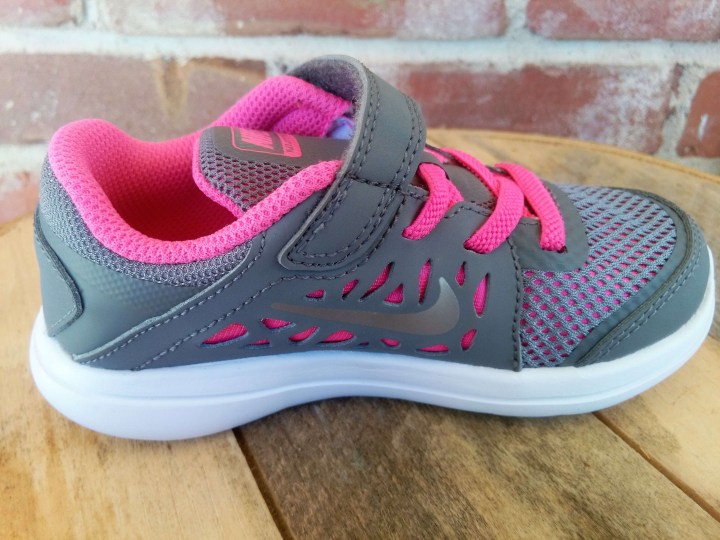 The shoes were really cute too with fancy cut outs in the side with pink peaking through the gray.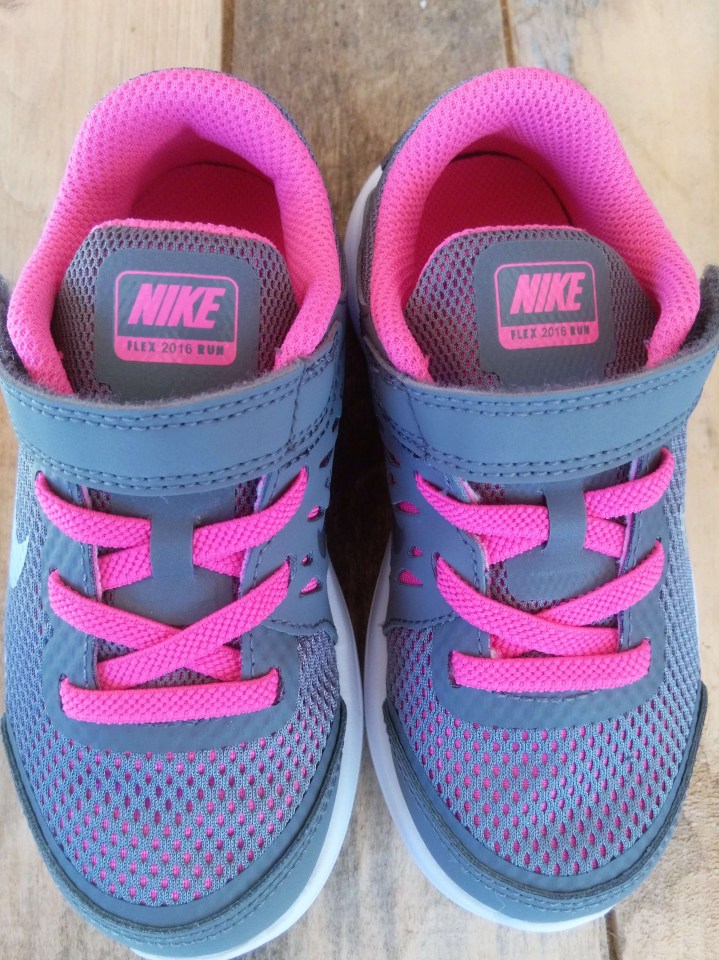 I love that the shoes are a hybrid between laced and velcro. The laces are actually elastic and permanently sewn in, the velcro at the top provides all the tightening needed when you child puts them on. Cause they can totally put these on themselves! (All parents everywhere rejoice.)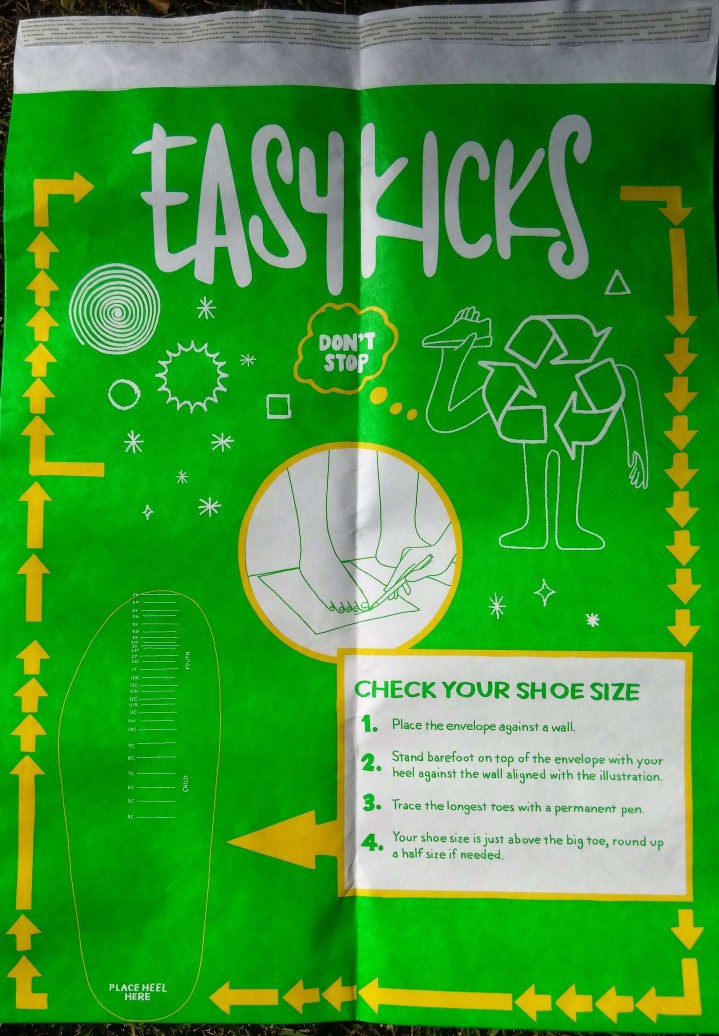 This is the bag to return your shoes to EasyKicks in. When you are ready for your next pair of EasyKicks you throw the old pair (and, if you choose, an additional pair of any other shoes that you want them to recycle) into the bag and return them. You can put the prepaid envelope in your mailbox, drop it in an USPS collection box, take it to a USPS location or take it to a FedEx location. This is awesome! I hate having to look here, there and yonder for the correct place to drop off a return package.
They also have a referral program. When someone that you refer orders EasyKicks for the first time you get a $5 credit off of your next month's subscription fee.
I am glad that someone has finally come up with this. It is a great idea to help busy parents keep their children in shoes that fit properly and look great! And, the price is really very reasonable when you consider how fast children's feet can grow. "Seriously, I just bought those… and they don't fit already!" This is no longer a problem because with EasyKicks you just return them and get the next size up. And keep the kids stylin' with brand new shoes as often as they like! This would be a great subscription for grandparents to get for the grand-kids!
Don't forget to use coupon code EZ50 to get 50% off for the first 3 months!
Have you tried EasyKicks?  What shoe style did you choose?
Visit EasyKicks to subscribe or find out more!
The Subscription
:
EasyKicks
The Description
: A subscription to EasyKicks eliminates the hassle of keeping shoes on your kids' growing feet. For $30 a month, your kids can choose from a selection of everyday sneakers and swap them out whenever they want. Once the new pair arrives, just drop the old EasyKicks in the mail using the pre-paid return envelope and we'll recycle or donate them for you.
The Price
: $20.00 per month