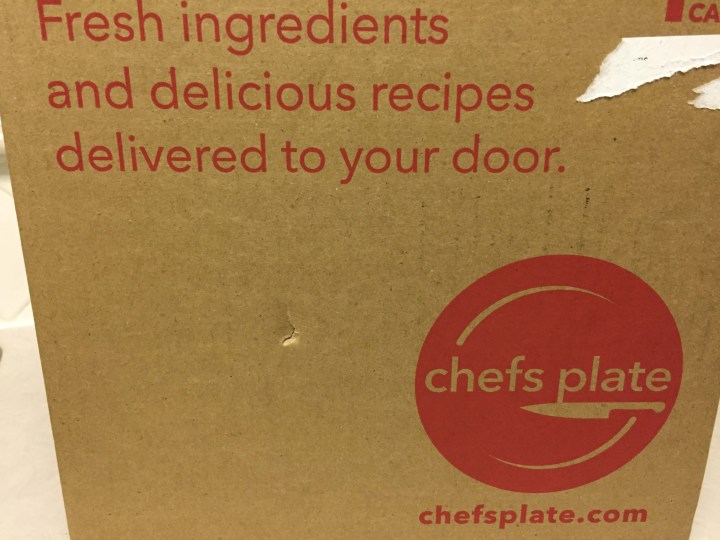 I've always been envious of the amazing meal planning boxes in the States — I'm a single girl, and grocery shopping always yields me too much wasted food! Meal planning boxes always appealed to me, but Canadian boxes have so far been limited to the East Coast. Not anymore! In the last six months, some have made their way west and Chef's Plate is one of the few that delivers to my area. I'm so excited to be trying their service. Like most meal plan subscriptions, it's shipped weekly but you have the option of skipping. I found it easy to do so, as I'm going away on vacation in two weeks (eek, so close!) and didn't want a delivery while I was away!
Chef's Plate plans are pretty simple!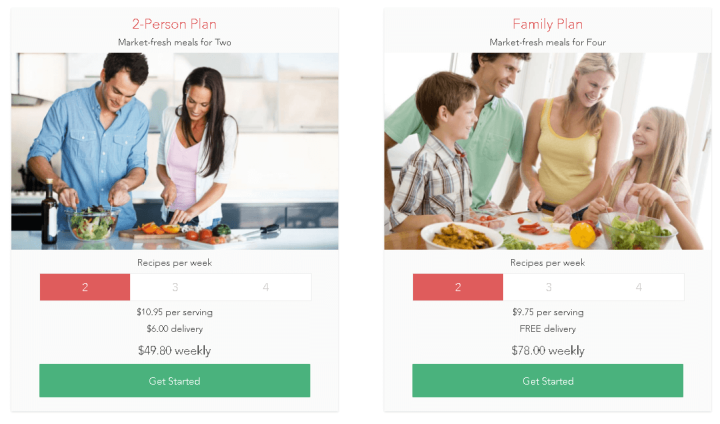 2-person plans let you choose 2-4 recipes weekly. If you only choose 2 recipes there is a $6 delivery charge. 4-person (family) plans have the same options. The recipes available differ slightly between the two. The recipes available can be customised based on your preferences; you can choose to only request recipes with or without certain meats. Gluten free and vegetarian meals do pop up occasionally – I saw a vegetarian option for my second week, but I haven't seen a specific gluten-free one yet. Since Chef's Plate provides you with an ingredients list in advance, you could surmise which would contain gluten at a glance if necessary.
Chef's Plate is sent by FedEx; I had mine shipped to my work address as I live in an apartment. Chef's Plate provides adequate packaging to keep ingredients fresh and cold if they need to leave it at your door. It was pretty heavy, but I carried it all the way home with me.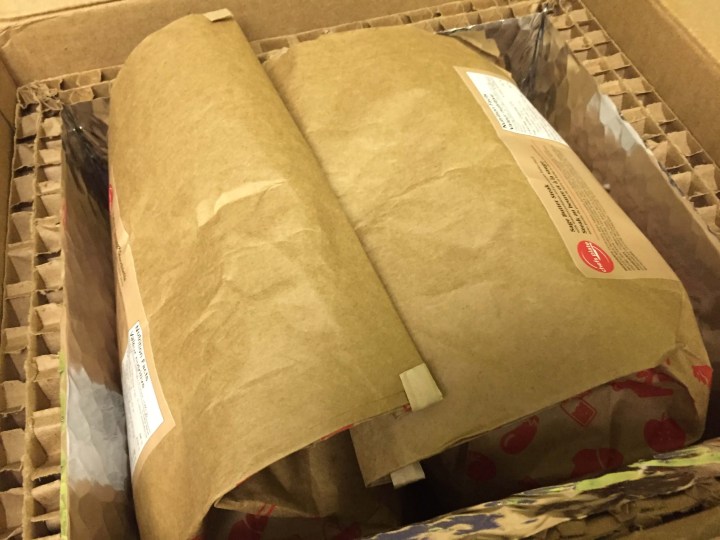 The two bags are packed above the meat. Everything was cool to the touch.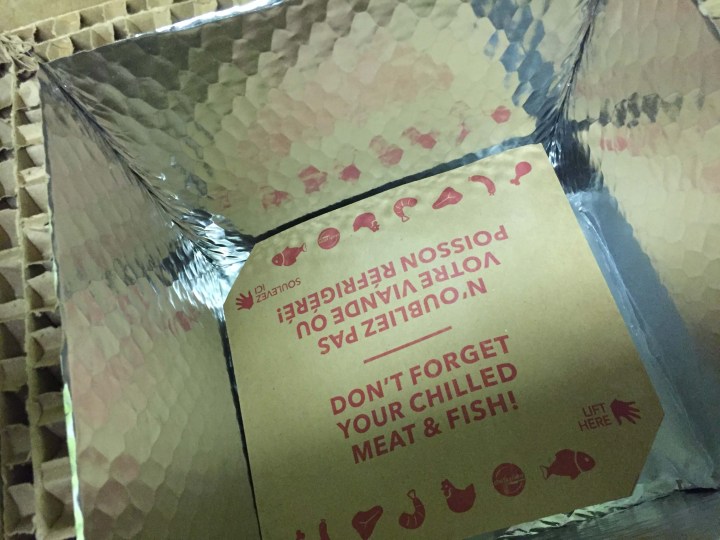 The meat was hiding under the bottom!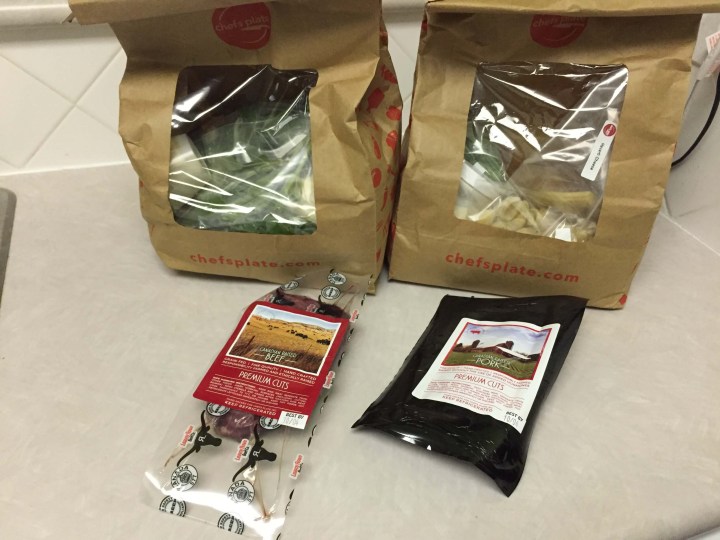 The two recipes I chose were Italian Sausage Orecchiette and Sage Butter Steak.
When I saw the package of pork, I was confused – the recipe called for ground hot Italian sausage. I emailed Chef's Plate and they got back to me in fifteen minutes – awesome! (FYI, this is how new of a cook I am. I didn't know ground sausage looked like that!) Both the beef and the pork are Canadian raised. They had best before dates (October 4) clearly labeled.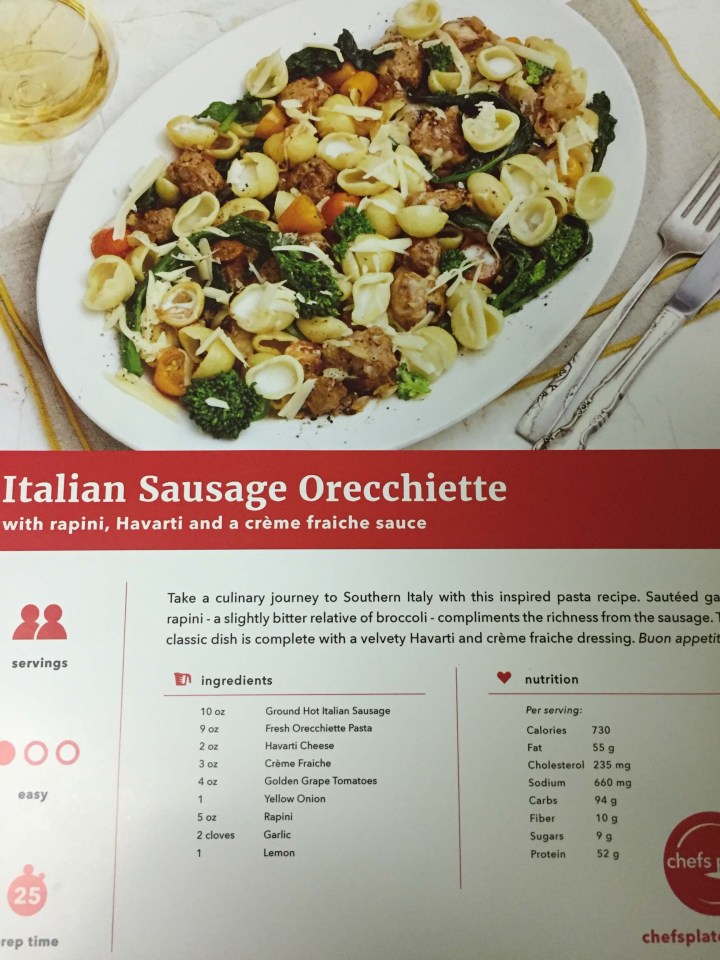 I received two recipes in my first week, but I'm only going to do a run-down of the first one I did, which is Italian Sausage Orecchiette. I chose this because I thought pasta leftovers would keep well for the following day. Pictures of the Sage Butter Steak recipe are at the very end!
The recipe cards are great. In addition to having step by step instructions (with pictures!) they are also the perfect size to hole punch and keep for future reference.
Here's everything that was included in the paper bag for the first recipe (excluding the pork which I forgot to include in the photo). Chef's Plate lets you know what ingredients are being sent – this is great if you have dietary restrictions. For me, since I hate onion (unless it's green onion!) I chose to omit it from the recipe entirely. The products were all fresh and in good shape. The only things I had to use from my own kitchen were olive oil as well as salt and pepper.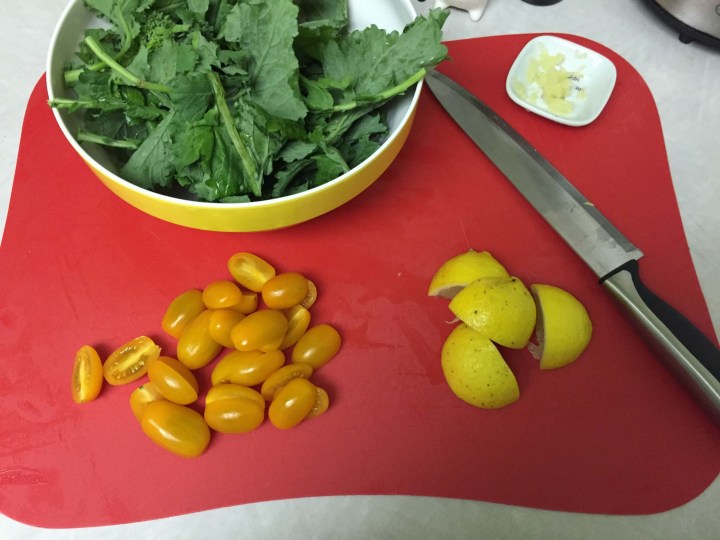 The prep involved washing all of the products first. Then the rapini stems were trimmed so the pieces were smaller, the garlic was minced, the tomatoes were halved, and the lemons were quartered and deseeded. I am really bad at cutting lemons, apparently.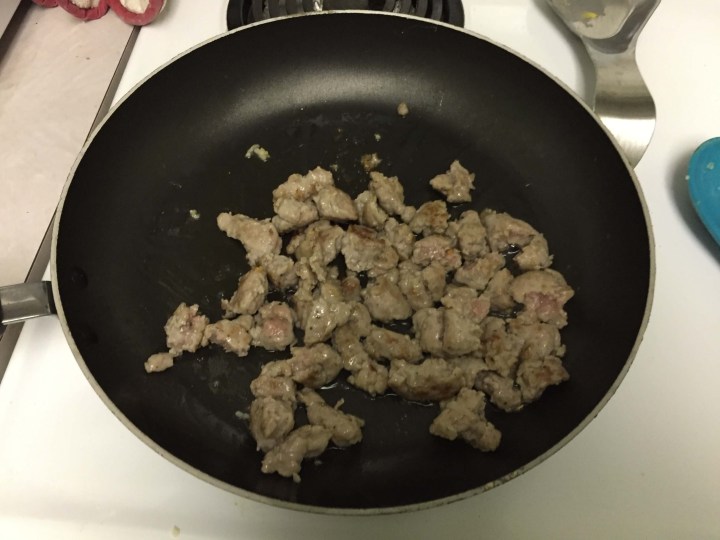 The pork browned up nicely! I've never used ground pork before, and this was seasoned with a bit of spice for a nice hot kick. The pork was cooked in olive oil along with the minced garlic.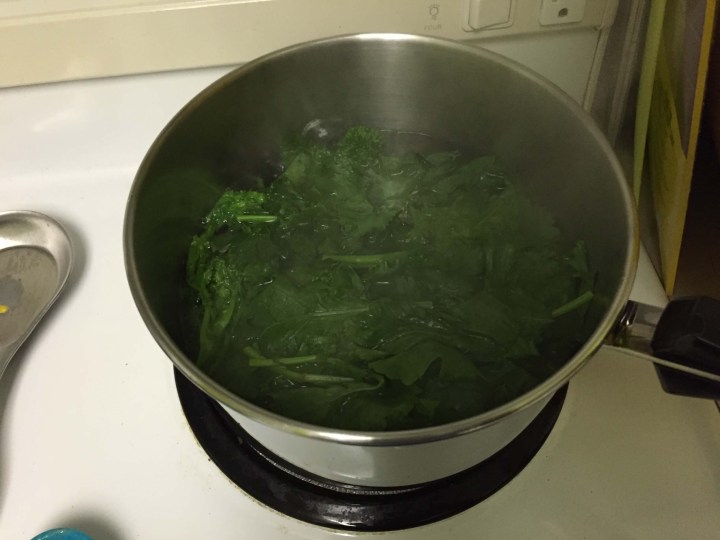 The rapini needed to be cooked for only a minute and then run under cold water. Because the water was still at a rolling boil, it made cooking the pasta quick and easy – no need to cook in a separate pot!
Adding the veggies and creme fraiche was the next step, followed by adding slices of Havarti and then the pasta shells. I was worried the Havarti wouldn't melt well (I've only ever eaten it cold on sandwiches!) but everything combined evenly.
Here's my plate! I loved this dish and would absolutely make it again – the pasta was firm but not too chewy, the tomatoes melted in my mouth, and the rapini added a nice crunch. The Italian sausage's spice balanced out the creaminess of the cheese, and everything worked together to make an awesome dinner. It only took me about half an hour from start to finish. The way the recipe was laid out meant everything finished at just the right time for the final steps to combine and assemble.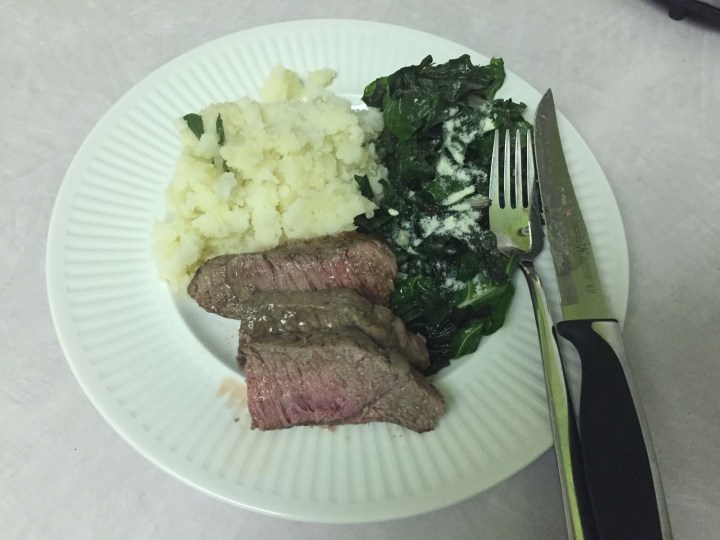 And here's the other recipe I was sent, the Sage Butter Steak. I'd never cooked steak in a pan before, so it was a bit of a learning curve to get it to cook to the right doneness for me. The mashed potatoes were super easy and deliciously flavoured with the sage butter. The swiss chard was also tasty, with the crunchier stems combined with the soft and wilted leaves adding a nice texture.
I'm really pleased with my first Chef's Plate recipe! The pricing is reasonable for me and would be comparable to what I would spend on a week's worth of groceries. While the meals included are 2 servings, I found that for me it could easily be 3-4 — I brought another takeout container full to work for lunch and still had leftovers waiting when I got home! For a single gal like me who only needs to feed herself, it's a lot of fun choosing recipes I'd like to try.
Are you a fellow Canadian looking to give Chef's Plate a try? They have service in BC, AB, MB, and ON. Use the promo code #3platesFromUs for three free plates to start out  – you can skip weeks easily if the recipes don't appeal to you. And yes, the hashtag is part of the coupon!
Have you tried Chef's Plate? What recipes have you enjoyed?
Visit Chef's Plate to subscribe or find out more!
The Subscription
:
Chef's Plate
The Description
: Chef's Plate is a weekly meal delivery service putting Canadians back in the kitchen. With easy-to-follow recipes and fresh pre-portioned locally sourced ingredients right to your door. Currently delivers to Ontario, British Columbia, Alberta & Manitoba.
The Price
: $37.70 every week