As the wind begins to blow and the leaves prepare to turn, a lovely Christian faith and woman's lifestyle based box named Bloom Abundant was delivered to my home. This month's box themed "fall into grace" is meant to encourage and inspire believers to reflect upon the lord as fall weather approaches and be grateful for the grace that comes our way. These themed boxes ship monthly on the 20th.
What I really liked about the box is that it not only includes goodies for you but the opportunity to do good for others. Each box features a mission organization and a portion of the sales go to support that organization.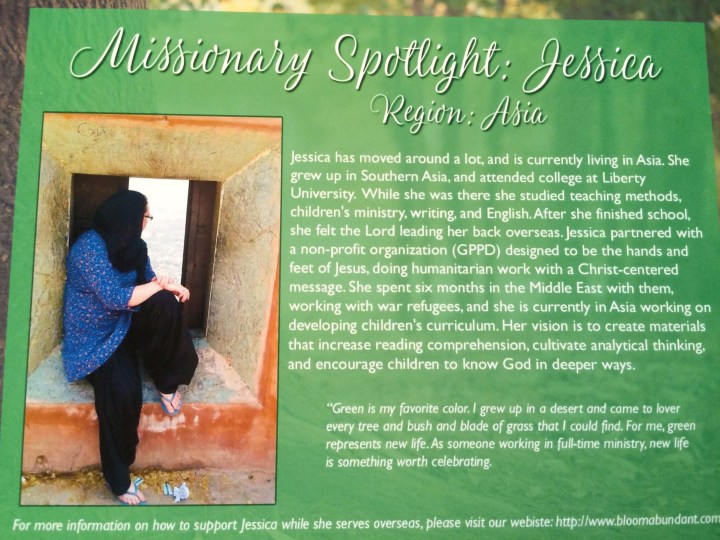 You learn about the featured organization via a card that is included. This month's card shared two things. First, a story of a missionary worker named Jessica and the efforts she is undertaking to spread God's word in Asia. It also shares how you can further help her with her work.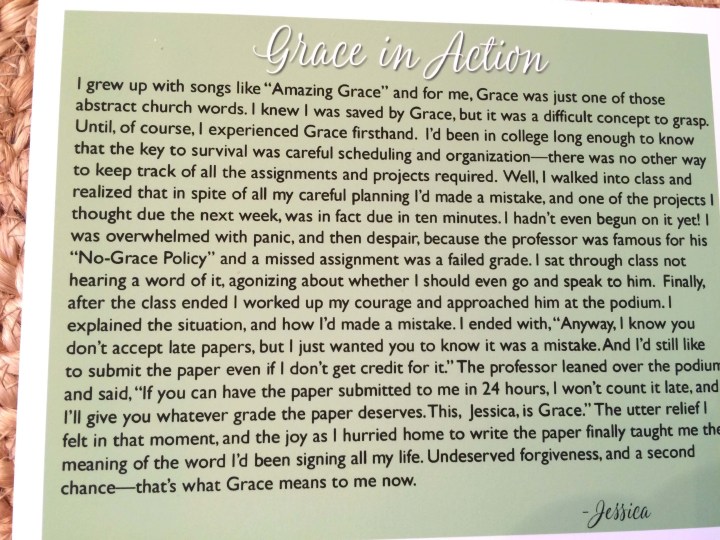 On the flip side of the card, Jessica also shared a story about Grace in Action and how ultimately she interprets grace as "undeserved forgiveness and a second chance". How sweet the sound…
Speaking of sweet, the products included ranged from Honeysticks ($2 each), a hand stitched coffee cozy($12), a flour sack towel ($11), Lavender Shea Bar of soap ($6), and an Amazing Grace Necklace ($18.95).
The Oh Little Rabbit flour sack towel comes with a lovely green flower design is great for use in anyone's kitchen. From the company's website, I learned it is a couple who started this business out of their own home by focusing on making handmade home decor items. "We draw every image, print every piece by hand and package every order."
The Coffee Cozy, which is also hand made, is meant to be a sustainable way to keep your hand from getting burned from those take out paper cups. A business card for Best Stitches Forward who expertly made the cozy was included. The color was very much on trend for what I've seen in stores this year too!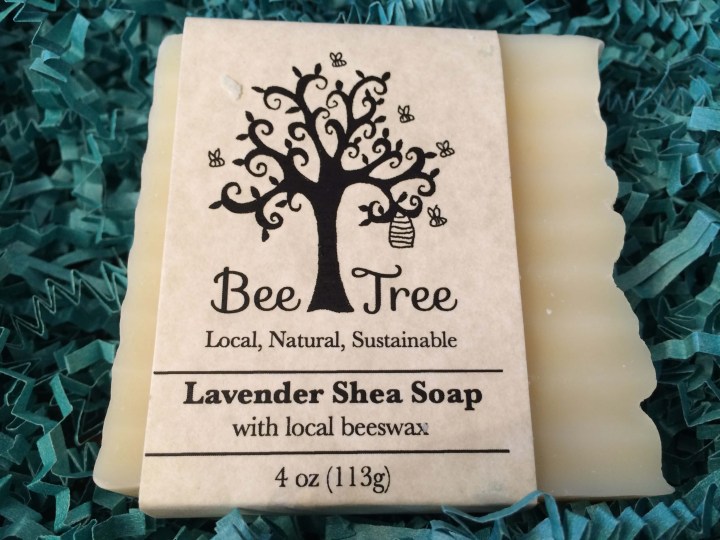 The Bee Tree Soap is a natural and sustainable product. The lovely lavender scent burst out of the box when I opened it.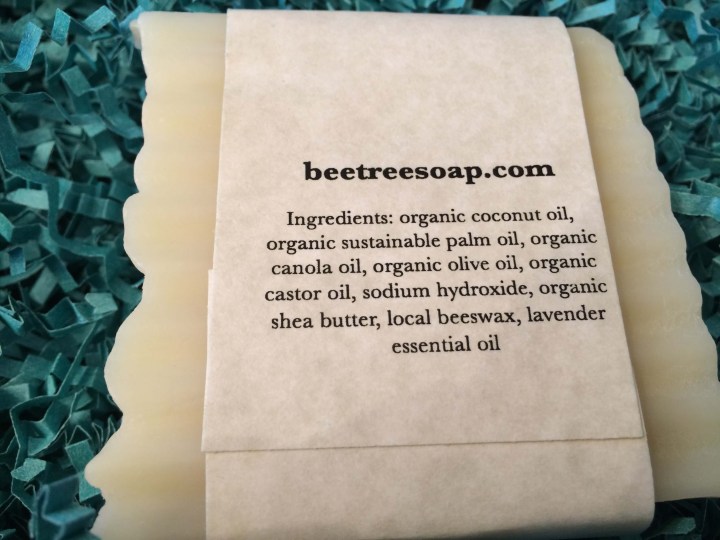 It is made of natural, pronounceable ingredients including coconut oil and beeswax.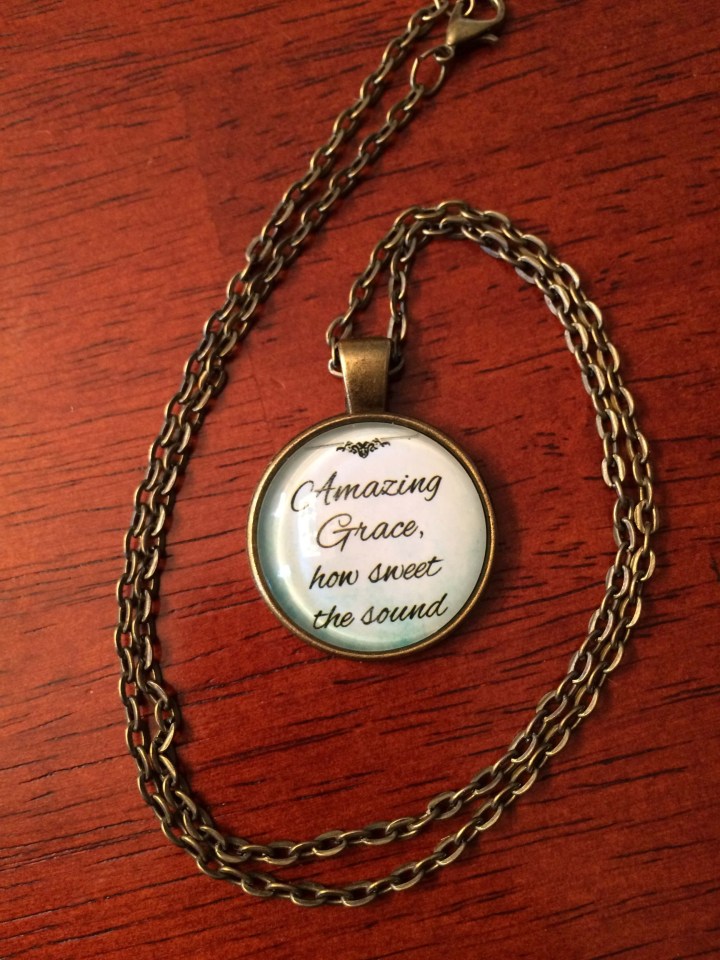 The included Bloom Abundant exclusive necklace allows you to keep this month's theme close to your heart. I wore this necklace on a warm and humid day and am happy to report it did not turn my skin green! It is a very nice quality necklace with a glass dome covering the Amazing Grace message.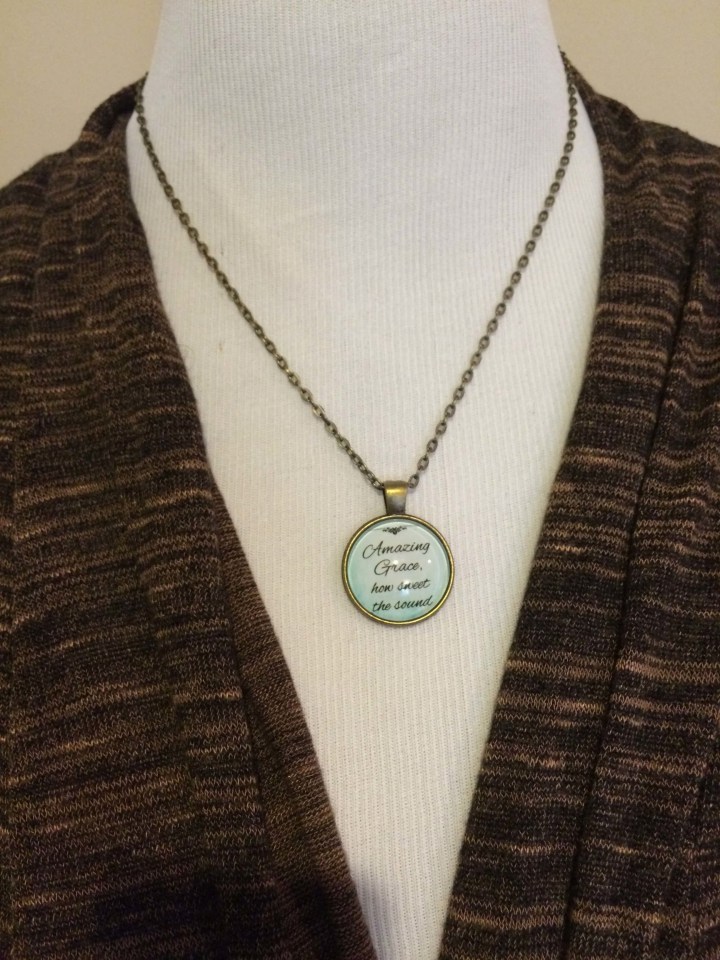 The medallion is a good size, roughly that of a quarter, and hangs down low enough to not feel like a choker even if you have a thicker neck. Very nice piece to add to a jewelry collection indeed!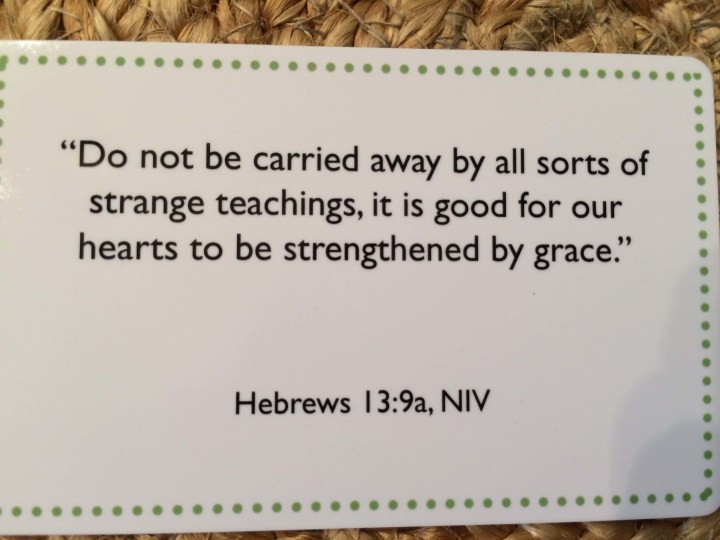 Finally, the box included the bible verse, "Do not be carried away by strange teachings, it is good for our hearts to be strengthened by grace." Hebrews 13:9a, NIV. The card is the size of a credit card and could easily be carried with you for encouragement when you need a little reminder to stay focused.
This box is great for the woman in your life who wants to do more for those around her than what can be found in her backyard. It would also make a great pick-me-up gift for a friend who needs some encouragement.
Visit Bloom Abundant to subscribe or find out more! Get your first mini box for only $10 with coupon code HELLO10. You can also save $5 off your first standard box with coupon code  HELLO5. Coupons cannot be combined with any other offer and are specific to each product.
The Subscription
:
Bloom Abundant
The Description
: The Bloom Abundant box is a box with a purpose – lifestyle items that are on trend with today's interests, as well as content intended to encourage you as a believer. When you subscribe to Bloom Abundant, you are helping build the kingdom. Being a subscriber means you're also giving back to those working to spread the Gospel all over the world.
The Price
: $12.99 per month