Arcade Block is part of the Nerd Block family of subscriptions and is a monthly video game mystery box. Arcade Block focuses on 4-6 video game collectible, one exclusive gamer t-shirt, and a promised value of $60.00. Arcade Block begins shipping on the 25th of each month.
J, age 8, is excited to see Mario Bros items!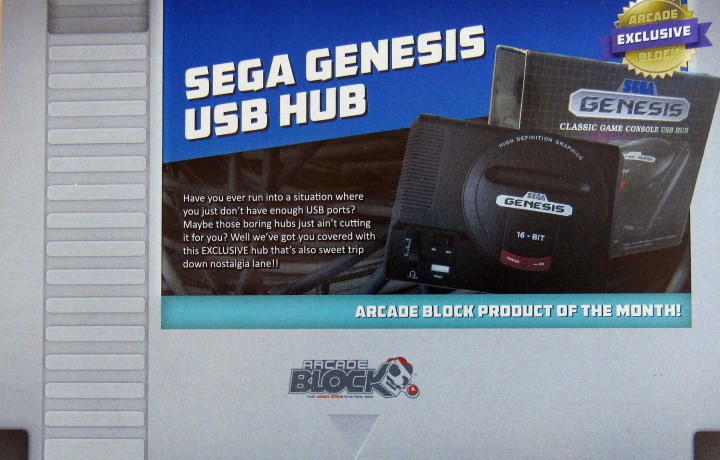 The Arcade Block Product of the Month is the Sega Genesis USB Hub!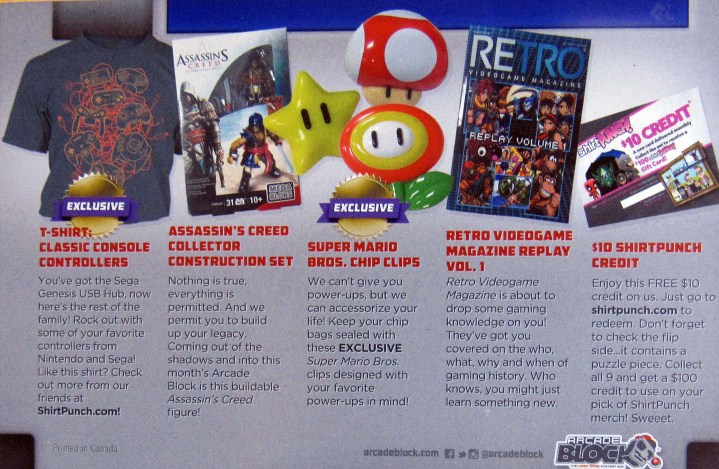 The information card lists the items included in the September Arcade Block. There are three exclusive items this month!
Here are all the items in the September 2016 Arcade Block. T can't wait to read the book.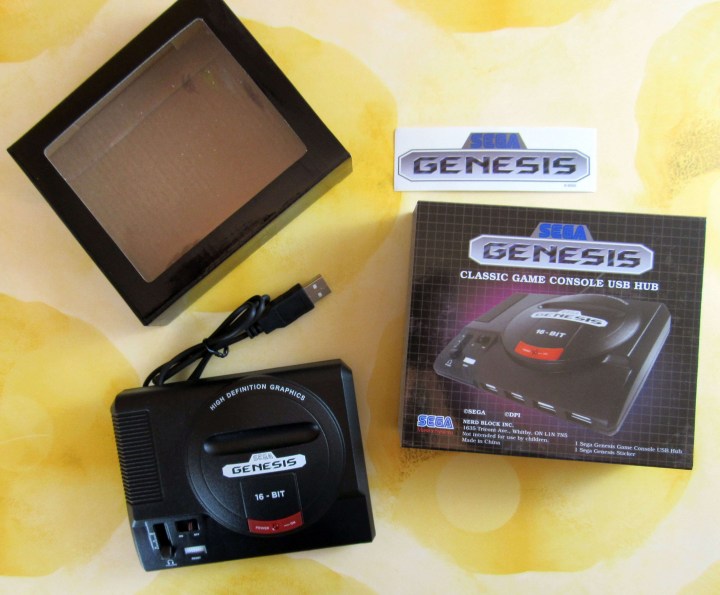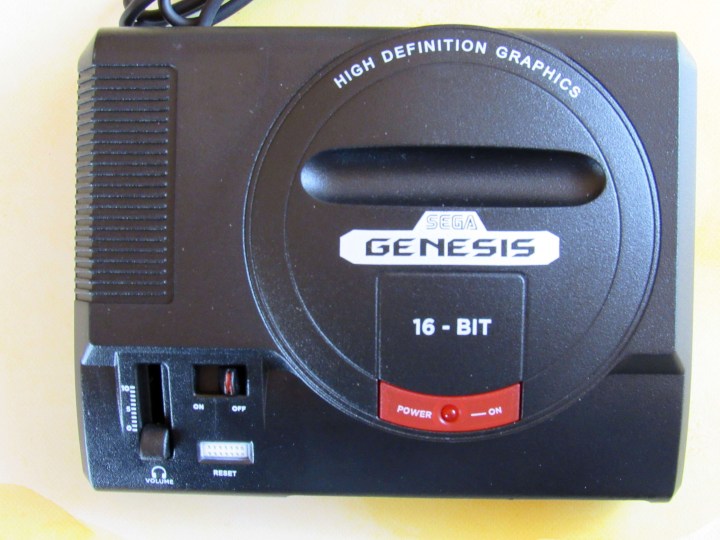 PA Anna: I have such an urge to slip in a cartridge and start Sonic the Hedgehog. The Exclusive Sega Genesis USB Hub is realistic looking and has given me twinges of nostalgia.
T (17): When I first saw this, I was very confused because I thought we had received a Sega Genesis. Once I found out it was a USB HUB, I was still happy because we never have enough room on the computer. This is a replica of the Sega Genesis, the first home video game console released by Sega.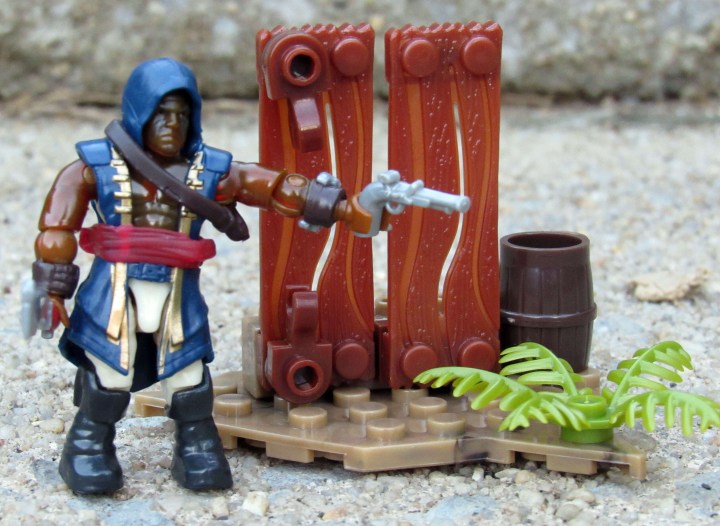 PA Anna: I am not sure how the Adéwalé Assassin's Creed Collector Construction Set ($5.98) fits in with the whole retro theme. Maybe being around for almost ten years makes it retro. J (age 8) thinks the pirate is cool and will be joining his other pirates. I know he is not a pirate but why ruin a little guy's fun?
T: It's Adéwalé from Assassin's Creed IV: Blackflag. He goes from being a slave to joining the Assassin Order. I haven't played Blackflag, but I hear he is good.
PA Anna: The Exclusive Super Mario Bros, Chip Clips help you keep powered up by keeping your snacks fresh. They are also magnetic and can be used on the fridge to hold paper. J has plans for them.
T: Mario chip clips. We got a 1-UP mushroom, a Fireflower, and an Invincibility Star.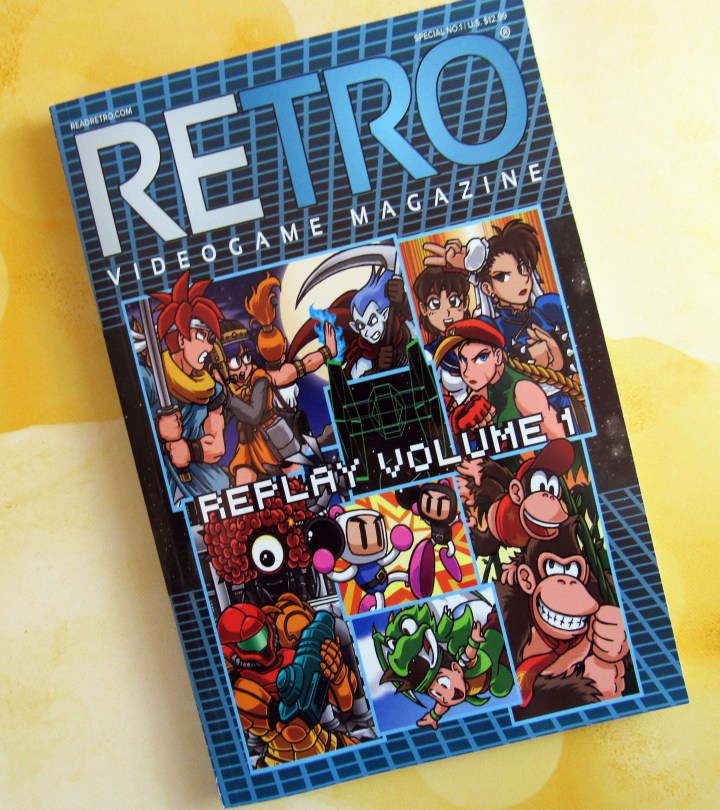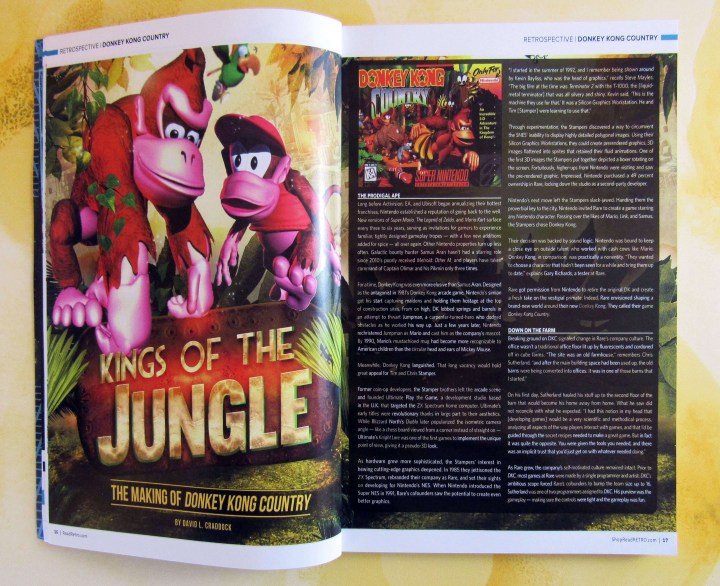 PA Anna: Missed out on reading Retro VideoGame Magazine? The Retro Replay Vol. 1 Special Edition ($12.99) is 200 pages of the best of Retro Magazine. Their love of classic games shows through in the interviews and retrospectives! I had to read about Donkey King because I played it as a child and then played the newer versions with my sons.
T: I haven't heard of this magazine, but I really like it. It's about the OG video games and had a very nice article about a game for the original Gameboy (which I still have).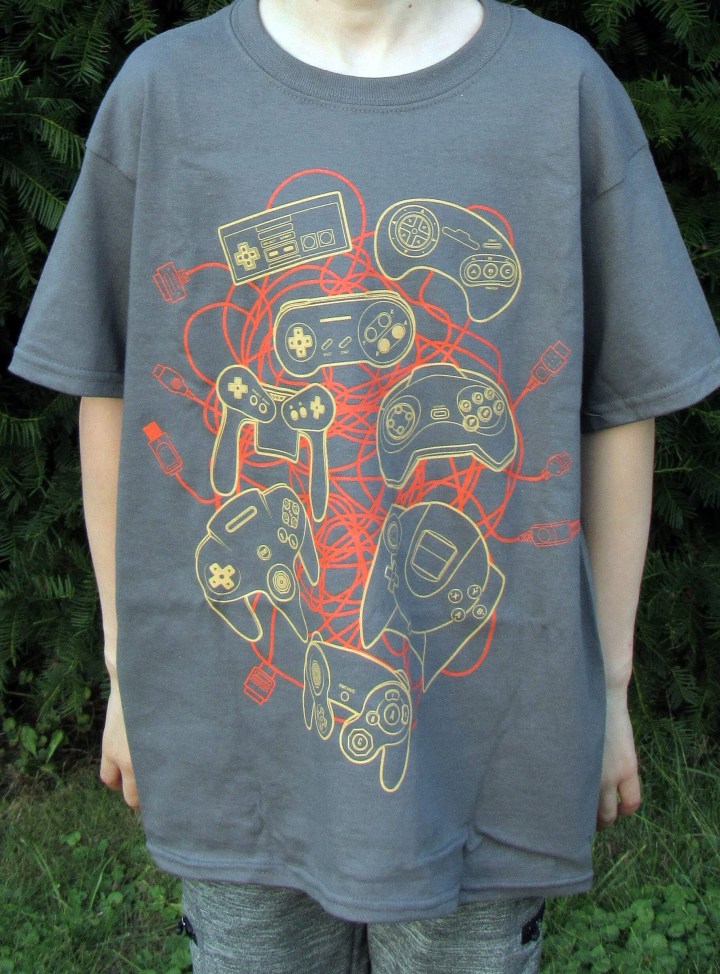 PA Anna: The irony of an eight-year-old, who was making faces at the camera, wearing an Exclusive Classic Console Controllers T-shirt. My 17-year-old tells him stories of long ago controllers to keep the legends alive.
T: Whoa. This shirt has controllers from (going left to right, top to bottom) : Nintendo Entertainment System (NES) , Sega Genesis (I still have mine!), Super Nintendo Entertainment System (SNES), Nintendo Virtual Boy (when Nintendo beat everyone to virtual reality…. and failed miserably), Sega Saturn, Nintendo 64 (still have that too!), Sega Dreamcast, and Nintendo Gamecube (not only do I still have it but J and I play it on occasion) . Look at the mess of wires! It looks like our entertainment center!
PA Anna: T means he still has my Sega Genesis. 🙂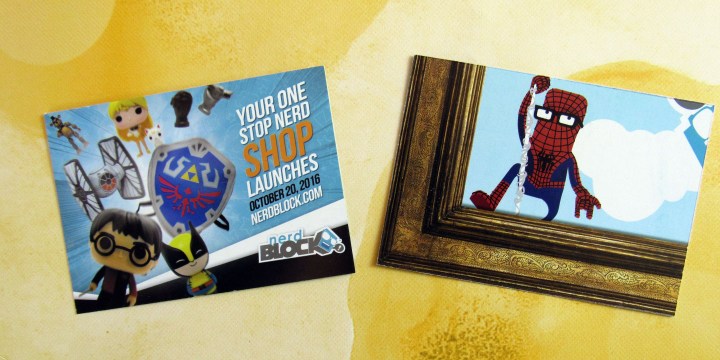 It's strange to see the ShirtPunch $10.00 credit listed on the information card when it used not to be listed. They do have great shirts so be sure to check it out if you haven't yet. I am looking forward to seeing what awesome Legend of Zelda items are listed in the upcoming Nerd Block Shop launch on October 20, 2016.
The September Arcade Block was a lot of fun for us. It brought back memories of my youth and when T was little. J loves hearing about how the games evolved throughout the years. Arcade Block is an excellent choice for gamers that enjoy having a mix of exclusive and non-exclusive items from their favorite games.
What do you think of the September Arcade Block? Share your comments below!
Grab 15% off your first Arcade Block with coupon code HELLOSUB16, or save even more with a longer subscription. Enter this code right after pressing the big green review order button.
Visit Arcade Block to subscribe or find out more!
The Subscription
:
Arcade Block
The Description
: A monthly mystery package delivered right to your door filled with apparel, toys, and collectibles all themed around video games! Every Arcade Block comes with a custom t-shirt (Has men's regular, fitted, and women's fitted tees – and now youth sizes!) and 5-6 epic items for you to tear into! Also available – Nerd Block Jr (Girl & Boy), Horror Block, Comic Block, and classic Nerd Block!
The Price
: $30.00 per month