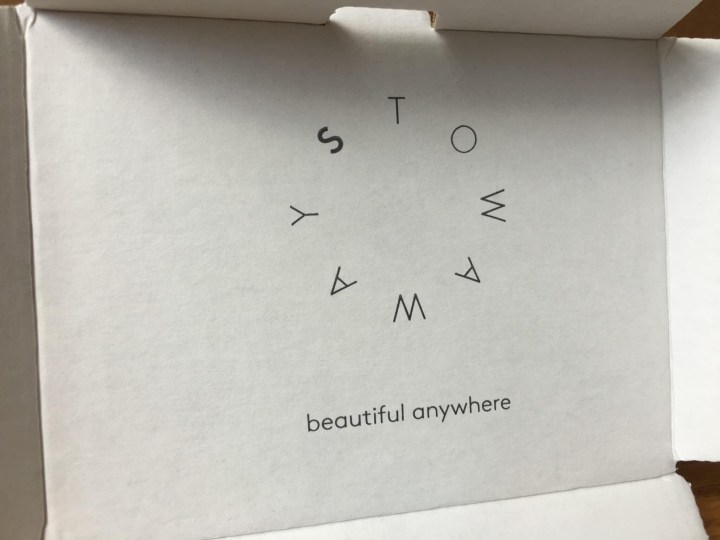 Stowaway Cosmetics Essential Edit is a subscription box full of Stowaway's right-sized beauty products and other surprise items from brands they love.  Each month, for $50, you will receive at least $70 and up to $150 worth of Stowaway cosmetics and other fun items, shipping included.
I was REALLY looking forward to August's box, because June and July were fun–I mean, who doesn't like getting surprises in the mail?  Unfortunately, I was disappointed by August's box.  To begin with, I didn't get August's box until September 2nd.  And what I received was themeless and seemed very phoned-in.
No handwritten note this month like I received in June or July.  Plus, as you can see, there just isn't a lot of stuff, period.  The advertised theme for August was supposed to be "Pools, Long Reads, and Road Trips."  This pretty much had absolutely nothing to do with that.  Honestly, if I weren't reviewing this, I'd complain.
They are obviously promoting the new makeup collection, so we'll start there.
Stowaway was founded to offer makeup in sizes that make sense for women–not too big, and not too small.  Their products are paraben-free and packaged to fit easily in a gym bag or clutch.  These sizes really are great–you use them up before they expire, but you have plenty of time to enjoy them.
This month's makeup was the Contour Set, which retails for $60.  It included the Matte Bronzer, the Cream Illuminator, the Translucent Powder, and the Kabuki Brush.  It also included a little pouch to hold everything, if you like putting your makeup in branded bags.  The idea with this set is that you can jump on the contouring/highlighting trend train and give this makeup technique a try.  The Stowaway website has some fairly easy tutorials.
Matte Bronzer in Light ($16).  This little compact is about 1/3 the size of standard.  The color is very sheer–I had some concern that it would look too heavy, but you can apply just a bit of this at a time.  It's very buildable if you want a more dramatic look.  The idea is that you apply it to create shadows, such as to define cheekbones or your jawline.  In practice, this was light but didn't quite jive with my pinkish-pale coloring–it came up a bit orange for my taste.  If you have more golden or olive tones to your skin, this might be a better fit for you.
The Cream Illuminator ($16) is the yin to the Matte Bronzer's yang (or the Evil Spock to the Spock Prime, if you prefer your makeup with a side of nerd).  So, while you use the Bronzer to create shadows, you use the Cream Illuminator to highlight and add brightness.  The tops of your cheeks, the line of your nose, and your brow bone are some ideas, but you can also go outside the box and use it on your shoulders or collarbones.  The Cream Illuminator is less color-specific than the Matte Bronzer, so it is suitable for any skintone.  It goes on smoothly, and gives you a bit of shimmer without making you look like you're going to a club in 2002.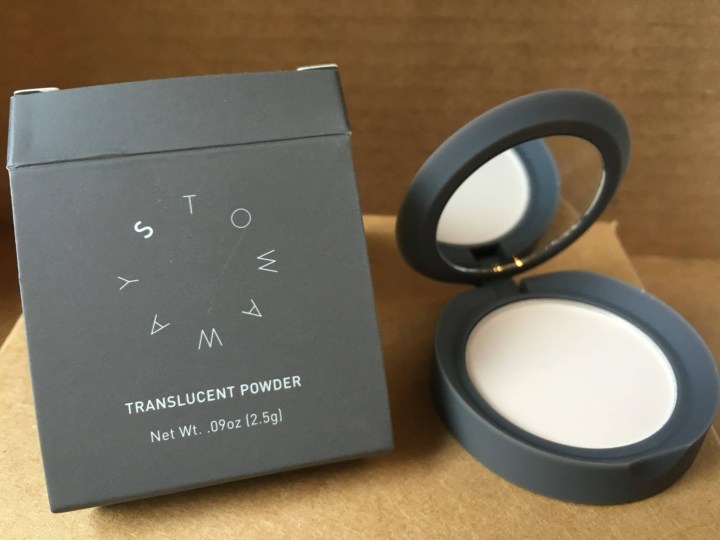 The Translucent Powder ($16) is the finishing touch to your makeup routine.  You don't need to be a super-crafty contour maven to appreciate a nice matte set to your makeup.  Here in the sweaty South, I love a setting powder to keep the shine down, and you can freshen your look easily with it as the day goes on.  This powder is very fine and colorless.  It goes on smoothly and invisibly to give you a nice, finished appearance, whether your look is natural or fully made-up.  This was my favorite product in the box!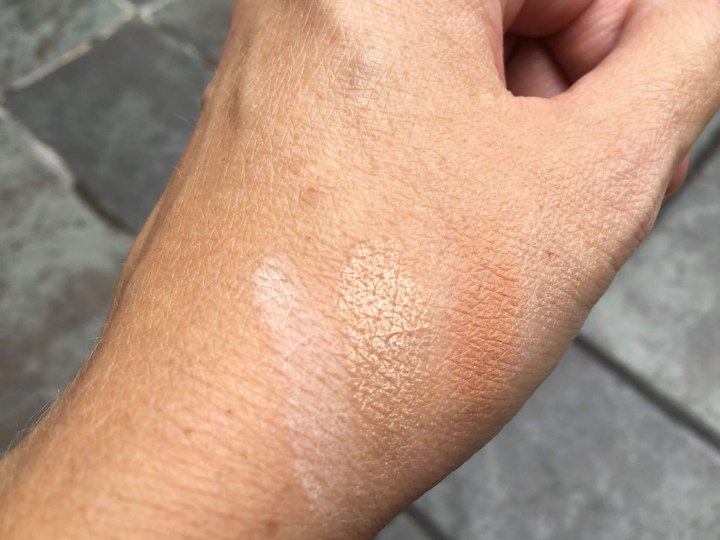 From left to right, that's the Translucent Powder, the Cream Illuminator, and the Matte Bronzer.  It was quite a challenge to get the nearly-invisible powder to show up enough for the picture–this is way more of it than you would normally use on your skin.  As you can see, the Cream Illuminator is bright and the Matte Bronzer settles into your skin.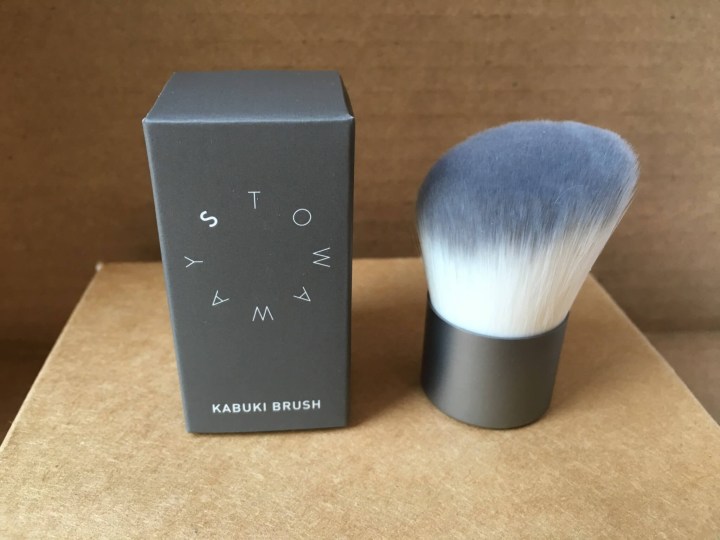 The last makeup item was the Kabuki Brush ($20).  This microfiber angled brush is CRAZY soft.  It picks up color easily and deposits it evenly without streaking.  Stowaway says you can use the Kabuki Brush for all three of these products, but in practice, that's going to make the brush gross quickly.  You're probably not going to clean this between applications.  I think it's a great brush for applying the Translucent Powder–it dusts on quickly and smoothly.  I do wish that it came with some kind of cap or cover–I don't like having a brush loose in my makeup bag to pick up dirt and dump makeup on other items.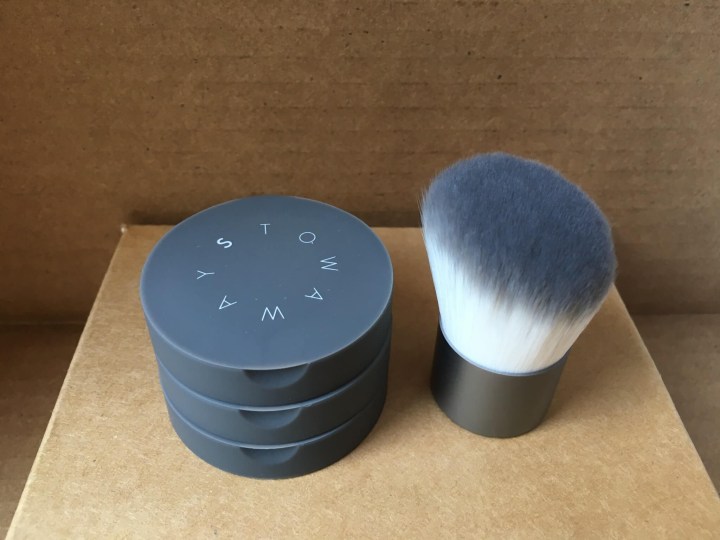 The three compacts stack, and they have little magnets in them to hold them together, which is clever.  The magnets aren't very strong, so they're not going to do anything in your bag, but it's a nice way to keep the makeup in your drawer without them falling all over the place.  Overall, this was an interesting experiment in contouring for me and I enjoyed giving the technique a try.  I could see myself using the Illuminator for sure when I want my going-out look to be a little more "done."  The Translucent Powder and Kabuki Brush are good additions to my everyday makeup collection.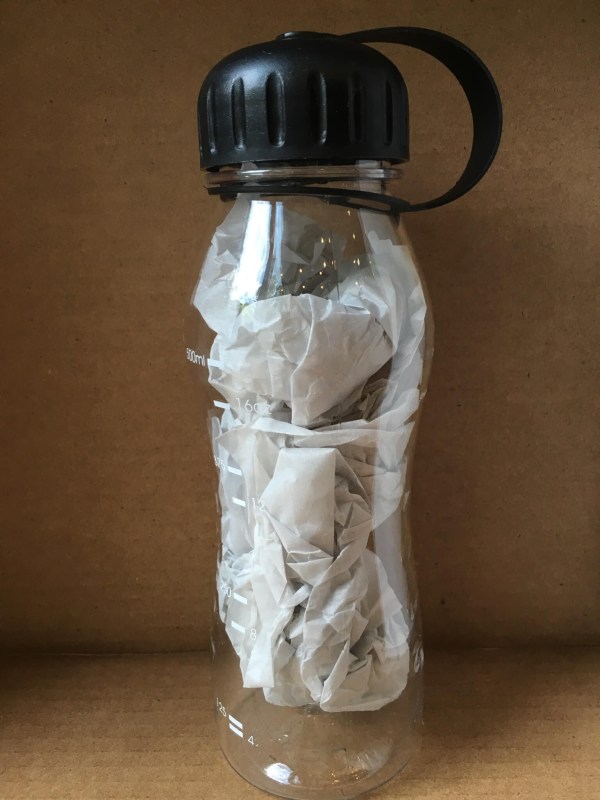 The rest of August's box was, frankly, a disappointment.  This water bottle is cheap plastic with a Stowaway logo on it.  Not something I'm going to carry when I have non-sweating and insulated alternatives.
This Sol Janeiro "Brazilian Bum Bum Cream" is sample-sized.  It's a sparkly lotion with a strong coconut smell. To be fair this is one of the hottest products at Sephora right now, and would have been a great tie-in during the Olympics.
The Blow Pro Heat Is On Protective Daily Primer is also sample-sized ($8).  I received the "beach blow" spray from Blow Pro in the June box and enjoyed it.  This product didn't work as well for my fine hair.  If you have wavy or thick hair and routinely blow dry or flat iron it, you might want to give this product a try.  It coats the hair and protects it from heat.
These Spruce & Co Screen Cleaning wipes are cute little packs for keeping your smartphone or glasses clean on the go.  They have a nice clean scent and actually work pretty well.
The Simply Gum in Cinnamon.  These 15 little pieces of gum look like hamster food but they actually taste pretty good.  It takes about 3 pieces to get the right amount of gum to make a good chew.  They're stiff at first but soften up quickly.  The cinnamon flavor is mild but tasty and the gum is 100% natural.
Overall, the August Stowaway Cosmetics Essential Edits box was a letdown from the fun of June and July's boxes.  The retail value of the makeup is $60, so you're still coming out ahead for your $50 (though not the $70-$150 promised in the subscription), but the other items added only minimal value.  It was all samples and corporate-branded swag.  I'm hoping for more fun in September's box!
What did you think of the Stowaway Cosmetics August Essential Edits box?  Did you give contouring a go?  Tell us below!
Visit The Essential Edit – Stowaway Cosmetics to subscribe or find out more!
The Subscription
:
The Essential Edit – Stowaway Cosmetics
The Description
: Smart women know life requires an essential edit! Simplify your busy life with our unique monthly curations for only $50 per month with surprises that could be worth up to $200. At least $70 worth of Stowaway products each month. Surprise and delights from brands including: Blow Pro, Flight 001, Baggu, Bkr, and more
The Price
: $50.00 per month