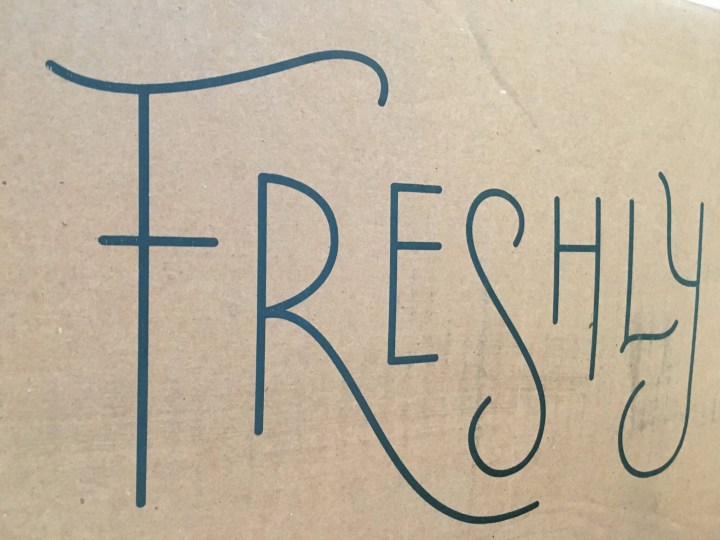 Freshly delivers deliciously healthy food right to your door – premade, prepackaged, and never frozen.  This is a great subscription for people who want to spend less (i.e. no) time cooking but still want healthy foods.  Freshly meals are free of gluten, refined sugars, and artificial ingredients.   When you sign up for Freshly, you'll be able to select the number of meals you want per week plus the exact meals you want.  You're able to skip weeks right from your account.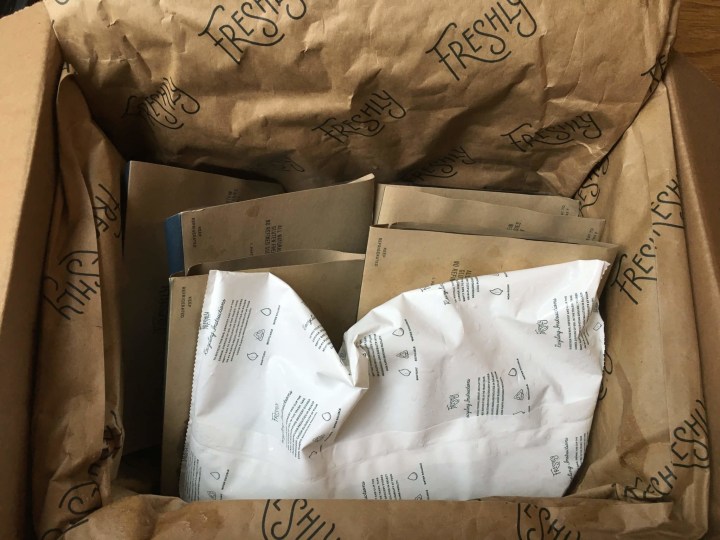 The food comes in a refrigerated box, surrounded by ice packs, and snugged up in an insulated blanket made from recycled denim (!).  Everything arrives in great condition, and still cold from the ice packs.  The insulation and the rest of the packing is all recyclable.
I ordered 6 meals, one of which was breakfast.  The boxes below look a little damp because of condensation, but everything was in good shape.
The underside of the wrappers have cute mini-essays on nutrition and wellness.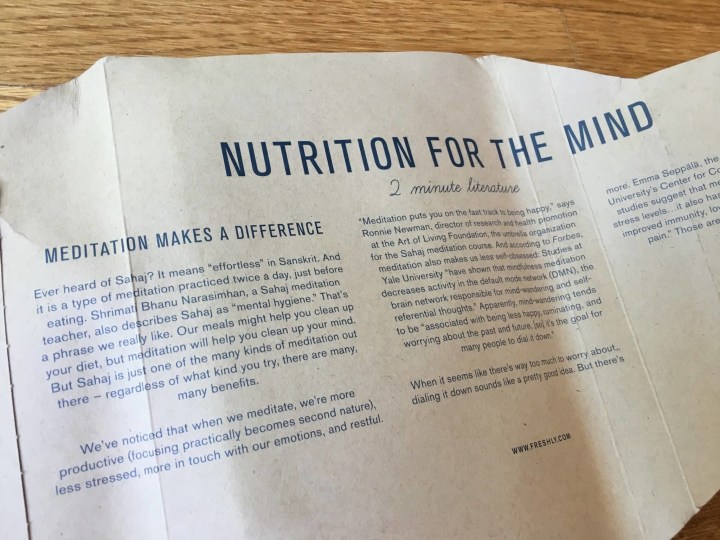 First up, breakfast:  the Paleo Quinoa Porridge with Roasted Apple & Pecans.  I do Crossfit, and so lots of my workout friends are super into the Paleo diet thing.  I'm not an adherent, although I like imagining a tribe of proto-humans doing a burpee-heavy WOD and then chowing down on antelope and quinoa stew.
The first ingredient in this porridge is coconut milk, so of course it was delicious.  The nuts added a nice crunch and the apples were surprisingly flavorful.  And it took 1 minute to cook–ONE MINUTE.  My toaster can't heat up bread in that time.  On the other hand, you're going to need to double up on those muscle-ups if you're going to work off an 800+ calorie breakfast today.
On to the lunch/dinner items!  These are all of the "piece of meat with a sauce and a veggie side" vein of cooking.  My husband and I split the first batch.  He had the Grilled Herb Chicken with Swiss Chard and Spaghetti Squash Cakes.
This took 2 minutes to cook/reheat, and everything was hot and perfectly cooked.  It's absurdly easy to overcook a chicken breast, but this came up perfectly.  It was reasonably tender (for breast) and not rubbery or dry.  The grilled flavor definitely came through.  The swiss chard was garlicky with a properly bitter finish, which set off the chicken well.  The squash cakes had a terrific flavor (hello, bacon!) but they were stringy and hard to chew.  Half a thumbs-up from the husband on this one.
I had the Sicilian-Style Chicken Parm with Broccoli.  (I seriously spell that word wrong EVERY time.  Two Cs, not two Ls.)
The Chicken Parm was equally as good as the Herb Chicken.  The degree of perfect doneness to these chicken breasts really puts the ones I cook to shame.  The sauce had a nice tomato flavor that was enriched with the fresh mozzarella, which kind of melted into it.  The coating on the chicken, predictably, wasn't crisp (microwaves don't do crisp) but it had a decently herby flavor.  The broccoli (dern, I did it again) had a bit of parmesan cheese on it that didn't contribute much flavor, but the broccoli (got it that time) had a nice tender-but-not-mushy texture.  Even though it was funny to be eating different chicken meals for dinner, my husband I both thought the food was tasty and filling.  Cleanup, of course, was a snap.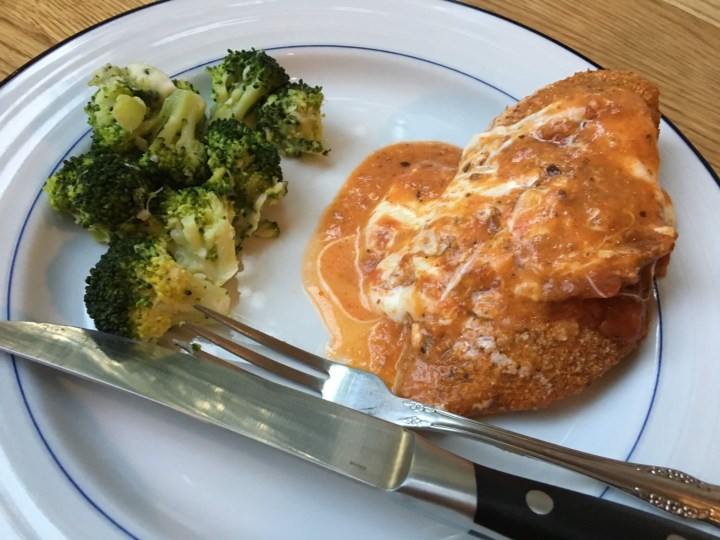 The next day, I had the Chimichurri Salmon with Succotash for lunch.  I have to say, I almost fell over when I looked at the nutrition facts on this one (3/4 the way through the meal, of course).  This is WAY more than I typically eat for lunch, and the sodium is through the roof.  I get it, pre-prepared food is higher in sodium, but this is crazy high.  I'm also not entirely sure where the huge calorie count comes from, as salmon is typically really low in cals.  Maybe it's the corn/lima bean side?  Maybe it's an error?  Maybe the salmon was stuffed with butter?  Anyway, if I hadn't seen this, I wouldn't have believed it.
As to the meal itself, it certainly looked good.  The instructions say 1-2 minutes to reheat, but since "Heat for 2 minutes" is prominently displayed under the title, I always do that.  Alas, 2 minutes is too long for this dish.  The salmon was super dry and the succotash was tough.  The flavors were quite good, however, and the texture was salvaged with sour cream (which added to the calorie count, natch).  Win some, lose some, I guess.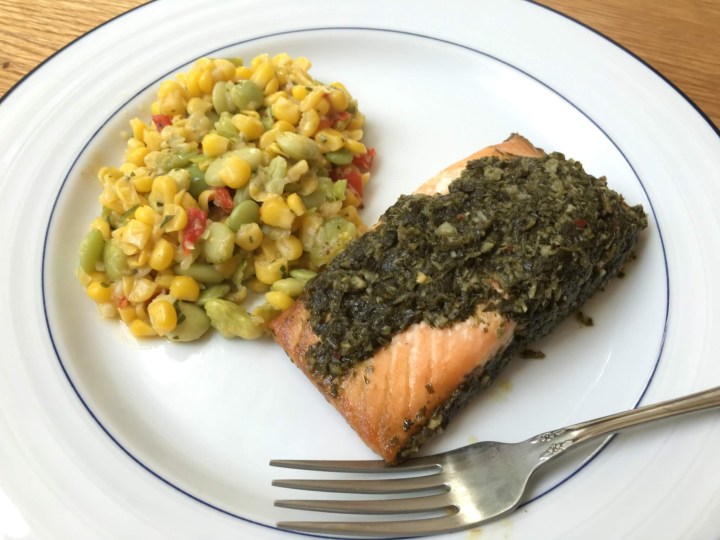 My husband and I split the last two meals for dinner again, which was actually awesome this week with some late work nights and kid activities.  Busy people like to have their meals perfectly cooked in 2 minutes!  At least, this busy person does.  I had the Cajun-Style Meatballs with Creole-Style Vegetables.  A mashup of Louisiana cultures!
The meatballs needed an extra 30 seconds in the microwave to heat up properly, but everything had a good flavor in this filling meal.  The okra still had some crunch to it, which is a good thing, and the sauce was flavorful and went well with the rice.  It was also super, super, SUPER spicy, and the kind of spicy that builds as you eat.  This meal is not for the faint of heart, but if you like spicy, you're going to love this dish.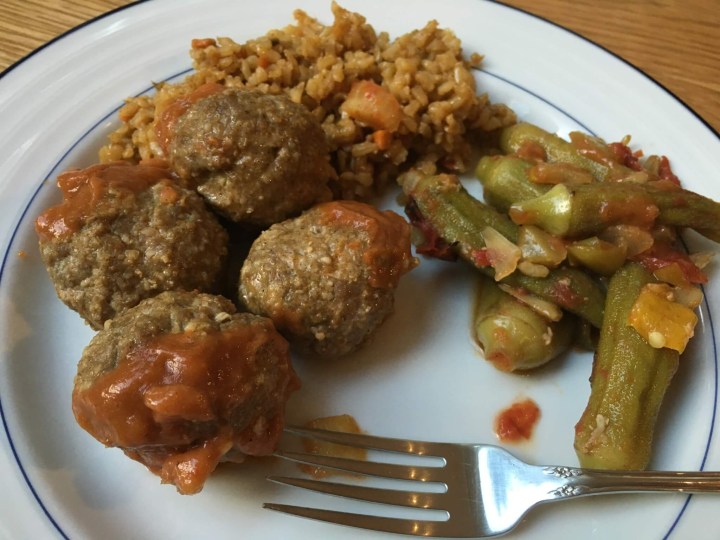 Last but not least, my husband had the Three Bean Ancho Turkey Chili with Cheese.  I will forego any CHEESY jokes about how this ANCHO mother's chili.  Actually, it might be your mother's chili, particularly if she gets her chili from Panera Bread, which is what this chili tasted exactly like.  Which is not a bad thing!
This was a nice, hearty chili, full of meat and beans.  It had a strong tomato and chili powder flavor, and was spicy without being overwhelming.  The cheese was a nice addition.  The bite or three that I swiped from my husband were my favorite meal of the bunch this time.
Overall, I was pleased with my Freshly delivery.  The food is high quality, tastes good, and keeps you full.  And, of course, you simply can't beat the convenience of good food perfectly cooked in 2 minutes.  I looked last time I was at the grocery store, and there really is no frozen food you can buy that is a simple and healthy as Freshly's meals.
This would be an awesome subscription for a busy professional who doesn't want to deal with cooking at the end of the day.  (It would have been my dream years ago as a young attorney!)  It also would be great for bringing to the office for lunch!  These meals are designed to last in your fridge for a week.
It's nice to know that healthy choices can be so easy!  Have you tried Freshly?  Which meal did you like best?  Let us know in the comments below!
Use this link to save 35% on your first box of Freshly!.
Visit Freshly to subscribe or find out more!
The Subscription
:
Freshly
The Description
: Making delicious, healthy meals should take time, just not yours! That's why Freshly does all the work for you – choose from their menu of all-natural, gluten-free meals and they ship them straight to your door. No more grocery shopping, cooking, or takeout – all you have to do is heat and eat!
The Price
: $69.00 every week