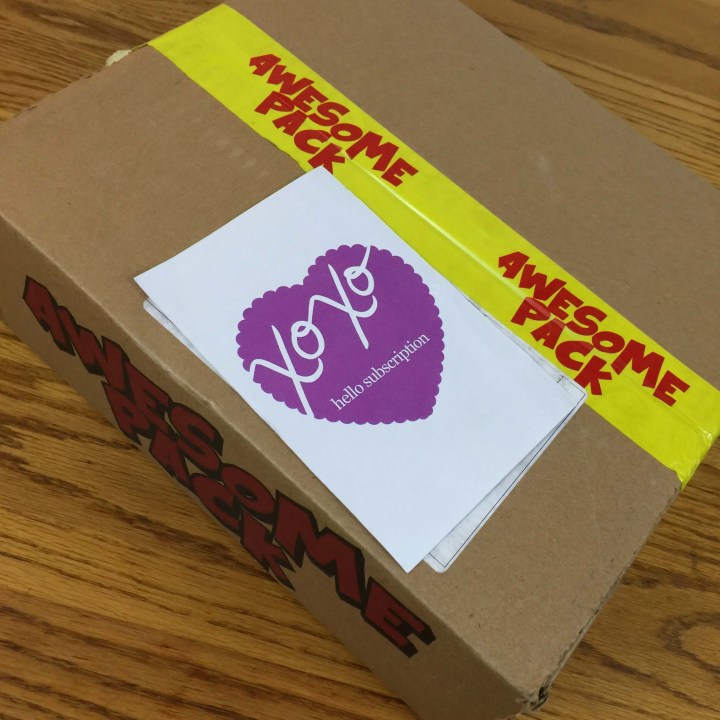 Awesome Pack is a whole family fun subscription box with a tabletop board game in every box. Whether your family includes kids or not – choose either the family box or the Big Kid box, for the game loving fun at heart big kids – this is a great fun box that will keep you away from your screen! Every box will include a board game and other fun activities selected based on your preferences. Family Boxes include a family board game, and Big Kid boxes are for kids 12+ and will include higher quality (and more advanced!) games and other activities. 

The packaging is designed to get everyone totally psyched for game night! It's Awesome time!
How do you not get excited?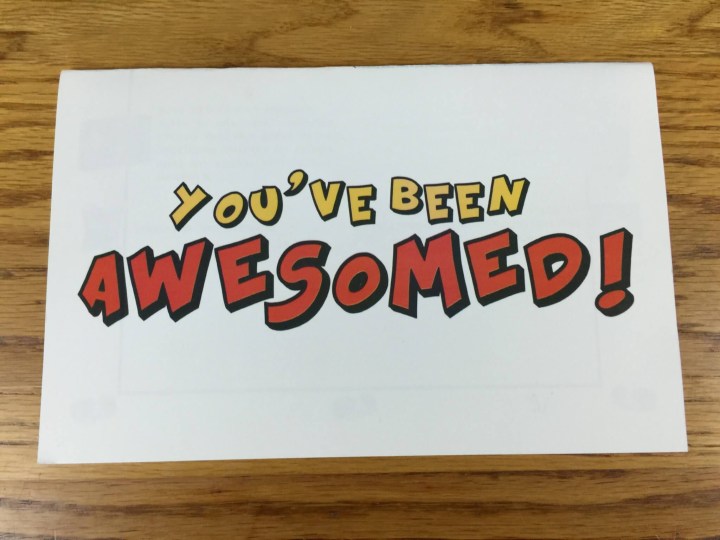 Let's find out how awesome!

All the items in the Awesome September 2016 Box! I chose the more adult themed box.  The choices were grown up or family but there are only three of us in our family (the family size box asks for 4 people).  This was totally okay however as my daughter is 12 and these games definitely fit what we would be looking for for all of us.
An information card detailing all the items of awesomeness is in the box.
Teenage Mutant Ninja Turtles Keychain By Kidrobot – $8.99.  I received Leonardo, the leader of the Ninja Turtles in my box.
The back of the toy card shows other TMNT characters that you can collect.

Mad Science Foundation – Cryptozoic Entertainment – $25.00.  This is recommended for ages 15+.  I was extremely happy with this game arriving.  It's a newer game and is highly rated.  2-4 players can play this super fun looking game.
Devious I-cut-you-choose" drafting mechanic

Dozens of diabolical inventions

Game-changing Discoveries ramp up decisions

Ages 15 & up, 2-4 players

Plays in 30-45 minutes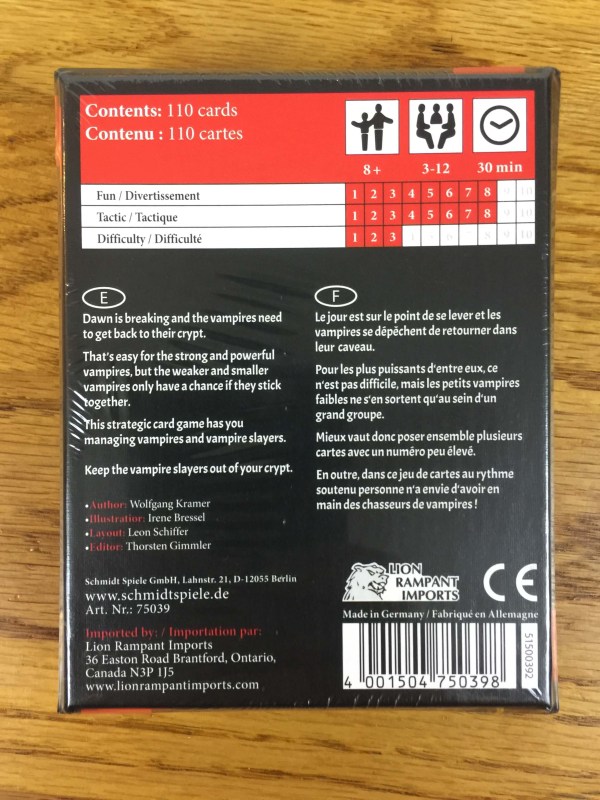 Vampire Queen – Schmidt Spiele – $14.99.  I really enjoy receiving card games in this box.  Vampire Queen is intended for at least three players and can make for a fun evening.
Age range: 8 and up / Number of players: 3 to 12 / Play time: 30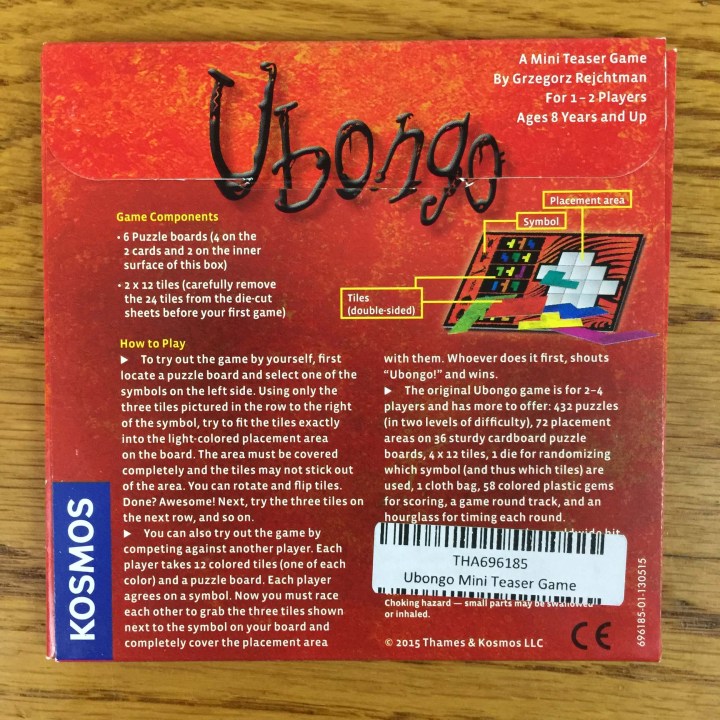 Ubongo – Thames & Kosmos LLC.  This is a miniature version of of the much larger puzzle game.
A fast-paced, addictive, and easy-to-learn geometric puzzle game

Players race against the timer and against each other to solve a puzzle of interlocking shapes

The faster you solve the puzzle, the more gems you get

The player with the most valuable gem treasure after nine rounds of solving puzzles wins!
Awesome Button.  My daughter collects buttons so this worked out nicely for her.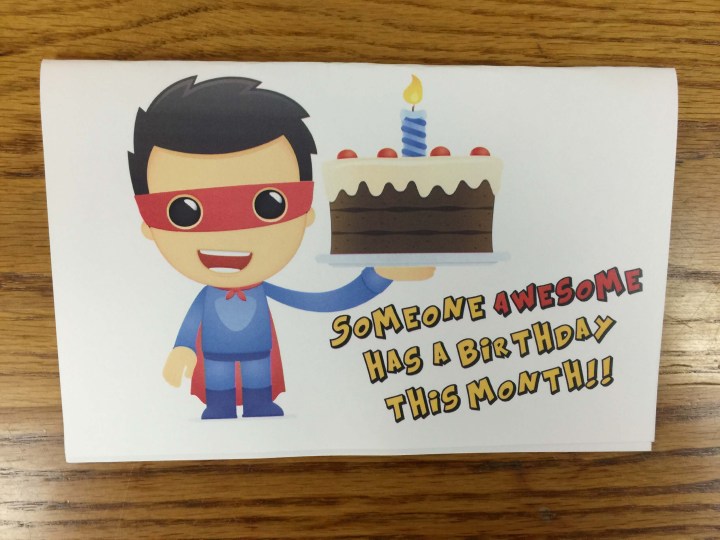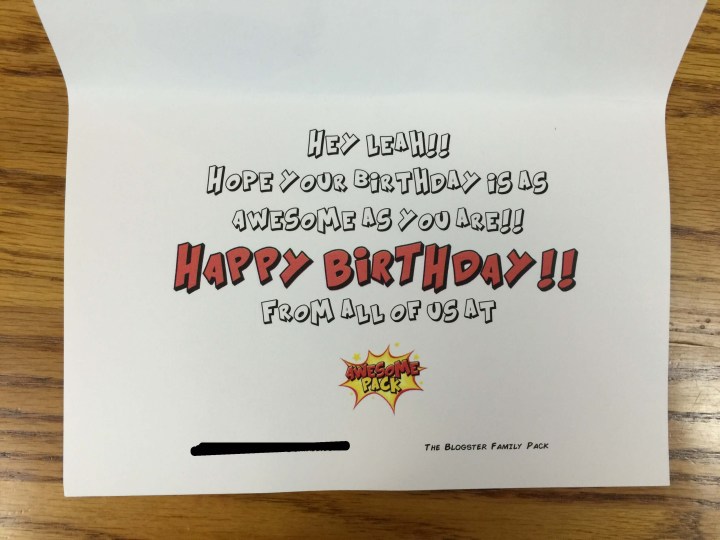 Awesome Pack also keeps track of birthdays and is nice enough to include a card.
I'm a huge fan of Awesome Pack!  There were plenty of games to play and I liked the variety.  My pack is basically for two adults but, as you can see, there are games for more than just two and the kiddo can play as well.  The folks at Awesome Pack have a questionnaire when you sign up and that helps to ensure your pack is as awesome as you need it to be.
Visit Awesome Pack to subscribe or find out more! Use coupon code Hellosubisawesome for $5 off your first month!
The Subscription
:
Awesome Pack
The Description
: Awesome Family Fun time that is customizable to your family's size, ages and genders. There is a Board game in every pack! Every pack contains Awesome games and activities handpicked for each family to offer hours of fun! We also offer a pack for families without kids. We offer free shipping to the USA and to Canada.
The Price
: $44.99 per month