The Nick Box brings back the most memorable Nickelodeon characters through a quarterly subscription box for  $49.99 per box plus $7 shipping. Each box is filled with nostalgic goodies like plush, apparel, toys, and other unique items from famous Nickelodeon shows like Hey Arnold!, Rugrats, Catdog and a lot more.
FYI – The Nick Box doesn't label its boxes with an actual season, but we think this is the Summer Box – it was due in August but arrived 3 weeks late.
Hello Nick Box!
The inside and outside of the box is crowded with popular Nick characters and shows.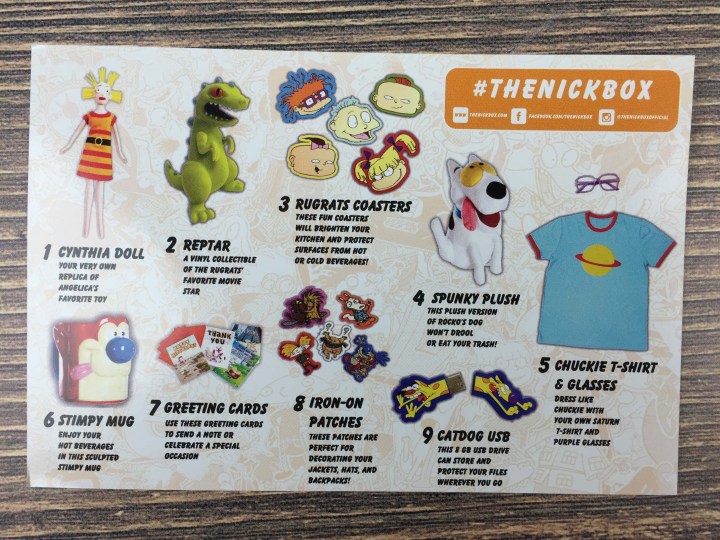 The information card contains a list of all the items included this quarter with the briefest of descriptions.
Everything in The Nick Box Summer box.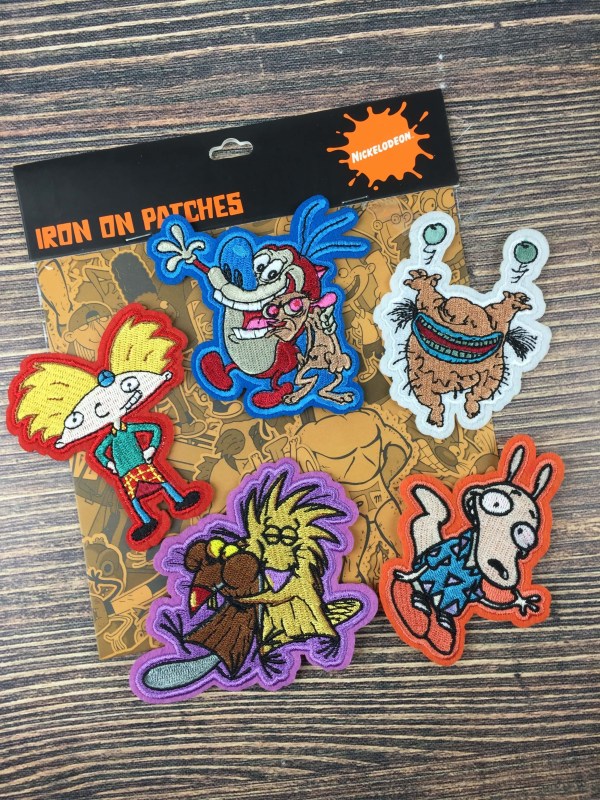 Nickelodeon Iron-On Patches: I am torn between loving 2 Angry Beavers and Ren & Stimpy the most. Definitely a classic for everyone with Rocko's Modern Life, Hey Arnold, and AAAHH Real Monsters! in there too!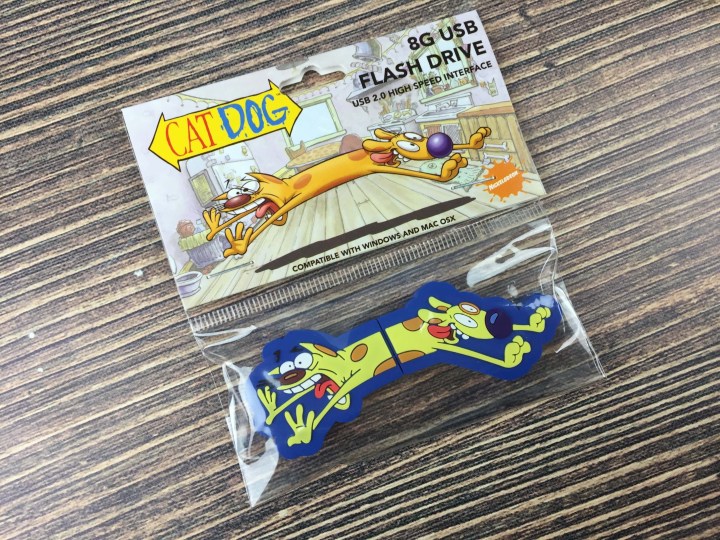 Catdog USB Flash Drive: I am always happy to see a "utility" item in a box like this.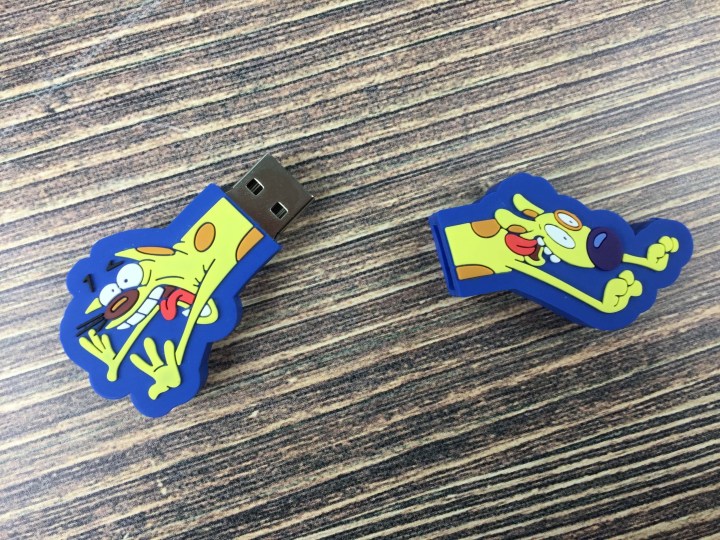 CatDog has plenty of room for my files -8G – but I found the cleft character a little gruesome a la splitting the baby!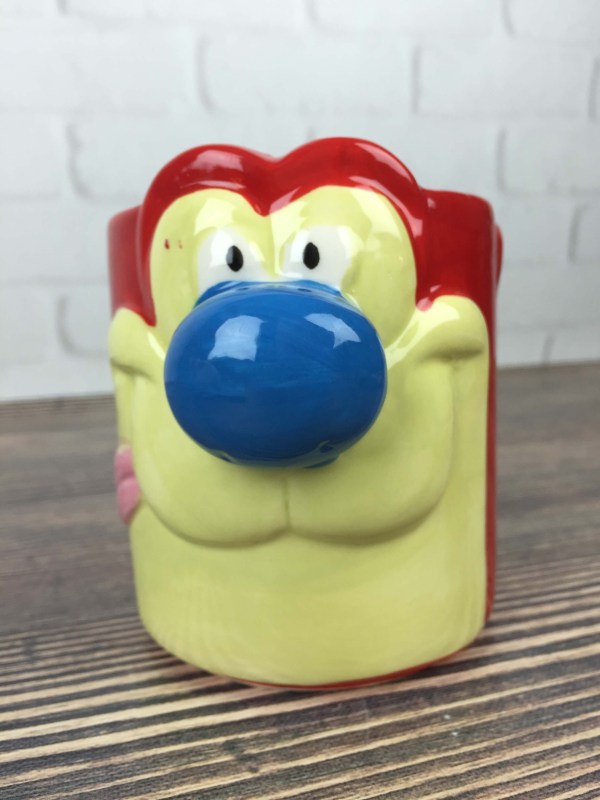 Stimpy Mug: Awww. I wanted to be WAY excited about this hero item, but the out of place paint and the chipped then painted on interior (see below) really put me off. Even worse – I haven't heard back from customer service!
You'd think that they would get this mug perfect. The lack of customer response to damaged item inquiries is troubling, as is the fact that this mug made it through QC!
Rugrats Cynthia Doll: This is a fun item – did they ever make Angelica's doll? If you yearned for it as a child, it's now yours!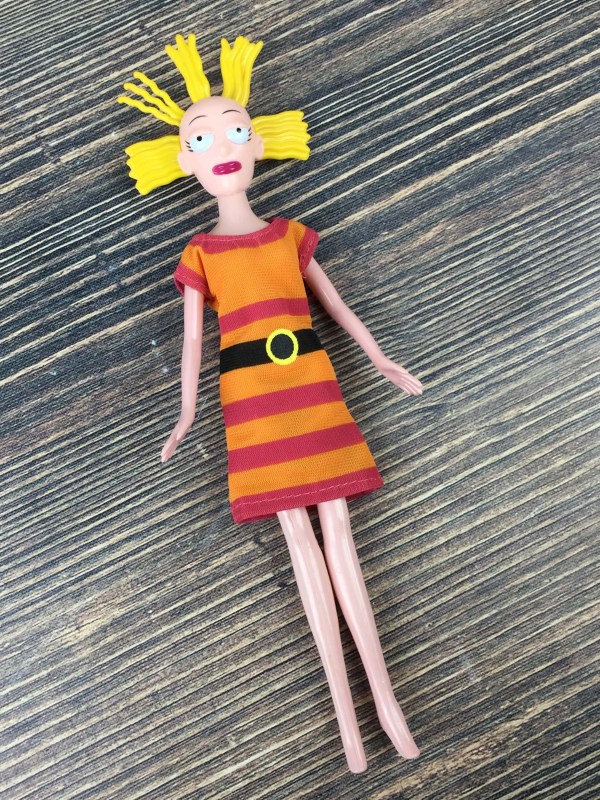 She's pretty much like a Barbie, but Cynthia. Way more fun than Barbie!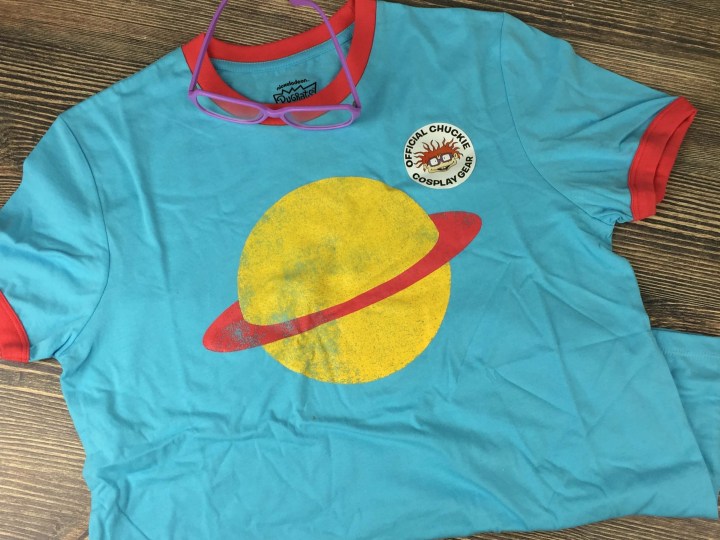 Chuckie T-Shirt & Glasses: I'm not so sure about the glasses – I really have no desire to cosplay Chuckie, but it's an auto-costume for Halloween, which makes it perfect for a fall box! The Chuckie shirt is fantastic and super high quality.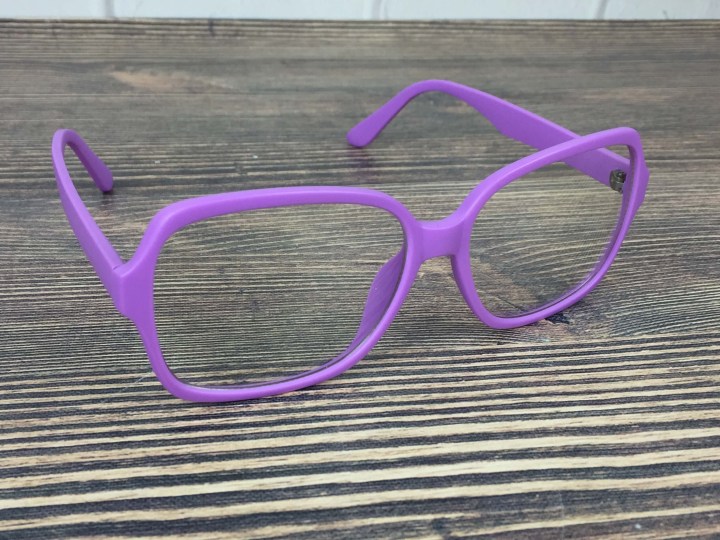 The glasses are nice, I guess, but they won't get any use here (actually I really wish they were reading glasses, I would totally use them!).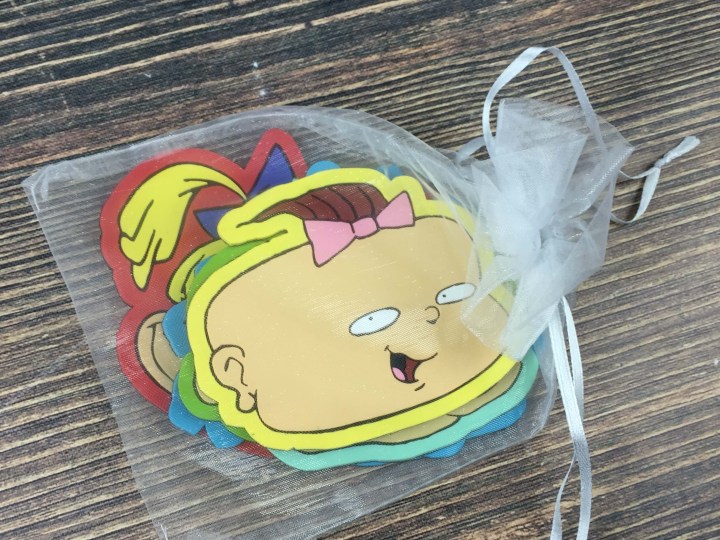 Rugrats Coasters: These are pretty great! The coasters arrived in an organza bag and are all 5 major characters from the show!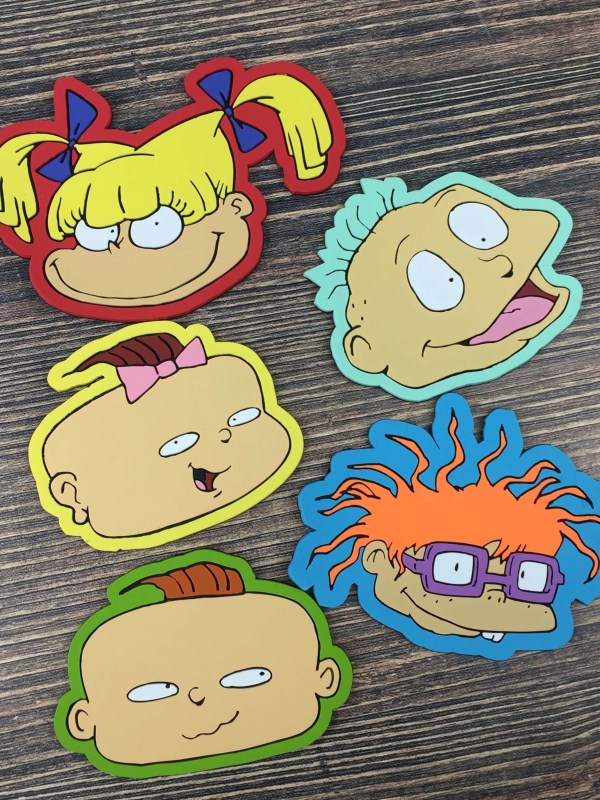 They're plastic and have already worked perfectly to hold my adult beverages 🙂
Reptar Vinyl Figure: This guy is easily my favorite! The green dino with the purple tongue is perfectly done!
Rawr! He even has little claws on his t-rex hands!
Assorted Greeting Cards: AAAHH Real Monsters!, Hey Arnold, The Wild Thornberrys, and Angry Beavers!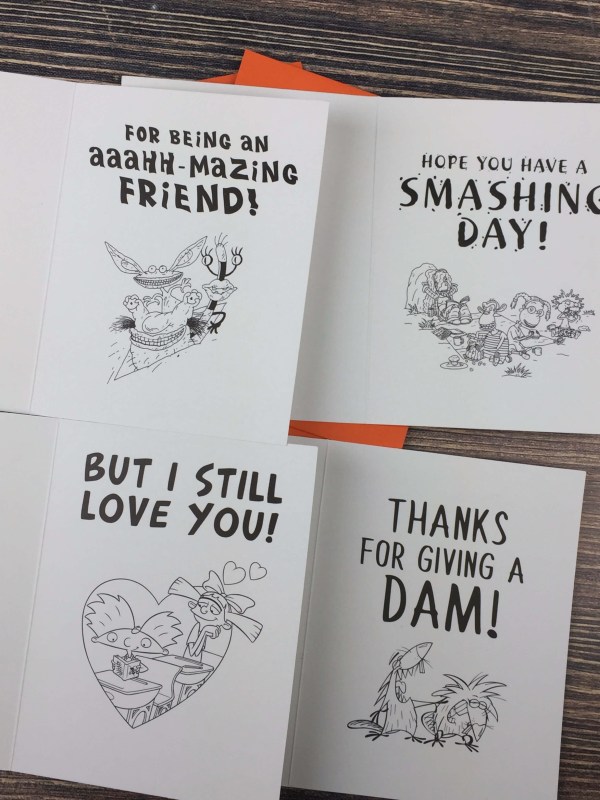 These are fun, and unlike most greeting card subscriptions, actually had something printed on the inside, which I prefer!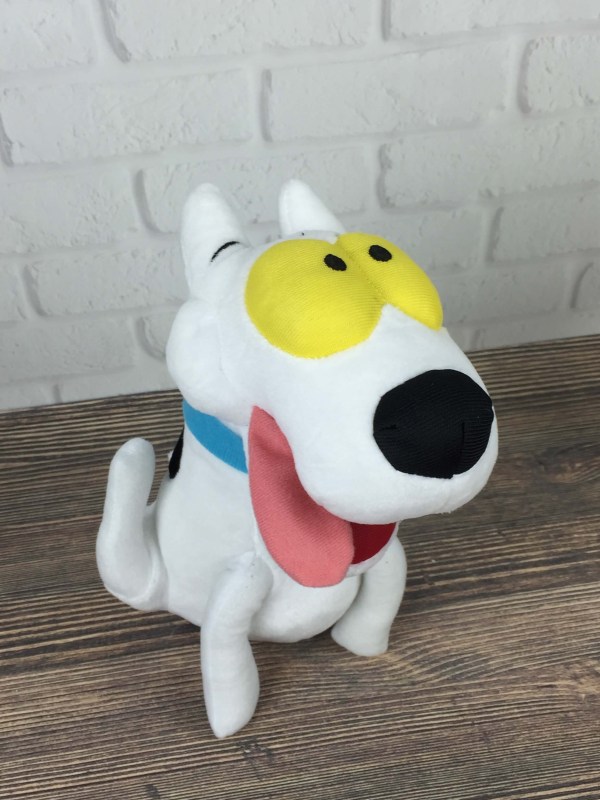 Spunky Plush: Rocky's bestie from Rocko's Modern Life! This is such an unusual plush, and I was pretty surprised that I was able to get him to stand up straight.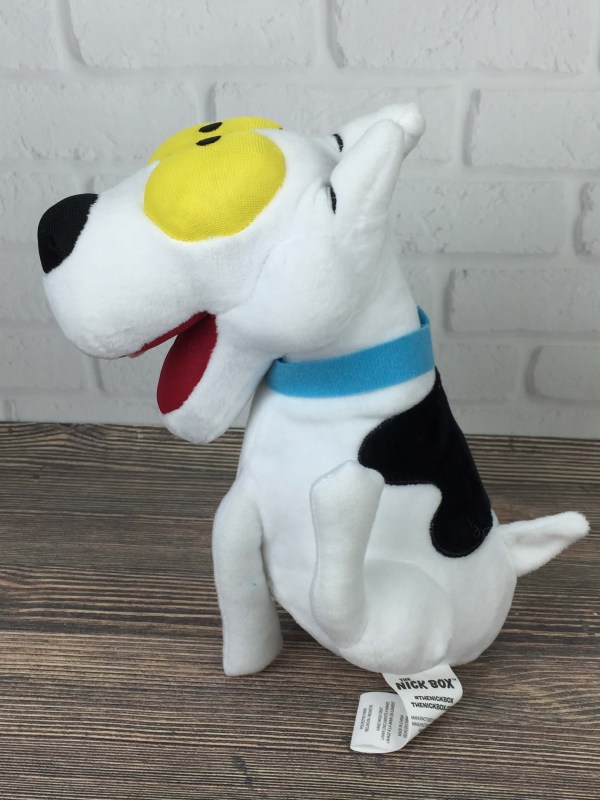 It's a fun item, but the quality is more Bleacher Creatures (like concession/novelty/prize from a claw game) quality than a real plush.
There was quite a bit packed into this first box, with a great representation of really classic Nickelodeon shows. Unfortunately I found the quality on a couple of the items really lacking and am disappointed in the lack of response from customer service. I also wish that this box (which is produced by the same company behind Pusheen Box) had focused a little more on usable items for us older folks that are the primary demographic. The plush and doll are fun but not terribly useful.
That being said, it's hard to say no to the winter box themed "The Splat" featuring Live Action Nick. Because you know I spent my childhood gleefully watching people get slimed!
Visit The Nick Box to subscribe or find out more!
The Subscription
:
The Nick Box
The Description
: The Nick Box is a new quarterly subscription box from Nickelodeon that will "bring some of your most memorable Nickelodeon experiences right to your door! Each box is filled with nostalgic goodies that you will treasure like vinyl toys, plush, apparel, household collectables and much more! Each quarter we bring you a different theme loaded with exclusive items that can only be found at The Nick Box."
The Price
: $49.99 per quarter