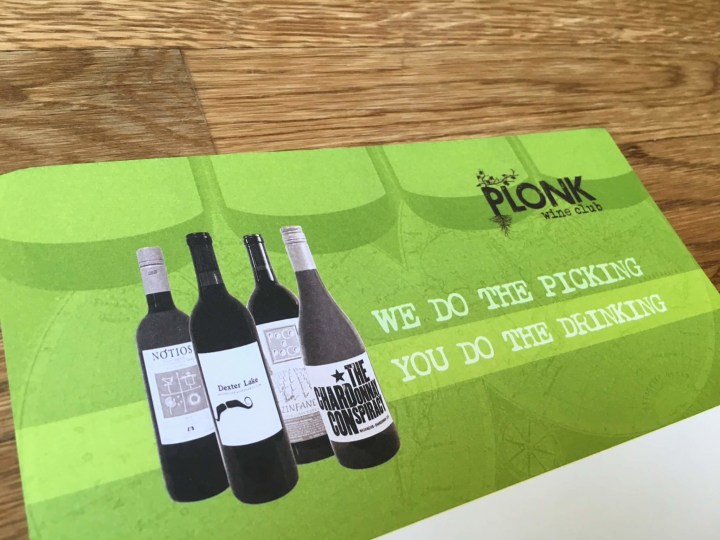 Plonk Wine Club is a wine subscription box offering 2, 4, or 12 bottles per month in either a red, white, or mixed shipment. Plonk specializes in curated artisanal, small batch, rare, and sustainably grown boutique wines.
It's September, and homework and soccer practice and piano lessons and tests and on and on has everyone a bit in the dumps.  Time for a long weekend!  No, not a weekend away–do you know much work it takes to get out of town!?  Just a nice, chill, come-over-and-have-a-glass-of-wine Saturday late afternoon.  We put the game on, let the kids amuse themselves with Legos and the tree swing, and tried some wine.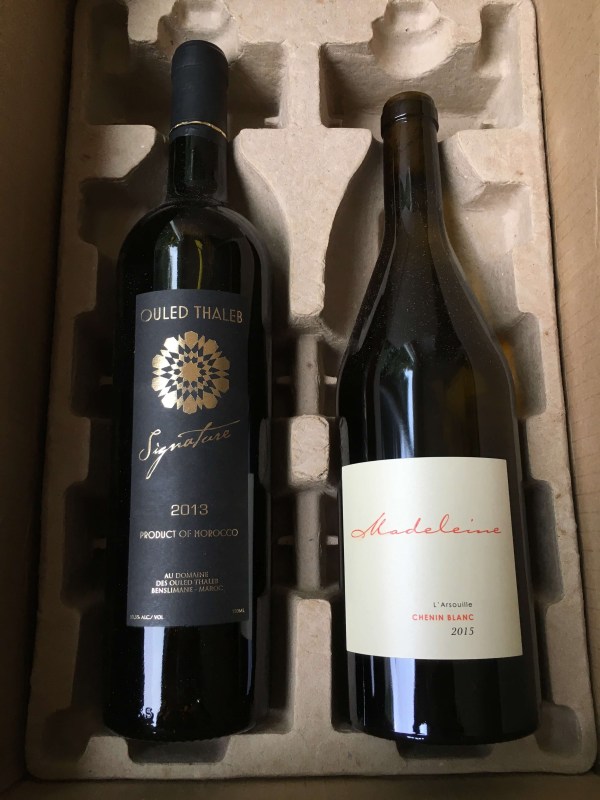 This month, I received the 2-bottle mix.   Plonk prides itself on finding small batch, organic, and other interesting wines that you might not discover on your own.  Each wine comes with informative tasting notes and recipe ideas.  Creamy chicken curry?  Yes, please.  You can get full recipes at the Plonk website.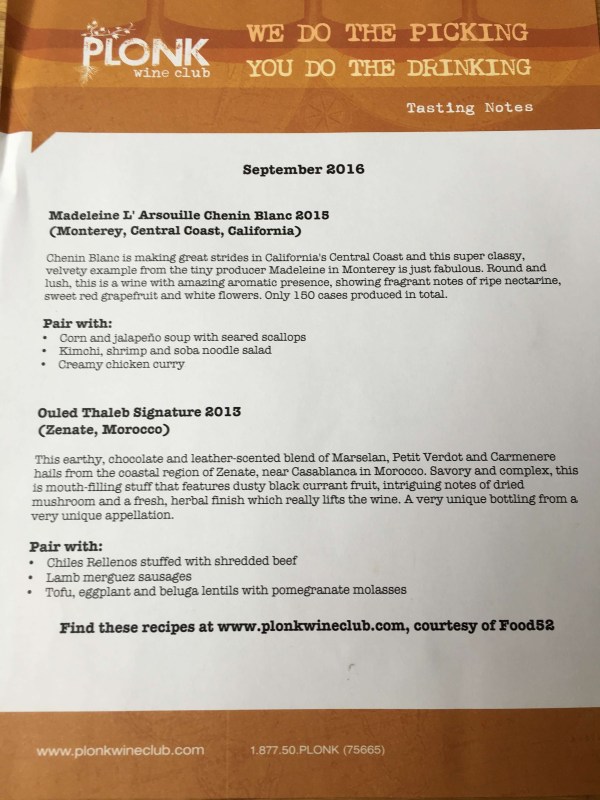 The first wine was the Madeleine L'Arsouille Chenin Blanc 2015.  Between the Frenchy name and the fancy-yet-elegantly-understated label, you'd think this was Old World, but it's from Monterey, California.  The tasting notes say only 150 cases were produced.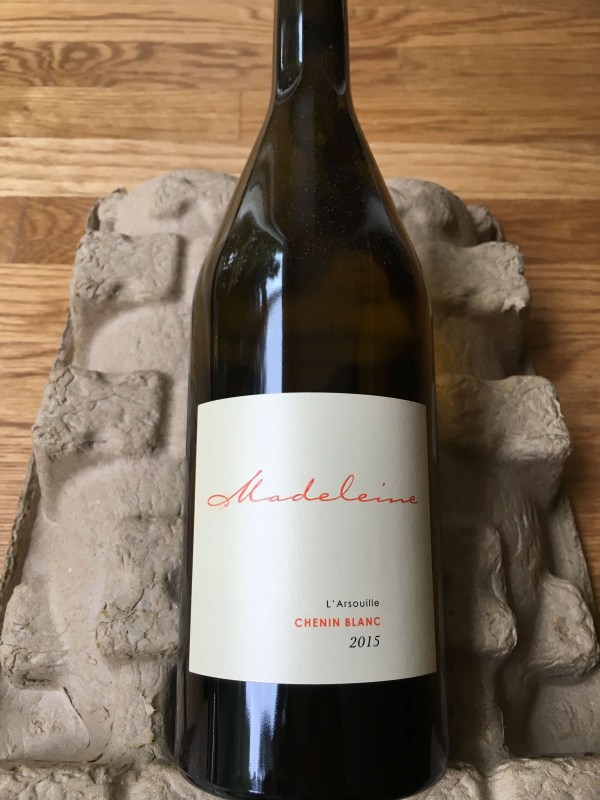 This wine is a nice wheat color in the glass.  It's surprisingly a bit fruity on the nose, like sweet citrus.  The mouthfeel is very soft and round, more like a Chardonnay than a Chenin Blanc.  The flavor, however, was definitely not the fat, oaky Chard I was expecting.  There are some bright flavors of citrus to start, rounding out to become  a bit floral, and then finishing quickly with a mineral bite.  It's fairly dry, but the fruitiness counters the acidity to give it some balance.  The tasting notes said this would be "velvety" and "lush," but I thought the opposite–"sharp" is the word I would use to describe this wine.  I thought it was quite good.  We had barbeque in the slow cooker, and I thought the acid in this wine cut the richness of the meat beautfully.  My friend Meg, who likes a sweeter wine, wasn't a huge fan.  This is a pretty good first-course wine, clean and easy to pair with any app.  Your snobby friends will like it, too.  Serve it cold.
Our second wine was the 2013 Ouled Thaleb Signature from Morocco.  At first, I was like, "Ooh, Morocco!  Exotic!"  But then I realized that the climate of Morocco (at least the coastal part where wine is made) is not all that different from Spain.  I'm not going to be like "Ooh, who knew they made wine in Spain," right?  So, geography lesson out of the way, this wine is a blend of Marselan, Petit Verdot and Carmenere.  These are all varietals that play well in blends.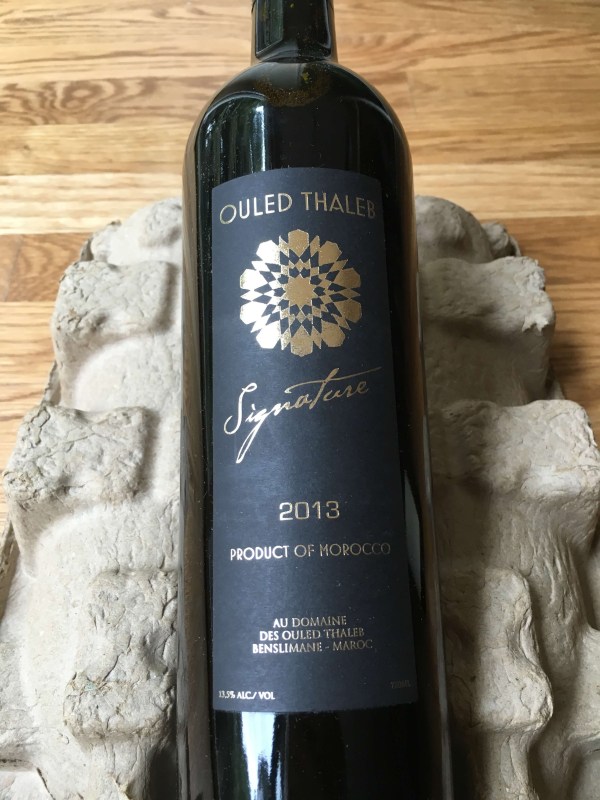 This wine had a nice deep garnet color in the glass, and you could tell the body would be medium from the way it swirled.  It smelled like a Merlot, actually, which probably means there is a lot of the Carmenere in the blend.  The wine is complex–starting off strongly with a currant/dried fruit flavor, and moderating into a funky raspberry taste.  It has a long, peppery finish with strong tannins. As it sat in the glass, some of those tannins moderated a bit and it became a smoother finish.  This is a big wine, but it went pretty well with our meal.  It complemented the pork nicely, and tannins were a good contrast to the fatty flavors in the macaroni and cheese.  Honestly, I was a little afraid that this wine would be too heavy for the heat outside and the casual setting, but I was surprised.  It really is an interesting bottle.   We served this room temperature, but just barely chilled would suit it, too.  Definitely drink it with food, and let it open up in the glass as you eat.
And that was our September Plonk selection!  It was interesting, and wines I wouldn't have gotten to try, otherwise.  Thumbs up.  I can't wait to see what we get next month!
What do you think about Plonk? If you want to give it a try you'll get a free bottle in your first box – use coupon code HELLOPLONK (excludes 2 bottle 3 month clubs)!
The Subscription
:
Plonk Wine Club
The Description
: Plonk Wine Club is one of the top rated wine clubs of the month. Included in each subscription is 2, 4 or 12 bottles delivered to your or your gift recipient's doorstep every month. Detailed tasting notes and expert recipe pairings delivered with every wine shipment, and a Complimentary issue of Imbibe magazine.
The Price
: $50.00 per month