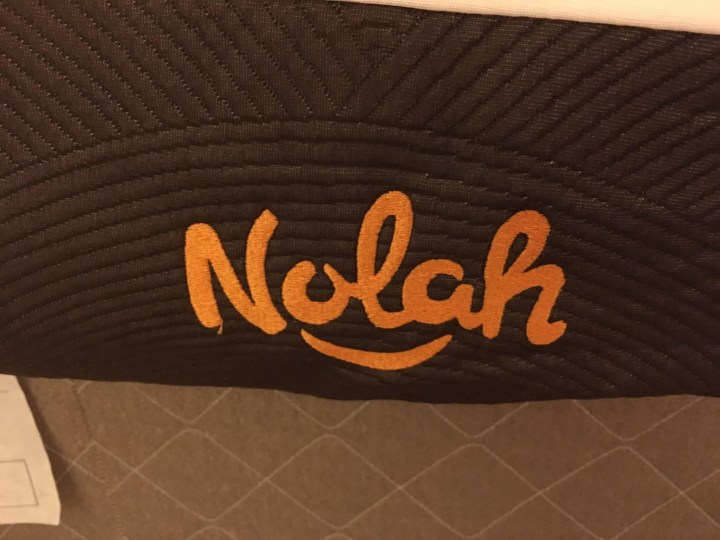 Nolah is an innovative mattress company that sends high quality foam mattresses to your home for 1/3 of the retail cost of their name brand competitors with free shipping included! They do this by shipping directly to their customers, eliminating showrooms, commission-based sales people and in home delivery.
Obviously Nolah isn't a subscription! But we figure if you love the ease, convenience, and cost savings of subscription boxes you'll love buying your next mattress online just as much as you love your boxes!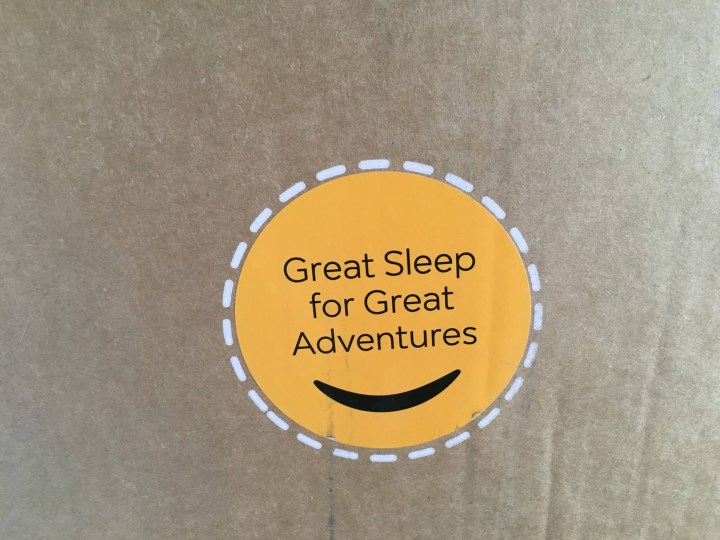 Their motto (and the title of their adventure blog) is "great sleep for great adventurers." After sleeping on one of their mattresses, the people at Nolah want you to feel reinvigorated, ready to conquer whatever adventure comes your way.
In fact, they're so sure that you'll love their mattresses that they offer an industry-leading 120 day in-home trial period. If you're not satisfied with your sleep experience for any reason within that 120 day window, they'll happily accept your mattress for a free return, refund 100% of what you paid for the mattress and donate your now used mattress to charity.
Nolah mattresses are shipped for free in boxes that eliminate 80% of the volume necessary to ship a conventional mattress. This reduces the carbon footprint required for shipping while also making it easier for you to handle the mattress once it arrives at your home. Even though, at 91 pounds, the king-sized mattress isn't light, the relatively compact shipping box allowed my husband and me to get the mattress upstairs with relative ease.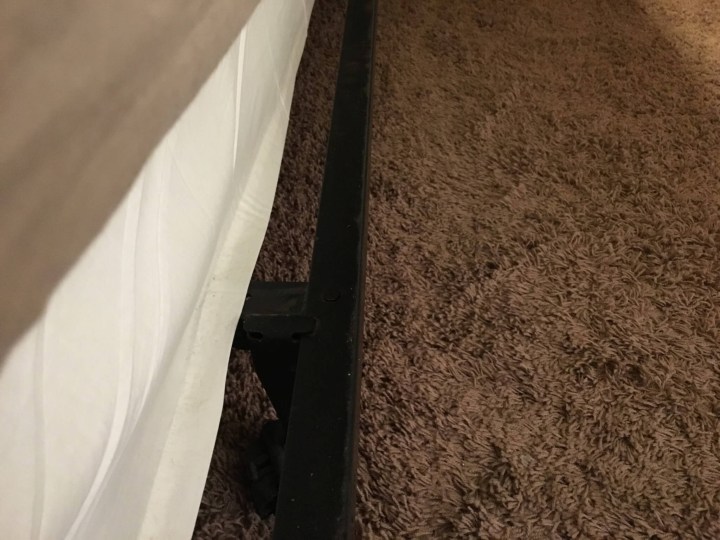 I couldn't wait to try out my new king-sized mattress! For months, my husband and I have been sleeping on a California King mattress and box spring that was lying atop a convertible frame that had been affixed to a King headboard, and it was causing problems. No matter how much monitoring my husband and I provided, my kids, my husband and I would occasionally hurt ourselves on the part of the frame that jutted out.
Even on days when no one injured themselves on the frame, my husband and I still longed for a new bed. Whether due to the frame issues or old age, our mattress had started to sag, and my husband and I found ourselves in pain every morning. There are few things worse than starting your day in pain! Needless to say, we needed a new mattress ASAP!
In anticipation of receiving our new Nolah mattress, we purchased a new king-sized frame and box springs to support our new mattress.
Once our Nolah mattress arrived, my husband and I got to work disassembling our old setup and rebuilding our new frame.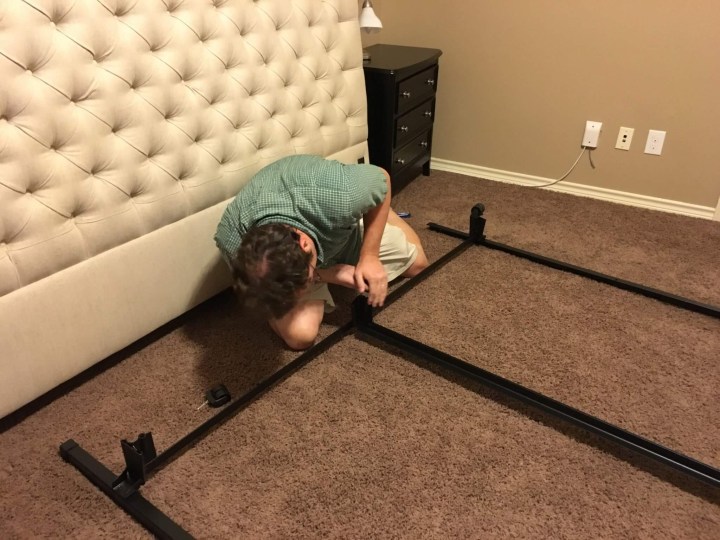 Putting the frame itself together wasn't too difficult, but affixing it to our headboard was an ordeal.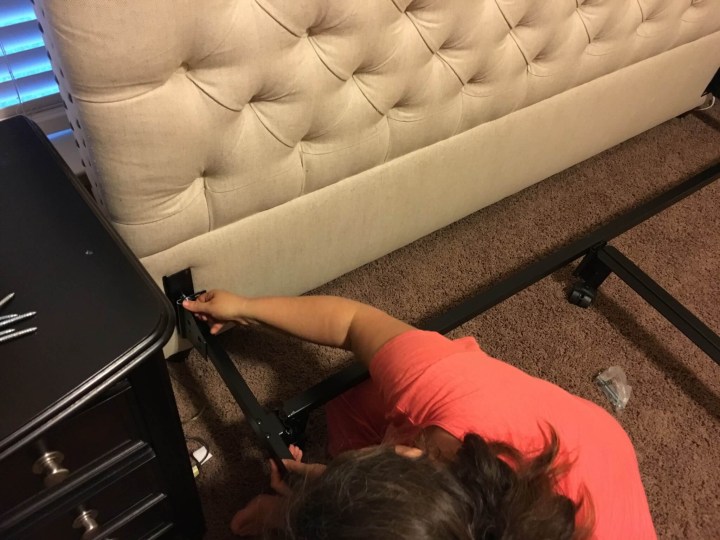 No wonder why our local mattress store wouldn't attach the frame to the headboard!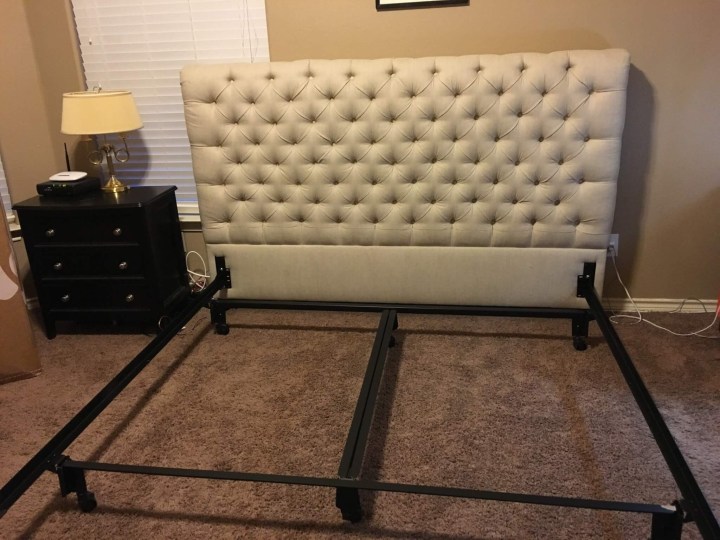 Once we had our frame solidly affixed to the headboard, we breathed a sigh of relief. The end was in sight!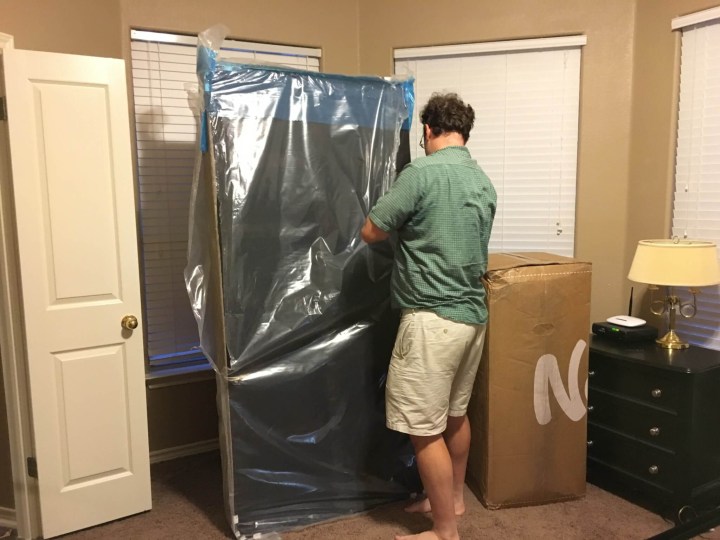 We opened up our new box springs and laid them on the frame.
We couldn't wait to unpack our new mattress!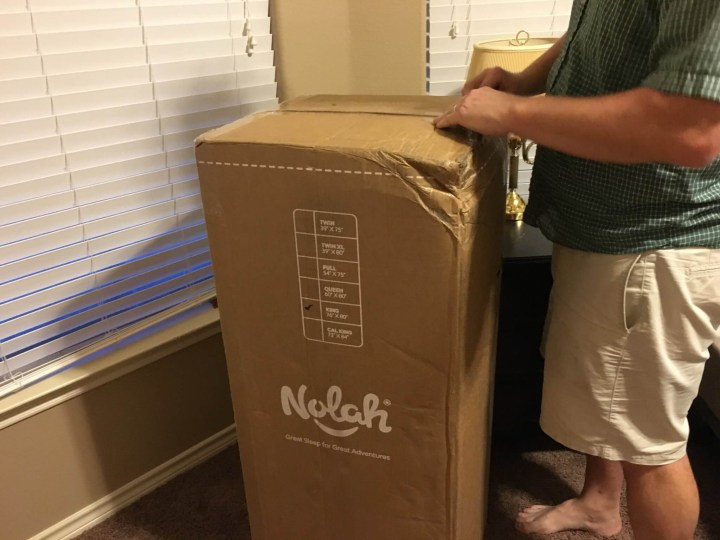 Nolah mattresses are produced in the USA using their own Air Foam technology. This cutting edge technology pairs the comfort of memory foam with the elasticity of latex. It relieves four times more pressure from your hip and back than conventional memory foam while also providing a relatively cool sleeping experience. The result is a super responsive material that molds to fit your body shape perfectly, providing great support and bounce to ensure a perfect night's sleep. The Nolah Air Foam is layered on top of an Avena support layer and then a high density foam layer.
Even after the 120 day trial period has ended, rest assured that every Nolah mattress is backed by a limited 15 year warranty.
The mattress arrives compressed into the box and wrapped in two layers of plastic to protect it during shipping.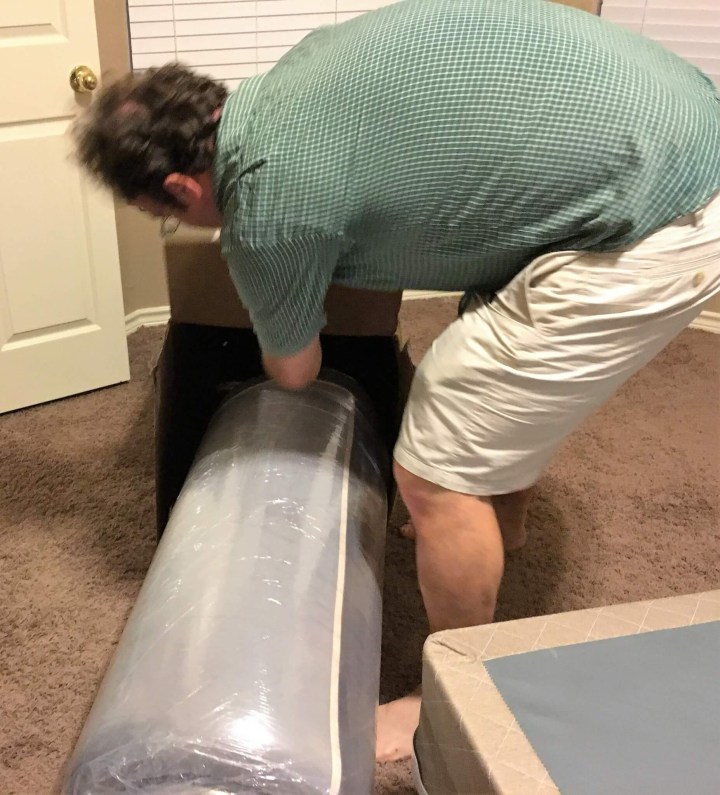 To remove it from the box,my husband simply laid the box on its side and slid the mattress out.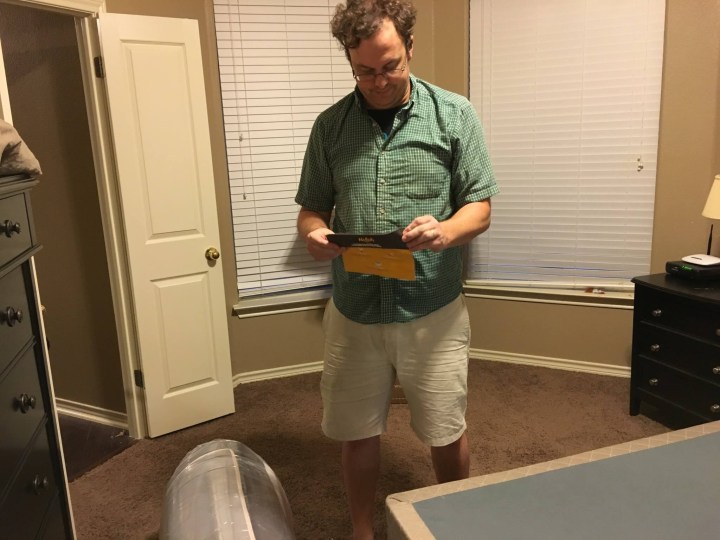 Once the mattress was out of the box, my husband found the following information card:
The directions were very straightforward.
I love how Nolah boils down its mission: to provide "great sleep for great adventures."
I Sleep to Live, I Live the Adventures, The Adventures Make me Feel ALIVE!" –Nolah Sleep.
To further their goal of supporting adventurers, for every mattress sold, Nolah makes a donation on their customers' behalves to Defenders of Wildlife, a nonprofit group that is accredited with American Charity Navigator.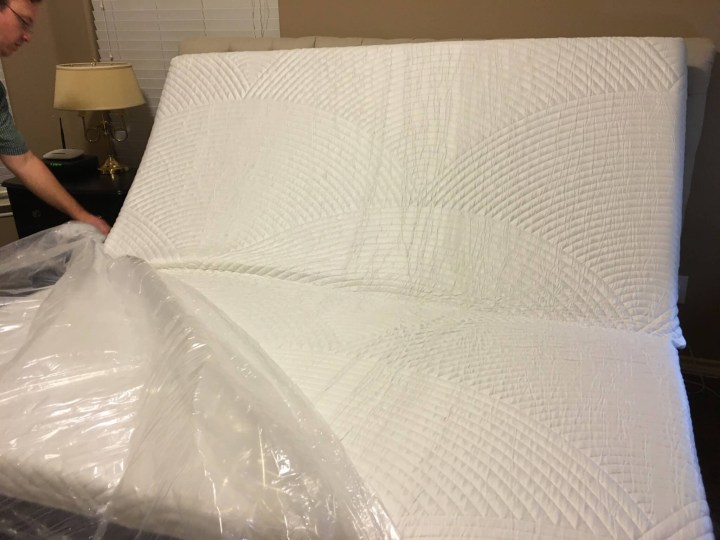 When you purchase a mattress, you get to "adopt" a symbolic North American wild animal of your choosing.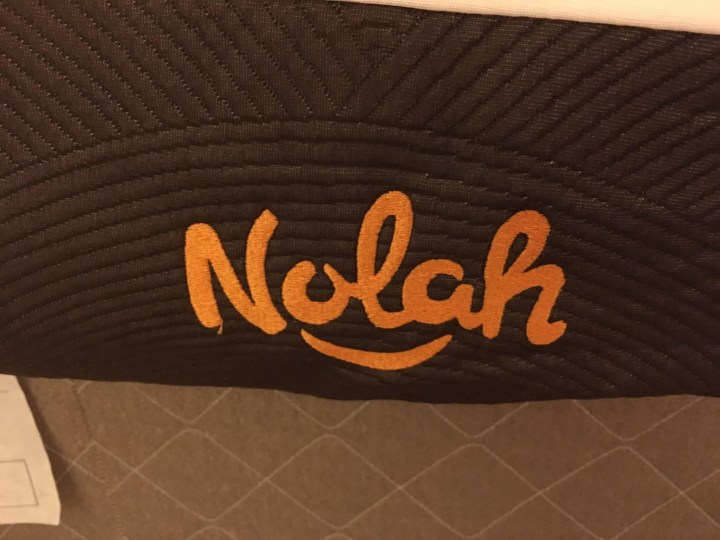 In honor of my daughter who loves wolves, I asked Nolah to adopt a wolf. Nolah then made a donation on my behalf to Defenders of Wildlife to use for animal and habitat restoration projects, and Defenders of Wildlife confirmed the donation by sending me wolf adoption papers.
My family loved receiving and reading this letter from Defenders of Wildlife thanking us for the contribution Daniel Galle made on our behalf to Defenders of Wildlife.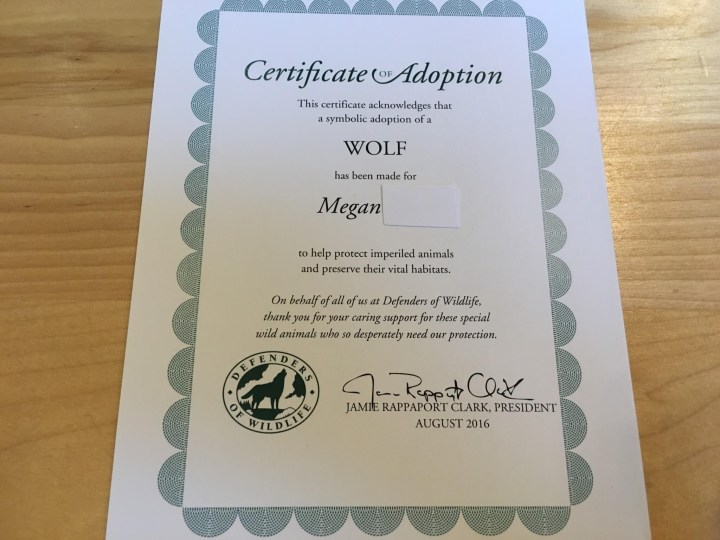 In addition to the thank you letter, I received a certificate honoring Nolah's symbolic wolf adoption on my behalf.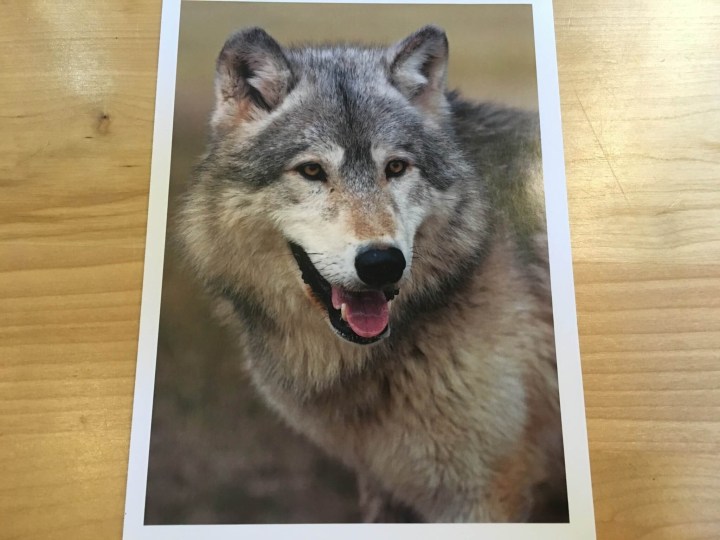 In addition to the personalized adoption papers, we received this gorgeous 5″ x 7″ photo of a wolf and an information sheet about wolves.
My kids, my husband and I enjoyed reading and learning more about wolves, their range, behavior and threats. I love how, by adopting a wild animal in the purchaser's name, Nolah furthers its commitment to protecting the wild lands required for its users to go out on exciting adventures of their own after a great night's rest.
My husband and I couldn't wait to experience our own great night's sleep for great adventures!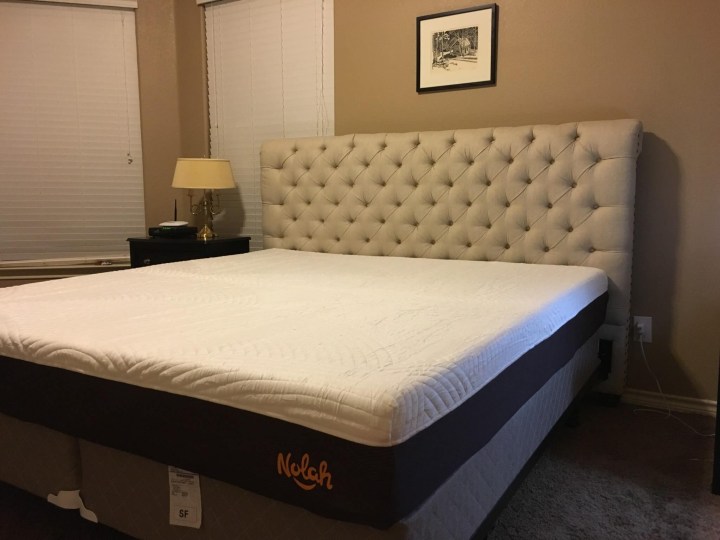 As soon as my husband unwrapped our new mattress, it expanded. Nolah says that while you can use the bed immediately, it will take 24 hours for the mattress to expand fully.
We had no difficulty fitting our new king-sized sheets atop our new mattress.
Once our bed was made, we couldn't wait to try it out!
Since I was taking pictures, my husband got to try it out first.
He liked it!
As soon as I lay down, I thought "this is the life!" The bed felt fantastic. I couldn't wait to see how I felt in the morning.
My husband and I have been sleeping on our Nolah mattress for about a week. After using it, we never want to go back to a conventional mattress. Our pain has disappeared, and each of us wakes up feeling ready to conquer our days. Before using our new Nolah mattress, I was slightly apprehensive that the mattress would be too hot (I have difficulty sleeping on Tempur-Pedic mattresses for this reason). Surprisingly, that has not been an issue for either of us. Even in the Texas summer, this mattress is no hotter for us than a conventional mattress, which is awesome! I also think it's neat that this mattress supports us both so well even though I sleep on my side and back and my husband sleeps on his stomach. I would highly recommend Nolah to anyone looking to purchase a new mattress!
Have you tried Nolah's mattresses? What adventures have you undertaken since switching to Nolah?
Summer Coupon Code: Save $75 on any Nolah Mattress with coupon code SUMMER2016!
Visit Nolah to check out their mattresses!
Every Day Coupon: Save $50 on any size mattress with coupon code HELLO50.
The Subscription
:
Nolah
The Description
: Nolah is the new benchmark for mattresses. We spend 18 months testing and sleeping on hundreds of different mattresses, so we could offer you the ultimate comfort and support. Every single detail from the foam to the cover has been re-invented with one goal in mind – to create the Perfect Sleep Experience.
The Price
: $525.00 per box