Mouth: Gin Every Month is a quarterly gin subscription from the Mouth family. For only $180.00 per quarter, you'll get full size gin bottles from different indie makers.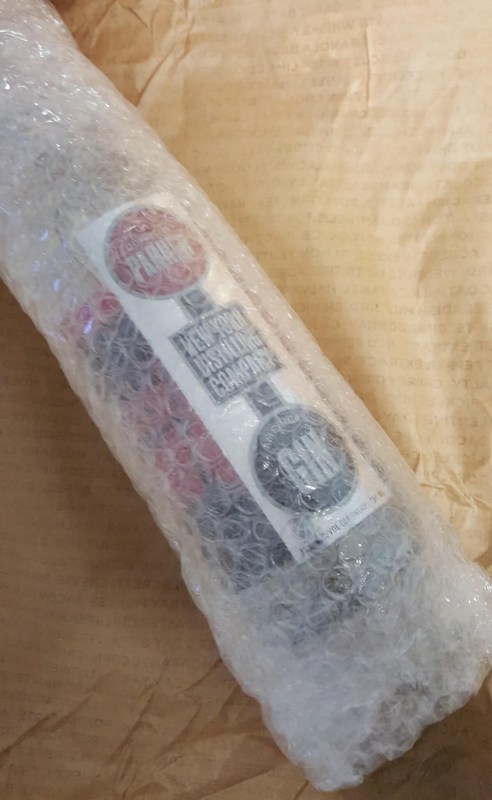 I'll admit it, gin is one of my weaknesses. I say I am going to behave myself, and then someone puts a delightful gin cocktail in front of me and I can't resist a sip. Or several.
For some, gin conjures up the taste of pine trees. To them I say, you haven't had a good gin. I find that most of the mass market gins are too harsh, and I am ever so thankful that craft distillers are popping up everywhere (including in my neighborhood – danger!).
Enter, the Mouth: Gin Every Month subscription. I am quite happy to let someone else wade through the dozens, perhaps hundreds, of options that are out there. This box is a curated supply of craft gin, designed to broaden your horizons and help you find the right gin for every drink.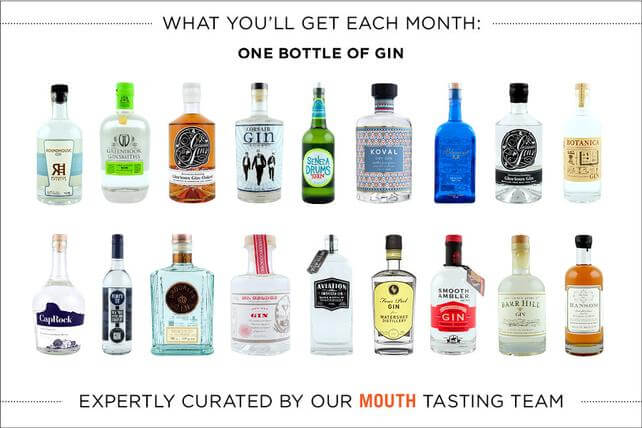 How it works:
Choose the duration of your subscription. The longer you go, the better the deals.  Mouth offers a few different gin subscription boxes – I opted for the simple one, which includes a full-size (or equivalent) bottle each month, since I already have a lot of other ingredients stocked on my bar.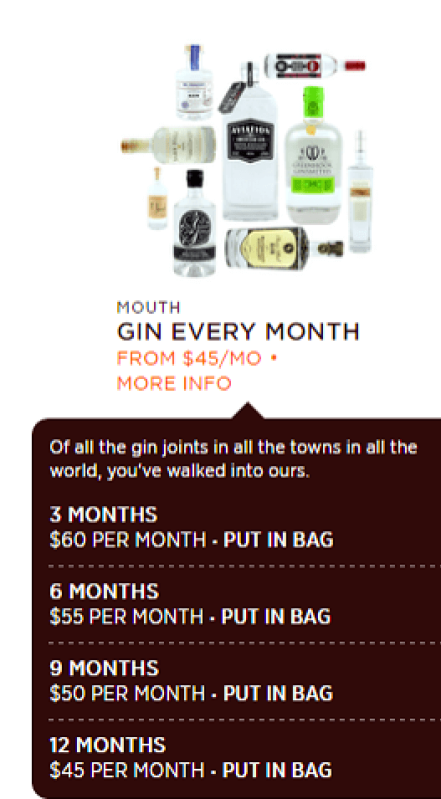 After receiving a confirmation message and welcome certificate with the details of your subscription, sit on your hands and wait for your first bottle. If you order before the 3rd, you'll receive your first box that month.  If you order on the 4th or later, your first box arrives the next month. Subscriptions boxes are shipped around the middle of each month. Boxes take 1 to 5 business days to arrive, so you can expect to receive yours between the 16th and the 25th. Shipping is included in the cost of the subscription.
As this is an alcohol subscription, keep in mind that deliveries must be signed for by someone who is 21 or older, and alcohol cannot be shipped to all fifty states, so check ahead if you or your gift recipient can receive this box in your home state.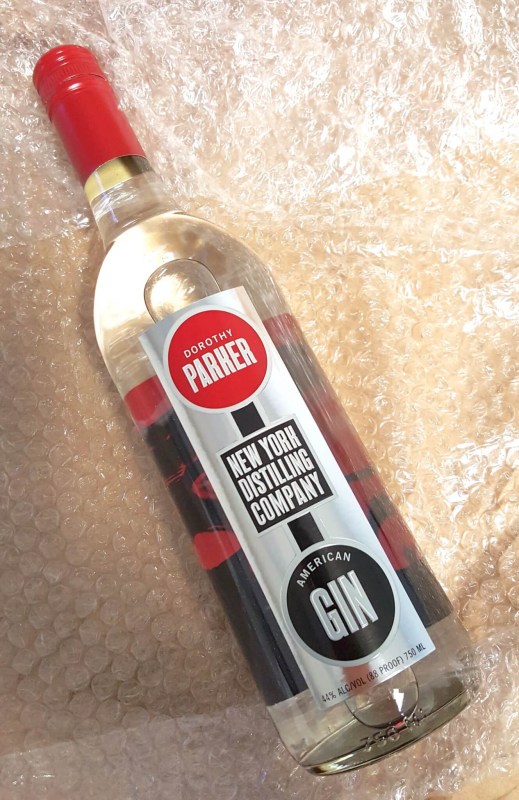 Each month, the Mouth team of curators puts together an amazing selection and orders from the makers to keep everything as current as possible. The focus is American Dry Gin, which is more botanical forward, and less juniper heavy. Since gin is basically neutral base spirits distilled with juniper and other botanicals, there are unlimited possibilities depending on the distiller's mood. Citrus, mints, savory spices – you name it, and someone is making a gin with it.
My Experience 
Last month, I had forgotten to adjust my shipping address, and luckily was at home to receive my gin. (Someone who is 21 needs to be at home to sign for the package.) This month, I remembered to ship to my work address. Let's just say my coworkers were all VERY curious what was in this box. I wasn't around when it was delivered, and word got around the office that I was receiving exciting booze. I unwrapped it in the office so everyone could check it out. Lots of ooh's and ah's ensued.
The Mouth packaging is really great. Heavy duty bubble wrap, with foam at either end of the box. This thing wasn't going anywhere inside that box. Inside that, a sealed heavy plastic pouch – no chance for leaks if something had somehow broken the bottle. Around that, fun custom paper with a lot of delicious food words on it. Inside that, more bubble wrap.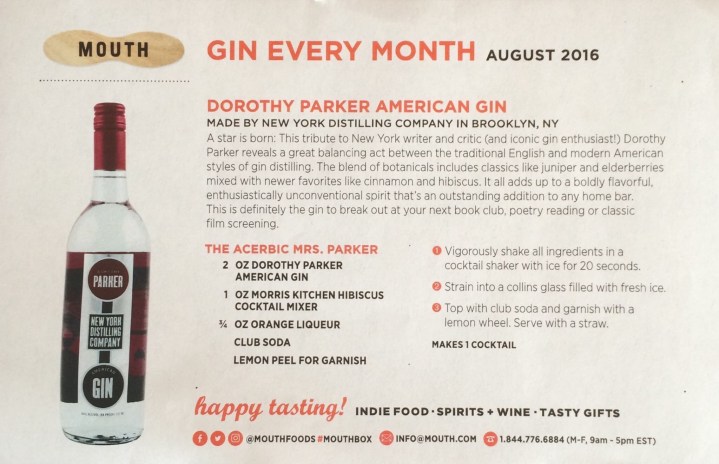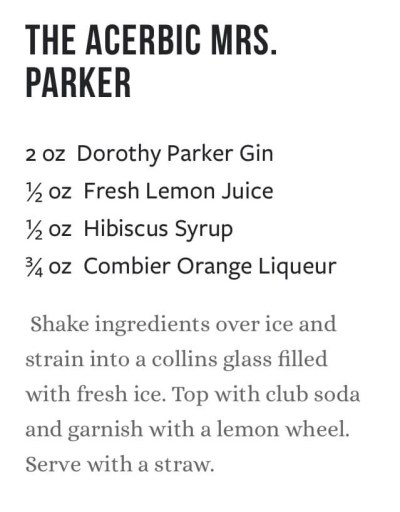 Dorothy Parker American Gin, New York Distilling Company, Brooklyn NY
The package included an information card with a recipe, but I didn't have all of the ingredients, so I went to the distiller's website to see what they recommend.  I found a different recipe that appears to be a variation on the one sent from Mouth.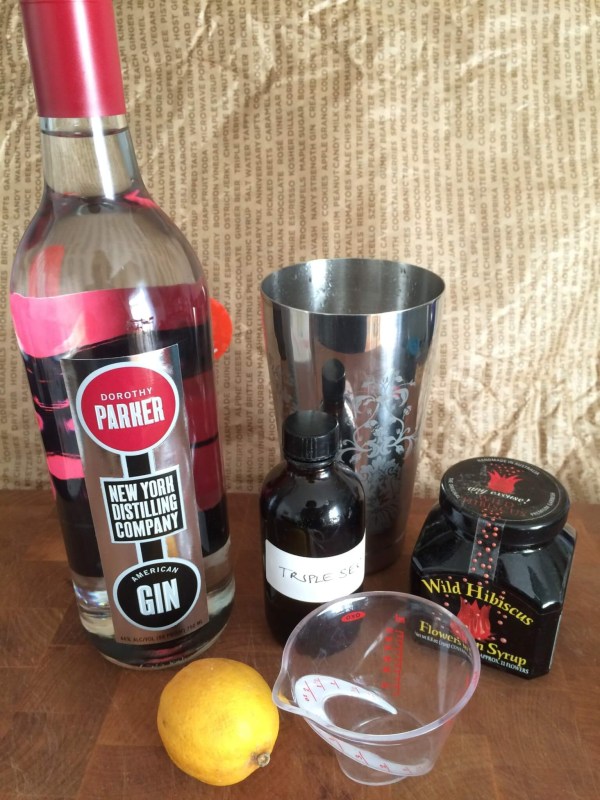 For reasons I really can't fathom, I had a jar of hibiscus flowers in syrup. I am sure I got it from some cocktail event far in the past, and I have been saving them for a special occasion.  What could be more special than needing hibiscus syrup in a drink?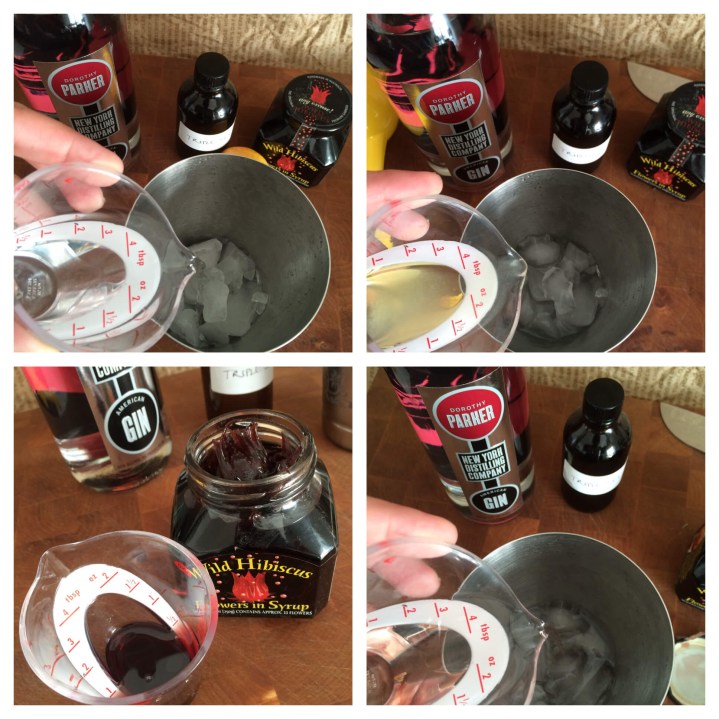 As for that shady looking triple sec, the last time I moved, I downsized any alcohol that only had a little left in the bottle. I promise it isn't bootlegged. Since I didn't have the Combier, this had to suffice.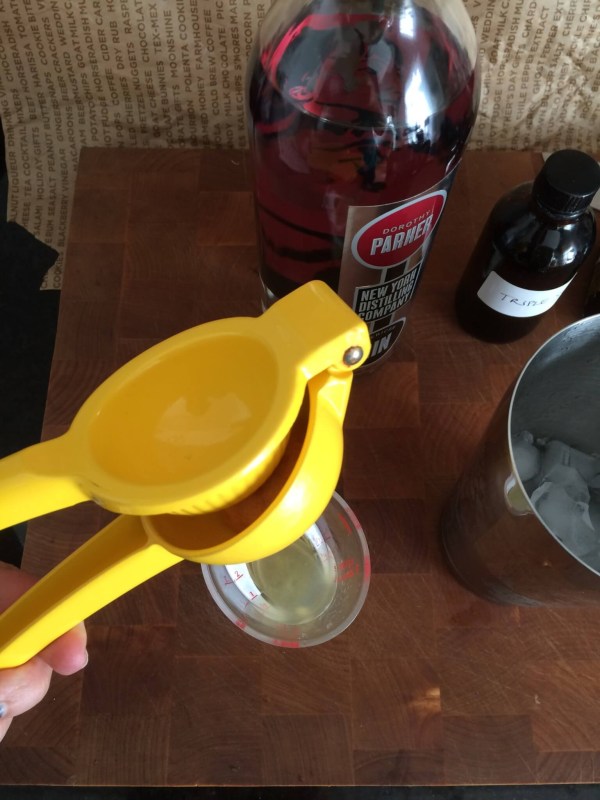 If you don't have a citrus juicer like mine, you need it.  Life changing.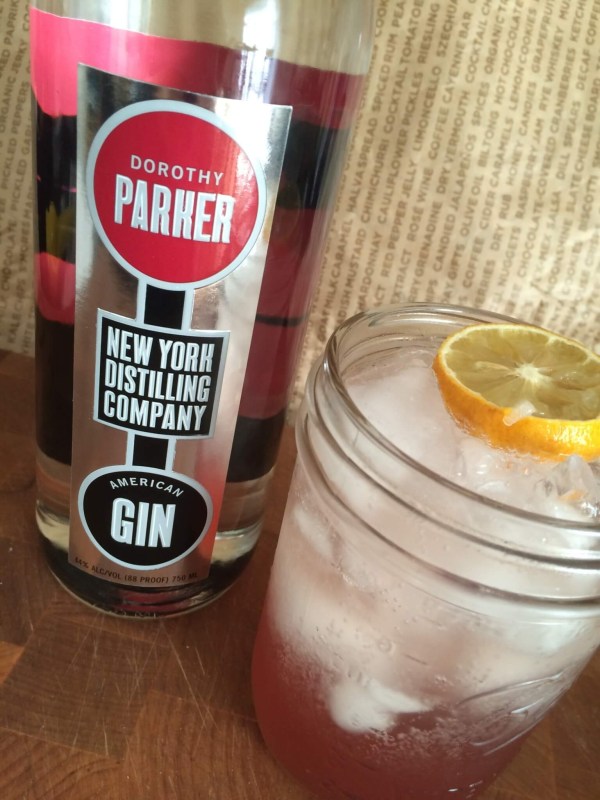 The finished product! I had a hard week, so I sat down and enjoyed this one. I don't have collins glasses – I am against unnecessary "stuff" and glassware is high on that list. But I love my mason jars.
"I like to have a martini, two at the very most. After three I'm under the table, after four I'm under my host." – Dorothy Parker
How was the gin? Tasty! This is an American gin. It has the standard juniper notes one would expect, but it also has hibiscus (hence the pairing with the hibiscus syrup, I am sure) and other floral notes. I read one description that includes cinnamon, but I wouldn't say that I caught that particular note.
Why I like my Mouth: Gin Every Month Subscription:
Well, for starters, I like gin. And I like things appearing on my doorstep. So what's not to like about gin appearing on my doorstep? (Answer: breaking federal laws – make sure you can mail alcohol across state lines to yourself legally!) When I think about how much gin I could go through making myself the occasional cocktail and making them for friends when they visit, a bottle a month for a few months didn't feel excessive. I especially like that this subscription gives me the chance to broaden my gin horizons and find the right gin for the drink, but also the right gin for many drinks. It provides me gins that I likely would not come across on my own – so far I have received gins from Portland, OR, Charleston, SC, and New York.
This subscription makes a great gift for the gin lover in your life. Maybe they will be nice and make you a drink the next time you see them!
I appreciate that each month comes with a suggested recipe that showcases that gin. This is the first month where the ingredients were a bit oddball, but you can always test your gin out with some tonic and have made a classic cocktail.
I am looking forward to next month's box already!
Visit Mouth: Gin Every Month to subscribe or find out more! Save 20% on your subscription! Use coupon code  SUBSCRIPTION20.
The Subscription
:
Mouth: Gin Every Month
The Description
: We'll send you a full size bottle (or the equivalent in small bottles) of a fabulous new gin from a different indie maker every month. You will be blown away by the diversity of flavor and the totally consistent quality, care and deliciousness in each bottle.
The Price
: $180.00 per quarter