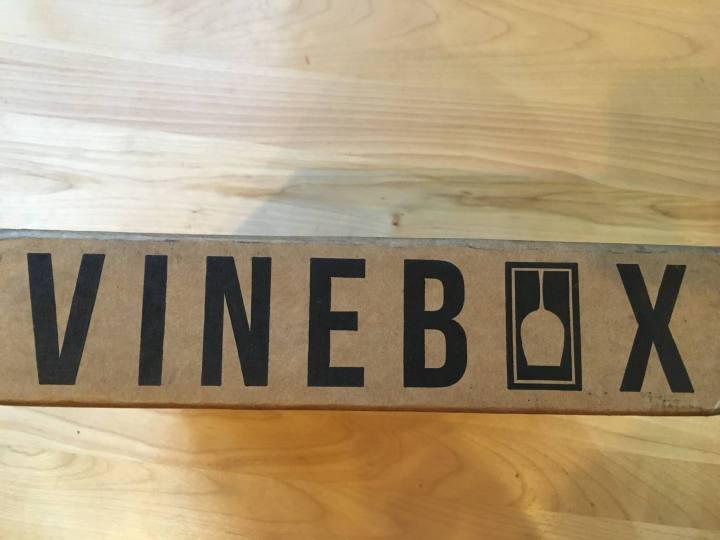 VINEBOX is a monthly wine by the glass subscription box that provides its subscribers with three wines to taste. While each full bottle of wine would retail from $20 to $50 a bottle, the three tastes arrive at subscribers' doors for $30-$35 a month plus shipping. This is the ideal wine club for people who enjoy high end boutique wines, but want to try them before committing to purchasing an entire bottle. It's also great for people who would like to try new varietals or styles of wine without the commitment that goes into purchasing an entire bottle. Each month's selections will include both reds and whites and will be curated by an expert panel of sommeliers. Wine notes are included for each tasting. Because the wine has been repackaged from its original bottles, the shipped tastings will only last for approximately 3 years from date of receipt. But really, who wants to wait that long to taste three glasses of wine anyway?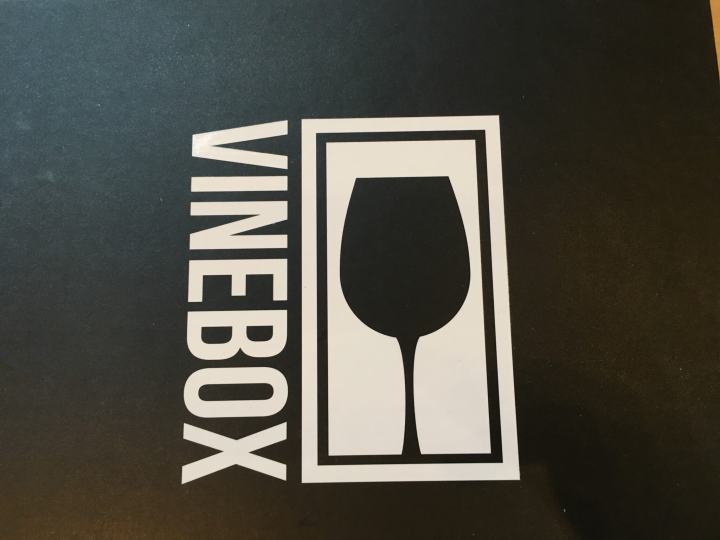 Subscriptions cost $35 each month, but discounts are available for longer prepaid subscriptions.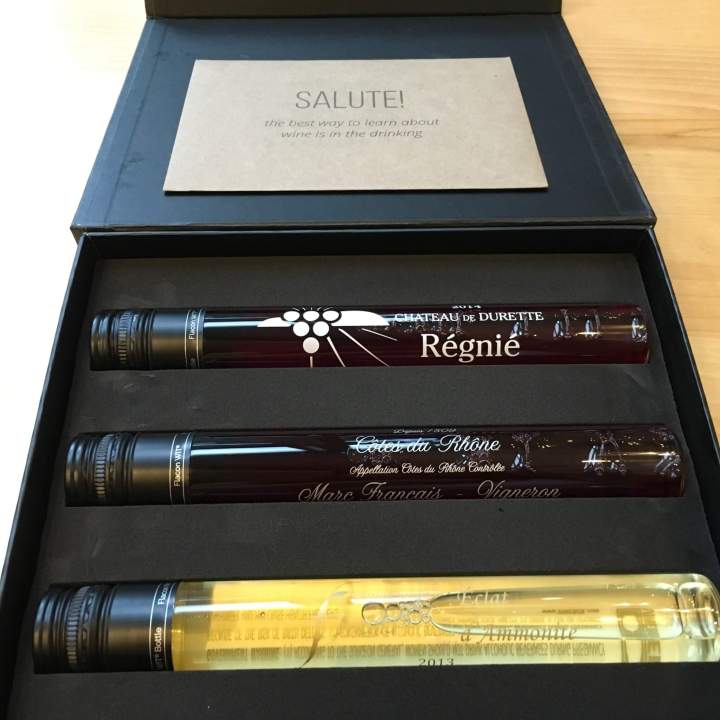 The three glasses of wine arrive packaged inside a sleek black and white box. They arrive in glass vials that are supported in transport by a soft cushioned material. Tasting note cards are contained in an attractive envelope.
August 2016's Vinebox shipment included: Marc Francais's 2014 Côtes du Rhône, Domaine Nadine Ferrand's 2013 Éclat D'Ammonite and Château de Durette's 2014 Régnié. You can find information on each wine under "Wines" on the VINEBOX website.
Marc Francais's 2014 Côtes du Rhône ($25) is a lovely blend of organic Grenache, Syrah and Mourvèdre grapes.
It was my favorite wine in this month's shipment! This full-bodied wine had a wonderful cherry flavor and aroma and a gorgeous deep burgundy color in the glass. I look forward to purchasing more of it.
For those who like this wine, Vinebox also recommends red wine from Châteauneuf-du-Pape. Shortly after trying this, I went wine shopping at my local wine shop and purchased six bottles at different price points from different producers in Châteauneuf-du-Pape. I can't wait to try them! (I love how Vinebox always challenges me to expand my thinking and drinking habits when it comes to wine!)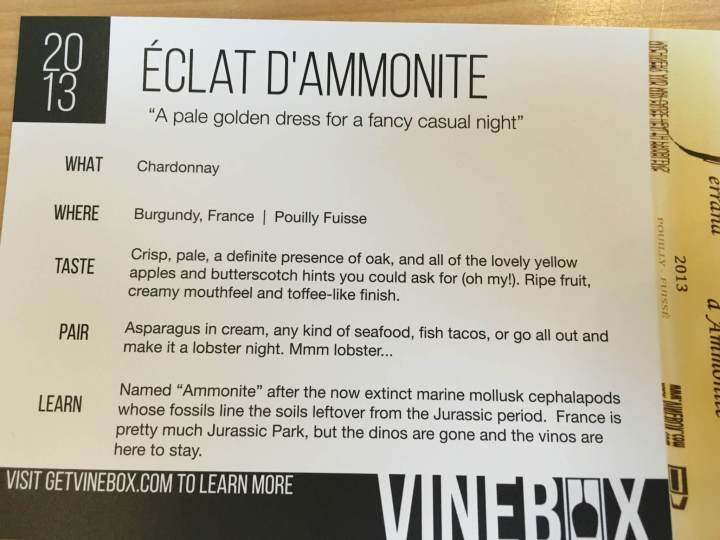 I very much enjoyed Domain Nadine Ferrand's 2013 Éclat D'Ammonite ($40). Produced from chardonnay grapes grown on Domain Nadine Ferrand's 10.5 acre estate in Pouilly Fuissé, this lovely wine tastes of apples and citrus with lots of minerality.
It has just the right amount of oak to round out the taste.
Vinebox recommends pairing it with lobster. Yum!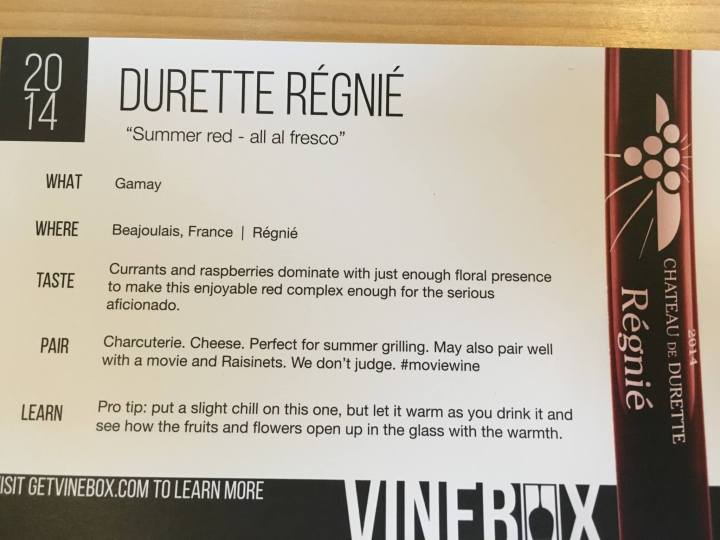 Chateau de Durette's 2014 Régnié ($22) was light and fruity. Made from Gamay grapes sourced from Régnié in western Beaujolais, this wine displayed lots of rich berry flavors.
I loved this wine's deep purple color!
Although I prefer wines that are less fruit forward, I was happy to try this and to learn more about the Régnié region in Beaujolais. Vinebox recommends pairing this with summer grilling.
To help their customers on their journey to learn more about wine, Vinebox includes definitions of common wine terms on the reverse of their tasting notes. I enjoyed this addition very much!
I love how Vinebox introduced me to three wines, all of which I enjoyed to varying degrees, but none of which I would have tried or purchased had Vinebox not sent them to my doorstep! I also like how all I have to do to order more is to get in touch with Vinebox–super easy and convenient!
Save $10 on your first subscription with coupon code HELLO10.
Visit VINEBOX to subscribe or find out more!
The Subscription
:
VINEBOX
The Description
: VINEBOX, the world's first wine by the glass club. Every month, we curate and deliver 3 spectacular wines in perfectly measured pours straight to your door. Discover exceptional wines from boutique wineries across Europe, by the glass.
The Price
: $35.00 per month